Janky Smooth Top 25 Artists to Watch in 2019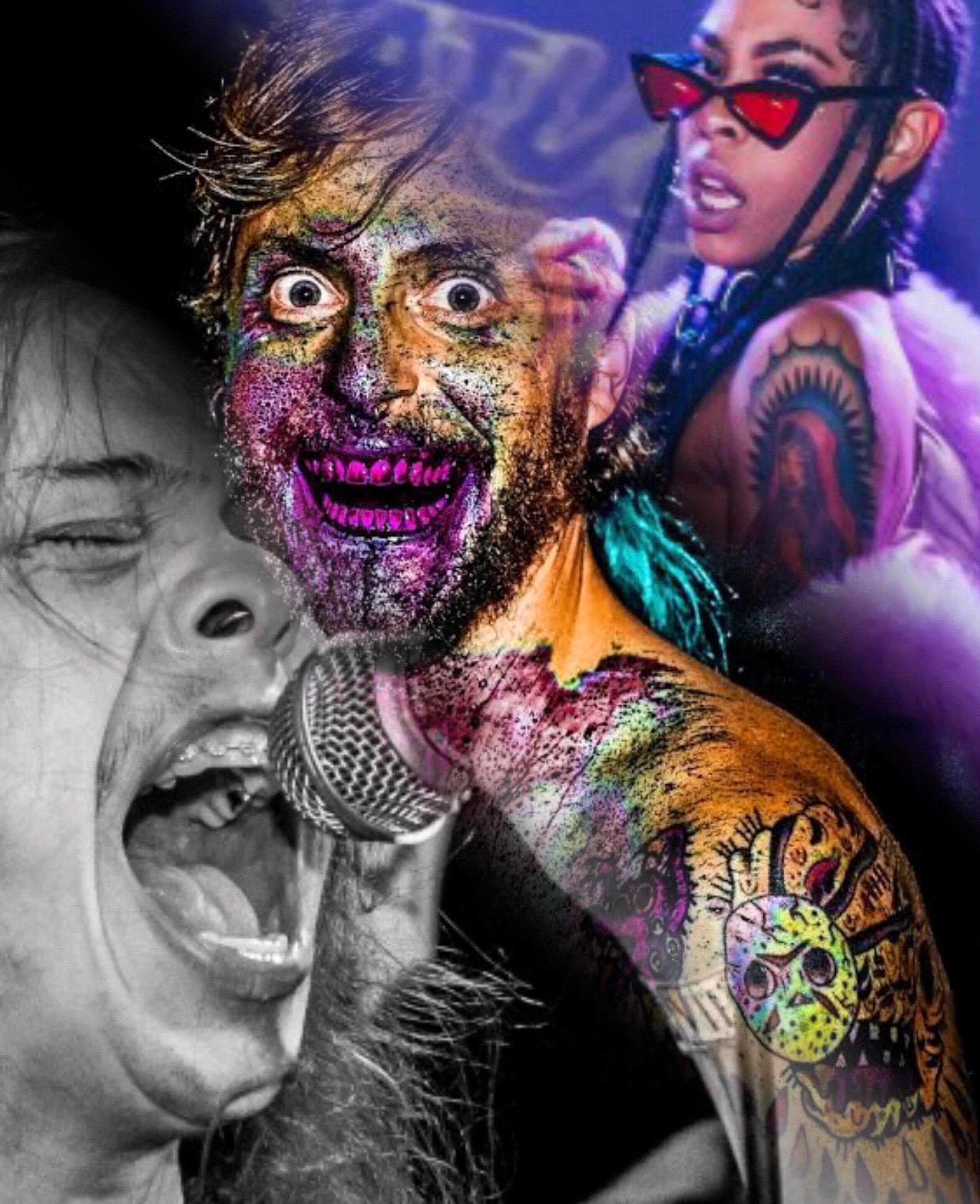 Ah, the much anticipated and revered artists to watch article, how we've awaited you. The artists on this list vary in genre, age, ethnicity, region, and popularity. What they all have in common though, is that between January and December of 2019, something special is expected to happen to each of them. This list is not just to identify the smaller bands you need to know about but also to point out the bands you know and should be watching closely. Think of these artists and bands as heroes in their own stories, in the year 2019, a pivotal narrative moment will occur in each story.
The Manx put on a show you couldn't forget if you tried. Combining all sorts of styles from rock, to zydeco and polka, The Manx stir this musical stew until its reduction doesn't resemble any of the ingredients used to create it, winding up with a mutant sound that's totally original and shocking. With oddball instrumentation that utilizes banjo and accordion, the Manx don't have any problem getting nude and covering themselves in multi-colored slime so that the show is a off-the-wall as the sound. This band is so strange that the first people to embrace them had to be metal heads simply because they were so used to foul humor, disgusting imagery, and outlandish behavior at live concerts. That said, it's only a matter of time until Los Angeles and then this whole Adult Swim generation latches onto this radioactive swamp spawn. This is filthy, sweaty, careless, stupid fun in the era of ennui. Their second full length album "Malibu Slime" is going to make a big splash when it comes out and whatever small amount of decency Los Angeles has left will surely vanish.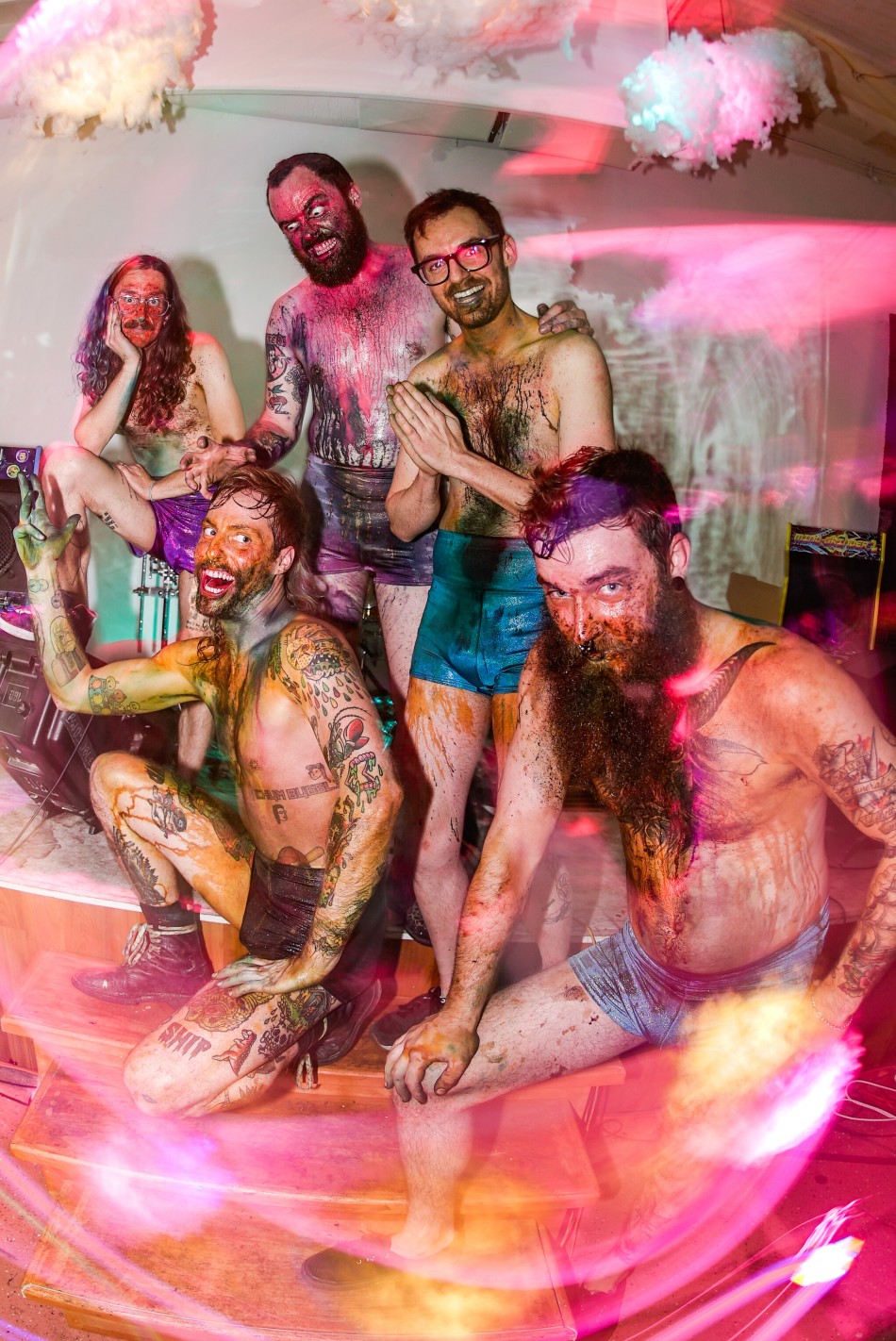 Energy, pure punk rock energy like you haven't seen in years, like you thought wasn't possible anymore. Most people in 2018 get so used to their phones and video game consoles they forget how to move like Iggy Pop. Michael Bingham never forgot though. Him and his band of San Franciscan hardcore kids turned dub punk debutants know how to make use of every square inch of a stage and lighten up every cynic in an audience. Their debut full length Television is a mixture of everything that made punk such an important movement. It's got the unrelenting anger of the Sex Pistols in songs like "Spiritual Cramp", it's got the political dub downer feel that Joe Strummer and The Specials fought tyranny with on songs like "805 Bryant", then it's got the art rock groove, swagger, and cool of the Talking Heads on songs like "The Erasure". After wrapping up a tour with Beach Fossils and Wavves, the band is starting to headline more shows all around the country. Catch Spiritual Cramp now so you can say you saw them before they blew up.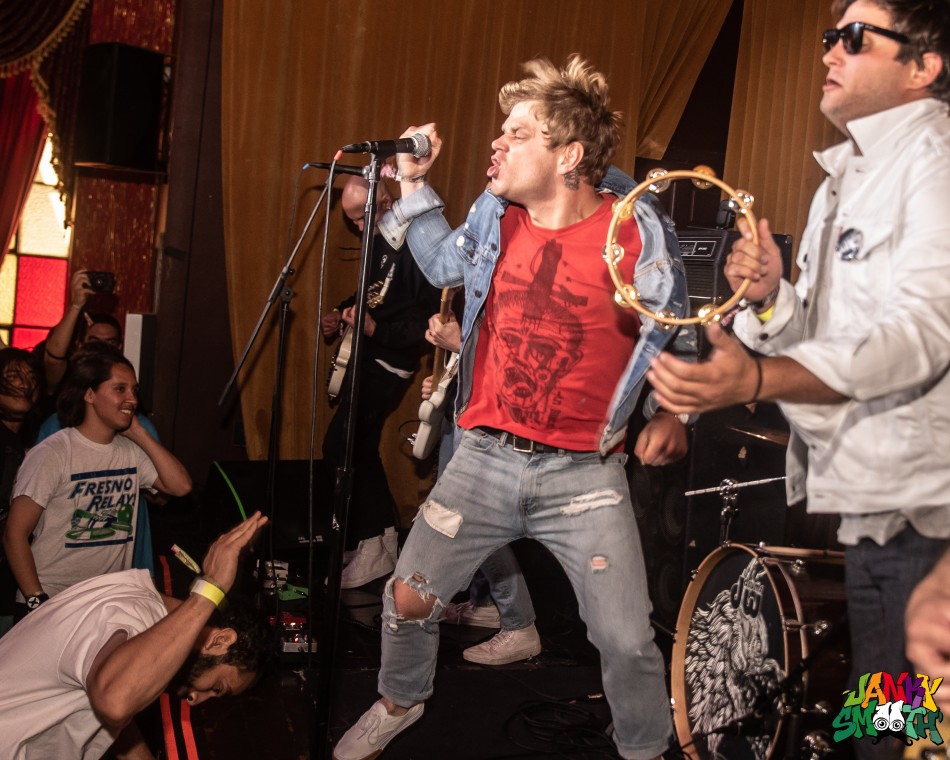 These five young men ooze musical talent out of every pore and they've acquired those chops by playing, practicing, and truly living the music. Hailing from Los Angeles, you can tell Beach Bums worked their way up from free shows, back yards, and maybe birthdays but now, while the band is still young as hell, they've started headlining venues like Teragram Ballroom. They opened for Krimewatch at Resident at a Sound and Fury promoted show where their versatility between hardcore, alternative, and psych rock took the crowd for a wild ride that inspired violence and transcendence, sometimes in the same songs.
https://www.youtube.com/watch?v=8c1_AX4-ImY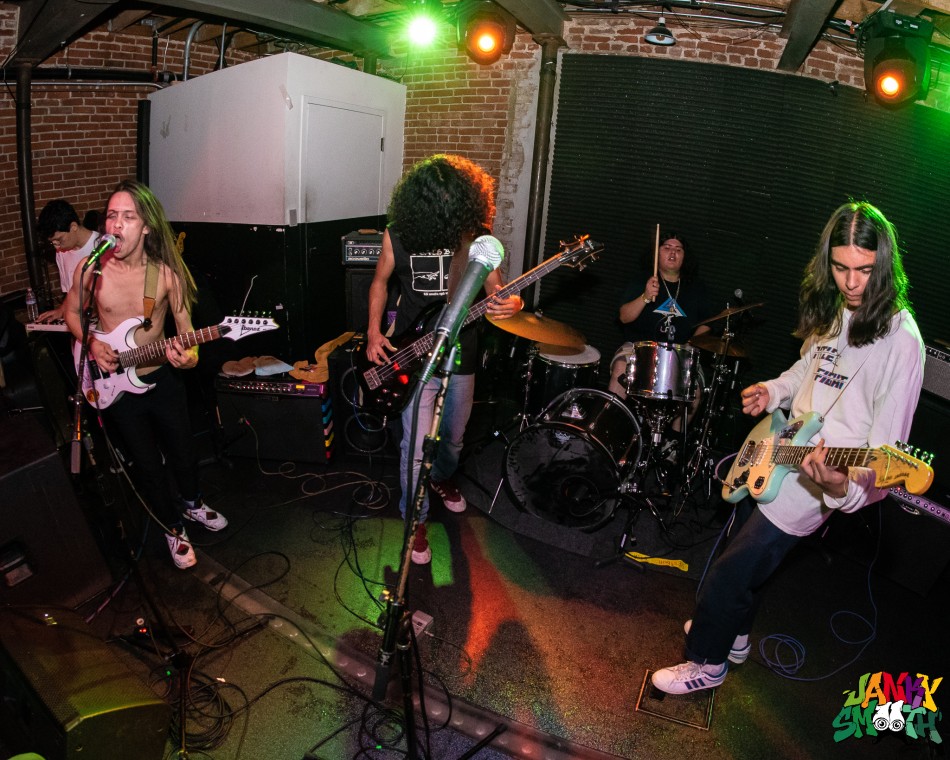 Epitaph Records has been on fire, acquiring the best young bands to lead the way for punk and alternative rock into this new decade. Culture Abuse have already been making huge waves but next up to leave their mark are post punk princes, Teenage Wrist. They played an early set at Sound and Fury and blew the crowd away with their intensity and power. The shoe-gaze elements in their songs are transcendent and riveting. The hardcore and punk rock elements push each track over the edge. Live, you can see each band member losing themselves in their instruments. On record, the band's 2018 release Chrome Neon Jesus makes you feel like your listening to a heavier, more underground Smashing Pumpkins. Hailing from Los Angeles, the band received the post punk blessing from Part Time Punks and recorded an amazing four track session. Teenage Wrist makes the kind of music spawned from losing your mind in your room, wasting away your teenage years with this unflinching desire to just break free bubbling up inside you. Teenage Wrist is the sonic translation of that release and damn it, it's just so beautiful to watch these millennial American feelings come bursting so purely out of speakers.
Have you been anointed to the Kanga kult yet? If you like loud, hard-punching electronic music then you need to pay full attention to this woman putting industrial music back on the map while tickling every pop sensibility. It's avant-garde, artistic but will get you dancing. Her live shows are so loud and noisy that you sense violence in the air. She dances in an interpretive way and usually ends up strangling herself with her microphone chord just because the unique music she creates is just that emotional and visceral when it comes out of her. Kanga will be touring with the likes of The Black Queen and Uniform and I have no doubt that every venue she hits will see her cult growing in devotees.
https://www.youtube.com/watch?v=uxkpTo6uxXM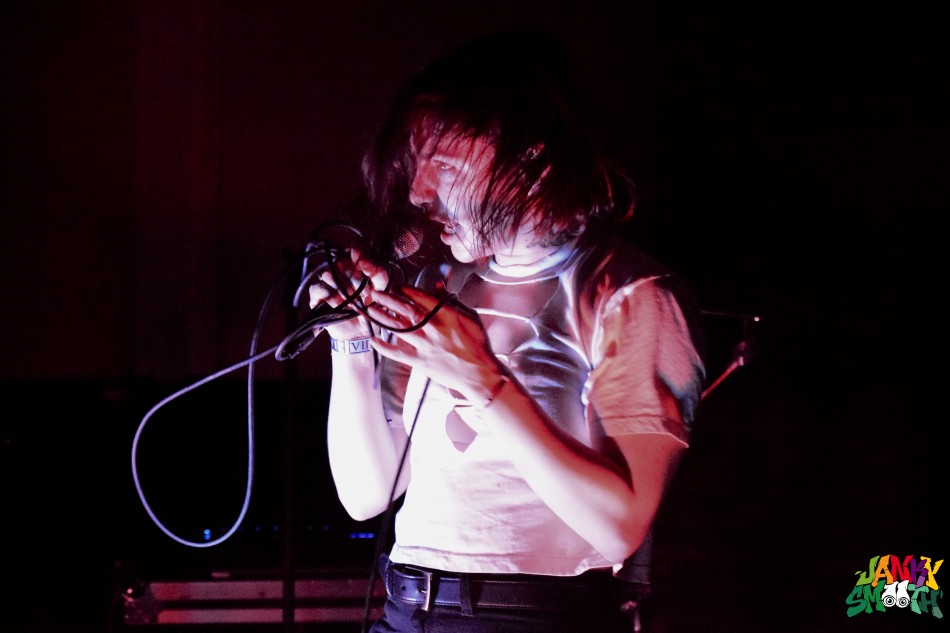 The world has been waiting for a voice and vehicle for spiritual goth music like SRSQ. Dais Records seems to be the goose that lays golden eggs because SRSQ's 2018 album Unreality has already gotten on the best of lists of some very important and knowledgable voices in the world of rock and roll. Her music harkens the best goth of the past from Cocteau Twins to Dead Can Dance to dare I even say, This Mortal Coil's "Song of the Siren". Singer and Keyboardist, Kennedy Ashlyn is a one-woman force to be reckoned with and beckoned by. Formerly of Them Are Us Too, SRSQ allows Kennedy to show us a side of her that is pained but also a remedy for pain. SRSQ's next show is with fellow Dais artist, Choir Boy, on January 21st at the Echo.
While we're on the topic of great voices and Dais records, the other breakout artist of 2019 from that label will be Choir Boy. Adam Klopp's vocals are his signature, the moment he wails the first lyric of a song, you immediately recognize it as him. And that has always been the mark of a great singer from Joey Ramone to Morrissey to Elvis, that's the stamp, you hear it and know immediately. The band makes a very emotional and depressing version of goth and post punk that you always felt should exist but no one's really captured till now. Inherent familiarity, that's another stamp of greatness you should be able to recognize whether a band is on its first album or its tenth.
At first, GLAARE's disruptive and chaotic sound doesn't quite register with you because it's just so new and fresh. It takes a second for them to worm their way into your heart and mind but give them time and they certainly will. GLAARE screams with potential. The band played two remarkable shows where they stood out among the lineups they were in, one at Echoplex opening for Jay Aston's Gene Loves Jezebel and another opening for Alcest. This should give you a sense of how much range the band has as they could play with an 80's goth band or a French metal-gaze band and still find some common musical ground with the other artists on the bill. GLAARE sounds like the dark materials residing underneath Los Angeles, the feelings hidden beneath the facade. It's heavy, angst-ridden, dramatic, chaotic, sexy, and most of all, liberating.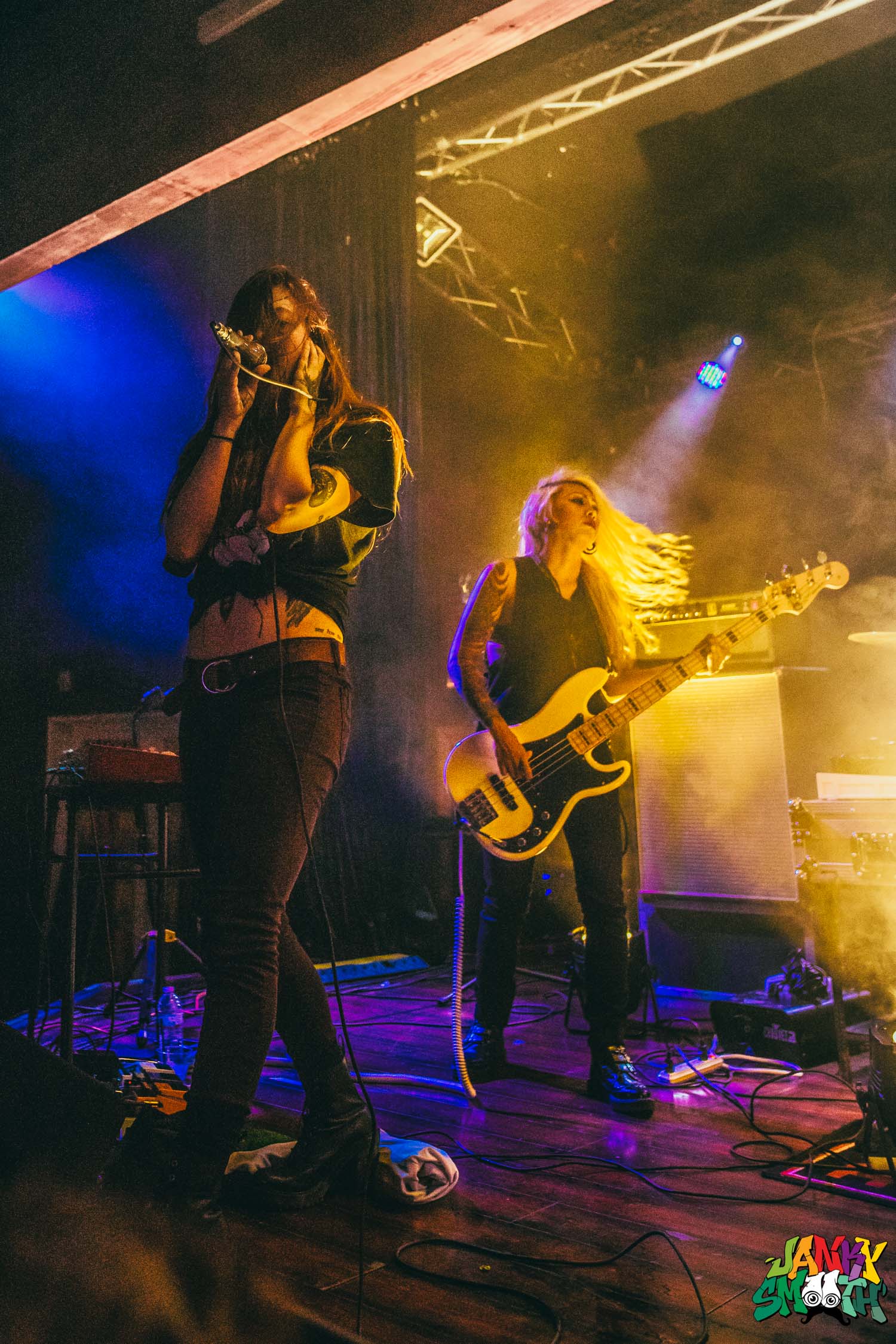 Portland, Oregon… cold, hip, progressive, young-at-heart, and the best scene for death rock and goth in the entire country. Among those burgeoning bands, Arctic Flowers are destined to seed as far and wide as death itself's reach over the world. Their 2018 album Straight to the Hunter showcases a kind of death rock that is fast, heavy, catchy, accessible, and with female vocals ala Alex Carroccio that can lead you by the hand right into a mosh pit. This is a band that every fan of dark music in Los Angeles is dying to see. They represent a crossroads of so many genres and cultures from goth to anarcho to hardcore to good ol' fashioned rock and roll. They remind this old soul of a young AFI.
Plasmic has seen a steady incline in popularity and demand ever since her soul-stirring performance at Sex Cells at El Rey earlier in 2018. With the blessing of L.A. goth godfather, Danny Fuentes of Lethal Amounts, she's found prominent spots performing at Boulet Brothers Halloween ball and will only be moving upward her career moves forward. Plasmic is one of those people that is born to make music. And the sort of music she was born to make is dreamy synth pop with a fun and angry edge she uses to speak on important social issues such as chopping rapists up into tiny pieces. She encapsulates old icons such as Cindi Lauper while creating a new flavor that could only come out of L.A. Her music speaks volumes to feminists and LGBTQ people and they truly have her back. It's only a matter of time until the world finds out about her and she gets big in Japan.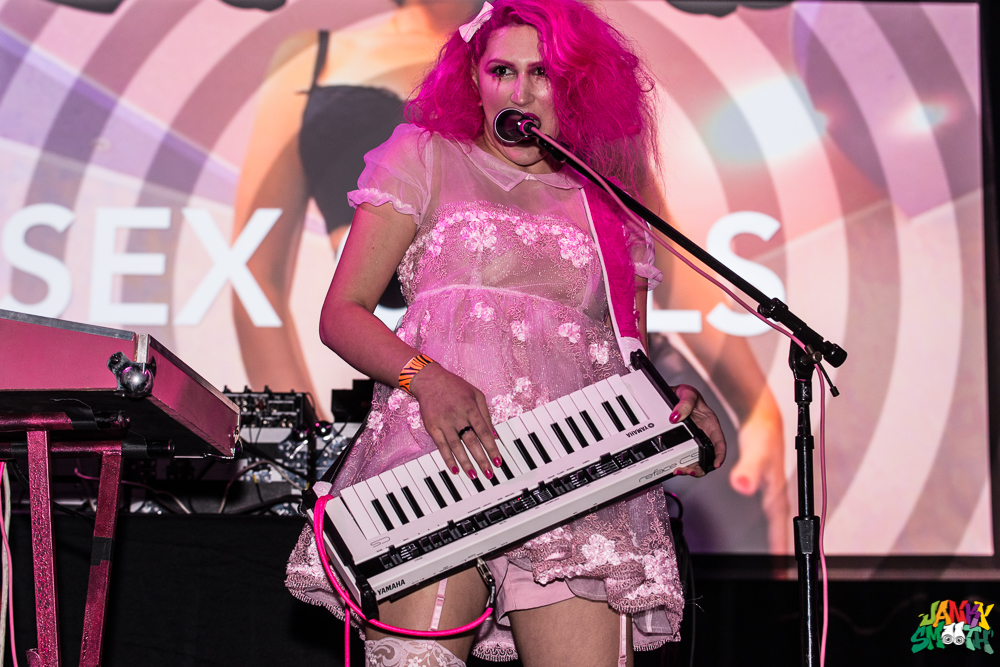 Rico Nasty is hip hop's best kept secret, how she's not famous already is a mystery. As a performer, Rico is the queen, she has such powerful and queenly swagger and confidence that you cannot forget the image of her garish but glamorous fur coats, shades to cat shade, and braids or platinum blonde locks. Singing her songs make you feel confident no matter who you are or what your bent is. Rico signifies the nexus where fashion and music combine to contribute to an artist's allure. Musically, she uses bassy trap beats that creep under her infectious and hard rhymes. No one's got the kind of conviction Rico carries in her voice, if she calls you out on a track it's a bitch-slap you don't recover from. Her 2018 single "Guap (LaLaLa)" feels like the realest nursery rhyme ever on record, something to listen to while jumping rope before you use that rope to choke a mother fucker.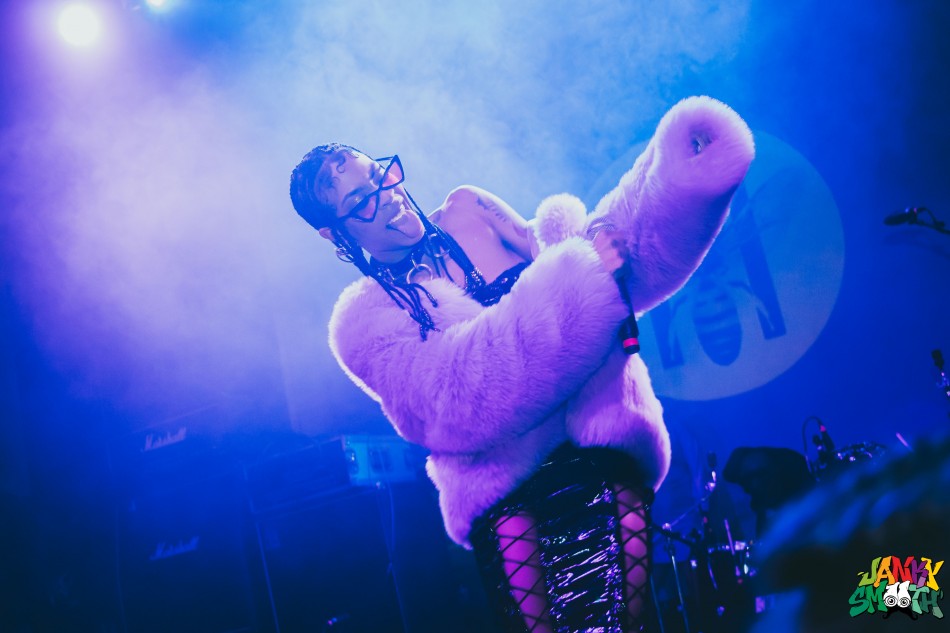 Meme culture has found it's savior in the form of producer, singer, filmmaker, scooter-enthusiast, Oliver Tree aka Turbo aka The King of Bowl Cuts. JNCO jeans don't hinder Tree when he's strutting his stuff on a stage, he goes harder than anyone else he's on a lineup with. When he performed at Music Tastes Good, Oliver was sick and had just arrived off a plane from the Ukraine where he was shooting a music video. He was dressed in multiple layers of warm clothes in the blistering Long Beach heat but that didn't stop him from going ape shit on stage, performing flying karate kicks during his songs. He fed off the crowd and we fed off him, it was a pure and direct connection. His music is a form of white boy hip hop that features melodic singing too charming to deny. Oliver Tree has loads of talent but it is his hard work and hunger to make his fans happy that will ultimately make him a house hold name.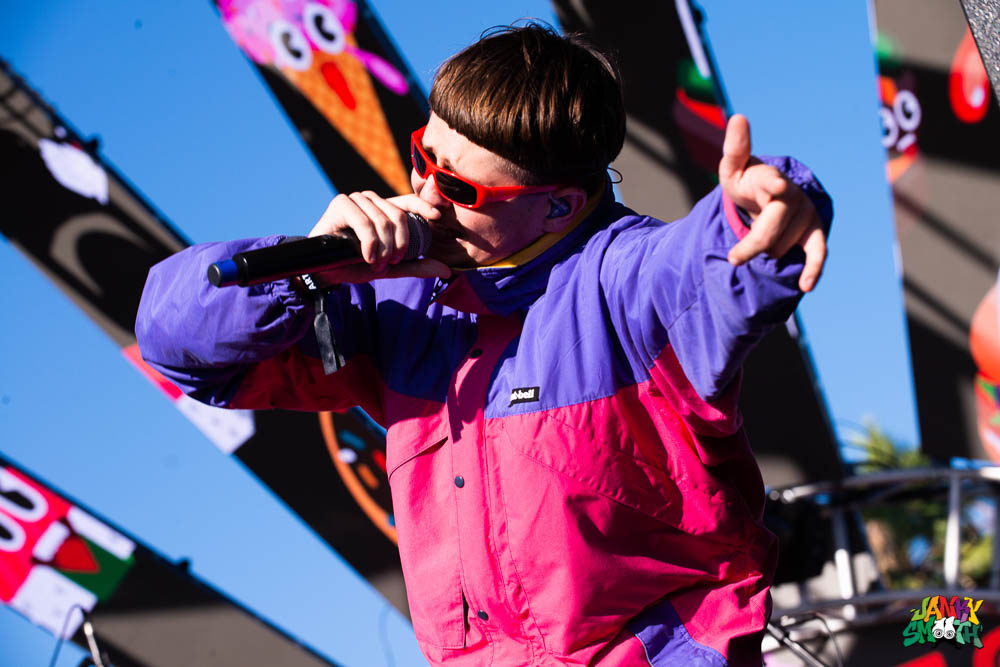 The most interesting things that happened in music in 2018 revolved around Kanye West and his company Good music. The latest signing to the label is Valee, a Chicago born rapper who's mixtape "1988" got him signed. West said of Valee himself, "Valee's style is the most popular in rap, period." What did Ye mean by this exactly? Thick, drowsy beats and a sluggish, swaggering vocal cadence that you can hear on songs like his most popular "Womp, Womp" or recent single, 2018's "About U" featuring DRAM. In the past, Valee has also worked with Matt Ox, so he seems to be very aware of how he can cross cultures within hip hop and have fun with his fame. This is music to blaze to if there ever was, the beats and rhymes sort of move and puff and dissolve like smoke when you listen closely enough.
Something incredible happened to Angel Du$t in 2018. They signed to RoadRunner records and evolved into their ultimate form. It's as if the world finally caught a whiff of what Angel Du$t has been cooking all this time and realized, "Oh, everyone is going to like this". They might make a poppy sort of hardcore but at its essence, the band's music has always encapsulated all the ingredients of a good time. Every show they play gets a sing-along and mosh pit going hard and though both bands affiliated with Angel Du$t and Pop Wig records, Turnstile & Trapped Under Ice, released albums since 2017, it appears Angel Du$t is being set to make the biggest stride forward. They already released two songs that show us an evolved and enhanced trajectory. Both "Big Ass Love" and "Take Away The Pain", shoot you up with tons of energy and truly make you feel the music. Mark my words, Angel Du$t will explode in 2019 for the whole world to bite into.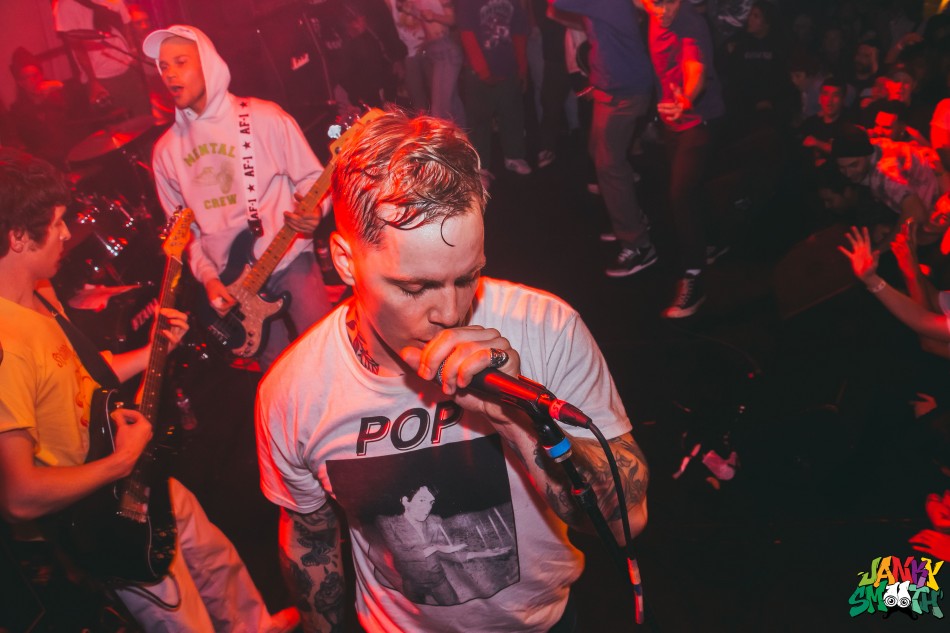 When was a last time a band had their mosh pit make news? That's exactly what happened to Orange County straight edge hardcore band Dare when they played the opening set of Day 2 at Sound and Fury 2018. There's a lot of factors that contribute to Dare being put on this list, promoters see the band as the best opener they can wrangle at hardcore shows and by that logic, it's only a matter of time until they're the band that ends up with their logo at the top of the poster. Other than the band's demand, musically, Dare is pummeling and passionate enough to grab your attention the very first time you see them. Their self-titled 2018 EP shows off that aggressive swagger and bounce people want out of straight edge hardcore that will get your body moving without any need for chemical assistance. Each member holds it down, representing the hardcore scene proudly, then together these forces combine to become the mighty Dare.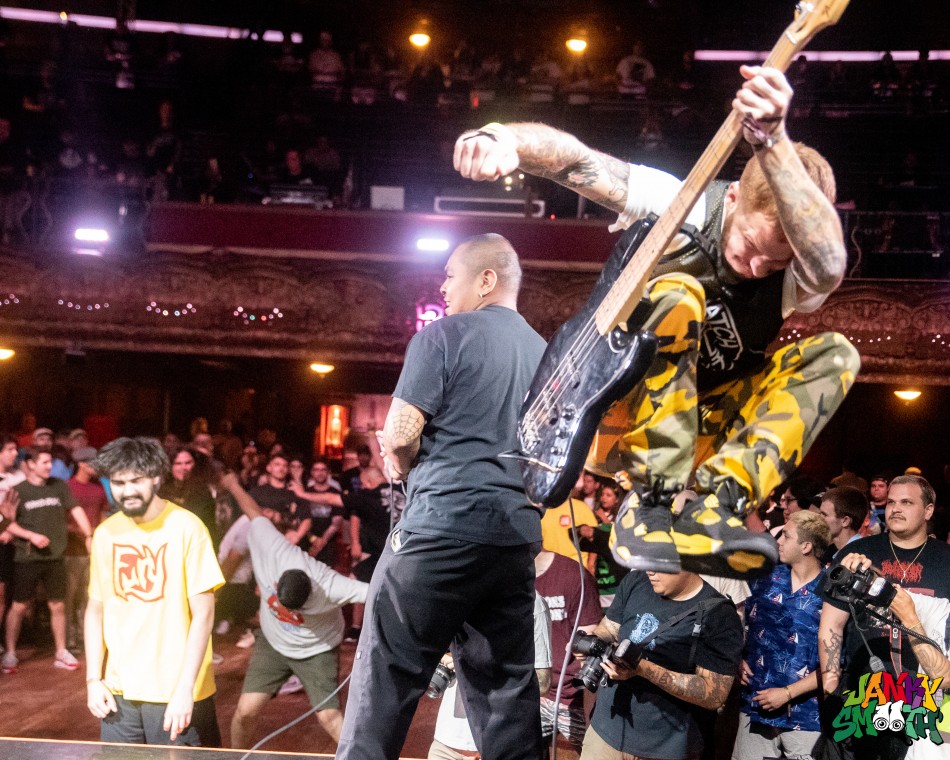 The Venezuelan born, Miami based experimental hardcore group carries an insane emotional intensity unmatched by anyone else touring today. Zeta tour constantly and if you truly care about sincerity in music you'll make an effort to see them as soon as you can. This is the most promising act in the US today, 2019 needs to be their year.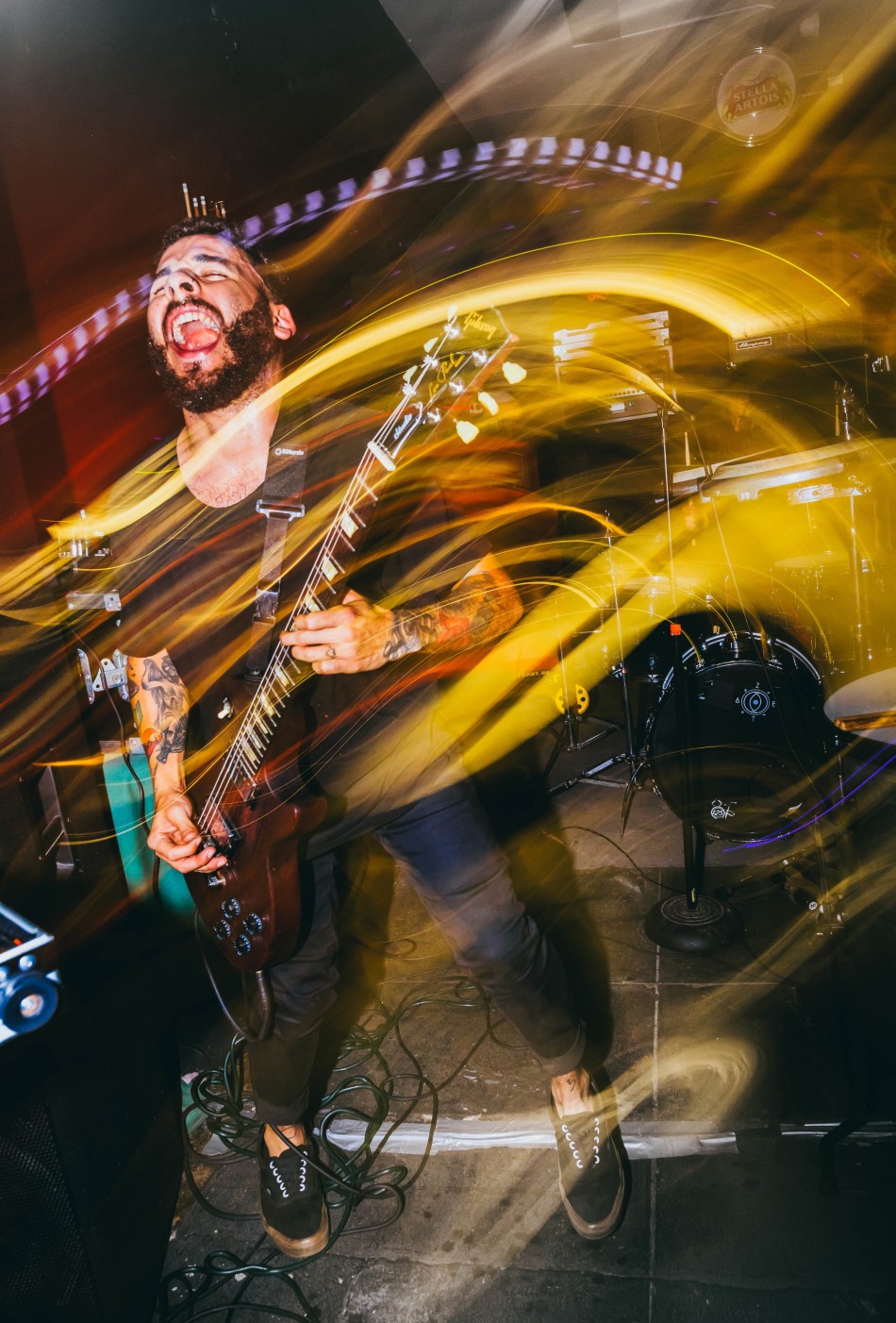 Did you know Kier Gilchrist from Netflix's Atypical and It Follows has a grindcore band? Not to sound like a star fucker, but Whelm is one of the most brutal bands playing the underground metal circuit right now. After refining their sound within the LA underground over the past few years Whelm have proven themselves as a band comprised of talented musicians with a shared no bullshit attitude. Their music RIPS and their recent set at Union is proof they're the next big heavy act from the city.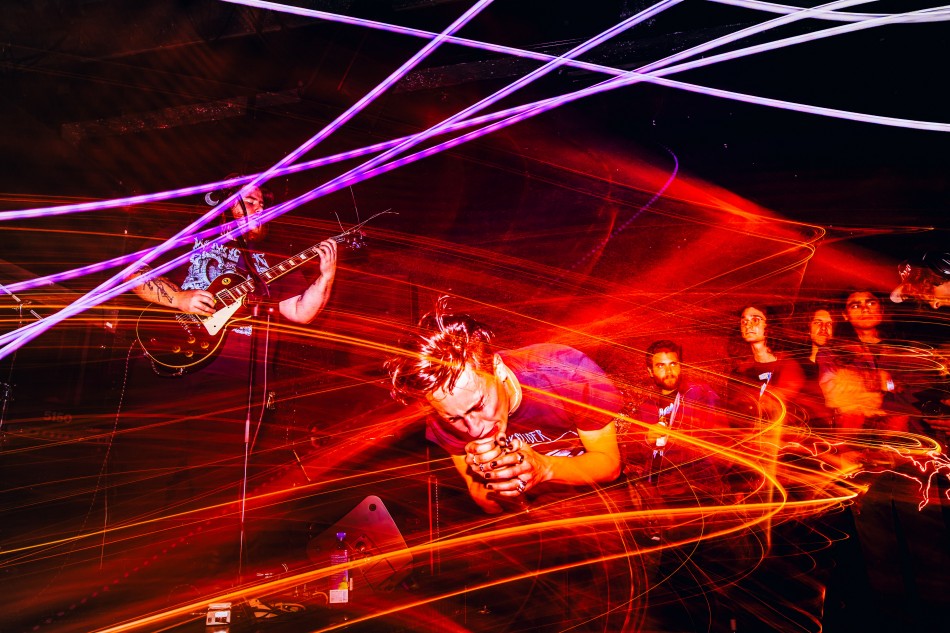 Los Angeles' underground metal scene is a certified hesher hub and few bands really take you on a doom metal journey like Yidhra. The riffs are so heavy, they vibrate your teeth in your jaw but that doesn't stop the band from finding opportunities to break from the standard and jam. One thing that separates them from every other doom metal band is a theremin which singer Ted Venemann employs to bring you to alien landscapes in your own mind. There's a strong Lovecraftian and Kenneth Anger-esque undercurrent in the band's sound and concept that cinephiles and bibliophiles will recognize immediately. Of all the doom metal bands you can see, none inspire movies in your mind's eye as vivid, scary, and outer-dimensional as Yidhra.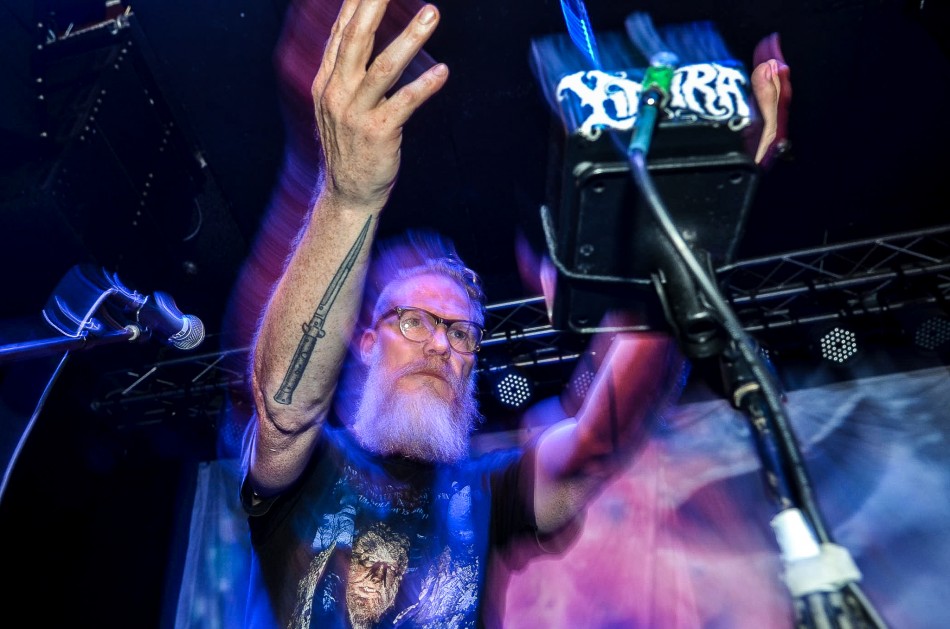 Trevor William Church might just be the hardest working metal musician in southern California, both of his bands, Haunt and Beastmaker, are making waves in metal. Haunt, is the more cerebral and rocking of the two bands, where as Beastmaker is doomier, desert rock. Haunt performs a riveting double guitar assault whenever they play, with vocals and lyrics that really tap into themes like psychosis and derangement. Haunt's first album, Burst into Flame, harkens classic metal riffage that dares you to compare them to greats like Iron Maiden. Haunt is the perfect hybrid of two split phenomenons in the metal scene, they are the bridge between the classic metal kids trying to recreate NWOBM and the doom heads that grew up skating to Saint Vitus.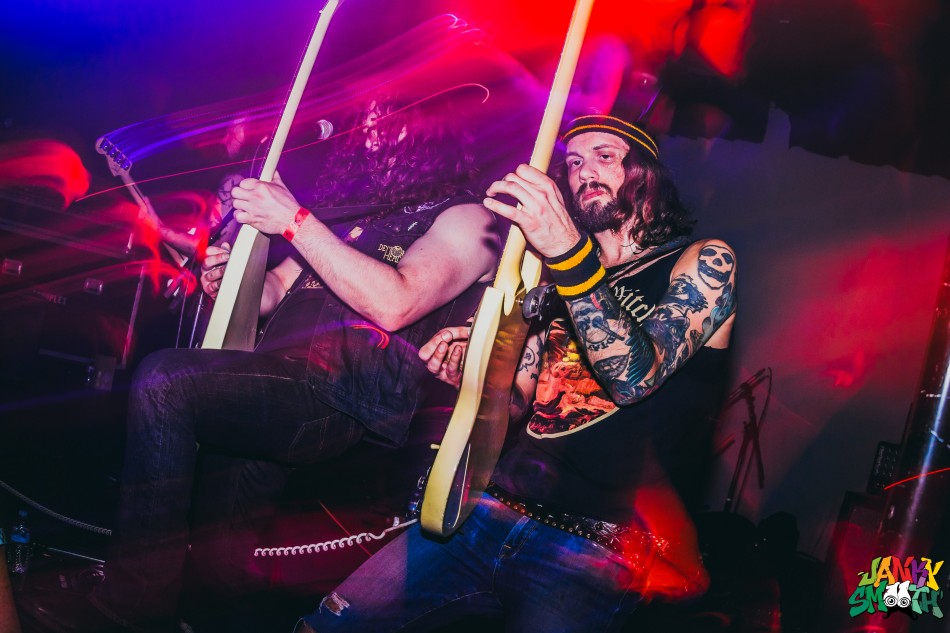 Instigator are the youngest band on this list with faces straight out of high school but with metal attitude that exceeds their years. The first thing you recognize about these four young men is that they're good friends and true fans of metal. Any band this young makes you feel skeptical before you hear them but don't be fooled. Instigator rips so hard, they blow you away. Hailing from the Coachella Valley, you figure they must've spent countless hours practicing in a garage to be this tight on their instruments and to have such close synergy on a stage. And what do you know, if you look them up on Youtube, you can watch their garage sessions…. The members alternate singing but don't lose a beat in doing so. They have songs that recall the harshest moments of Metallica's Kill 'Em All thrash or the doomy, spooky vibes of early Black Sabbath. Of all the bands on this list, I am convinced Instigator will have the most impact on their scene. These guys rock just as hard as Power Trip but they're a decade younger. Check out their first EP, 2018's "Built to Defy".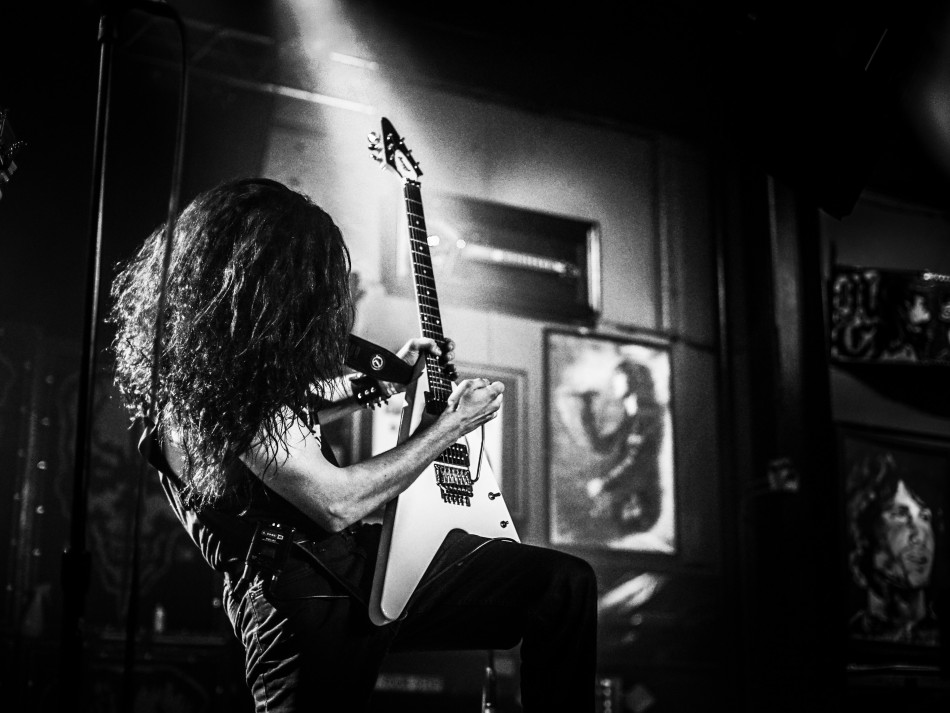 Psych rock never sounded so Southern fried as when San Francisco trio Howlin' Rain take a stage and plug-in to play their particular variety of bayou rock. You can bounce, you can square-dance, or you can just close your eyes and trip to this band's music. It's classically American. The kind of rock that used to make the whole world jealous of us. For fans of classic rock that lost any hope in this generation, I suggest you pick up this band's 2018 album The Alligator Bride. It's the rebirth of such a necessary component in rock and roll that was missing for far too long, the sound that CCR, Jim Croce, and Leon Russell gave the world, only in the case of Howlin' Rain, it's dosed with a little bit of that good ol' San Franciscan sweetness.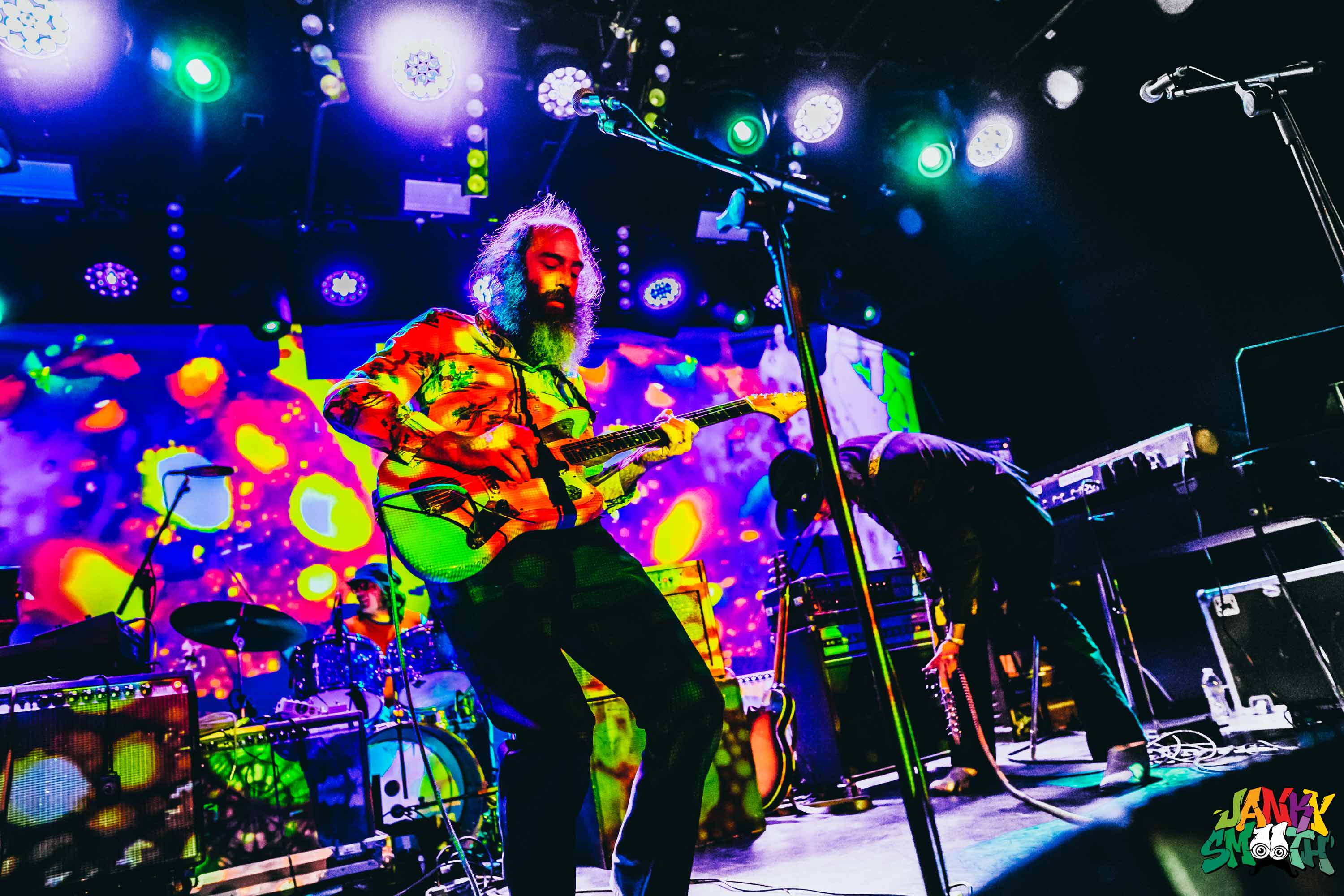 Like a good trip on three hits of blotter acid, Uncle Acid and the Deadbeats had a steady incline in popularity in 2018 that will surely peak in 2019 with a slew of dates to play the kinds of venues their talent deserves, The Wiltern, The Warfield, O2 Academy. Their 2018 album Wasteland cemented them as a premiere psych rock band, wielding the secrets of the world in every riff. Hard rocking, groovey, noisy, and as quickly shifting as a good liquid light show by Mad Alchemy, Uncle Acid's sound is what brought them to this career nexus.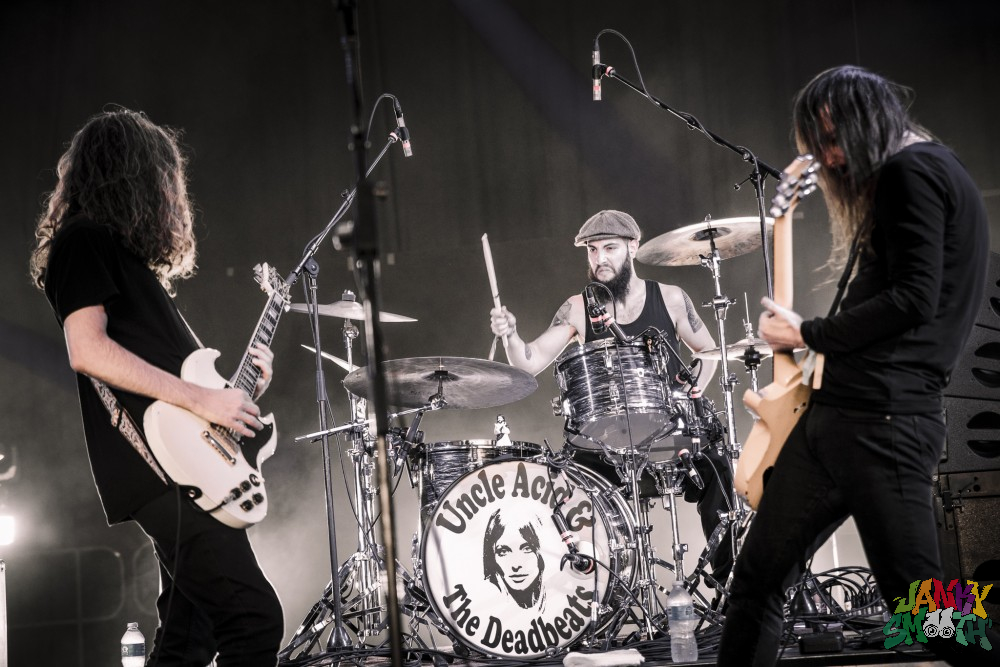 Kikagaku Moyo has been beloved in Los Angeles for years but in 2019, that love will finally realize itself into mainstream success. The psych rock label often falls over bands that aren't exactly psychedelic sounding but in the case of this band, I can't think of another who's sound so purely defines the genre. Their 2018 album Masana Temples continues in their tradition of taking worldly influences and blending them together to craft the most psychedelic and transfmortaive sonic experience. The band's upcoming 2019 headlining tour is already selling out venues and the Regent in downtown will be next on the list. Japanese for "Geometric Patterns" the pinpoint precision of the music to hit every note that resonates in you is going to inspire an entire generation of psych kids in Los Angeles. You want to watch this band closely because theirs is the story of how an international artist makes a slow build to undeniable success based solely on musical ability.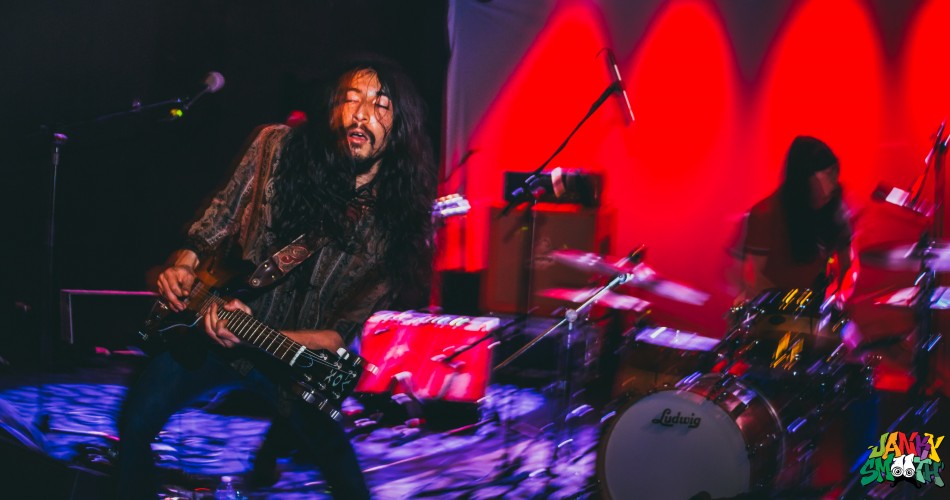 Garden Grove's 3LH have been making noise over at Garden Amp as a mainstay at Michael Haight shows but in 2019 they will be breaking out and grabbing attention all over Los Angeles as the Chicano heartthrobs and rockers they are. 3LH blends doo-wop, surf rock, garage, and old fashioned Americana to make a sound that is already ingrained in American blood. Very many cool summer nights will be spent by couples and loners seeking love listening to 3LH while cruising through Silverlake down Sunset boulevard. Think Orange County, classic cars, barbershops, vintage movies and clothes, switchblades, and big guitars and you'll be thinking 3LH.
Some artists are destined to become something. The son of Sublime's great Bradley Nowell, Jakob Nowell, was always examined closely by all the fans of his father's band, waiting to see what sort of artist he would become and if the Nowell talent would trickle down into him. It wasn't until 2019 that Jakob Nowell's band, LAW, came out with their breakthrough album There And Back Again and now the world cannot deny his talent. Jakob isn't trying to recreate Sublime, he has found his own sound and style and it oozes out your speakers when you put this album on. It's got swagger, groove, conviction, drama, versatility, and plenty of narrative. Some moments of the album reach epic heights that Sublime was always too low key and cool to attempt but Jakob has no fear of reaching into his gut and summoning these powerful pieces. The sky's the limit for LAW as far as I see it.
BANDS ARE NOT THE ONLY THING TO WATCH OUT FOR IN 2019!
Australia
With King Gizzard exploding in 2018, Amyl and the Sniffers becoming an underground sensation, and Tash Sultana selling out the Shrine, Australian bands are becoming all the rage in the States. It's going to get to the point that if a band is from Australia, that alone will be enough to sell tickets. Bands like Ocean Alley and Psychedelic Porn Crumpets are playing L.A. in 2019 and I suspect they'll both make big splashes.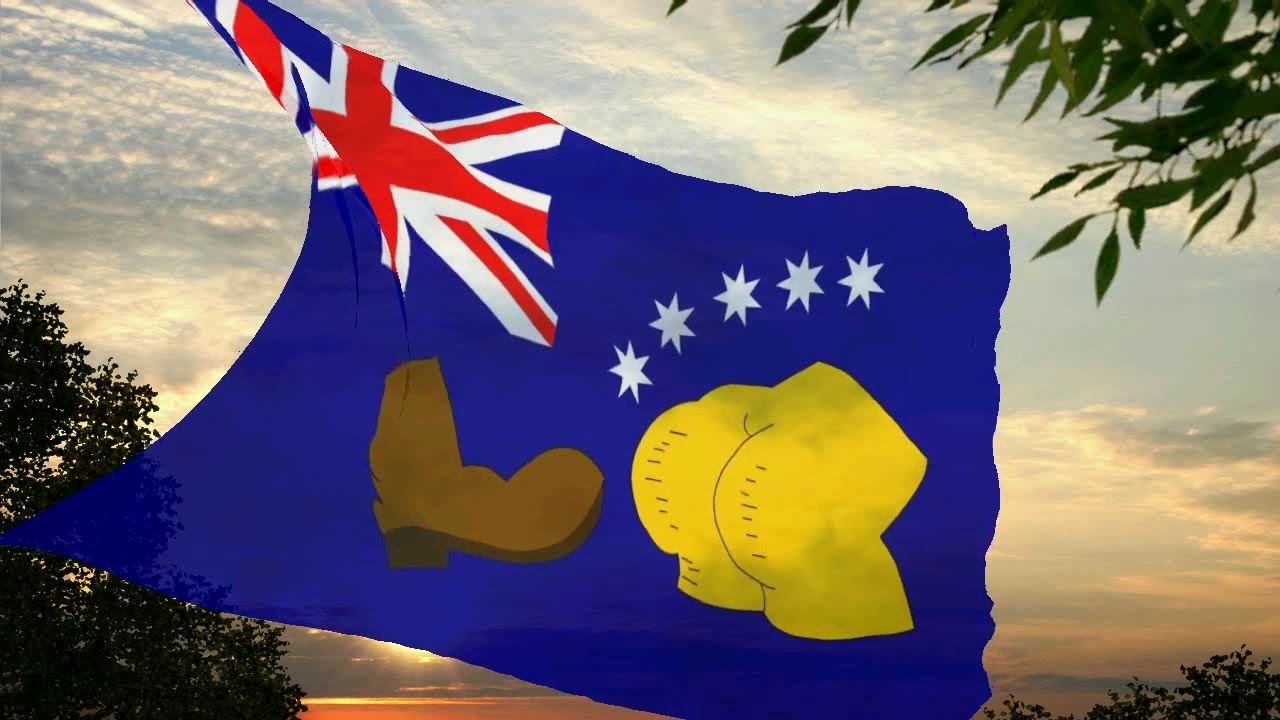 I remember the very first Lethal Amounts gallery show years ago with Leee Black Childers and since then the gallery has grown into an absolute power house brand in Los Angeles underground music. In 2019 they celebrate the 2 year anniversary of Sex Cells with Marc Almond of Soft Cell playing at the Globe Theatre for a show that will surely sell out. If you've been paying attention, you've seen Lethal Amounts bounce around, cross promoting with Goldenvoice, Spaceland, and others, so it's as if this little Downtown art gallery is in demand with every concert promoter in L.A.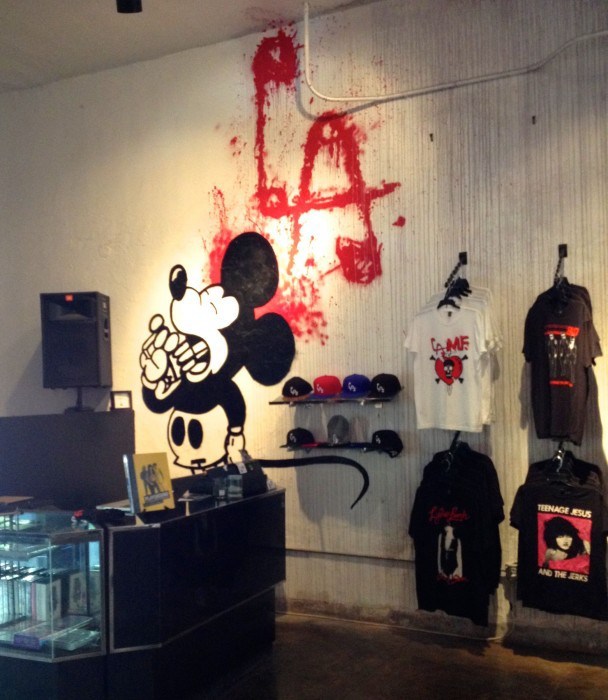 He's not just a rock photographer, he's one of the fastest growing promoters in Orange County. After booking Leftover Crack for a secret show in 2018 and making his M. Haight Presents series a must-see night at Garden Amp, Michael Haight will surely be growing in popularity and make his mark on the L.A. concert scene.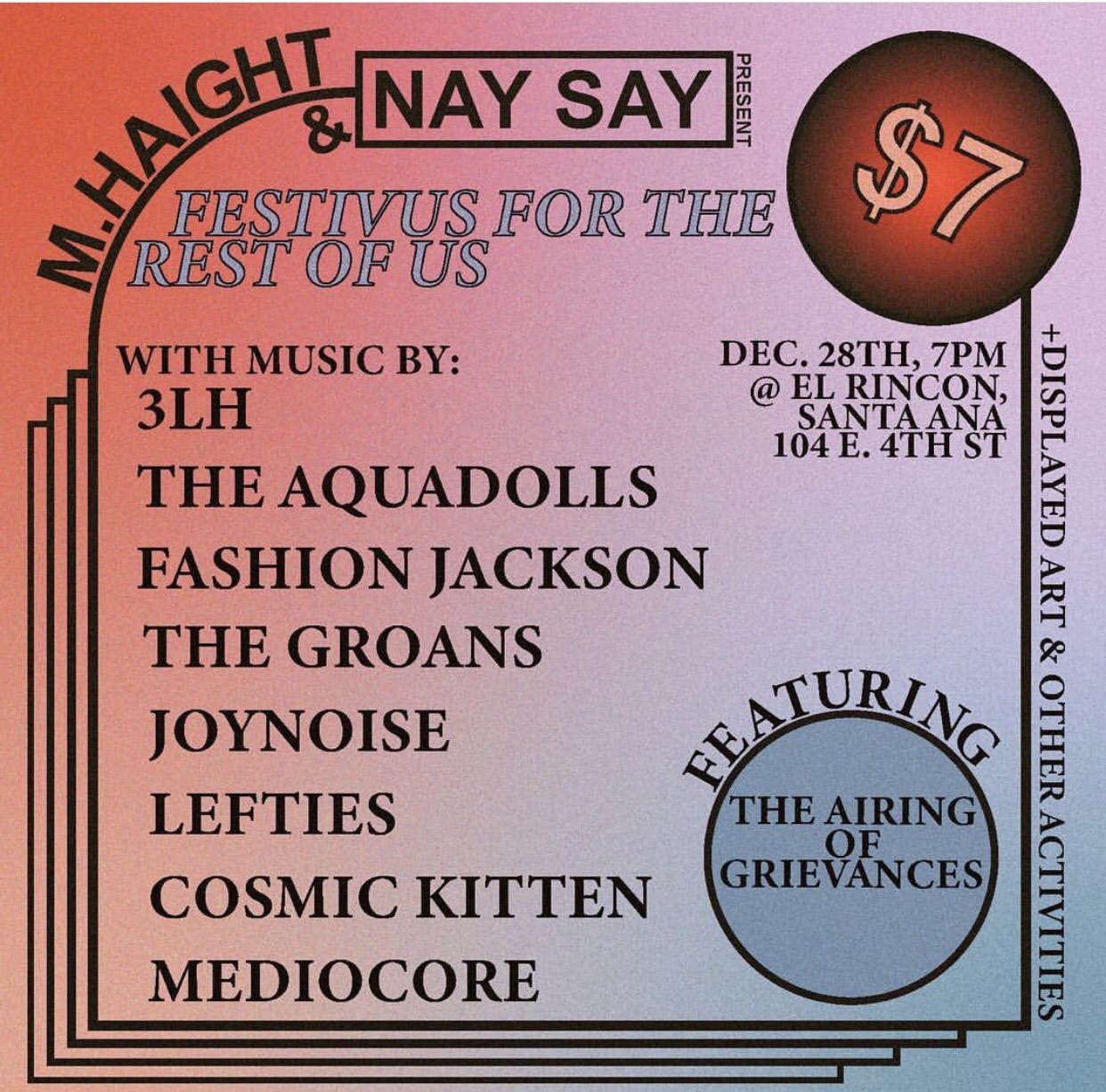 Nu Metal
With bands like Limp Bizkit, Tool, Deftones, and Slipknot releasing albums in 2019 and Limp Bizkit headlining Musink, Nu Metal is being set for a big comeback in 2019. When Limp Bizkit hits the stage at Musink I'm prepared for everyone to prop it up as a huge deal and party to the music like it was never a guilty pleasure to begin with.