The Industrial Virus is Spreading: Das Bunker Presents Kanga at Resident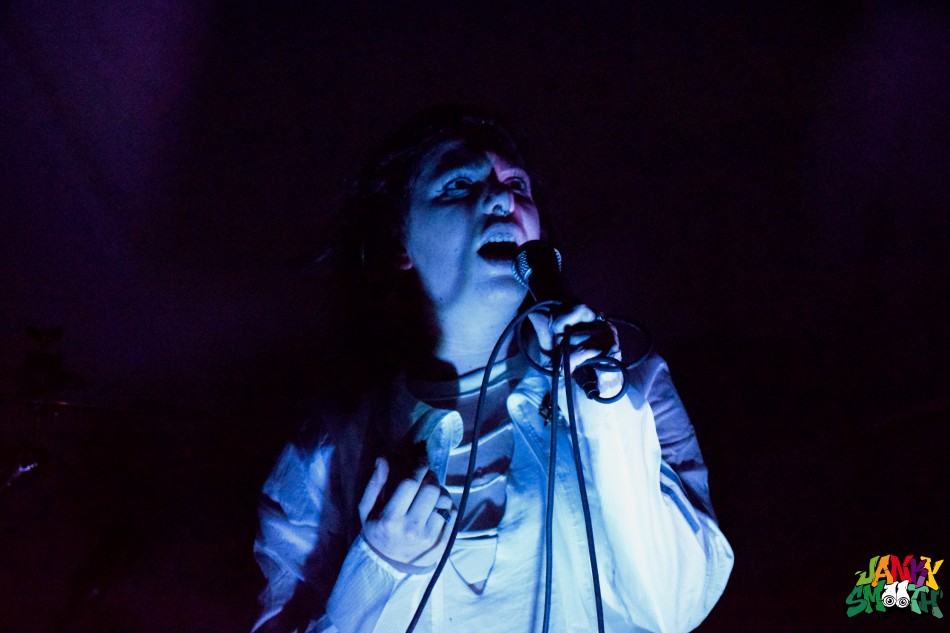 Das Bunker has returned, this time out of the post-apocalyptic brick humidifier that is Los Globos' crumbling upstairs bomb shelter to the posh but mosh-approved Resident for a Kanga and Cyanotic duel-headlining show. The horror on the faces of those yuppies that were trying to peacefully go about their networking on the patio was a beautiful thing for us creeps to behold. We blackened the Resident like a flock of crows descending upon hipster carrion.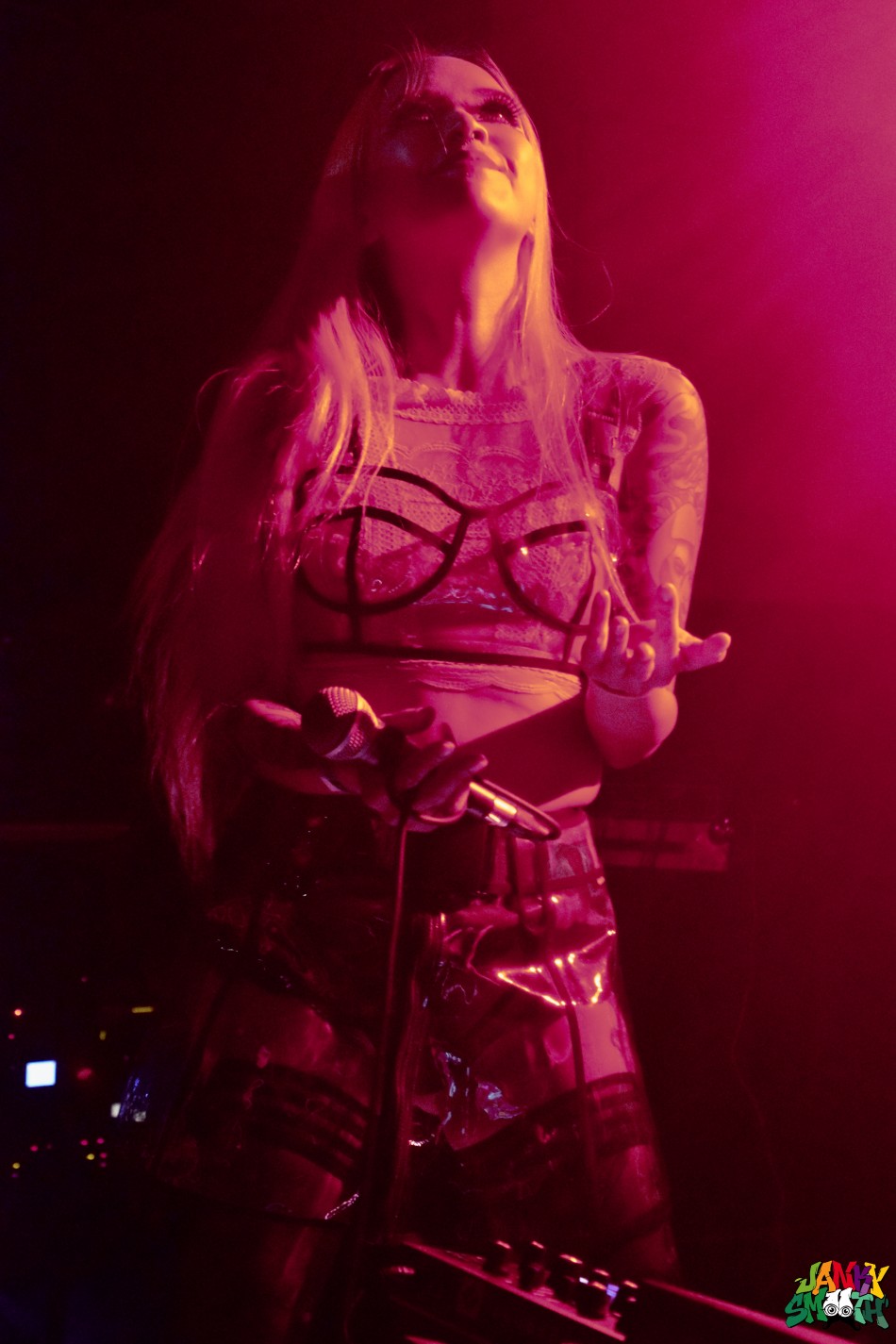 Coming from Toronto and exhibiting that same sappy Canadian authenticity that seems so easy to be cynical against, For All The Emptiness, began the show. His songs were desperate pleas for change out of a numb and uncaring world and though this translates well on his records, over his catchy industrial dance beats, live the combination of fast-paced music, overly-dramatic singing, forgettable stage antics, and lyric-videos plastered on the backdrop via projection, didn't quite hit the mark. Digital music and lyric videos just scream karaoke no matter how good the performance. In his favor, I will say the his album art and music video for "Hearts Against Minds" have top notch aesthetics that you don't always find in a such young artist.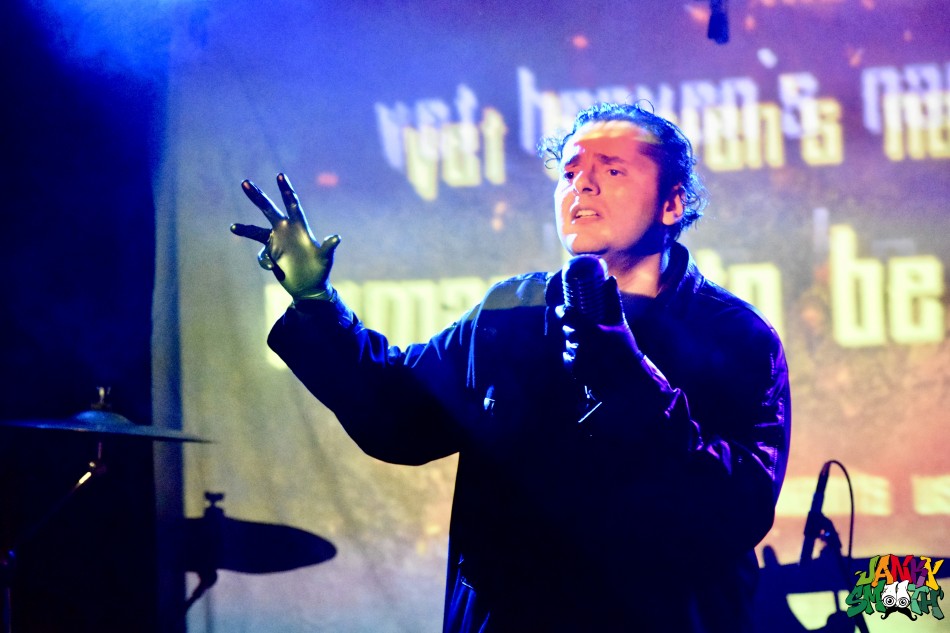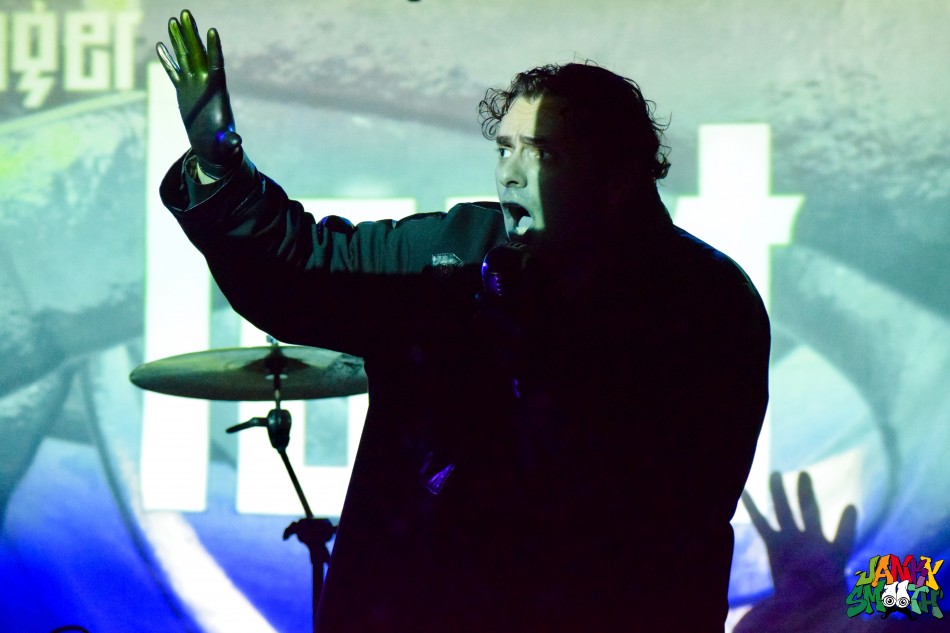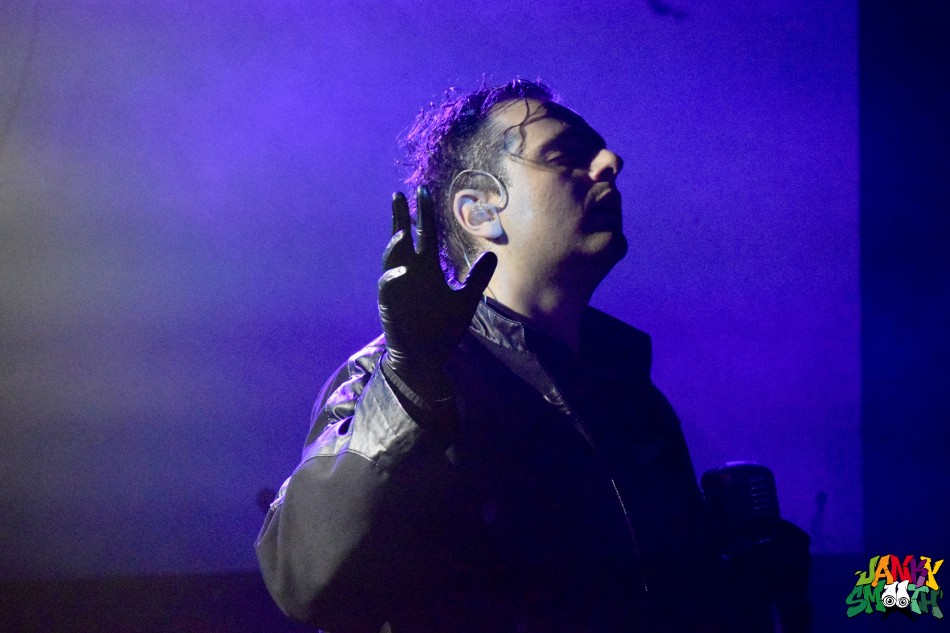 In a rotating cavalcade of the same musicians appearing in different acts, Relic, was the second band to take the stage, this time utilizing electronics and live drums to crank the noise and energy into override. This duo had the industrial kids moshing and dancing with intense rhythm at headbanger-speed. The band stayed on stage and were joined by Amelia Arsenic, an industrial beauty with plenty of bite that combines industrial and hip hop. As a fashion designer, she really drives the fetish image home with lace, leather, and transparent latex. This was music that could reel in the trap fashionistas and the cyberpunks alike, and if they don't end up killing each other, they'll probably start dancing and hooking up. God knows that every trap guy wants a goth girl anyway. Amelia Arsenic then stepped away from the microphone and got behind a Mac laptop to let Rabbit Junk take center stage on his guitar. With all this intermingling between bands, it was evident that industrial artists share a camaraderie I can only liken to bands in the hardcore scene.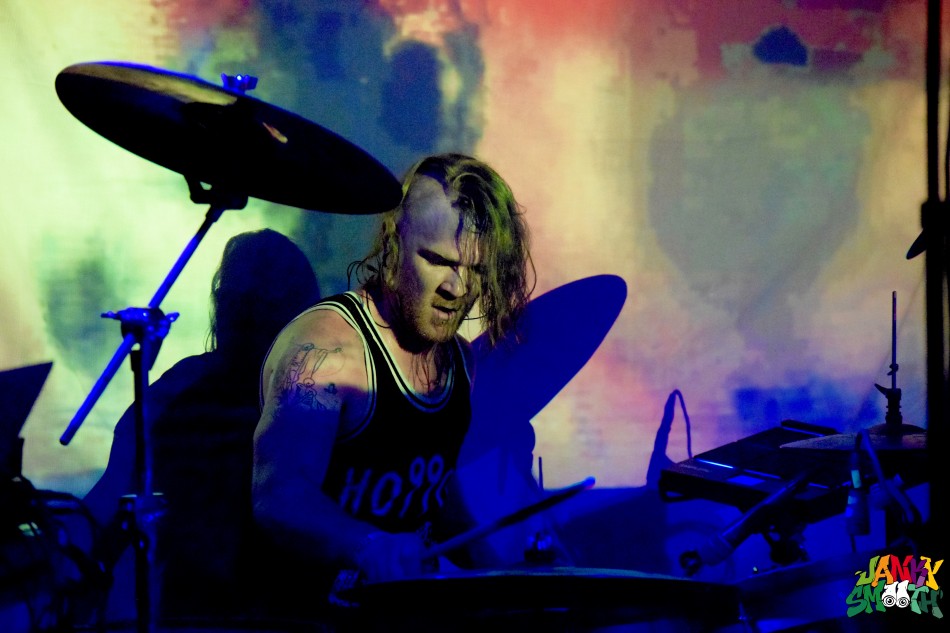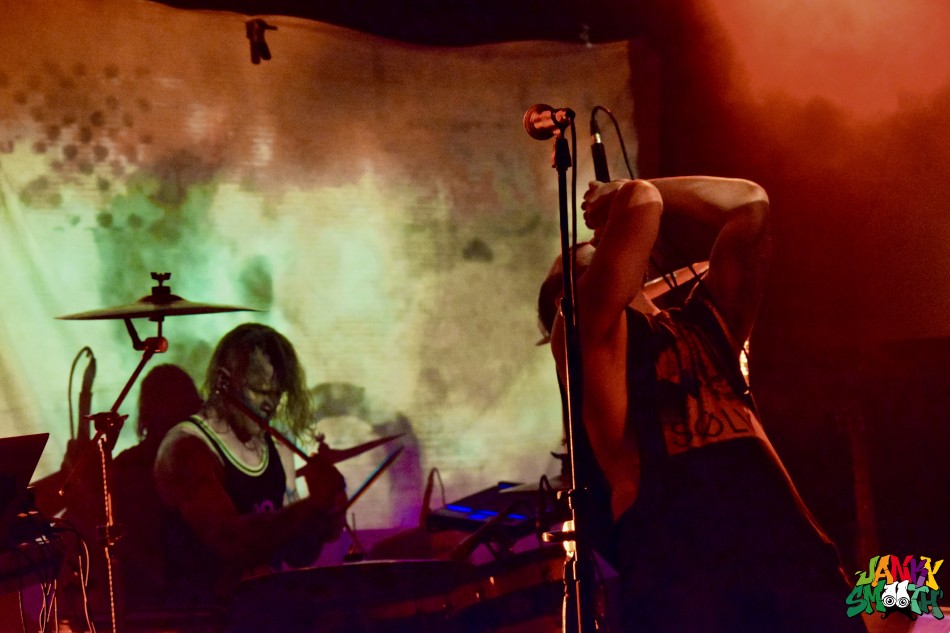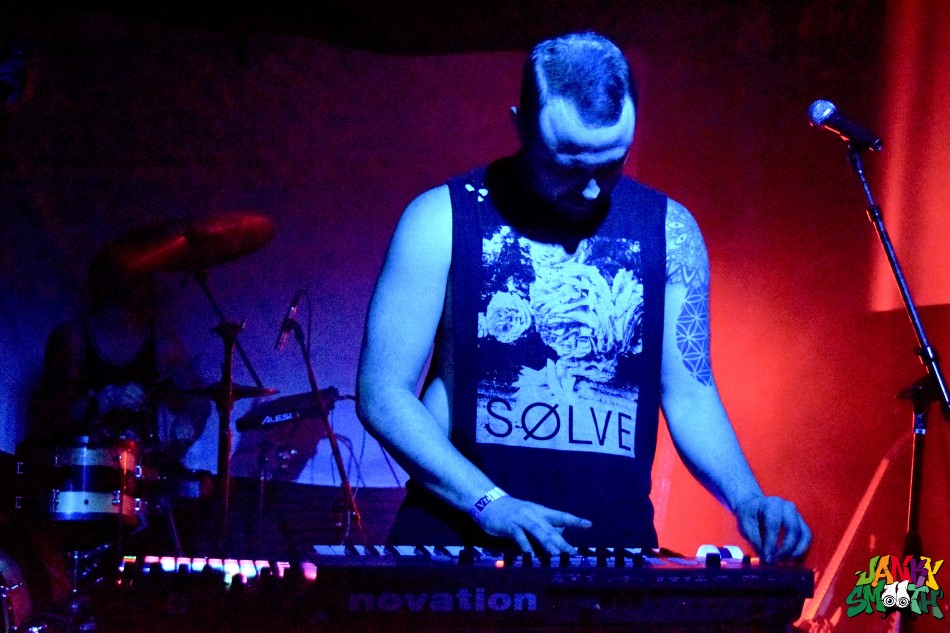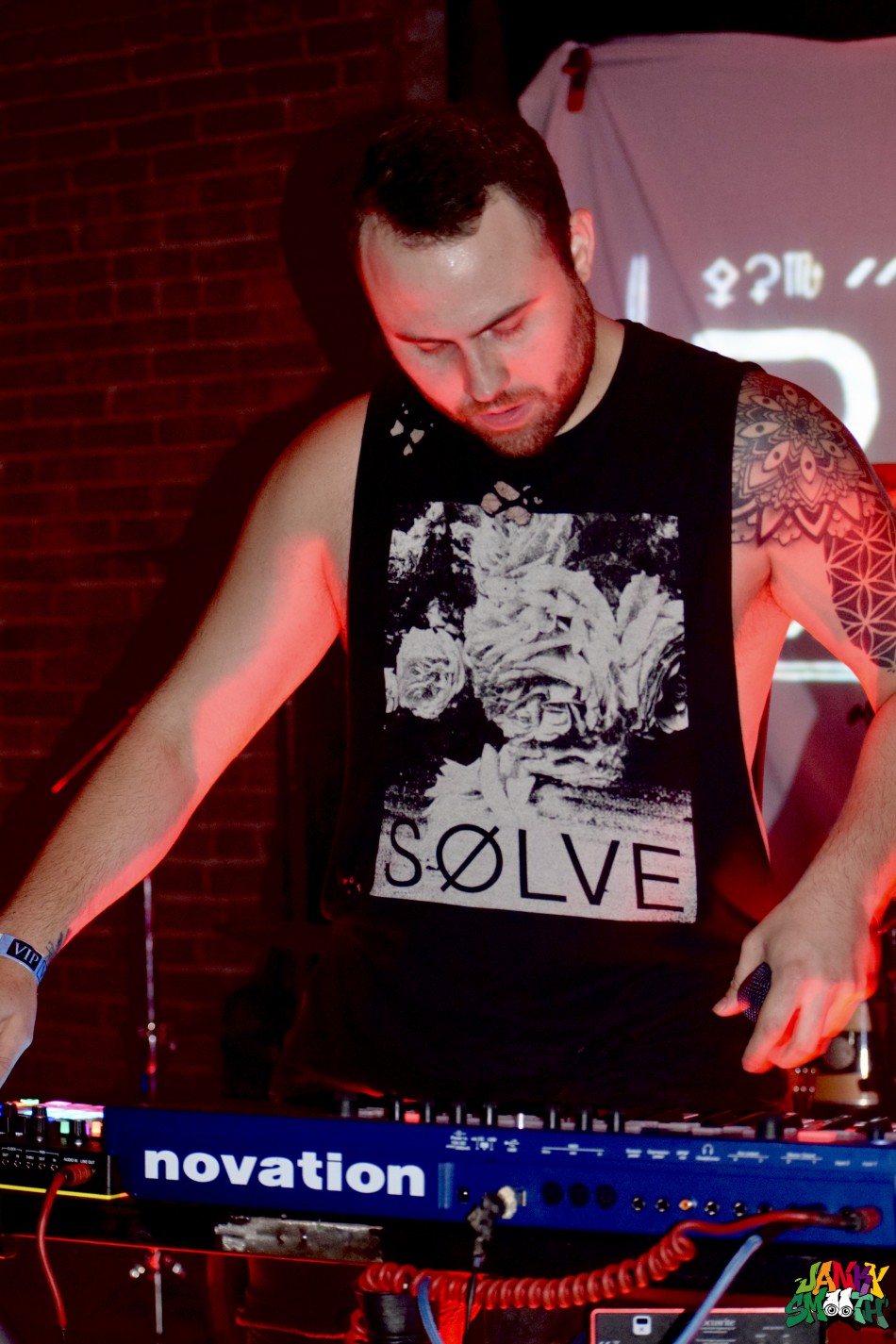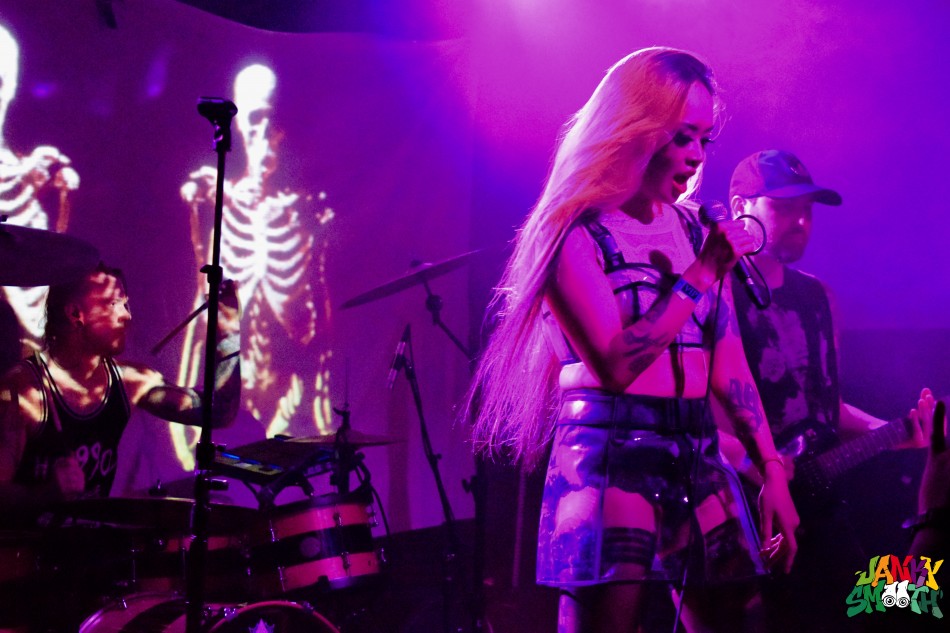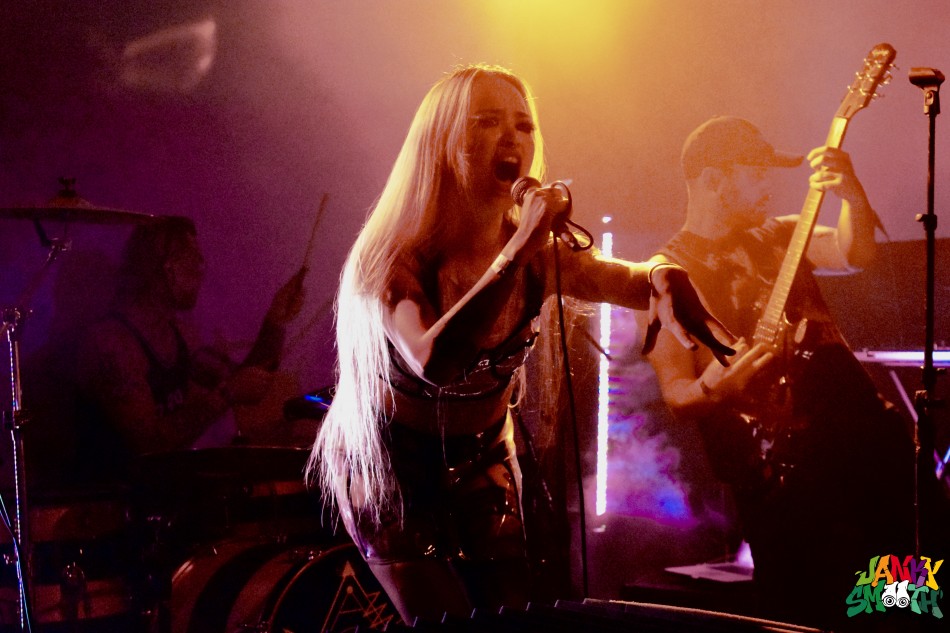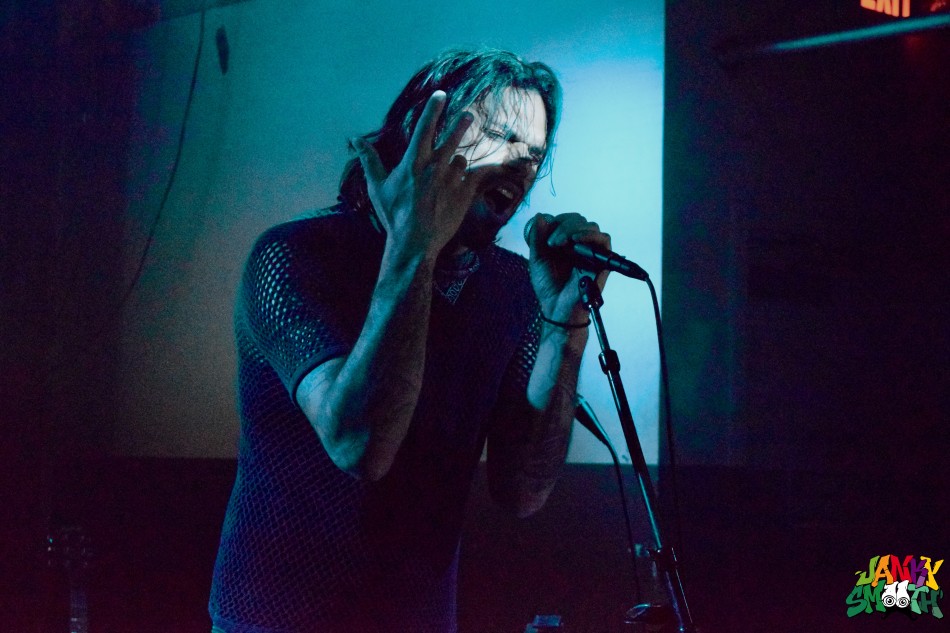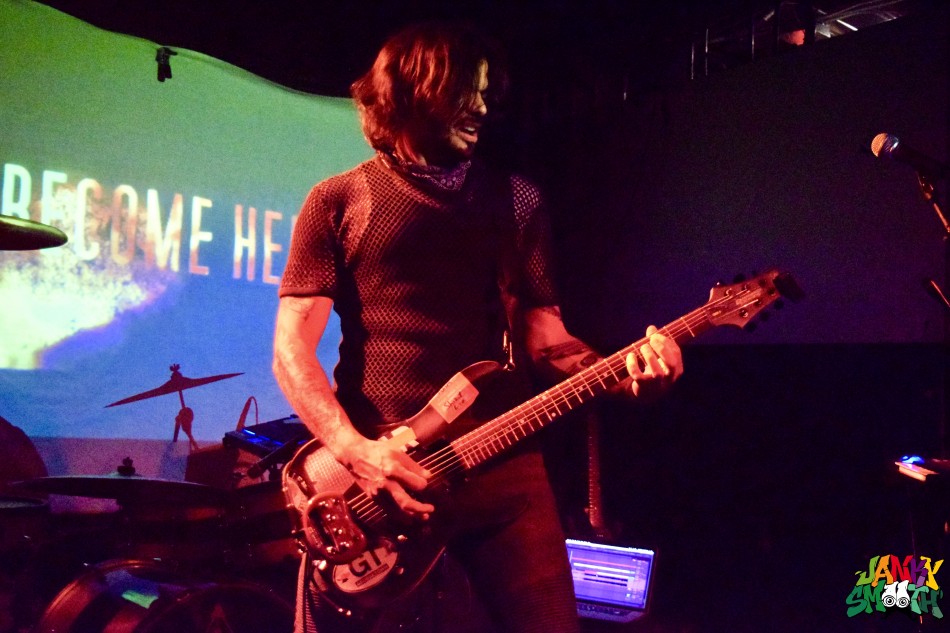 Serving as one of the two headliners for this evening, Cyanotic busted out the drum and bass jams with such a powerful edge that I almost want to call them industrial metal even though their music wasn't riff driven. It's fast, it's heavy, and the only right way to dance to this berserker blitz is to mosh. And that's what people did, with glitching visuals of binary code flickering behind them, the band felt like the perfect Zion (ala The Matrix) house band. I'm sure in many sci-fi universes, far more fantastical than this one, these sounds are the perfect musical representations of rebellion.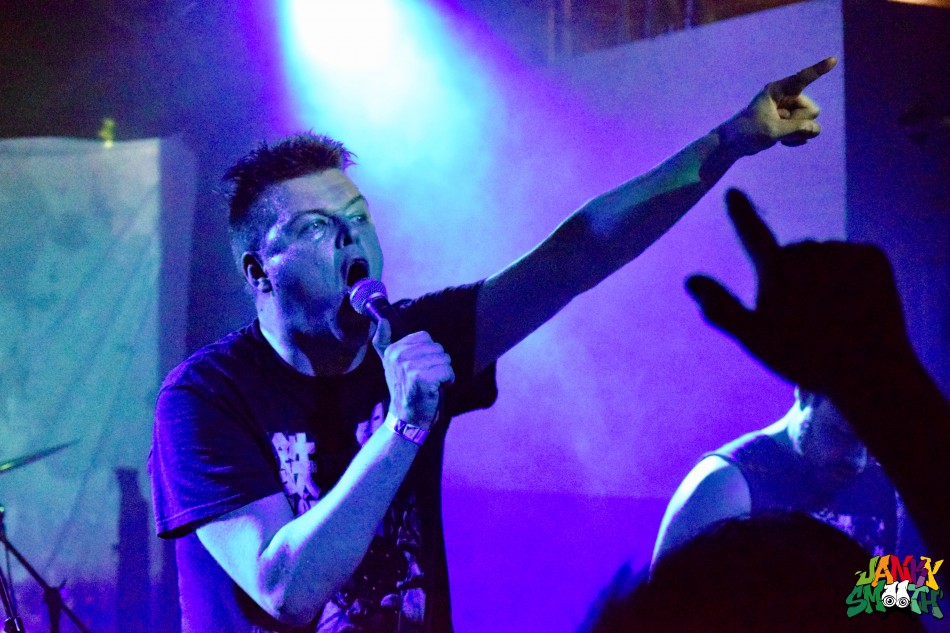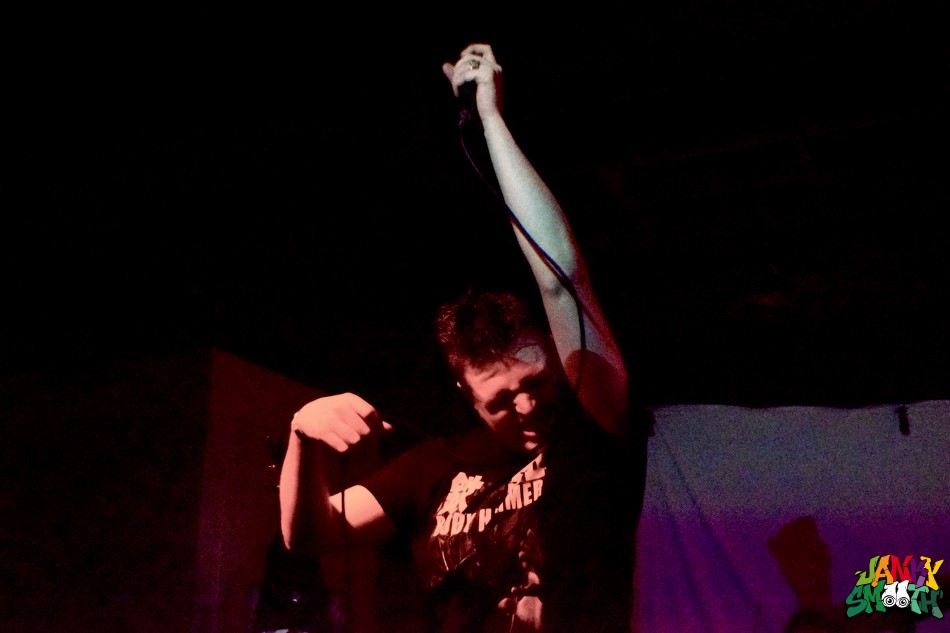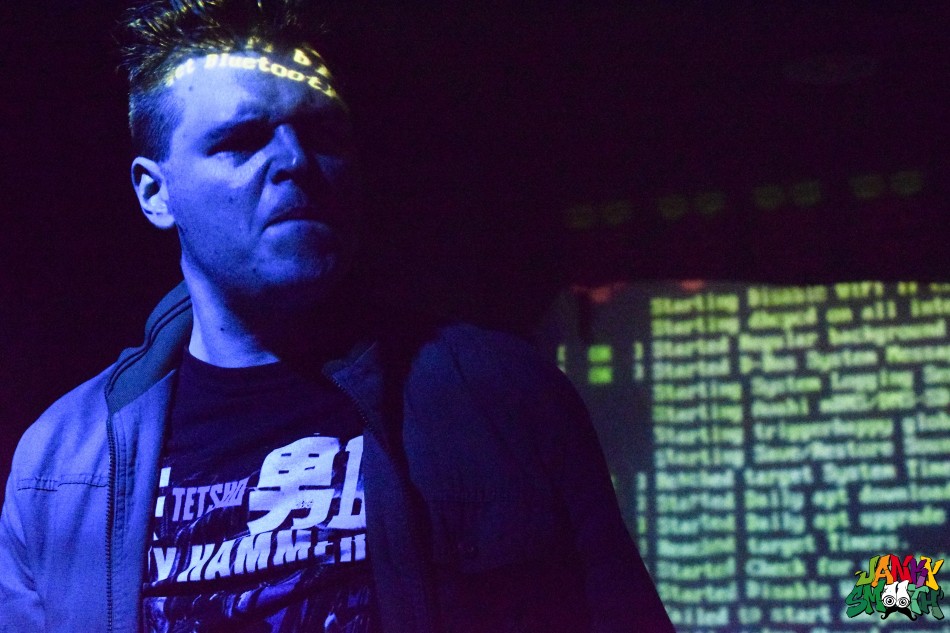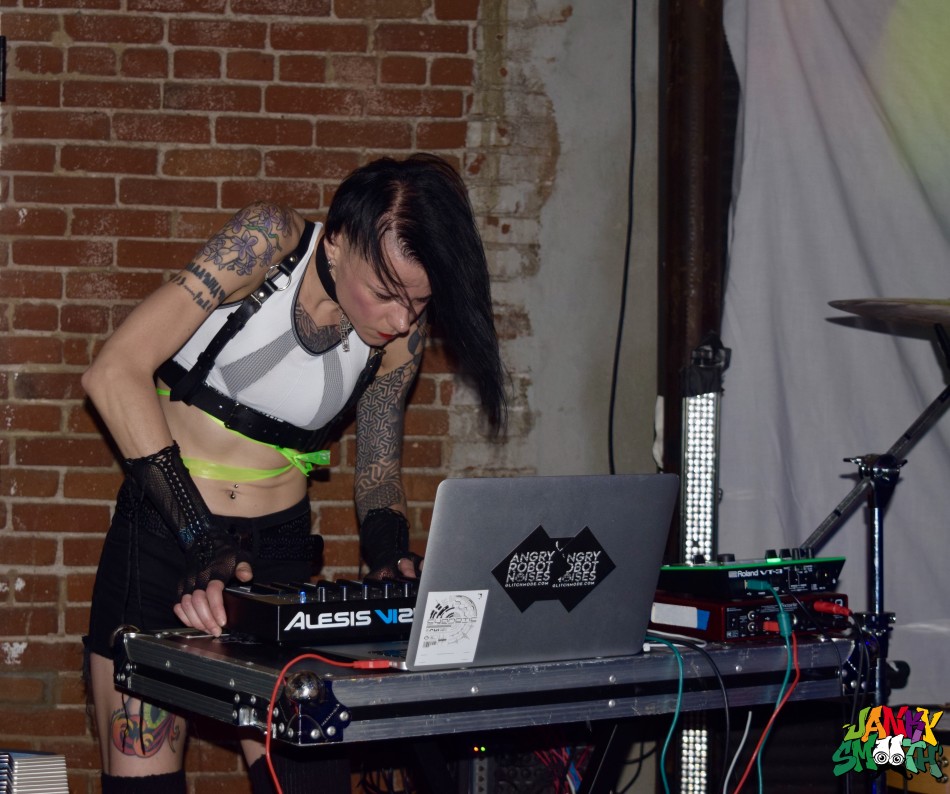 Kanga hacks your heart. With her name garnering enough buzz around Los Angeles to see her surface above the industrial scene, she puts the public at risk of catching the industrial virus. Her intense charisma and performing style sees her performing such stunts as wrapping the microphone cable around her neck in python-like strangulation.
Her music explores the oppression of women in both personal relationships and society then expresses the feeling of that oppression purely through bodily and vocal intensity. Pop has never punched this hard and if anyone ever called into question contemporary music's ability to step it up in the Trump years and offer a more dissident reflection of the times, one only needs to point to artists like Kanga as proof that music is getting angrier.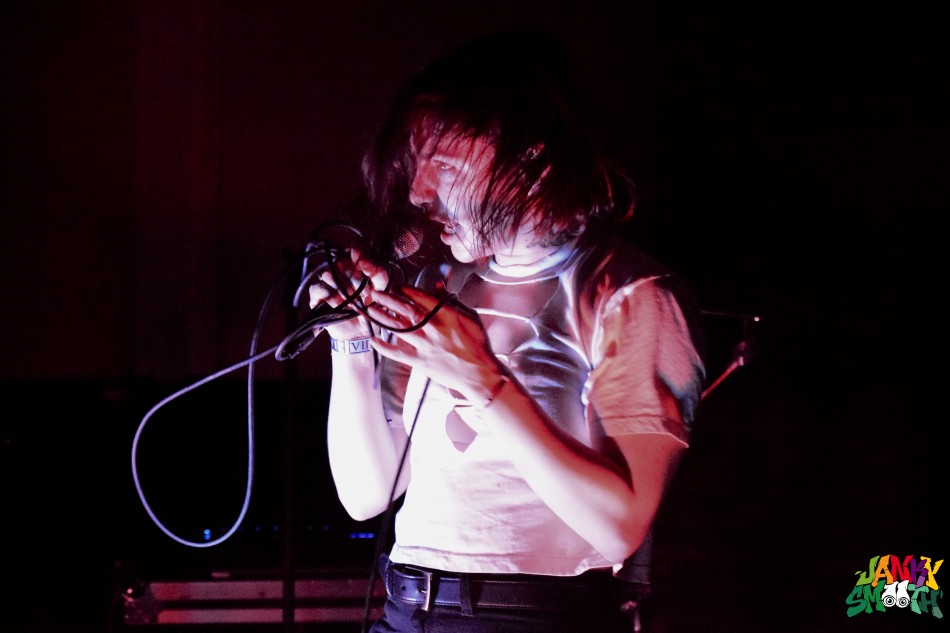 Words by: Rob Shepyer
Photos by: Audrey Kemp