Janky Smooth is on the Los Angeles and National scene to give our thoughts on shows, festivals and various events.  Shows are the lifeblood of Janky Smooth and we want to turn you onto the best bands, singers, songwriters and steer you away from shows that are a waste of time but then again, beauty is in the eyes and ears of the beholder.
Janky Smooth has a heavy focus on new, raw talent.  Whereas selling records and major label budgets were the order of the day, today's music scene is based on playing shows; a trial by fire.  If you can't bring it live, you will not survive.  Most publications are afraid to ruffle PR feathers but giving a stamp of approval for a bad or mediocre band does not do a service to our readers OR the artists.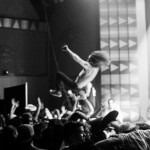 We would love to hear from you about upcoming shows and new bands to follow and we promise, we'll do the same.  We are interested in creating an open discussion.  While this is a website about our opinions, we want to hear yours.  If you are interested in covering events, please fill out our contact form and we will get back to.  Janky Smooth is always looking for new writers and photographers.  There are more shows than ever and we need as many skilled people as possible to cover every single one of them!