Nature World Night Out At The Regent: Building Bridges Between Hardcore and Hip Hop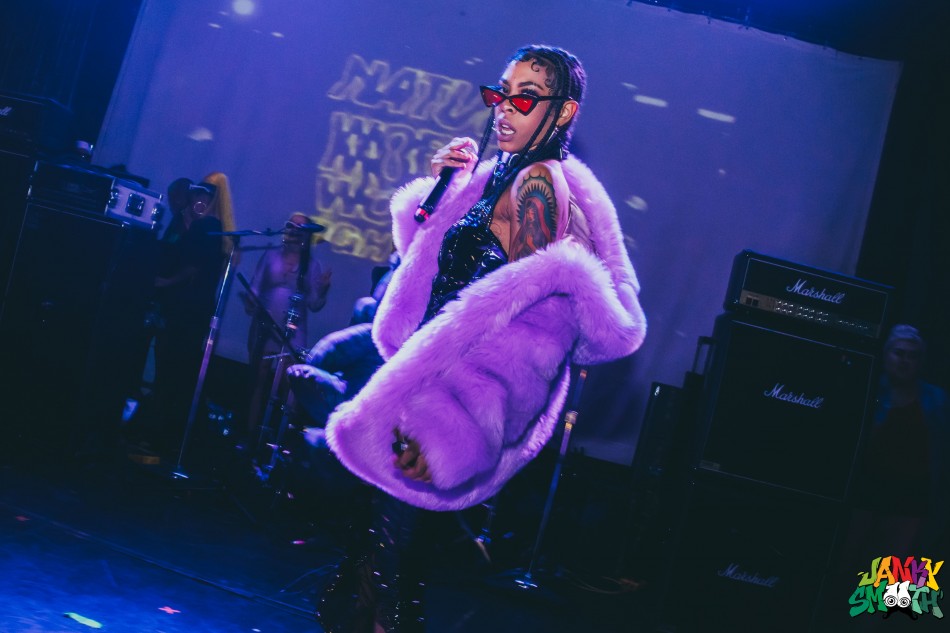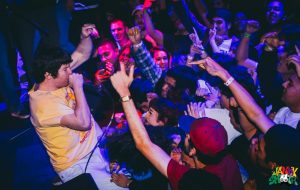 Nature World Night Out is musical proof that there is more variation within the groups we separate ourselves into than between those groups. On the surface, Hardcore music and Hip Hop may seem on opposite poles of the musical spectrum but after a little bit of inspection, you realize they both have similar bounce, fashion, and both originated from the streets. Whether you're black, brown, or white; male or female, there were artists in the Hardcore or Rap categories performing at this festival for you to project yourself onto.
I remember my first Nature World Night Out, two years ago back when it was a one night event at Union Nightclub with Trash Talk and Soulja Boy co-headlining. The night was also my introduction to Antwon, Hip Hop's ambassador to Hardcore and one of the festival organizers. Needless to say, that first NWNO was amazing and to this day, I still regret missing the second NWNO with Cam'ron… these guys booked Cam'ron to play on the same stage as Jesus Piece and No Warning for God's sakes.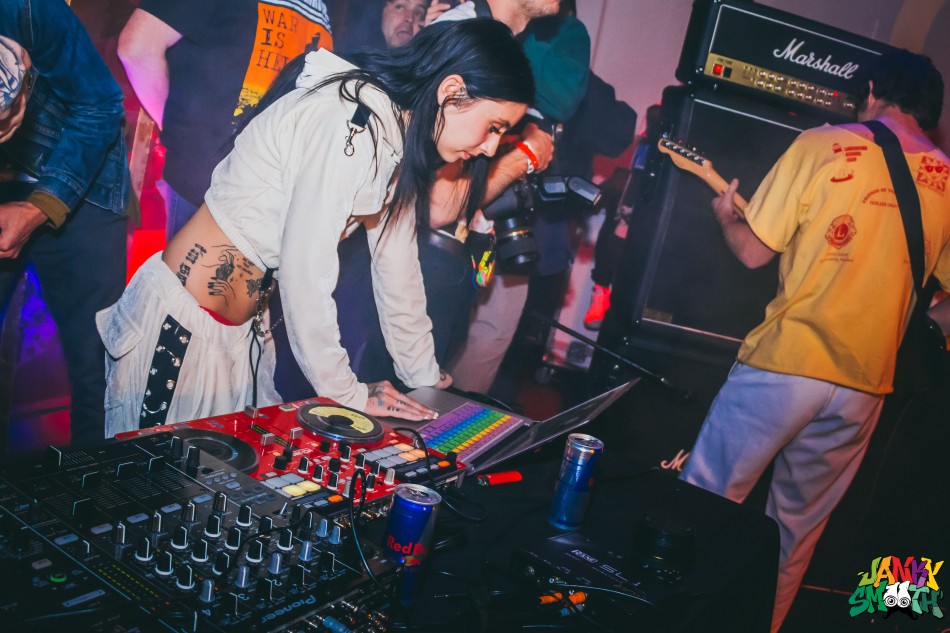 This year's third annual installment migrated downtown to the Regent Theater and evolved from a one night event to a three night asylum. It was Rap meets Hardcore. White meets Black. Sound and Fury meets Ham on Everything. Bandcamp meets Soundcloud. Until there were no boundaries, just earache, sweat, tire, and a wash of great memories. I saw some of my favorite bands and a few new artists I was thrilled to be turned onto. I even met Jamey Jasta and Kreayshawn. My NWNO was fucking amazing.
Day 1
My day 1 began with a band I suspect will sky rocket to the peak of the LA Hardcore scene and that's not based on hype but purely on sound. That band is Momentum, who I first saw at 1Fest last year, where I drew the same conclusion. After a riveting cover of Sepultura's "Propaganda", the band soared into original material that was just as punishing. As a unit, the band is so brutal, powerful, and commanding that I couldn't help but go ape-shit amidst the modest early day turnout. Over thunderous drumming and hellish riffs, their singer, Jordan Jenkins, brands the band's memory onto your frontal lobe with his ferocious growls. Lastly, I have to add that Jordan wore the coolest Carnivore shirt I have ever seen, clearly designed to attract hate from every direction, it featured a swastika made of four communist hammer and sickles. God bless America. It's amazing to see how big of an influence Peter Steele has become on all these young hardcore bands.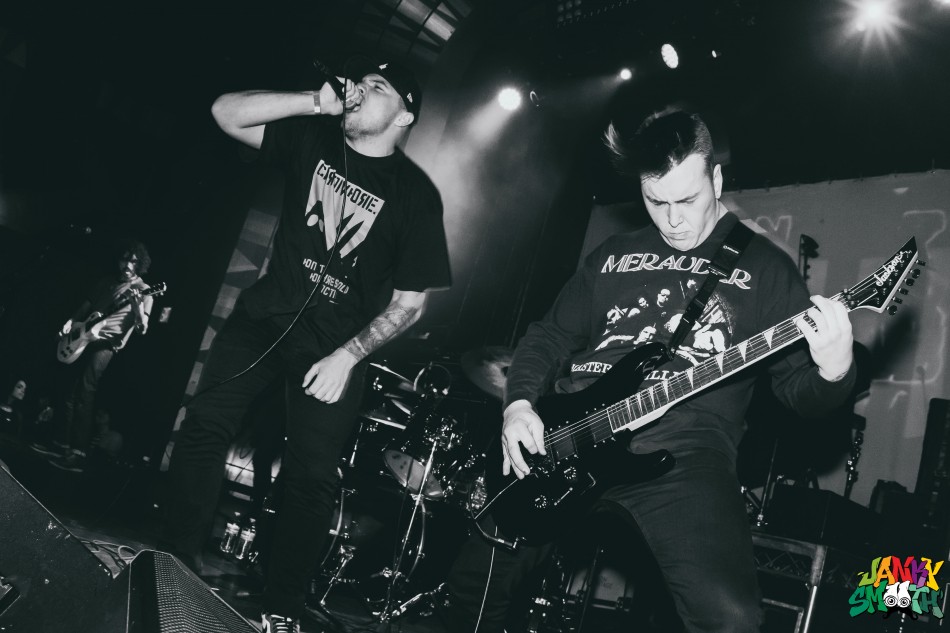 Serving up some savory, satirical trap music next was Vancouver's Hermit. Spitting about topics such as sleeping and eating all day or jerking off, Hermit represents changing values within the scene. Wearing a backpack with a stuffed animal keychain during his whole set, this is hip-hop for kids that grew up on Pokemon and Yugioh! I chuckled just as much as I danced, injecting levity into my personal party.
Hardcore and Hip Hop weren't the only genres represented at this festival. Flying the Power Violence flag, Tuscon's Sex Prisoner was rabidly fast and destructive but structured with that brilliant PV randomness, complexity, and nuance. Wearing an Amy Winehouse T-shirt as he stamped around the stage, shrieking, the band's singer, Kevin, left a lasting impression on me. Bassist, Kyle, then assaulted us with those brilliant, grimey four-string bridges that are what good Power Violence is all about for me.
Perhaps one of the biggest draws to day 1 was Wicca Phase Springs Eternal, a one man emo-rap sensation who's slow, emotional production and bars have garnered him a following that transcends all the divisions among us. Beginning his music career in Tigers Jaw, Adam Mcllwee, created a solo-project with a sound and image that encapsulated emo, anime, and street, everything Soundcloud kids want. People weren't dancing or bouncing to the music but rather, they opened themselves up to a vulnerable state and soaked in the words. You could've heard a pin-drop in the silence of your inner-safe-space. Drenched in crimson light, his music seems mournful at all times, for something… for vanished friends, failed relationships, lost opportunities, and broken dreams. In the sad absence of Lil Peep, Wicca Phase might now be emo-rap's king of the hill.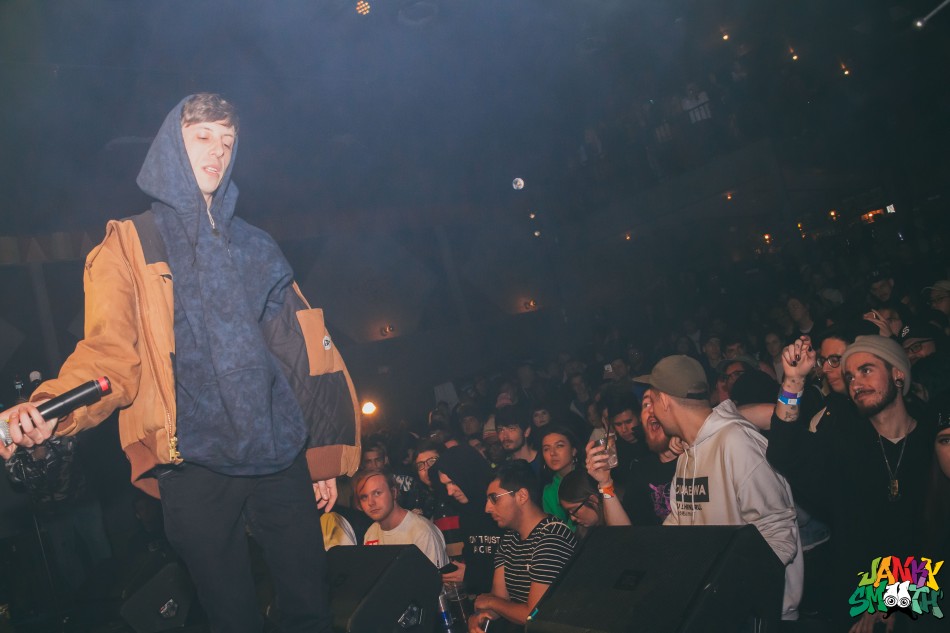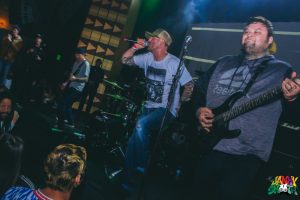 Up next was the band I was anticipating most and that would be Oxnard Hardcore kings, The Warriors. Boy, do I love this band. They only play about twice a year and make such a kick-ass, Rage Against the Machine inspired style of hardcore that you just can't deny no matter what kind of sound you're into. The pulverizing intensity of their music and fans is never more apparent than in the songs "The Price of Punishment" or "Set the Stage" and with the dramatic intro of the latter roared by Downpresser's Dan Weinraub, they inspired total lawlessness out of the Regent crowd. With plenty of songs performed off their seminal album War Is Hell, they pretty much gave me everything I craved out of a Warriors show.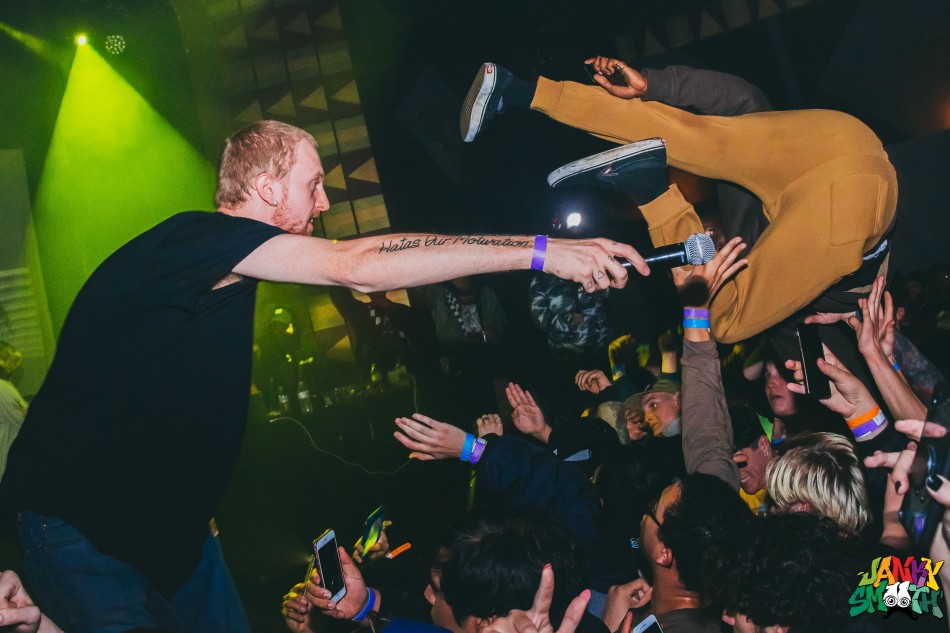 The final rap artist of the night would be Lil Ugly Mane, and if you think that Post Malone is the best white guy in rap right now, then you must not be turned onto Mane. He's performed under many names and with many groups but Richmond, Virginia's Travis Miller never struck a chord as hard with the hip hop community than rapping under the name Lil Ugly Mane. And in the era of the Lil's, Ugly Mane certainly holds his own signature that can't just be disregarded as your average, substanceless trap. Dude puts on one hell of a show with beats and bars that transcend identity. He was clearly beloved by the crowd and often just laid down before them and let them feel him up all over. Standing under a spotlight for a moment, it struck me that there was something heavenly and euphoric to his dirty rap. There's something infectious about the way an audience stares at him with awe and adoration, you want to love this guy and by the end of his set, I wager we all did.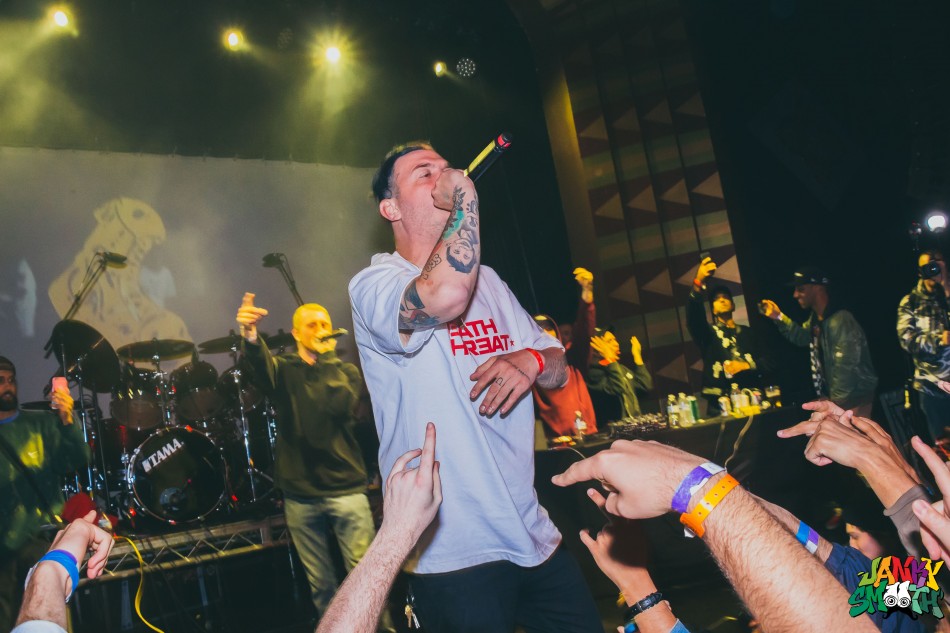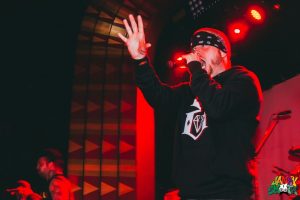 Last up for the night were of course the headliners, Hardcore legends, Hatebreed. The band was celebrating the 25th anniversary of their album Satisfaction is the Death of Desire and between that album and Perseverance, their set spanned those two pivotal moments of the band's career. Hatebreed has been a constant on my gym playlist, no band articulates overcoming struggle and dealing with pressure quite as perfectly as they have since day 1. They exemplify everything that Hardcore has always been about and they do it so succinctly that it's hard to believe any band can communicate every street kid and hard knock life mantra with such perfection. Their set featured a couple slam-dancer-favorites you'd expect like "I Will Be Heard" and "Perseverance" but then they also played a slew of low-key tracks like "Final Prayer" or their closer "Bitter Truth". The crazy thing about this show is that Hatebreed usually plays metal tours but here they were on a real, underground Hardcore festival. And the Hardcore kids showed their chops and knowledge, singing and slamming with brutal fervor. Who knows if I'll ever see something like that again, a band of that tier playing a real underground show.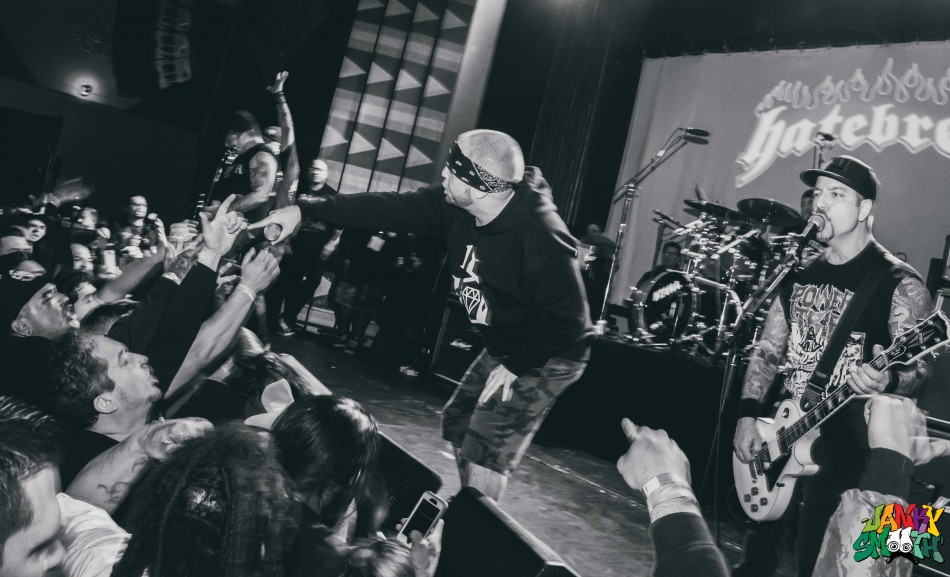 Day 2
Shamefully, I missed strapping, young, Fullerton straight edge lads Dare and arrived just as Long Beach's Crimewave 5150 began their set. They were a Hip Hop duo with equal parts aggression and swagger. Above Trap beats, the duo spat pure fire at us with enough confrontational power to super-charge the revolution.
The next group to play was future Thrashcore heavyweights, straight outta San Diego, Mizery. Having seen them open for Power Trip and Destruction Unit at the Teragram last year, I was already into the band. No other young guns on the scene remind me of bands like Suicidal Tendencies or even Pantera, as much. The music's pace is as fast as Thrash but the bounce and rhythm are pure Hardcore. Needless to say, they got the Regent moving and played a big role in the incremental increase of insanity for their early slot on day 2.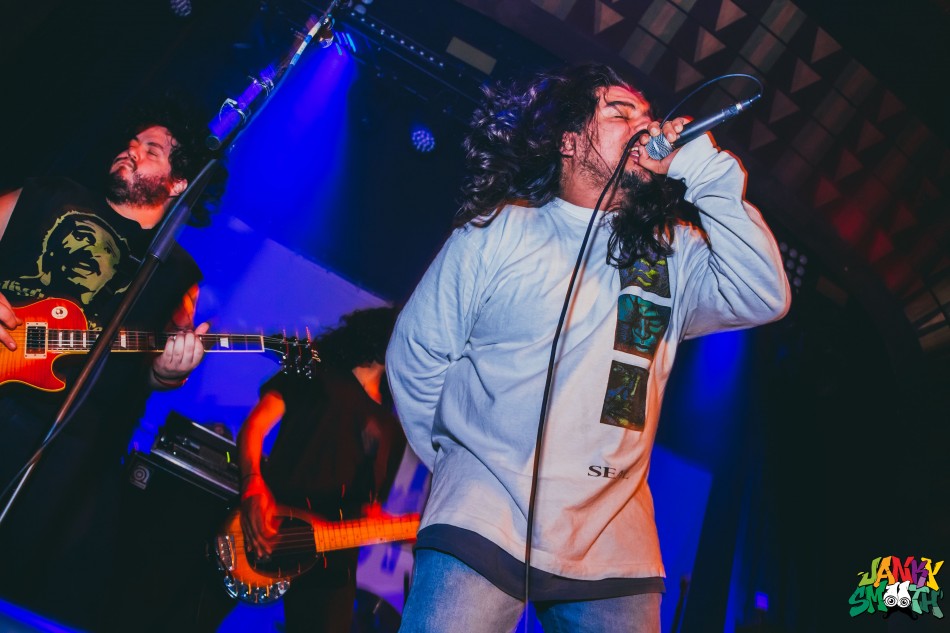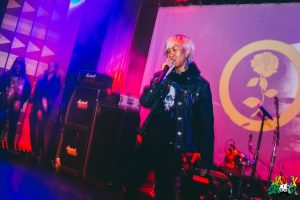 Long Beach's Coldhart slowed things down as the second emo-rapper of the festival. Wicca Phase was more contemplative, while Coldhart seemed more emotional and sensitive. With all eyes on this young man, we swayed to his tender-hearted lyrics and warm (not so cold) beats. Where plenty of the other acts were covered in red light, Coldhart was appropriately bathed in pink.
Lynwood legends More to Pride were next, they were a high-note set during last year's Sound and Fury and they re-established this level of excellence during Nature World Night Out. Part of what made both sets so powerful was not just the "street", toughened up sound of the band but also the familial feel of their performance. With a stage full of friends and fans edging as close to the band as possible to commune with them, More to Pride connects with minorities like no other hardcore band these days.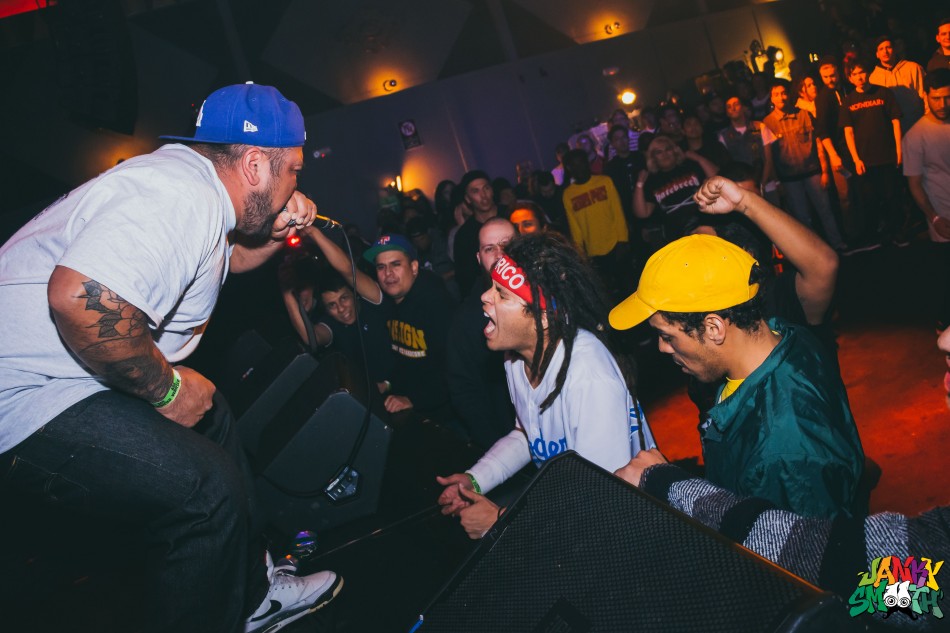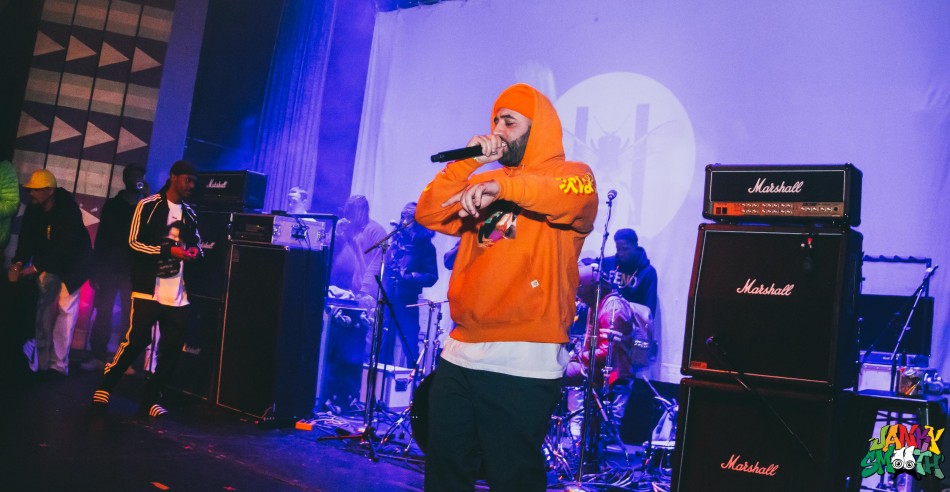 Unlike everyone else at this festival, Jay Worthy wasn't rapping over a vocal track, so already, he earns a different level of artistic cred. Hailing from Vancouver, he brought the rich tradition of Canadian rap onto our LA stage. At this point of my immersion into Hip Hop, I find it harder to get into the kind of rap that follows in this classic, MC tradition like Worthy's and seem to find more joy out of the mindless fun of Trap. So maybe Jay's talent flew over my head, as it did with many of the younger cats in the audience. I could understand it but found it hard to connect with.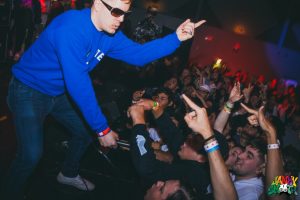 One of my favorite Hardcore Punk bands was next and that's Baltimore's Angel Du$t. Ballers off Pop Wig records, the band features Turnstile's Brendan Yates on guitar and Daniel Fang on drums but then Justice Tripp from Trapped Under Ice on vocals. The best thing about seeing Angel Du$t live is the dichotomy of hearing the melodic choruses and hooks intercut with Justice's barking shrieks and howls. Wearing shades indoors and a tucked-in Iggy Pop T-shirt, Justice has to be coolest cat in the house wherever he's at. They played almost all my favorites and had everyone from the Hip Hop heads to the punks going ape-shit. When I say almost, the only song that was missing from the set was "Set Me Up" which I was prepared to sing with the whole theater but never got to. Oh well, I can't talk shit about a band and performance this good, they are truly an incredibly fun act in a sea of overthought noise.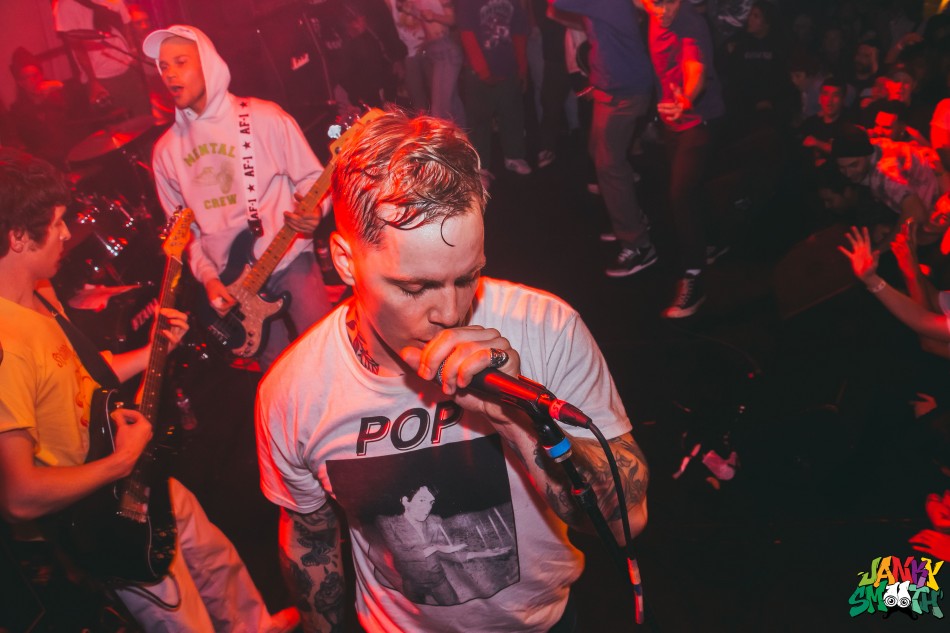 CupcakKe is one of Hip Hop's brightest young stars and it's partly due to the image as well as the sound. She's a strong, confident, black woman with a fuller figure than the usual pencil-thin superstar. Then, her lyrics are more vulgarly forward and sexual than any I think I've ever heard. Besides championing sexuality, feminism, and the LGBT community with her 2018 release Ephorize, she will go as far as flat out saying "My pussy is so wet right now" right on stage. Introduced by a tall drag queen dressed as the bride of Frankenstein, CupcakKe appeared to a hail of cheers. People were into the music but not in the same way as for Lil-Ugly Mane, they watched CupcakKe with a certain curious fascination.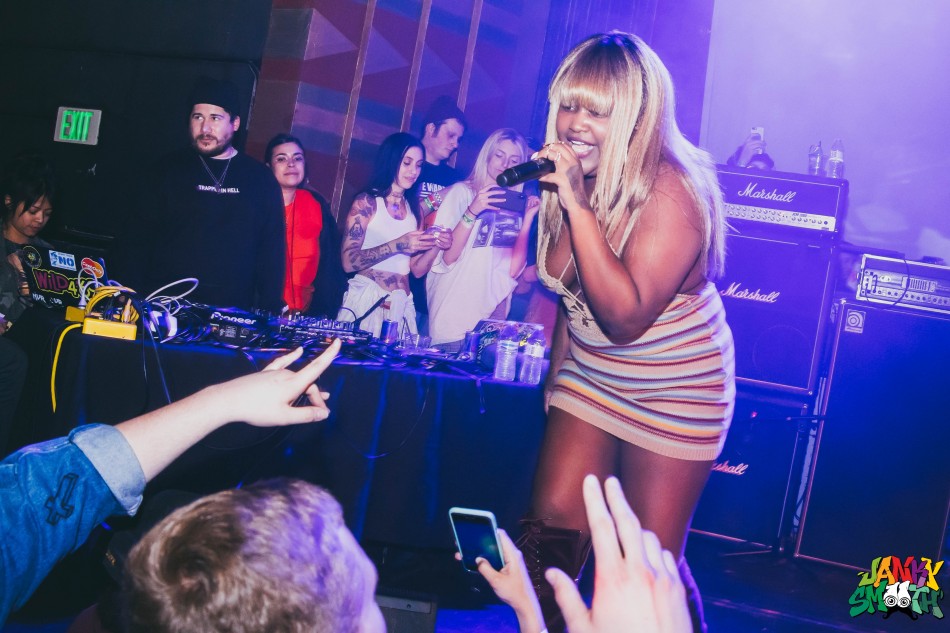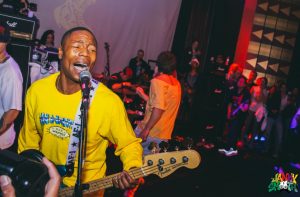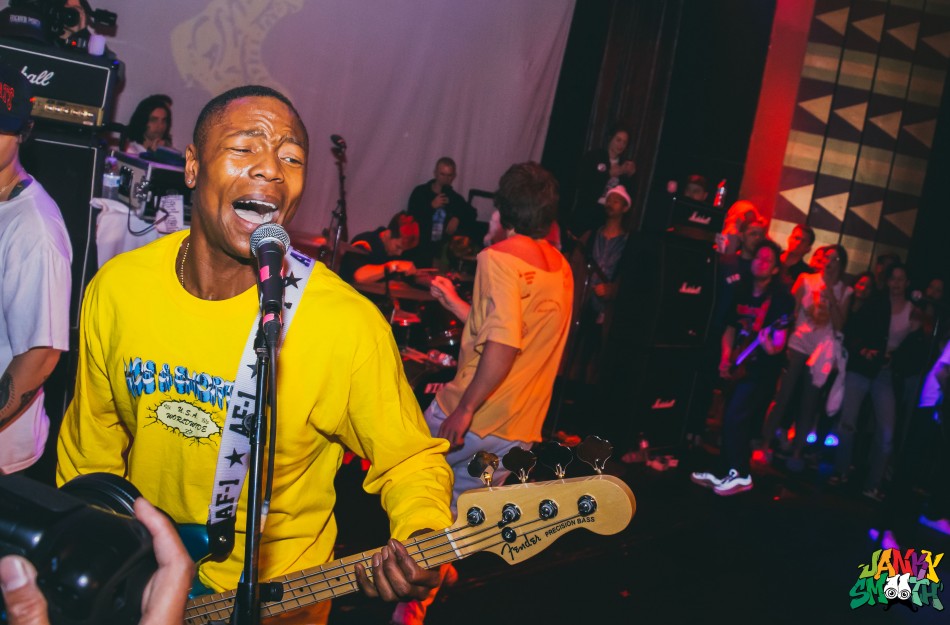 Turnstile has gifted me some of the most powerful musical experiences of my young life. Most notably playing the night after Trump's general election win for president of the United States. Always championing diversity, this band's ethnic and regional origins are represented just as much in their sound. Often times being called the "Hardcore 311", their use of dueling vocals and tag-teaming brutality and melody put them on the map as soon as they put out their first album Step to Rhythm. Now, their latest release, Time and Space, which was released only two days prior to their NWNO performance, has only pushed their boundaries further out of the "Hardcore" box. That album features keys and solos that don't exactly sound Hardcore yet also has tracks that are undoubtably classic slammers. Then, just like "Blue By You" the album features the song, "Moon", with bassist, Franz Lyons, on main vocals. One of the most poignant moments of their NWNO performance was when Brendan Yates introduced Lyons as "The Man on the Moon" to sing the song. It's nuances like this, where each member of the band becomes a character that symbolizes a daemon, that marks this group as one of the best in the entirety of modern music.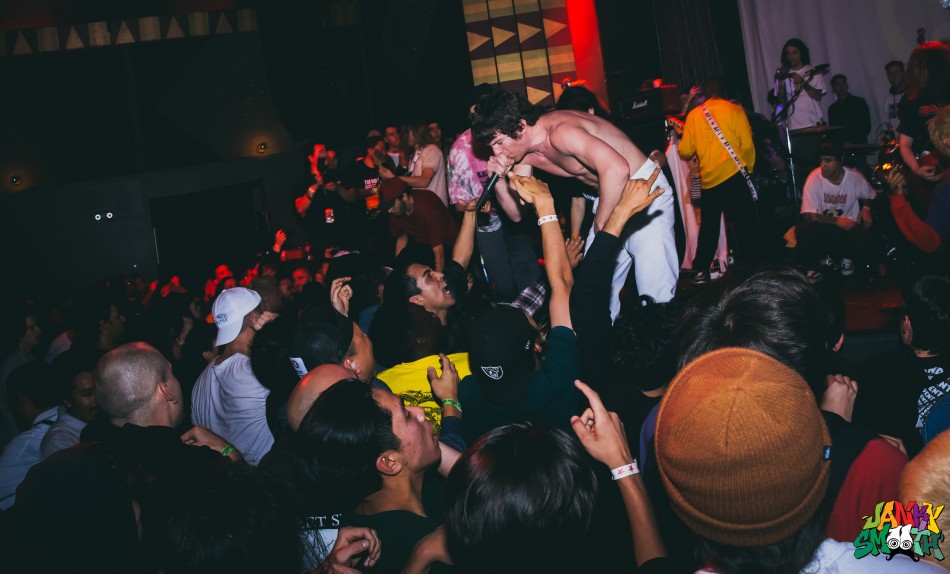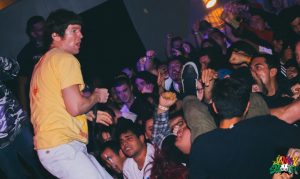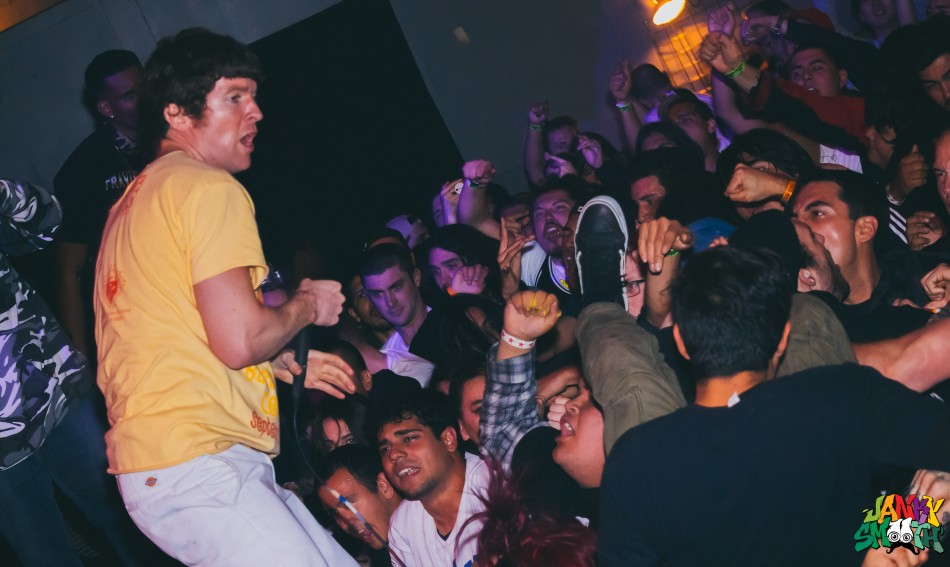 As far as this performance goes, it was one of the most wild I had ever seen, not that I'd expect anything less from Turnstile. Yates, with his new Beatles haircut, was hard for me to recognize at first but then as soon as I saw him slamming and dancing like a madman, I had no trouble seeing the same old frontman in him. This young man is a tour-de-force as a singer, he exudes so much kinetic energy that audience members can't help but exert their all too. The rate of bodies getting on then off the stage was at an astronomical high. On top of that, the band was already completely surrounded by everyone who came out of the wood-work backstage to chill on stage with them. I myself found the only spot I could fit into, sitting on a gear-box beside Daniel Fang as he drummed. Yates can jump with more elevation and arc than any person I've ever seen, he's clearly a Hardcore kid above all things, even musician. In order to have that much agility and stamina, it takes a certain low percentage of body fat as well as a certain lifestyle. I don't need to see an "X" on his hand to know this kid is straight edge, I just need to see him move. The band played everything from "Fazed Out" to "Gravity" to "Real Thing". It was an incredible rehashing of the old songs and introduction to the new. All hail Turnstile, kings of Baltimore hardcore and of Los Angeles for just one night.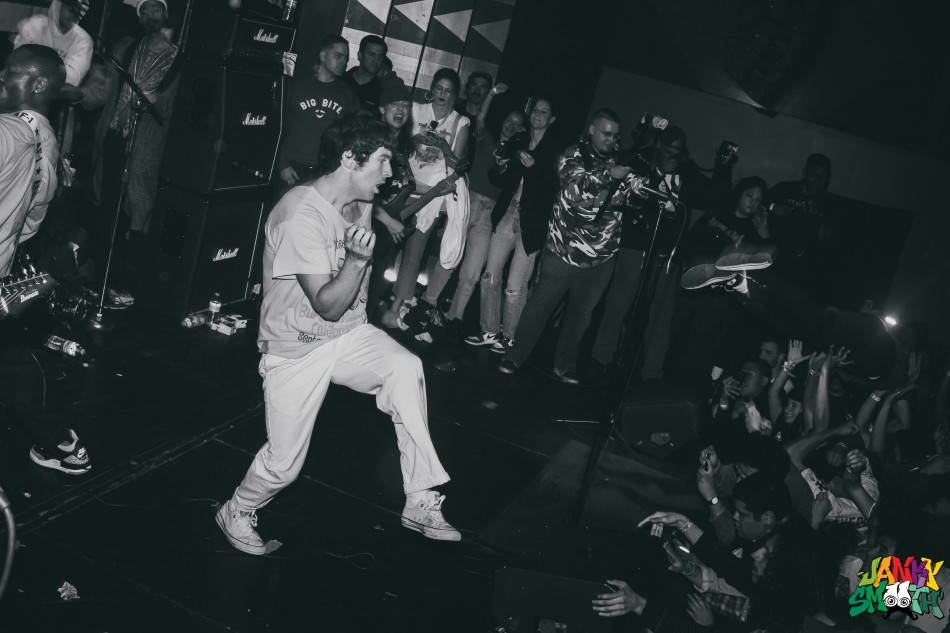 Day 3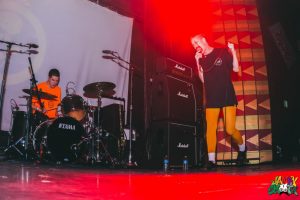 The festival's third day featured some of the most interesting hip hop booking I had ever seen at a festival, with artists that were up and coming or with rather large internet followings. My day began seeing Girl Pusher, a rising Los Angeles Noise duo with a lot of buzz around them. I had seen them open for Downtown Boys at the Smell last year and just like at that show, I didn't really enjoy it. I get it, harsh noise, slam poetry, feminism, clown makeup, and intense drumming mesh well and sound right in times of social decay but it still doesn't move me one direction or another. I didn't bob my head or mosh or think about their music, I really just shrugged it off. Whatever though, Danny B loves them…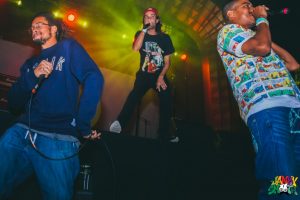 The first Hip Hop group of my day was next and that was C Roy. Appearing as a multiracial trio, the C unit made the most of the early turnout and got down off the stage and performed in the crowd. Their flow and beats were highly engaging and really turnt the place up. You could tell they had an amazing camaraderie and synergy just based on how they combined to make one single feeling so electric.
Bootychaaain was possibly my favorite artist of the entire festival, she's only starting but her performance was so impressive and fun that I couldn't help but be converted into a mega-fan. The way she moves, the way she dresses, that neon yellow hair shooting out of her head, and of course her flow are totally unique to her. Surrounded by a diverse posse of friends, one of which was eight months pregnant wearing stripper heels, Bootychaain made the Regent feel like the best kind of house party. She had female energy and male energy that can't help but make her the center of attention whenever she gets a mic.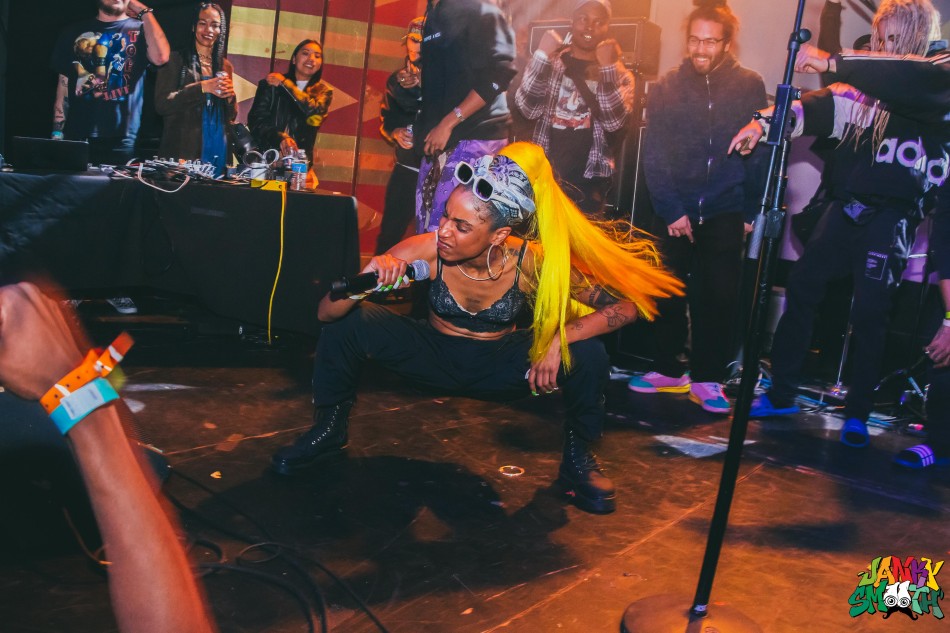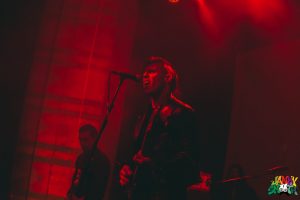 Generacion Suicida has been appearing all over local Punk Rock media, being hyped as one of the most promising young, Latino, and Post Punk bands. Together, they create a classic Death Rock sound that is more true to the genre than most other Goth groups these days. Sounding positively vampiric and drenched in crimson light, the band played a gruesome set of fast pumping rock with a muddied sound mix that properly buried the vocals into the noise until it the sound transmutes into a serrated sharp bone-blade that slices you across the throat.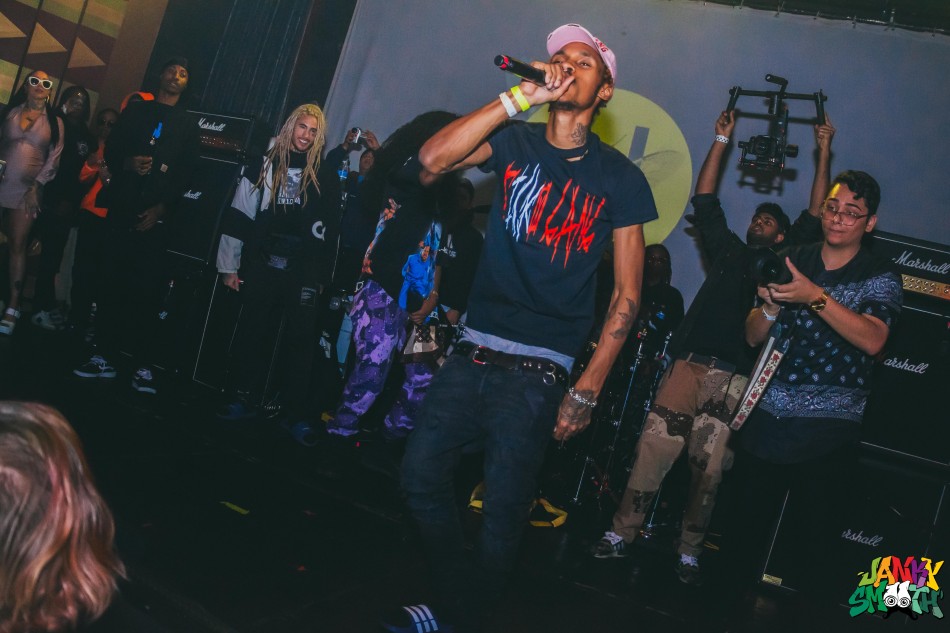 Black Kray was next, coming off Goth Money records, Kray creates what he calls "Selena Gomez Trap House". Just by the sound of that genre, how do you think the Regent reacted to his music? It was pure fun for his entire set and with his specific chilled out, stoned cadence and having been surrounded in a cloud of smoke on stage, Kray gave the entire venue a contact high.
I had seen Culture Abuse earlier in the year at Home Sick and then numerous times previous to that over the last two years. And even though the turn-out was smaller at this show, it seemed as though they used this challenge to fuel them into a more energized performance than I had ever seen from them. Sporting a leopard fur pimp coat, David Kelling was inspired to make this a special set if for anything, his own personal enjoyment. And because of this, my respect for the band inflated into enormity.
As if she was Bootychaaain's big sister, Rico Nasty, wraps everything fabulous about black women into one stunning concept. In a fuzzy lavender coat and tight black leather dress, she spat the most fierce, confident bars of the entire festival and cemented herself as a boss in my eyes. With this set, I developed a new understanding of Nature World Night Out. This festival celebrated women like no other I had seen in all my years of show going. Women were put on the exact same pedestal as all the male acts and not just in the eyes of the organizers but even more so in the eyes of the audience. Rico single handedly raised the bar for everything a woman can be in my eyes. She had swagger, cool, intelligence, confidence, and loads of talent. Along with Bootychaaain, Rico was my favorite act of the day.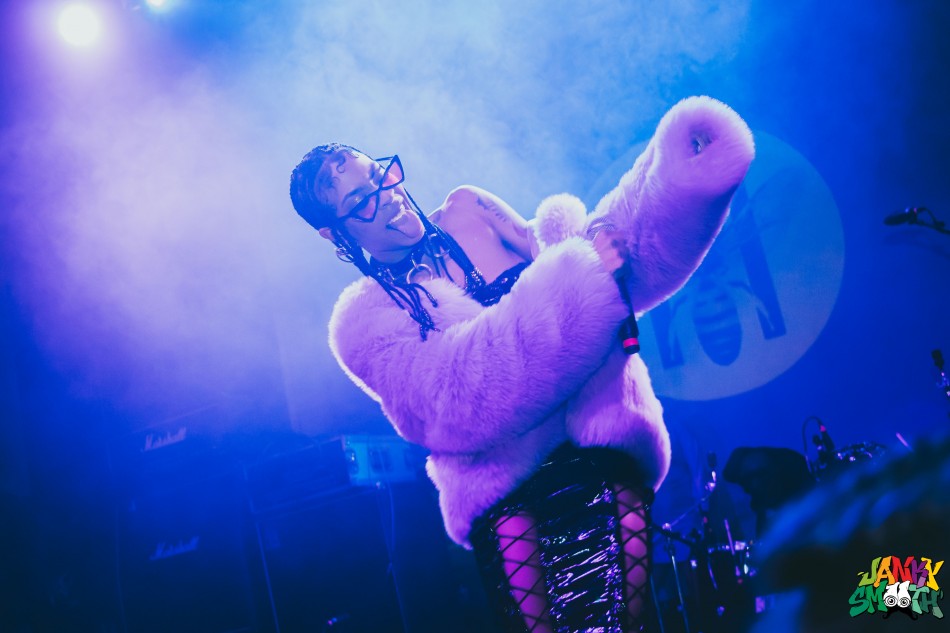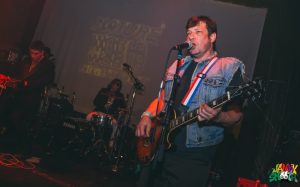 The Spits were up next, rounding out the festival's diverse lineup with pure Punk Rock. At this point I had heard Hip Hop, Trap, Death Rock, Power Violence, Hardcore, and Hardcore Punk in three days. They played a great set but it didn't live up to the insanity of their performance at Union last year. Perhaps bringing all these different scenes together works for Hardcore and Hip Hop but perhaps classic punk doesn't translate as well to Hip Hop heads. Audience be damned though, sonically, the set was great and the band ripped with true Punk ethos.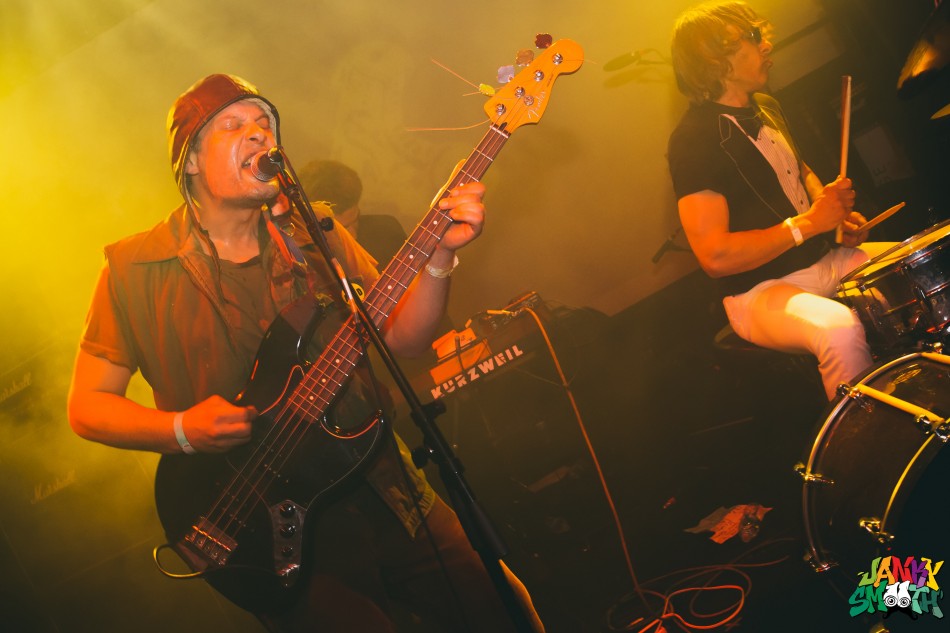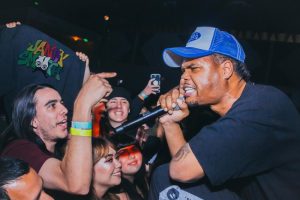 Xavier Wulf was the final performer of the night and festival and in the new world of Hip Hop, Xavier's style and bars pack more of a punch than the average MC. Coming out of Memphis, he's a bit of a black sheep when it comes to the Southern Hip Hop scene but certainly feels right at home among Hardcore bands. Playing bangers such as "Thunder Man", "Pycho Pass" and "Check It Out", he's the entire Geto Boys wrapped in one package but for this new generation. As soon as the set began, Xavier descended into the pack of hungry wolves in the audience to rap among them, a wolf himself. He had the Regent eating out of his palm and even though the night hadn't been sold out, we all realized anyone that missed out on the third night was a damn fool.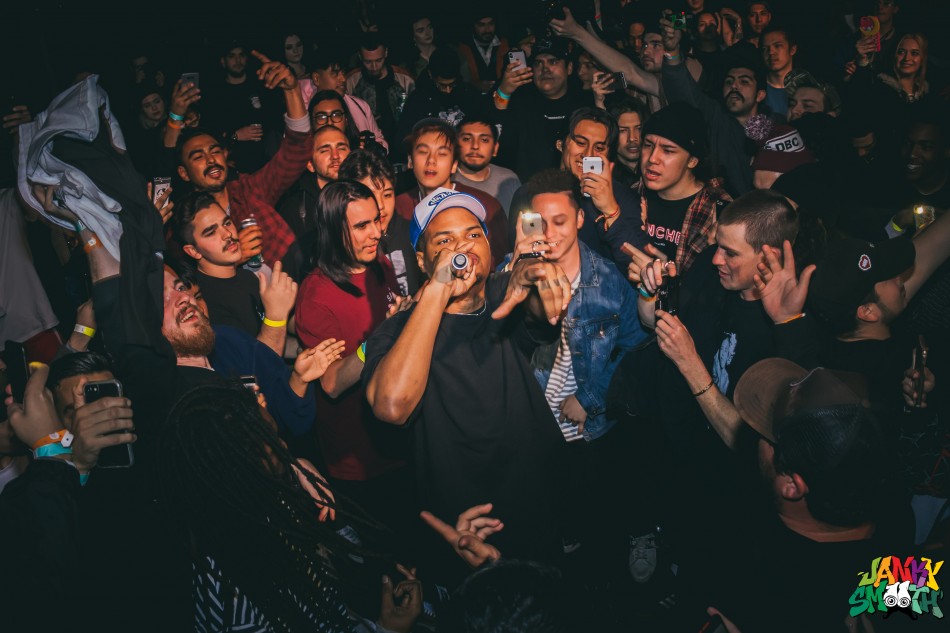 Final Thoughts
Expanding this underground phenomenon from a one night event with two stages, where you could choose which bands to see at a time into a three night festival at a bigger venue with one stage, was an ambitious and lofty risk. Although the ticket sales didn't reflect the incredible performances and highly sought after talent that was booked, this was an extraordinary event with more new music to be introduced to and more fun to be had than any other LA happening. The first person to break through the wall always gets bloodied and even though not all three nights were sold out, this festival must continue. It is the perfect vehicle for exposure for artists and building bridges between scenes. The festival generates a form of peace and understanding between peoples. It has more value than just the economic or artistic, it has a social value we might not be able to recognize yet but give it a few more years and the fruits of NWNO's labor will be clear as day.
Favorite Sets:
The Warriors
Rico Nasty
Bootychaaain
Turnstile
Angel Du$t
Finally, I leave you with this picture of Danny B, about to stage-dive during Xavier Wulf's set. If only we could learn from his tenacity then perhaps events like this would sell out everyday.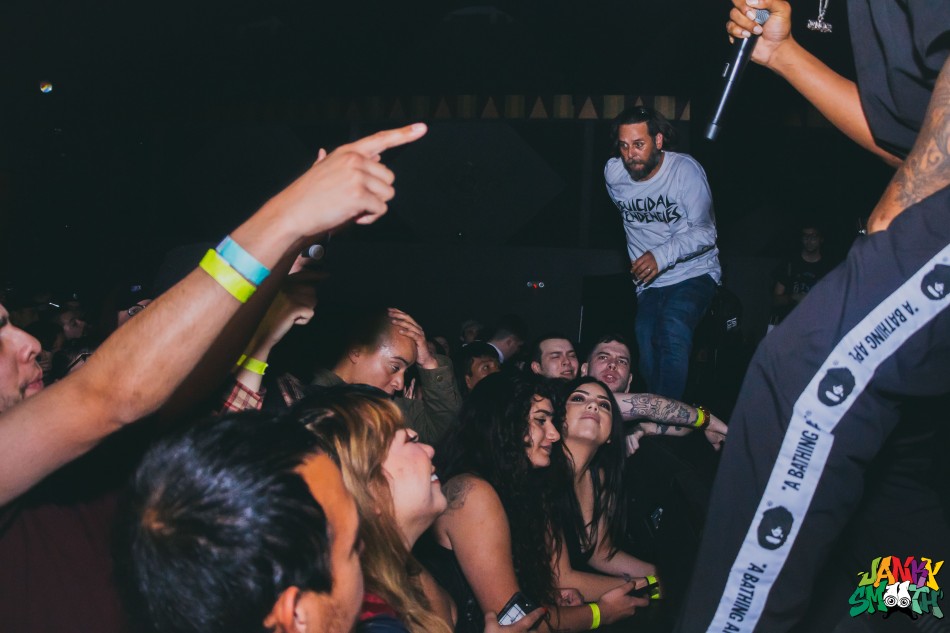 Words by: Rob Shepyer
Photos by: Dillon Vaughn