FYF Fest 2017 Steals Coachella's Throne As So-Cal's Premiere Festival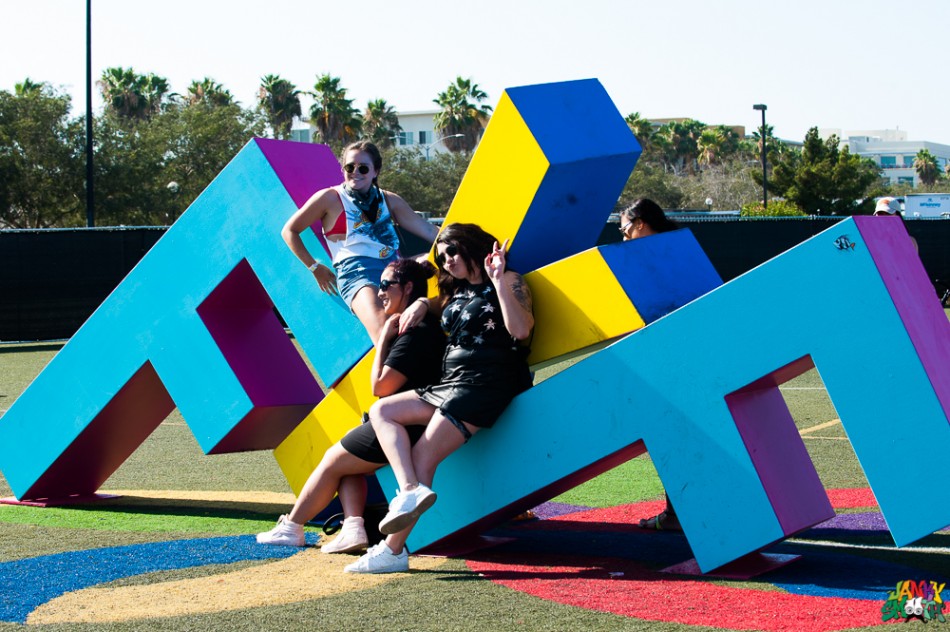 My bones are still rattling and recovering from Capn' Jazz's sold out set at The Echo Thursay night. So much so that I limp across the edges of Exposition Park, and marvel at the crowd as I walk into my first FYF fest. The festival has grown dramatically since it's early days as a showcase for DIY and up and coming local punk acts in 2004. It's so comfortably warm walking through the LA coliseum on the outskirts circling the festival that I skip my normal routine of stealing water bottles and go straight to the pit.
In an impromptu pow wow we map out our weekend and get ready to go watch Badbadnotgood- a band I've been following since their second album BBNG2 began getting the well-deserved buzz it received nearly five years ago. The band has carved a niche identity as mainstays in these large festivals. The crowd sways through their set, flexing their youthful energy that will be gone by day's end but for now the band invites special guest Denzel Curry onto the stage and finishes the set with people pogoing to Trap Jazz (or whatever the kids will call it soon). Badbadnotgood have managed to attract that young twenty-something hip hop/beat culture fan that has been well groomed equally by the type of sounds emitting from Low-End Theory to the mushrooming numbers of contemporary jazz journeymen such as Kamasi Washington, Thundercat and the digi-jazz man and Brainfeeder label founder and finder, Flying Lotus in L.A.- and make no mistake- FYF Fest is undeniably L.A.
We take a break in the shade momentarily, and laugh at the spectacle of stoned teens staring at their festival maps trying to decide who's worth their time and make our way to the main stage to see Bjork's highly anticipated return to Los Angeles. Accompanied by a small string section and a very composed DJ, Bjork gracefully enters the stage in a rose-like-confetti costume with a lime green mask covering her face. The audience immediately roars but unlike the typical rock-fest crowd, nobody pushes forward. I would go so far as to say people were still. Bjork's set consisted of songs from a three-decade career with highlights including "Stonemilker", "Joga", "Bachelorette" and "Wanderlust", complete with hypnotic visuals displayed on the digital screens behind her. Though Bjork's fan base and legacy remains massive, their demure applause will be deafened by the uproar and crowd of Missy Elliott, several hours from now.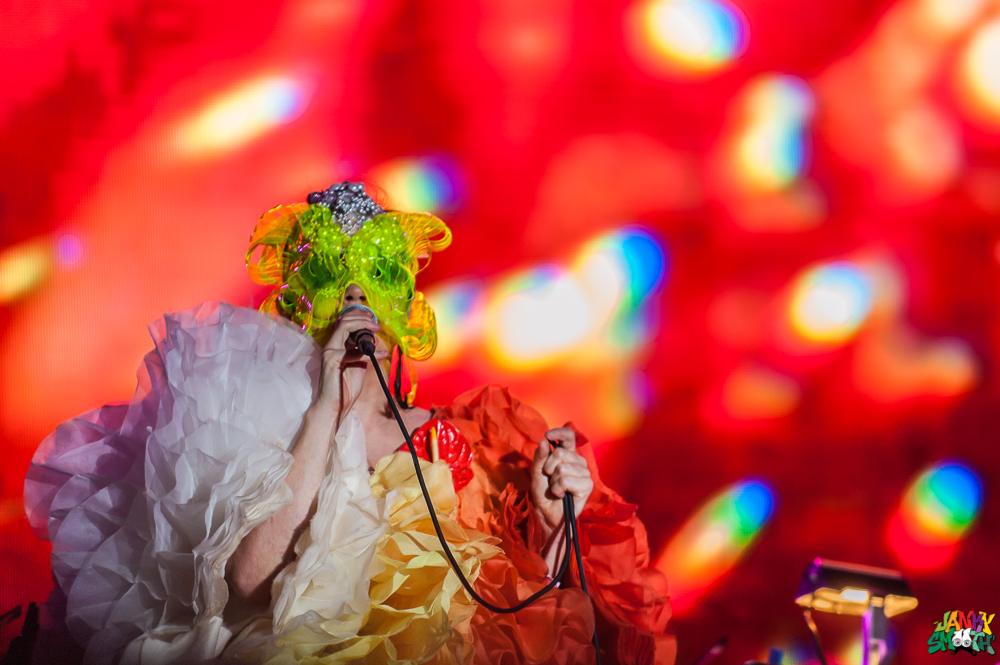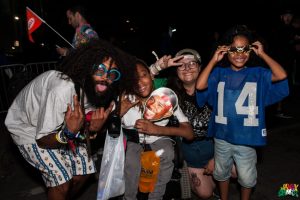 I leave Bjork and hustle to the Trees Stage area to view Hannibal Buress, a comedian I have been following for over ten years, and someone I have seen both slay and silence aud in very small rooms. I am completely dumbfounded by the lone inclusion of Buress as the only comedian on the festival's lineup, especially due to the extremely large crowd he drew. There was undeniably both room and a desire for more comedy on the larger stages, and I hope that FYF continues to add more next year. Buress receives howling laughs from the audience, as well as grim moments of awkwardness, especially when he shares a story about his recent funeral attendance and how he plans to release a series of video clips of himself postmortem. He then previews some of these clips to the audience, accompanied by his DJ's songs and audio clips.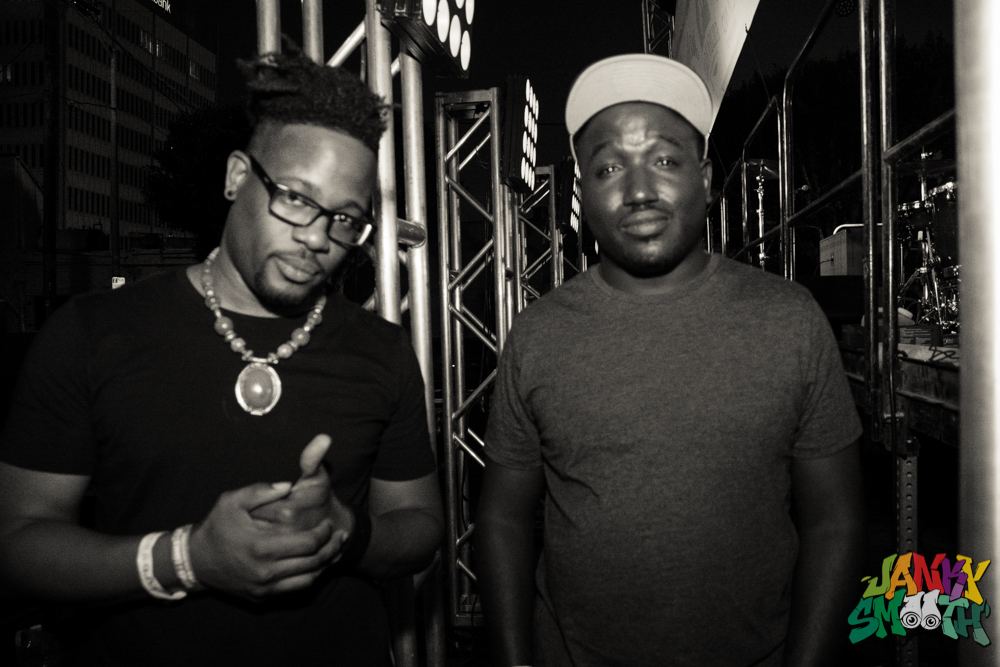 I tend to build up an appetite at these events and I often have to look for ways to keep food going down my gullet. One of the only negative things I will say about FYF Fest 2017 is that buying food was no spontaneous stop and swallow when some smell would stop me in my tracks- long food lines and fifteen dollar snack plates. However, I did find a Cold Brew loving team at a Poke bowl tent who fed me in trade all weekend. And when I ran out of coffee to trade my currency changed to Vitamin Water and even offered an exchange rate equal to cold brew.
We made our way back to the Trees Stage to watch Slowdive whose captivated audience swayed and gazed and whose eyes glazed from a catalog that has spawned over twenty-five years-worth of British Dream Pop. "Alison", "Slowmo" and "Star Roving" kept the crowd satisfied long enough, and their recent single "Sugar for the Pill" echoed through the night, as we watched thousands funnel into sea of people ready for Missy Elliott.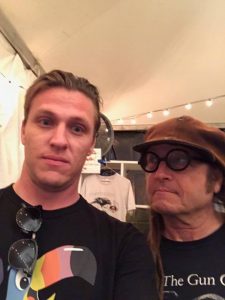 Before we joined the crowd, I stopped by the Fingerprints of Long Beach record tent, and bumped into my favorite punk frontman, Mr. Ketih Morris, who was taking some time off from the fest to dig Missy Elliott and her large supporting cast. My memory was jogging throughout Missy Elliott's set. There were so many songs I knew but hadn't attributed or even know she was a part of. The recent addition to nineties hip hop that is happening around the festival circuit has invigorated a genre that for me had gone sour for some time but seems to be heading into it's next golden era. But still- none of these kids ever had to live through hearing singles such as "Get Ur Freak ON!" and "Ching A Ling", play simultaneously through four different radio stations at the same exact time. Though the performance had technical issues, it was well-received and Elliott demonstrated she still has that energy that helped make her music infectious and a fanbase that have stuck with her since her mega-celebrity presence nearly twenty years ago. The set was shared by the old and the young, and Elliott's radio hit filled set bridged the crowd together unlike any performer had earlier in the day.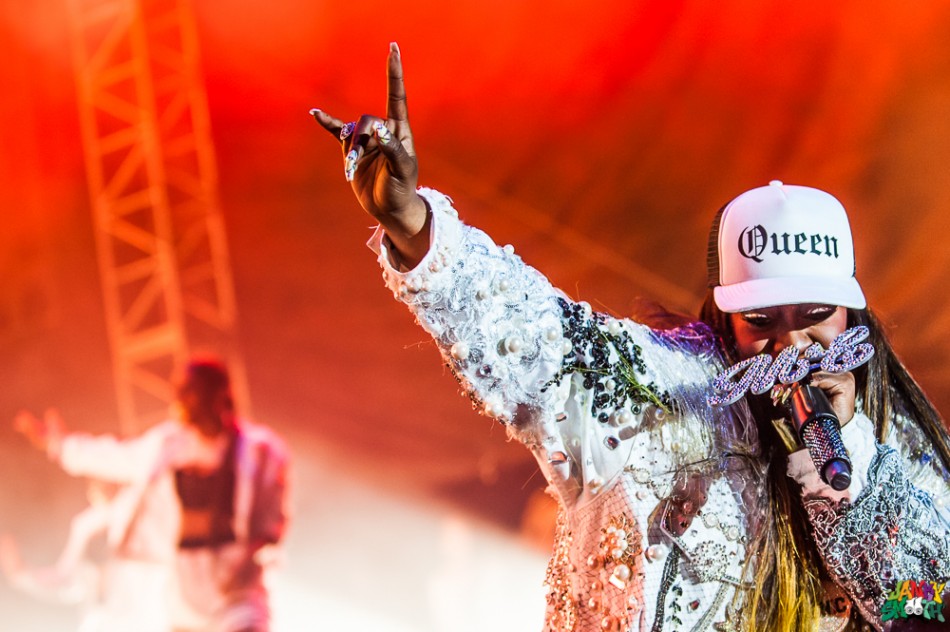 The final set of the evening was from Flying Lotus, whose 3D light show was to debut and did not disappoint the huge swath of cardboard glasses wearing electro and hip hop fans that had saved their drugs all day to enjoy the visuals at their greatest potential. Flying Lotus has been collecting fans in Los Angeles for over ten years and has (mind) expanded across the world for the past couple- both for his own material and for the Brainfeeder record label that is home for many artists that play FYF year after year. But when it came to HIS set at the festival, Flying Lotus raised the bar with psychedelic optical entertainment, and his tripped out beats fueled the crowd through the end of Day 1 at FYF 2017.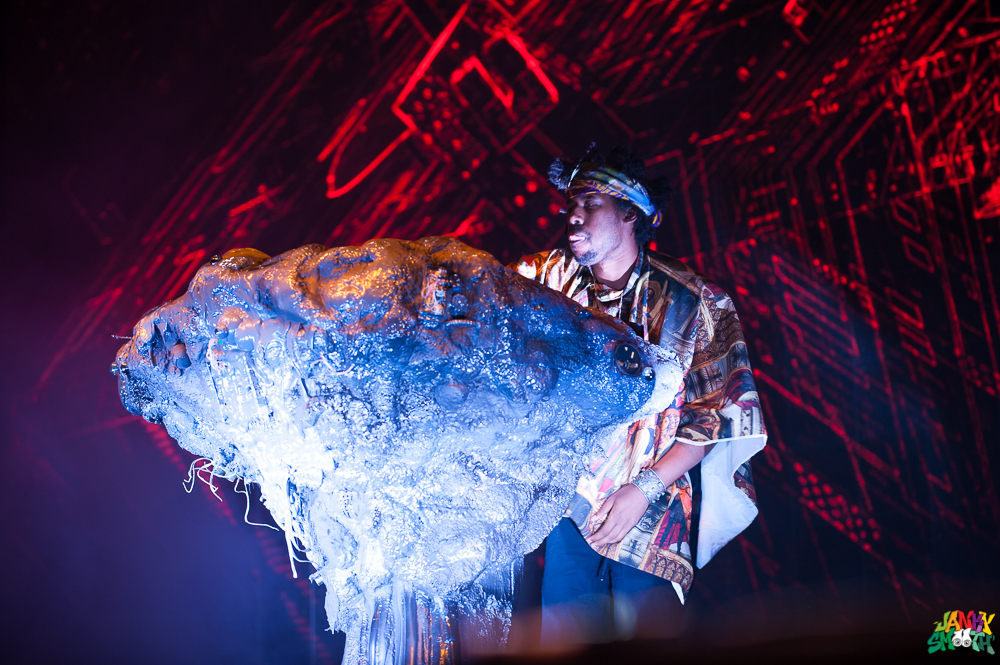 Note: Some notable sets I regrettably missed this weekend were Oh Sees, Frank Ocean, Anderson Paak, Blonde Redhead, Chicano Batman and many, many more. Jessica Moncrief and Rob Shepyer were able to catch some of these in image and video.

DAY 2: SATURDAY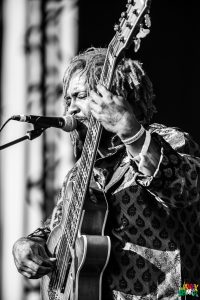 I arrived back at FYF early enough on Saturday to catch a glimpse of Thundercat, who I had caught this year at Coachella. Thundercat's popularity has skyrocketed since releasing his album Drunk this year- making the time he spent as a member of LA punk/crossover thrash legends Suicidal Tendencies a footnote in his career. Thundercat's jazz-fusion bass guitar licks and G-funk slow jams, have drafted nicely off his collaborations with Kendrick Lamar and Flying Lotus and others too numerous to mention and is to be positioned prominently on the forefront of the trap-jazz scene.
Following Thundercat's appearance we went to the club stage to watch Princess Nokia before Cap'n Jazz arrived. Princess Nokia was by far the weekend's most impressive newcomer set at FYF, and was a total surprise for me. Though I had heard P Nokia's singles over the past year, I had no idea she had the connection to her fans like she did, and the crowd's energy was stronger there with the kids than any set I witnessed all weekend. When she began playing we watched teens cram into the club stage tent at full speed, as Nokia blasted through songs "Tomboy", "Kitana", "Brujas" and set closer "Dragons" which caused a frenzy among female fans.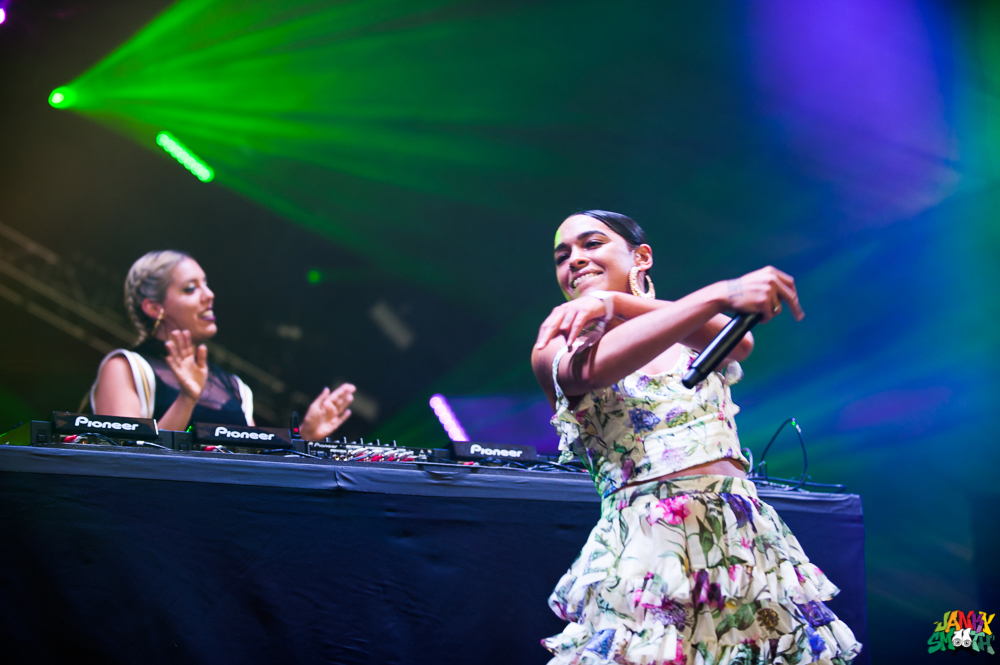 Following Nokia's show, we hung backstage while the crew prepped for Cap'n Jazz. This would be one of the band's largest attended shows ever- and one of their only LA appearances in nearly twenty years. Though I hoped the show would be equal to Thursday's performance, I looked around the audience and knew they would never match it. The set was still enjoyed by most, and very appreciated by the crowd of American Football T-shirt wearing fans, but lacked Thursday's charm and overall vibe. Set highlights were opener "Oh, Messy life", and again "Little League", this time with the band joined by Devendra Banhart. Singer, Tim Kinsella kept the wolves at bay for the bulk of the set but he appeared distracted and at one point gave the mic away for almost the entirety of cover song, "Take on Me". The kids in the crowd who attended the festival solely for this band seemed fulfilled and Kinsella did spend a lot of time in the crowd with his adoring fans. Drummer, Mike Kinsella showcased his talents as well but it didn't seem like the performance had the cohesiveness that Thursday's had, despite a much larger audience.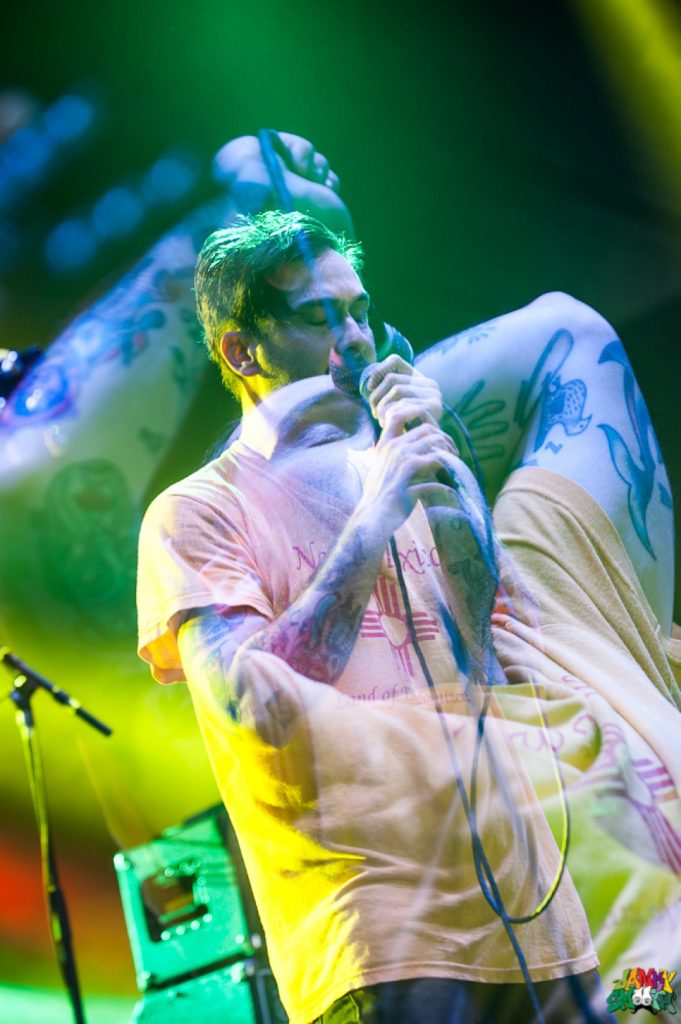 What followed was a lackluster performance from MGMT, whose singles such as "Kids" and "Time to Pretend" still get people excited, yet can't add a new spark to their set past their winning material from 2007's Oracular Spectacular. From what I saw, the group fell flat, and no one who I spoke to over the weekend mentioned anything special regarding the performance.
We left MGMT and checked out King Krule's set, which was laced with punky jazz and darkwave, coupled with saxophones and mellow riffs and would often change to heavy distorted guitars. Krule's set was entertaining but the energy was low for this time-slot at the festival.
Following Krule's performance I attended some of Built to Spill's set, which played well with the 90's nostalgia much of the youth was hoping to catch but the songs didn't seem to resonate like many of the other throwback bands on the weekend's roster. Most of the crowd was compiled of older guys than me in Nine Inch Nails t-shirts and small packs of younger indie fans who were avoiding the electro-centric crowd.
A Tribe Called Quest took the main stage to a roaring applause after a four year absence from an LA festival and they flaunted the continuing dominance of hip hop at FYF. The trio (RIP Phife) provided the crowd with a lyrically flawless rendition of many classics including "Common Ground", "Bonita Applebum" and "Check the Rhyme", inter-spliced with solo career singles such as Q-Tip's "Vibrant Thing". Their encore's performance of "Can I Kick It" was one of the weekend's biggest surprises and best performances.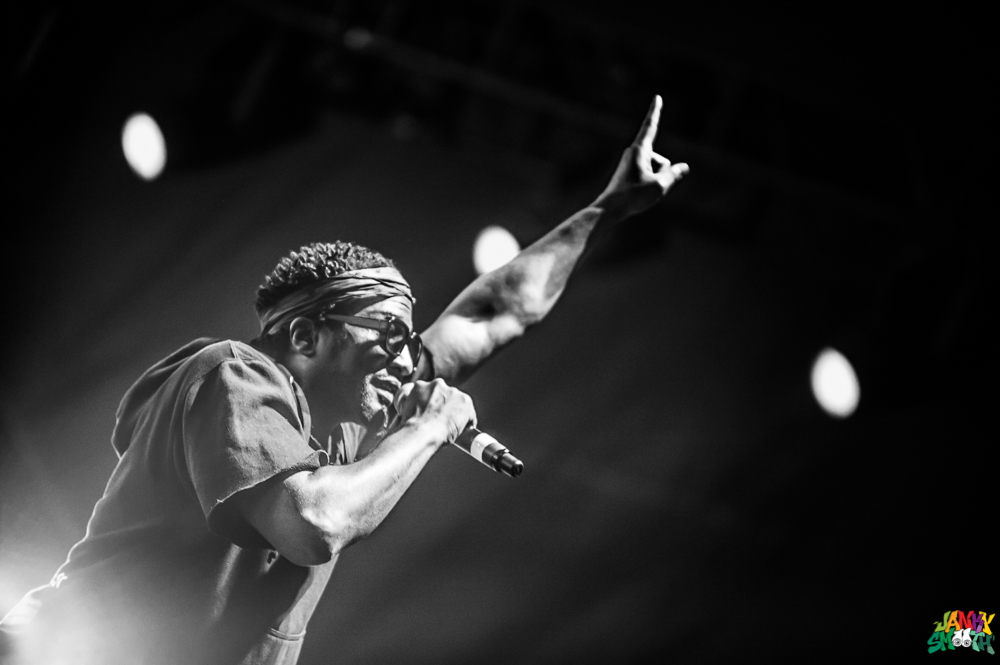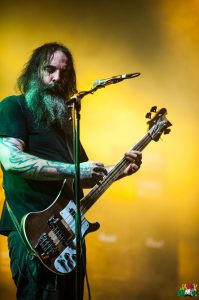 Before I headed to check out Sleep on the Club Stage, I stopped by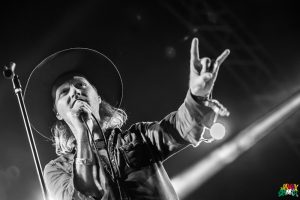 The Faint's set, as they blasted through indie dance punk hits like "Take me to the Hospital", "Agenda Suicide" and "Glass Danse", and kept the audience moving through their 45 minute performance. I didn't realize how much love LA still had for the band and their crowd was truly impressive- dancing and singing with Todd Fink and Dapose. I ended my Saturday watching Sleep, whose sludgy stoner metal buried the swarms of longhairs in the Club Stage as smoke clouds filled the tent. Sleep was an unlikely addition to the festival, as one of the lone metal performers at FYF, but left the crowd deaf wishing there were more like them.
DAY 3: SUNDAY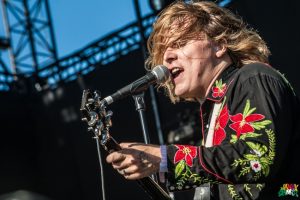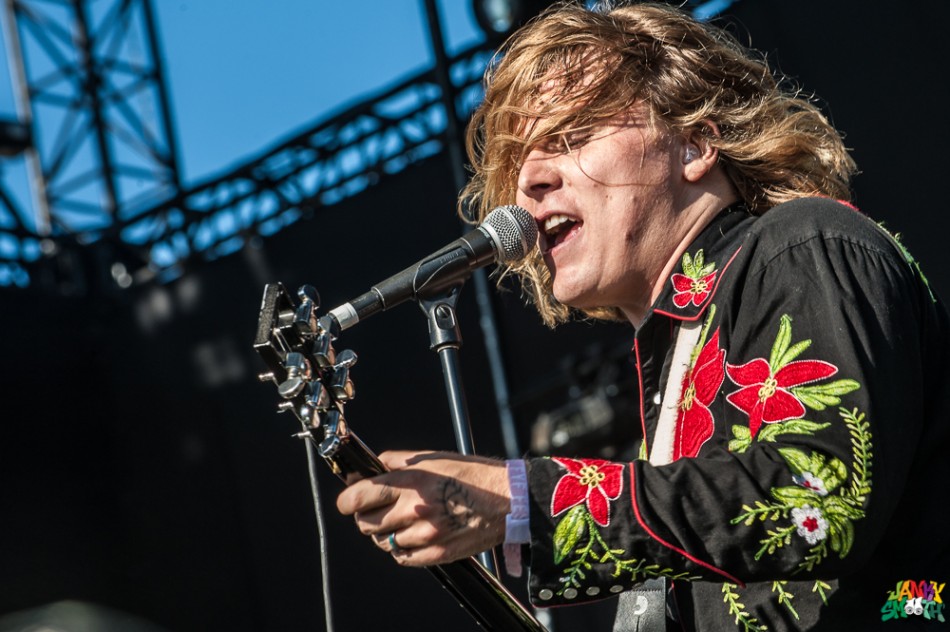 By Sunday my legs were detaching from my body, and I contemplated shaking down a pair of tweaked out looking vagrants for speed to make it through the day's final stretch. I instead stuck with my Poke Bowl, and went to check out Ty Segall on the Lawn Stage. Segall drew a huge audience and played singles such as "Candy Sam", "The Crawler" and "Finger". The Freedom Band seemed to enjoy playing as loud as their amps could handle and the crowd didn't complain. Segall has become a mainstay at FYF, and has reached idyllic status as the benchmark for Southern California's Garage Fuzz Sound.
Following Segall's set, I continued to the Trees Stage to check out Mac Demarco and his legion of Beach Gothers. His mellow songs kept lovers holding hands and laughing at the banter between him and his band. His performances of "Salad Days" and "Freaking out the Neighborhood" were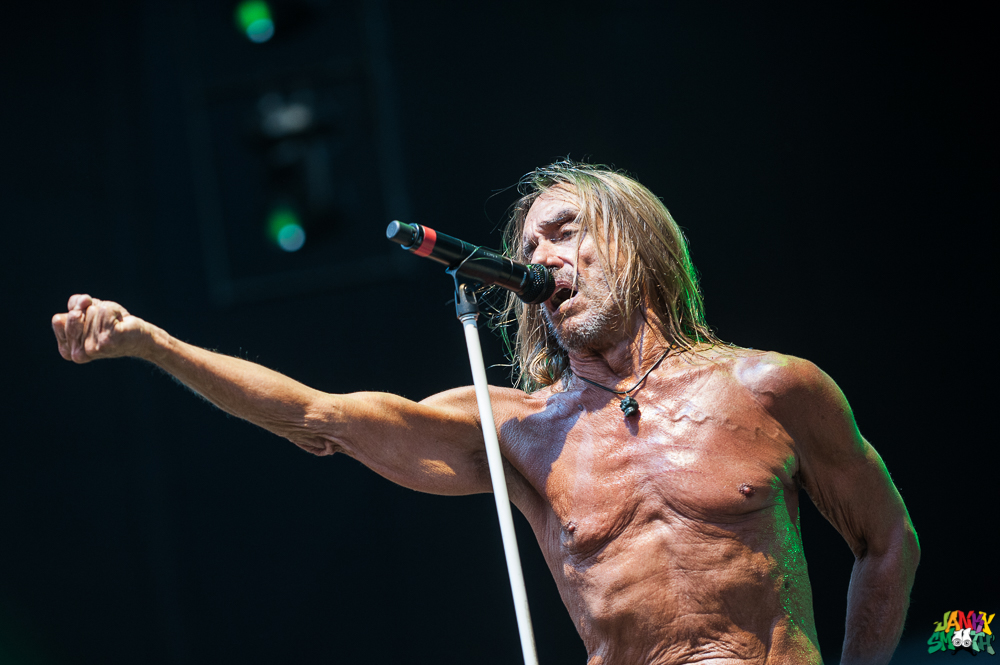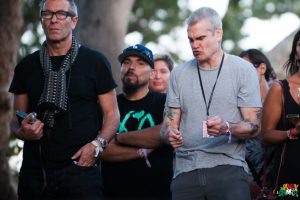 Iggy Pop stole the show Sunday, as many knew he would. His set never lost energy and neither did Iggy, often diving off stage to be closer with his fans in the pit. His set was warmly received by one of the festival's largest crowds and was filled with a songbook of a nearly fifty year career including: "I Wanna be Your Dog", "Gimme Danger", "The Passenger" and "Repo Man". He also played the proto-punk classic "Search and Destroy", and his most commercially celebrated anthem "Lust for Life", which kept the audience dancing for its entirety. Even at his age, Iggy Pop still moves and interacts with the crowd, and shows no signs of slowing down.
Run the Jewels' performance of RTJ3 material like "Call Ticketron" and insta classics such as"Blockbuster Night" kept the crowd engaged as one of the weekend's final hip hop performances, and had an extensively diverse crowd, both in age and race in their 3rd straight appearance at FYF.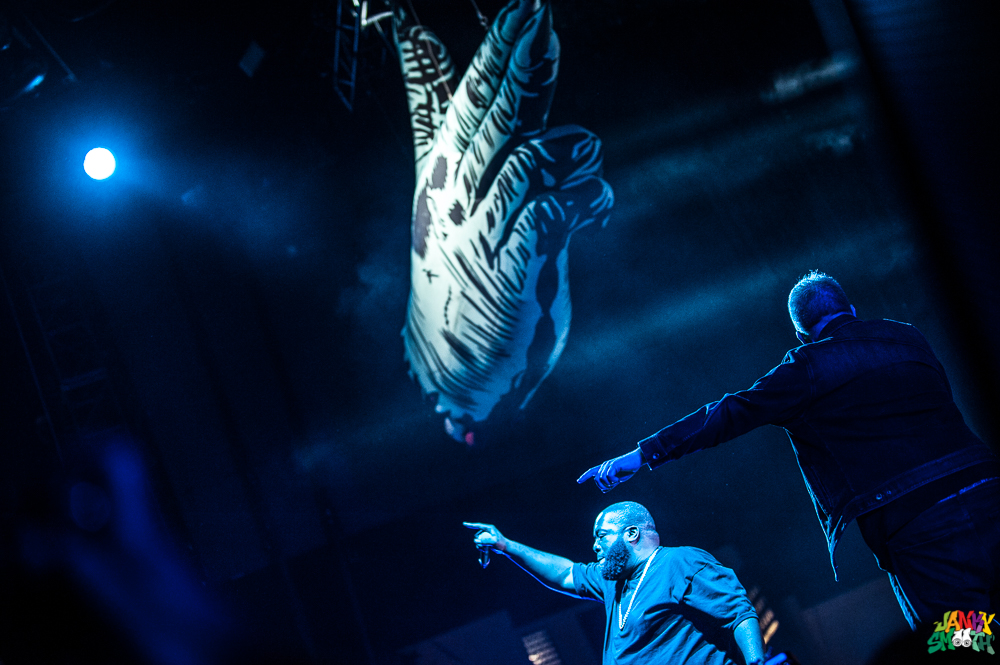 Nine inch Nails appearance was their first proper LA show in three years, complete with classics such as "The Frail" and their radio dominating single "Closer", as well as classics "Head Like A Hole", "The Hand that Feeds" and "Hurt", which the entire audience wailed in unison with Reznor for the song's extended duration. Reznor looks healthy and his liveliness is still fascinating as a performer. The band's fans are some of the most dedicated in modern rock and Reznor still seems connected to developing new music and retaining the intensity people have come to expect from his performances. They were a perfect choice for a headliner this weekend, as they captured the audience's full attention by packing their set with a mixture of timeless classics and newer material.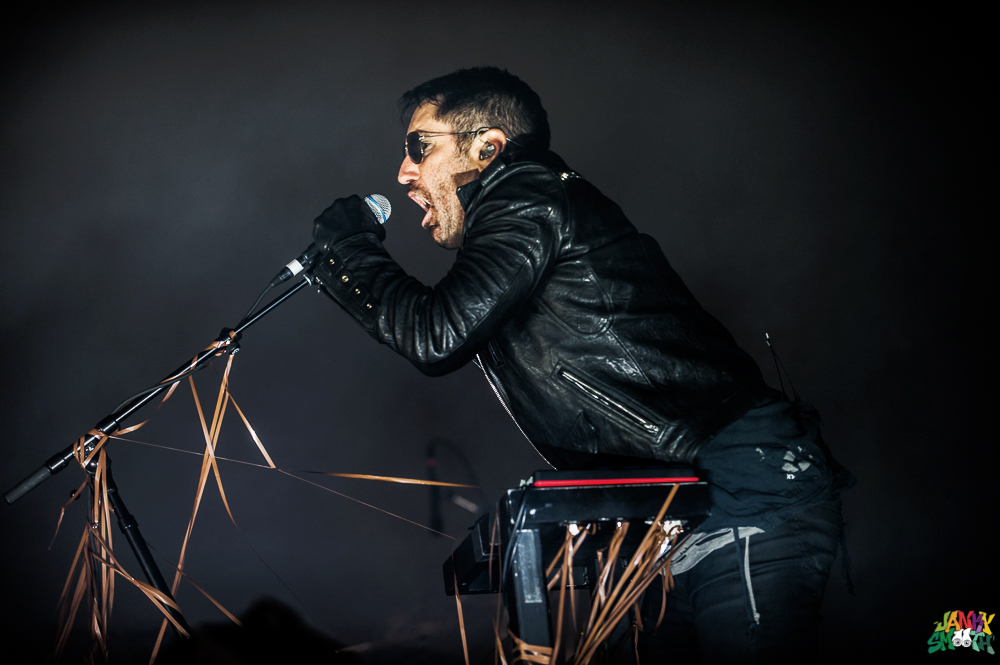 I left the park late Sunday barely standing and snagged a water bottle for the walk to the car, ice cream in hand. FYF has expanded to a rarely achievable status in the sea of festivals jockeying for prominence in the ether, now drawing a lineup of elusive artists who don't make a habit of touring frequently, as well as a laundry list of must see up & comers who are breaking out of buzz status. FYF's inclusion of Electro and Hip Hop acts have changed the festival to appeal to multiple scenes of audiences from different cultural and ethnic backgrounds, and I hope they continue to bring this much of an eclectic array of talent next year. I'd like to see some better set times for some of the veteran bands and artist's but overall the festival seems destined to remain Los Angeles's premier Summer music event and rival the increasingly pop music headlined Coachella by showcasing both superstar artist's and new young talent. I arrived excited for the performances of MGMT, Cap n' Jazz, and Sleep, and left most impressed by the young hip hop performers, and their connection with their fans. It took 13 years to get me to go to FYF, but I will definitely be in attendance next year.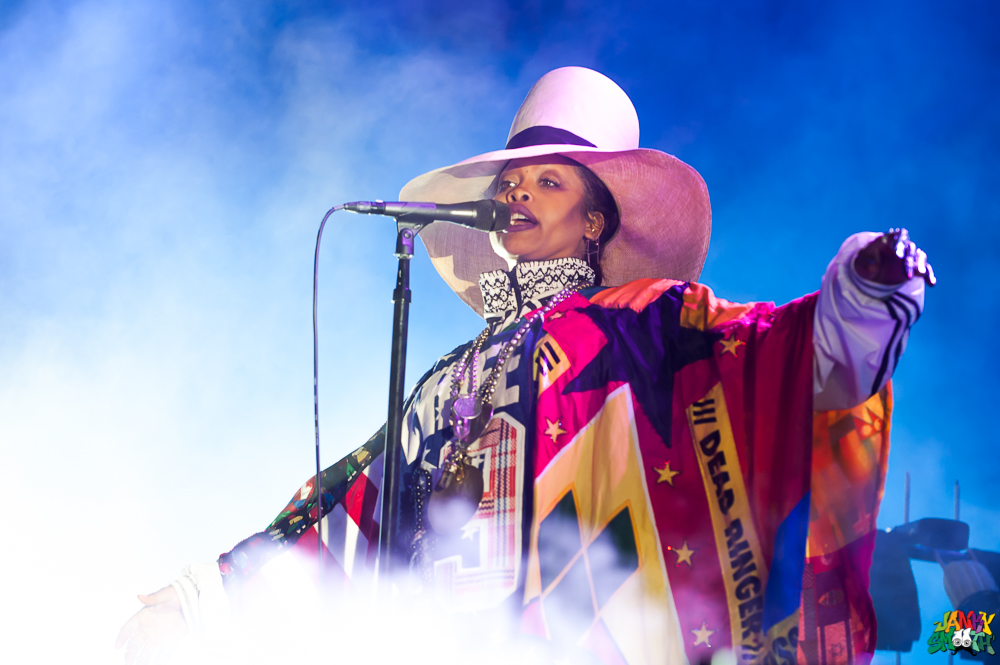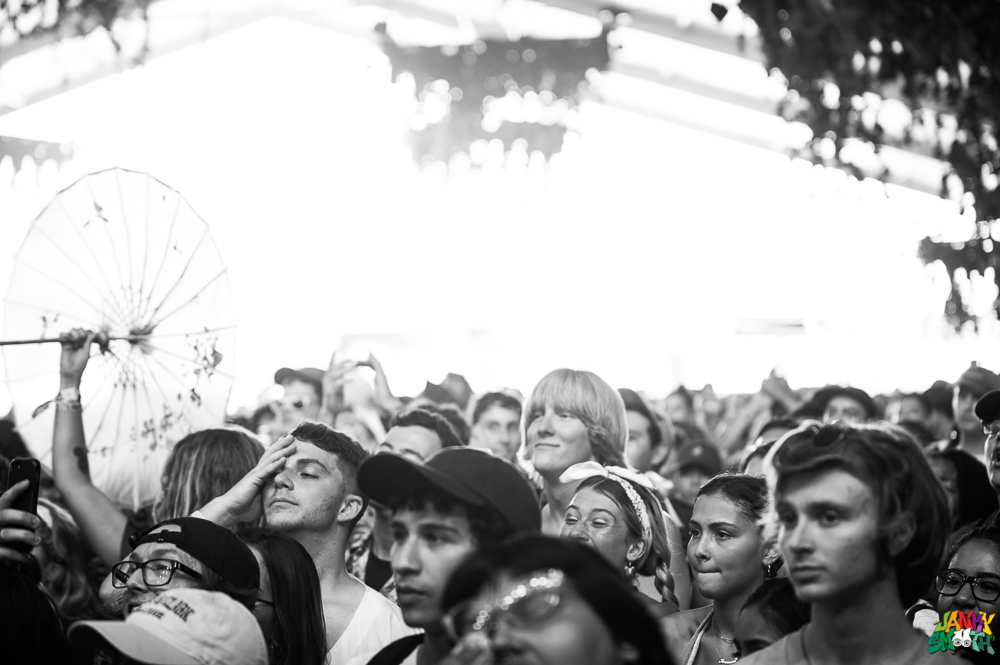 Words: Dave Unbuckled
Photos: Jessica Moncrief