Burger Boogaloo 2017: The Ballad of John and Iggy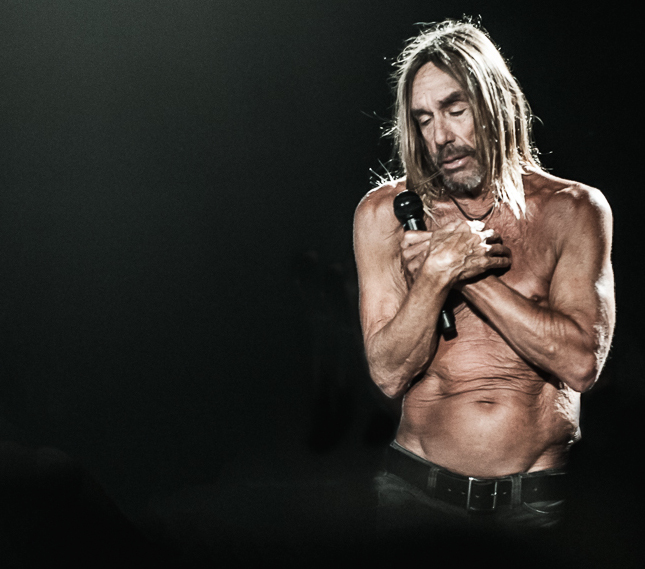 This Burger Boogaloo 2017 review is X-rated, so if your kids are reading it, Janky Smooth apologizes if they develop a foot fetish.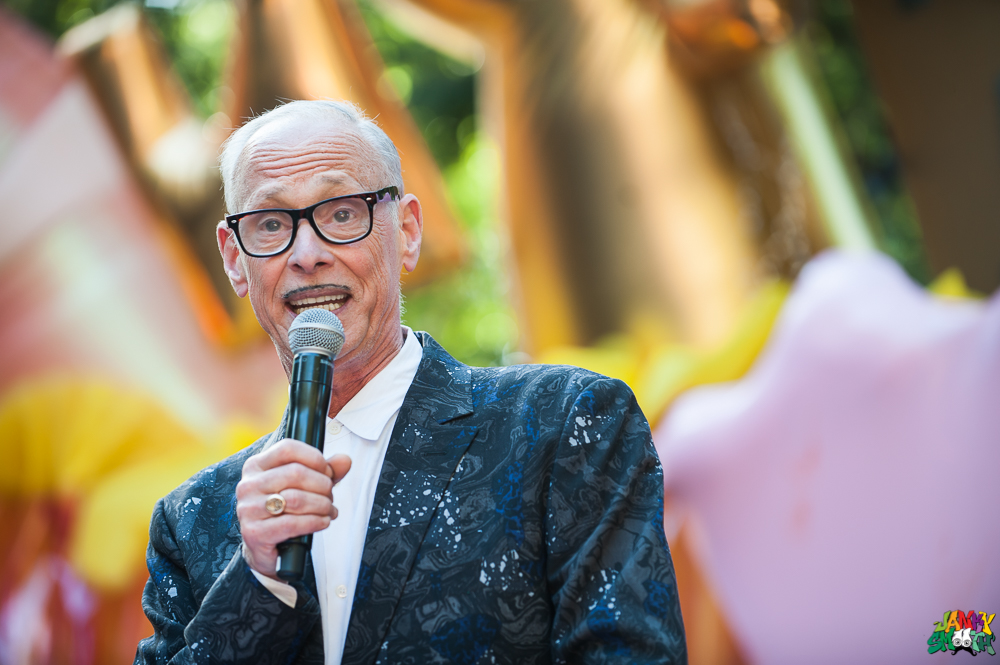 Like your baby sister's pretty pink switchblade, the marriage of legendary filmmaker and filth peddler, John Waters and atomic boy, Iggy Pop, cut the Bay Area deep till it bled out all the outlaws, shrimp pimps, gamblers, hipsters, hippies, hyphys, crust punks, trust-fund punks, rockabillies, rockabetties, and freakazoids to gather at Burger Boogaloo 2017 at Mosswood Park.
Two whole beef patties, special sauce, lettuce, cheese, pickles, onions on an acid infused bun.
The trip up the 5 freeway was long and arduous but upon entering the burger's third eye vortex, the camaraderie of San Francis-folk mellowed me out as straight as a noodle. That's just how us So-Cal kids see Bay Area babies: hella mellow.
This year, the festival's theme was Shrimpin' which is fiend's slang for toe sucking. Four giant legs kicking up from the stage to the sky were inflated behind the Gone Shrimpin' stage, which became the alter of our collective foot worship. I'm talking about high heels and low-life, sweaty soles and pedicured puppies.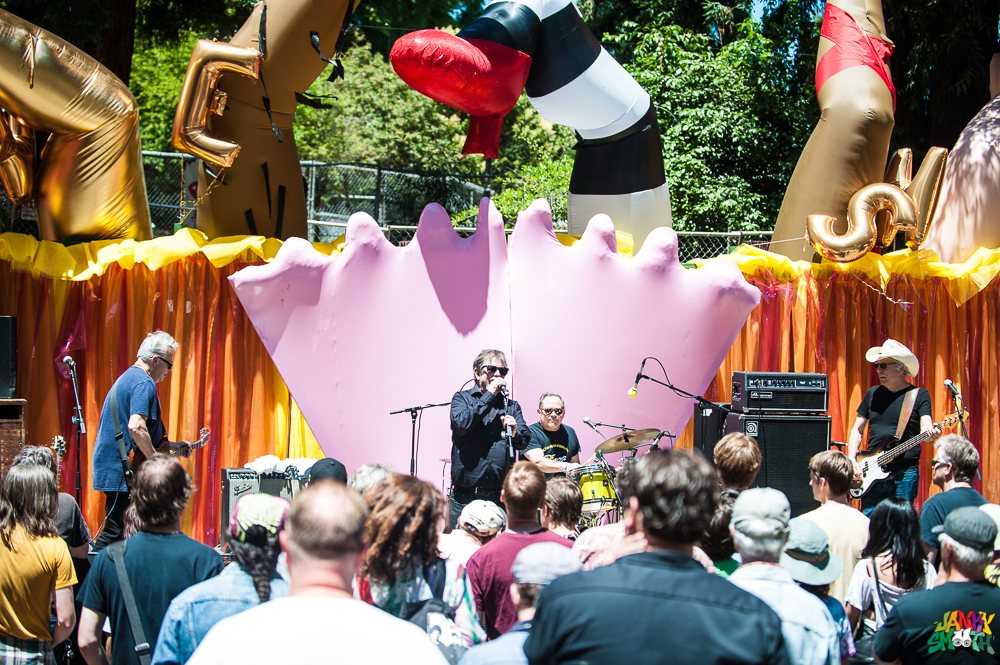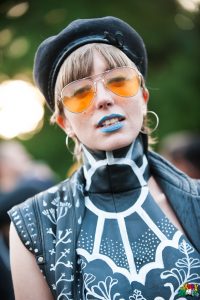 "Did you know Freud said Shrimpin' was searching for the female penis? Well, isn't that punk? We're all, tonight, searching for the female penis and the male vagina." – John Waters
I arrived in time for one of my favorite garage punk bands, Personal and the Pizzas, to take the Gone Shrimpin' stage. Before they went on, John Waters introduced the band and I nearly had a stroke, I was so star struck. I don't know about you, but I've spent many a toe-curled night, in bed with another warm body, watching movies like Pink Flamingos, Female Trouble, Polyester, and Desperate Living and kissing my woman when I was supposed to cringe.
John Waters introduced every band on the Gone Shrimpin' and the headliners at the Butt City main stage and I will incorporate those introductions in this article to archive them forever.
"A band that first featured actual pizza delivery to the audience, while performing with a band member on a leash at the same time. They've put out hundreds of singles: brass knuckles, dead meat; none of which I own but every one of them I'd like to buy. I hear in real life like all celebrities, they're difficult to deal with and that's good to deal with today, this is the only festival where that is good to deal with. They declared war on Macaulay Culkin for having his own pizza band, good for them. The lineup of the band changes frequently, depending on who's out of prison at the time. They're known for breaking up on stage, I hope they don't tonight and throwing boiled tomatoes at the audience, come on… it's a little early to ruin the outfits tonight, boys. That's okay but hold the anchovies and add the ipecac because we're gonna eat it cold now. They deliver, Personal and the Pizzas." – John Waters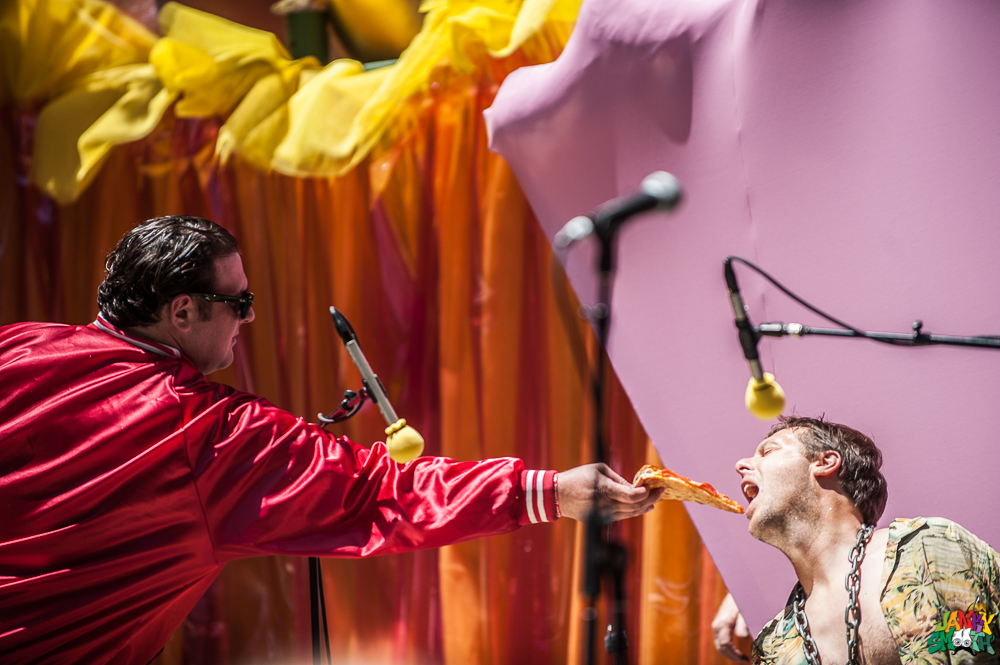 The band got on stage with their side-show of side members, one throwing pizza slices at the audience and another being pitched tomatoes that he would swing his Louisville Slugger at, trying to hit homers into our grizzly faces. Quickly, within moments of the first song, a girl standing right in front of me had a pizza smack her right in the cheek, smearing cheese, oil, and pepperoni sweat all over her face. She ran off in seconds, hiding in the bushes to apply some Proactiv.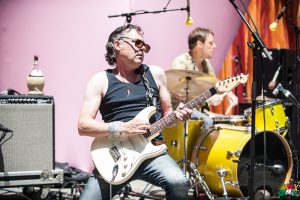 The band's songs were short and sweet like finger-lickin Italian hot links, the bassist, balding and wearing a leather jacket, would blow big, green bubble gum bubbles as he played. They sang hilarious and catchy tunes like "Dead Meat" about getting kidnapped or their closer, "Nobody Makes My Girl Cry but Me". Feeling cool, I slicked my hair back with a slice of pie and oozed machismo on my walk to check out the festival.
Hot chicks and dudes everywhere, mingling around tents like free beehive haircuts or the local anarchist book publisher, PM Press.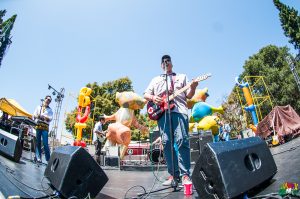 Next up was a band on In The Red Records, Wounded Lion at Butt City, the main stage, where three inflatable gremlins floated over the amps. Singing anthemic lyrics like some people are friendly just because they're crazy, there was plenty of garage swagger to gyrate to. The band was able to give everyone a spring in their steps to bounce and hop the hippie way.
My mouth started salivating at the thought of going back to the Gone Shrimpin' stage and sticking a foot into my mouth so deep that a toe would poke out of my ass.
The New York ladies of the Baby Shakes were the next to grace their shrimps on stage and with their hybrid of garage punk and rockabilly, I'd challenge anyone not to have a good time and avoid the all-consuming party that ensues as soon as they strum them guitars.
Back at Butt City, Th' Losin Streaks took the stage and busted out every ounce of energy between them to deliver their sonics and party feel while bouncing around on stage like wild apes.
"I love this next act, he's been banned for entering the US for 5 years and I can't find out why, he designed his own brand of hair-grease and like Roy Orbison with a head injury, they've been called insane, sweaty, pscyho trash, and a stand out presence in the obscure music world. But the one thing that really impresses me is he spits, I always found that attractive, when men spit, hocking a loogie is just plain sexy in my book. He's red hot with blue balls, I call him with great respect, stink ray. One critic said his sinister voice injects a potent of syringe of weirdness, it's like he's speaking in tongues, lets shoot up our ears with the real thing, a big dose of Bloodshot Bill." – John Waters
Bloodshot Bill was one of my favorite acts of the entire Boogaloo, he's a cool cat, with undisputed attitude playing old-fashioned badass rockabilly and doo wop. He combed his slick black hair back between songs and probably had the funniest stage banter of any singer I've ever seen. His voice is that of an ugly old crooner, like Tom Waits, but in that, there's a certain charm, because most listeners understand it's the ugly ones that have the real stories to tell anyway. It happened to be Canada day and hailing from Canadia, Bloodshot was in high spirits and excellent form. He was able to speed things up or slow things down and made us at the Boogaloo feel like a bunch of music-hungry prisoners with some big-time singer visiting us to ease our trips to the electric chair. Shannon Shaw from Shannon and the Clams joined Bloodshot on stage for a beautiful duet to close the set and make everyone's hearts melt in the Oakland heat. Keep a blood-shot eye out for Bloodshot Bill, any chance to see him live is a treat.
Redd Kross was next at Butt City and it had been forever since I saw them live or listened to them, I forgot just how fucking amazing they are.
"Their songs have titles like I Hate My School, Kill Someone You Hate but they're still warm and scuzzy to me, really. They were first inspired by the masturbation scene in the exorcist, well who wasn't? Really? I yell your mother sucks cocks in hell every time I cum, don't you? They've covered songs from great musicals and I'm not talking Singing in the Rain, I'm talking about Beyond the Valleys of the Dolls. They're old enough to reference the Shangri-Las and young enough to play here today. They've stated "We've inhabited many worlds but fit in none of them." Well, don't we know what they mean. The international Red Cross threatened to sue them if they didn't change the spelling in their name to a K. Why? Maybe they were confused with red wings? That's biker slang for connilingus happening to you when you're on your period, here that could be a stage theme for next year. Ladies and gentleman, and I use that term loosely, please welcome Redd Kross."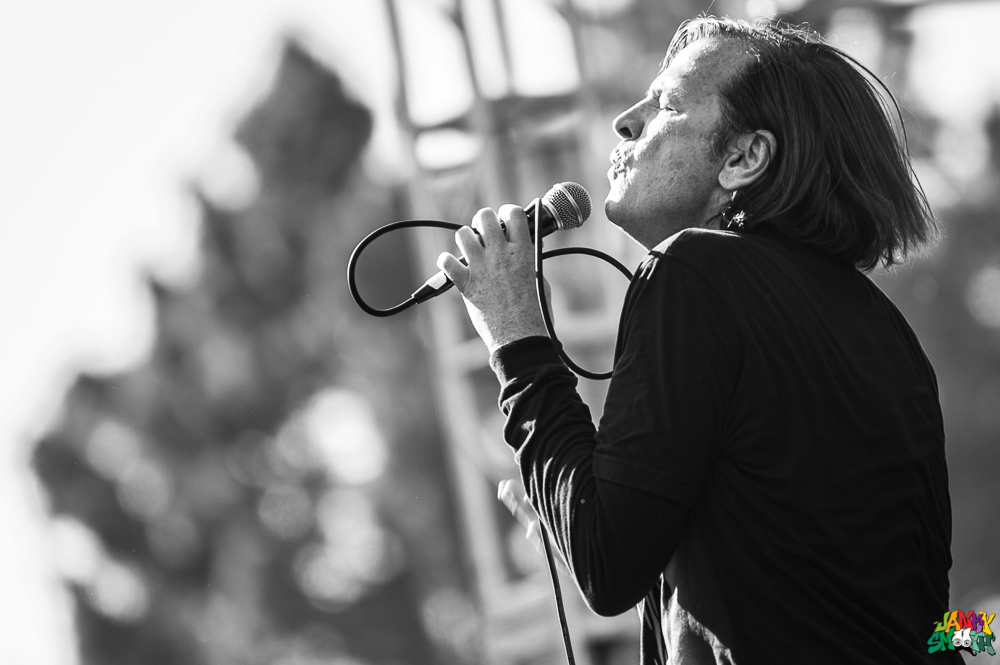 They're simply a band with days and days of great songs in their catalogue. They jam packed their set with jams to hop and crowd surf and dance to then played their cover album Teen Babes for Monsanto from front to back. Redd Kross encapsulates every great element from every age of punk and melds them all together into something new. I really understood the brilliance of Redd Kross when I heard them play "Stay Away From Downtown."
Red Kross setlist:
Lady in the Front Row
Peach Kelli Pop
Neurotica
Stay Away From Downtown
Annette's Got the Hits
Deuce (KISS cover)
Citadel (The Rolling Stones cover)
Play Video
Heaven Only Knows (The Shangri‐Las cover)
Ann (The Stooges cover)
Saviour Machine (David Bowie cover)
I'll Blow You a Kiss in the Wind (Tommy Boyce & Bobby Hart cover)
Linda Blair 1984
The elusive and mythical, NoBunny played the Gone Shrimpin' stage next and he's a rare act to see these days, so I made sure to post myself right in front of the stage to soak in every silly, lo-fi morsel of his set.
"No need for a comeback for our next act, Easter never goes away and neither does NoBunny. I first heard of Justin Champlin when he played at the Ottobar in Baltimore and Mark who runs this festival tells me what a great guy he is. He even shows up Monday and helps clean up cigarette butts, that's really a friend right? But does he smoke them that's what I want to know, because is he a good bunny or a butt trapper? That's what we call hobos that smoke in Baltimore. Justin's bragged that he's a really bad live band but I disagree, he's half-Leather Face, half-Easter bunny from hell. This loner with a boner, as he's been called, used raw meat before lady gag and even made a song called "Blow Dumb", and how do you blow dumb? Do you miss the target? Do you use your teeth? While smoking? While humming a Celine Dion song? Or gagging before you even begin? Is that blow dumb? Inquiring punk minds want to know. His music has been called lo-fi garage punk mixed with power pop and bestiality. He's a randy little rabbit, a cock-sure cotton-tail and a songwriter who always makes me laugh. I'll put my rotten eggs in his basket, any day. Here he is, NoBunny!" – John Waters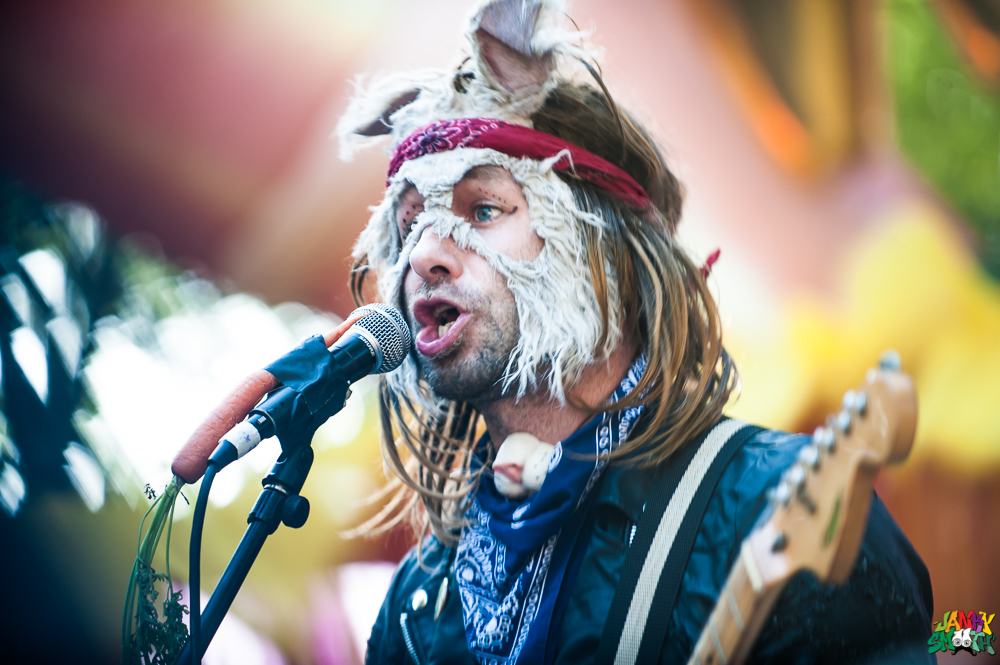 Introduced with John Cena's instantly recognizable entrance music, the band began on an epic note. Their set was poppy and hoppy and filled with all sorts of transgressive, filthy, vibes. The drummer played with burning cymbals for one song and the bassist was going absolutely ape-shit, jumping in ways I had never seen before while holding a guitar. One highlight was when NoBunny kissed a fan that was singing along on the mouth and bewildered this poor guy so bad, that he was wiping his lips over and over, maybe like ten times before he felt okay again.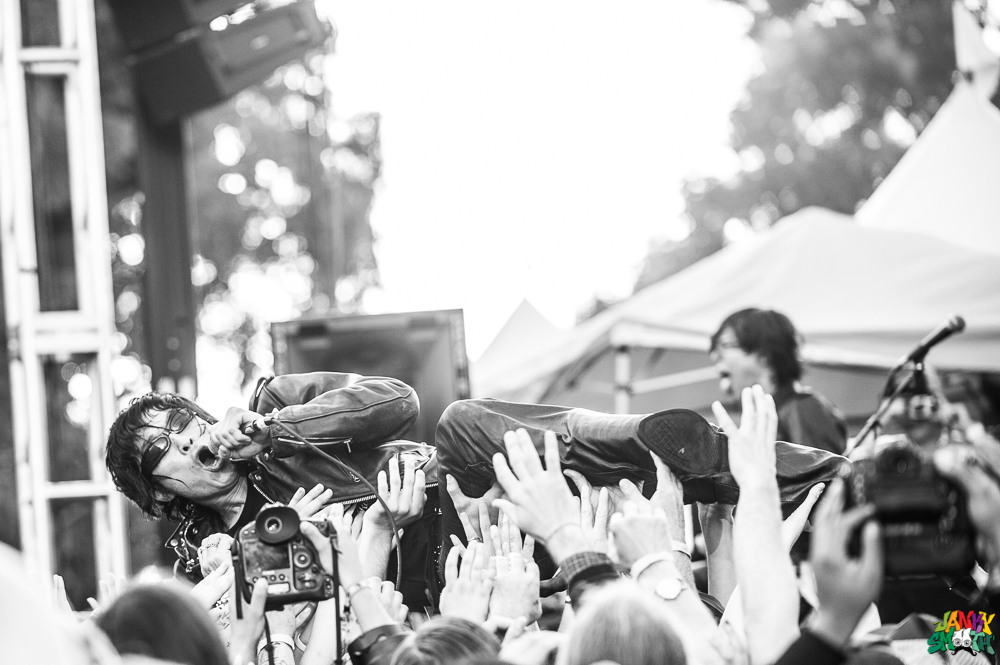 Nagasaki, Japan's jet rock trio, Guitar Wolf was next at Butt City as direct support for Iggy Pop. The band's singer, Seiji, came on stage wearing a raptor's head then took it off to begin their crazed set of power punk. Their songs mix Japanese and English lyrics for a frantic, jagged but somehow danceable sound. It makes sense that these guys would open for Pop because their sound is the perfect trigger to unhinge everyone out of their sanity.
It's such a pleasure and privilege to see Iggy Pop in concert and write about it. Iggy has been my hero for a very long time, a model for nihilistic behavior and being a force of nature in this world instead of a thinking, logical robot. The Stooges' Funhouse is my favorite album of all time and the last two shows of Iggy pop I had seen, at the Teragram and Greek Theater, for his Post Pop Depression tour, featured no Stooges songs. Having seen Iggy's Punk Rock Bowling setlist, I was ready to have that feral Stooge inside me come off its leash.
"Our headliner tonight is the biggest, he's over the punk rock moon, beyond the valley of visionary vandalism and the saint of seditious seduction. What a past he's had, earned his draft card, lived in a trailer, became the first sploshy rock star ever by spreading peanut butter on his body, he practically invented the stage dive, rolled around on broken glass, vomited while singing, he wore bleached hair first, wore a dog collar before S&M, still runs around naked and looks better now than Jim Morrison ever did when he was young. He's been a junky, he's been sober, he's been a movie star, a disc jockey, a jazz singer, an opera star, and a crooning Maurice Chevalier from the French gutter. He's an intellectual and a moron, and I have a secret about him, I worked with him on Cry-Baby and he's a fine actor. He's a team player and a gentleman. This man survived drugs, the music business, Susan Tyrell, heterosexuality and yes, Lou Reed and David Buoy. Plain and simple, HE'S GOD. Fire, filth-balls, and trash cans, get on your knees to worship our leader, Iggy Pop!" – John Waters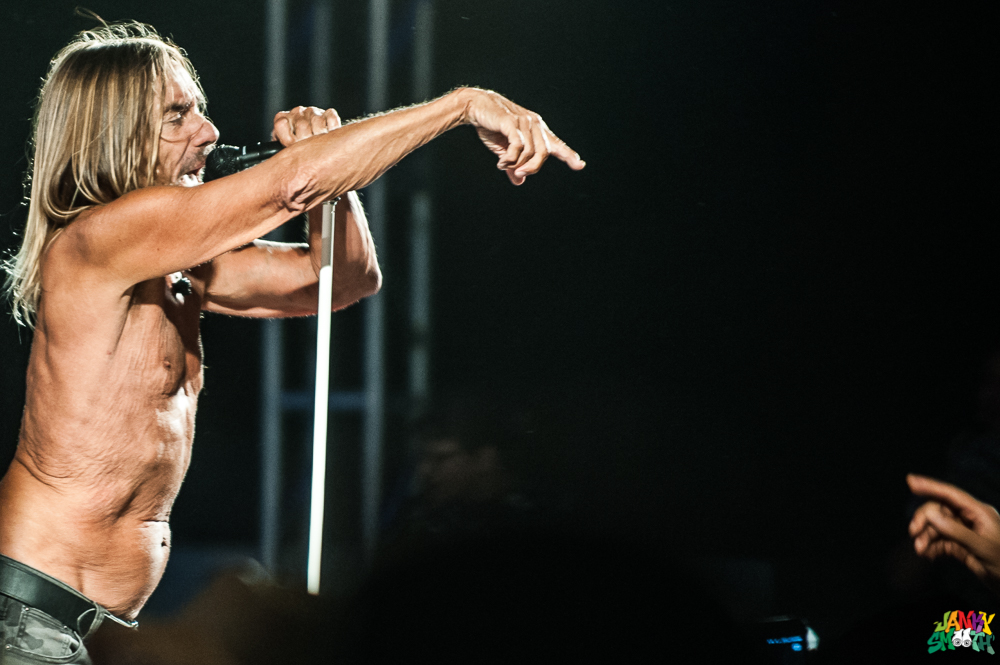 Aw, man… this had to be the best time I'd seen Iggy since The Stooges played Vegoose in 2007. The set list was immaculate, drawing songs out of every point in his career from "No Fun", to "Dirt", to "Mass Production", to "Repo Man", to "Gardenia". There were plenty of songs off of Funhouse, so I came to life and rocked out stupidly hard. Iggy was all over the place, in a good way, going from every corner of the stage to pull fans in and capture their imaginations. It was pure Pop pandemonium; crowd surfing and stage diving abound. The street right behind the Butt City stage was raging with poor punks going completely ape-shit without having spent a dime. Iggy was tender and ferocious, melodic and nonsensical, a heartthrob and a horror, it was a beautiful thing to witness. The one song I had wanted to see live but never got the chance to was his closer, Real Wild Child. I was on cloud nine.
Iggy Pop set list:
I Wanna Be Your Dog (The Stooges)
Gimme Danger (Iggy and The Stooges)
The Passenger
Lust for Life
Skull Ring
I'm Sick of You (Iggy and The Stooges)
Some Weird Sin
Repo Man
No Fun (The Stooges song)
T.V. Eye (The Stooges song)
Gardenia
Mass Production
No Fun (The Stooges song)
Down on the Street (The Stooges song)
Loose (The Stooges song)
Real Wild Child (Wild One) 
Burger Boogaloo DAY 2
With the exception of the Buzzcocks ripping through my skull to swallow the last bite of Bugaloo, Day 2 was a slower day, musically, with garage that veered more toward rockabilly. Our day started with a San Francisco legend, Roy Loney, a founding member of the fellow Boogaloo alumni Flamin' Groovies. Us early birds got the worm and got to jump and jive to his rockabilly garage tunes while all the punks were catching some more shut-eye.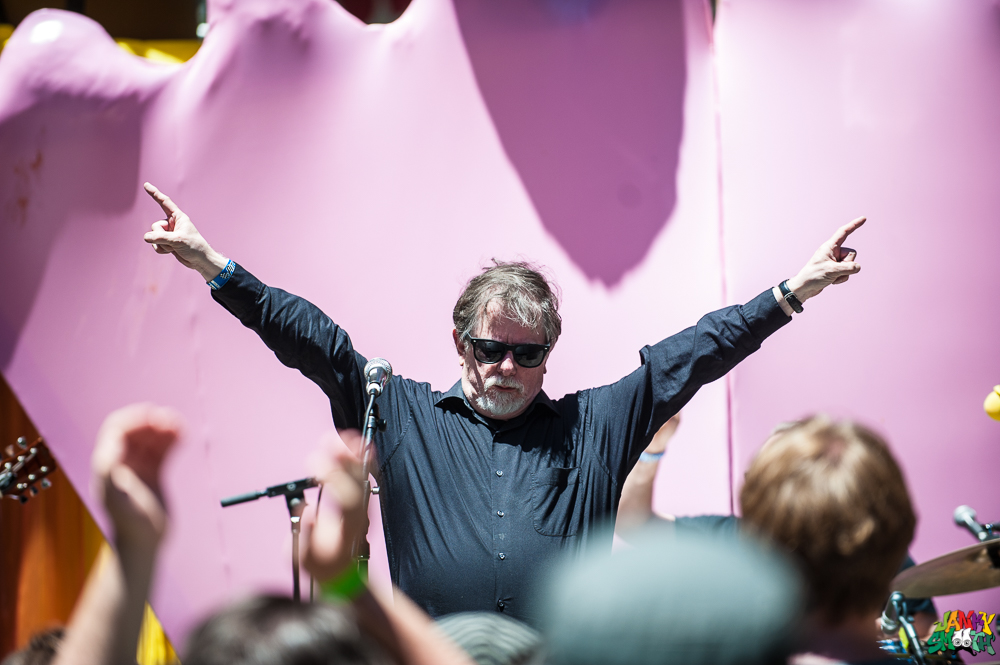 Miami's Jacuzzi Boys played Butt City as smoke billowed up from the stage, fueled by their Lo-fi and poppy garage rock style. With bombastic drums and guitars, their sound makes you feel happy but also kinda devlish, like it would play well in the background of a murder scene in a film.
 "This next band that we got coming up, they might have some deranged fashion ideas, they're young stuff compared to the usual age of our groups here, believe me. They started in 2012, they're known for their surf noir sound, sullen but happy. Seattle transplants that moved to LA just so they could miss the rain. Anyone who loves the Shirelles as much as they do, has a special place in my heart. At least twice a day, I just shout out "this is dedicated to the one I love" for no apparent reason. I can't help it, I have Shirelles Tourette's Syndrome. What great titles this group has: damp faces, hardly arts, think dream pop meets bill black and his combo, they even do instrumentals like the ones I used in my soundtracks for when Divine was walking down the street. They survived a terrible car accident and like Nervous Norvus, lived to sing about it. The New York Times called them passionate, mysterious, and fully committed and so do we. Cowpunks and Pscyhobillys, La Luz." – John Waters
La Luz is made up of four women that have seen the darker side of vintage out of their third eyes. Surf noir transcends borders and language, no matter which half of the golden state you're living in. With guitars that splash and curl and crest over rolling drums and a lush, beautiful voice that's backed with more lush and beautiful voices, La Luz is a tsunami ready to wash the west coast and consume it all the way to Texas, maybe that will push those states a little more to the left of the country.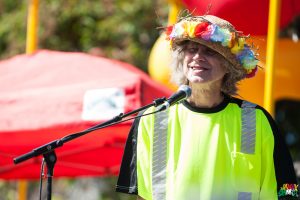 NRBQ is described as a crazy mutant cross of multiple genres, including everything from Brit pop (even though they're from Kentucky) to R&B and Rockabilly. After seeing them live on the Butt City stage, I kinda felt like they were bluegrass. They were slow paced and mellow, but overall, buzz killing for me, so I took the chance to walk around and look at all the hippie wares until Gone Shrimpin's next freak was on paraded out on stage.
Our next duo is crazy enough to understand any kind of fetishism, he's a gyro, gear-loose kind of guy who built the ozone box of punk: the drum buddy. Quintron hears sounds in his heads that even schizophrenics haven't heard. Ms. Pussycat, the puppeteer, puts her hands up all our butts, just for fun. Like her, I was a puppeteer early in my life and my first career was putting on puppet shows at kids birthday parties but eventually, I got fired for putting blood in the Punch and Judy shows. Maybe I'll go back to doing puppet shows for bad little punk rock babies, if they wear safety pins and scream all night and keep it in all tight why not? We're all puppets hear at Burger Bugaloo, off our strings! Please welcome, Quintron & Ms. Pussycat!" – John Waters
Quintron & Ms. Pussycat is a band like nothing I or you have ever seen… and I don't even know you, but I'm sure of it. They began with Quintron playing world music on a keyboard as Ms. Pussycat set up their props and inflatable castle . Then the music was gone and suddenly the concert turned into a ten-minute-long puppet show with talking moths and sheeps and clocks and a detailed narrative involving a fashion show to showcase a new clothing brand called Weaver Ware that if not a success, would spell the end of time for us all. Once the story concluded in victory and joy, balloons rained down upon us by the hundreds and the punk music began in what I can only describe as a cracked out, hybrid of the B-52's and They Might Be Giants. These guys put on the most John Waters-esque show of the festival. They're hard at work doing the good and holy service of making punks look bad.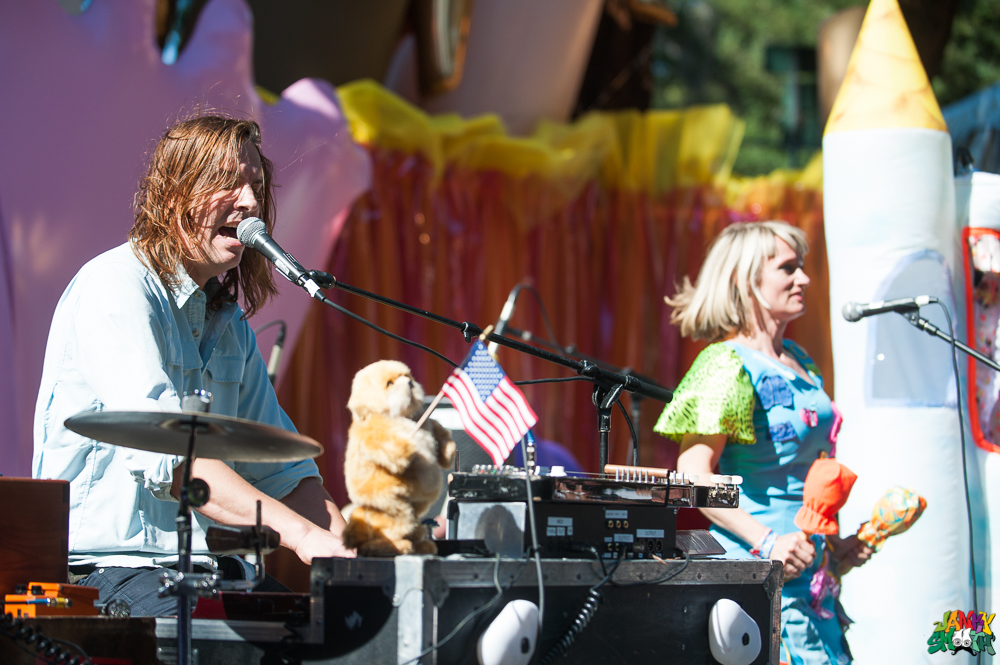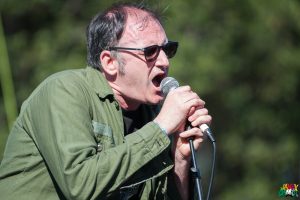 FM Knives carved a hole in the heart of Oakland with their punky, rebellious serrated edge sound. Sonic and unrelenting, FM Knives rolled south from Sacramento to what still felt like a hometown audience in Oaktown. Perfect summer punk.
FM Knives is one of those smaller but still legendary bands that Burger is able to lure to their festival while plenty of people don't know just how lucky they are to be seeing them.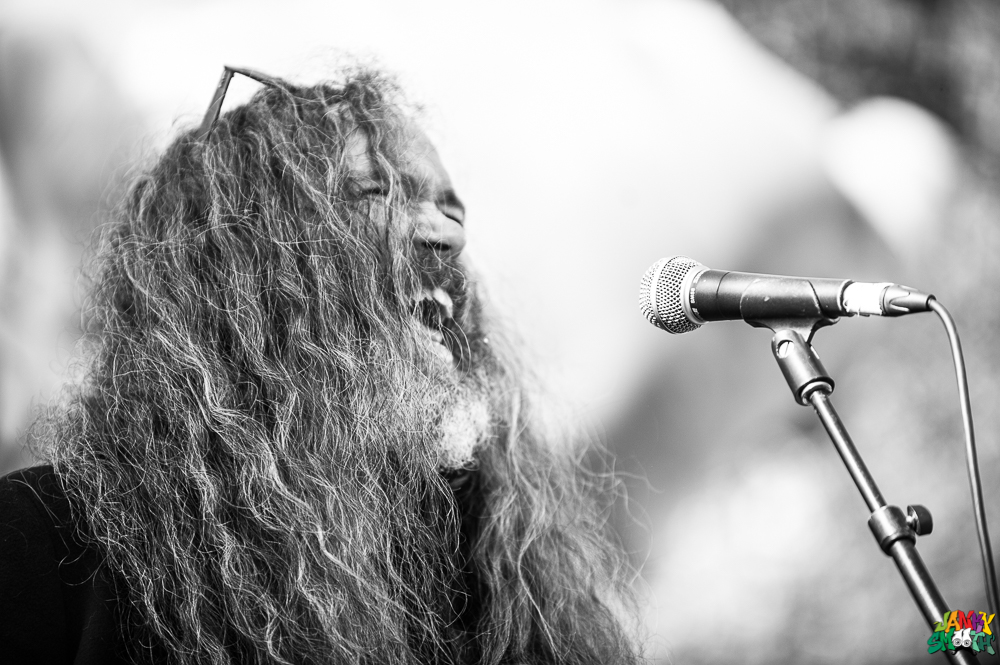 "Here's the real reason I come to Burger Boogaloo every year, to see Shannon and the Clams, she's beautiful, she's big, and she's my favorite punk rock bombshell. Oh, if only she and Beth Ditto would mud wrestle. She's been called snotty and naughty, yep!…" – John Waters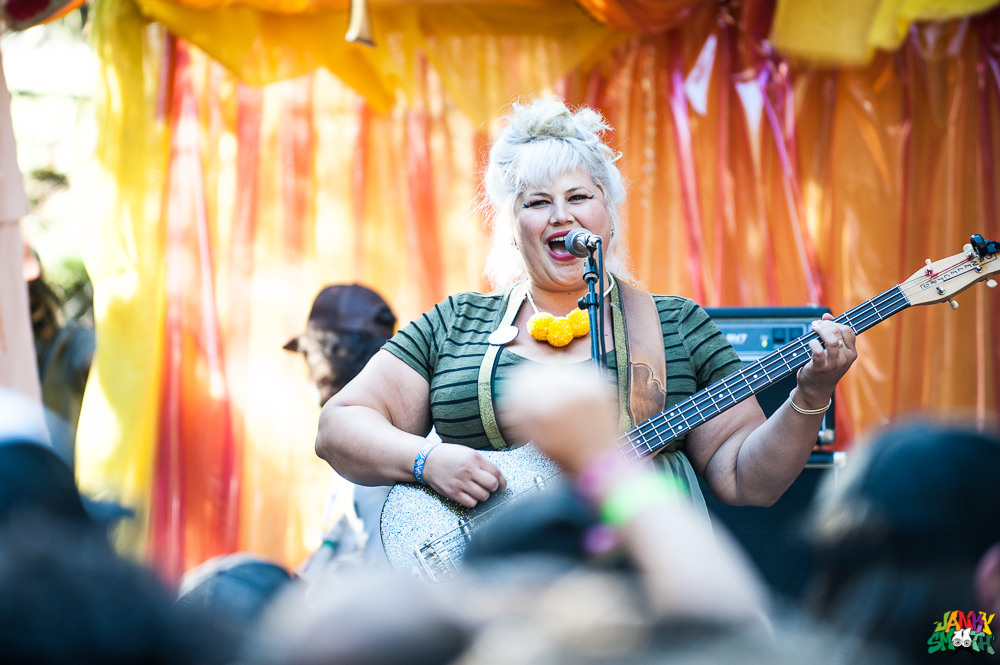 Shannon and the Clams were Gone Shrimpin's closing band. I made it to the stage too late to get a good spot and found the amphitheater filled to the brim with bodies, ready for Shannon Shaw's beautiful voice and music. I crept up to the right side of the stage, bypassing the sheeple-punks, and found that through the bushes you could mosey your way to the back of the stage. I found myself a decent place to squat in the shade right behind Shannon and the sound booth.
Shannon, who lives only a few blocks from Mosswood park, makes incredibly emotional doo wop. It's music that will pull you out of the digital age and make you feel human again, just a boy or girl and a jukebox kind of sound. Beautiful, slow music you can crowd-surf to. By the end of the set, after being briefly joined by La Luz on stage, the experience was so cathartic for both band and audience alike, that Shannon couldn't help but cry.
"I'm proud to remember when punks hated the Beatles. Oh, it was great, those rotten hippies were so cheery and they put Motown out of business too. Give me X any day of the week, just their name is perfect, it looks good carved on a forehead and it looks good printed on a movie poster. I knew John when he was a young, beautiful man in Baltimore and I was gay coke hag. He looked so great in those mesh shirts with alcohol fueled swagger and I was a gay fish out of water, I hated Barbara Streisand, I had no desire to disco dance and I thought coming out meant blowing straight guys that claimed they were drunk.…" – John Waters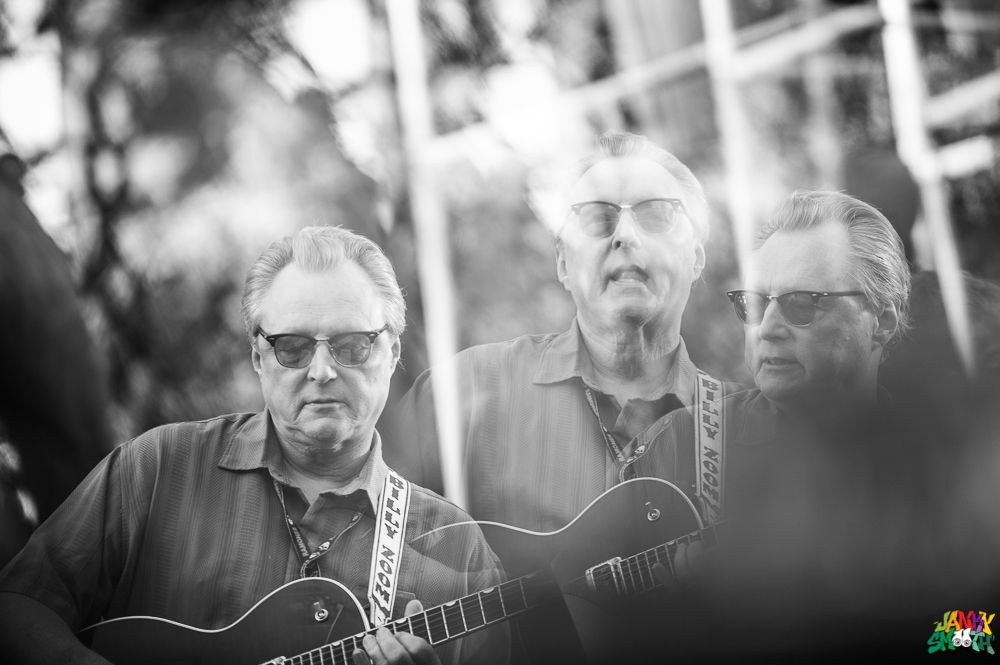 I don't know why it took me this long to finally see X live and I don't know why it was in San Francisco when they play in Los Angeles, all the time but finally my cherry was broken and it tasted sweet. I had been meaning to see X because they are a paramount part of punk rock history. A history that cannot go without mentioning their Ray Manzarek produced, masterpiece album Los Angeles.
Their set at Burger Boogaloo was good- structured to pop off at the beginning then slow-down in the middle and then return to speed and power with all the hits at the end. Hits like "Sugarlight", "Nausea", "Los Angles", "Johnny hit and Run Paulene", and the best Doors cover ever, "Soul Kitchen". People's reaction to the set was varied saying Exene's voice wasn't on point, personally I thought a lot of it sounded like Dad-rock, too mellow for the kids at a festival like this. But hearing those songs off of Los Angeles was so great that I'd have to say the set was good overall.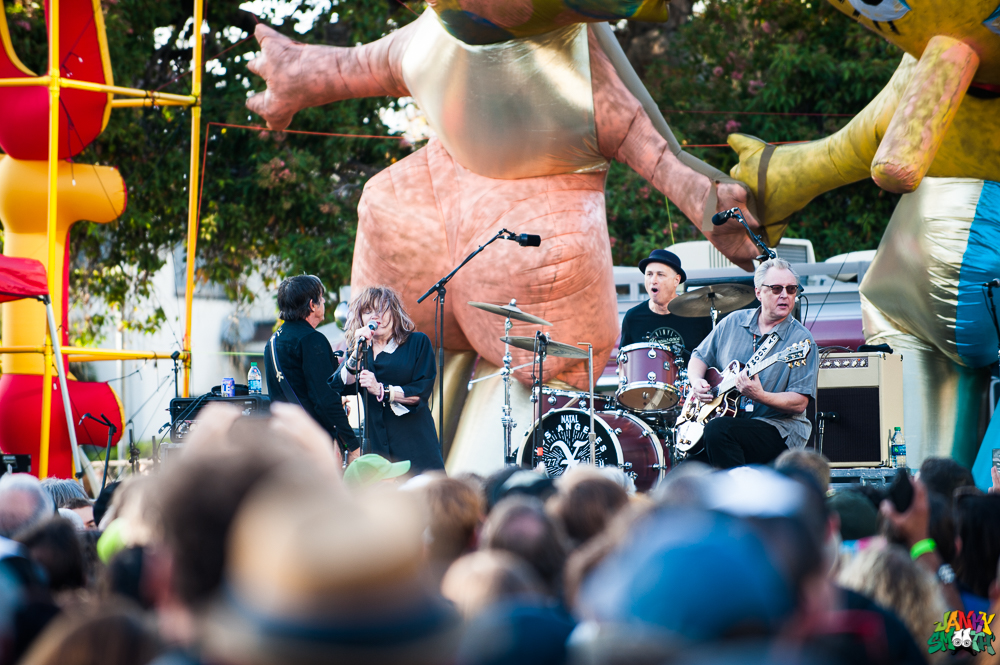 Highlights of the set were D.J. Bonebrake's drum solo and John Doe dedicating "Dancing With Tears In My Eyes". I just wish they played "Sex and Drugs in High Society".
X Setlist
Beyond and Back
In This House That I Call Home
We're Desperate
Breathless
(Jerry Lee Lewis cover)
Sugarlight
Because I Do
The Hungry Wolf / Drum Solo
Dancing With Tears in My Eyes
Come Back to Me
I Must Not Think Bad Thoughts
True Love
Los Angeles
Your Phone's Off the Hook, But You're Not
Play Video
Nausea
Johny Hit and Run Paulene
Motel Room in My Bed
Soul Kitchen
My first X and my first Buzzcocks concert both in the same day… awwww, gee whiz, take a look at my tiny 2-inch poser cock… now laugh and spit at it! – Rob Shepyer
Buzzcocks were the best band of Day 2 and the 2nd best band of the Boogaloo, only after the Iguana. Where the rest of the bands slowed the Day down, Buzzcocks brought a rapid pace back to the crowd and revitalized us like we were hearing punk rock for the very first time.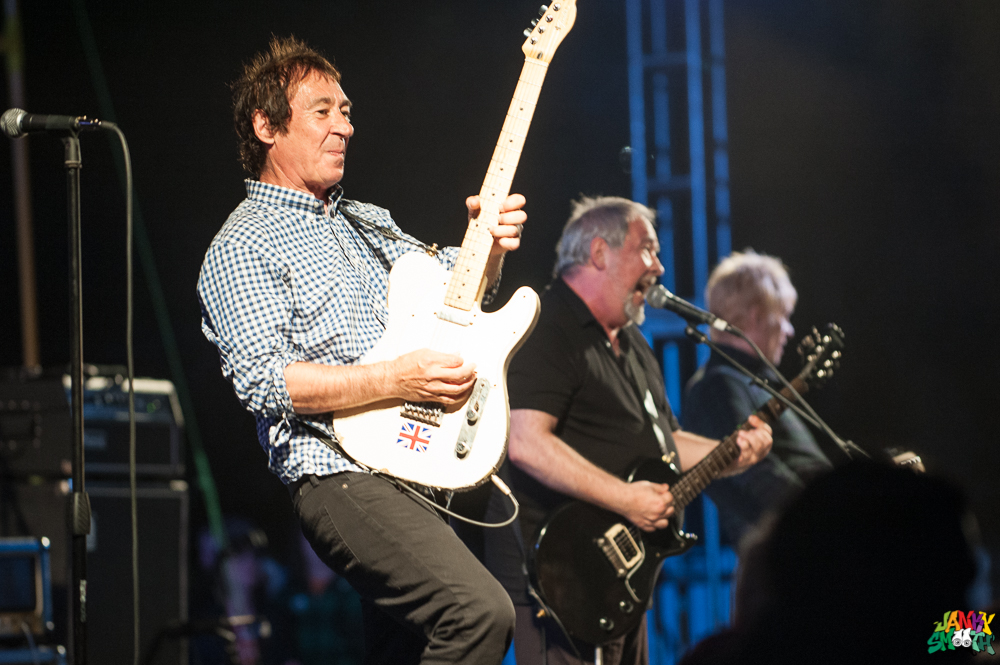 "Wear a police uniform every day, to work, to school, to party, to confuse and weaken the corrupt and racist ones that hold us back. Maybe it's time to put away the safety pins and Mohawk wax, wearing a police uniform full-time is the new punk. It would work! Fashion anarchy always does, doesn't it!? But who would we report to? The Buzzcocks that's who. They're authority to me, on punk promenade they debuted opening for the Sex Pistols 40 years ago in Manchester. They made the whole world orgasm addicts, they hate fast cars and embrace bisexuality, that's a political platform we can all support! They've been banned from the BBC, they're known as the third band in the punk triumvirate with the Sex Pistols and the Clash. Punk means mate in UK, and here it means poultry, once they were chickens but now their name means a dildo that vibrates. They're all that and more and Burger Boogaloo is reporting in for duty, we salute, The Buzzcocks!" – John Waters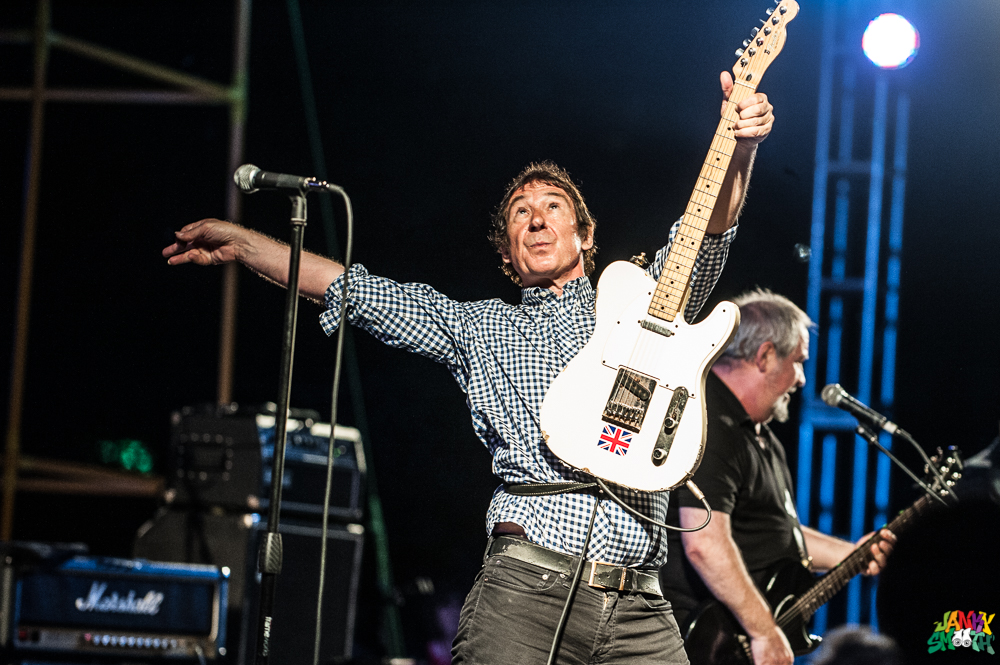 The Buzzcocks play a style of punk that's raw, quick, short, and ballsy and few bands, if any, know how to play quite that same way anymore. Their songs are made of the kind of riffs you can happily ride right into a brick wall, with WHOA's to sing with and simple structures that are too infectious to deny your body it's need to move with the music. There seemed to be a never-ending flow of stage dives during their whole set. As soon as "Orgasm Addict" hit, I went from 5 to 11, thrashing about like I had been wanting to all day. For "Autonomy", Pete Shelly shouted "Fuck the government!" as the guitars peaked and peaked until taking us to a fever pitch that released us back down to the chorus. The one song I was hoping to hear and was happily rewarded with was "Sick City Sometimes", that song just has such a rad chorus.
Buzzcocks setlist:
Boredom
Fast Cars
Love Battery
Orgasm Addict
What Ever Happened To?
Autonomy
Get On Our Own
Why She's A Girl From The Chainstore
Soul Survivor
Why Can't I Touch It?
I Don't Mind
Sick City Sometimes
Noise Annoys
You Say You Don't Love Me
Love You More
Promises
What Do I Get?
The festival ended but the festivities didn't even pause, San Francisco was only a bay away and over the bridge we did go to drink and listen to punk and metal and everything in between play over bar speakers, realizing somewhere in the back of our minds, that this city can't even come close to being as cool as LA.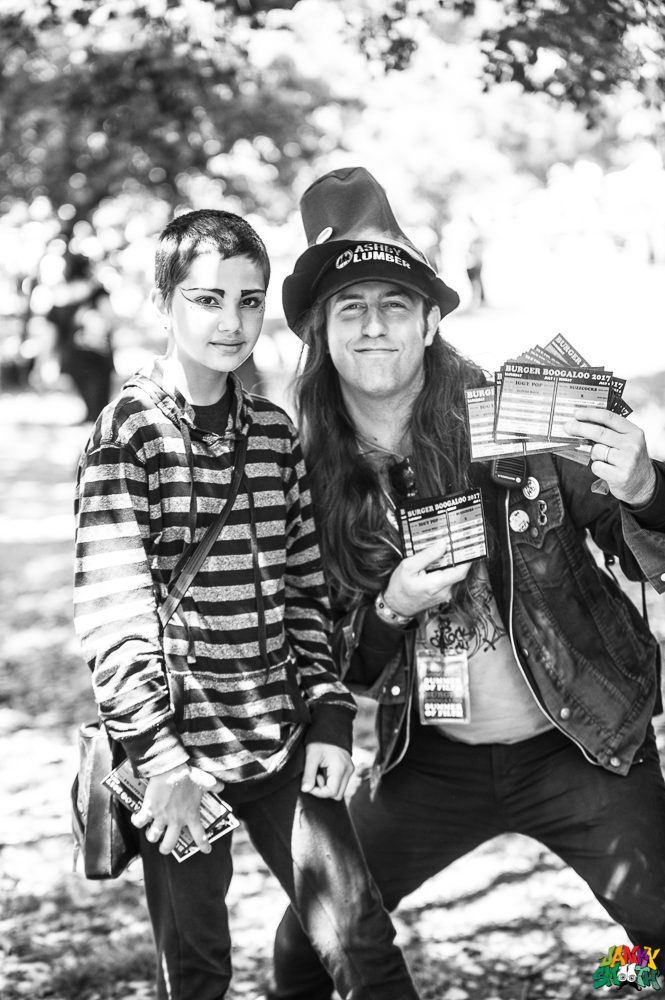 Highlights: Everything John Waters did, Bloodshot Bill's set, Redd Kross' set, X playing "Dancing With Tears In My Eyes", Iggy Fucking Pop, Buzzcocks, Shannon and the Clams' set :'), girl next to me getting hit in the face with a pizza during Personal and the Pizza's set, and Quintron and Ms. Pussycat's set.
Words: Rob Shepyer
Photos: Jessica Moncrief