Low End Theory Festival Wobbles The Shrine Auditorium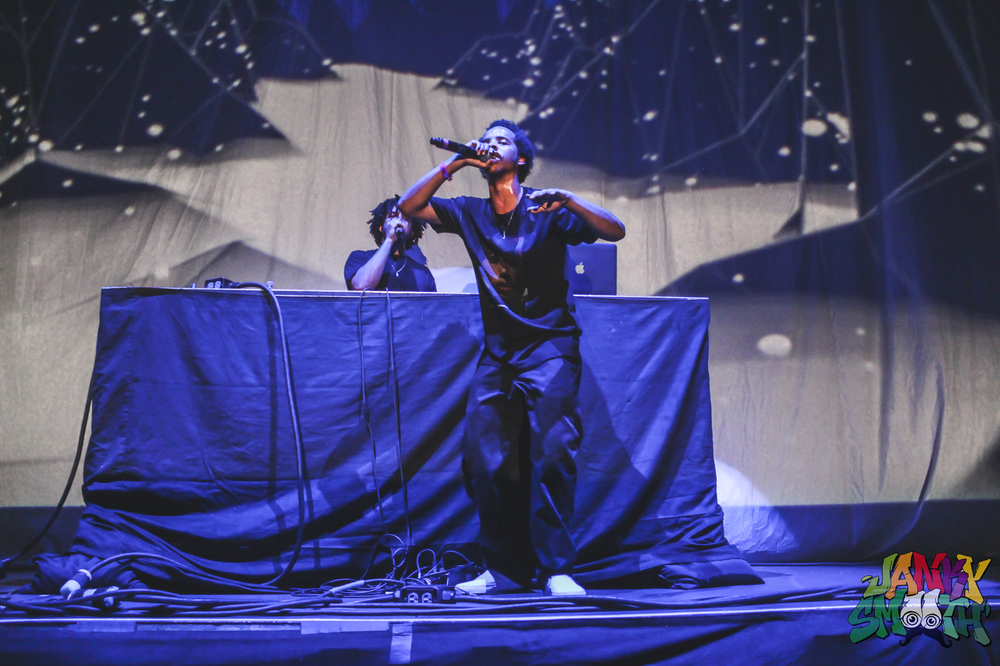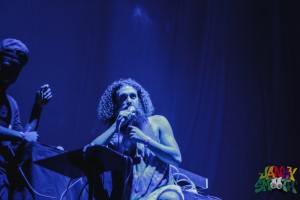 When The Gaslamp Killer commandeered the decks at The Shrine for his set at Low End Theory Festival, I instantly started peaking. The interesting thing about that is that I wasn't on any drugs. Something about how the visuals on the screen behind him were synched to the music in his set wobbled my eyeballs and made me question reality. That is what good art is all about.
When Low End Theory convened for the very first time at The Airliner in Lincoln Heights on a random Wednesday in 2006, there is no way founders could've predicted how far reaching it would become. Even as dreamers dream, the reality of the waking hours and empty rooms is a deterrent that slows most people into a "it wasn't meant to be" mind frame. But even the inconceivable becomes a minor afterthought when all you care about is shaking walls and windows and the impulse to entertain yourself and your friends as much as entertaining strangers.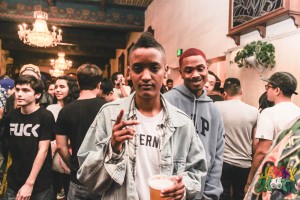 The second annual Low End Theory Festival at The Shrine Auditorium this past Saturday was a far cry from the empty rooms of the Airliner 9 years ago. 5000 people packed The Shrine to pay homage to what has become a worldwide institution. Low End Theory is now the standard in beat culture and it has made Los Angeles the epicenter of cutting edge, electronic music. Low End Theory has expanded up to a monthly event in the Bay Area and all the way out to Japan. With their second annual festival featuring headliners such as Thundercat, Earl Sweatshirt and Flying Lotus, the Low End Theory residents such as Daddy Kev, Gaslamp Killer, D-Styles and DJ Nobody wobbled their way into the highlights of the festival.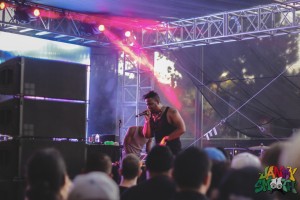 The festival had two stages. The outdoor stage featured a majority of MC's while the main stage inside the auditorium featured almost exclusively premier DJ's, minus a mind blowing set by Thundercat. I spent most of the daylight hours at the outdoor stage. Open Mike Eagle shared his set with Busdriver, Milo and a dancer who doubled as Mike Eagle's son, who couldn't have been more than 9 years old. Master of Ceremonies for the outdoor stage, King was visibly annoyed when a mild smattering of applause sputtered from the crowd when introducing Busdriver. Open Mike Eagle's set gave way to a bomb set by Milo and crew, twisting knobs and adjusting levels in a huddled group on stage while Milo spit his commanding flow charismatically. Inside, Low End resident, DJ Nobody dropped a crowd pleasing trap set while Dibiase worked his magic outside, unleashing deconstructed break beats, continuing the cross over of Project Blowed and Low End Theory artists. Beat Junky, Invsibl Skratch Pikl and Low End Theory resident D-Styles began a B-boy set on the main stage just before the sunset. It was the first time that the crowd was REALLY hyped as he dropped timely scratches and mixes heavy with Dr. Dre tracks.
When the sun set and the outdoor stage closed down, Gaslamp Killer and NOCANDO became the defacto masters of ceremonies for the rest of the event. Rather than music playing between sets, those two engaged the audience with anecdotes and freestyle raps. The gratitude that poured out of anyone closely associated with Low End Theory was heart felt. How can you not be grateful after seeing Daedalus convulse and jerk his way through one of his classic, bass heavy sets of music?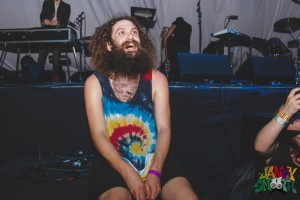 The highlight of my night came from Thundercat. I identify closely with musical mutts such as Thundercat with his Jaco Pastorius bass style and his Stevie Wonder-esque vocals, it was the perfect temporary interruption to the beat based music. Watching the people on drugs watching his set was worth the price of admission alone.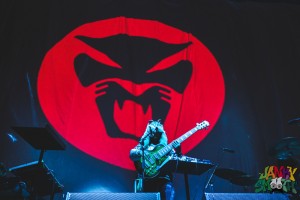 Then it was time for Earl Sweatshirt. Last time I saw Earl at a festival was last years FYF where he talked endless shit about the festival, the audience and gave the distinct impression that he would rather be anywhere but there. I'm a huge fan of his but that turned me off, big time. Contempt for your audience is unattractive. How is it possible to hate and resent the reason for your success? I was really looking forward to him redeeming himself and I would say that he did, for the most part. Aside from being almost half an hour late for his set, he was less condescending to his fans. Earl took a moment to pay homage to the death of Sean Price. The entire Shrine went silent for about 20 seconds in beautiful display of respect to the fallen soldier. When that was over, Earl turned it up a notch and simply gave his fans what they came for… without the abuse. He also unveiled a few new tracks which were fire. And we were happy.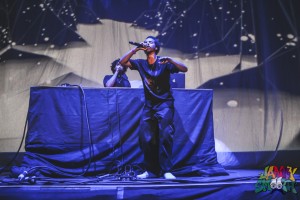 When Flying Lotus took over it seemed like everyone hit their peak. Rolling eyeballs were in synch with rolling bass lines and extraordinary visuals, which are the trade mark of any Flying Lotus live set.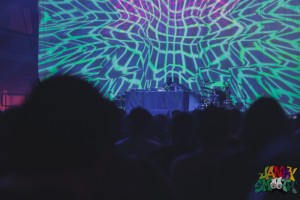 Saturday was a seminal day in L.A. music. The respect that Low End Theory has earned across the world is well deserved. The intimacy between the residents and fans is something every collective should aspire to. The truth is that anyone associated with Low End Theory and Alpha Pup Records are the epitome of what's "now" and what's "next" and all the love, camaraderie and intimacy in the world can't achieve that. Those are just the ingredients that make their accomplishments that much sweeter.
Words: Danny Baraz
Photos: Oscar Diaz