The Secret Journal Of A Pizza Spy at Coachella 2017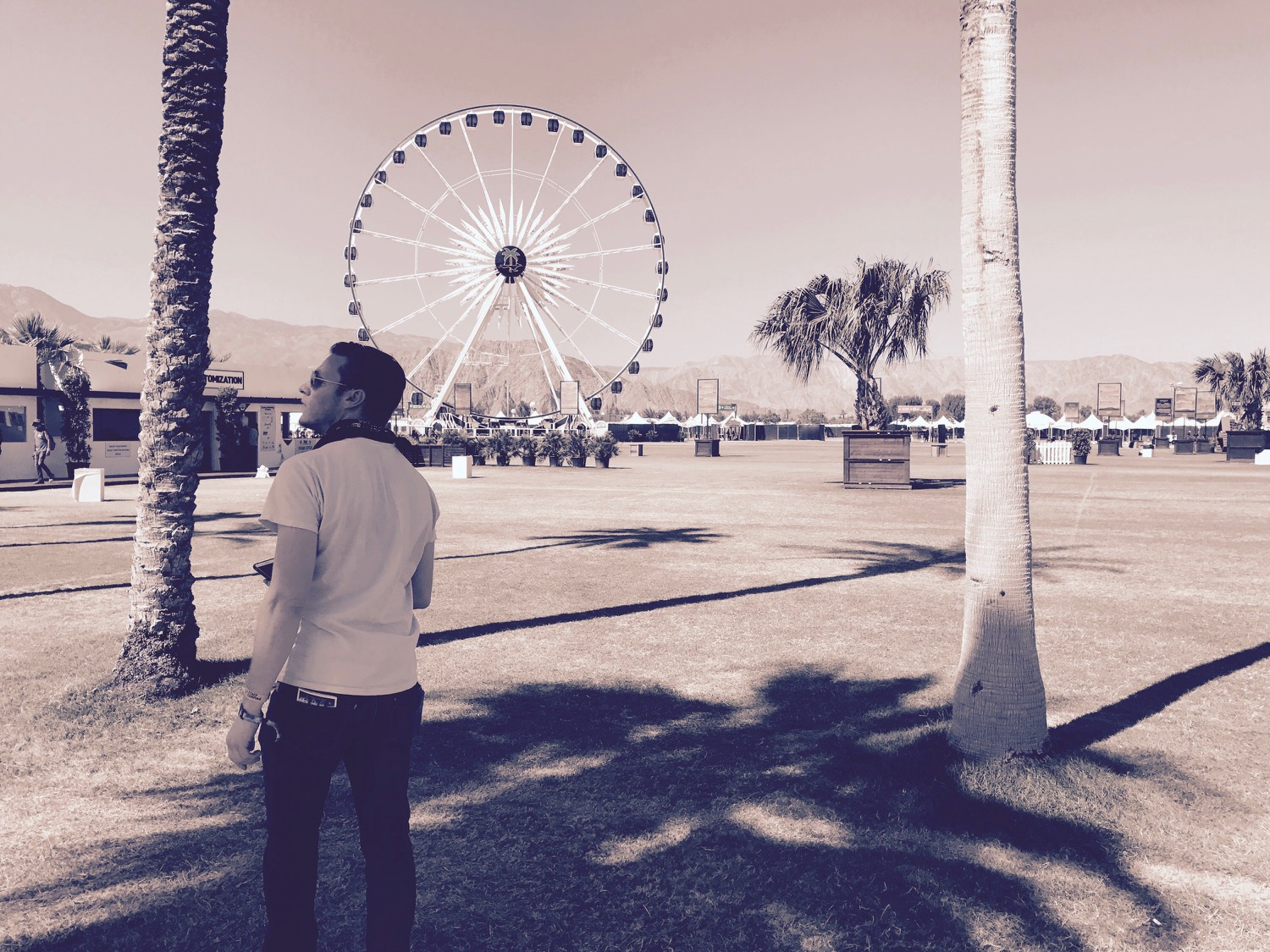 Thursday Thoughts On The Night Before Weekend 2 of Coachella 2017 Starts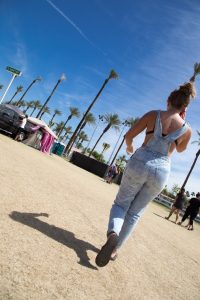 The drive to Indio from LAX was supposed to take three hours & forty seven minutes, but it would be a lot longer than that before we would be out of the car and setting up our tent. We made the conscious decision to depart at 2 pm, in avoidance of desert traffic, as well as the Thursday night Coachella rush. We actually made it to the festival check-in as sun down was finishing, despite the longest stretch of time I have ever spent in a WalMart, in which no expense was spared. After all, we were planning on working at a Pizza Tent for the majority of the weekend and were assuming to soon be handing out dollar bills like Ted Dibiasse.
When we finally breached the city limits of Indio, after passing multiple billboards advertising Linkin Park's new 'album' and 'Gaymoji', which is exactly what you think it is, we realized we were trailed by a cop all the way to the festival entrance. The presence of added desert police officers was apparent throughout the weekend- especially when we arrived to security several hours later. We waited in the 'car camping' security line for the better part of an hour, while we watched college girls get their underwear fondled and rum get confiscated or poured into empty water bottles. The security staff were looking to get anything they could off the campers, though we were later propositioned by one of them to inquire about if we needed any 'wax'. There was also the presence of the K9 unit walking passed us, which probably added to the anxiety- I was not mentally prepared to spend the night in a desert jail. Thankfully, we had a bottle of newly purchased Canada Dry Ginger Ale, which drove the attention off the lurking, and into a tangent on both Ginger Ale and Canada. When the officers who were searching under our front seat returned to do a second scope of the trunk, after giving us a hard time for an undocumented EPI-Pen, they were assured by our new Ginger-Ale loving friend that we were not going to be a problem.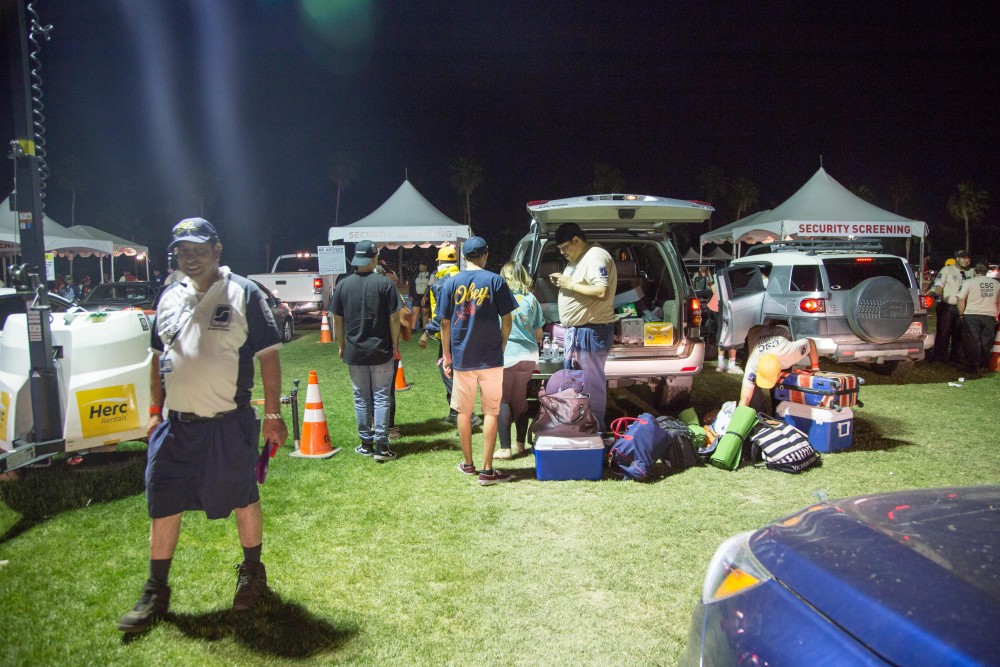 "Milk Makes Your Dick Bigger"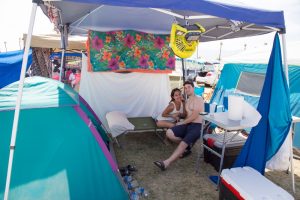 We parked the ride and set up our tent, spilling into the allotted areas of all three of our neighbors. They would all become allies throughout the weekend, as stories would be shared involving Vegas pool party bans, and STD comparisons.
It should also be noted that our other adolescent neighbors spent the majority of their time in the campground drinking milk and having pushup contests as they came to the conclusion that, "Milk makes your dick bigger". We listened from afar, as to not disrupt these neanderthals in their new routine, as they adjusted to life in a new ecosystem. The campgrounds had only been open for four hours, and the smell of piss and spilled beer was already overpowering the scent of burning lawn that lingered in the day's morning. We walked to the campground activity area where we observed the remnants of a thousand kids crammed into a silent disco tent, all retracting previously made promises to 'save energy for tomorrow'. I felt old; I felt tired; but would feel considerably more of both throughout the weekend.
I had no other reason to be there, other than a desire to get the full experience of Coachella, not just from the festival goers, but from the staff as well. After all, we were going to be playing the role of both, and were embracing the duality. We quickly learned that the blue bracelets that adorned our left wrists were basically the equivalent to having a key to every locked door at the festival, though this privilege would diminish over the course of the weekend, as we were likely not the only ones abusing our very small power.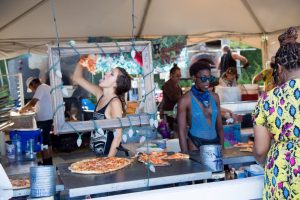 We also learned that food vendors are an extremely tight unit at the festival, and feed each other throughout the weekend. I am not exaggerating when I say that I have certainty that I was the most well fed participant at this retreat, out of a crowd of over 100,000.
There was no criteria for selection process of who we interviewed other than at least one member of the group needed to be under twenty one, and would give us their time in exchange for pizza slices.
Of the 25 separate conversations we had, most of which concluded over drinks or the offering of pot and molly, not one participant told us they were interested in seeing Radiohead, Bon Iver, or Crystal Castles and only one had even heard of New Order.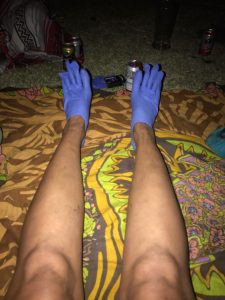 In fact, our Saturday interviews led us to believe that most left Radiohead's set due to a surprise appearance from Skrillex occurring in a nearby tent. Of the kids we surveyed, the majority seemed most excited to see DJ's such as Dillon Francis and DJ Snake, as well as Hip Hop artists Kendrick Lamar, Future and Travis Scott, who, the majority of interviewees said was their favorite performance of the weekend. When I would attempt to explain the impact that certain artists such as Grandmaster Flash or Bone Thugs & Harmony, both secret guests added to the bill, or Toots and the Maytals and George Clinton had on music as whole, I was typically met with rebuttals and suggestions to go see Gucci Mane and Mac Miller, artists who these kids looked at as veterans.
Friday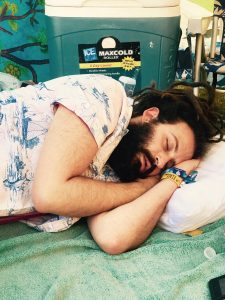 The sun woke us up at 8 am Friday morning, but it was the heat that got us out of our tent and on our feet. We hadn't learned of the VIP amenities that our bracelets would bring us, and after ransacking the trunk from our own built-in minimart, we headed onto the festival grounds un-showered, wondering what awaited us. As we walked through a maze of paths that connected the campgrounds to the festival entrance, we marveled at the amenities that accompanied our area, including a pop up general store, and more food vendors to shakedown, in addition to a row of port-a-potties, where I would later watch an argument play out that I will never forget.
Though I'll never be sure, there was 'someone' who was berating a bathroom attendant for 'assuming their gender' and suggesting them to use a gender neutral port-a-potty. It was painfully obvious to everyone else that the woman attendant was simply offering the port-a-potty as a polite gesture, in avoidance of seeing another poor soul use one of the men's toilets that were already destroyed. I watched in awe as this woman was publicly humiliated, before making the decision to use the gender neutral bathroom, and then left smiling and headed into the festival.
I cannot verify if there was some kind of staff meeting, or if vendors were told not to enter the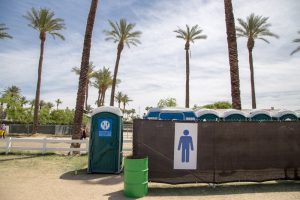 grounds before 10 AM, but there was almost nobody when we first arrived to the venue. To see the fairgrounds set up with all the art installations and stages, completely empty of the crowd, was worth the trip alone. It was meticulously groomed, and was soon to become a broken shell of itself.
After taking the obligatory ferris wheel photo, we visited Alex at his popup record store, hours before he was set to kick off the main stage with his DJ talents as Record Safari. Alex's inventory is an anomaly compared to the rest of the LA indie record stores, complete with digger gold, and arguably the best priced selection of vinyl that I've seen in recent years. Any recommendations made to exploit the average record buyer in attendance through hiked up prices was clearly ignored, if not inverted, and the store seemed to have consistent customers throughout the weekend. I only include this because it is THAT rare for me to find something that I actually am looking for when I go record shopping, and I walked away with a full bag.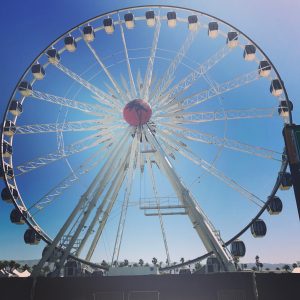 Before beginning our venture as pizza dealers, we made the decision to return to our campsite and took an inventory of essentials. We had enough beer and liquor to trade off for anything else we might want, and our snack selection looked untouched, despite the fact that we hadn't stopped eating.
I changed out of my jeans, and switched to the camouflage shorts I had purchased at Walmart the night before, as the temperature was becoming unbearable, and it was not yet noon. It became apparent after seeing multiple people in the same shorts that this was the only common ground I had with the majority of those in attendance. I had long abandoned keeping up with the latest EDM scene, and would never wear a basketball jersey out of the gym, let alone to a concert. As we walked to the entrance, un-staked canopy tents began lifting off the ground, and were blowing in the air as entrants ran for cover, some narrowly avoiding getting impaled. Some sort of mini-tornado, or wind storm, was happening and the unprepared were paying the price. Had we not given our extra stakes to our neighbors for their tent, we may have ended up driving home with a cracked windshield. We laughed at the carelessness, but quickly came to the realization that these were the people we would be serving pizza to all weekend, and they were just starting to drink and eat their dance drugs.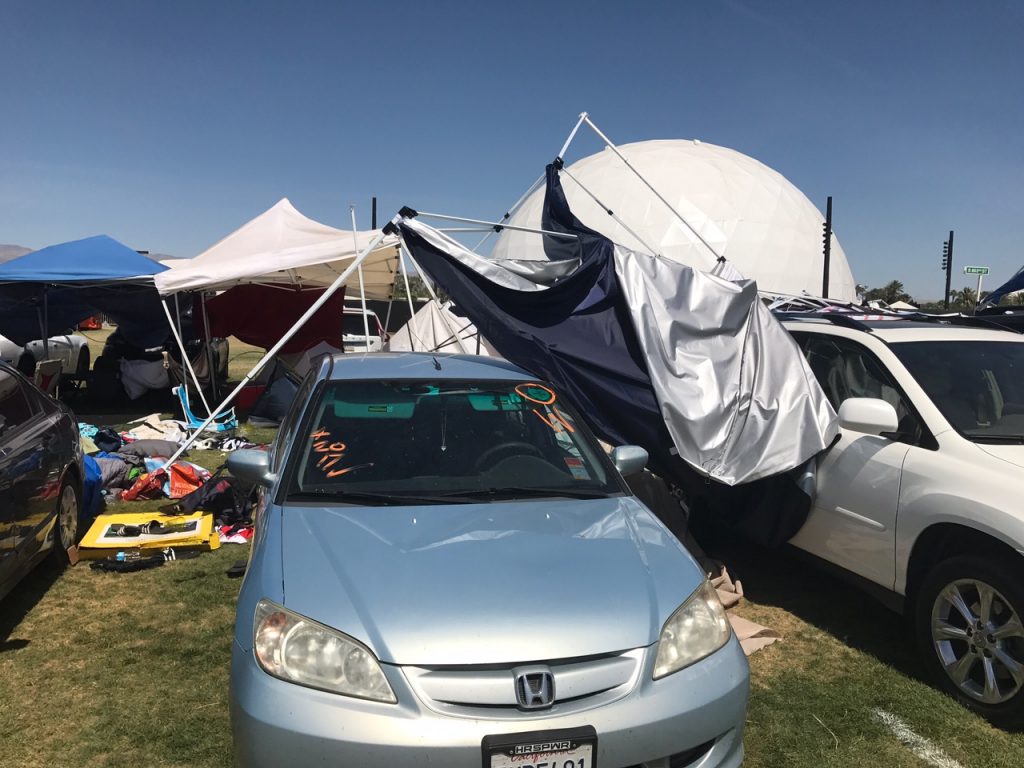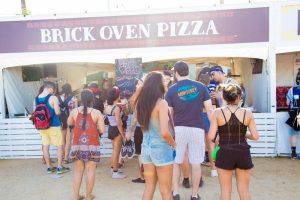 We walked to our pizza tent, which laid in front of two large brick ovens, strategically placed on each side of the back of the tent facing the audience. The fires inside them were said to be over 1,000 degrees. The job was explained to us in relatively simple detail: Get people pizza as fast as you can, as our booth was said to be the most popular at the festival. For the next seven hours, I hustled pizzas to the front of the tent, stopping only briefly for the occasional cigarette and drink of water, though I did manage to sneak off and check out a portion of King Gizzard and the Lizard Wizard's set.
What amazed me most of this experience was the combination of efforts that all the other pizza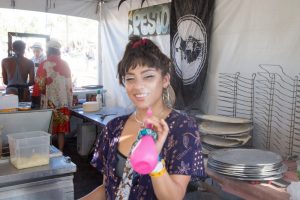 servers gave, despite the attitudes of the clientele they were serving. There was a true Crew mentality, no different than a DIY space (except they were actually making money). Each member had an intricate backstory of how they came to embrace this festival vendor lifestyle, and none was for the pay.
Our average customers were indecisive early twenty something fuckboys and valley girls, usually too stoned or drunk to decide if they wanted pepperoni or jalapeno. The kids in our tent carefully read the expressions on the hungry faces of our attendees, often choosing for them, and sending them off on their way.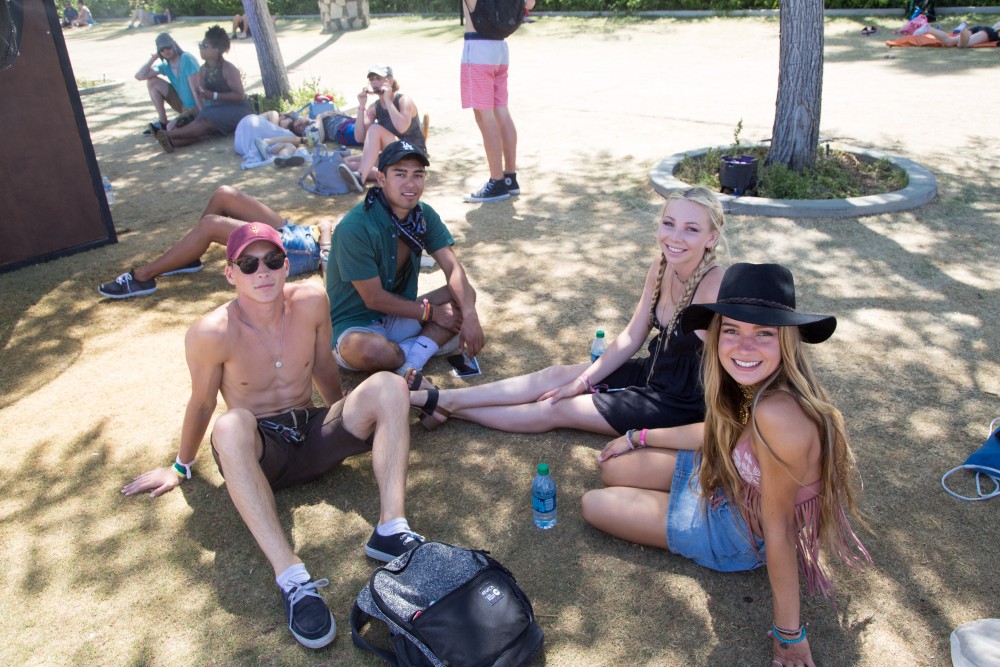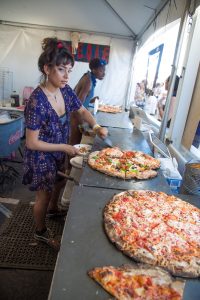 Our booth made roughly 8 pizzas every three minutes, each with six slices, which means we were making around 50 slices every five minutes consistently for the majority of the rush, or over 4,000 slices a day. That required continuous work from everyone involved, and the team of people I worked with proved they were well equipped for the challenge.
After making every topping-combination pizza possible, we finished our shift as the sun finished setting, and went to check out the artists performing.
We watched The XX on the main stage before Radiohead, and though the set was relatively well-received, the performance felt forced. There were several tracks that stuck out, such as "Crystalized" and "VCR", two of the band's most celebrated singles, as well as "Fiction and Angel" off of their 2012 album, Coexist. Most songs from 2017's I See You went unnoticed, though the band's opener, "Say Something Loving", seemed to resonate with the younger audience. It was a long departure from what I had witnessed at their earlier performances, but as the majority of those in attendance hadn't even reached Middle School at that time, it seemed to go over fine.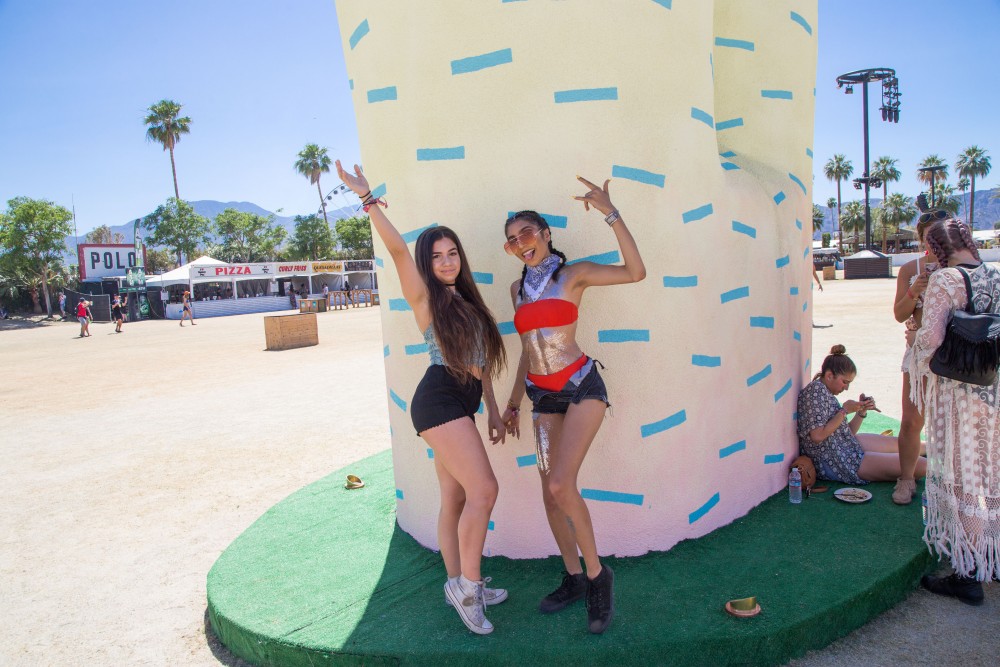 We walked across trampled fairgrounds to check out Little Dragon, stopping briefly to check out Travis Scott, who had the most extreme energy and audience participation from fans in attendance that I saw all weekend. Travis Scott was considerably a bigger deal to the younger crowd, than previous performers of the evening such as Father John Misty, who several interviewees told me they had skipped, but "their dad listens to". To the youth of Coachella, Scotts's blend of auto-tuned rap, coupled with his celebrity entourage, is more appealing, and thus more impressive than the longevity of a musical career such as New Order's which spanned three to four decades.
Following a break in the beer garden, where we watched three time Coachella performer Little Dragon, we made the decision to ignore all festival etiquette and make our way to the front row of Radiohead.
We had an added boost of energy and knew we could get through the crowd with minimal effort, if we didn't stop moving and maneuvered through the selfie-obsessed "juvies".
Our journey was met with minimal physical interruption, as we toppled open toed sandals and smacked glowing balloons until we had reached our goal of the main stage barricade.
Radiohead were ignoring any indication that they were coming off a very poorly received set from the previous week's festival because of a sound issue that kept the first portion of the Weekend 1 set from the crowd. They came out with "Daydreaming" and "Desert Island Disk", both off of Moon Shaped Pool, but the set didn't take off to our expectations until they played "Lucky", off of the band's 1997 masterpiece: OK Computer. Following a performance of "Pyramid Song", Thom Yorke got the audience clapping in unison to 2000's "Everything In Its Right Place", before the crowd's energy started to peak with "The Gloaming" and "I Might Be Wrong."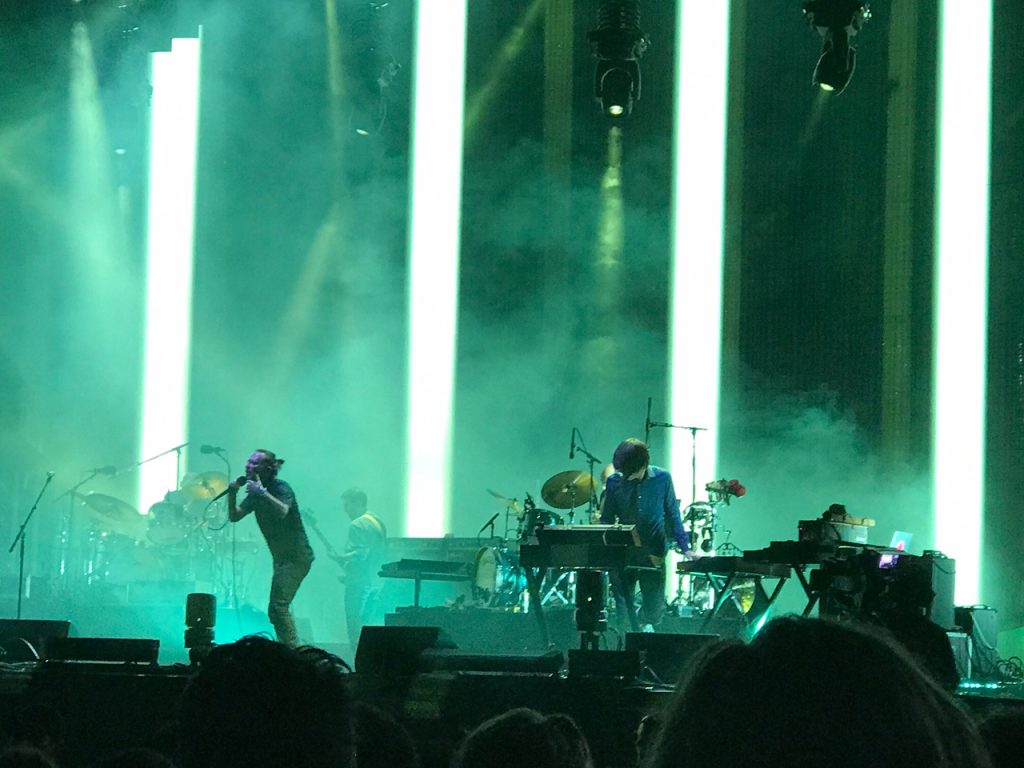 After a 17 song set, Radiohead briefly departed the stage, only to return to play an extensive encore, that included "Paranoid Android", my personal favorite performance of the evening. Lead singer Thom Yorke joyfully played his acoustic guitar over Johnny Greenwood's looping guitars and Phil Selway's maraca percussion, until the song culminated into an intense surplus of noisy solos that synced with the band's video monitors, which colorfully lit up the Empire Polo Fields and the entire Coachella audience.
We walked back through the crowd, ignoring the mesmerized faces staring at Yorke & his band as he sang "Fake Plastic Trees" and closed the evening with "Idioteque."
It was around this time that we noticed people starting to get restless, as the scheduled events of the evening were coming to an end, meaning they would have to seek out their own methods of fun, out of the festival area. This was our cue to leave, and we headed back to our camp, where we laughed ourselves to sleep as we listened to our neighbors continue to compare sexual conquests and chlamydia cures, while antagonizing their tent buddies as they vomited all over themselves.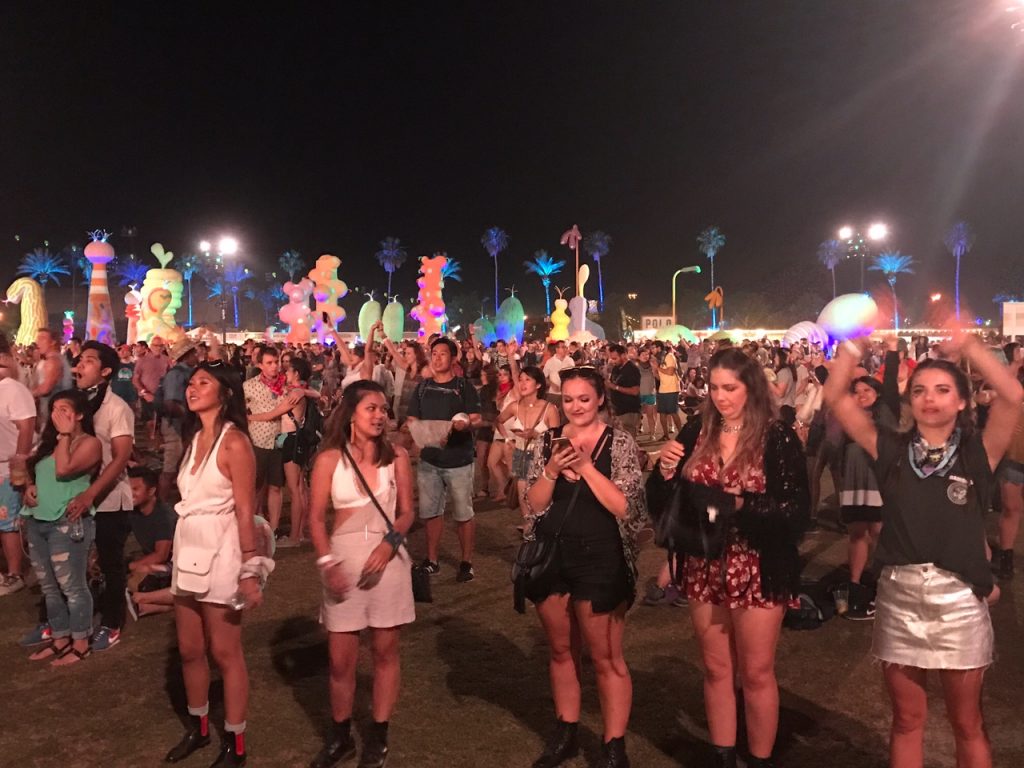 Saturday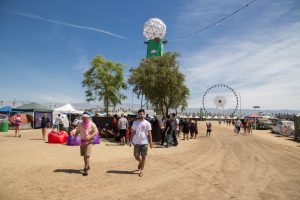 I hate the smell of vomit in the morning almost as much as I hated being woken up for school as a kid, but when your sleeping in a tent that is 90 degrees, with no circulating air, sometimes you have no choice. My Saturday hangover was not going to keep me from getting to Alex's Record Store Day party, which was scheduled to open one hour from when I left my tent and I planned to exploit my blue bracelet to its fullest with this scheme. I entered through the staff entrance, passing all those waiting to get the exclusive releases that Alex had ordered for Coachella attendees who were not going to be able to purchase them at their local shops.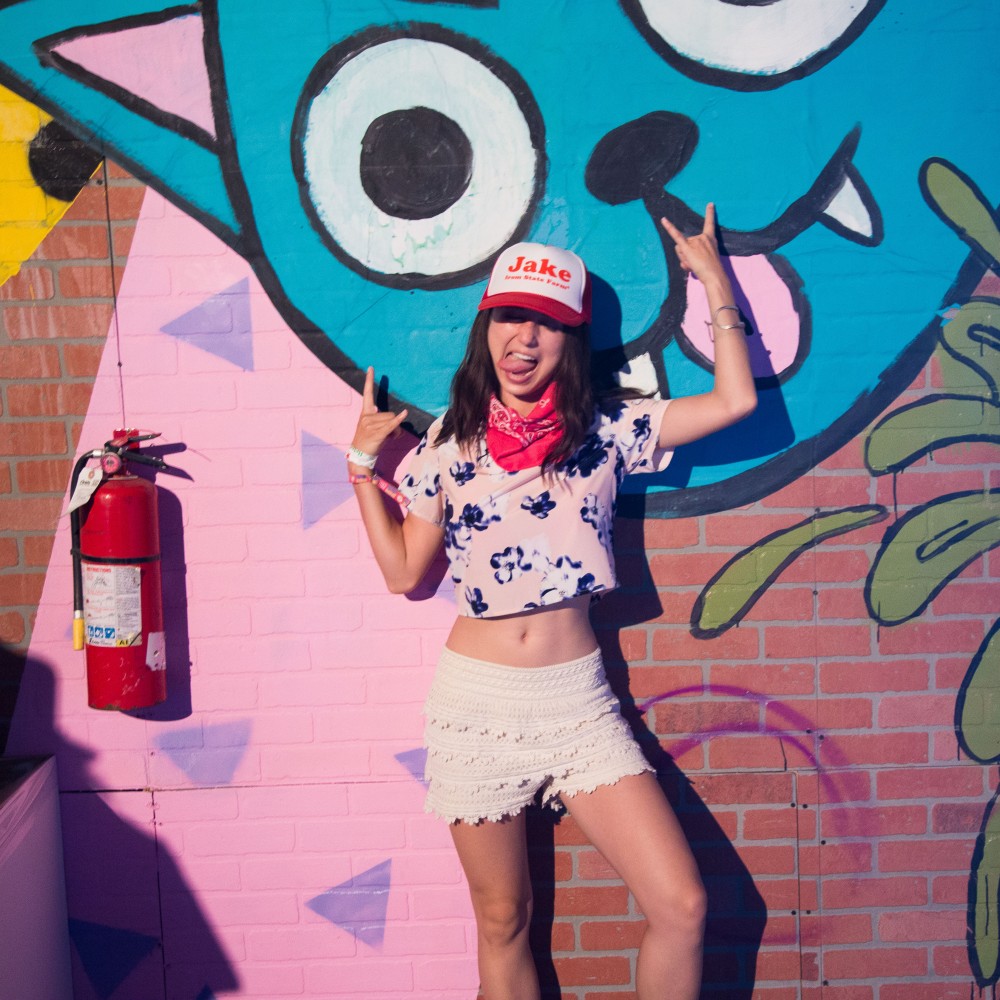 I showed up ten minutes before the party was to start, and when I arrived at the record store, I was pleasantly surprised to find two other staff members who had the same plan as me. We laughed at our diabolical nerdiness, and shared stories of recent vinyl scores, as we waited for the shop to open, and then watched thousands of festival attendees enter the grounds at 11 AM sharp.
After scoring all the items on my want list, I headed to our pizza tent, where we worked for eight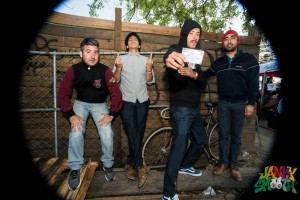 hours straight, taking short breaks throughout the day to check out several bands, and interview kids in attendance. Saturday's lineup was not as appealing to most who we interviewed, though I did enjoy what I saw from Chicano Batman and Two Door Cinema Club, as well as Bon Iver, who seemed to be as out of place in the festival as I was hours later when I watched 20 minutes of Lady Gaga with a lot of Beyonce fans.
Most kids seemed to be excited by the presence of Future, School Boy Q and DJ Snake, and only several who I interviewed had planned to attend Bon Iver. Saturday's time in the pizza tent was spent hustling more pies, which made the short breaks we had with each other that much more meaningful. I was truly enjoying getting to know the companions I was serving pizza with, and was now more interested in their opinions of the festival than I was of the rest of the attendees. Of the staff that I was able to take the time to talk to, most seemed more excited about the camaraderie of the experience, rather than the music or the crowd. We listened to King Gizzard, Led Zeppelin and Wanda Jackson all day in our tent, and after our shift ended, we watched a portion of Lady Gaga before leaving to explore the underground parties of the staff camping area.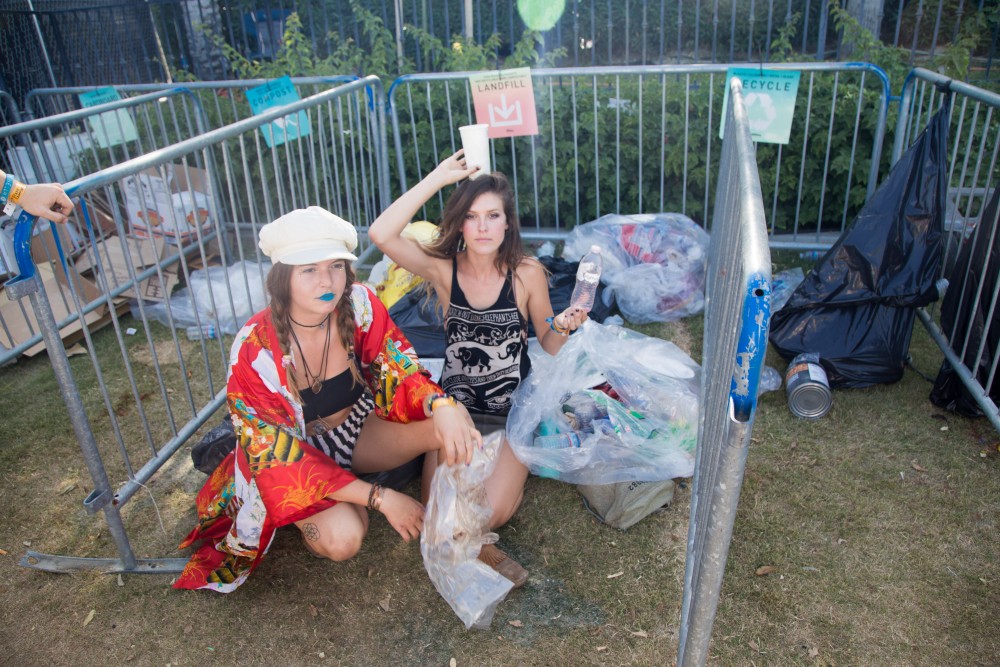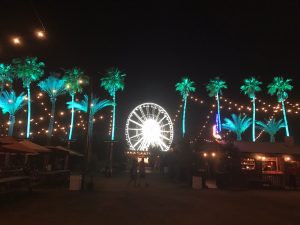 The staff lot was filled with RV's, trailers, and converted minibuses that most staff toured in year-round, and each served as its own unique party room curated by its owner. I spent a little time wandering the grounds, interviewing college kids taking their first hits of acid and ecstasy, before departing to our campsite and stopping to indulge in my third ice cream cone of the weekend. From my evening's survey, it appeared that the drug of choice at the festival was a combination of Marijuana and Molly, paired with water-bottle vodka and skunked canned beer.
Sunday
By Sunday morning, we were ready to leave, but not before seeing Hinds in the Sonora tent. We attempted to enter through all our secret passage ways, but the security was no longer having it, and we were sent through an hour long obstacle course to get into an open staff entrance. When we finally got in, we spent the early afternoon doing our final interviews before heading out to Hinds.
Hinds have slowly become one of my preferred imported bands to fall into the 'Beach Goth' scene, and they put on one of my favorite performances of the weekend. The intimate show was in a large enclosed tent, complete with air conditioning making the 'venue' surprisingly comfortable, despite the 96 degree temperatures just outside the doors.
Hinds was refreshing enough without the Sonora's atmosphere, and played tracks such as "Garden", "Warts", "Easy" and their breakout single, "Bamboo". The band stole the show when they invited all the 'ladies', or in this case, girls, on stage to dance to "Davey Crocket", a moment that few in attendance of the festival were lucky enough to see. It gave me a lot of hope as I looked around and realized it was the first time since I arrived in Indio where I didn't see girls taking selfies or guys flexing. Just a small group of music lovers who had carved out their scene in a crowd of 100,000. The whole act felt like a DIY show, which was not an easy feat to pull off, and renewed my faith in the experience as a whole.
I showed up early to catch Brooklyn's Caveman, who played impressively well, but had a lower attendance than one would hope for given the potential crowd of over 100,000. This brings into question what the purpose of playing at one of these festivals is if you are only sharing your music with less than 1% of those around, many of whom were sitting on the floor to cool off in the only air conditioned tent on the Polo Fields. That's not to say that the band wasn't deserving of their appearance, as many in the audience enjoyed it, it just goes to show how little the promoters are focusing on the indie rock component to the festival in recent years, which at one time was the main driver of attendees
We walked out of the festival, ice cream in hand, and walked to our dust covered car, now packed with the remnants of our busy weekend. As we began driving out of the venue, we flashed our bracelets one last time. As we were told by a parking lot attendant that we could not leave and that he hadn't been instructed on what the procedure for exiting the festival was, this, like every other obstacle we faced throughout the weekend was not going to stop us from getting to where we needed to be. We drove down a one way road reserved for golf carts and EMT's until we reached the outskirts of the campgrounds, and found an opening.
I laughed at the debacle we had just experienced but felt better for being a part of it.
I came to Indio with the mindset that the youth of today's Los Angeles are jaded, brainwashed and entitled, and even though all those traits were confirmed, there were still a small percentage of those in attendance that did give me hope for the future. Let's hope they show up in bigger numbers next year because this festival has real potential to be more than a high school graduation present or a playground for celebrities, it is still booking some of the best talent in modern music, and truly has something for everyone. It still has a chance to be what it once was and can be again.
Words: Dave Unbuckled
Photos: Josh Peters & D. Unbuckled