FYF 2015: Surviving Their Own Legacy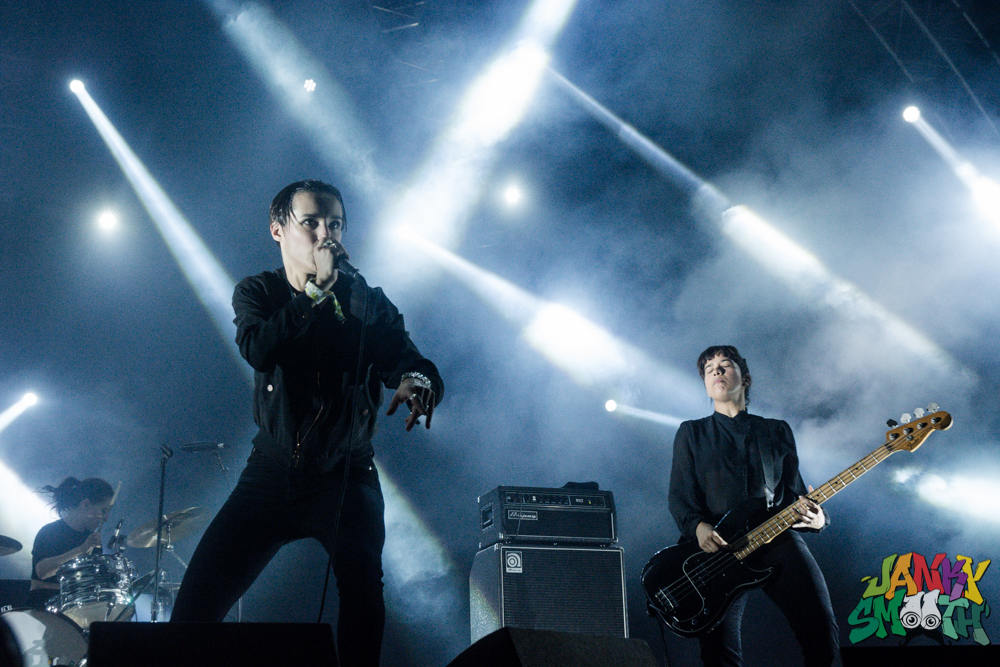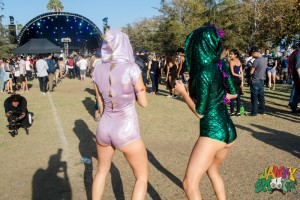 When people refer to FYF Fest as the "Urban Coachella", it's not a compliment. After last years move to Exposition Park from LA Historic Park, I was inclined to agree with them. There were some SERIOUS growing pains in the move to Expo Park. The main problem was that FYF 2013 was one of the best festivals I had ever been to. There was a stretch that year where Thee Oh Sees, Black Flag and Death Grips played consecutively, on the same stage, with a metro train passing every 15 minutes that was so surreal and incredible, that no amount of drugs, liquor or sexual release could ever compare to it. Flash forward to 2014- It took some people 2 hours to get into the festival on the first day. It was almost impossible to get into the Sports Arena. There was quite a sizeable new amount of land to get from the "Lawn Stage" to the "Main Stage". It was quite the comedown from the year before. Would FYF Fest 2015 be able to recover from greatness of it's own legacy and the logistical nightmares that plagued FYF 2014 with it's move to Exposition Park?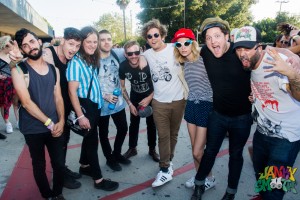 Even with all the extra money FYF Fest spent and adjustments they made in 2014 for Day 2, I didn't want to come back in 2015. The previous year was just TOO much work to have any fun. But of course I would end up going. I'm born and raised in L.A. and this is OUR festival (those of us who have pride in this city). Also, Death Grips.
This years line up was far from their strongest (clearly this is all subjective). I only had one conflict on the schedule- Thee Oh Sees were playing at almost the exact time as Morrissey. Typically, this wouldn't be a conflict at all. Dwyer is God but history is history and I wanted to see how Morrissey threw down. As frustrating as festival scheduling conflicts can be, they are one of the main indicators of a festival that is stacked with quality acts I want to see. Two major acts pulled out prior to the festival- Deerhunter and Frank Ocean. That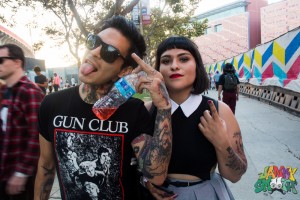 would be a lot for ANY promoter to overcome. I almost never look to the headliners to pre determine how good a festival is going to be but I had never seen Frank Ocean live and I personally think the kid is a genius. It appeared as if FYF was in some trouble. Crunching some numbers, they immediately added Kanye West as the Saturday headliner to replace Frank Ocean. I'm a huge hip hop fan. The times I've seen Kanye live he absolutely crushed but I'm not the biggest fan of Kanye West. They also threw in Flying Lotus and Bonobo at the last minute, presumably to placate fans that were attending to see Frank Ocean. The people at FYF care more about the fan experience than any other, for profit concert promoter I've ever seen and that is plainly obvious to anyone that is paying attention.
Those were just some of my thoughts leading up to FYF 2015. I'm not a guy who shows up after the sun goes down to see the headliners. I judge festivals based on the quality of the bands in small print.
Ty Segall's bass player, Mikal Cronin has been busy making a name for himself lately, and entering the festival to his set on Saturday was a warm welcome. His music is nowhere near as fuzzed out and hard as Segall's but his set was notable. Broncho frontman Ryan Lindsey embraced the moment and filled the Trees stage up with musically induced, rhythmic spasms and pitch perfect performances of their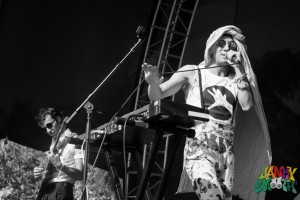 two album catalog. Canadian Indie Pop band Alvvays were the first band on the main stage and had a thick crowd to witness the charm of vocalist Molly Rankin and the tight, commercially accessible songs they played throughout their set. French, indie dance punk band La Femme blew me away at a show at The Echoplex last year. I've since seen them twice at festivals including this one and their set just does not translate as well in the daylight hours, early in a festival- even with the energy and enthusiasm coming from the double fronted members of the band, Marlon Magnee and Clémence Quélennec.
I had just seen Canadian hardcore/noise rock band Metz headline an incredible show at The Echo two days prior to their performance at FYF and I thought that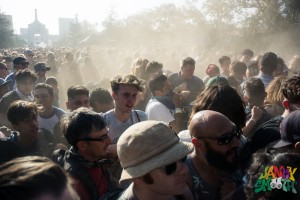 there was no way their early set at The Trees stage could come anywhere near the club show I had just witnessed. I was wrong. They hammered the early bird audience with their songs and the audience responded with kicking up the type of dust that is synonymous with a successful set at the Trees stage at FYF.
Melody's Echo Chamber, The Jesus and Mary Chain, Cold Cave Joyce Manor and Bloc Party all had notable sets Saturday at FYF 2015. Dinosaur Jr were as tone-alicious as always. In my vivid imagination, I imagine Ty Segall and Mikal Cronin to become what J. Mascis and Lou Barlow are now.
The Jesus and Mary Chain, Psychocandy and The Art of Noise at The Fonda
But the two stand out's from Saturday were Savages and Run The Jewels.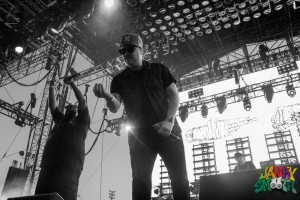 Run the Jewels, in my opinion are quite simply the best, pure hip hop group in music today, (I don't consider Death Grips pure hip hop). Musically, lyrically and socially, they are maybe one of the most important groups in all of the mainstream. El-P is not only just as significant an M.C. as Killer Mike but he is my favorite producer in hip hop. Kller Mike will end up in political office one day but until then, he will continue to touch people with not just his lyrics but his activism. Run the Jewels took the stage to the now standard introduction of Queen's "We are the Champions". Once they busted out into the title track of their first album, the sea of people that littered the concrete parking lot, turned festival dance floor, started bouncing in unison and didn't stop until Run The Jewels vacated the premises. Everyone you'd expect as special guests showed up. Travis Barker, Zack De La Roca and Gangsta Boo.

Run The Jewels- Taking Hip Hop Back at The Echoplex
Run The Jewels Take Over and Spit Fire at The Regent Theater in LA.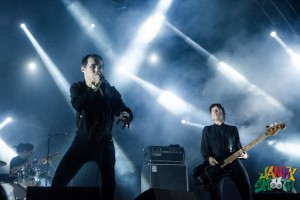 Savages put on one of the most high energy, quintessential post punk performances at FYF this year. It is almost unavoidable albeit, predictable to compare lead singer Jehnny Beth to Siouxsie Sioux. There is also a hint of Eurythmics era Annie Lennox. Beth is tireless in her performance. In constant motion, she squats down low when placing an exclamation point on a verse and into an androgynous head banging that is terrifying and sexy. Wide and clear eyed gazes locked with members of the audience as the band trampled the Trees stage and left it smoking. Drummer, Fay Milton placed herself firmly in the upper echelon of female drummers. Sexist? Maybe, but true, nonetheless.
Kanye, of course, delivered. Big time. If the only mark of a successful performance is the energy in the audience then Kanye delivered the most successful performance of Saturday which included appearances by Rihanna on songs "FourFiveSeconds" and "All of the Lights" as well as Travi$ Scott on "Upper Echelon" and "Antidote". Even Kanye Super Fan and music journalist Ziv Biton who wrote a disappointed review of the Kanye announcement for Janky Smooth, had to concede that what he saw on Saturday was amazing. Read what he wrote about the announcement here.
It's Better Than Drake: Kanye West Becomes Filler at FYF Fest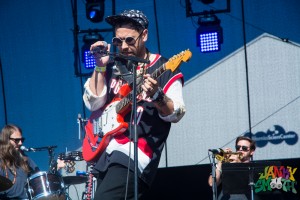 I missed two early acts on Sunday that I wanted to see. Girlpool and King Gizzard and the Lizard Wizard were circled on my schedule but I was not on time. Andrew Jackson Jihad, Lower Dens, Unknown Mortal Orchestra, Spiritualized and Battles were my most notable performances early in the day on Sunday. I heard Mac Demarco put together his prototypically crowd pleasing set but I could not wrestle myself away from the prodigiously grooving sound of Battles. Taylor Wong also informed me that Flume's set was packed with guests, including Andrew Wyatt from Miike Snow. The infamous DJ Harvey also packed the "dance area" for a multiple hour, DJ set. A lot going on.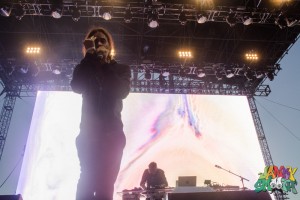 My only real disappointment of the weekend was the performance by Los Angeles' own, HEALTH. Everything was fine until some technical issues plagued their show midway through the set. What was starting out to be an incredible performance was stopped dead in it's tracks and the band wasn't able to engage the audience enough during this time to stop the momentum from slipping through their fingers. They never recovered.
HEALTH at The Echo: First LA Show in Three Years Delivers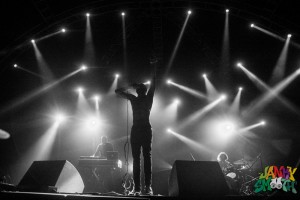 For me, Sunday was all about Death Grips. After disavowing myself of them and all their games and sudden break up, when they started showing up to the gigs on the tour that preceded FYF, I started to get optimistically excited about their arrival in Los Angeles. There is no one that sounds like Death Grips. As much as Kanye tried with Yeezus, the grainy, dystopian and crunchy sound produced by Flatlander is unparalleled in music today. MC Ride is a towering, cultural figure that is resonating with the youth of America. Zach Hill is a beast on the drums. His traditional, acoustic drum kit is not only a compliment to the 808's and decoded sounds in the production, it's irreplaceable. Death Grips opened with Come Up and Get Me from NO LOVE DEEP WEB and instantly the entirety of the audience was bouncing, singing the lyrics, word for word. Instantly, a cloud of dirt and dust formed over the area. When Death Grips broke out into Inanimate Sensation from the post break up double album, The Powers That B, it was an all out free for all. The pit for Death Grips was reminiscent of an old school, 90's punk rock festival with multiple pits, all bleeding into each other and expanding and retracting like an asexual, single celled animal reproducing itself. Ride's howls rang out across Exposition Park like a Pavlovian alarm and mild mannered hipsters transformed into salivating sociopaths right before my very eyes. It was the best performance of FYF 2015 and I'm so excited to write about them more in depth after their show at The Glass House this week.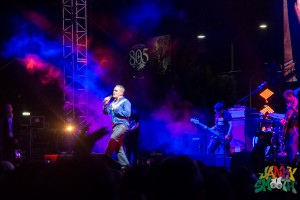 With dust in my lungs and bad intentions in my heart, the rest of the festival was a bit anti climatic. I mistakenly skipped Thee Oh Sees for Morrissey and even though Morrissey was nothing but pitch perfect, I wanted something I knew I wouldn't get- a majority of Smiths songs. The imagery on the big screens showed instances of animal cruelty and police brutality for what felt like a majority of the performance. It was very powerful for about 25% of the performance but I found myself becoming bored and a bit depressed. I cut the festival short and headed home in spite of my desire to see the FKA Twigs set. I left Exposition Park completely satisfied with the entire weekend.
All in all, FYF 2015 was MUCH better than 2014. The flow between bands was easy to manage. All the logistical nightmares of 2014 were addressed and alleviated. I hung out with many good friends and made new ones. Sean Carlson and the rest of the folks at FYF left me feeling that they cared about my experience. I left the festival completely enamored with the new, permanent location of FYF Fest. The lit torch of the Coliseum made the mood. The lights shining on the trees and the roof of the Sports Arena was vibey and comfortable. I have almost completely let go of the fact that FYF will never be at the LA Historic Park ever again and after FYF 2015, I'm completely stoked on Exposition Park as a location for major music festivals.
Words: Danny Baraz
Photos: Taylor Wong