FYF 2016: Everything You Never Wanted to Know And More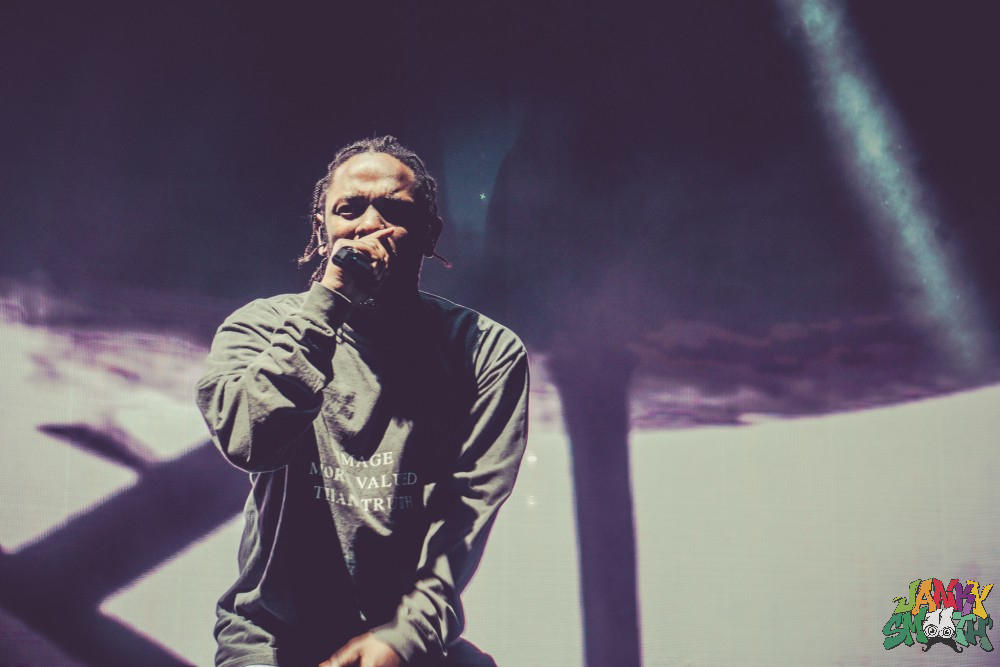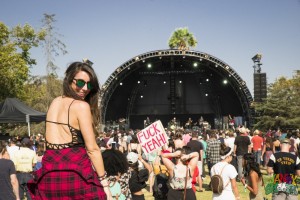 If art imitates life then isn't a local music or art scene the most accurate reflection of life in that city? The sound of the music and the meaning of the lyrics, the images created by the brush and the musings, whether etched in pencil or poked in on a keyboard, all are inspired by an artists' surroundings- and the crowd that supports it represents that the artist has connected with the collective experience; something true and authentic. And if you can accept that premise then you can also accept that Sean Carlson's once fledgling music festival, Fuck Yeah Fest, continues to represent and imitate life in Los Angeles. FYF 2016 has gone from the twinkle in the eye of a dreamer to the crown jewel of Goldenvoice in Los Angeles. Wait, what's that you say? You hate festivals? Oh, you hate on Los Angeles too? How original. I understand you spent those 6 months living in Chatsworth and Ubering to auditions and that spending all your time around low level industry wannabes has skewed your perception of the landscape and the denizens of my city. People often project all their shortcomings, failures and low self esteem onto the city of Los Angeles because it's the place in which their dreams died or they picked the wrong part to live in this expansive city of never ending districts. And certainly, the same can be said of a music festival that continues to scale year after year. But there are millions of people in L.A. that have ZERO to do with the entertainment industry and with FYF, it's a matter of seeing the forest for the Trees Stage.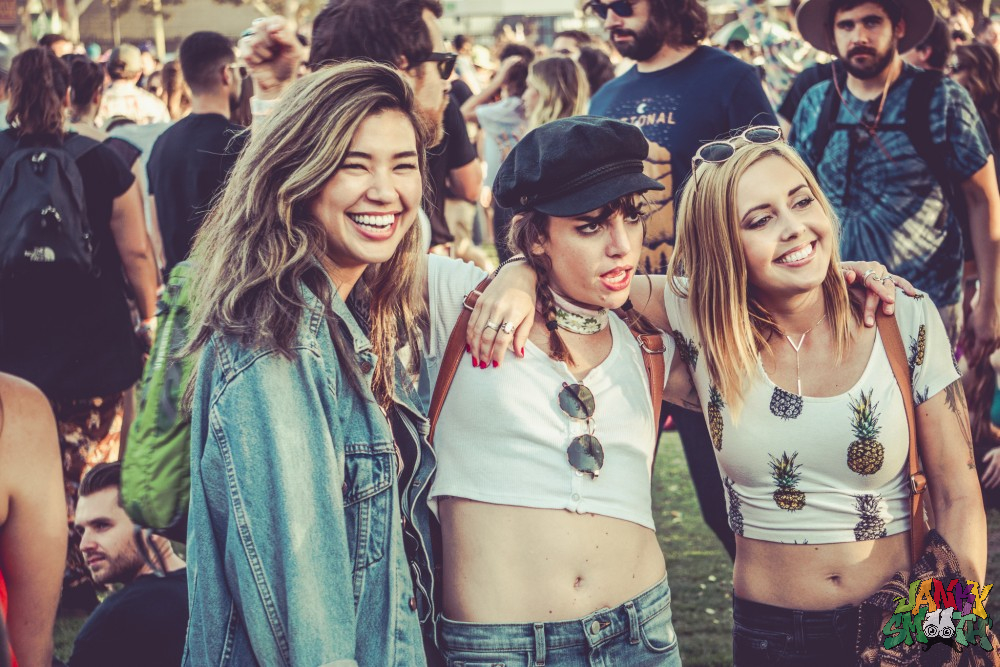 Yet another FYF Fest is in the books and I would find it difficult to point out another festival of it's size that cares about making attendees happy as much as Sean Carlson and crew do. Not only that but this year's lineup connected the dots of bringing big names to big stages but also managed to remain true to it's original purpose of showcasing the greatest music scene in the country and right now, FYF and L.A. are both the belle of the ball. Now did the lineup make everyone happy? Of course not- Super fans can always say there wasn't enough punk rock or there wasn't enough EDM or metal but FYF was never concerned with making EVERYONE happy. Like most galleries, venues and open mic nights, it was meant for Just those who connect with what they curate and the thing that made me most proud of my city was the size of the Rock and Roll crowds for the more indie sized bands like Uncle Acid and the Deadbeats and The Black Lips.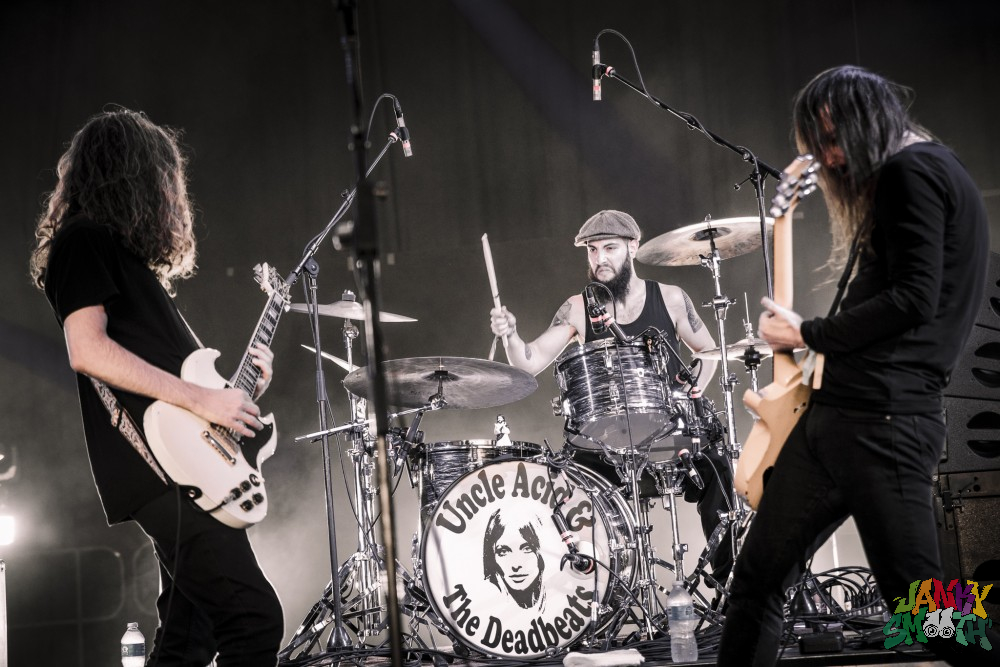 It's not that I couldn't come up with a list of issues I could cite to highlight the areas in which they fell short this year. Much like Los Angeles itself, the price has become restrictive and many active, local scene kids have been displaced by a more well heeled patron. But other than logistical issues that seemed geared towards influencing more VIP ticket sales next year, the people who organize FYF seem more concerned with fan fun that any other major festival I've attended.
FYF started out as a bunch of obscure and local bands playing small clubs in Echo Park. It rose to festival glory in a relatively unknown, dusty park in Chinatown where I once saw Thee Oh Sees, Death Grips, The Locust, Black Flag and The Melvins all play the same stage, one after another. With all that street cred, the ascension of the festival into the upper echelon of massive musical undertakings has been handled with as much grace and care as possible for a huge business venture attempting to cater to the 10's of thousands of people that attend the festival every year. I don't think most people noticed all the micro gestures that were made for a macro undertaking like FYF. From security guards handing out waters as people entered the line to get in on day 1, to letting people in through side gates that weren't meant to serve as an entrance, just to thin out the critical mass of building angst amongst attendees standing in line who were about to miss a band they wanted to see. The truth is that an opinionated ass like me who has attended MOST FYF's can be easily disappointed, as I was when the event moved to Exposition Park, but as a lifelong Angeleno that doles out as much criticism of LA as praise, I'm proud to call this "our festival". Let's enjoy it while it lasts because eventually, all great festivals turn into vapid, mainstream celebrity-stalking clusterfucks but at this moment, FYF seems to be at the height of it's run.
FYF tinkered with the layout of the stages as it has every year since it moved the festival to Exposition Park. It was obvious that this needed to be done since one of them stages called the L.A. Sports Arena is set to be demolished to make way for a new soccer stadium, of all things. So they added the "Club Stage", refined the "Woods" stage where the club vibe was and added a small village that included a pop up House of Vans tent that was arts and crafts heaven. House of Vans HOOKED me up with a free pair of custom vans that I just ordered now online and a choice of 4 tote bags that had drawings of our recently fallen brothers; Bowie, Lemmy, Prince and Phife. I chose Lemmy but now have a bit of Bowie envy. But the most solid move of the Main Stage area to a right angle from the previously isolated Lawn Stage made navigating lineup wish lists much more realistic than the dead end street that led to the "Lawn" in previous years.
The magic of any festival is in it's lineup, though. A lineup is such a delicate balance. One thing can throw the entire thing off. Frank Ocean (born in Long Beach) was the single name I was most excited for at last year's FYF and while most people would be entirely happy with Kanye as his replacement, true music snobs saw the sacrifice that occurred to the balance of the 2015 lineup. It would've been like Kendrick Lamar being replaced by Beyonce or Jay-Z. 90% of those in attendance would've been happy or high enough not to care about that thing they were really looking forward to being removed at the last minute but some want to bear witness to legends being made, not just the well established and widely adored collecting another fat paycheck on their way down fame mountain. And yes, this year we watched the ascension of KDot unto the throne of Rap while his predecessors were busy watching something else.
I used to look at Kendrick Lamar much like I looked at LeBron James. They called LeBron, "King James" before he ever even scored a point in the NBA just like critics called Lamar the future of hip hop before he had even dropped one full length album. Besides, Tupac and Biggie get props and what Ice Cube did on his first few records is completely underrated but I've seen obscure battle rappers that would eat Kanye's lyrical lunch so for me, the argument of "greatest ever" always expanded beyond just rappers that had gold records– or the decade of the 90's, for that matter (I see you Rakim and KRS-1). Now that Kendrick has a body of work under his heavyweight belt for which to be judged on, he is the undisputed, reigning champion of record industry rap. His mind blowing performance at The Grammy's this year showed me that when everything is said and done in the career of Kendrick Lamar, he will go down as the best rapper in the mainstream.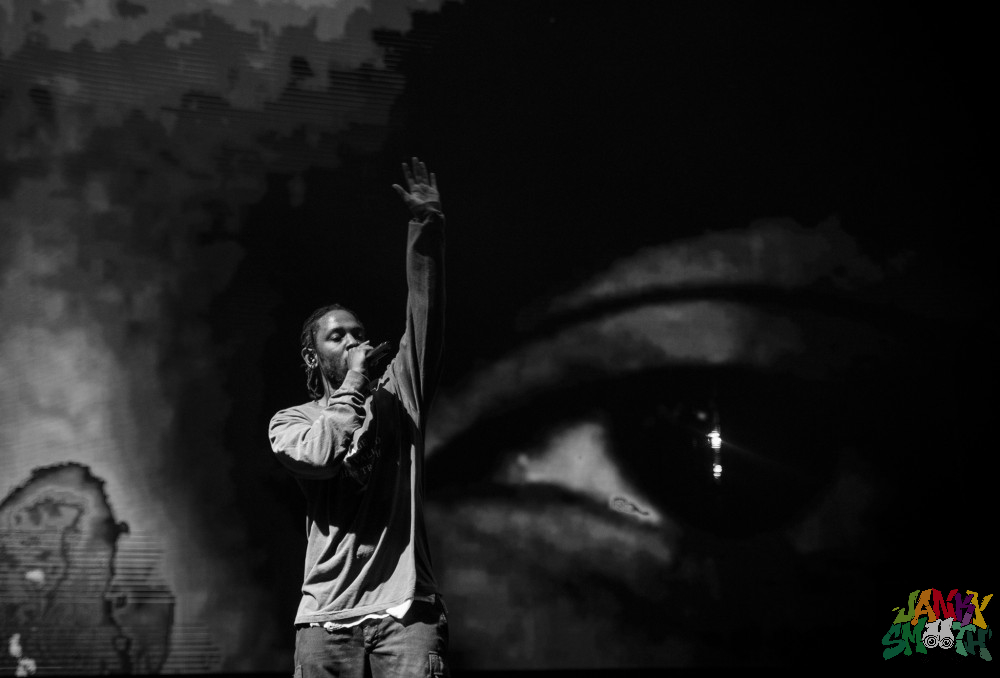 Saturday is the first time I had seen Kendrick Lamar live and a festival isn't always an ideal place to judge someone on their performance but he has "it" and "it" is what allows a performer to completely control the stage; no matter how big it is. He spit rhymes on beats, rhymes with his band and a capella raps. He brought Jay Rock and Isaiah Rashad out during his set which included 22 songs off To Pimp a Butterfly, m.A.A.d. City and the juxtaposition of having projections of Kendrick's eyes on the massive screens, scanning all of L.A. with intermittent flashes of Ronald Reagan and Bill O'Reilly, among others.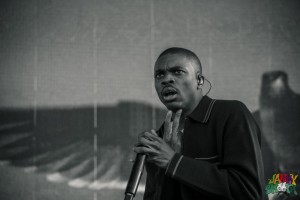 Saturday also highlighted more fast rising L.A. rappers like Boogie and Vince Staples. Staples has been making the festival rounds for more than a year now and seems like he is on every lineup I see, nowadays. But it's not hype. Kid gets down and he knows how to bring the heat live. I've seen him do smaller clubs like El Rey and festival stages from Outside Lands to FYF. He dropped his brand new EP, Prima Donna just last week and performed a couple tracks this past weekend including the song "War Ready" which gave me chills because I heard the future of hip hop. The production of the hook in the beat is all underground club banger and the verse is cypher style lyricism. There were a couple different moments in the verse that seemed like Staples really let go and channeled his rage because his voice was more gravely than usual. He actually sounded like MCA at couple different points in the verse. The second time it happened it blew my mind. I put the track on the next day and it doesn't sound like that at all in studio but it's just a hallmark of a great performer.
I had planned to split time between Head Wound City and Vince Staples since their sets overlapped and I have seen both of them on multiple occasions in the past year. But something happened to me during this weekend that I don't think has ever happened before. I was unable to pull myself away from a moment to go experience another moment. It happened to me on both days. It happened to me with Shellac vs Grimes. It happened to me with Peter, Bjorn and John of all bands. It happened to me with Black Lips vs Father John Misty. It happened to me with Uncle Acid and The Deadbeats, (although I was able to catch the last 20 mins of Charles Bradley). It happened to me with Beach House vs Young Thug . It happened to me with Air vs Ty Segall and The Muggers; my biggest conflict on the schedule even though Ty Segall plays a secret show in L.A. it seems like once a month but I might not ever get a chance to see Air ever again. And I regretted nothing. No FOMO. No sense of loss.
Tame Impala's first two albums might've been two of my favorites of the past few years. And even though it felt like I might've been the only Tame Impala fan in America to publicly rip Currents in print, their gig at Hollywood Forever Cemetery last year in support of that album was exceptional. Since then, the album hasn't grown on me much aside from the 7 minute saga of "Let It Happen" and I fear that Lady Gaga's brief appearance and concert equivalent of a photo bomb during Tame Impala's Saturday night set, along with news of her and Kevin Parker's collaboration signals the end of the Tame Impala that I love. That didn't stop me from being incredibly moved when the band opened their show with "Let It Happen", rolled directly into Mind Mischief and then proceeded to piss me the fuck off by playing only half of "Music to Walk Home By". They made up for it quickly by unleashing the only song they played all night off the Inner Speaker album, "Why Won't You Make Up Your Mind". It wasn't until then that they played just their second song off Currents, "The Moment". There were some things about the production which incorporated new plugins, effects and pedals that made the sound incredibly lush and expansive but when they worked an 808 into "Apocalypse Dreams", it completely drowned out the entire dynamics of a song that has moved me so much that I use it as my alarm every single morning. I love fat, bottom end bass and I've loved Tame Impala but the two don't mix. At least not in the ways they used the two on Saturday night.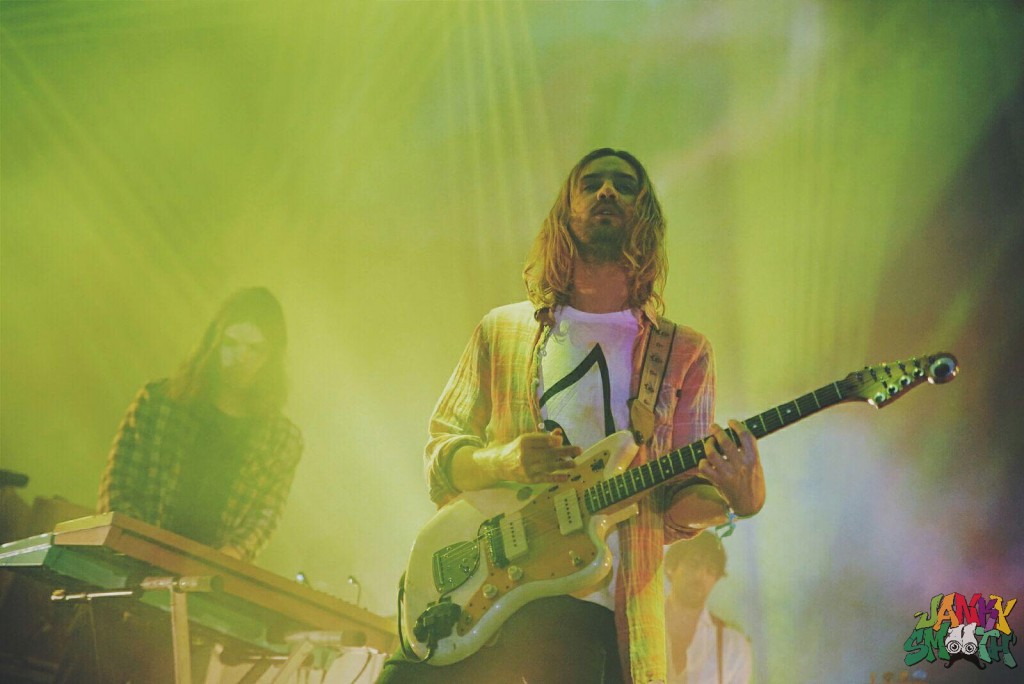 I drowned my sorrow in Bud Light on tap, split time between Hot Chip and Wolf Parade and finished Saturday night with Mr. Kendrick Lamar.
Sunday started with an epic fail as I missed seeing one of the acts I was most curious about, Banks and Steelz– the collaboration between RZA and Interpol's Paul Banks. I also missed Denzel Curry, dream pop outfit Wild Nothing, Blood Orange and the fearful of confrontation band once known as Viet Cong, now Preoccupations (isn't rock and roll all about confrontation?). This felt like a heavy loss of quality musical experiences. Yet another thing that sets FYF apart from other major festivals I attended this year such as Outside Lands is the quality of the bands in "small print" because I DID make it in time for Uncle Acid and the Deadbeats who played the brand new "Club Stage" and that's when my heart once again swelled with pride for my city because everyone else at the festival seemed to make it to that set too.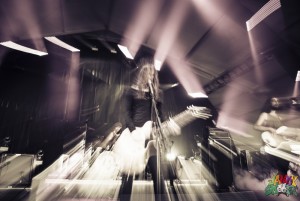 Uncle Acid aren't your run of the mill psych rock band that is so prominent in L.A. right now- not that I dislike the genre. They are a sludgy, bluesy, distorted prototype of soul selling Sabbath-esque rock and roll. And the turnout to their set confirms that Los Angeles is welcoming rock and roll back into it's warm embrace outside of it's many, small safe houses in the city. And booking a band that played the doom metal, sludge, psych rock fest called Psycho Las Vegas at the Hard Rock Hotel just the day before helps FYF keep the street cred that was called into question over the past couple years. I was able to catch Uncle Acid's entire set and still catch 20 minutes of Charles Bradley who made me cry with his soulful cover of Black Sabbath's "Changes" for yet another ode to rock and roll.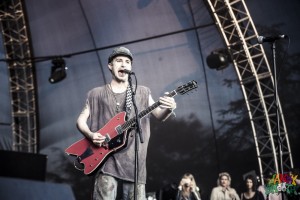 And that trend continued onto the Trees Stage a bit later in the evening when The Black Lips caused a ruckus and kicked up the dust that causes those music festival dirt boogers that I had managed to avoid altogether during this FYF. I love you and fuck you. I wasn't crazy about the Black Lips set list but they sounded incredible. In fact, the sound at The Trees stage this year might've been the best festival sound I've ever heard. The've added some new compression that really separates each instrument and it honestly might've been the most dialed in set I've ever heard the Black Lips play, who have a reputation for playing as loud as possible. It was also the first time I've seen the Black Lips play in which none of them puked on stage.
I realized on Sunday that I have some kind of psychological block against Mac DeMarco that prevents me from ever catching one of his festival sets in the case that I am somehow drawn in by his teeny bob, indie pop. I really had ever intention of catching a part of his set but got stuck at the much buzzed about set of Anohni, whom I didn't really connect with either. But the disconnect I had during those two sets prepped me for the Grace Jones experience that I had no clue would move me so much. I didn't particularly like her music as a kid in the 80's and never really revisited it since but not only is she a top icon of an unusual decade like the 80's but her musical performance at FYF left an unforgettable impression of showmanship and imagery. The songs summoned a time which swaddled my inner child and Grace Jones put on a performance clinic of epic proportions.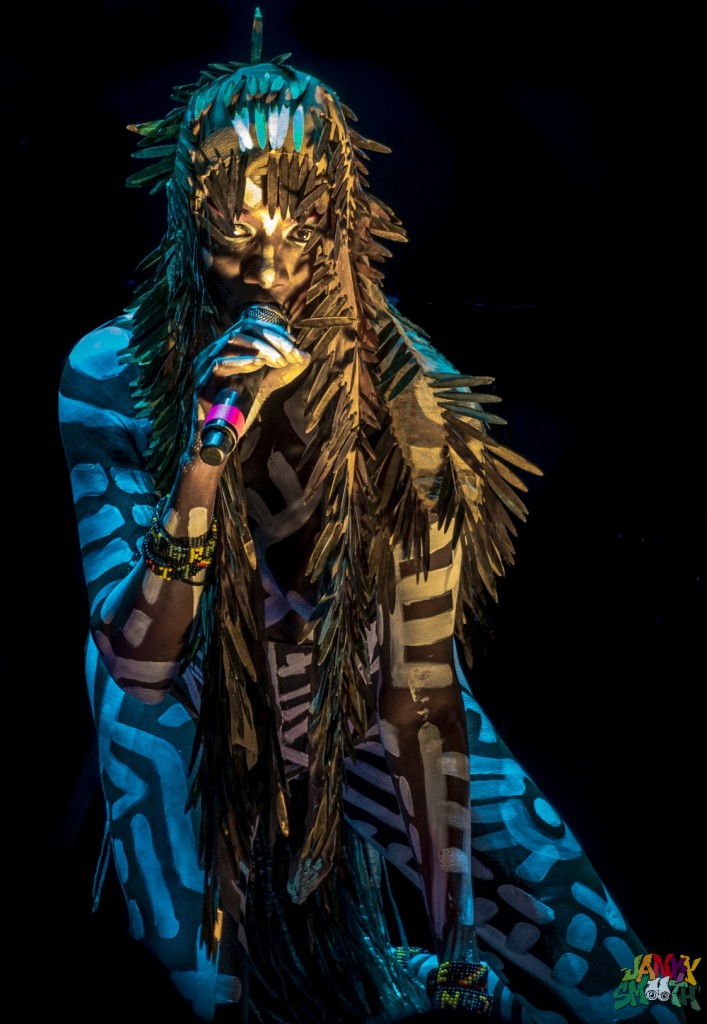 Onto the mesmerizing live performance of Beach House at The Trees stage where the band has embedded themselves into my consciousness ever since. It's incredible how Beach House is able to transcend the simplicity and robotic feel of the cold drum loops that are the skeletons of almost all their songs and the simple yet tasteful tones of Alex Scally's guitar licks create a lush compliment to the layers of Victoria LeGrand's organ, keyboard bass and haunting vocals. Beach House were the perfect, brooding pit stop to transition to festival closers, LCD Soundsystem.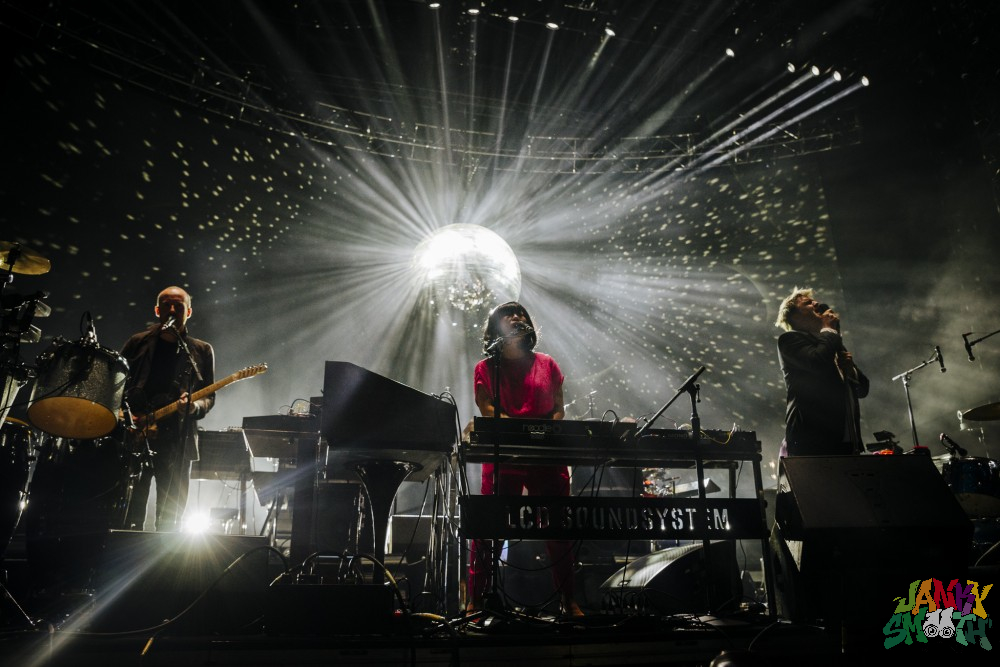 Someone told me the other day that LCD Soundsystem used to travel with a spare disco ball that is smaller in size to the massive boulder of mirrors of reflecting light that typically adorns big festival stages. That way, they would never be without their disco ball when playing smaller venues where the massive, internationally recognized symbol of party people wouldn't fit. Can you imagine the type of fun LCD Soundsystem had at the peak of their popularity? Aside from the stereo typical pretentiousness that is associated with artists that originate from the snooty and snobby heir of superiority of that classic New York that doesn't even exist anymore, the beautiful and above average intellect of the LCD Soundsystem fan base is the pitch perfect prototype of your more sophisticated druggee. I have reviewed LCD and the noteworthy reunion which started in Pomona, California a couple weeks before their big Coachella payday and continued through the summer and into my first Outside Lands experience this year and right into the final stretch that is near conclusion at FYF this past weekend. Once again LCD Soundsystem proved that they haven't missed a beat since their hiatus and that even with all the new options available and that they do also leverage in concert lighting, there are few new technologies that can dethrone the disco ball as the preferred visual marvel of party people worldwide. They are the perfect festival closers and they are their reunion comeback shows are what you hope for from bands that have passed the pinnacle of their careers. But who knows? They are writing and recording new music again so let's hope they don't fuck this up.
As Steve Albini stated during one of his typical rants during the song, "The End of Radio", "I apologize for all of Radio. Except Vin Scully. All of Radio except Vin Scully". Go L.A. Go Dodgers and Go FYF. You make our city proud.
Photos: Josh Allen Words: Danny Baraz