Run The Jewels: Taking Hip Hop Back at The Echoplex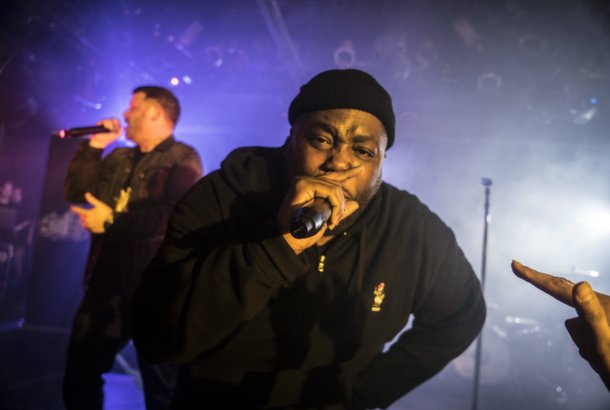 It's been years since anyone in hip hop has released an entire album of "destined to be classic" tracks, much less two. Over the last couple years rappers like Danny Brown, Ab-Soul and Schoolboy Q have released some classic tracks but the entire body of work leaves much to be desired. Weak beats and lazy lyrics dominate the landscape in the mainstream and the underground. B-boys have all but disappeared in this era of club bangers. Graffiti is now called "street art" and dance crews now have large shows in Las Vegas. Then on April 9th, 2013 a self-titled album called "Run the Jewels" dropped and changed the game.
Jaime Meline, a.k.a. El-P is not only a dope M.C. but the beats he produced with Little Shalimar and Wilder Zoby are the foundation of not one but two instant classics- Run The Jewels and Run The Jewels 2. On Thursday, November 13 El-P and Killer Mike played the Echoplex as Run the Jewels for Day 13 of Red Bull Sound Select's, 30 Days in LA.
The anticipation was thick moments before Run The Jewels took the stage. There was a buzz of speculation on some special guests and the Echoplex was packed. Moments later, Killer Mike and El-P took the stage and received a roar of approval that, I think, surprised even them. They opened with Oh My Darling Don't Cry and it was by far, the most animated I've ever seen a crowd at The Echoplex. A smile creeped over El-P's face as he realized that the rabid crowd was shouting each lyric, in unison, along with the song. Hands and weed smoke were in the air. Killer Mike wondered, out loud, whether LA would be as hype as the San Diego and Pomona shows were in the past few days. His voice was raspy, hoarse and on the brink of giving out when the audience affirmed that they would blow those cities out of the water. Mike responded that he would push every envelope of his vocal chords for their undying support. There was an insane set up of lazers/lights brought in specifically for this show. The two M.C.'s turned into silhouettes, periodically, as the fog and smoke got thicker on stage and the complex set up of lazers went from illuminated to dark from one moment to the next.   They unleashed their lyrical mastery through the combination of killer cadence and fierce phrasing we have come to expect from the dopest act in hip hop today. The first special guest was Gangsta Boo from Three 6 Mafia to spit her verse on the track, Love Again (Akinyele Back). It honestly wasn't tough to figure out that Zach De La Rocha would come out to spit his verse on Close Your Eyes (And Count to Fuck). When he finally came out towards the end of the set, people lost their shit. It's been a rare occurrence to see De La Rocha on any stage in the past 6 years. His verse is also a departure from his vocal stylings on Rage Against The Machine and especially old Inside Out songs for all you true aficionado's. While what he did with RATM was most certainly rap, it was a more primal version of the discipline while, with this collaboration, he spit lyrics in true M.C. fashion.   The last song in the set was All Due Respect and yes, Travis Barker was there to beat the shit out of his drum set and contribute the powerful dimension he brought to studio version of that track. He had just come from playing a song with the Misfits at a show somewhere in town that I had no clue about. It also happened to be his birthday.
It was a night of uncharacteristic energy for an LA audience. Typically, seeing a buzz band in LA is sure to draw a crowd of trendy, low energy people who are more interested in saying they were there than actually being there. This was not the case with this show. It was a night for true fans who clearly have had both Run The Jewels albums on repeat since the albums dropped.
Also on the bill was Red Bull Sound Select artist, Thurz– By far one of my favorite Red Bull artists so far. His show featured an amazing live band and also had a ton of special guests like, DJ Quik, who performed Tonite off his debut album, Quik is the Name. Thurz has a smooth style and great stage presence and definitely should've gone on before RTJ because he had the crowd. Electronic, Indie Dance act, Mystery Skulls peculiarly went on before RTJ and would've been awesome as a part of a different bill but a dance act without people dancing just doesn't come off well.
Words: Danny Baraz
Photos: Red Bull Content Pool