FYF Presents: The Marked Men & Royal Headache Tearing Regent To Shreds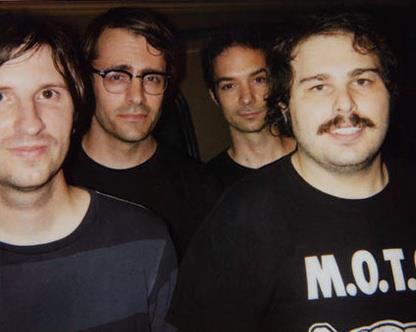 The Marked Men are a band of Texan punks from the early 2000's that FYF managed to lasso into a show at the Regent Theater. To some, the news of this show was of the same magnitude as Jawbreaker's upcoming reunion for Riot Fest. The Marked Men's sound is traditional power punk with an unrelenting 3-chord assault reminiscent of bands like The Spits. It's the perfect soundtrack to youthful debauchery and even though the ages of the crowd were mixed from teenagers to geezers, the energy of everyone in the audience was young and crazy when the Marked Men took the stage. It trips me out to think that the 00's were so long ago that bands from that era are considered icons and veterans now. Perhaps I'm getting too old for this shit.
Flat Worms were the first band to open up this can of worms. They were a speedy and fun power punk trio but as their set progressed their performance started feeling droll- not because of the small early turnout, but because the vocals lacked dynamism and they didn't move with as much spirit as they could have. They were a good lubricating band for the dildo that was the music to come.
As far as I'm concerned, one of the biggest highlights of my night was hearing Van Halen's "Hot For Teacher" play full blast over the speakers before Audacity. Seeing which punks were going crazy and which didn't care for the song really helped me understand who were my people and who's moves were weak.
Fullerton's Audacity is a party/power punk five-piece that often gets the garage label but I consider them too nuanced for that. I think the world of this band's music. Few groups are as in sync together and they probably complete each other's sentences. Their riffs are thick but fast and their songs give you the feeling of winning, perhaps by dirty and degenerate means but in the end, you're the good guy and you get the girl.

I wish this article was all about Royal Headache. This may have been one of the best performances I've seen all year. Hailing from one of the most understated punk haven's in the world, Australia, Royal Headache left every ounce of themselves on stage. I thought they had gone way over time by their finish, thinking perhaps that they were given an extra half-hour. But no, they played 40 minutes and packed in the energy of a 2 hour show.
Some call them garage-punk-core and I would agree with that when it comes to listening to their records but live, I felt like I was watching the best kind of 90's alternative band but with a hardcore ethos. They're a five piece: Vocals, guitar, bass, drums, and keyboards that lay reverie beneath the punk intensity. Their songs are the perfect pub rock. Whatever Australia's version of the Short Stop or the Cha Cha are, those bars are spinning this band. I wish I was drunker for their set but my Jim Beam double did me well. Royal Headache made me wish I knew all their songs so I could be singing along with the die hards that were jumping in the pit.

Their performance had various stages: the singer with his shirt on, with it off, the band under blue and red giallo lighting, and the finale after they kept playing past their time. When u notice a structure like that, you know the band is doing live music right.
Royal Headache has so much variety in their catalogue that they can play uproarious punk or vintage garage or heart-bleeding ballads that could bring a punk to tears. They have songs about needing your girl, partying with your friends, leaving your girl, fighting, being an asshole, drinking, pretty much anything you and your mates could ever want out of a band. They were nothing short of amazing.
The Marked Men were given the difficult task of following Royal Headache and as cool as their punk rock is, I think they were outshined. They played a powerful set with songs that had every member sharing vocal duties, songs that should set the example of how punk should sound but if you aren't a die hard, you just couldn't identify the memorable moments of their performance. If you drew a wave depicting their set's vibe it would be a flat line on an incline, where as Royal Headache was an inclining line of upward slopes and downward troughs- troughs where the band slowed down and showed nuance, not when they fucked up.

My coldness toward the Marked Men isn't really coldness, it's just awe for Royal Headache and you HAVE to respect a band that is willing to headline after bands that are in the prime of their live shows.
Words and Video: Rob Shepyer