Desert Daze 2015: The Festival for the 21st Century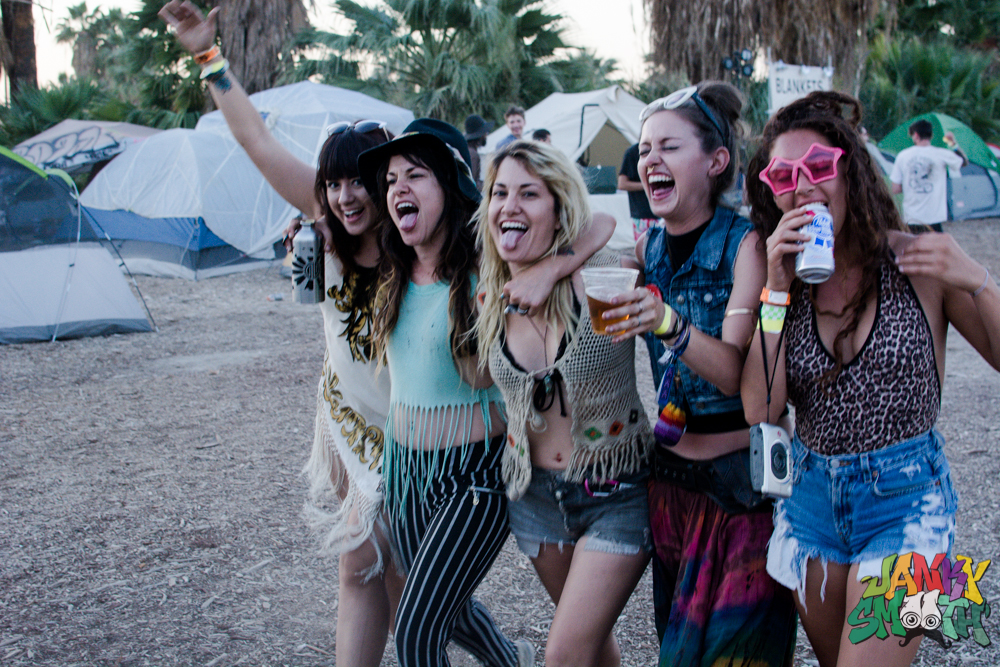 It was 4:30am on Saturday morning. I pulled the Janky Smooth RV into a dusty parking lot. I had been driving this carbon spewing behemoth since 1am, after the hour it took to load it up with instruments, sound equipment and beer- The essentials that would push me through a crazy 36 hours in the Mojave Desert for Desert Daze 2015.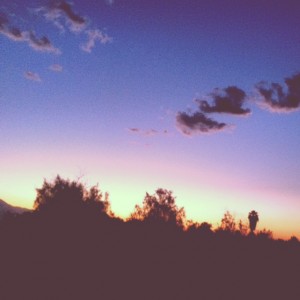 There were hints of blue shading the dark desert sky at the edge of the horizon that peaked over some sleepy mountains. A sense of dread washed over me at the sight of this beautiful event. It meant I only had a few hours to get a little bit of sleep before setting up the DNA Vapor sponsored, Janky Smooth Jam Lounge in preparation for our open jam after party. I knew I shouldn't have taken that dab before loading up all that gear.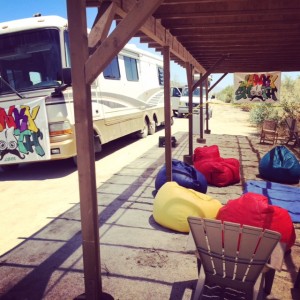 After being led to our lakeside cabana by a sleepy eyed angel named Art, it became clear that we were the first ones to plant our flag in this particular patch of land. By the time I woke up a few hours later, the deserted road I parked our camper on was swarming with activity. Steven Hill, bass player extraordinaire, leader of the band Atomik Kangaroo and my travel companion for this adventure and I, got to the business of setting up the Jam Lounge. My dread instantly washed away at the realization that I felt fucking GREAT!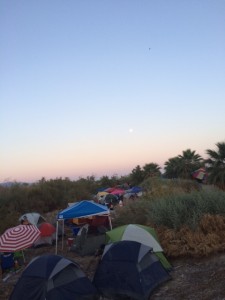 Completely unaware of where we were in relation to the heart of the event, we started walking towards the festival. To the East of us was a body of water everyone called "The Lake". I'm not sure if it was man made or even how big it was but it was surrounded by tall grass and the incessant and rhythmic honking of bull-frogs who were the permanent inhabitants of this patch of land. 100 yards from our campsite we ran into the first stage, The Jive Joint. It was a smaller stage that was outside the official confines of the festival area and it was the only stage surrounded by tents and campers. We would see so many incredible bands on that stage that it was hard to believe this part of the venue was considered a side stage of sorts. Girl Tears, War Drum, Burning Palms, Feels, Fatso Jetson, Gap Dream, Jesus Sons and Slipping into Darkness were some of the bands we caught part or all of. Just a little further down the road was the Party Stage. We could hear the pristine sound from this stage from our campsite and it served as my soundtrack at dusk as I walked next to the lake near our campsite. The sounds of L.A. Witch haunted my stroll down the lane as the moon hovered so close to me that it almost seemed I could reach out and touch it.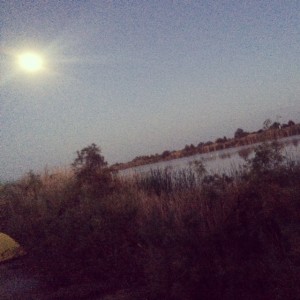 Not more than 50 yards from the Party Stage was the heart of festival and the Moon and Block Stages as well as various art installations and vendors. These were the main stages which were adjacent to each other and less than 25 feet apart. This area was witness to my favorite back to back musical moment at the festival. It started with a visit to the The Artist Village at Desert Daze.  A beautiful and serene patch of land that was in close proximity to the main stages, The Artist Village played host to the bands, their friends and family and some members of the media. It was surrounded by grass, a beautiful pond which would reflect the moon back to itself all day and night and a cast of characters that have set the indie music scene on fire for the last few years. Kim House and I entered the line which had the substances that would lubricate our senses at the same moment. We had just enough time to grab a beverage before Kim and the Created would take the stage and provide for me half of one of my favorite experiences of the daylight hours.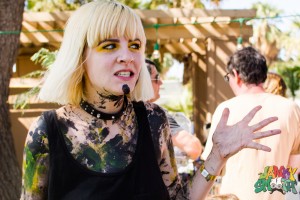 Once Kim and The Created took the Block Stage and began to play, people swarmed like an army of ants working together to capture a sizable morsel for the entire colony. It was the first evidence that Desert Daze was not just some event built only for the psych rock enthusiasts. The powerful, angry, sexy and melodic sounds of Kim and the Created are only one part of the band's equation. Front woman, Kim House who is gaining notoriety for her wild stage presence and skin tight body suits was in typical, Grade A form. Her vocals are eerily reminiscent of Donita Sparks but it was clear when talking to her after their set that any similarities one might find between her and any Riot Grrrl were not necessarily a direct reflection of any of her own personal influences. That's called a happy accident. The sound was so good at Desert Daze that I walked back to the very nearby Artist Village to further lubricate without missing a note of the bands last song. Just before doing so, Kim lost her top to reveal a bare breasted but body painted torso and I could hear her on my way to refuel before Plague Vendor took the adjacent stage, half chanting and half promising that "You Won't Get Inside My Head".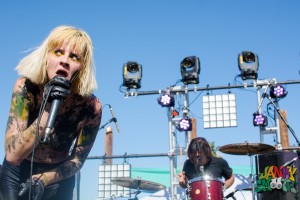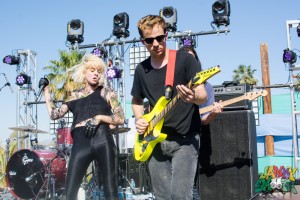 I grabbed the beverage which would serve as my date for Plague Vendor's set. Brandon Blaine and company would take the stage and deliver one of the most powerful and visceral performances of Desert Daze 2015. It really is no wonder why Brett Gurewitz rocked a Plague Vendor tee during week 1 of Bad Religion's set at Coachella this year. Aside from releasing their album, Free to Eat on his Epitaph label in 2014, they really are just a remarkable band that stands out not only for their songs but the once in a lifetime type of stage presence of Brandon Blaine. To commit to the spectacle of the type of sexual dance moves that emit from Blaine is a testament to ego and I mean that in the most complimentary way. Their sound incorporates the type of reverb soaked guitars that are prevalent in much of today's emerging indie artists but with a much harder edge.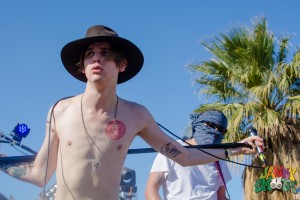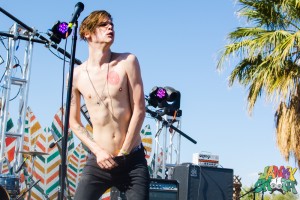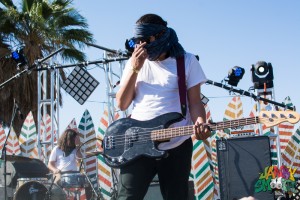 The rest of the festival is a blur that I will never forget. White Lung, featuring Deap Vally's Lindsey Troy on Bass, Bass Drum of Death, Wyatt Blair, Dan Deacon, Warpaint, RJD2, Mini Mansions, Zig Zags, Chelsea Wolfe, DIIV, Minus The Bear, Fever the Ghost, Mr Elevator and the Brain Hotel, Failure and of course, the bands of the festival benefactors, Deap Vally and JJUUJUU, which delivered my favorite moments on the Party Stage. We've delivered so much coverage of Deap Vally lately that I want to stay away from my already borderline flirtation with the label of stalker and tell you that they delivered my favorite Deap Vally performance to date. The visuals projected onto the sheet or canvas set behind the Party Stage, provided by Mad Alchemy, served as the perfect backdrop. Especially as the wind grabbed hold of the sheet and enhanced the swirling paint projections into a living, breathing work of art that would almost touch the bands performing on that stage. Phil Pirrone's band JJUUJUU were my biggest surprise of the festival. Mostly because I'm unfamiliar with their body of work. Without hearing any recorded materials I would put JJUUJJUU in the same class as Tame Impala when referencing the genre of psych rock. Much less sensitive sounding than Tame Impala, JJUUJJUU give that genuine psychedelic sound that so many are trying to capture right now without falling short and without the rock and roll and blues impotence that so many psych acts fall into when trying catch you at the peak of your acid trip.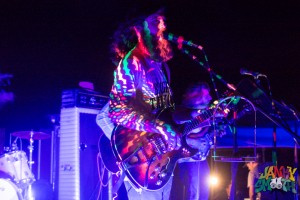 The last stop on the evenings journey was directly into the friendly confines of the Janky Smooth Jam Lounge sponsored by DNA Vapor. I was informed all day that there was a buzz circulating about the festival about our after hours endeavors. We were guided back to camp by the brightest moon that I have seen since the turn of 21st century. The multitude of colored bean bags we provided for the event were already at capacity under shelter of the cabana provided to us by Desert Daze. Steven Hill, drummer Blake Hedding and guitarist Yanni of the outfit dubbed Atomik Kangaroo began to wield their weapons of expression.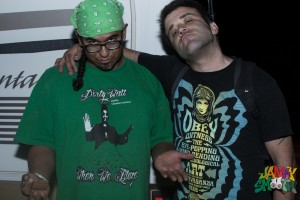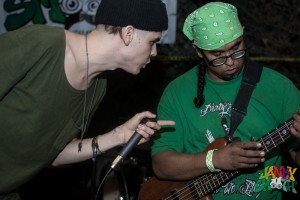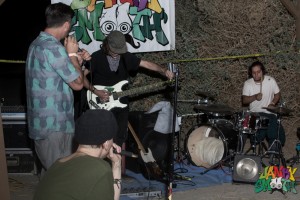 Shortly after the music started, Plague Vendor showed up. Brandon Blaine picked up the microphone and walked into the dimension of free form expression. At one point, the entirety of Plague Vendor were sitting behind the instruments and the only thing that stopped an impromptu Plague Vendor set was my own desire to play some music. Still not sure if I thwarted some magical moment that was about to combust upon the unsuspecting travelers that stopped at our camp site but the starry eyes and auditory sounds of approval from the audience made my experience playing music at Desert Daze an unforgettable one. Everyone who came to play music, got to play music. Everyone who came to hear music, heard something completely unscripted, filled with magical notes and spontaneous artistic expressions. As I hoped, there were quite a few attendees in the midst of mind expansion and the look on their faces was all the evidence I needed to claim this last minute idea as a success. A super special thanks to our sponsor, DNA Vapor, our house musicians, Atomik Kangaroo and of course, Plague Vendor.  Here is an audio clip captured by our new friend and attendee of the jam, Jade Fassbinder.

Vocals- Danny Baraz, Bass and Vocals- Stephen Hill, Drums- Blake Hedding and Guitar- Yanni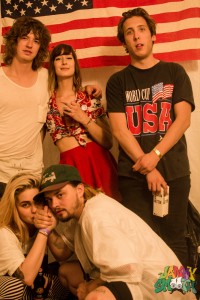 Every single one of my senses would be stimulated effectively over the course of those 16 hours. The perfection of Desert Daze shines through from it's organizers. Phil and Julie Pirrone and company are not only the event organizers but are also performers and at their essence, attendees themselves. Artists today have to wear many hats. Especially musicians. But the results of this are staggering. Desert Daze is by far the best festival I have been to in quite some time. Undoubtedly, at some point, this festival will grow to the point where it will be run by suits and numbers crunchers but as of right now, anyone who had the fortune of attending Desert Daze 2015 was able to witness a truly pure artistic endeavor.  Being the Festival of the 21st Century is not a reference to any kind of innovative new spins the Moon Block Party crew brought to promoting or operating festivals.  It's just simply a reference to Desert Daze 2015 being my favorite festival of this millennium.
Making Desert Daze w/ Moon Block and Deep Vally- Janky Smooth Sessions 
A Backyard Interview w/ Deap Vally- Janky Smooth Sessions
Warpaint and The Garden Mesmerize at YAAAASS! Benefit Show
Coachella: No Sense of History in Your Hate
Words and landscape photos: Danny Baraz
Photos: Taylor Wong