Jon Spencer Blues Explosion Detonate at The Echoplex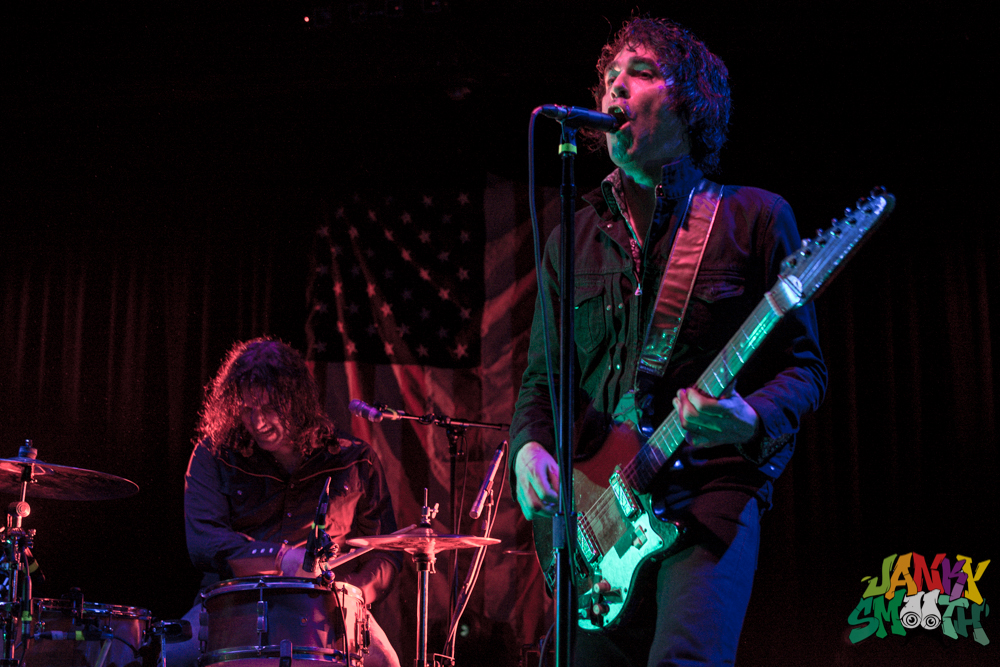 It was a rainy Thursday night out here in Echo Park. I could imagine no other acceptable way to spend this rainy evening than at the John Spencer Blues Explosion show at The Echoplex. Now I'm a noob when it come to Jon Spencer Blues Explosion, but what I have heard is that they put on an explosive show. Pun intended.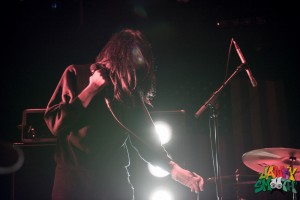 So a little fact about me- I'm compulsively early to almost everything I do. This came in handy this specific evening. There were only 2 bands scheduled to play this last night. Opening for Jon Spencer Blues Explosion was a band by the name We Are Hex. About 15 minutes before they went on I realized, being human and all, I had forgotten something necessary to cover the show. I was able to rush home and back by the time they were 2 songs into their set. I was extremely glad I made it back in time, not only because I still had a job to do but because We Are Hex were simply incredible. Front woman Jilly Weiss reminds me of a grungier Exene Cervenka of X mixed with a little Brody Dalle of the Distillers. She awkwardly/adorably danced around the stage with a tiny little megaphone in hand. Although her all male band didn't move around nearly as much as Jilly did, you could feel the energy in their music. Now if you've listened to their recordings at all you may have a different idea of what you're going to see. The band sounds more like a witchy, darker Jefferson Airplane on record but as I mentioned, seeing them live is like watching an entirely different band. SO MUCH ENERGY!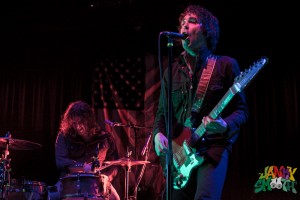 After We Are Hex ended I grabbed my only beer for the night and wandered outside for a little California smoke. Being that I'm a noob when it comes to Jon Spencer Spencer Blues Explosion, one thing I did know was that I wanted to be stoned as shit for this set. I motioned for some strangers to join me in my solo session and asked them what they knew of The Blues Explosion. They responded with excitement about the life changing show they saw a couple years back at Coachella. They smiled, told me i was in for a treat and sent me on my way. I found a spot in the crowded Echoplex up by the front and waited. There were some crates stacked up to the side with some old amps that you could tell would were the detonator for The Explosion. Draped behind the drum set was a large American flag. Something about american flags and Rock N' Roll just gets me super metaphorically "hard". At about 10:30, The Jon Spencer Blues Explosion took the stage and Jon rambled a bit before they started playing. As much as I wouldn't necessarily call them blues, definitely rock n roll, but not blues; I would say the word "explosion" is completely accurate. Each song was really loud but clear. The entire set felt like 4 long songs because of how beautifully the band would blend the long jams together. About half way through the set, Russel Simins, The Drummer, took over the mic to do a cover of classic Dead Boys song "What Love Is". I love when you go to a show and the band covers a song you had been listening to through out that very same day. It is almost as if the universe is saying, "Hey you're doing something right, good shit".  The band jammed through what felt like 1 epic 30 minute song and left the stage. The crowd didn't chant for an encore. What they did do is scream for about 10 minutes straight as if they were in permanent shock from the gloriousness that was the Jon Spencer Blues Explosion. It was almost as if the entire crowd was being raped by invisible Rock Gods. The band must have taken that as a sign to come back for one more song to ease the crowd. The screaming stopped and the music continued. Lets just say I was screaming the whole way home after that show.
Words and Photos: Taylor Wong