Cruel World 2023- Redemption and Romance at The Rose Bowl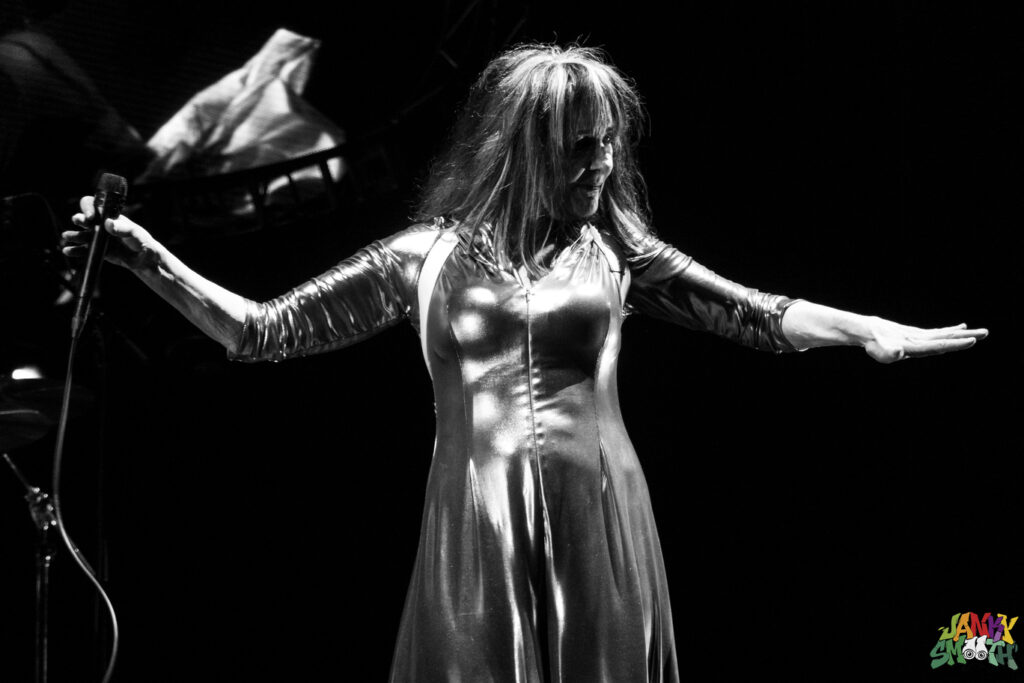 One of the definitions of the word "Cruel" is, "to cause pain and suffering". As much unintentional cruelty as Cruel World 2023 inflicted on the psyches of so many attendees by abruptly shutting the festival down half way through Iggy Pop's set on Saturday, festival promoter and corporate media juggernaut Goldenvoice offered an olive branch of redemption by giving those who didn't have to leave town on Sunday what most of us came to see- Siouxsie Sioux playing her first set in L.A. in 15 years.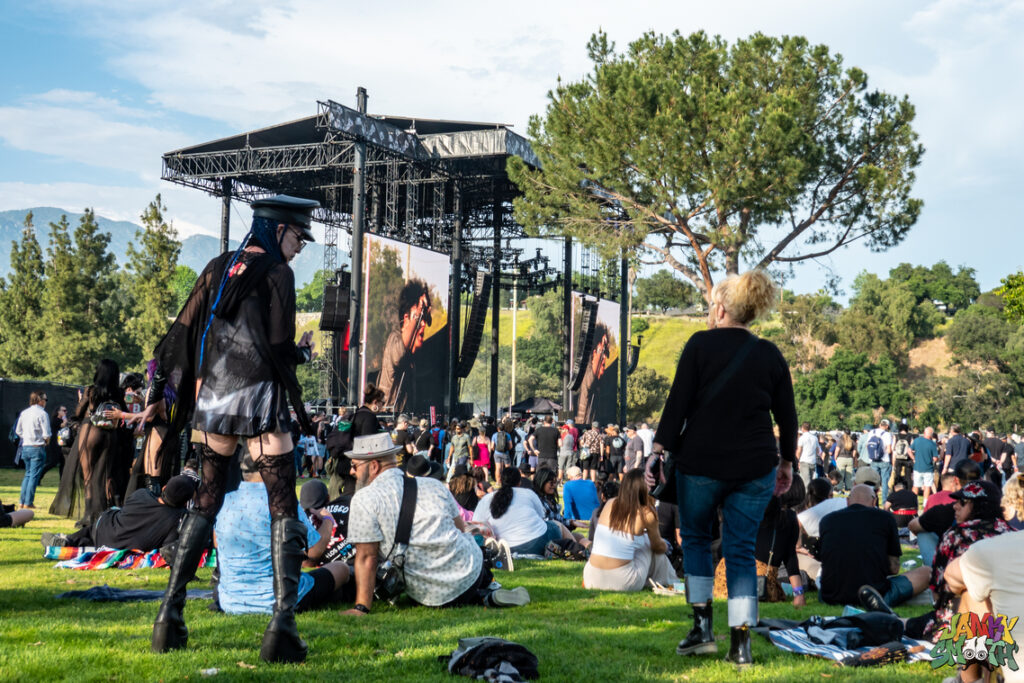 The build-up to Cruel World 2023 was palpable- not only for the 1000's of out of towners that took time off of work, booked airfare, hotel and budgeted all year for what was for many, their annual vacation but also an elusive enthusiasm from Angeleno music fans who are jaded and spoiled by their residency in the music capital of the world. It would've been tough for any festival to live up to the magick we witnessed at Cruel World 2022 which peaked on the 2nd day of the festival where we witnessed Bauhuas bloody the stage and make the moon disappear but somehow, Goldenvoice rode 2022's wave into the shores of excitement and paddled out again to catch a new swell on the weekend just before World Goth Day on Monday.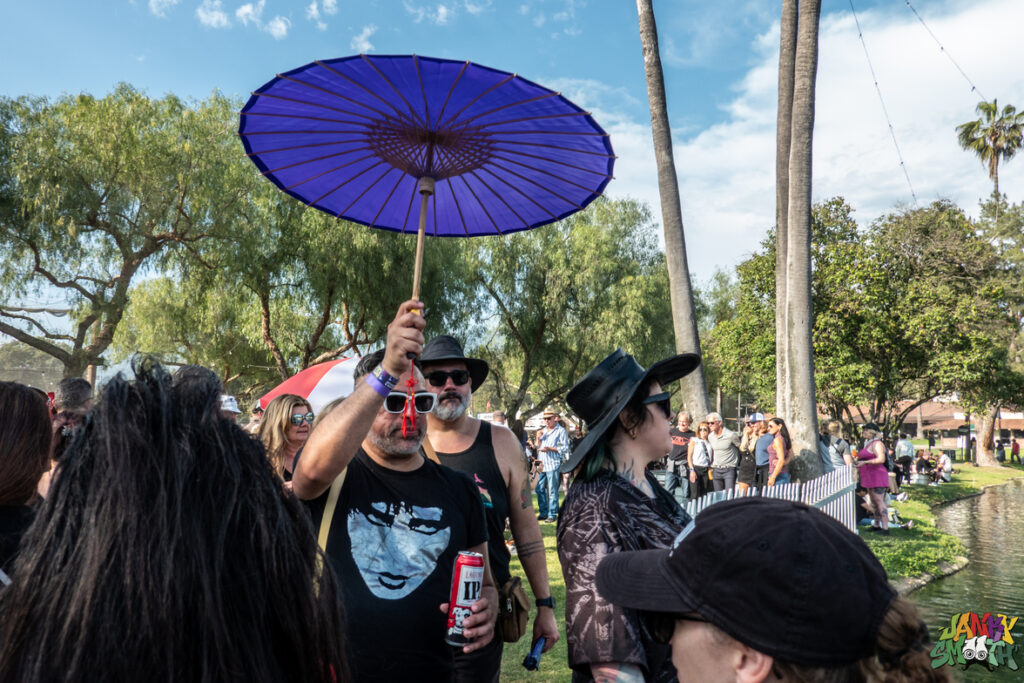 related: Peter Murphy's Flawless "Stripped Down" set at The Observatory
My itinerary was set for the week of the festival. My girlfriend and I meticulously planned to maximize our bliss with build up shows by Sisters of Mercy at The Palladium and Molchat Doma at The Shrine Auditorium. The latter were a revelation. Molchat Doma, out of Belarus delivered the romance, pain and suffering that are synonymous with the history of art created in the Eastern Block. The Shrine Auditorium was filled with the sounds of thousands of fans howling and shrieking to a degree I don't think I had ever heard for a band in the Goth Genre. Being that my mom is Russian and my dad was Ukranian, and Molchat Doma sang their songs in my first language, Thursday night before the festival built in me an elation, expectation and apprehension that would be difficult to live up to, even in the most unique of circumstances. Luckily, my elation and expectation were cut down to size almost immediately after the Molchat show when a build up of bad feelings and resentment led to me and my girlfriend breaking up and we haven't spoken since. The world can be cruel, indeed.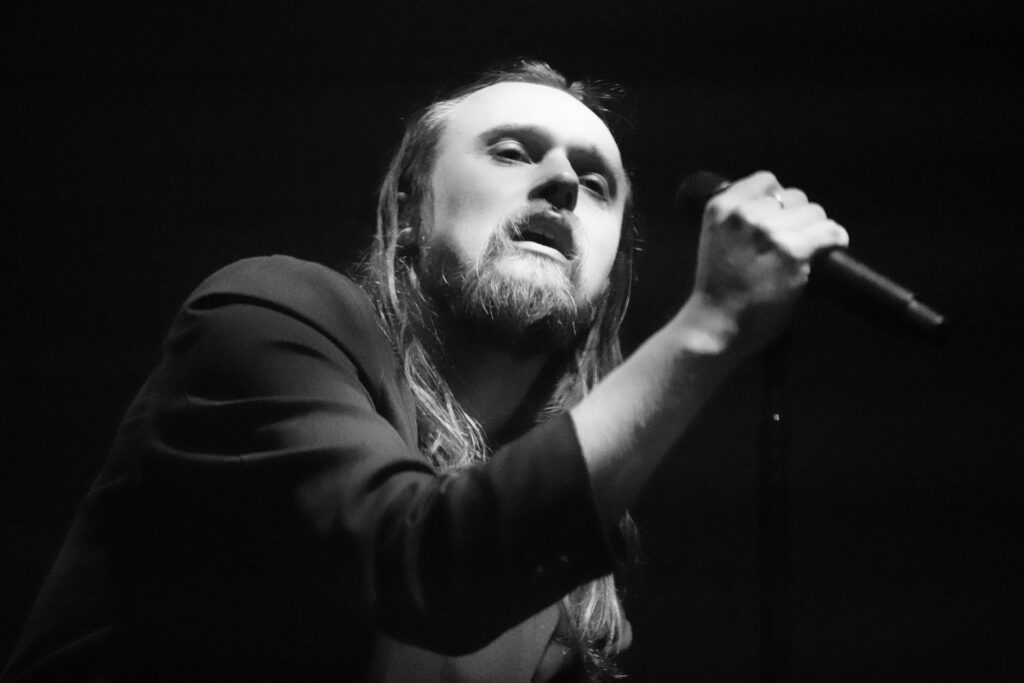 related: How This Coverage of Adam Ant Made ME King Of The World
But what could be more appropriate for a festival like Cruel World than a build up of sadness and lament? So, I changed some plans around and licked my wounds and tried not to think about her throughout the day on Saturday where I witnessed a slate of up and comers in post punk and a cornucopia of one hit wonders.
related: Cloak and Dagger Fest- The Heart of Los Angeles Bled From Dusk 'Till Dawn
I prepared to melt myself down in the still intense but not as scorching as last year sun. My plan was for us to get there right at doors opening to the festival to check out and split some time with L.A. based acts, Riki and Aurat- two artists that have been making their own waves over the last couple years and to follow that up with GVLLOW. Unfortunately, we didn't get there until 1:30- just in time to see my first one hit wonder band of the day, Animotion.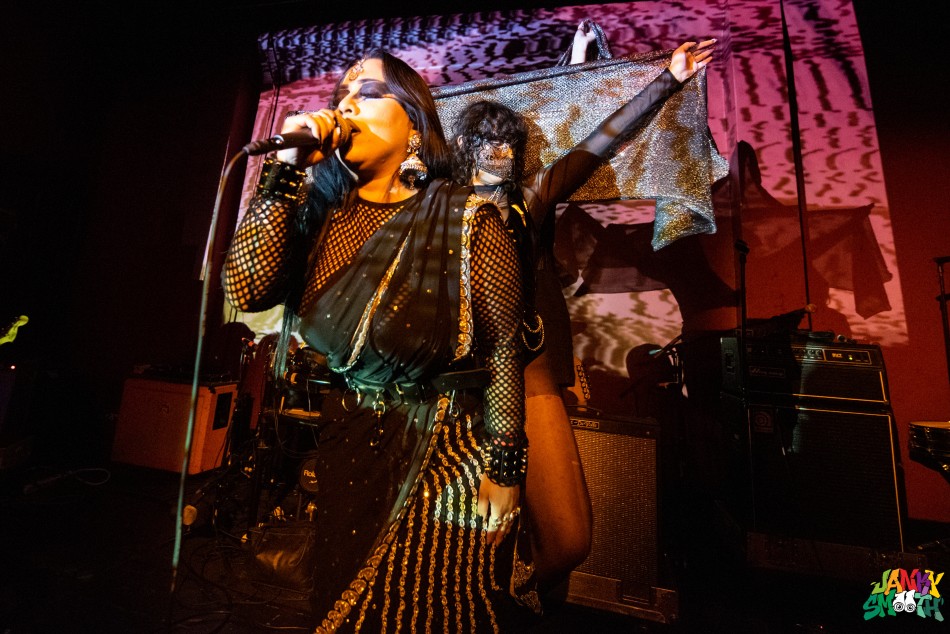 related: Gene Loves Jezebel Play Immigrant in Entirety at Part Time Punks
I waited patiently through the pop drivel of Animotion to get to their anthem, "Obsession", which I distinctly remember my 8 year old self vibing to when it ruled the airwaves in 1984- a song that's ingrained with my inner child. Unfortunately, their butchering of the song brought disappointment and borderline traumatization to that inner child. Fortunately, it redefined the scheduling conflicts I had for the festival by understanding which bands I could sneak away for so that I might catch the last song of the set from acts of that era that had similar trajectories.
Next up was Berlin– the only band playing at Cruel World 2023 that also played 2022. The smaller, Lost Boys stage was an interesting choice for a band as popular as Berlin.The Lost Boys stage overflowed with people to witness the band and the timeless Terri Nunn, making fans sing, swing and sway to classics like "Sex", "The Metro" and "No More Words. The set ended on a bad note when about 30% of the crowd booed the last number, "Take My Breath Away", but they came around about halfway through the song.
related: Creatures of the Night- Substance L.A. 2021
My first walk across the festival grounds to the Outsiders stage was motivated by the goth/post punk duo out of Brownsville Texas, Twin Tribes. While it's always strange to see vampires out in the daylight, the minimal setup on the headliner stage was filled up with dark, swooning vibrations. Lead singer and guitarist, Luis Navarro belted his baritone croons that echoed through the PA system, while bassist and synth aficionado Joel Nino Jr swept and swayed his bass guitar in macabre motions that were sexy and hypnotic. The entire set was mesmerizing and peaked with the last song, "Fantasmas" off the 2019 album, Ceremony.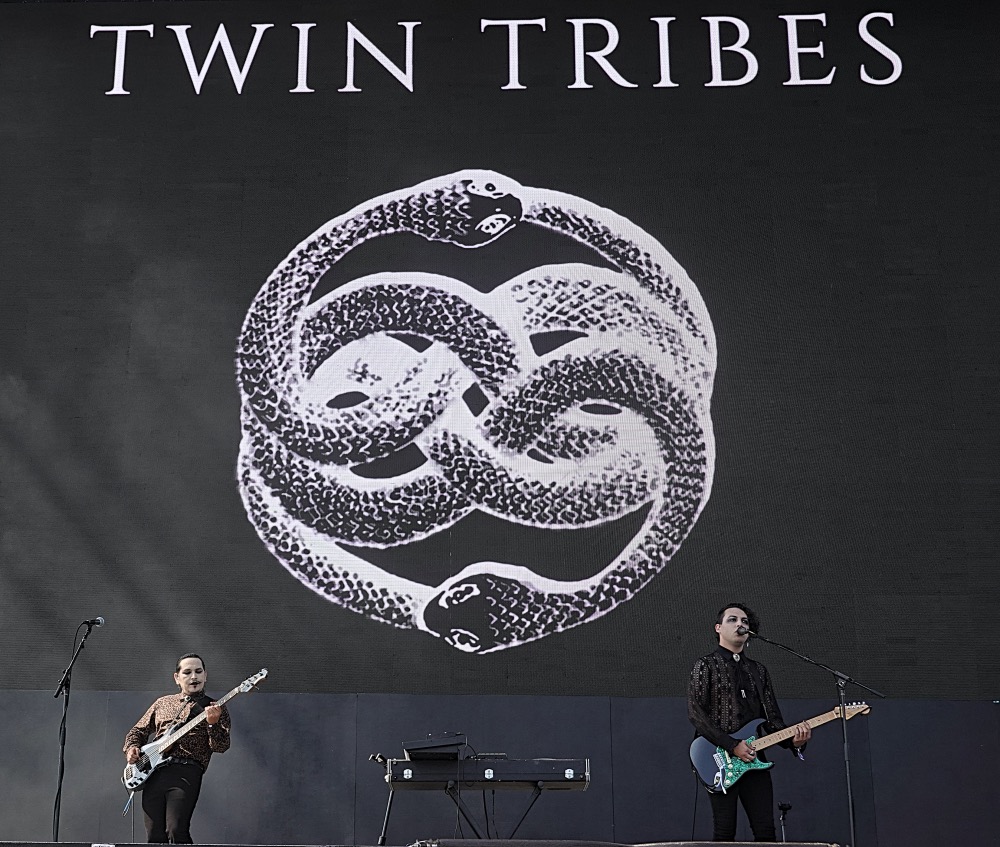 I wanted to catch a partial set from The Vapors but found myself unable to untangle from Twin Tribes. There might be a little regret there since it's far more common for Twin Tribes to play L.A. than the Vapors but all the moments I spent at the Outsiders stage in that window of time were good ones.
related: She Past Away- Photo Recap at 1720
The next crossroads I stood at was between Modern English on the main stage and The Soft Moon on the small stage. I had seen Modern English at this time last year at The Echoplex and had yet to see The Soft Moon, who have been on a heavy rotation for me the last couple years. The choice wasn't that difficult and that choice was rewarded by Luis Vazquez and the company he kept on stage.It was a dynamic and dissonant performance that mixed traditional instrumentation with the sound design and programming that make The Soft Moon so beloved in the darkest circles.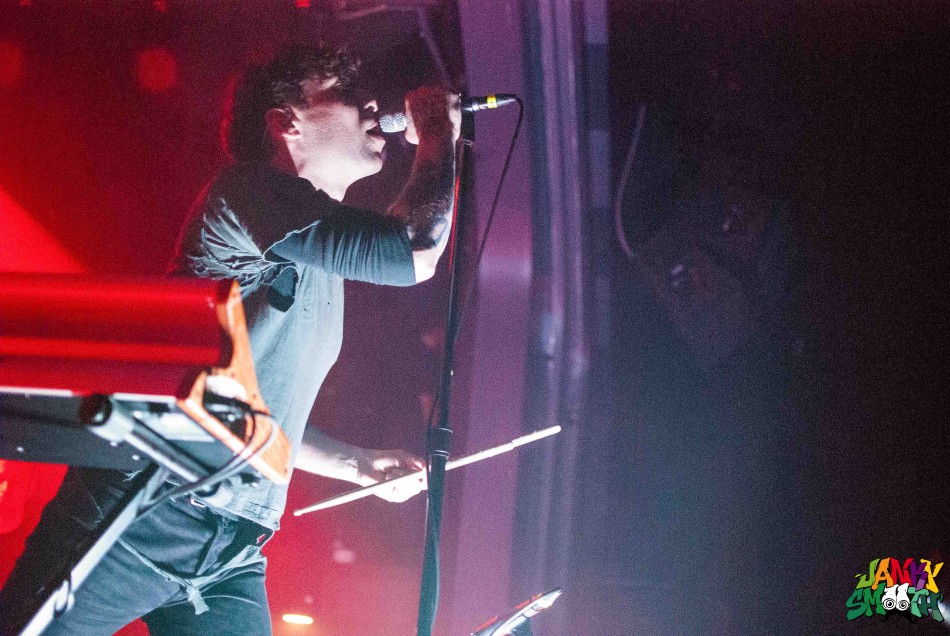 related: Friday The 13th with The Soft Moon and Boy Harsher at Teragram Ballroom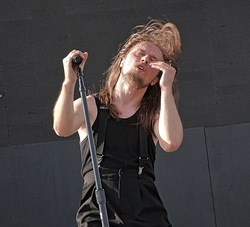 My biggest blunder of the day came when I chose to try and relive Thursday night's Mochat Doma gig instead of seeing Gang of Four for the first time and what could've been my last time. And while Molchat Doma delivered handily once again, it kicked in the invasive thots of lost love from just 2 days before. Still, there was some inspiration to be found at seeing the massive ground swell below the feet of such a unique and singular act. The only question that remains about Molchat Doma is when will they release their first album in English to pander to the markets? (I hope never).
I left the main stage in a bit of a brooding daze trying to decide between ABC and Gary Numan. We walked into Club Doom for the first time that day to catch the vibes of the most dedicated goths, all gassed up on drugs and EBM. I intended my visit to the round the clock club within the festival to be short but I started dancing and decided I didn't want to make any decisions and remained on the dance floor for almost the entirety of Gary Numan's set. It was just the reset I needed for the day and left Club Doom filled with pheromones and ready to once again shine my light on the world.
I walked over to the Outsiders main stage once again to vibe with Echo and the Bunnymen. I was torn between watching all of Echo's set and splitting it with Boy Harsher- an all time favorite vs. one of my more beloved staples of sound the last 5 years. I hung out for about 5 songs but my proximity to the stage wasn't optimal and for some reason, Echo and the Bunnymen were the only act on the main stage that opted not to have cameras on them so we couldn't see them on the big screens. I was waiting for them to play all the songs I wanted to hear and in particular, "The Killing Moon" but I wasn't able to connect to the performance and left after "Lips Like Sugar".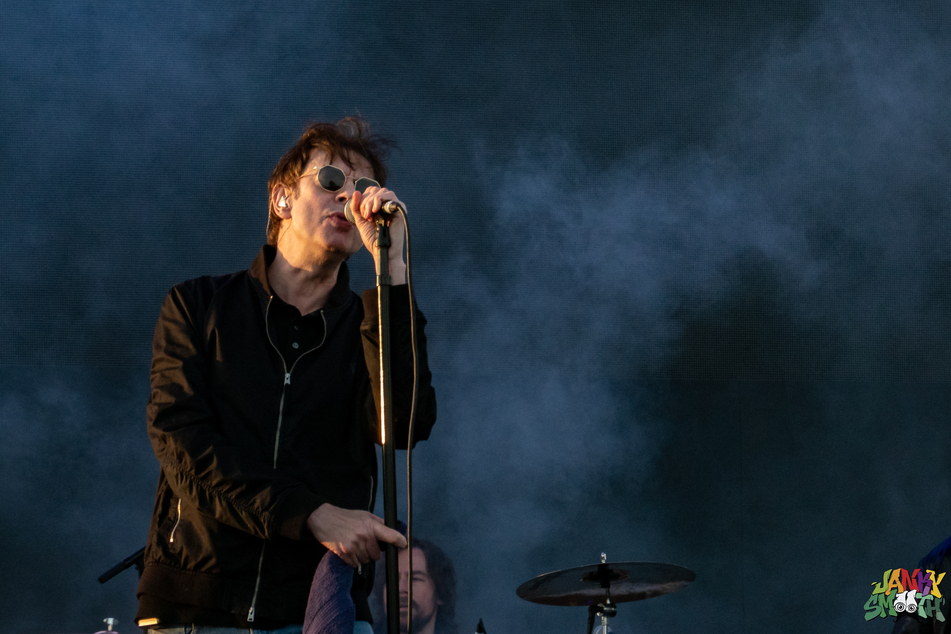 related: Echo and the Bunnymen Mesmerize Suburbia at The Observatory
By the time Boy Harsher were done with their set there was no doubt I made the right decision. I was, once again, completely hypnotized by the tones of dissociated madness in the vocals of Jae Matthews and the rhythm and arrangements of Augustus Muller. Some bonus adjectives I could use are sensual, tortured and energetic. There were A LOT of songs I wanted to hear from the band that I didn't but it didn't matter one bit to how much I was able to let go and transcend my body. Boy Harsher are the pinnacle of modern Dark Wave music and their performances always deliver the perfect shade of a sexy blackened eyes, delivered with total consent and control. The highlight of the set for me was the song "Fate" off their second album released in 2019, Careful.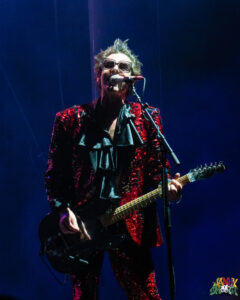 I was then immediately faced with another big decision I had been considering since the schedule was first released a week before the festival- Billy Idol or Love and Rockets? I quickly decided on Love and Rockets until I was passing the Sad Girl stage and the guitar lick from "Dancing with Myself" started blaring all across the land. I found myself elated and regressing to a simpler time of childlike wonder in an instant. Guitarist Steve Stevens is a fucking god and Billy's voice sounded perfect. I was spellbound to the point that I had no choice than to let this song playout. I was now faced with a dilemma- do I try to hold onto this feeling or catch another one at Love and Rockets? I would let the next song in the setlist decide. When Billy and the band broke out into "Cradle of Love" next, I took it as a sign from all the gods that it was time to go see Love and Rockets. Many I talked to after the festival shamed that decision as a mistake, saying Billy Idol delivered their favorite set of the day but by the time Love and Rockets were done, it felt like there were no mistakes.
There are those that consider Love and Rockets a bookend to the Bauhuas legacy. But comparison is the thief of joy and almost any band one might compare to Bauhaus would stumble in their footsteps. Much like Tones on Tail, what Daniel Ash, Kevin Haskins and David J created with this band is totally unique to that legacy. It's own, living and breathing body of work created by some of the same geniuses. On that Saturday evening just as the sun was setting, Love and Rockets delivered a pristine performance. The sound and mix and on screen visuals at The Outsiders stage were other worldly. The tears came without an effort to fight them back as Love and Rockets reminded me that nothing we are going through is unique to our individual human experiences with a stunning and powerful performance of "No New Tale to Tell". If the catharsis provided by Love and Rockets was any indication of my vulnerability to experience and feel on this evening, I began to anticipate the wave of emotions I would tap into when one of my favorite artists' legacy of work was unleashed on Cruel World in no more than an hour and 15 minutes from now- Siouxsie Sioux.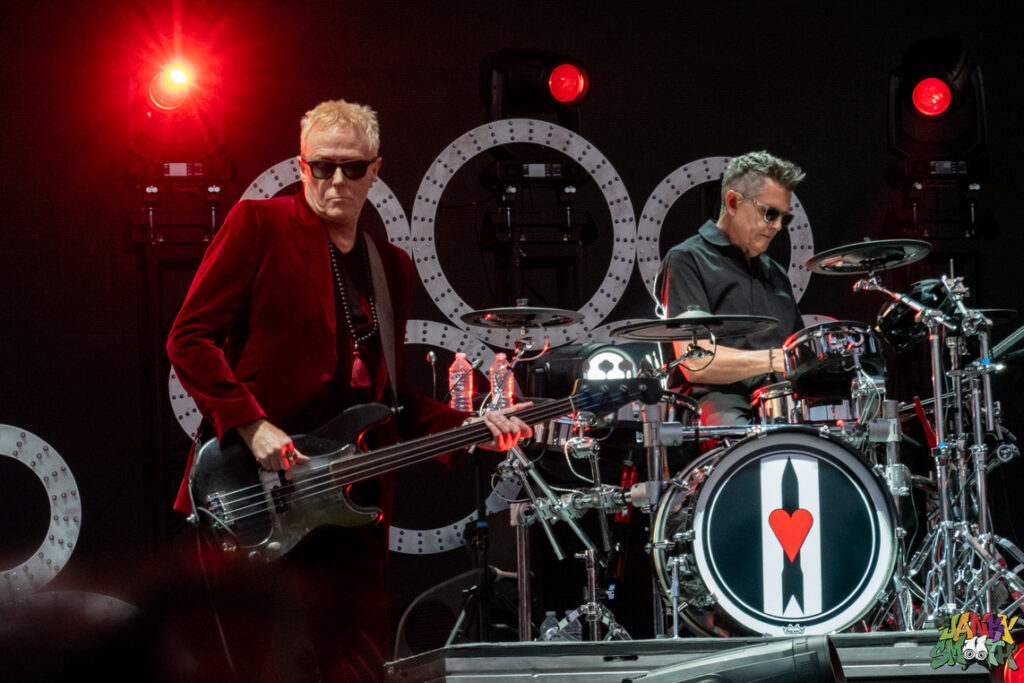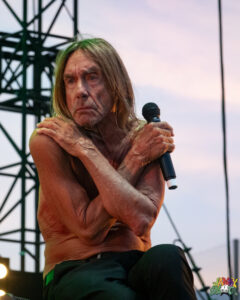 To me the decision to see Iggy Pop over The Human League seemed like an easy one to make. Even though I had never seen The Human League before and I had seen Iggy Pop 5 times in the last 5 years, the last performance I saw of Iggy and The Losers at The Regent Theater this month was so mind blowingly amazing and full of energy that I wanted to experience it again. In fact, every single Iggy Pop show I had seen in recent years had been that. It's incredible the amount of energy that man still possesses and how he delivers and inserts his Rock and Cock with such mutual satisfaction for both his audience and himself. But the Iggy Pop performance at Cruel World was NOT that. The euphoria and rawness from Iggy and the Losers was still so fresh in my mind that the lack of the edge and Losers made the arrangements that were complete with an entire section of horns fall flat with the lack of raw power I had become spoiled by. I'm not saying it was bad, far from it. It just felt like more was less and the performance gave off a satirical feeling and a vision of what it might sound and look like if Iggy ever decided to have a Vegas residency era. This was most evident when Iggy brought on stage who we later found out was Josh Homme's son to do a little dance with him during the Passenger. I"m not sure why I found that moment to be so cringe but it was then that I decided to eat some mushrooms to time my peak with Siouxsie's performance and go check out a bit of The Human League.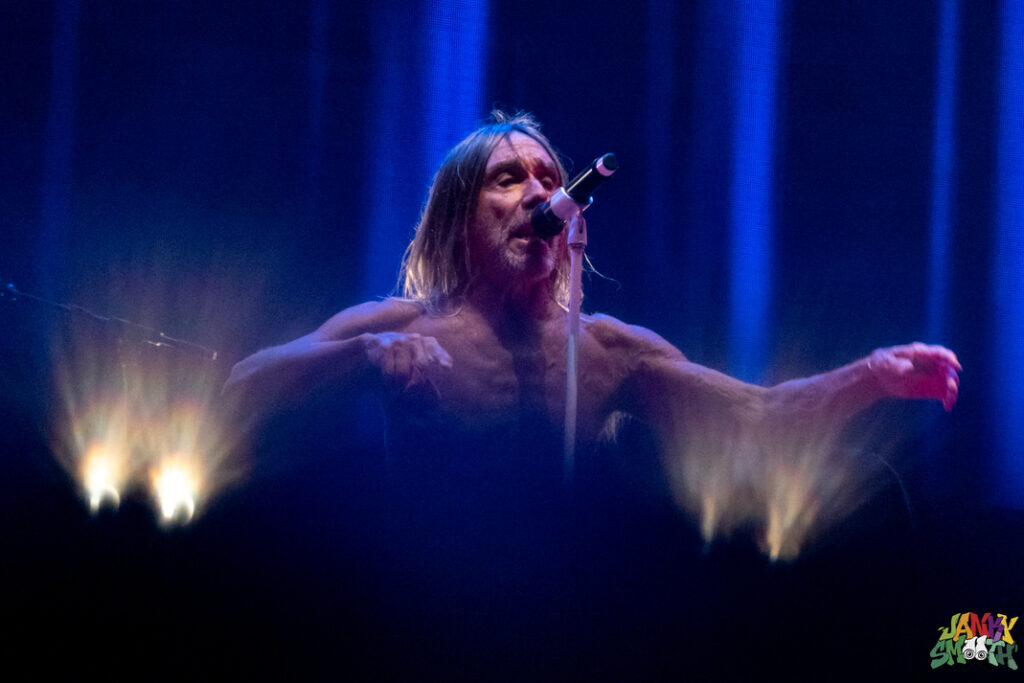 related: Burger Boogaloo 2017- The Ballad of John and Iggy
I didn't get more than a few steps from my friends when the sound cut out for a second time during the set and a message flashed across the screens advising us that it was time to evacuate immediately due to lighting and inclement weather warnings.
There wasn't a lot of hootin' and hollerin'. In fact, the quiet that came over the crowd aside from some distant vocal discontent was surreal and disconcerting. People just stood around dazed for quite some time pondering quietly amongst themselves and coming to grips with the fact that there would be no Siouxsie sound or sighting that night. It was then that the mushrooms started to hit me and then that was followed by everything else hitting me at once. I peaked in the car in stand still, bumper to bumper traffic, inching across the residential streets of Pasadena with not enough reception on my phone to even be able to stream and vibe with some music. Just angst, blackness and regret and a complete, holistically negative view on my perception of my experience at this festival and indeed, my entire life! I felt complete emptiness lolz.
The rest of that night was filled with excruciating existential angst, clearly not just about the festival but the fact that aside from me, my bed was empty that night. Everything was doomed. Once I came back from my trip I was able to fade into a few hours of the sweet escape of sleep.
Cruel World 2023- Day 2
I woke up with a completely new perspective. Cleansed of the sadness and regret I was overwhelmed with only hours before, I looked at my phone to see a string of texts from multiple friends giving me the good news that Goldenvoice put on their big boy pants to announce a 2nd day of the festival would take place and that Gary Numan, Iggy Pop and Siouxsie Sioux would deliver extended performances with doors opening at 5 pm that evening.
Suddenly, I was happy to be alive again. My default state and lust for life was renewed. I took my time making preparations for the evening. I didn't even care that getting into the parking lot or back through the security to enter the festival grounds was as chaotic as one would expect in this situation. We pulled some janky moves and skipped most of the line but still missed the entirety of Gary Numan's set, once again. I had seen him a couple times the last few years and nothing could get me down knowing that we would soon pay homage to the Queen.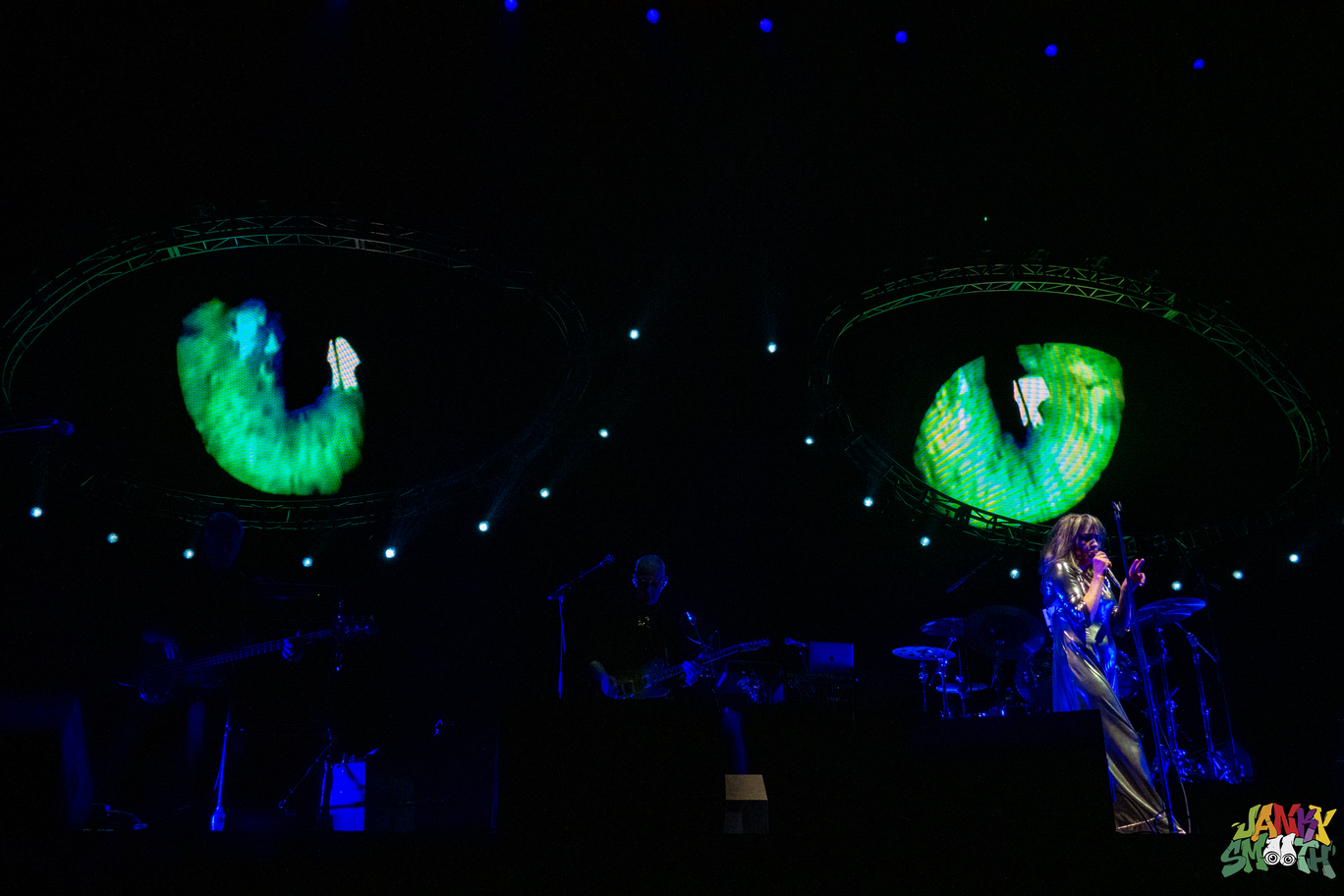 Iggy delivered and completed his performance, this time while I was buzzing about Siouxsie with my friends in VIP. Was I building up this performance too much? Was I setting myself up for more disappointment? I would soon find out. I once again ate my mushrooms and timed it to hit perfectly for the ascension of Siouxsie Sioux and the death of ego.
We left VIP and burrowed into the crowd to get as close as possible to the stage. The crowd size was massive and ultimately it was too thicc and packed in tightly to push any farther in that moment without getting into a fight about it.
The lights on the stage went dark. The collective focus was completely immersed in the moment and the mushrooms were beginning to kick in. The few minutes it took for Siouxsie to take the stage felt like an eternity. It seemed impossible that the reality would live up to the expectation but something in me KNEW I was about to witness something special.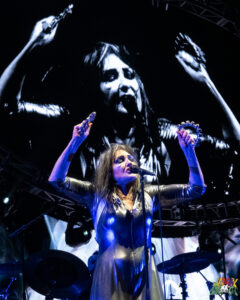 The Queen came out graciously and with confident humility, conscious to address the events of the last 24 hours with hardly a mention of her absence for the last 15 years. Shrieks let out all across the valley this golf course was nestled in. We were putty in her hands. Siouxsie and her tremendous band struck the first notes of "Night Shift" and down the rabbit hole we went. I remember everything and yet, so many details elude me. I wasn't scrawling notes as I usually might when I'm on assignment. My only assignment on this night was to be completely in the moment and when the first notes of "Arabian Nights" rang out, the first teardrop of the set dripped from an eye. Vocally, the night started strong and in total control. When Siouxsie and company transitioned from "Here Comes That Day" to "Kiss Them For Me", all in attendance emitted varied frequencies from their mouth holes and we turned into an undulating wave of human emotion. "Dear Prudence" hit me right in the feels.
"The Wind is low, the birds will sing, that you are part of everything. Dear Prudence- won't you open up your eyes?" – Dear Prudence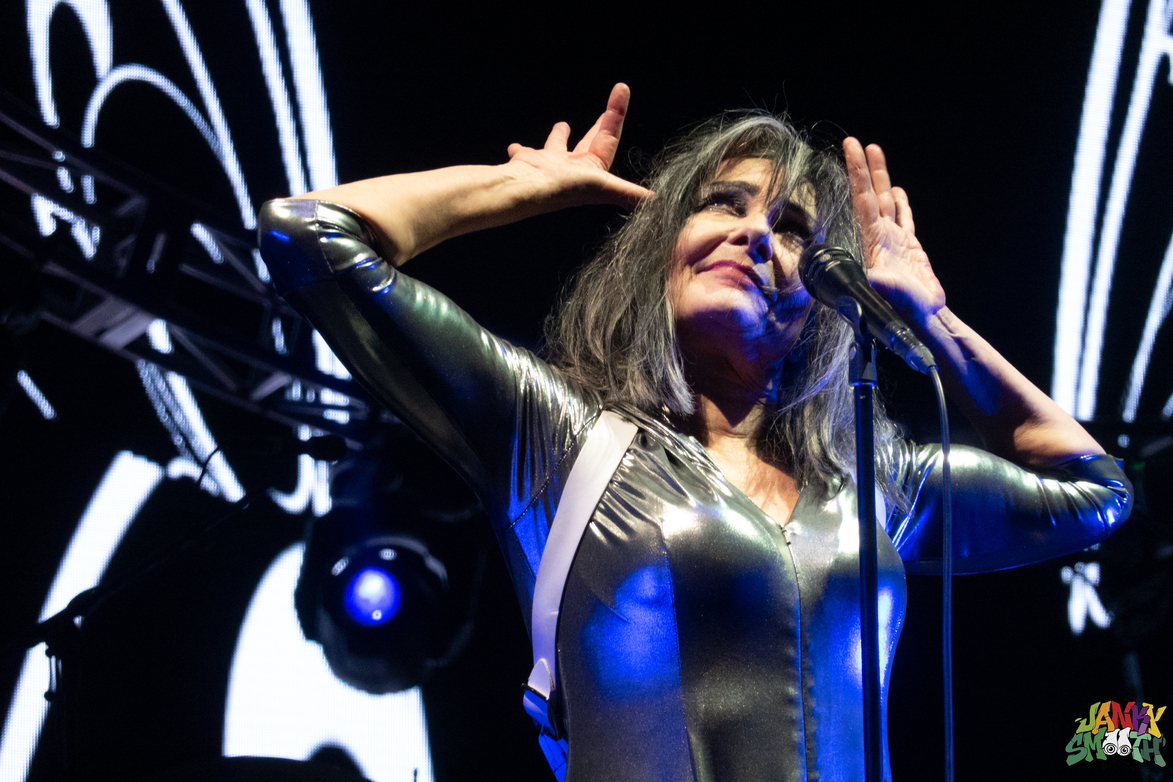 Far from one of my favorite Siouxsie and the Banshees or Beatles songs, the lyrics and the way they were performed pandered to coax the uncharacteristic pessimism of the last few days to escape through the liquid pouring from eyes. At this point, I had already achieved the pinnacle of everything I love about going to shows and we were only 5 songs deep into a 17 song set list.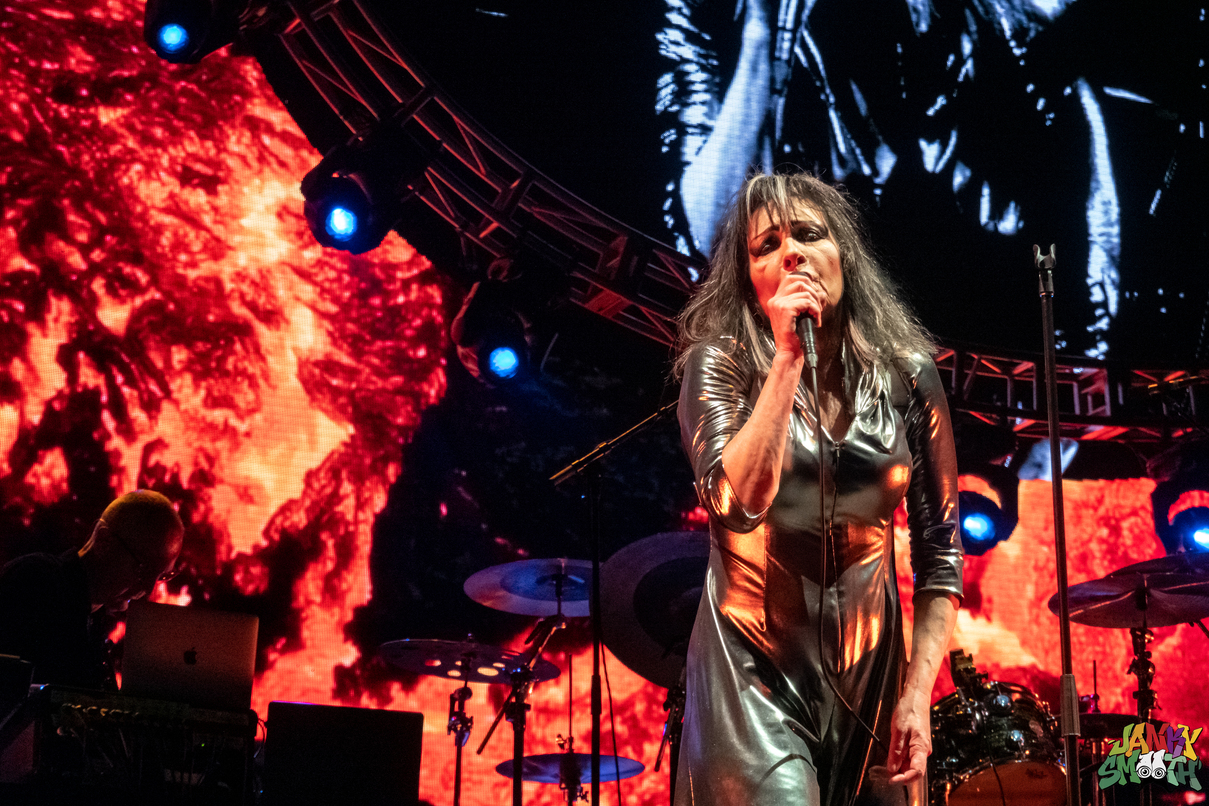 Siouxsie was a trooper. At many points in the night she was clearly clutching her lower back and attempting to hide her grimaces of pain, yet she continued on with a dramatic flare and the movements that made this performance so dynamic. The physics of singing make it difficult to do so with intense back pain and there were moments of imperfection but they were negligible. Yet still, her arms continued to wave as if she were casting some incantation on the audience. When the first loop to "Cities In Dust" started playing it seemed clear that it was one of the most eagerly awaited moments of the night and maybe the entire weekend. I was anticipating 2 moments, one that I knew would come and one I was sure wouldn't. "Happy House" was a foregone conclusion. It was the first Siouxsie and the Banshees song I ever fell in love with and it was perfect. That was comforting since she struggled a bit with the song before it, "Christine". Siouxsie was almost out of gas. She closed the pre-encore of the set with "Into a Swan" from her solo material and opened the first encore with "About to Happen", also from that same body of work. "Spellbound" closed the first encore- a Siouxsie set wouldn't be complete without it, even if her tank was on empty. But like a prize fighter in the championship rounds, Siouxsie summoned all she had in her for the last number. The one song I wanted to hear and almost knew fersure I wouldn't. And yet it happened. For the first time in over a decade, Siouxsie sang "Israel". It was like someone took a gas can and gave her just enough fuel to sing that song like it was the first one in the set. Every section was perfect and in particular, the instrumental bridge that led to the climax of the weekend.
"There's a man who's looking in and he smiles a toothless grin because he's singing, singing" – Israel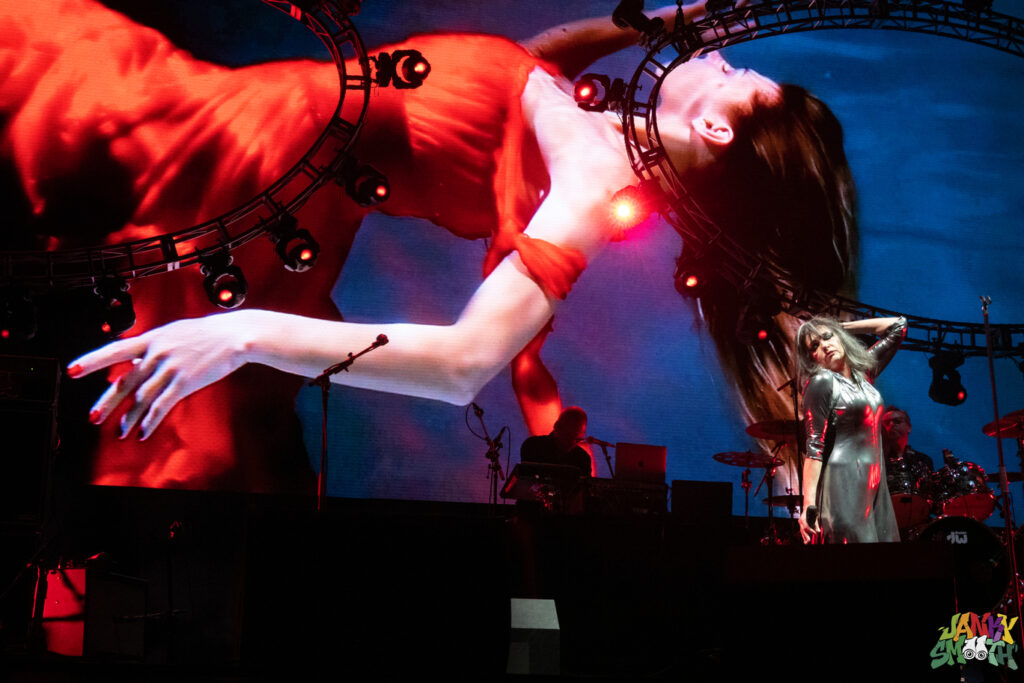 The last time I saw Siouxsie was with the Banshees in 2002 at the Grove in Anaheim. 21 years is a long time but not when you're a goddess with a band that made my worries of the absence of the Banshees all but disappear. With all the lip synching that occurred at Cruel World from some acts over the weekend, the slight imperfections in Siouxsie's performance on Sunday were welcome. It was a night I'll remember for the rest of my life.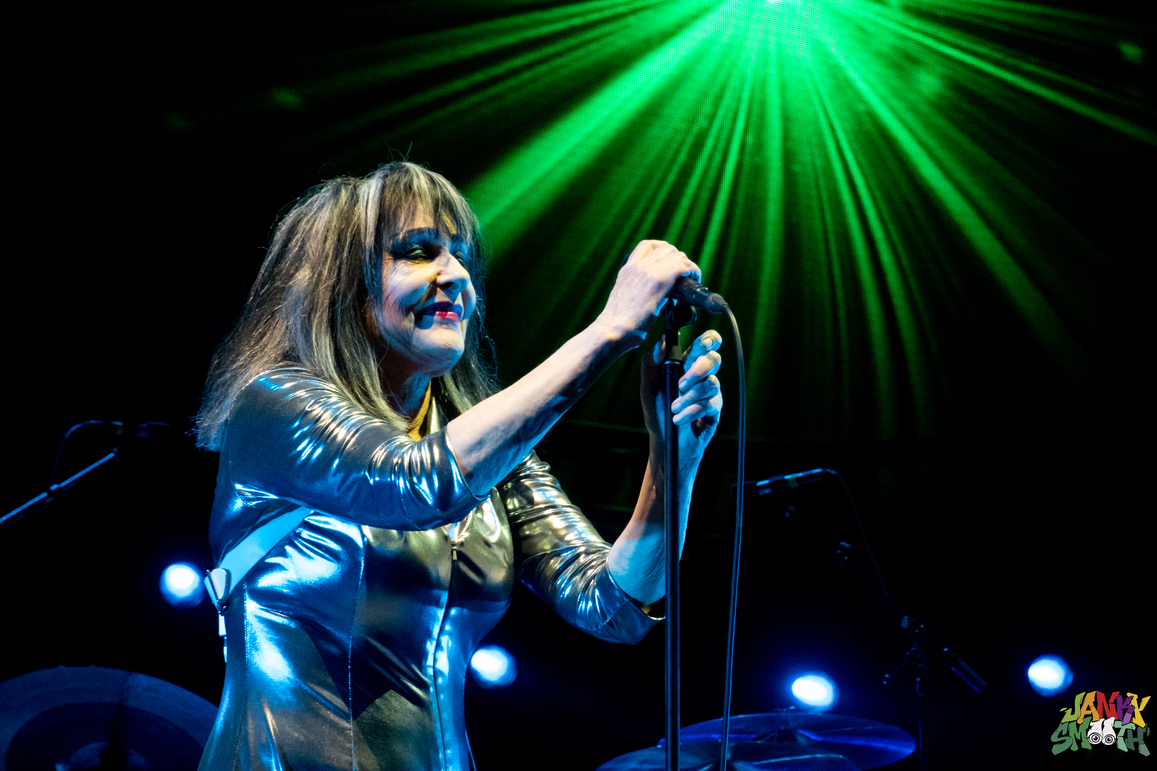 I hesitate heaping too much praise on corporate media juggernauts. There are so many ways that Goldenvoice and Live Nation have squeezed music fans since they moved into venue ownership and monopolized and consolidated the art of live performance in music the last 10 years. But I have to say, Goldenvoice really stepped up to the plate this past weekend with their actions to make things right with fans at Cruel World. While I'm positive it was a financial decision for the brand and not some benevolent action by a benefactor, that doesn't change the fact that because of those actions, they saved the Cruel World festival to live to fight another year. They just as easily could've rebranded the fest and the rest would've followed but they clearly understood what they have here in this festival, as do the 1000's of attendees that mark their calendar for it every year. I can't wait to see the lineup for Cruel World 2024. See you all next year!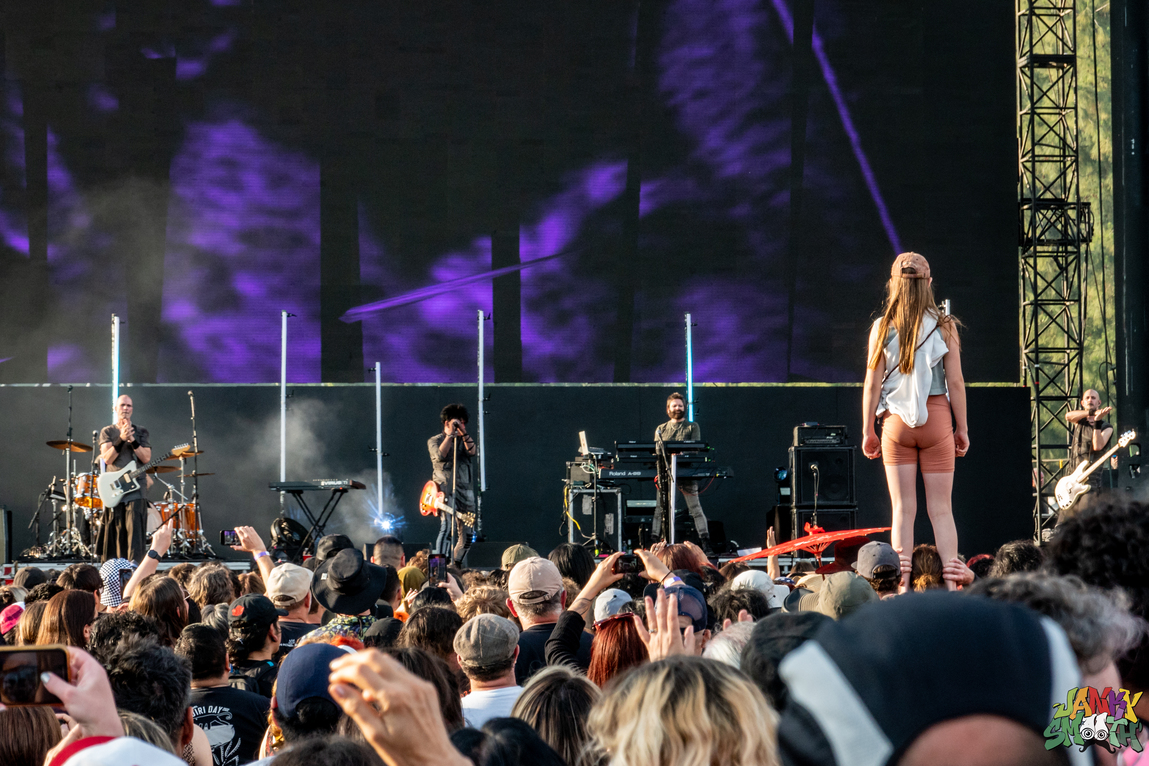 Words: Danny Baraz
Photos: Albert Licano (unless otherwise noted)