How This Coverage of Adam Ant Made ME King of the Wild Frontier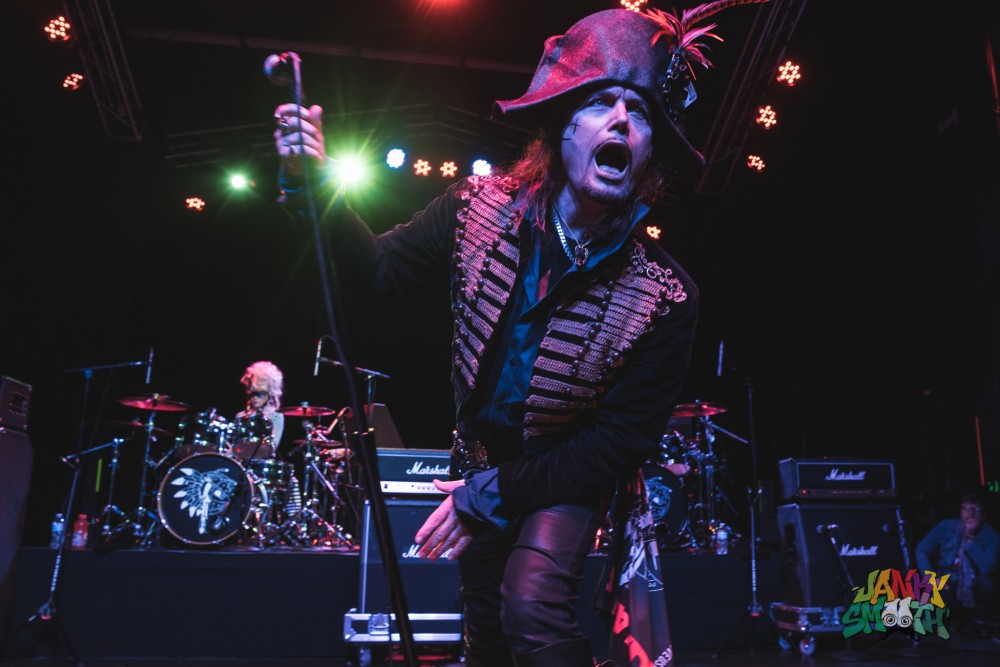 Ever since I moved to Hollywood, getting me to go to a show anywhere outside of the city takes a real effort. The other night, I not only left Hollywood, but left during the worst storm of the year. What crazy artist got me to drive all the way to The Observatory in Santa Ana? Mother Fuckin' Adam Ant, that's who.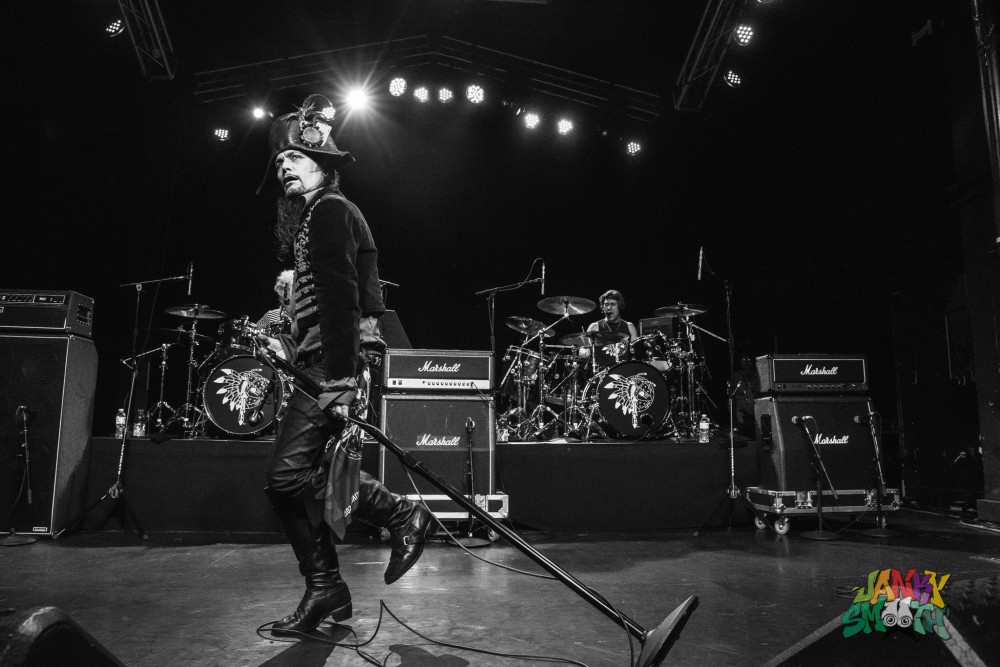 The Trip
Adam Ant had played the Fonda Theater the previous week. Unfortunately, due to a late request and strict press approval regulations, I was unable to attend that show. What should have been an easy walk down my street to the Fonda, turned into a Harold and Kumar-style adventure through the street-rivers of Long Beach (to pick up a pre paid purchase of Girl Scout Cookies) to Santa Ana.
The drive from Hollywood to the OC Observatory took me a total of about 2 and a half hours (including my cookie stop). As I watched cars hydroplane down the freeway in choreographed disaster, I kept reminding myself: "It's fucking Adam Ant, and all the reviews of his other shows have been phenomenal." Although the show was spectacular, I am still debating if any concert is ever worth dying for in a terrible storm.
The Show
Once I finally arrived at The Observatory, I realized I was an hour early, which has never really bothered me. I'd much rather be way early for the show than way late. So, I got stoned and ate Girl Scout Cookies till about 20 minutes before the doors opened. I made my way into the rain, camera wrapped in a grocery bag and hoodie under my leather jacket. As I start walking from the parking lot to The Observatory, I realized the road was getting more and more flooded, and that only idiots like me wear Vans in the goddamn rain. I finally reached the sidewalk across from the venue and encountered my greatest obstacle: the street separating me from The Observatory. It was filled with a half a foot of water. Let me just say that my feet were swimming the duration of the show.
Once in the venue, Adam Ant's extremely hospitable publicist, Lee, greeted me at the entrance of the venue. Then, she walked me and another photographer into the theater early and started showing us around the space. I didn't want to be an asshole and tell her that I knew the venue well and really didn't need a tour, a decision I almost reconsidered after she walked me directly down into the pit.
I wandered through The Observatory with my all-access wristband, trying to kill time before the opening band, Glam Skanks, took the stage. The Observatory is notorious for having a show simultaneously going on in their smaller room called "The Constellation Room." So, I wandered in and found myself in the middle of some crust punk show. The mixture of Adam Ant fans and crust punk kids was quite entertaining. I think I even saw a few Nazi skins wandering through the crowd.
A Sort-Of Bar Band…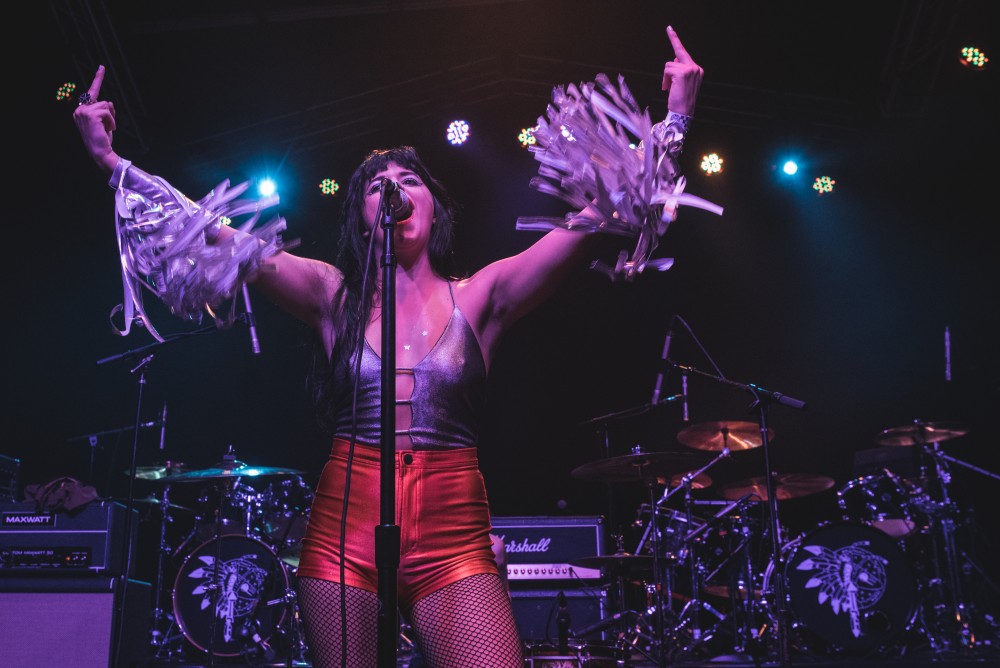 Then the Glam Skanks began their set. This all-female, LA band was hand-picked by Adam Ant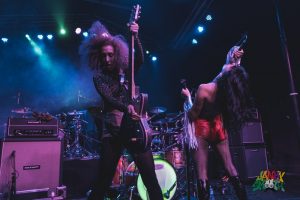 himself to open his SoCal tour dates. They have jammed with Johnny Depp, played with Joe Perry of Aerosmith, and opened for Alice Cooper. Those are quite impressive credits, but after seeing them for myself, I was a little let down.
Don't get me wrong: they play well and looked good. Vocalist Ali Cat sounded great. What bugged me about them was the lyrical content of their songs. For example, some of the songs they played were "Tube Tops"and "Glitter City." The lyrics were simply unimpressive, and the whole band seemed kind of gimmicky. In other words, they seemed like a great bar cover band.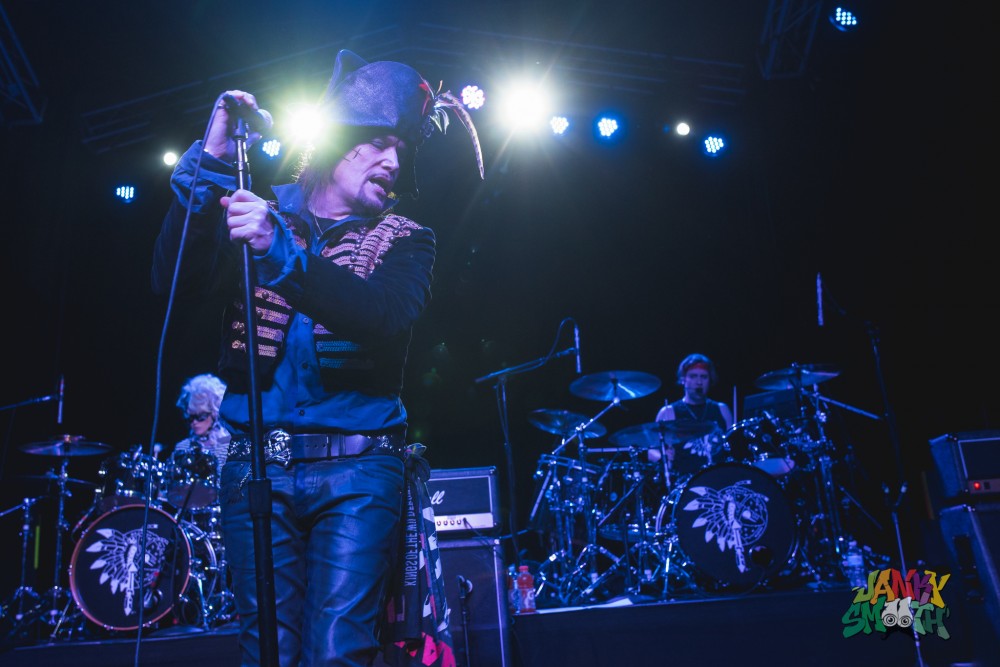 Mr. Ant
Aside from the shitty weather and mediocre opening band, Adam Ant was fucking fantastic. Very rarely do I see an artist and A) know every song they play and B) love every song they play. This is his Kings of The Wild Frontier tour. That album was released November 3, 1980 by CBS Records and reached No. 1 in the UK album chart.
Kings of the Wild Frontier
As you might've guessed by now, Adam Ant played Kings of The Wild Frontier in its entirety, starting off with my favorite songs "Dog eat Dog" and "Ant Music." Following "Ant Music," he played "Feed Me to the Lions," a song Adam Ant has never played live until this tour. Mr. Ant finished the album without saying a single word. As soon as the last notes of the album rang through the air, Adam approached the mic and simply stated "…and that was Kings of The Wild Frontier." He continued the show with 11 more songs: 11 MORE FUCKING SONGS!
More Ant Music
The first song of the second set was my all-time favorite Adam Ant song "Beat My Guest." That song just has such an early punk vibe to it. Some of the other hits he played were "Stand and Deliver," "Vive Le Rock," "Cartrouble," and "Desperate But Not Serious." At the end of "Desperate But Not Serious," there was an awkward break where the lights dropped and the music stopped for a good, solid minute. I knew there was more to the song, so I found this transition extremely odd. Also, I think I started overthinking it because I was pretty stoned by this point.
Speaking of being stoned, Ant also played "Goody Two Shoes," a song about him being a goody two shoes, meaning he doesn't smoke or drink or anything else for that matter, one of the reasons he stopped playing with The Ants and has adopted the solo name of Adam Ant. As if to ironically comment on Adam's sobriety, someone hurled a beer at the stage during the song.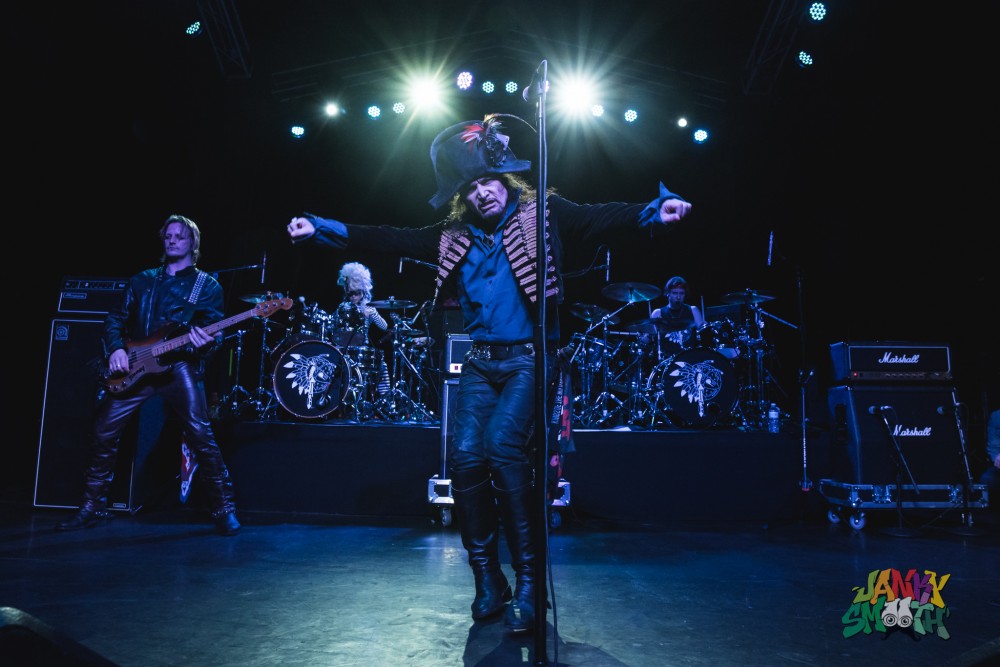 The Encore
Following these 11 songs, Adam Ant came out for his encore. He played "Red Scab," "Get it On" (a T. Rex cover), and "Physical." I must say that I really wasn't all that into his T. Rex cover. He should have probably called it quits when he was on a roll after the 23rd song in his set. However, I was blown away by his tireless energy and all out performance. He was drenched in sweat, and by the time the encore started, he had unbuttoned his shirt. At this point, I realized everyone in the band, including Adam Ant, was wearing tour shirts. I usually give bands a lot of shit for being that tacky, but something just seemed right about Adam Ant wearing his own band shirt- maybe just an issue of generational protocol.
SETLIST:
Kings of the Wild Frontier:
Dog Eat Dog

Ant Music

Feed Me to the Lions

Los Rancheros

Ants Invasion

Killer in the Home

Kings of the Wild Frontier

The Magnificent Five

Don't Be Square (Be There)

Jolly Roger

Making History

The Human Beings
More Ant Music:
Beat My Guest

Christian D'Or

Stand and Deliver

Vive Le Rock

Cartrouble

Desperate But Not Serious

Zerox

Never Trust a Man (With Egg on His Face)

Lady/Fall In

Goody Two Shoes

Prince Charming
ENCORE:
Red Scab

Get It On (T. Rex cover)

Physical (You're So)
Words and Photos: Taylor Wong