Austin Psych Fest 2023: Authenticity in a Far Out Place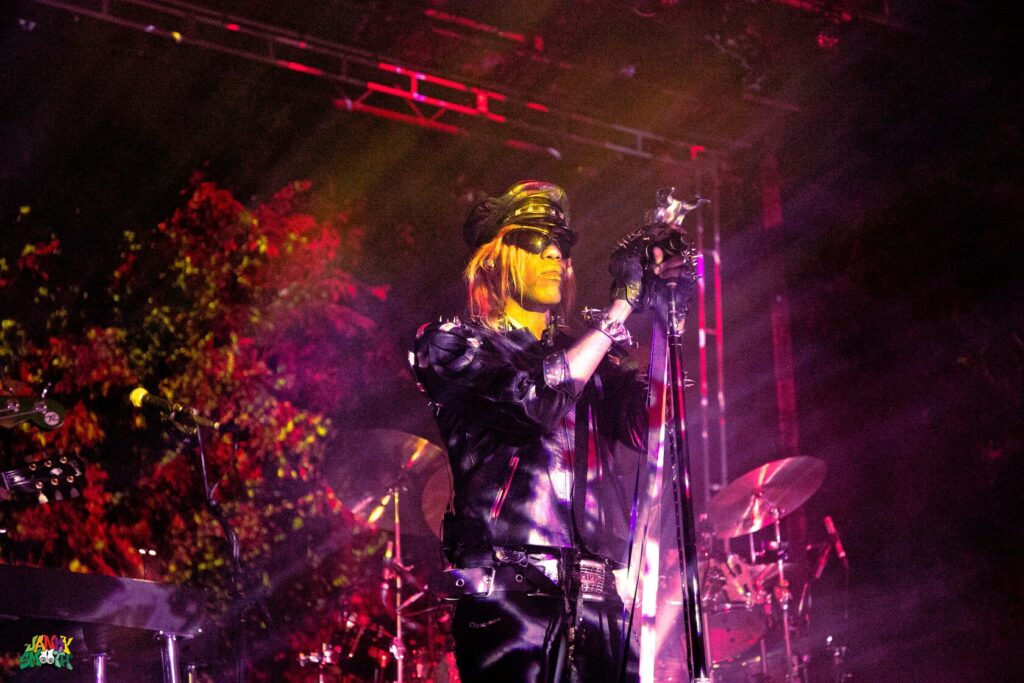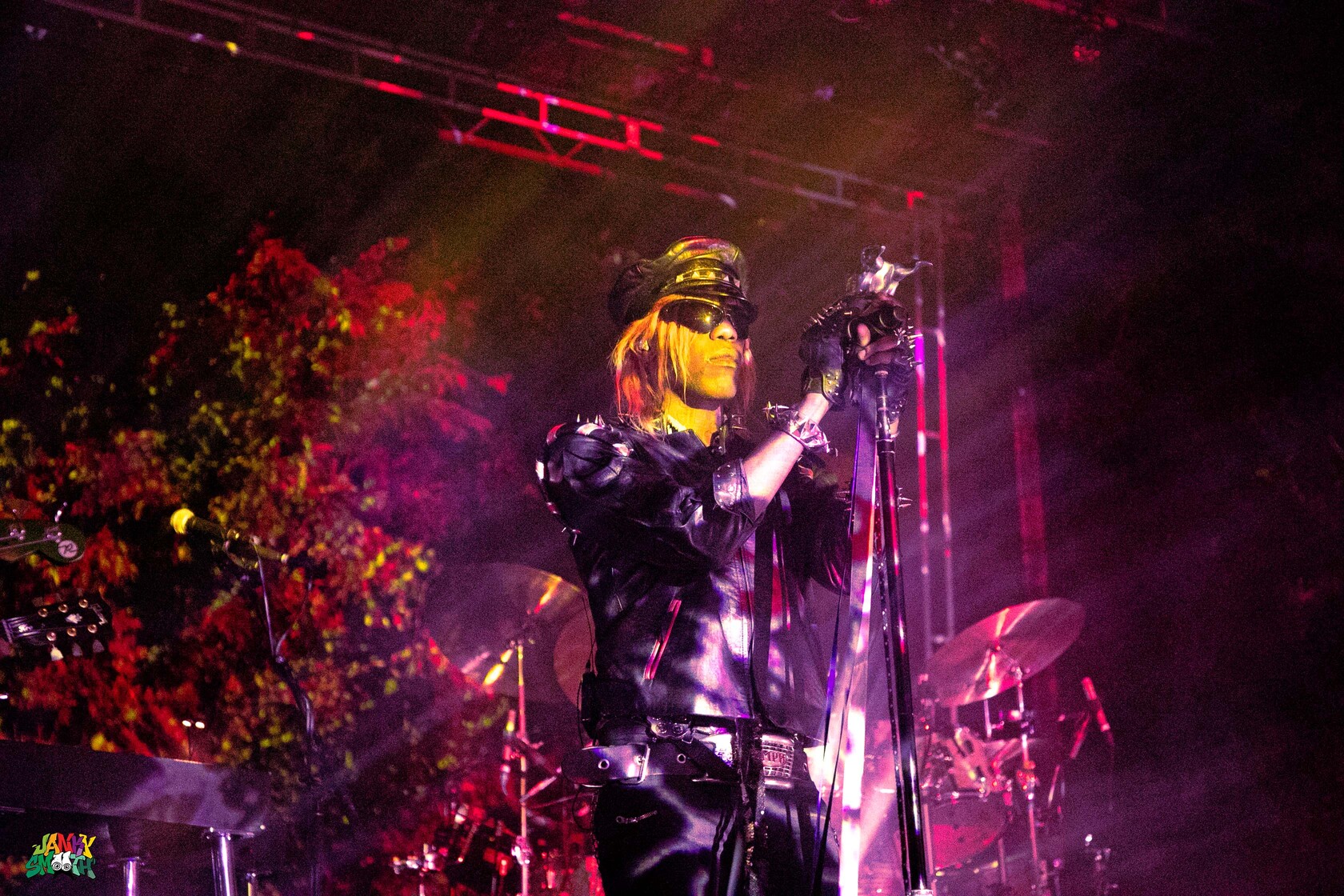 As a Black Angels fan, I followed Levitation (Austin Psych Fest)for years from afar, watching snippets of the festival on social media, because traveling to Austin from Los Angeles is a TREK that's difficult for any overworked and underpaid artist, including myself. Through those glimpses, I recognized Levitation as a home to what I live for: diverse jams and trippy visuals. I could feel that I belonged there, but I had no idea how strong that connection was until the stars aligned and I finally made it out to The Far Out, the venue where the fest was held for the first time this year.
related: My First SXSW- Confessions of a Fanboy Posing as Music Critic
I've been to a fuck ton of gigs and festivals, but this one hit different. The people. All of them. Musicians, Organizers, and Festival Goers alike (groups that generally stay in their respective lanes during live show experiences) all blended into a vibrational tapestry, a collective, sewn together by their love of music. The connectivity and the community made this experience special. I will cherish it forever; "It's All Happening". Grace and I arrive in Austin, Texas: Ground zero for psychedelia, past, present, and future. We're already electrified by what's to come.
related: Desert Daze 2022- 10 Years in the Evolution of a Music Scene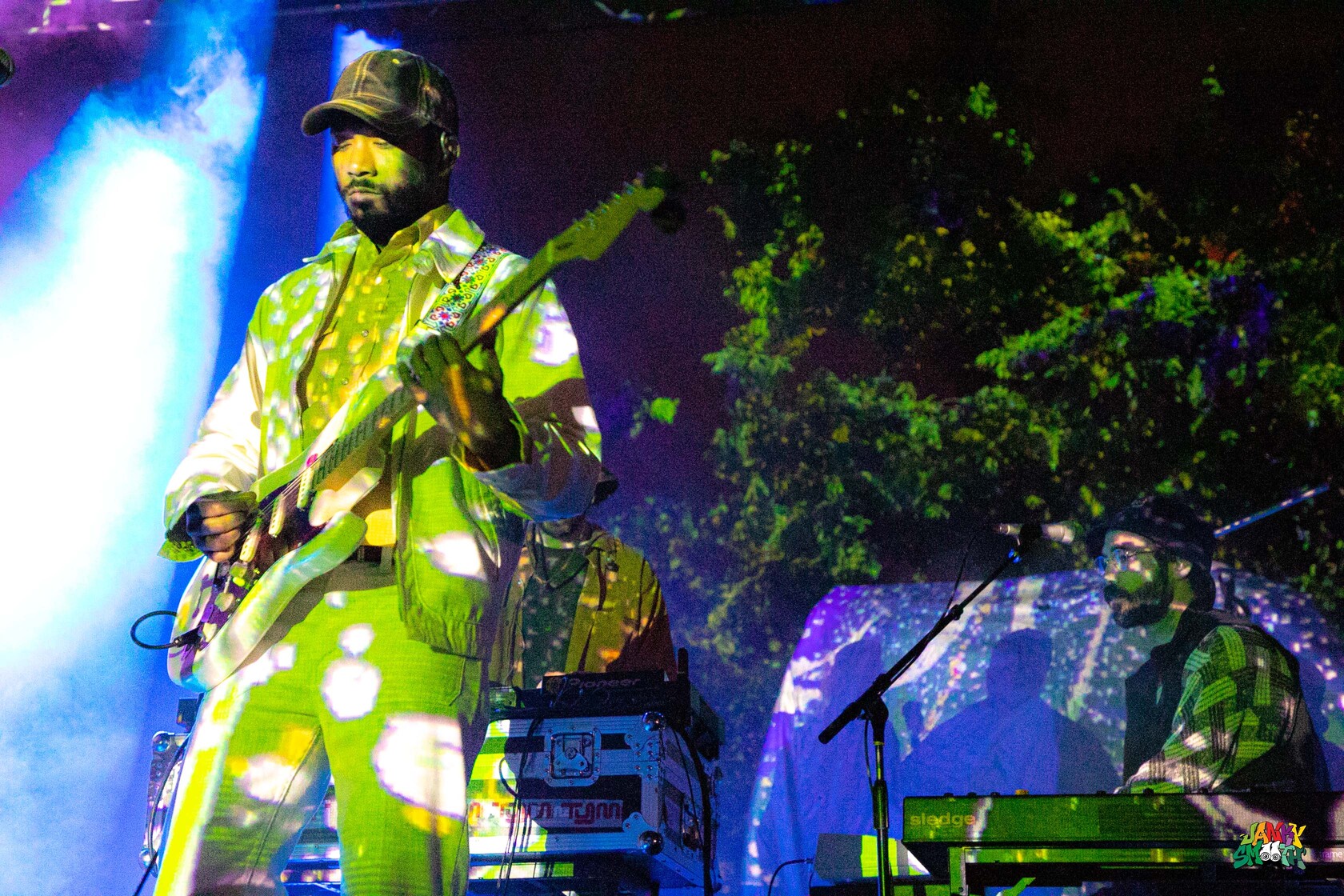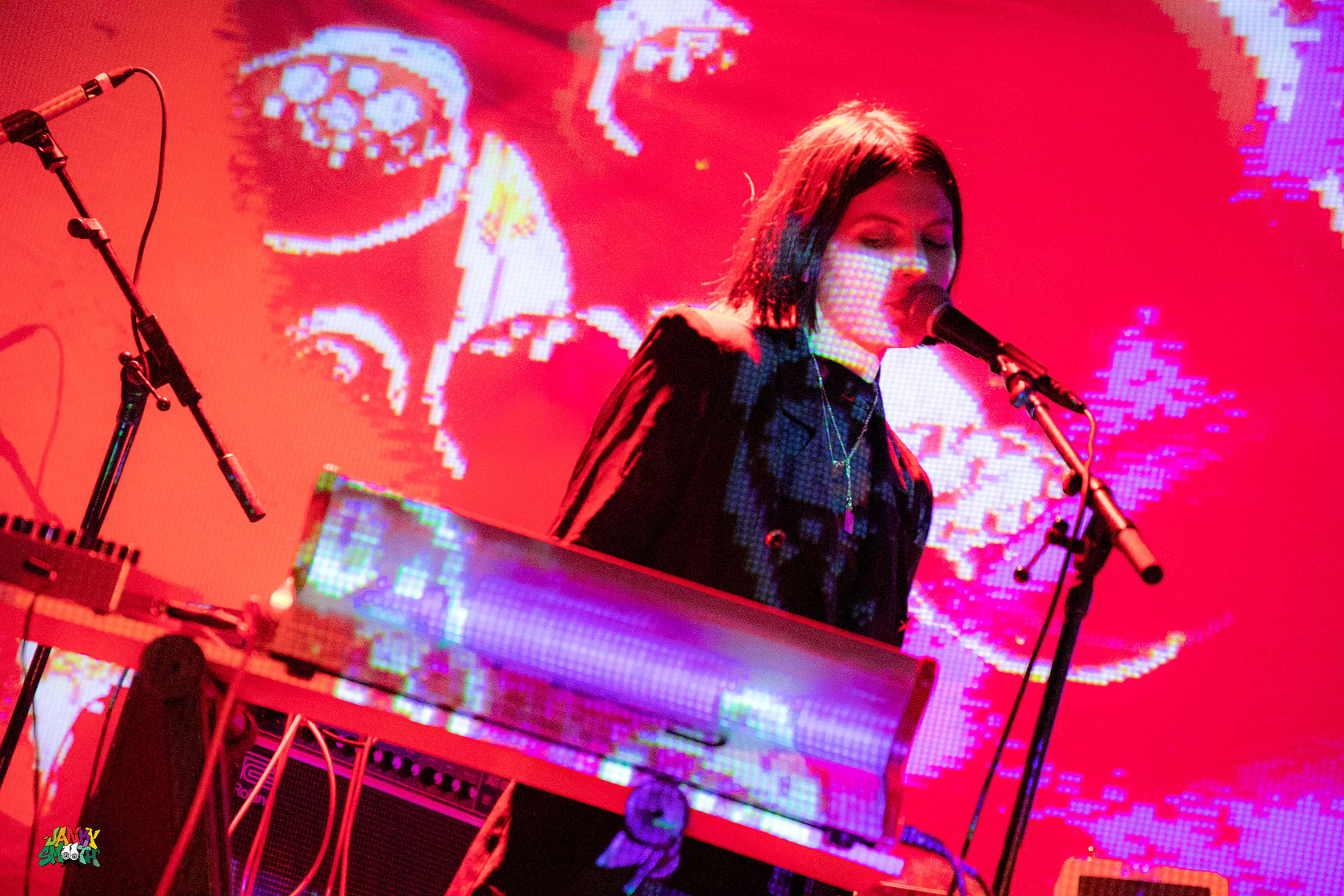 Related: Austin Shines On – Levitation 2022
It's the first day of Austin Psych Fest and my scantily clad fit is sticking to me. The air is muggy. The sun is out. You can see clouds in the distance but it's unclear which way they're headed. The fest opens to Hot Grease DJ setting the vibe. Festival comers trickle into the backyard of The Far Out Lounge after sleeping in late from the pre-show at 13th Floor Elevators tribute band the night before.
The live music commences with Indrajit & Gourisankar playing on the Janis Stage (named after the famous Janis Joplin, an Austin local who heavily influenced the scene). It's an intimate, yellow painted wooden altar adorned with a plethora of plants. The perfect setting for what's to come. Indrajit & Gourisankar taunt us toward them as we're beckoned by burning incense, hypnotic sitars and rhythmic hand drums. The crowds amass and everyone sways to the trance inducing music. We ebb and flow to their synced intricacies.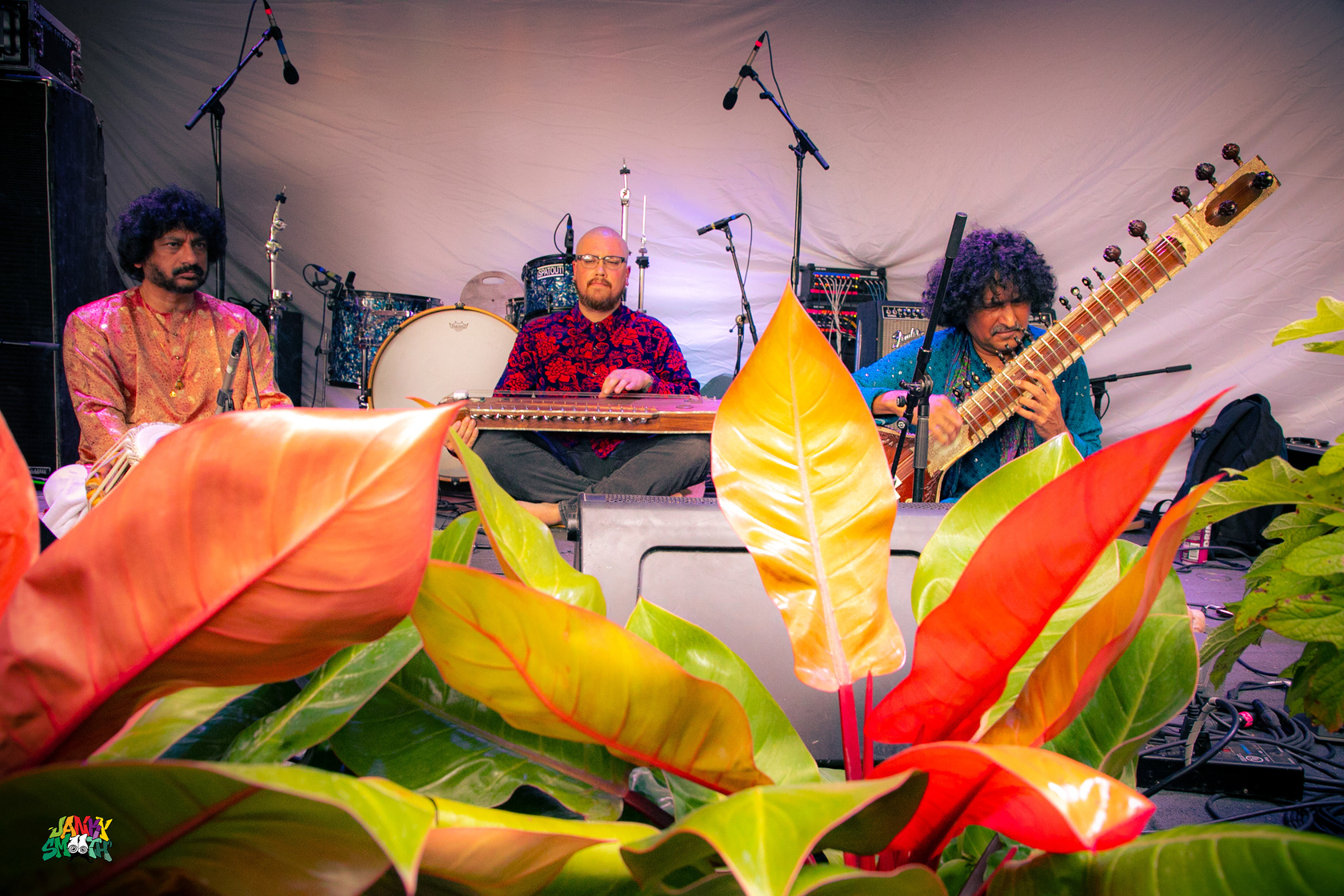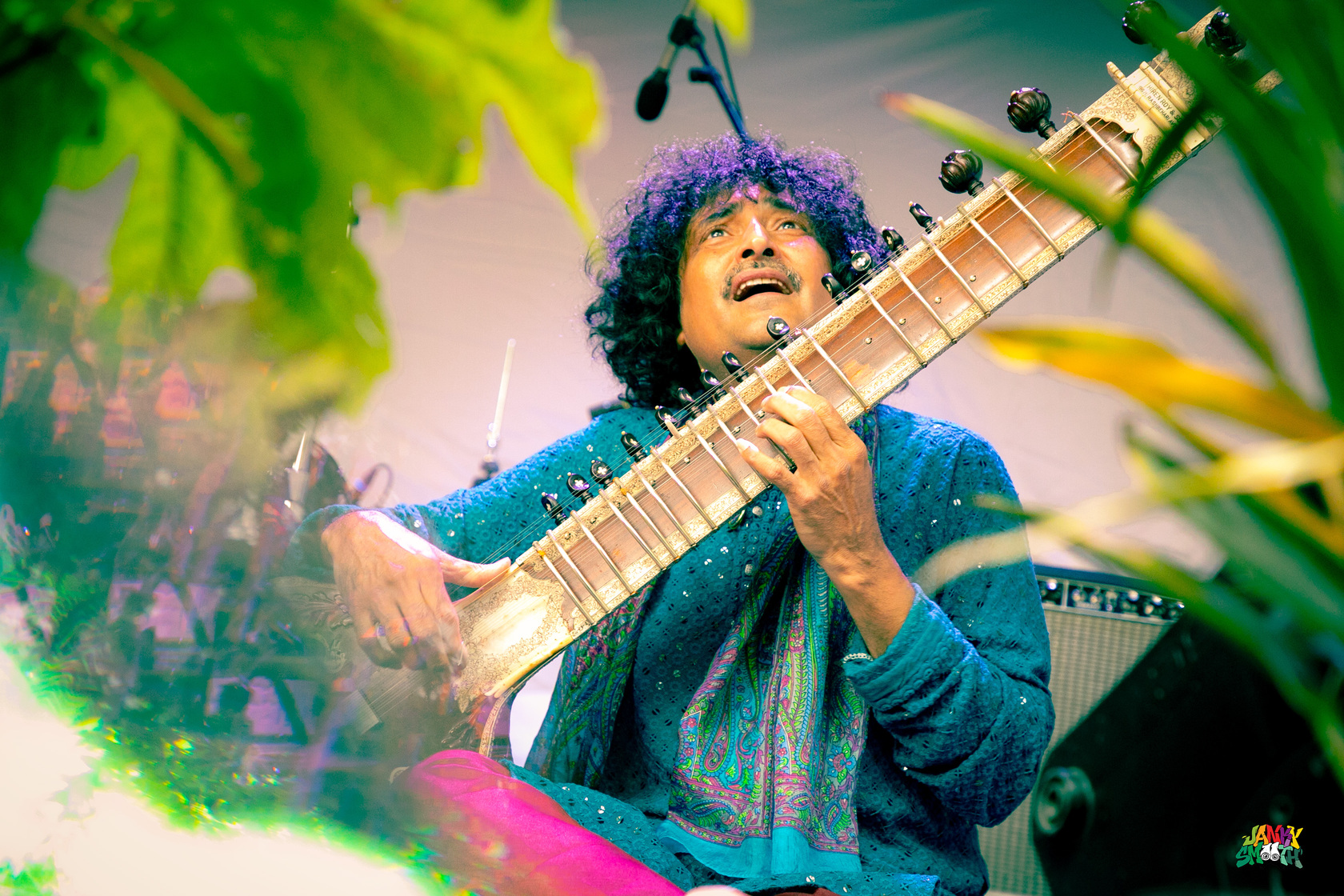 Then BOOM, the heaviest fuzz! Acid Mother Temple starts to play over Indrajit & Gourisankar from the larger, more open Willie Stage to the right (yup, you guessed it, named after the icon himself Willie Nelson, also an Austin local). But Indrajit & Gourisankar won't stop; they continue their trance and harness this opportunity by jamming to Acid Mother Temple's doom for their last song, melding their unique sounds together. The synchronicity of these juxtaposing sounds gave me chills as I witnessed one of the most special live music mashups I've ever heard. The festival is off to a great start.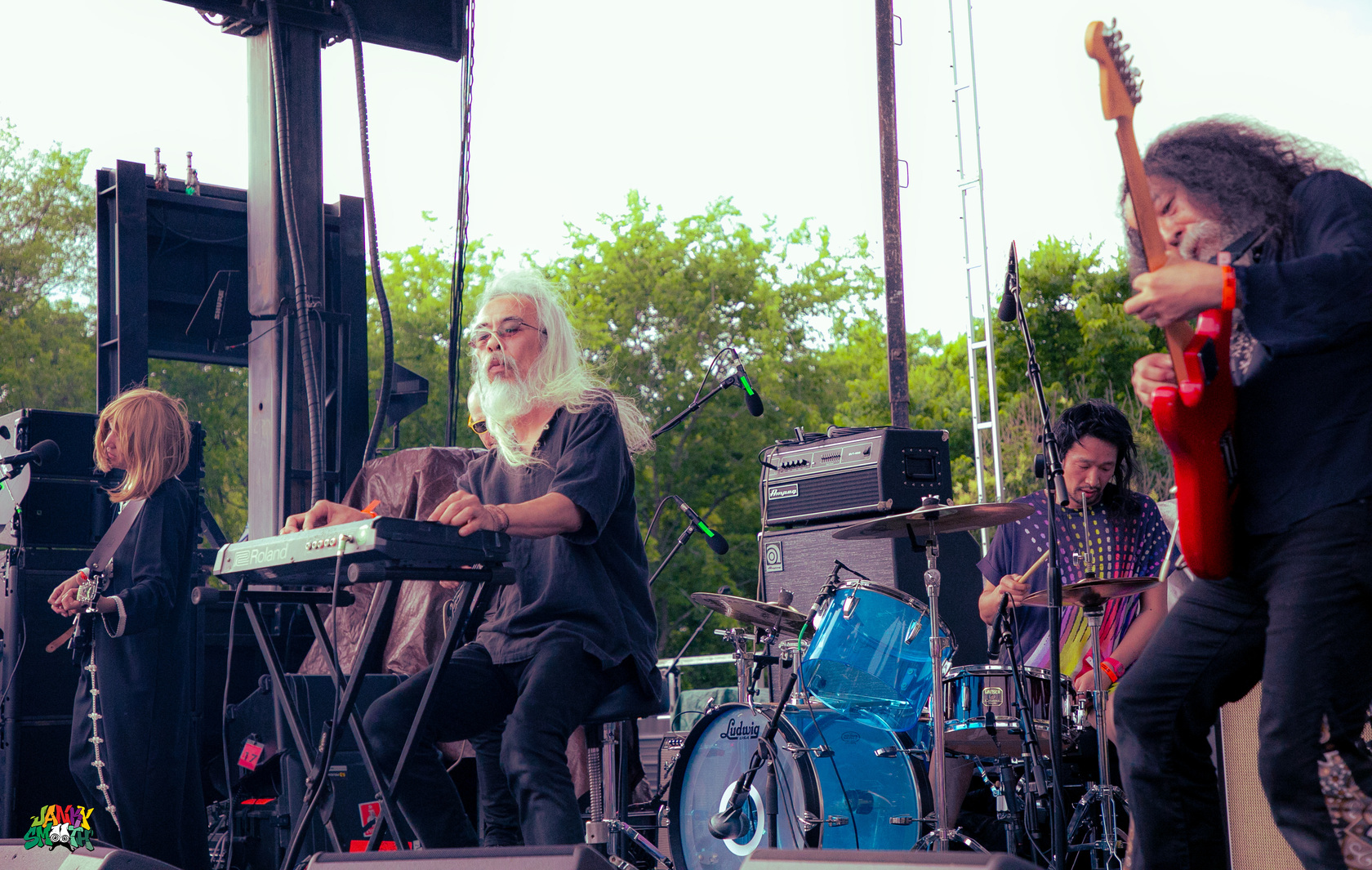 Acid Mother Temple was ear shattering up close in the best way possible. The crowd head banged to what would have been one long continuous jam had their drum-set not needed a quick fix of duct tape after the drummer was going "too hard," as if that's even a thing! Acid Mother Temple are OG at Austin Psych Fest. An absolute must see. But when Acid Mother Temple starts again heavier than ever, bellowing winds blow ferociously behind them. Fast approaching clouds cover the area. Their doom literally summoned the weather; a storm's a comin' to the most badass soundtrack imaginable.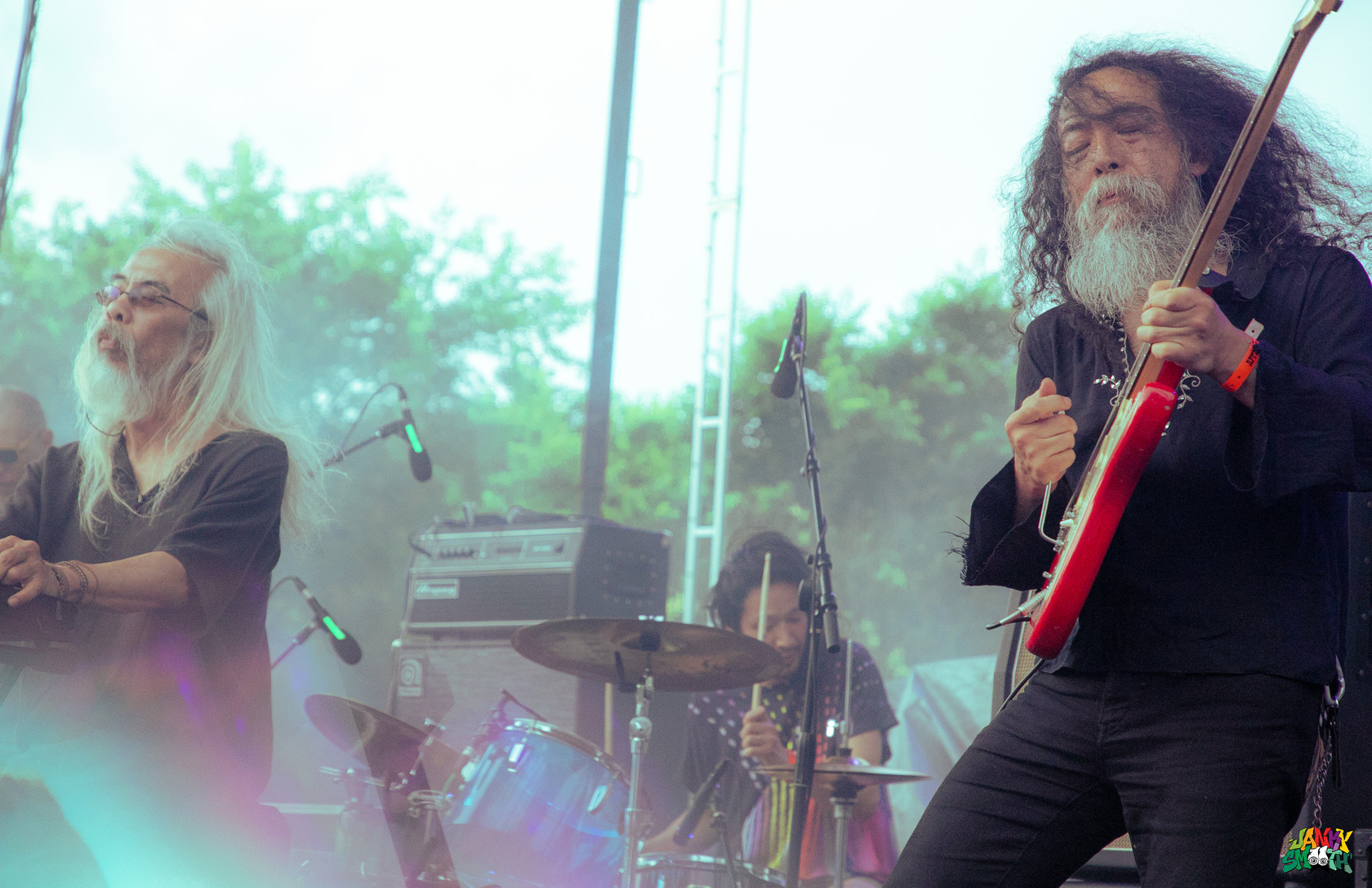 Halfway through their set, producers cut the music and announce that we need to evacuate the premises immediately and seek shelter. We will be notified as soon as doors open again. The mass exodus of concert goers must've been a sight to behold. I couldn't help but wonder what was going through the drivers' heads that were sitting at a traffic stop while 100s, maybe even 1000s, of the most eclectic people you've ever seen walked en-mass across the street to Torchy's Tacos. No chaos ensued. The smooth exit speaks to the spirit of the festival and the kind-hearted people involved. We all share the limited space, offering seats to one another inside or sitting cross-legged together under the covered patio outside, swapping gig stories, indulging in delicious Tex-Mex and strong libations to our hearts' desires. A beautiful soul even breaks out their water colors and paints in the rain. Torrential but no one complained. 2 hours later, the festival opens again and we all head back to see who will play next, now more connected than ever.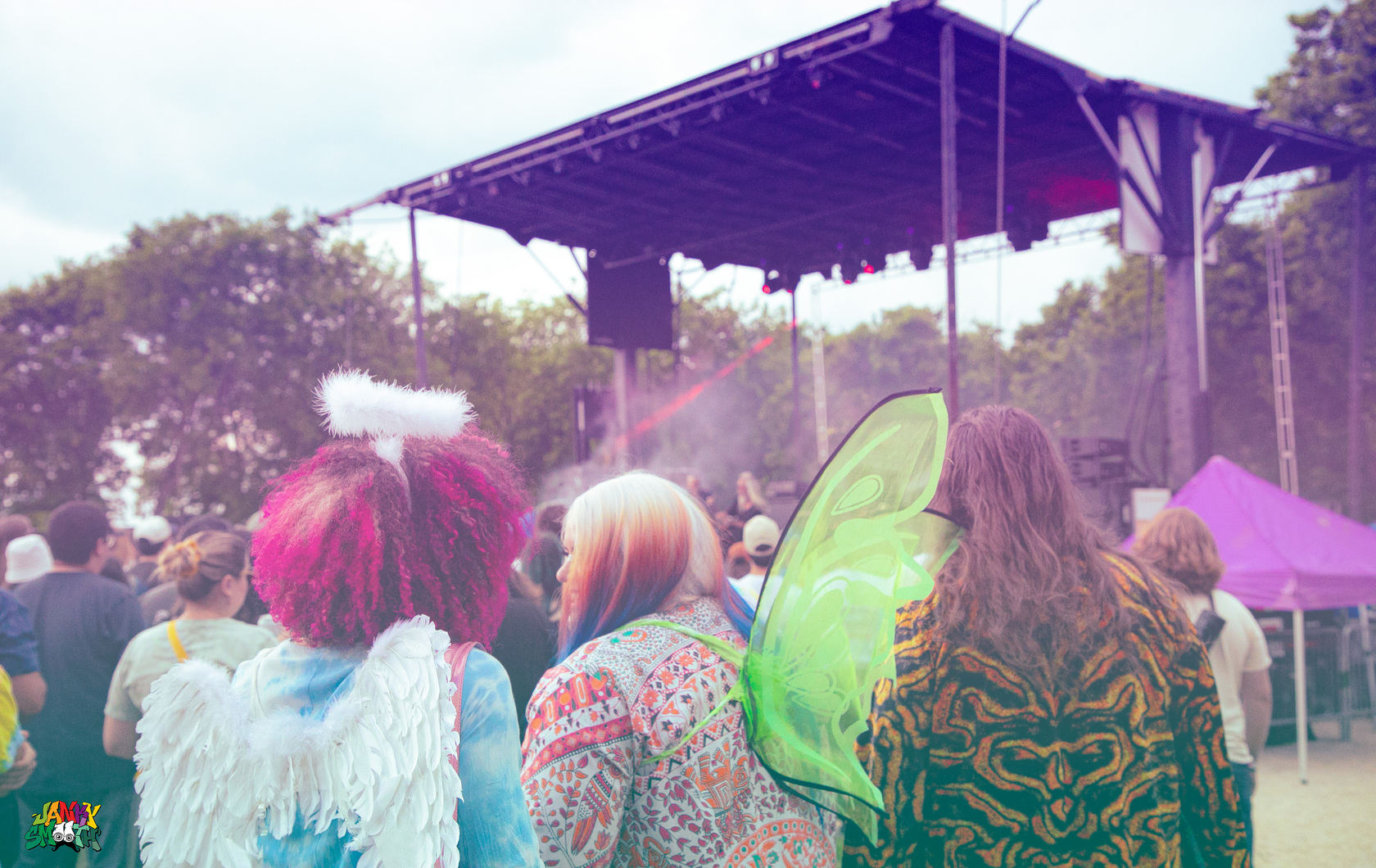 Mdou Moctar brings the groove back at the Janis Stage. A West African psych rock outfit featuring traditional Touareg guitar, wearing colorful tunics with large white scarves. Simply put, I fucking dig them and the rest of the crowd did too. Clapping along to the beat, we are transported to the past and future. Reminiscent yet so distinct, their intricate guitars took us on a journey across space and time. Slow and heavy breakdowns, tribal drums carrying them. At the end of their set, the main singer walked offstage straight into the crowd. Hugging fans and disappearing into our ether.
related: The Slowhand of the Sahara- Mdou Moctar at The Lodge Room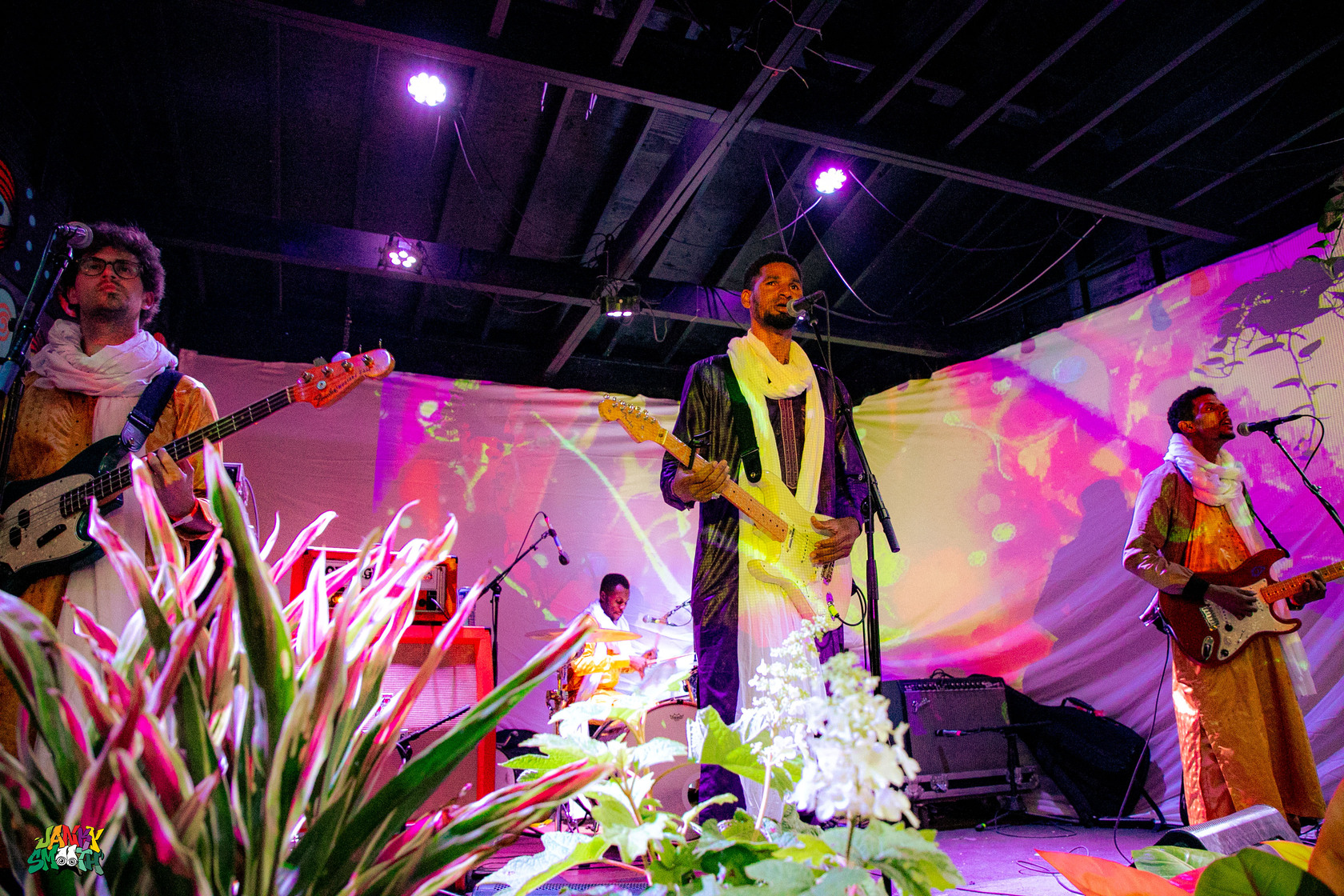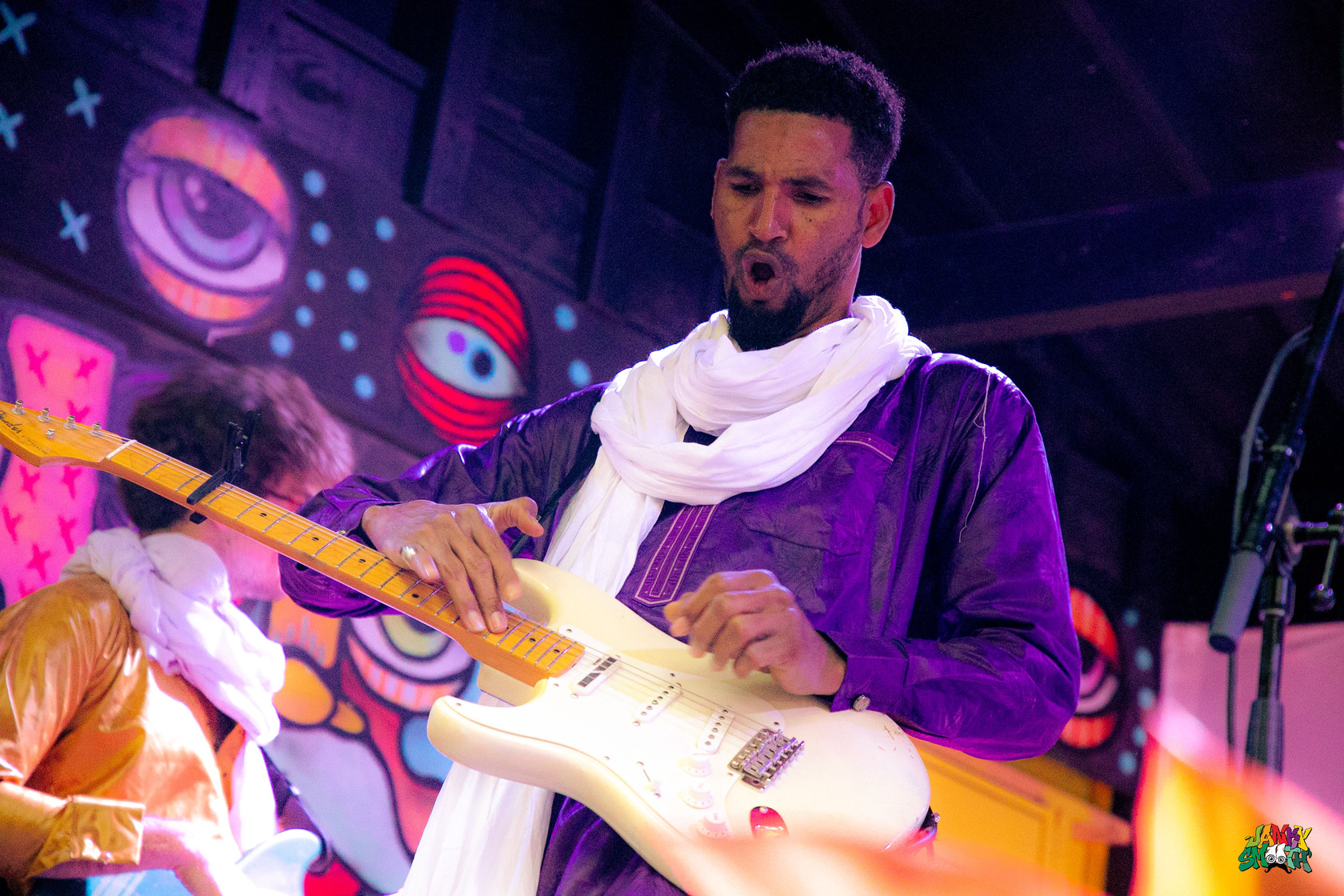 Lightning strikes and Crumb enters the Willie Stage; the perfect choice for a sunset set. Boppin to their ethereal beats and atmospheric sounds, the crowd welcomes the first female led band to the fest and they do not disappoint. Think of dreamy pastels as a sound, but with an edge; Lila Ramani's soft vocals mix with heavy breakdowns from Jesse Brotter's booming bass. The band is in a trance as they were both twitching with every nuance. Whispering her secrets to us, Lila's coy presence is unique, only coming out from behind her synth podium for the occasional shy dance between breakdowns. She doesn't take herself too seriously, even doing the Robot at one point. The weather picks up and grows throughout their set, stormy winds behind them, trees swaying, but it only adds to the drama. Unhindered, they play their new song "Crushed", which is jazzier than their previous work and so appropriate for the stormy backdrop. As the sun went down, the colorful projections came up. And the crowd came up with them. Pretty Sick continued the DIY sound with their grunge revival. Girls having a good time.
related: Chicano Batman Bring a Crumb Home to the Shrine Auditorium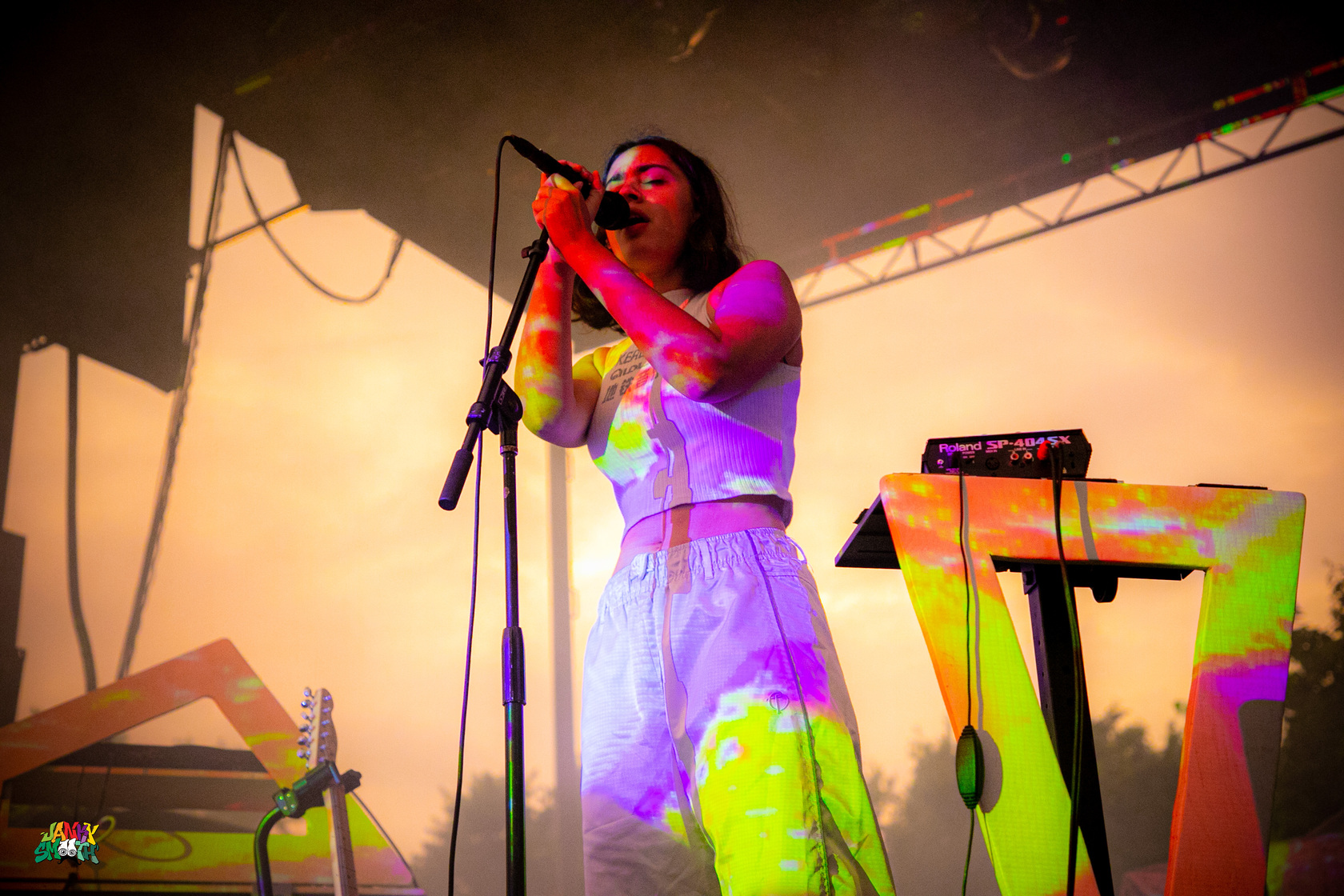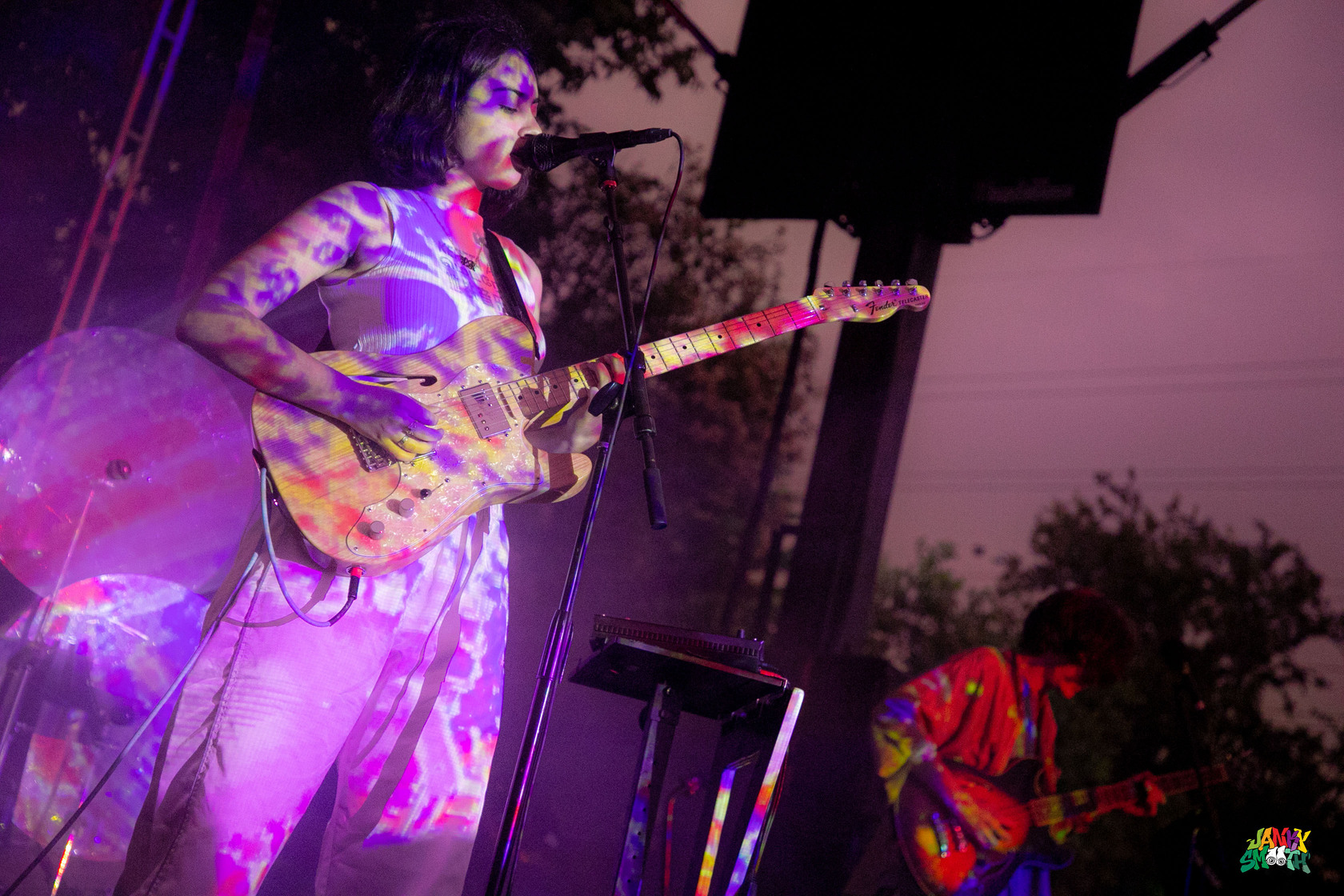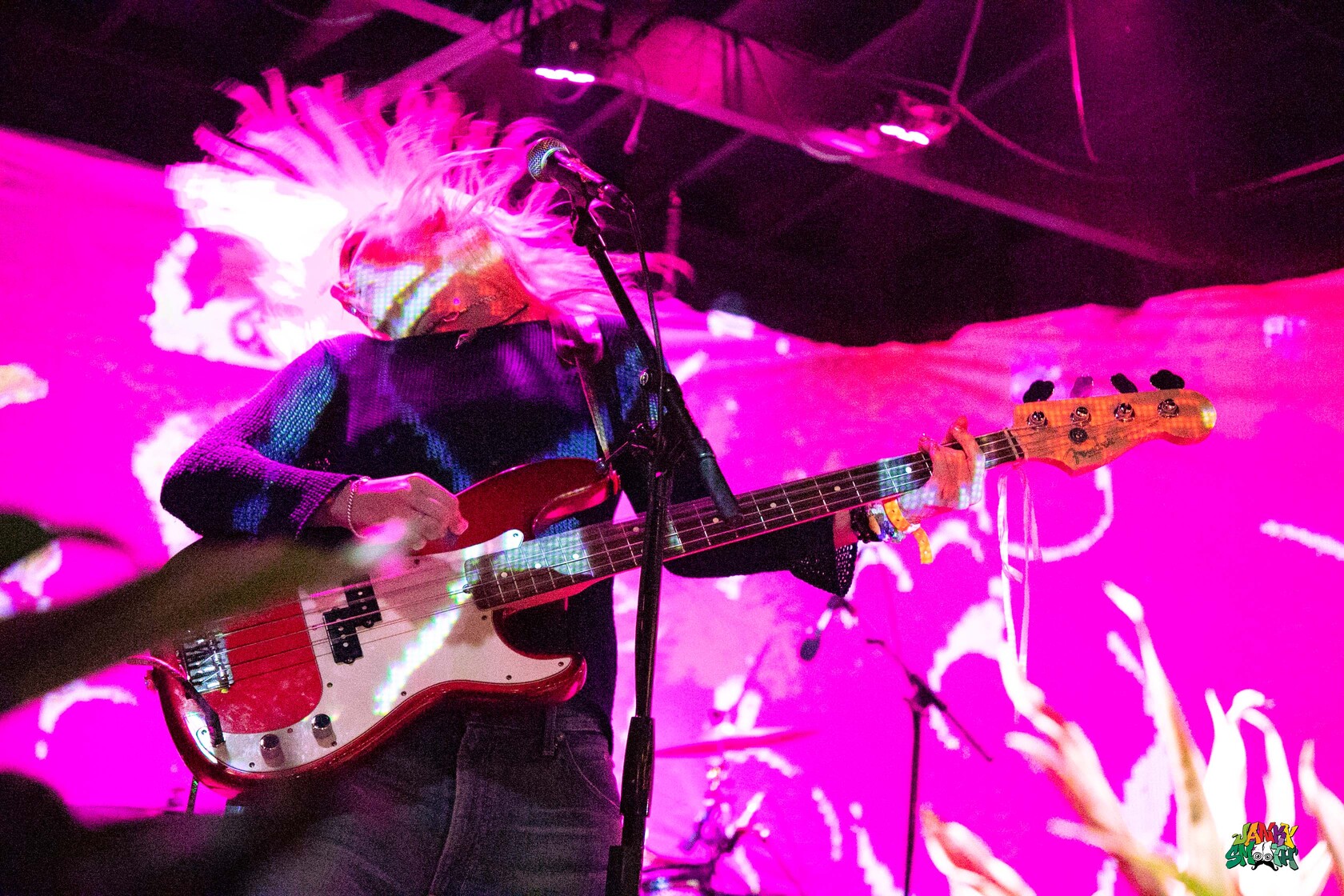 Related: Spooky Psych Sounds – Levitation 2021
Toro y Moi's gear got wrecked due to the rain, but they find a way to still play, bringing some romantic vibes to the festival. The ultimate mash between funk rock, R&B, pop and psych. Everyone sang along to the smooth vocals and funky licks, even some saxophone and scatting. A friend of the band tells me that this is the best show he's ever seen from them. "Maximize all this pleasure, even with all the weather" summed up the day perfectly.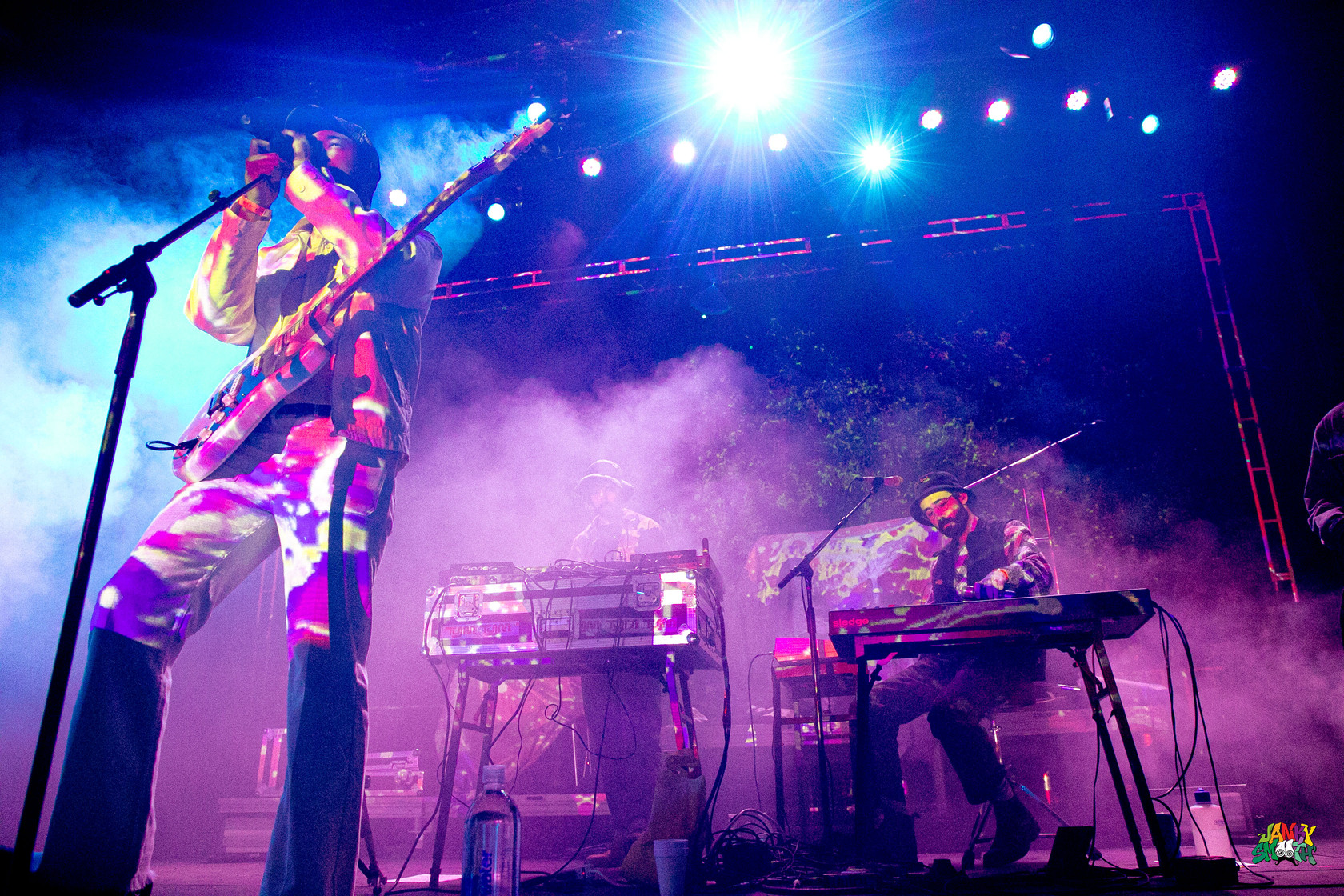 The wind's rustlin in anticipation of the headliner for the night. Platforms terracing the Willie Stage evoke a retro feel. The venue is fully packed with a sleuth of young fans as crowds rush to the front, unwilling to give up any space. Something special is about to happen. Yves Tumor takes the stage and everyone goes wild. Invoking 80s glam rock, leather studded and wild eyed, the band starts their set, the cleanest and most produced of the night.
related: Art's Spirit Animal- Yves Tumor at The Observatory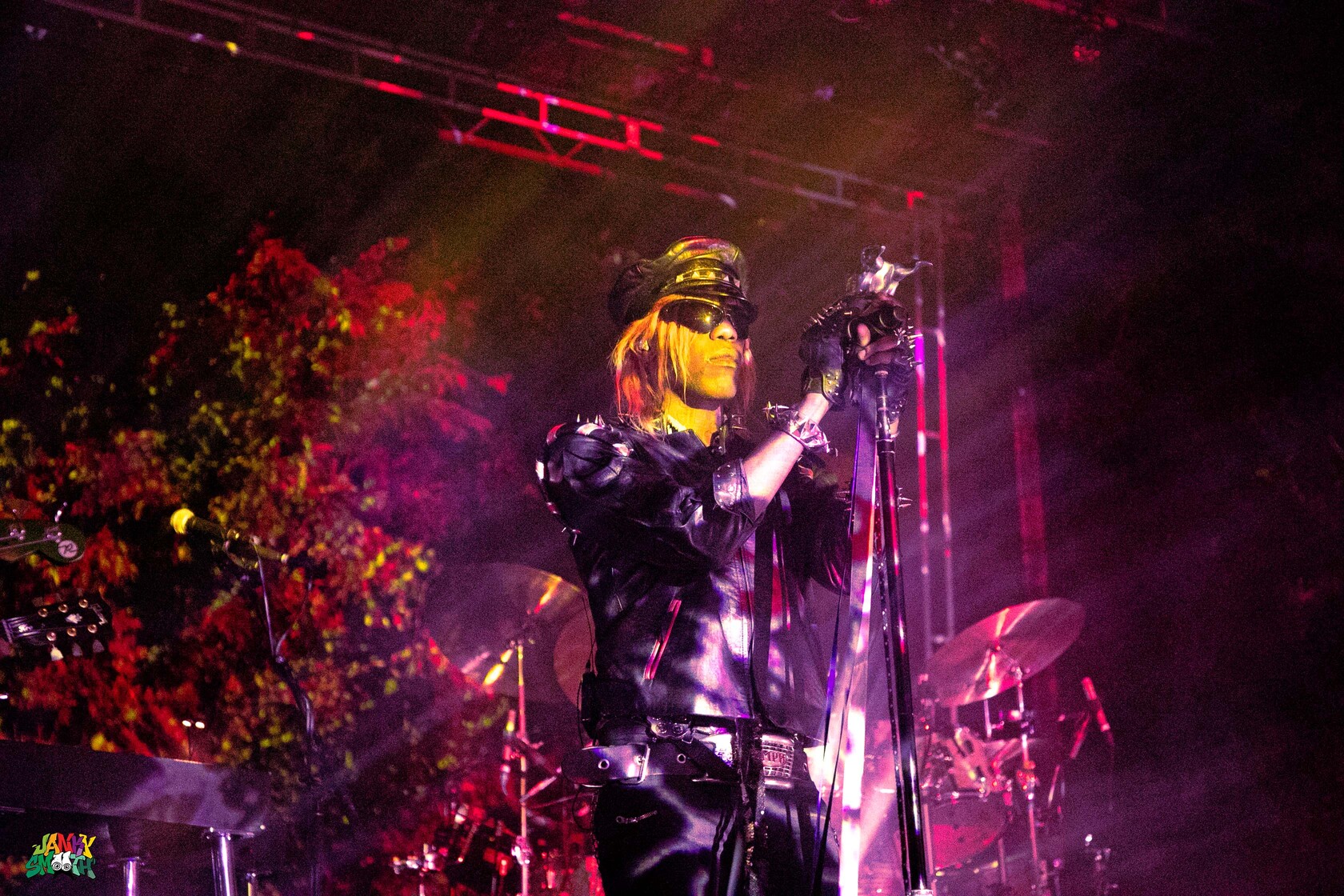 What a crescendo for the first day! Yves Tumor is bringing back arena rock but with a modern twist to the nostalgia, using bespoke sound clips and creating a composition of textures. They're almost meta in their approach, interacting with the audience on another level, nonchalantly crawling around, exuding the true tortured artist trope. Everyone already knew all of the lyrics to their new single release, "Heaven Surrounds Us Like a Hood", me included. They hold my hand during their encore. What an absolute rockstar. Rock isn't dead, with bands like Yves Tumor reinvigorating the genre. We leave the first day with my ears ringing and heart full, energized from the eclecticism. We trek downtown, not wanting the night to end.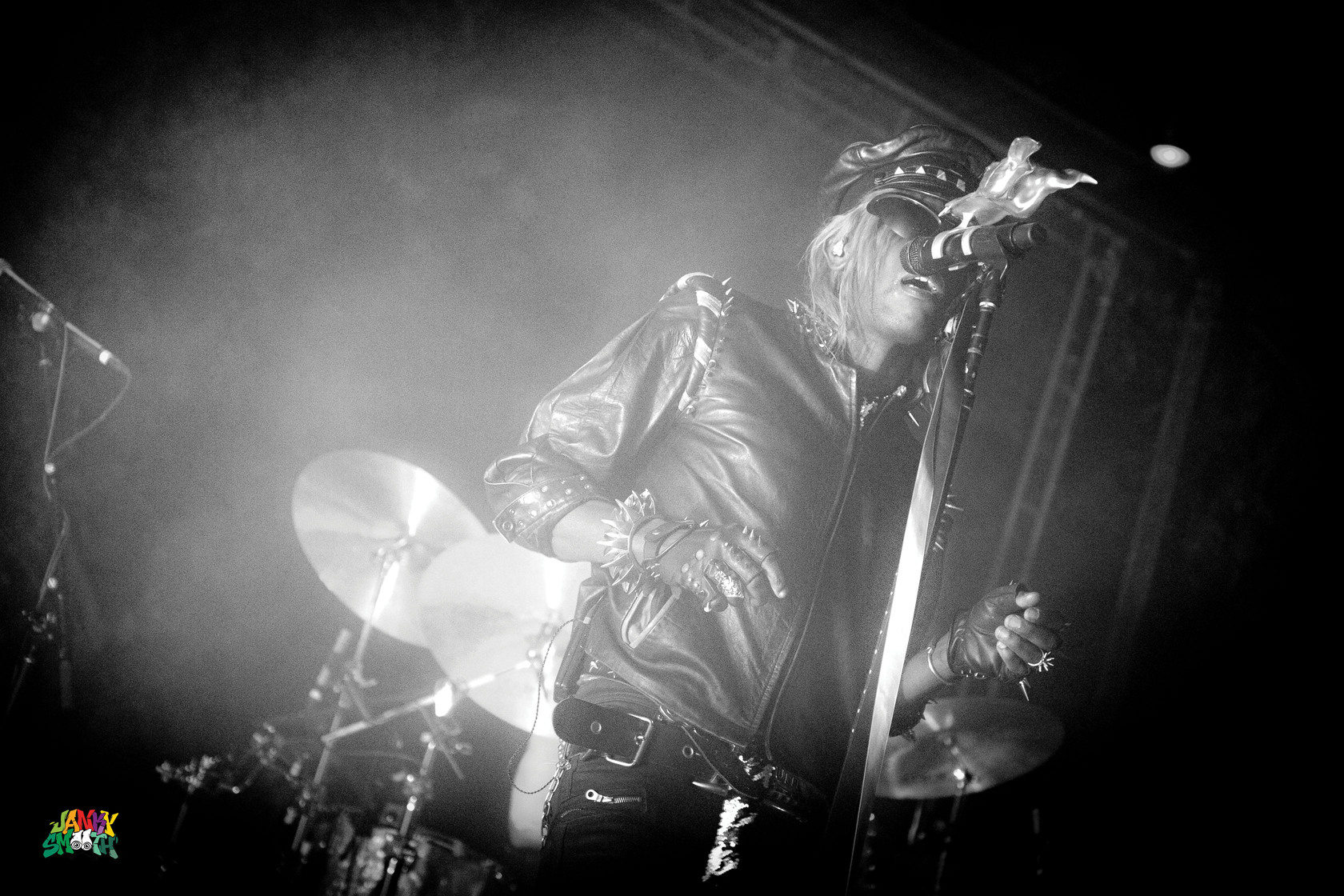 Related: Art's Spirit Animal – Yves Tumor At The OC Observatory
After teasing us the day before, Mother Nature welcomes the second day of the festival in a warm embrace. A sea of black clothes floods the venue as rockers and metalheads arrive early in anticipation of what this perfect, sunny, clear skied afternoon will bring. I feel more at home than ever. Acid Dad sets the stage; groove rock with a psych garage vibe. Half the crowd head bangs and the other half gently sways to the music, depending on which part of the composition they're listening to. The drums reverberate through our chests as Trevor ferociously leads the way. He's what I'm here for. "Trevor forever! We love you Trevor!" Seems like the crowd was here for him too.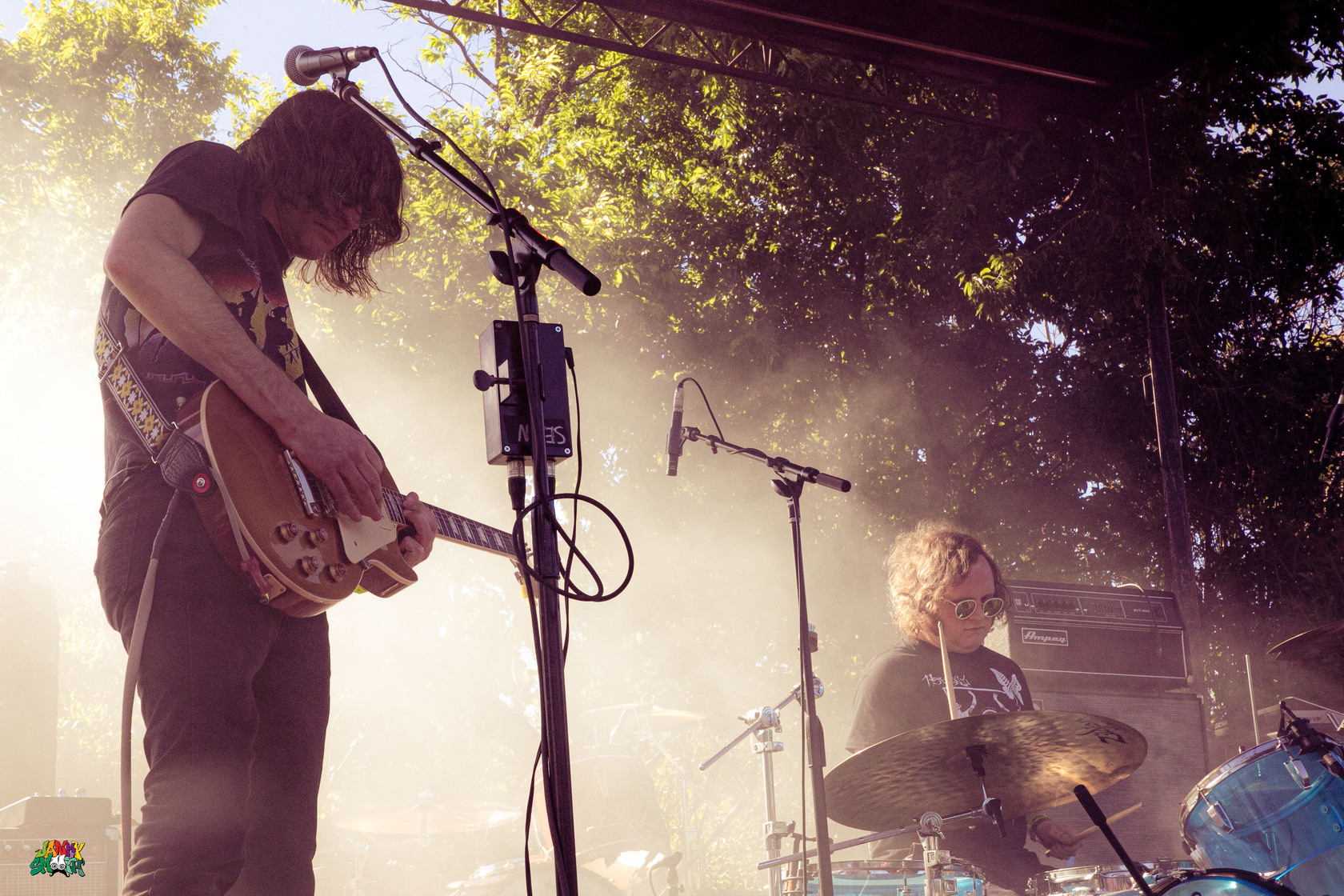 Night Beats delivers the blues with their R&B meets Western inspired psych rock. We're hypnotized by Danny Lee Blackwell's guitar, vocal style, and dapper cockeyed looks. He seriously makes the best faces! Instead of sporting his usual hat, he's wearing a scarf wrapped around his temples. Sound tight, stage presence with gravitas, Night Beats takes us back to the 70s with jazzy drums, intricate bass lines and Danny's heavy guitar. Everyone has so much respect for him, fans and musicians alike; even Robert Levon Been from Black Rebel Motorcycle Club (the headliner for the night) joins the jams with complimentary piano. Such a treat! None of us were expecting it.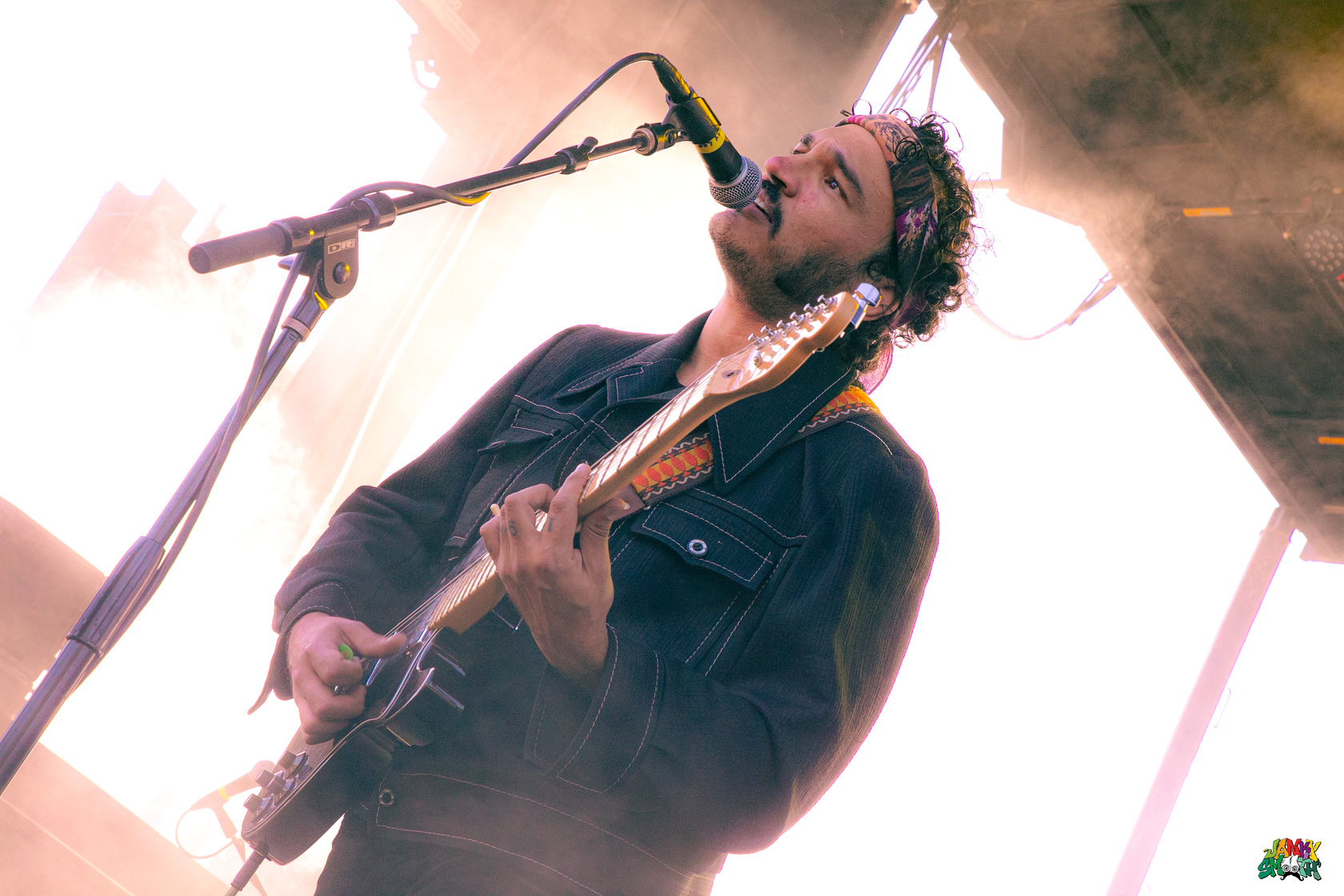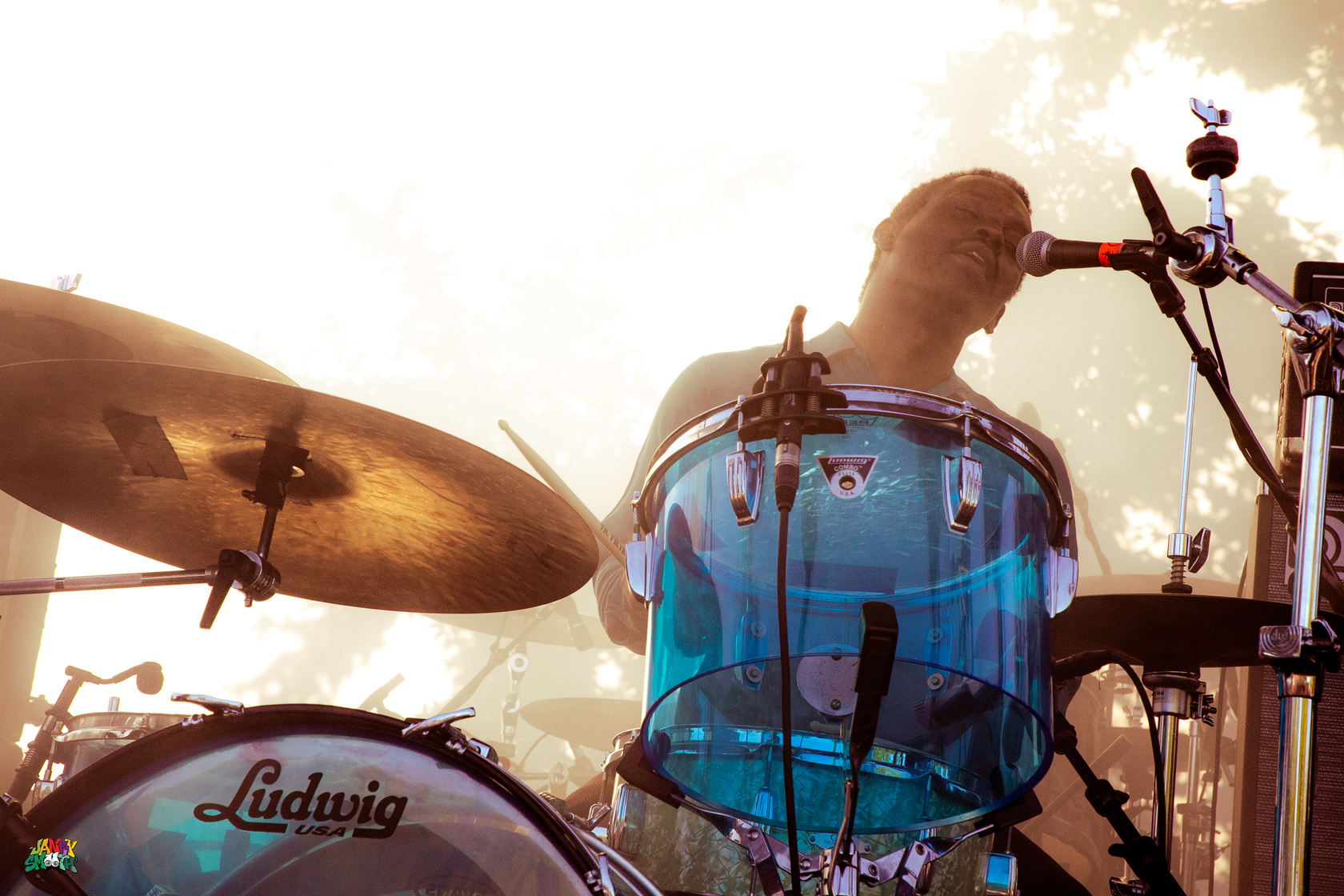 It wouldn't feel right to have an Austin Psych Fest without a 13th Floor Elevators tribute band. They did the homegrown Austin natives proud, jug playing and all. As the sun goes down and trippy art projections go up,
The Raveonettes play in their original line-up with Manoj Ramdas' supporting guitar and Jakob Hoyer on drums. Seeing the full band is a special treat for their diehard fans. Reminiscent of the 1950s and 60s, their lighthearted retro feel is what this festival was missing. They're legends in the noise pop genre. Mixing an upbeat sound with dark lyrics, Sune Rose Wagner's and Sharin Foo's chemistry is incomparable. "Want to die in beat city" is still ringing in my ears!
related: Halloween at The Roxy w/ The Evil Ones- Roky Erickson and Death Valley Girls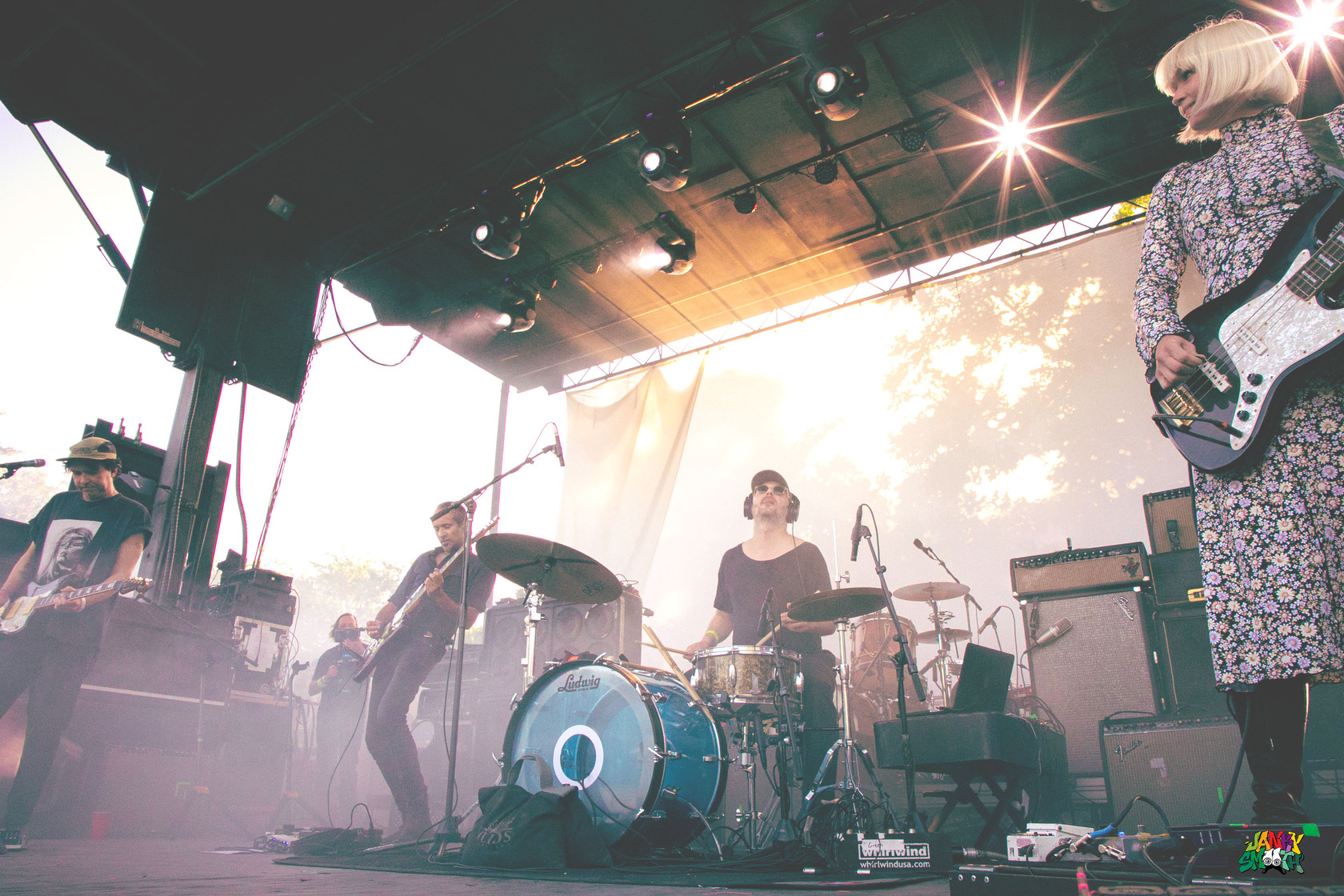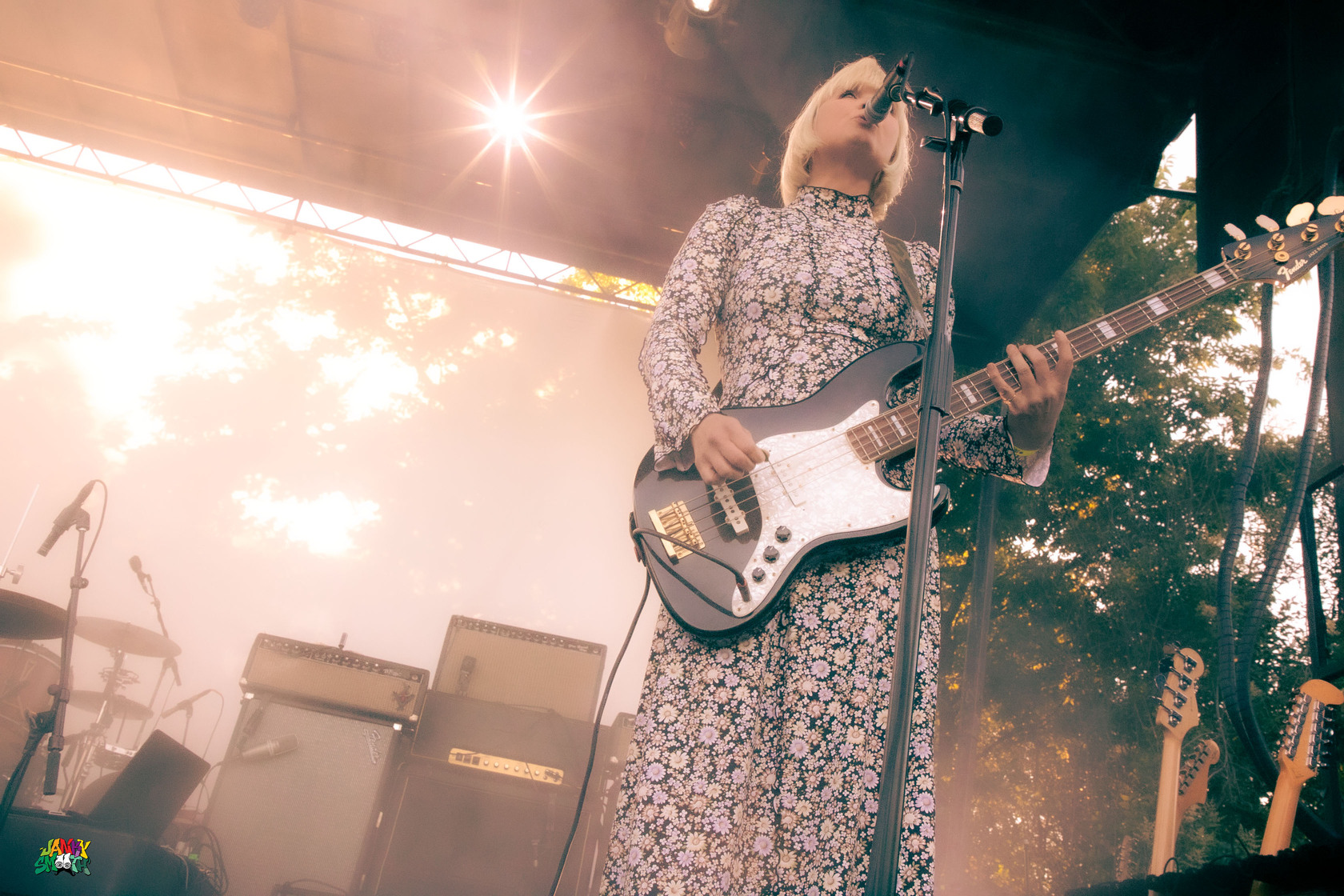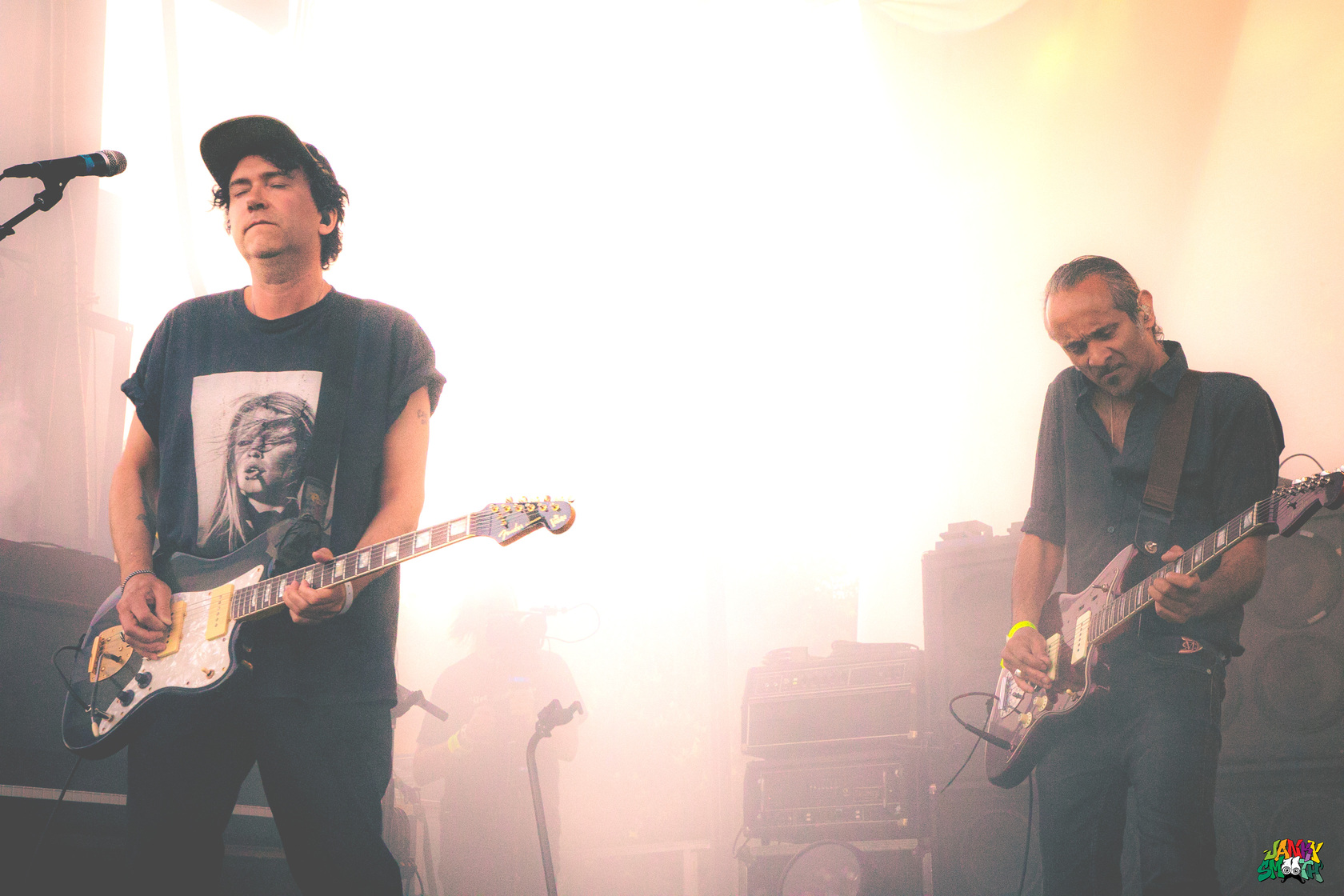 The Black Angels, fathers of Levitation, perform my favorite album Directions To See A Ghost from start to finish. They don't play these songs too often. They improvised indiscriminately, jam-banding their way through the quintessential record. Literally what dreams are made of, and I feel like I'm in one. Each song blends into the next, but between the jams, they take the time to thank the fans, saying that "This is a dream come true and we owe this festival to you. This is your festival, not ours". Then they're back at it with more psych drone grooves and tambourines. They play as long as they can until they run out of time. I'll live in this moment forever. The energy of the night unified us all. The people around me are now my friends. We've traveled from far and wide to be here.
related: Desert Daze 2016- Quantifying the Physics of a Good Time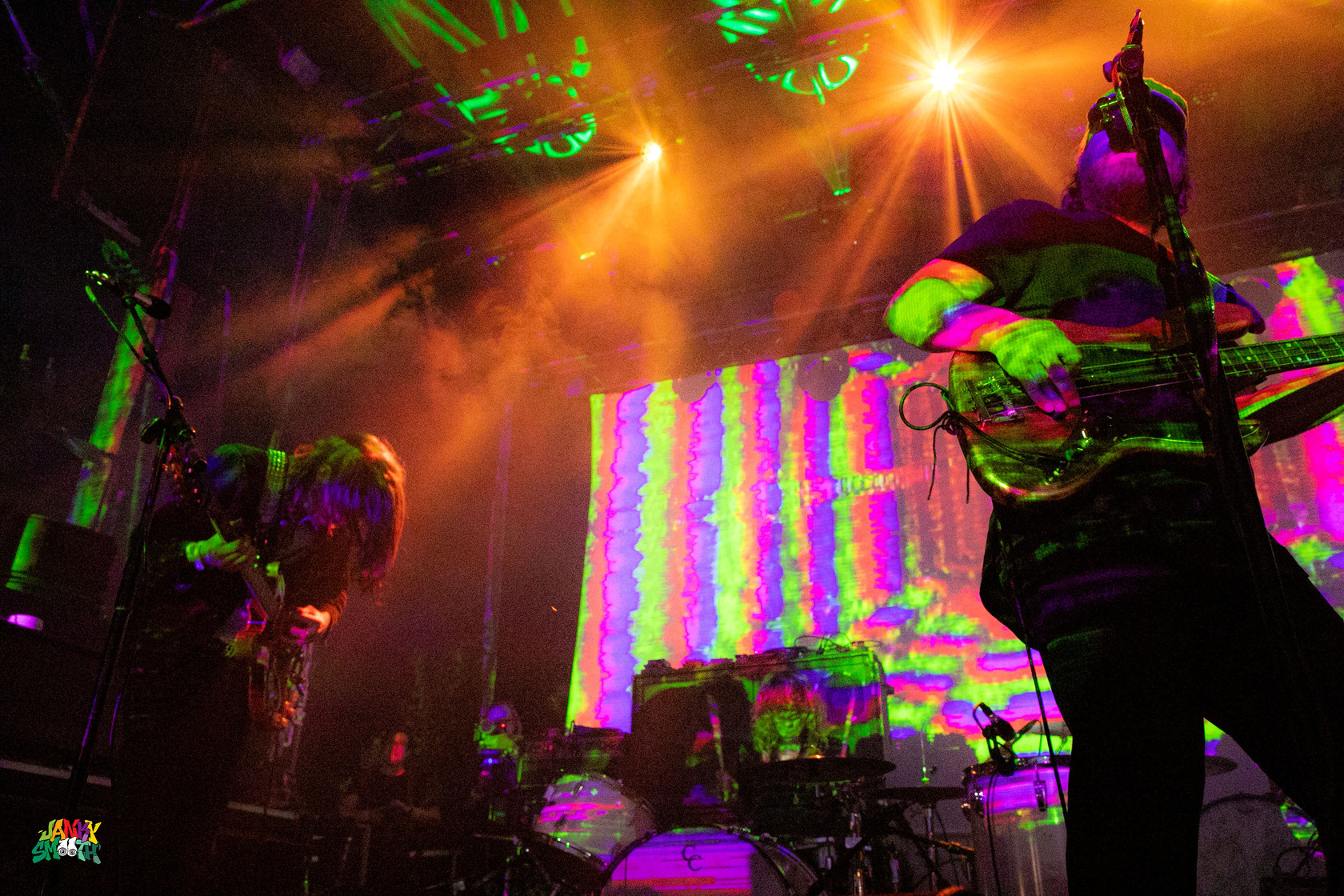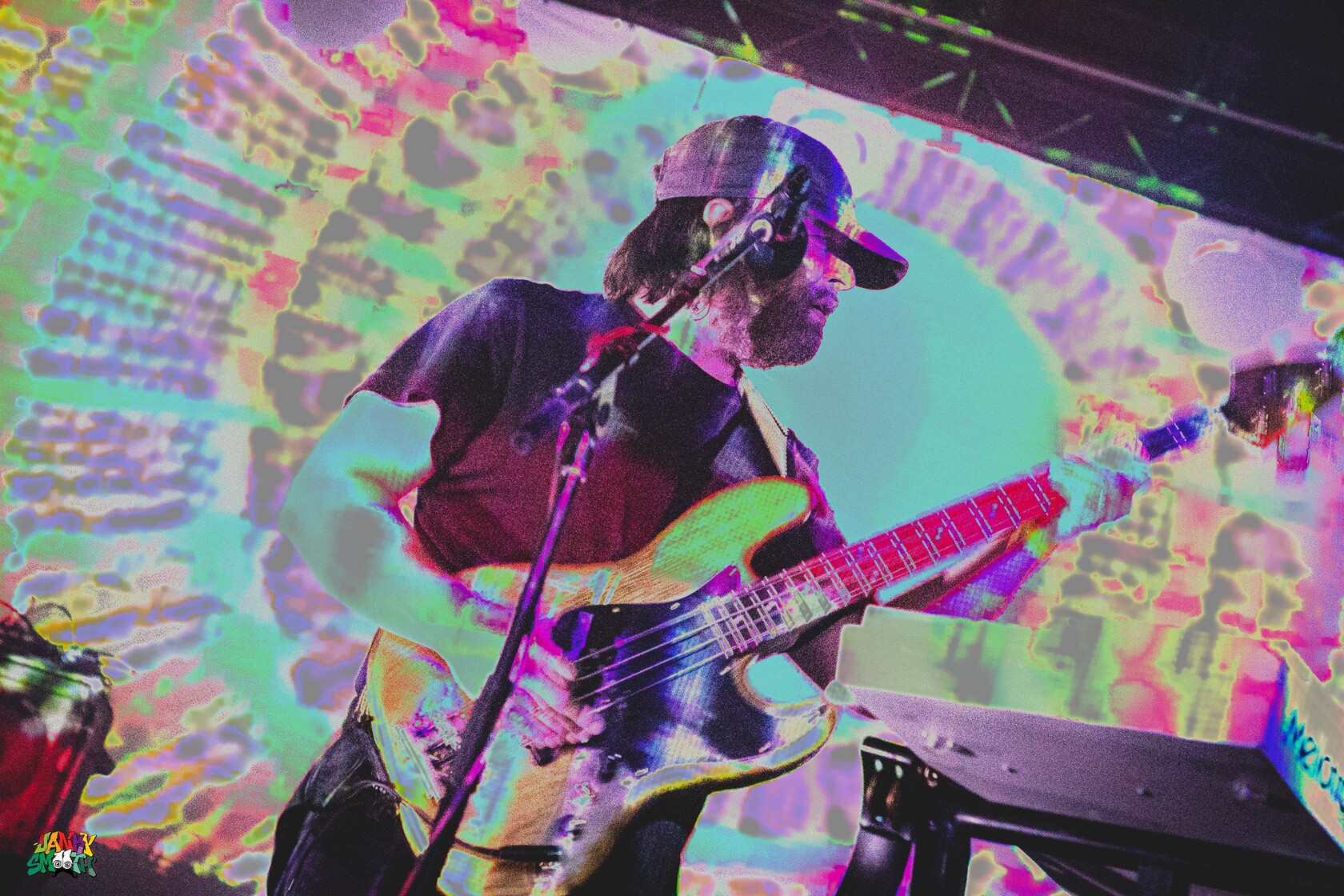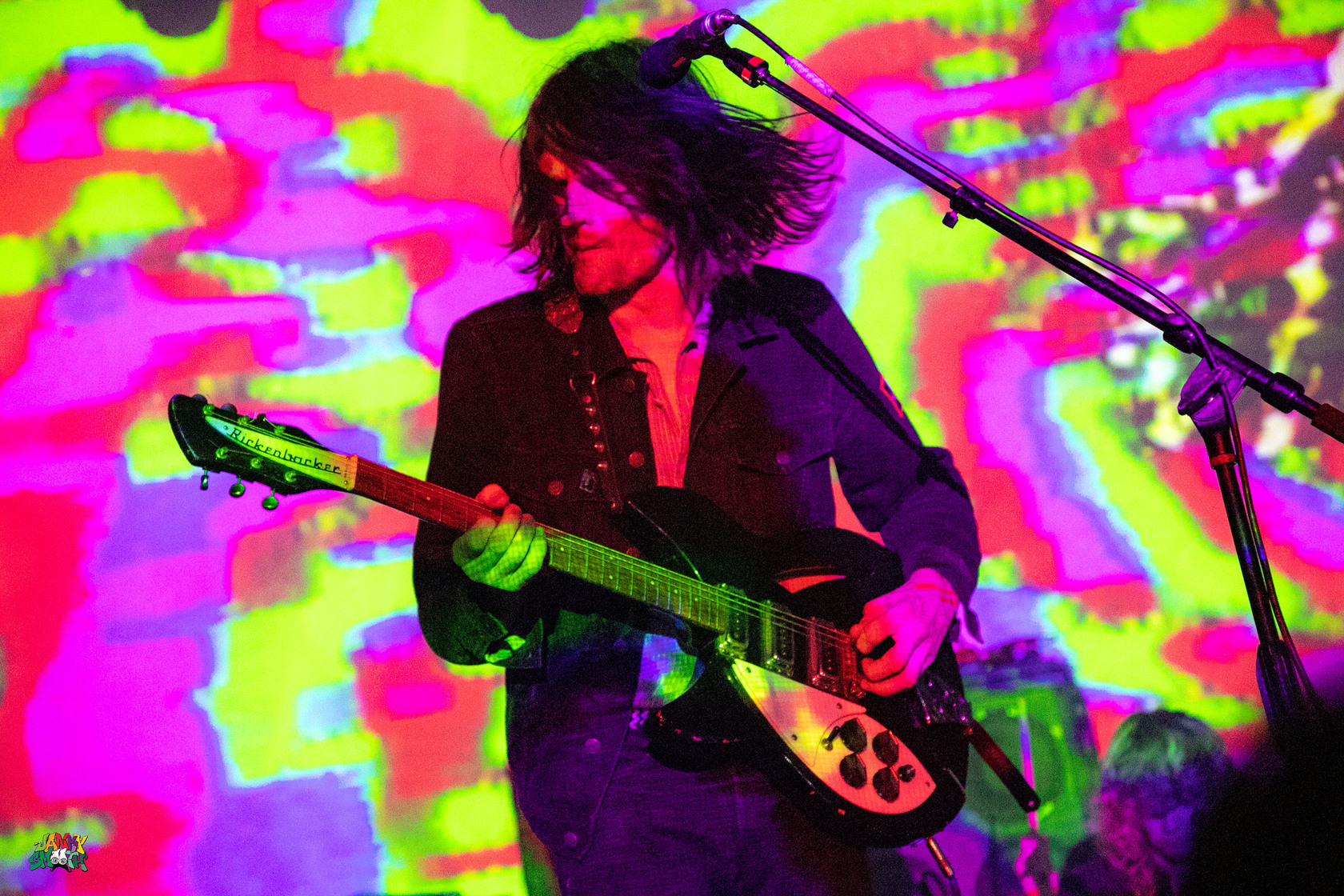 The fest welcomes Daiistar to the scene with a badass set time, honored with following The Black Angels at their own event. They were just signed to Fuzz Records and their slacker 90s meets Acid Dad sound did not disappoint.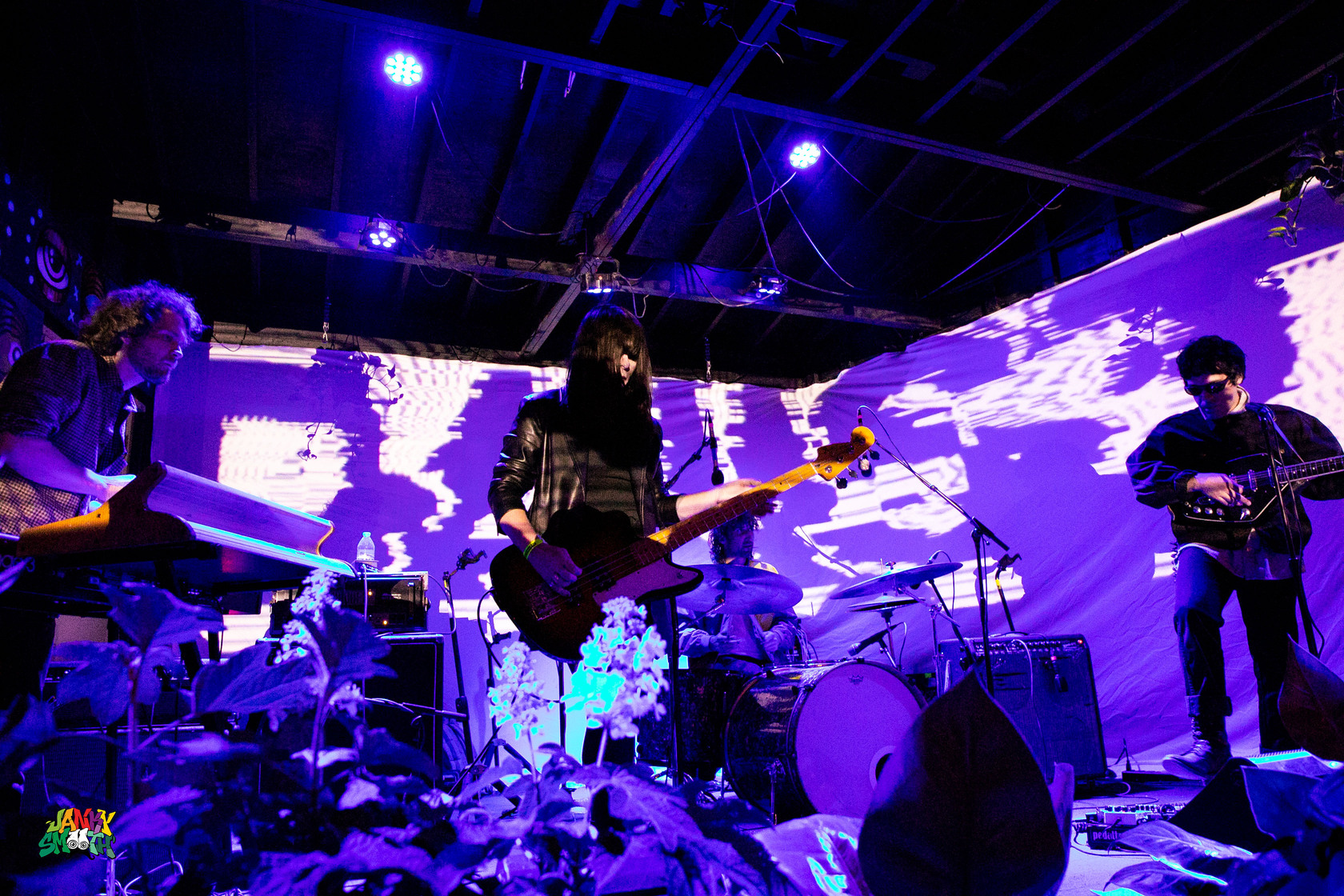 The sun is fully down and the backyard of The Far Out is packed to the brim. Black Rebel Motorcycle Club takes the stage. I grew up listening to them but this is my first time seeing them live. What a fucking sexy set. In total contrast to the rest of the festival, they exude a laid back southern twang. Robert Levon Been's distortion was everything. He's making love to that guitar with the first and only slow songs of the fest. Harmonica and piano features flourish in the background, offering folky textures. Their sound is timeless and intimate. Heavy and soft at the same time. Fan girls woo and sing along, "I feed the needle through, you beat the devil's tattoo." Leah Shapiro's drums resonate, blowing out the bass drum which only adds to their grit. BMRC ends Saturday with a down home feeling. We all line up for merch. Most of the fest posters are already taken, but I'm able to snag one for my collection.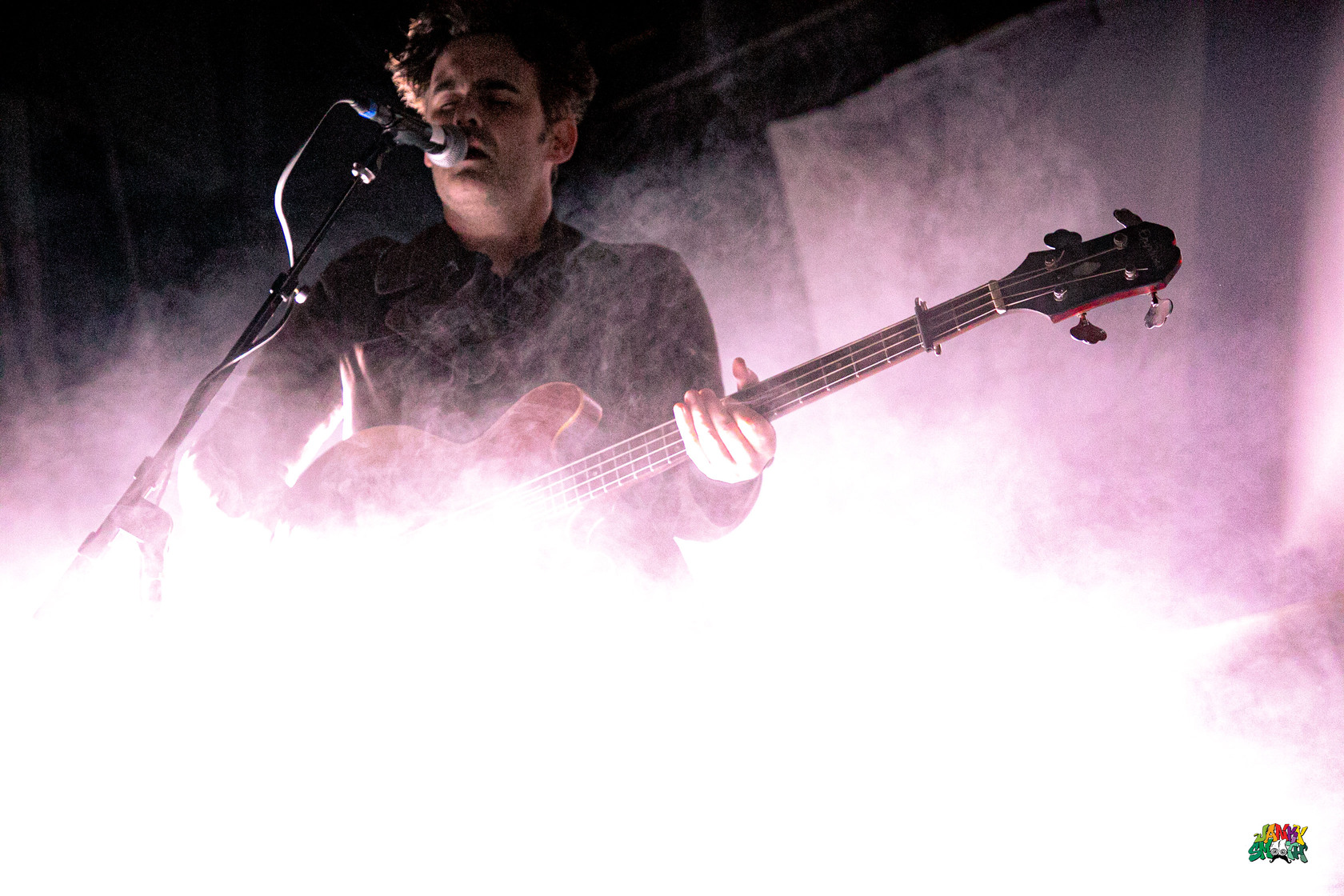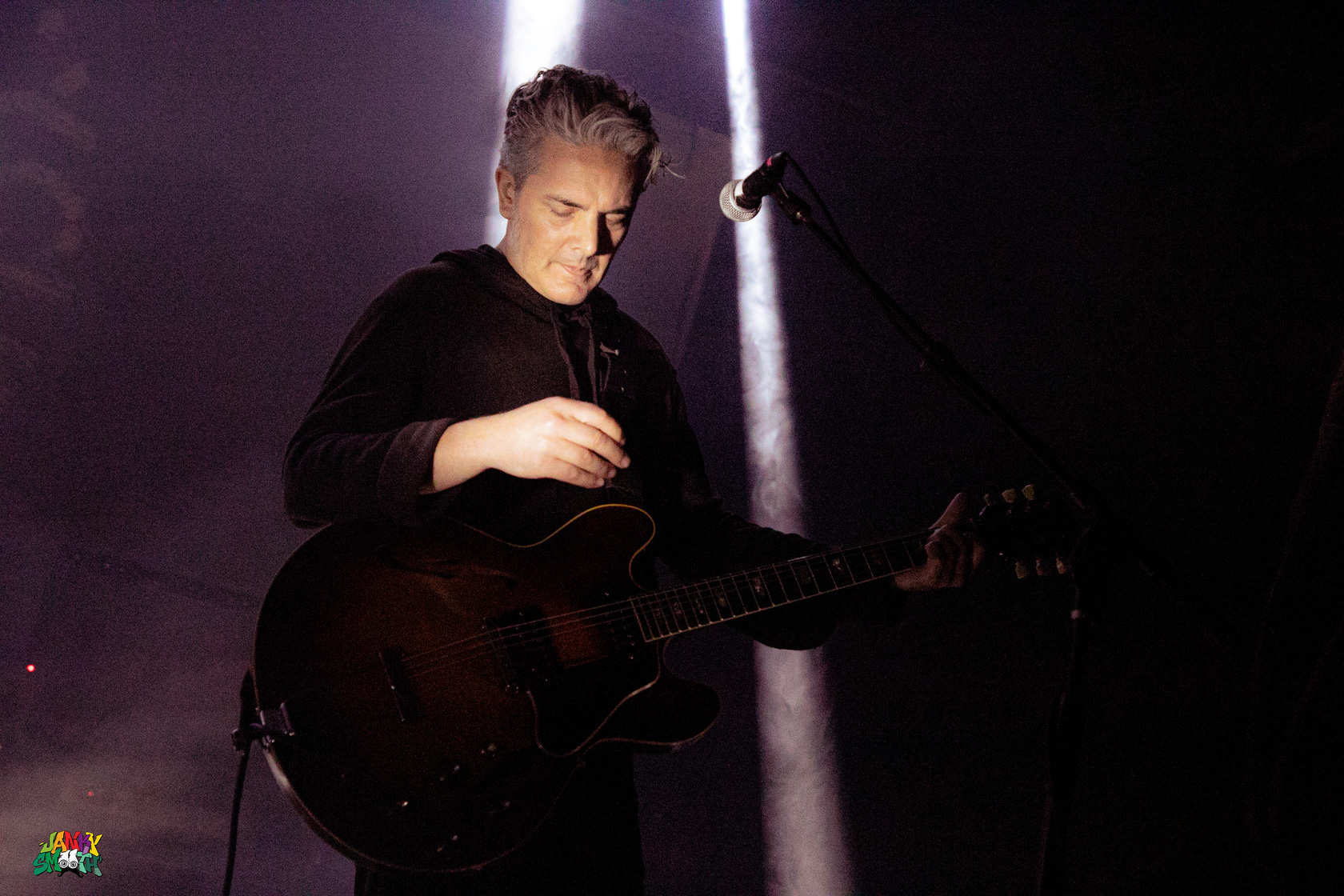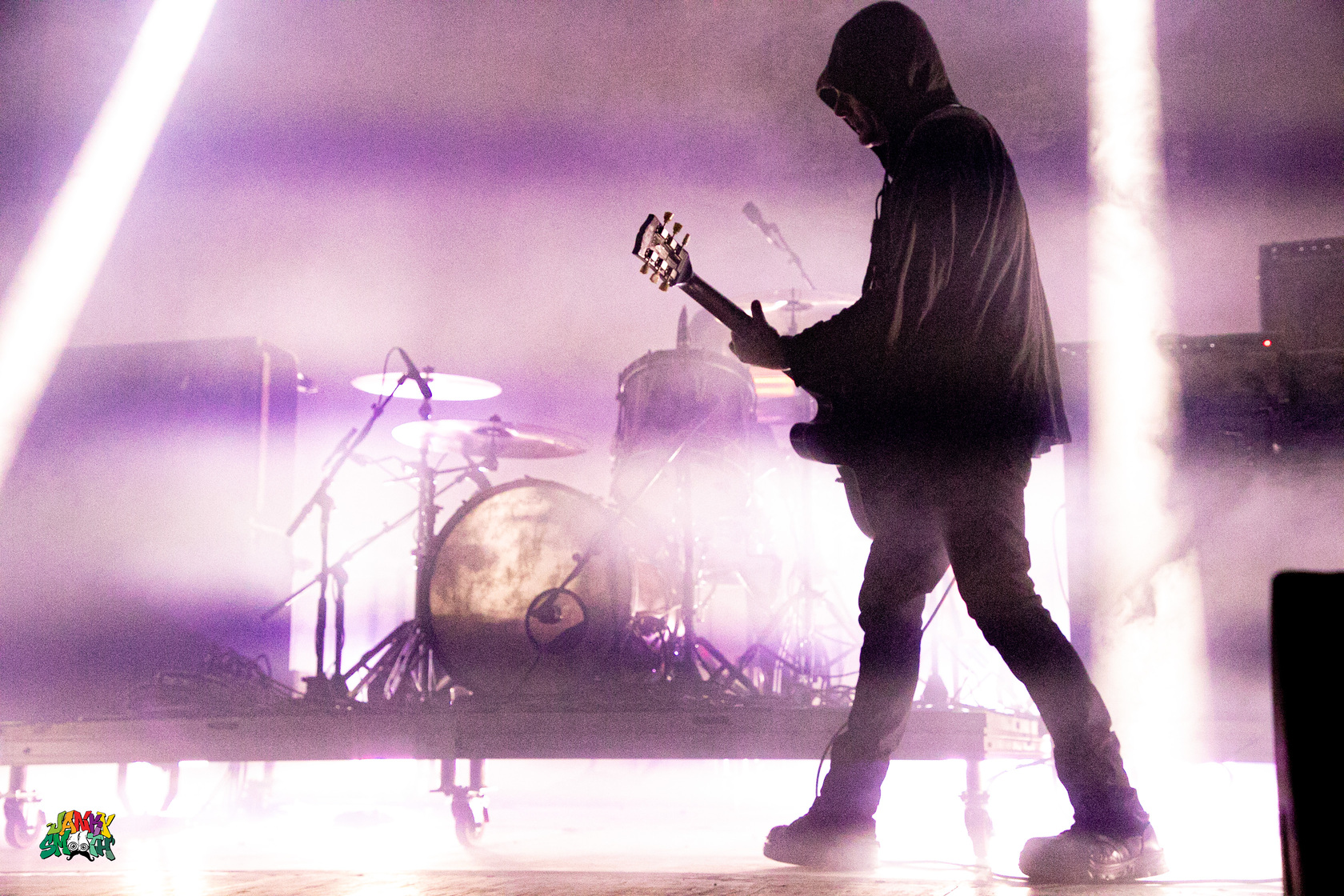 Sunday cultures colliding with inspiración divino, "Hee Hee" (Such is Life album) sizzling energy from ADG7 whose glorious set pumped life back into the crowd with serotonin boosting shamanic melodies, traditional Korean folk chants, and mini lessons in Korean to get the blood flowing in the brain. ADG7 reminded us why we make the pilgrimage to Austin Psych Fest. Attendees get to enrich the soul with international acts that can bring in rare, mind bending frequencies from their instruments and fervor in their set. Incredible instruments: gayageum, jjangku, ajaeng, and piri and saenghwang were such a delight to hear for the first time. You could feel the joy and dancing spirit in your sacrum all up and down your spine shining light into the soul. Highlight of the weekend.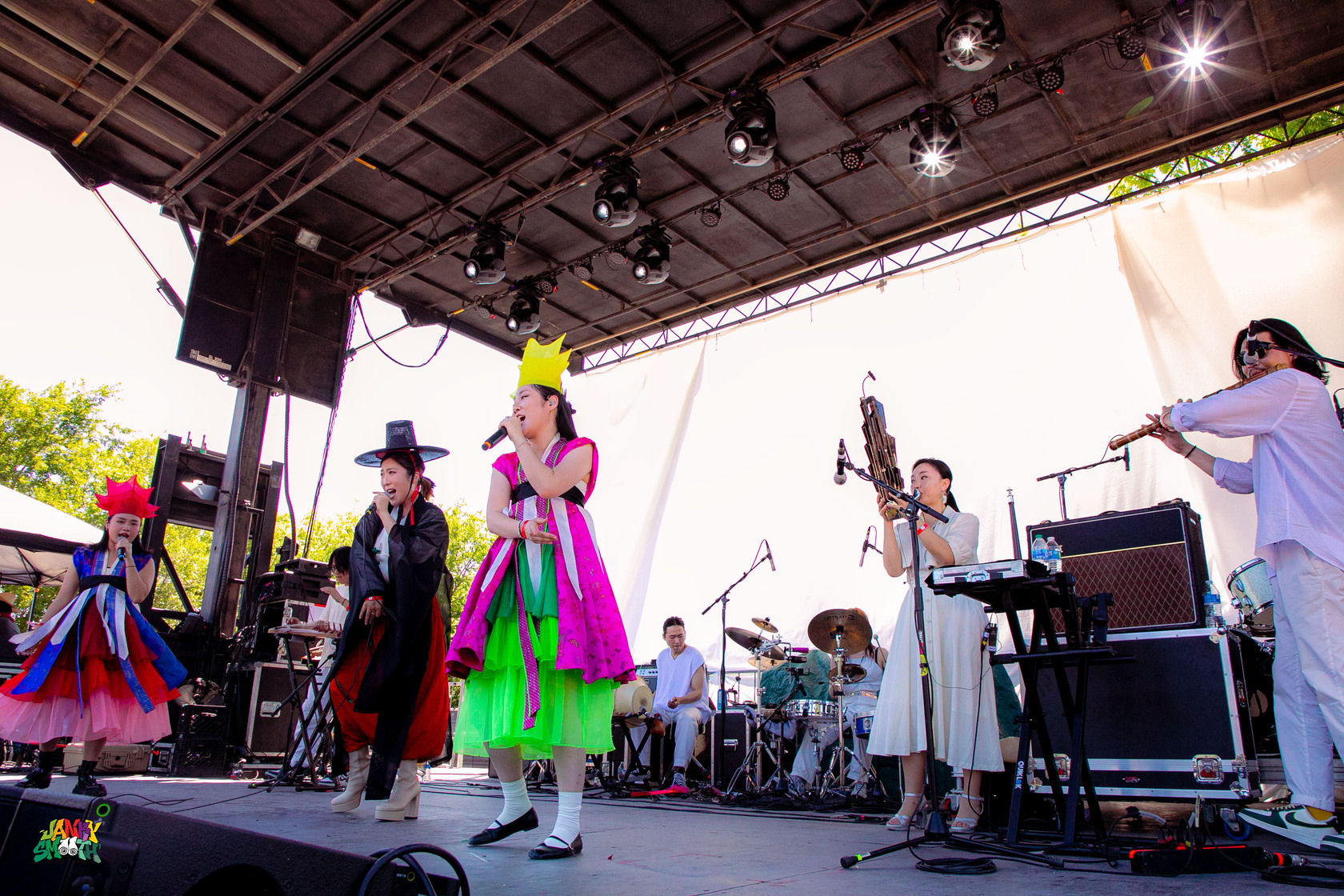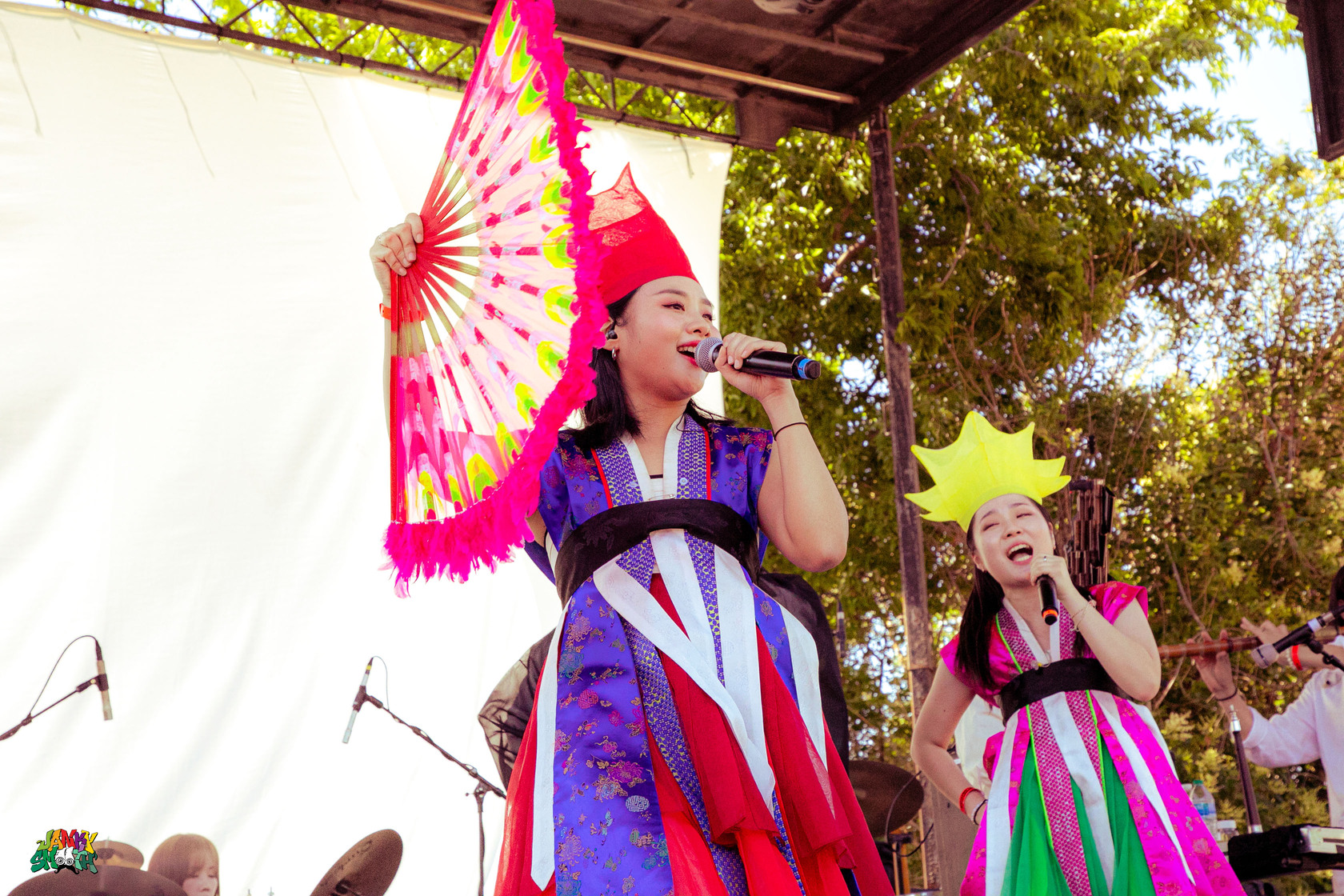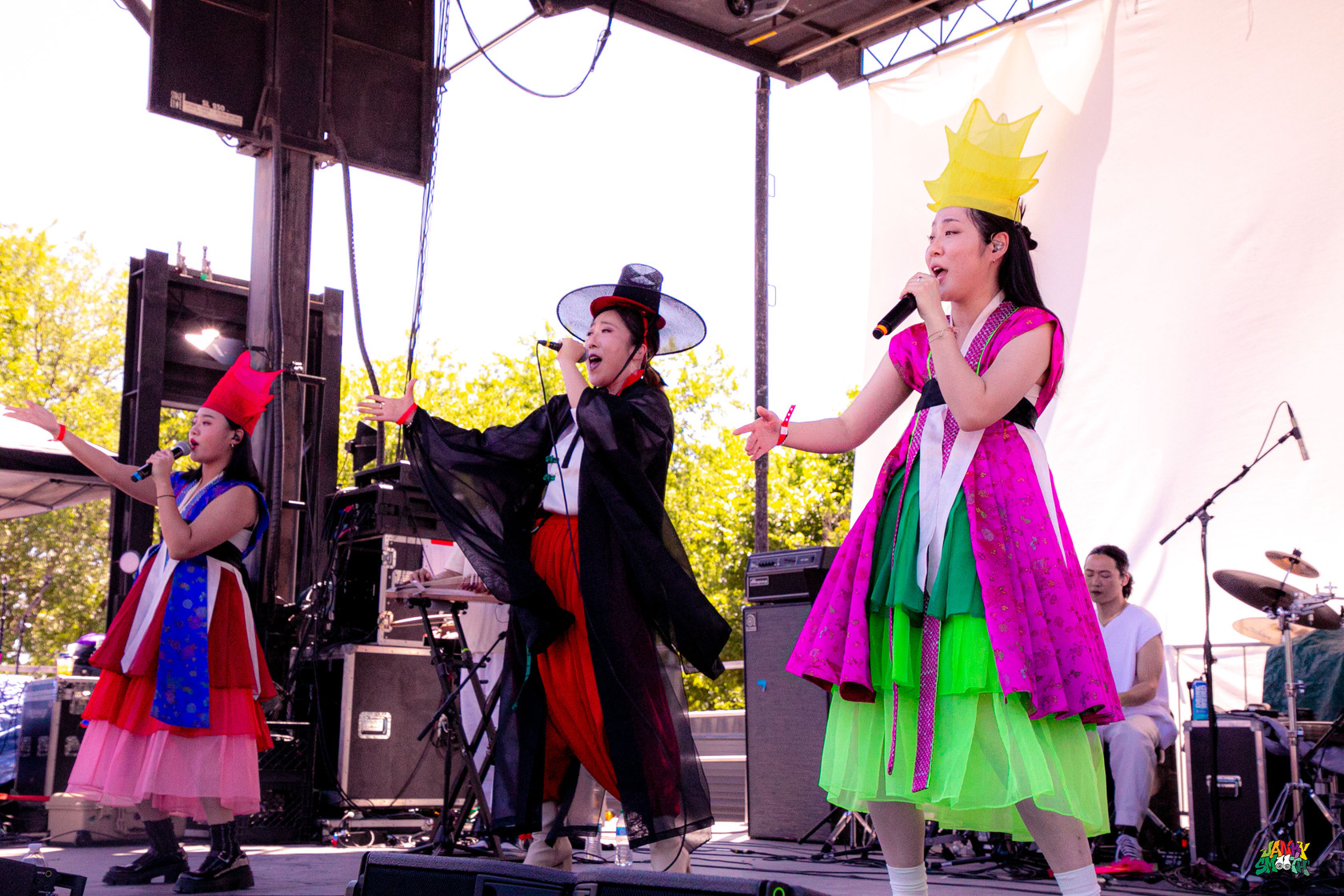 Los Bitchos just got off fresh from a ferocious tour with King Gizzard and the Lizard Wizard. This instrumental quintet brought the boisterous and infectious cumbia riffs with shouts/chants to keep the crowd shimming and shaking with "The Link Is About To Die". Their highly anticipated set delivered the goods of the never ending party. How could you not enjoy this gang laying down those sultry and hypnotic sounds ready to start a fire under your bum with 'Pista'? Big finish with the cover of "Tequila (Off of their 7inch Pah!)" to give the flashes of wild spirit on to the next one we go.
related: Janky Smooth Top 10 Shows of 2022 Rated by Contributors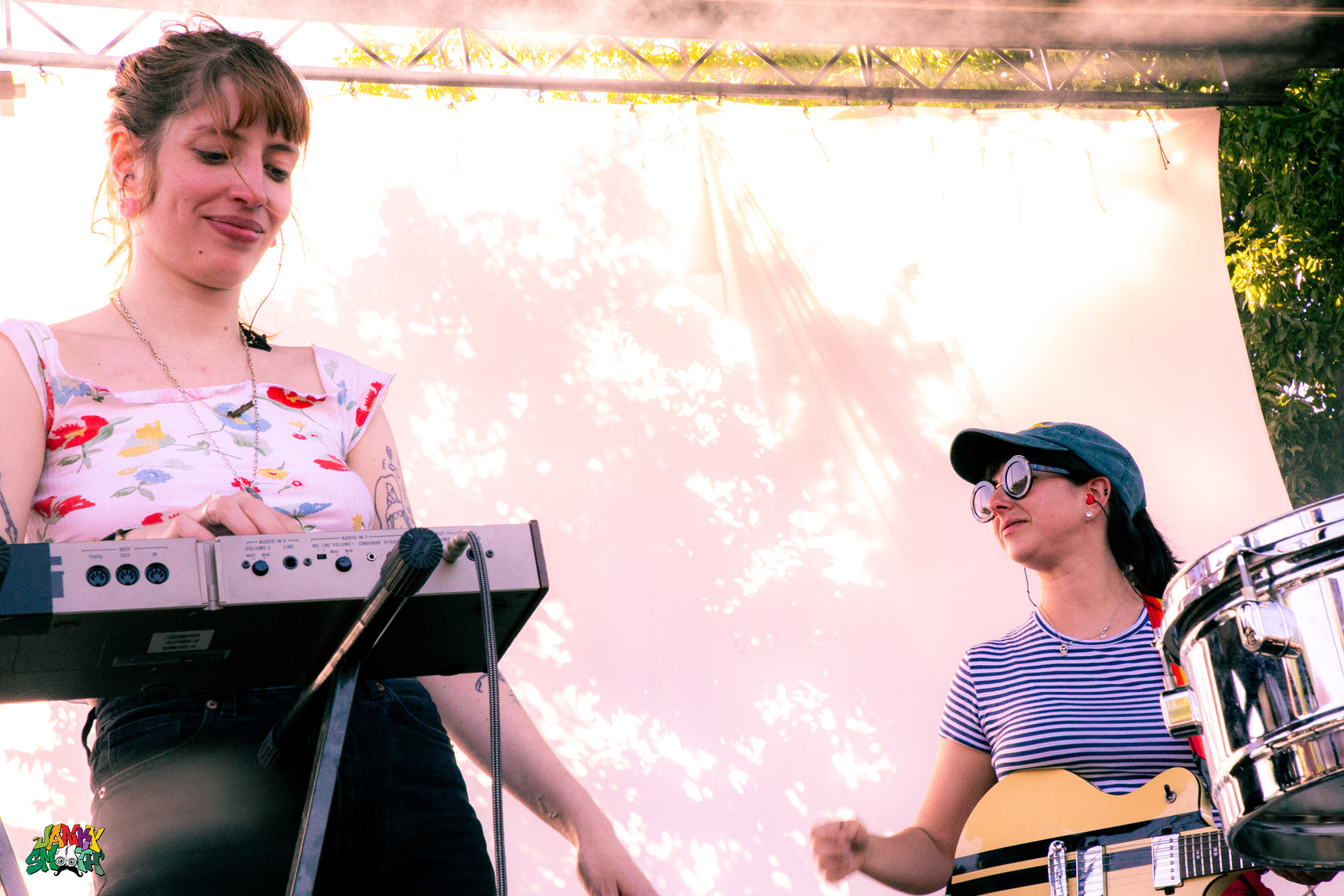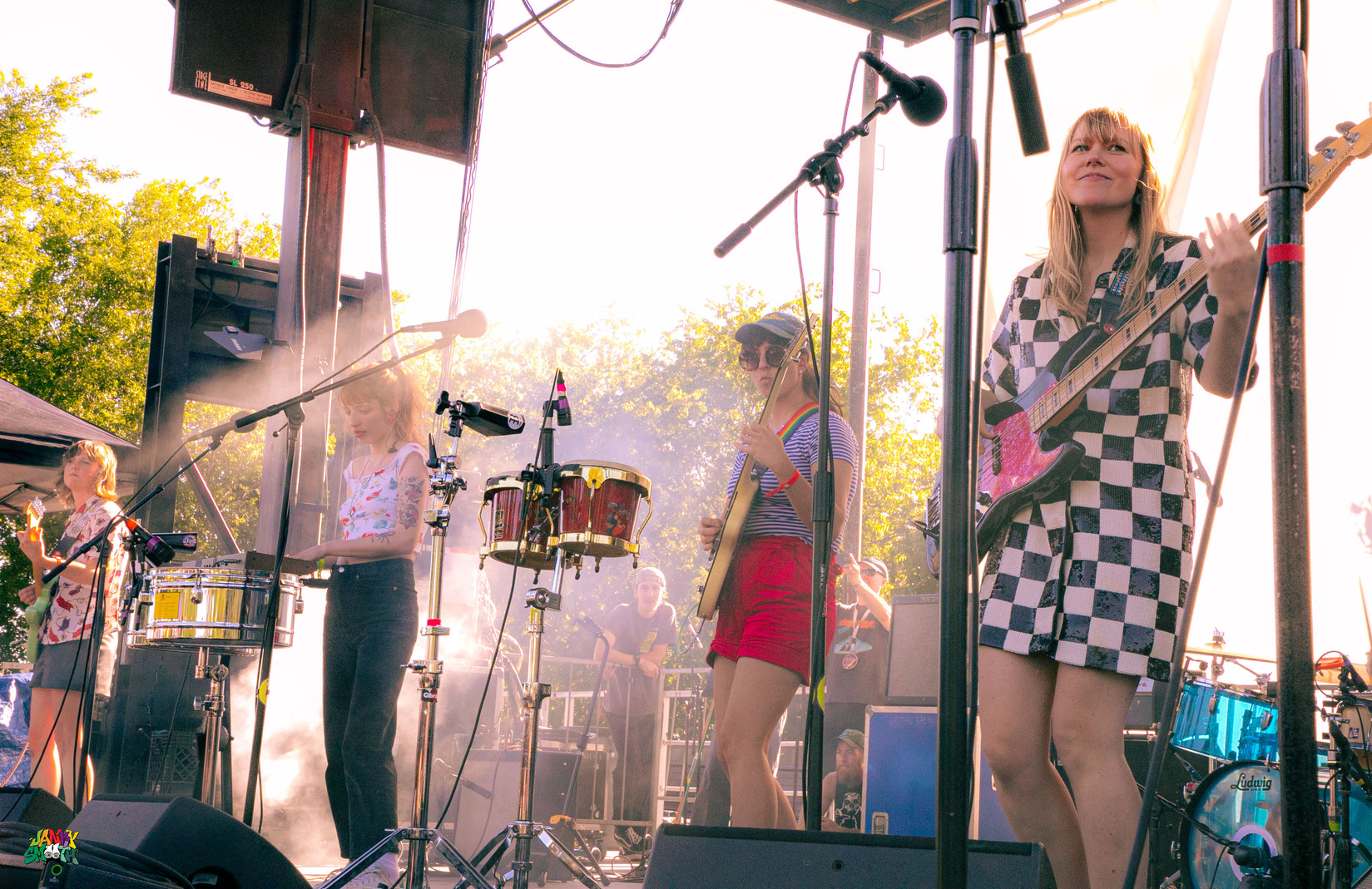 Big love for psych electropop groove act Divino Niño from the Sunday crowd singing along to the songs 'Foam', ''Now Soltamos', Quiero', and 'Melty Caramelo' word for word. Divino Niño, based out of Chicago, IL delivered funky synth, dreamy swirling guitars, crooning vocals from Camillo Medina that melted the crowd into the blissful psychedelic liquid night.
related: Fear and Loathing w/ King Gizzard and Pond at The Hard Rock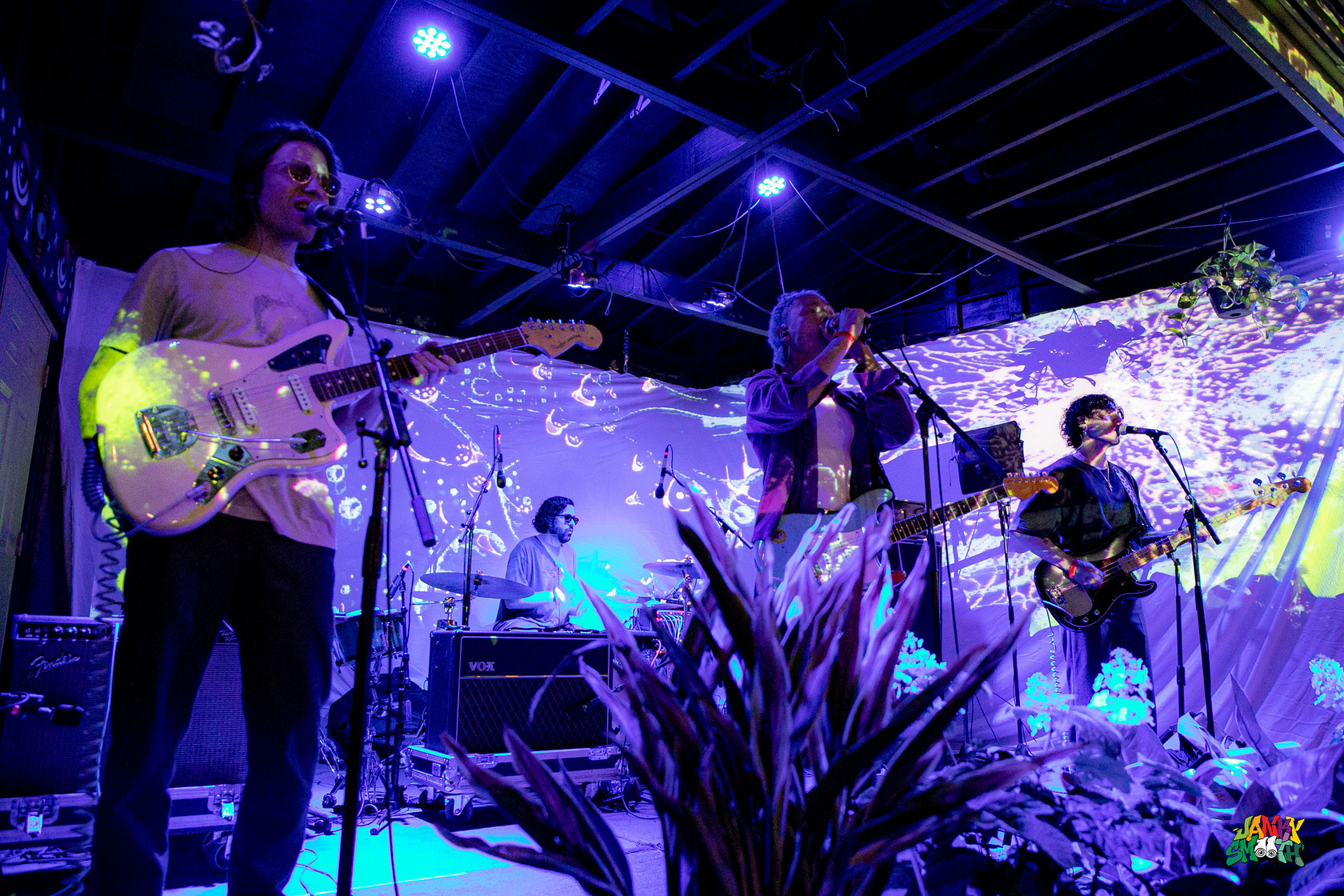 Visionary act Melody's Echo Chamber rides on the most angelic soundwaves taking the crowd soaring to the highest mountain peaks and diving into the deepest depths of the ocean. Shining moments during Melody's long awaited set included: 'Looking Backward','Shirim', Quand Les L'Armes D'Un Ange…', Bisou Magique', 'Endless Shore', Pêcheuse de Lune', 'Unfold'. Long time fans were in utter bliss as you can hear from the gasps and awes and shouts of encouragement as Melody waves her arms glowing in her custom brocade white (Saevarmarkus) dress.
related: Melody's Echo Chamber at the Lodge Room- Dancing on a Psychedelic Planet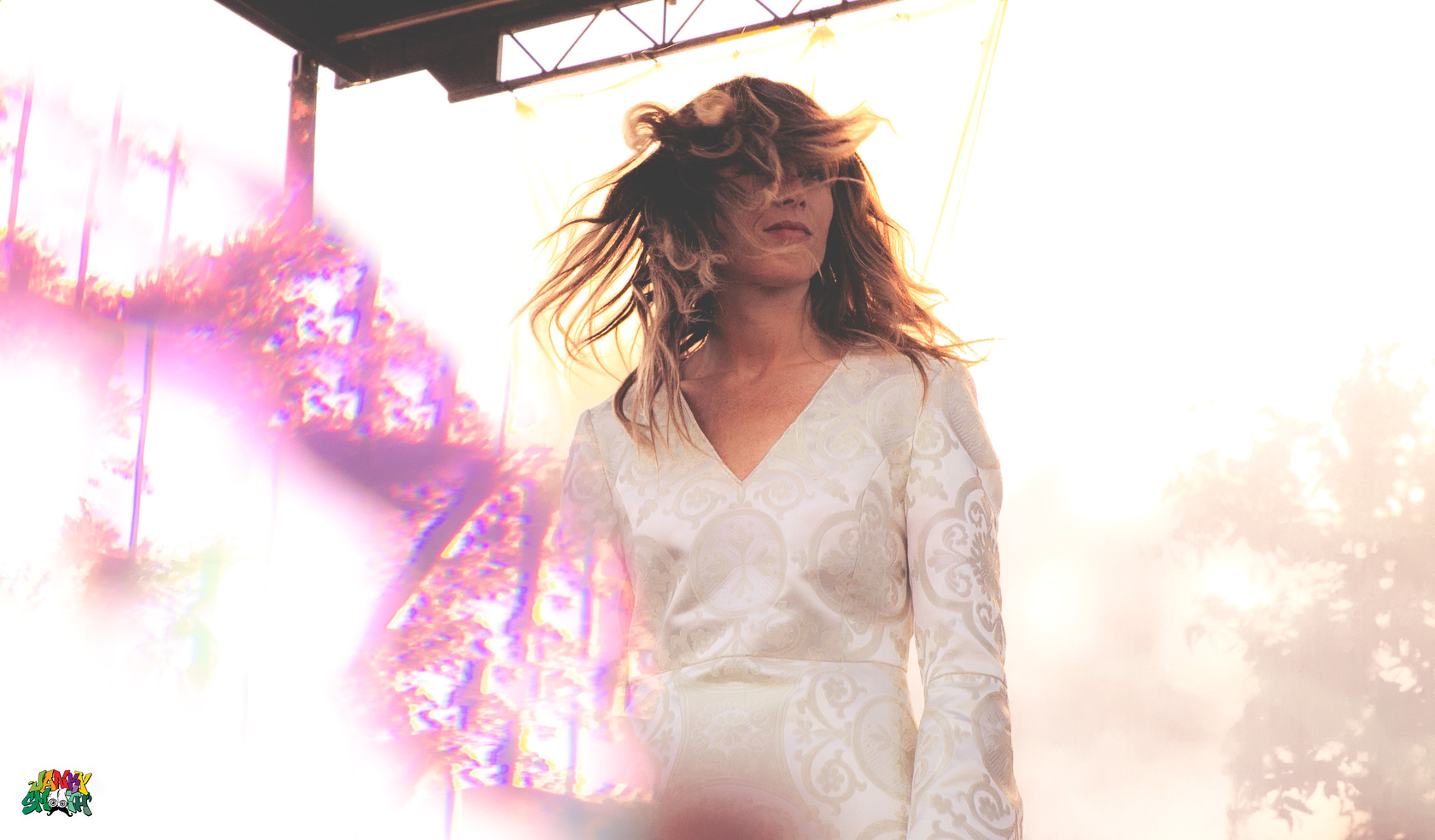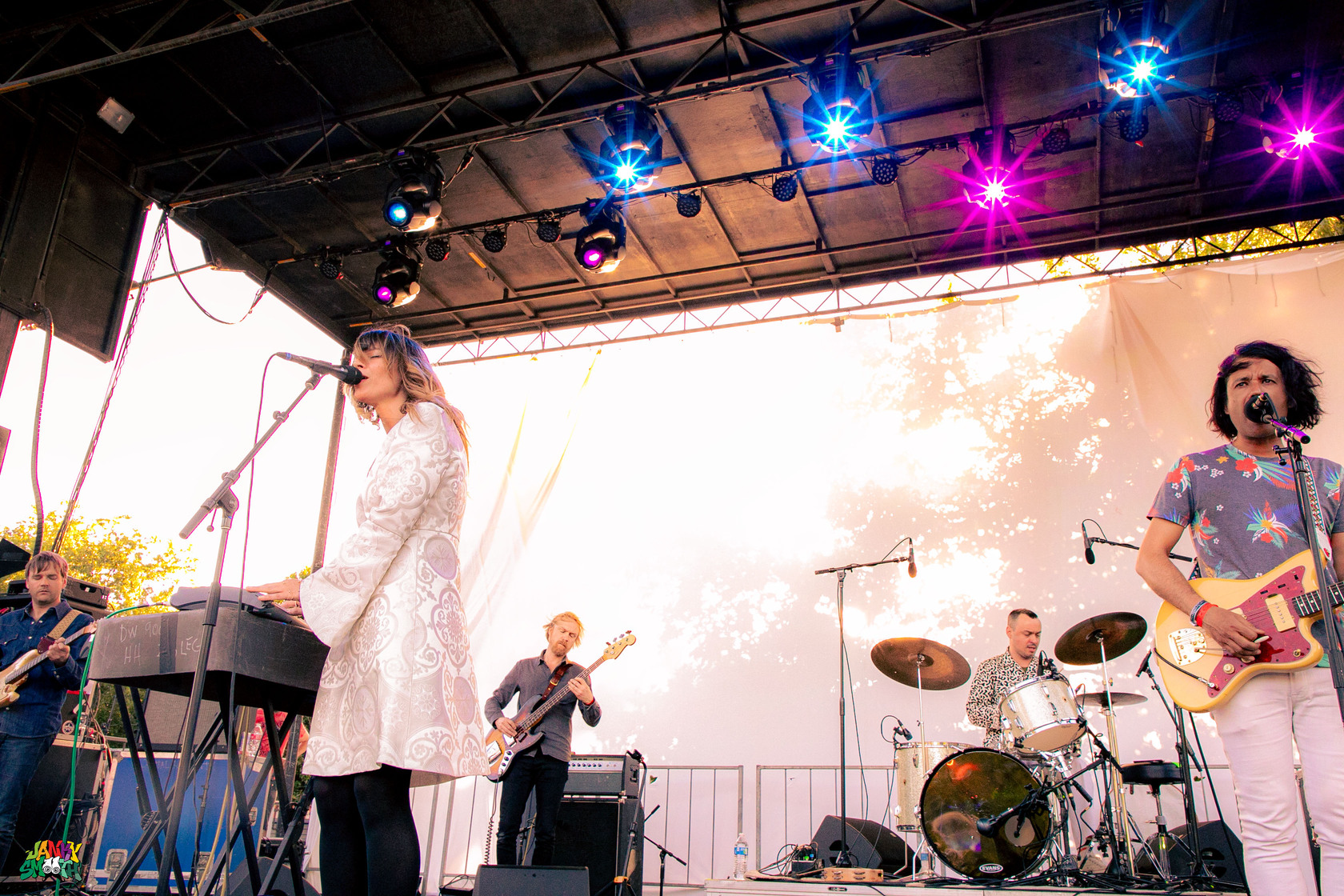 There was palpable relief in the air from Melody's set as the setting sun felt like some sort of majestic and sacred communion. Reine Fiske inspires enticing guitar worship with his contributions to the live set. Melody has a unique way of drawing in the crowd with such a demure and magnetic gaze. She leaves everyone comforted and enlightened by her spiritual poetry and her twee, breathy vocals. Her set was well worth the wait to witness in the open air surrounded by lush trees at The Far Out Lounge for psych heads new and old.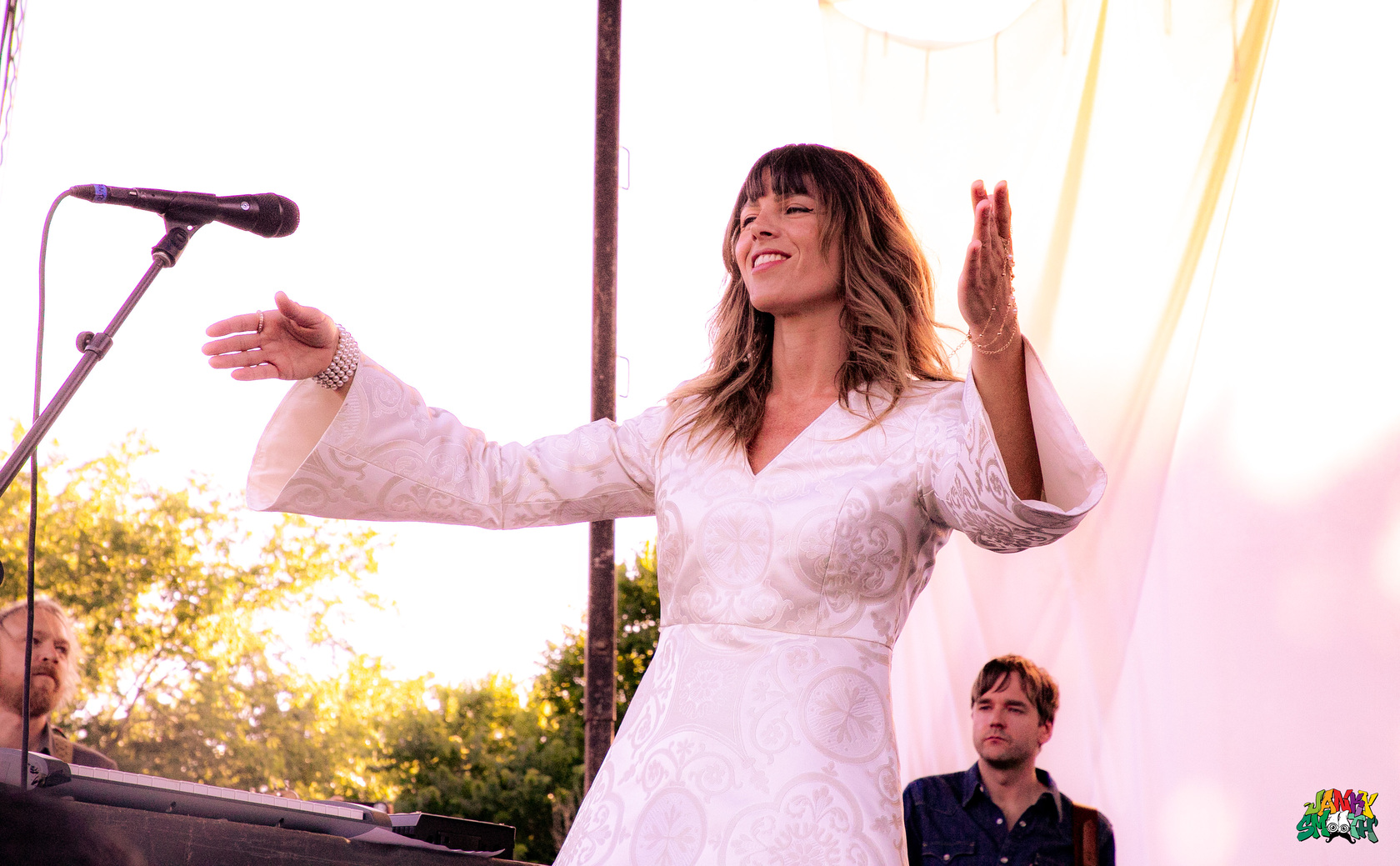 Related: Melody's Echo Chamber At The Lodge Room – Dancing On A Psychedelic Planet
Much of Sunday's acts included a heavy dose of latin-x music fueling Sunday's afternoon of pulsating dance and rhythmic beauty. Pumping energy into Sunday with the likes of Nemegata, El Combo Obscuro, Divino Niño, and Bratty. There was strength in diverse musical representation. Cuco's bi-lingual psychedelic synth-pop set started out with a speech from ATX U.S. Representative Greg Casar highlighting certain actions of corporate politicians and recognizing attacks on immigrants rights. He identified Cuco as an immigrant kid whose music is about love and community. The crowd reflected back the support and cheered in elation to songs like 'Lava Lamp' and 'Amore de Simpre'.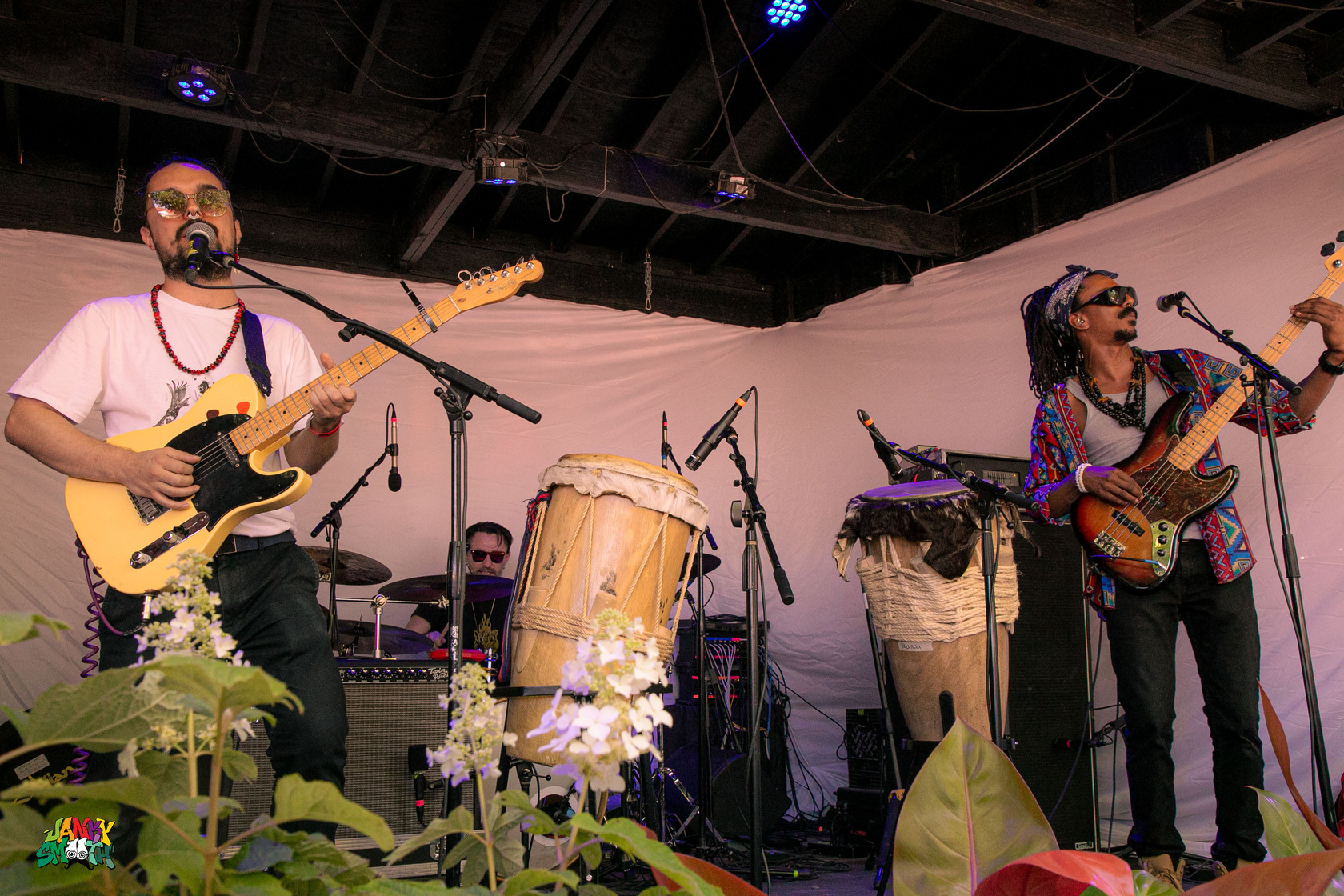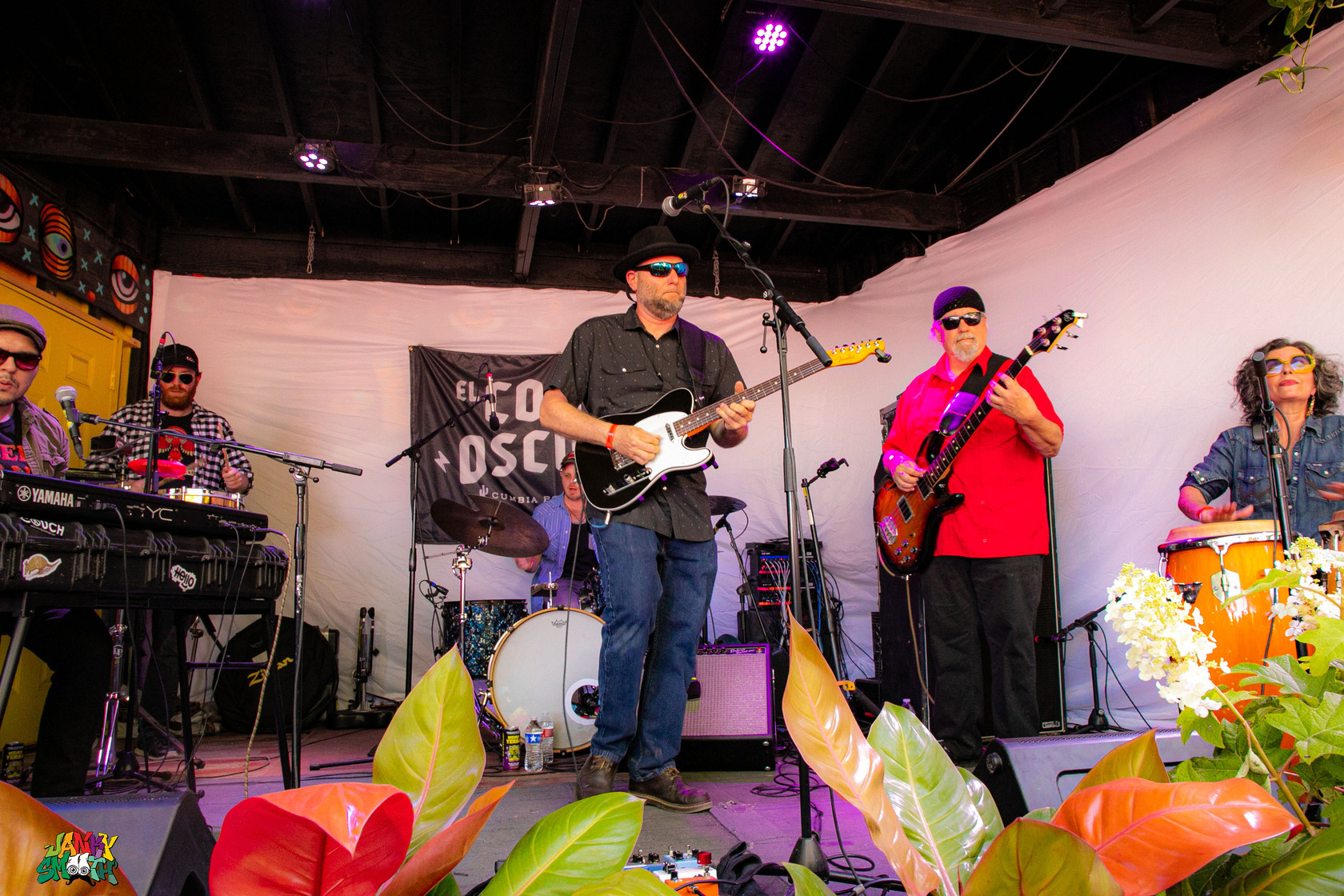 Austin Psych Fest highlights the music and the community above everything else, treating them as one in the same. It exudes authenticity, something you hope for at festivals but is rarely the case. In a modern world where the mainstream is absorbed in false capitalism disguised as a place for music (side-eyeing you Coachella, which happened to be just a week before), Levitation brings a socialist experience, a true of the people for the people mentality, treating love of music as the great equalizer. This honest approach births and fosters a diehard community of fans and musicians alike, to the point where you can't tell where one ends and the other begins.
APF 2023, the 15th year anniversary, approached psychedelic music from multiple cultural perspectives, invoking sounds and influences from across lands and oceans: Texas, West Coast, East Coast, Europe, Latin America, Nigeria, the Philippines, to name a few. The festival was a great revival of psych music, true to all its iterations over space and time. From the 1960s to now, Austin has proved itself as an artistic home for all things Far Out. People come from far and wide to embrace this legacy, to absorb the sounds and textures, and to connect with like minded individuals who live for the music just like them. Stoned and dusted outcasts yearning for something more, something real, something to connect with. I met the loveliest people here, some newcomers and some longtime fans. I truly felt a part of something greater than myself. It was such a raw experience. Riding a high, the universe sent me what I needed. Make it out next year if you can. I know I will!
Words by Michelle Schuman and Grace Dunn
Photos by Grace Dunn