Cloak & Dagger Fest: The Heart Of Los Angeles Bled From Dusk Till Dawn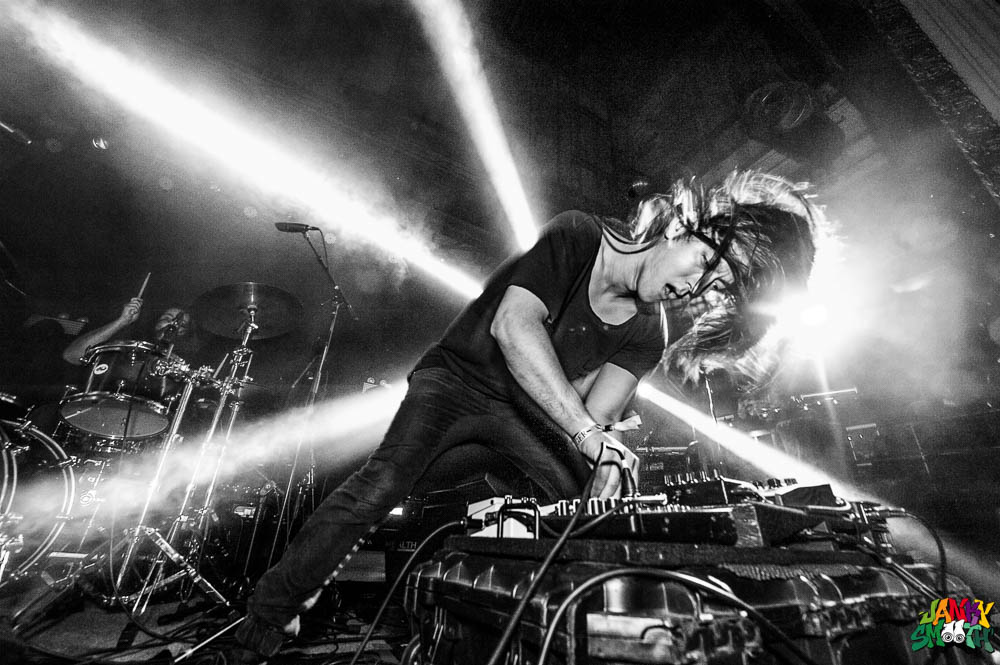 Good "dark" music should come from a damaged yet open heart because it's those damages that make all the styles of dark music involved in Cloak And Dagger Festival beautiful to those that wear black late at night- or during the day, for that matter. Whether it was dark wave, new wave, post punk, goth/death rock, industrial, EBM, or shoegaze, every shade of black was represented on those two cold October nights.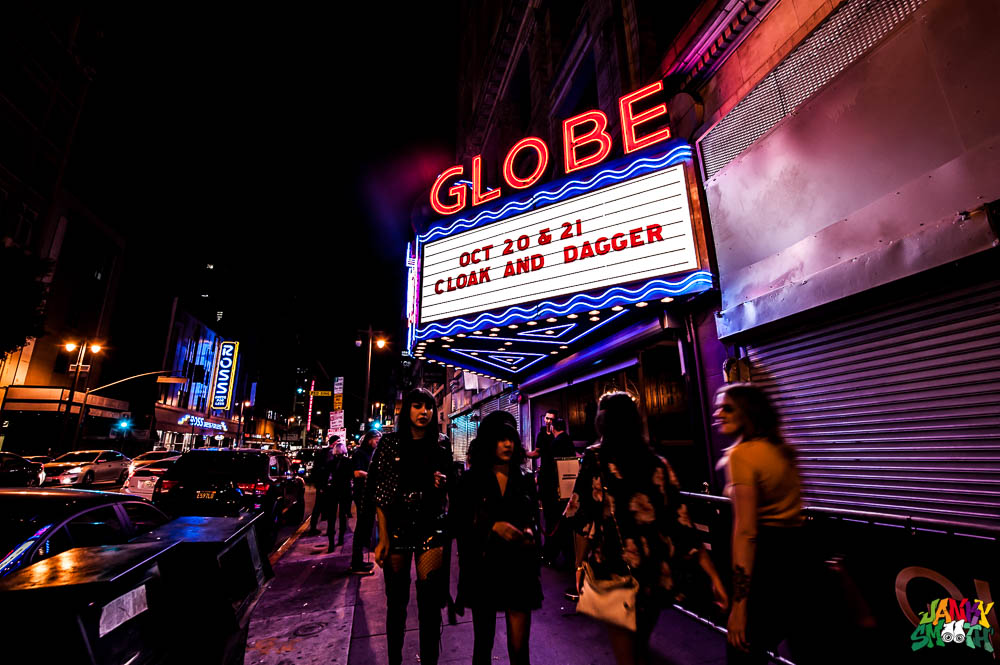 Right from the first lineup announcement, it was understood that this would be like no other festival. With three stages at the Globe and Tower theaters, an all black dress code, and local brand recognition, I was sure the siamese evenings would play out like a movie, think Eyes Wide Shut meets Gimme Shelter. The lineup hosted plenty of bands that are Janky Smooth favorites like Ho99o9, Health, Moon Duo, and Uniform. Iconic artists like KMFDM, OhGr, and The Jesus and Mary Chain were set to share the two stages with future headliners like Cold Cave, The Soft Moon, and Lust For Youth. So any goth kid, let alone this one, would be awestruck and elated at the chance to partake in the affair.
Night 1: Black is the absence of color and hell is the absence of God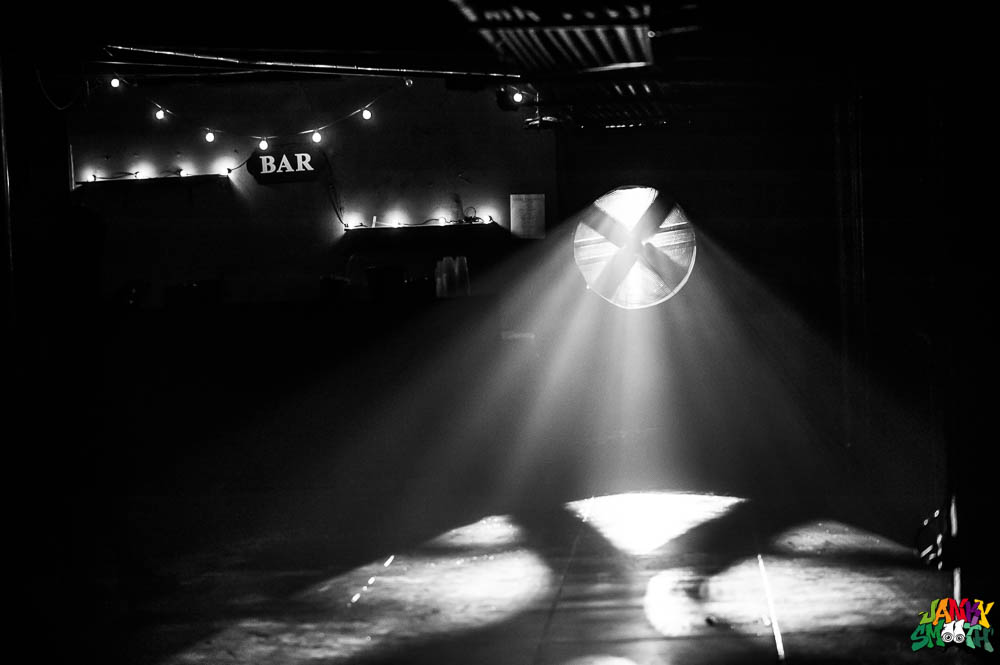 I made sure to adhere to the unspoken dress code that is enforced at the festival's namesake Tuesday club night in Hollywood. Black shoes, black jeans, black shirt, black vest, I wanted to be absorbed into the same dark mass as everyone, so we could all sink into one big shadow together. I arrived at the Globe Theater while the main stage was being prepared then swung down the stairs into the bomb shelter basement where Haex was rattling the foundation with hard hitting industrial metal. Ash's grimy guitar riffs and Sarah Graves' electronic drumming and synth-work charged Adam Jones' Neuromancer vocal growls to get me thrashing around rabidly right from the outset.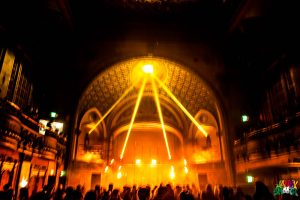 I felt the need to keep moving and check out all the action. I quickly cruised to the Tower to see LXT. They performed a bluesy, melodramatic and deliberate sort of post punk, like if Bertolt Brecht wrote for Joy Division. Their songs wallow in sadness then explode into heart-aching maladies. They were cool but couldn't sink their teeth deep enough in me to stay.
Night 2: An Accidental Swing of the Axe delivers the Punishment and Justice Due
The bands I wanted to see most on Night 2 were going on rather early so I got there for the first set at the Globe: Uniform. Imagine if Ministry and Big Black had a baby… I would worship that baby as my lord and savior. And that's what Uniform might just be. With thick guitar riffs and visceral and jagged drum machine clanking from Ben Greenberg, then filtered vocals from Michael Berdan that he belts out so hard his face stretches to the point of tearing, the band has enormous potential to leave their mark on extreme music.
The sound check snafu was a blessing in disguise though because the set time conflicts between the Tower and Globe had been made obsolete. People didn't want to have to choose between The Soft Moon and KMFDM or Poptone and Cold Cave. Now though, with all the sets in the Tower pushed an hour, you were only forced to choose between She Wants Revenge and Cold Cave, which is an easy and obvious decision.
Listening to Cold Cave on record, I found a few songs I liked, "Underworld USA" and "Confetti", but then plenty of material that just didn't hit quite right. Live though, every song was incredible. His performing style was something to behold, bringing his roots into goth and knowing exactly how to commune with an audience like only a hardcore singer can. Then he sort of moves around with a child-like wonder and playfulness that I think is a theme in all goth music. We're all Peter Pan here, a damaged little kid underneath the layers and callouses. Lastly, the way he approaches his wife, who plays synths in the band, is in that adorable goth, hopeless romantic, lover boy sort of way. It reassures me that we're not into this music and dressing in black because we're morbid, we like this music and dress this way because we've been hurt and just want to love somebody, and with as many different kinds of people and sounds that Cloak and Dagger brought together, I hope someone to love is exactly what you found.
Words by: Rob Shepyer
Photos by: Jessica Moncrief