Becoming the Night: Substance 2019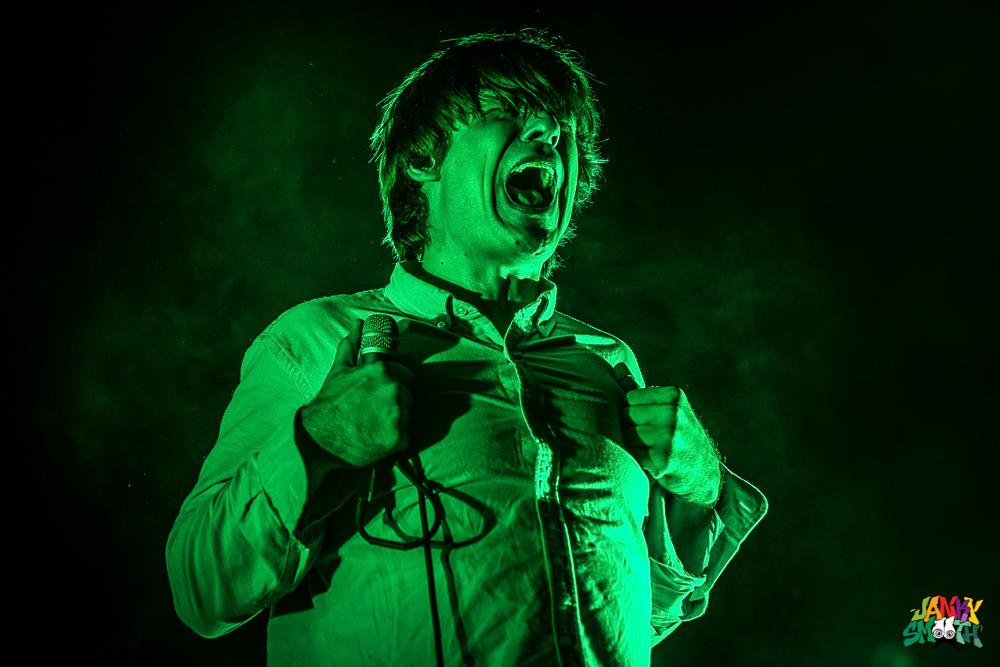 Taking every kind of music into account, the genre that best fits Los Angeles has to be post-punk, or better yet, goth. Why exactly? Perhaps it's the way the shadows hit the concrete, or the loneliness of a city where people think being neighborly only causes more trouble, maybe it's the genre's long tradition from the Sunset Strip to the barrio. Goth has always stayed strong whether it's the biggest scene in the city or not. Given all this, an annual goth festival where people can wallow and dance the night away is a necessity. In previous years, Cloak and Dagger was the go-to festival for such affairs but as of 2019, Restless Nights and Spaceland's Substance festival which took place at the Los Angeles Theatre, is now the premiere goth festival in Los Angeles. What I found most interesting about this festival, beyond the actual music, was the fact that every major goth promoter had a hand in it. Along with Restless Nights; Part Time Punks, Das Bunker, and Lethal Amounts were also in the mix. The common threads between all the bands present at the 2 day event were darkness and electronics. Everyone wore black.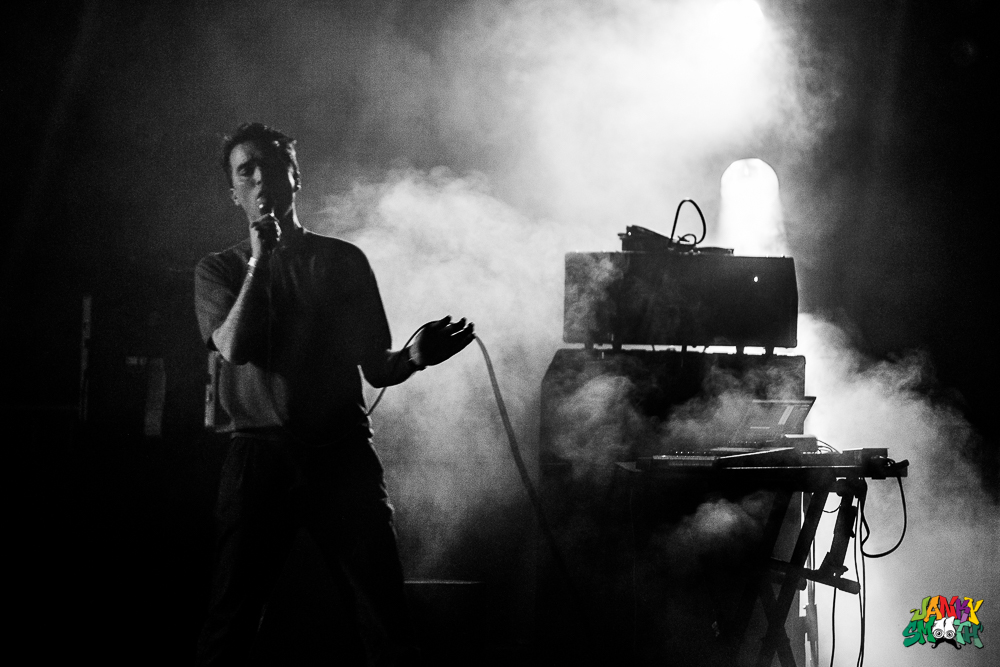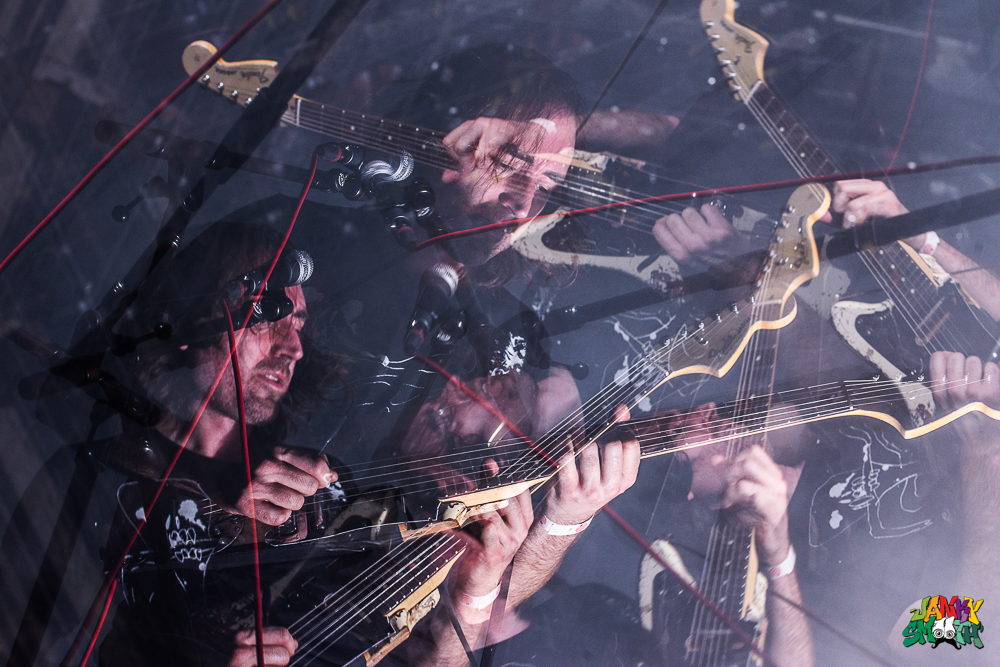 Day 1 began with industrial's latest darling, Kanga, who perhaps more than any other young artist working today, deserves the most success based on her ambition, work ethic, and spirit. She's a one-woman production crew, wearing multiple hats to put out music that cannot be denied. Having just wrapped an international tour with Gary Numan, the first night's headliner, I was interested to see how she's evolved since the last time I saw her in a small room at the Resident. Now she's a bit more polished but twice as deadly and accurate in her delivery.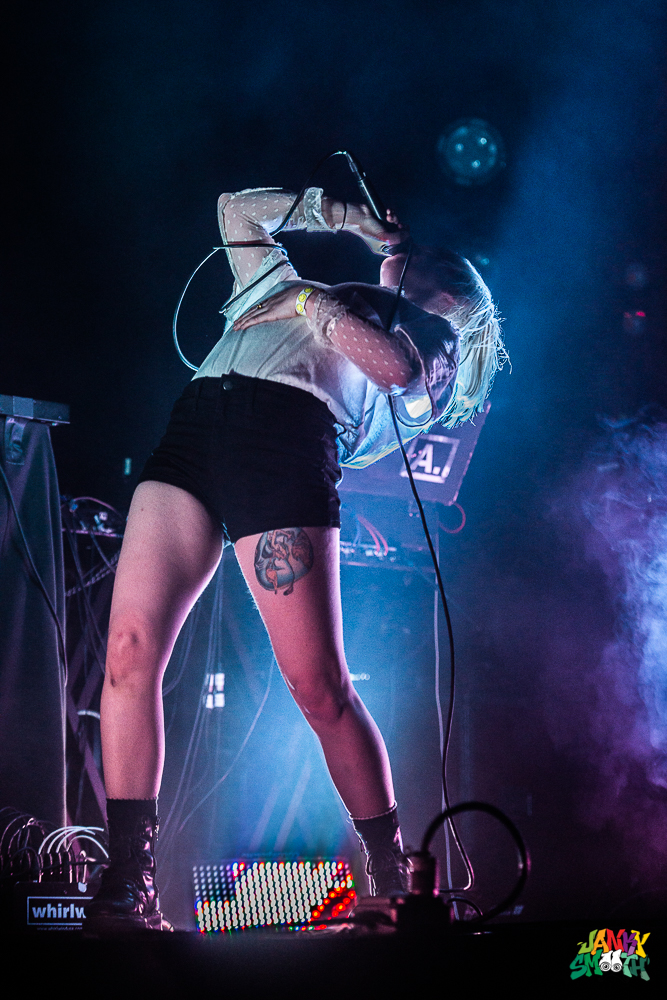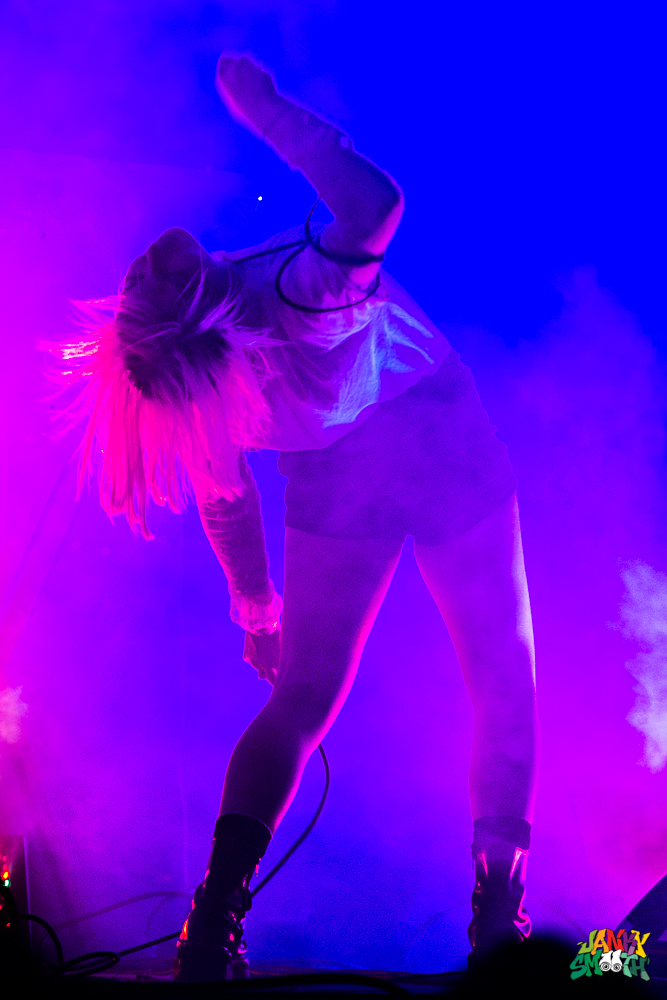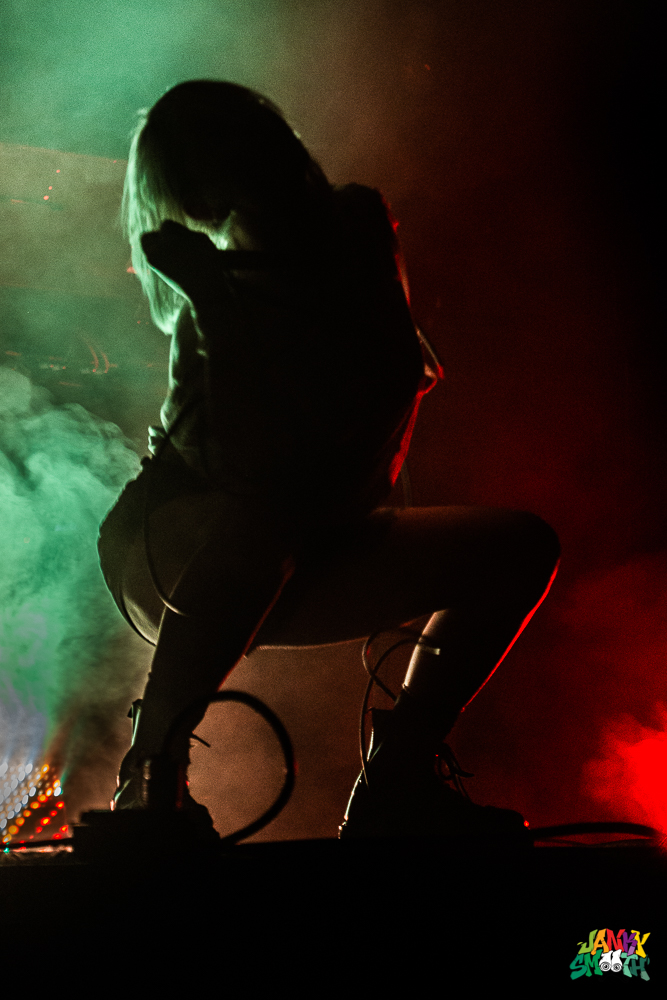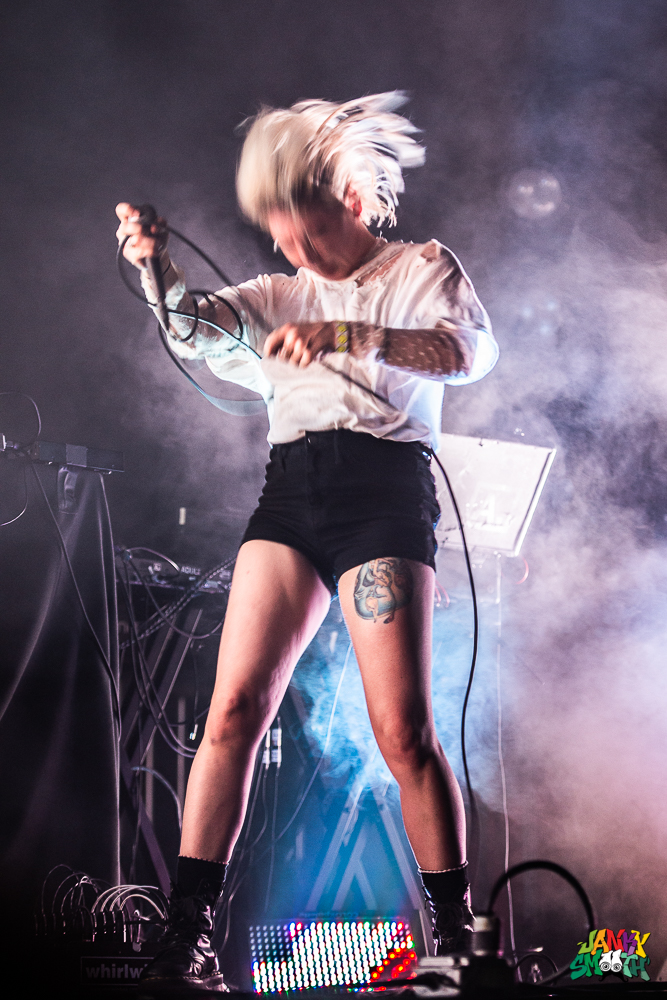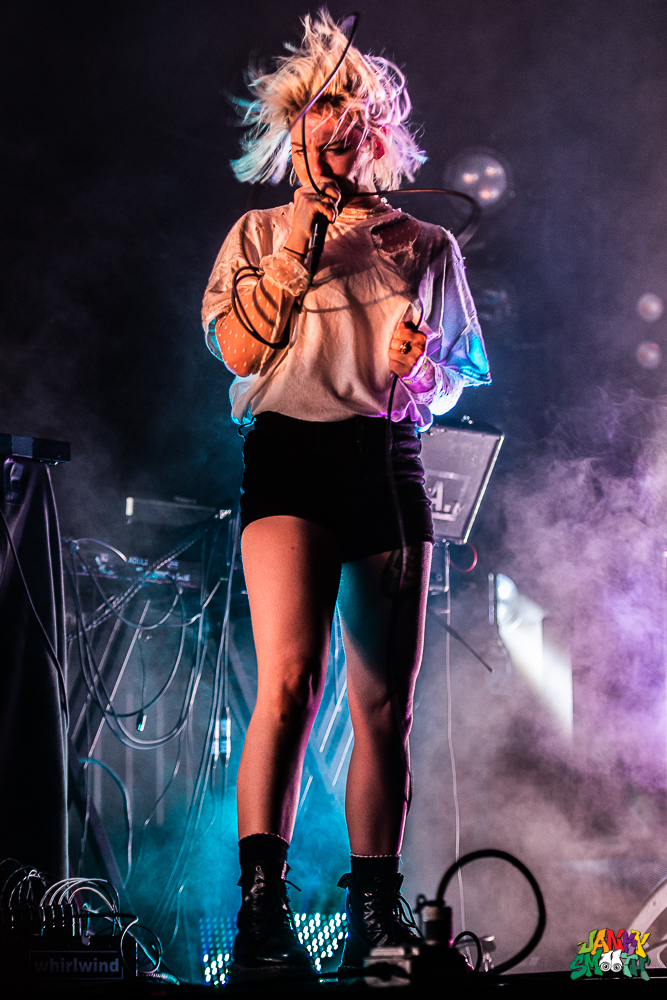 Xeno and Oaklander were the first of many Dais Records artists to perform at this festival with their dance-inducing dream pop/electronica. This duo can transport any venue into a European rave, almost feeling like a sped up version of Stereolab with minimalist lyrics but futurist feel.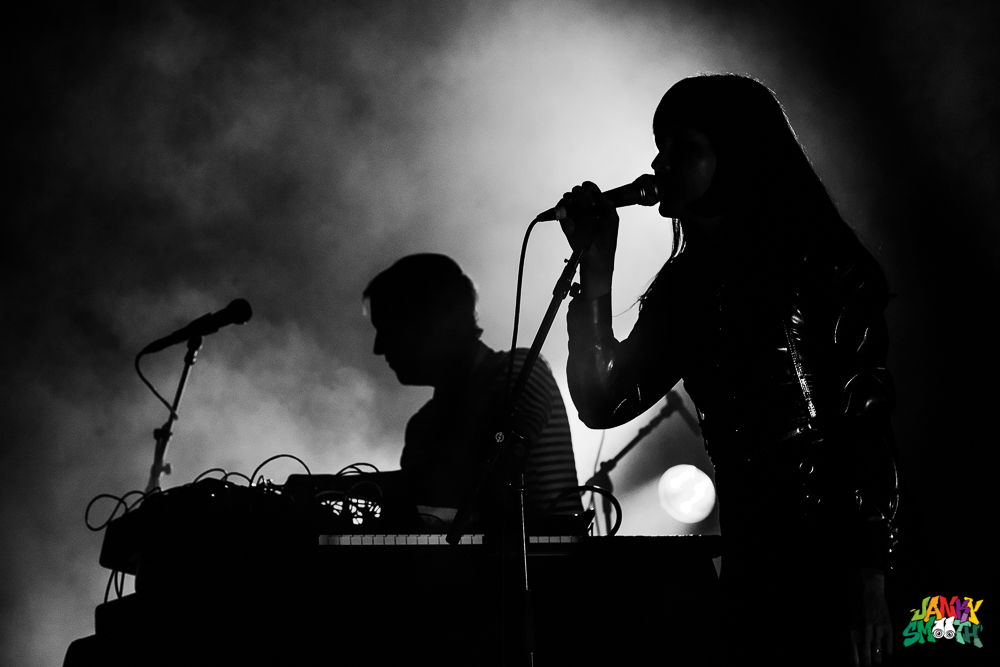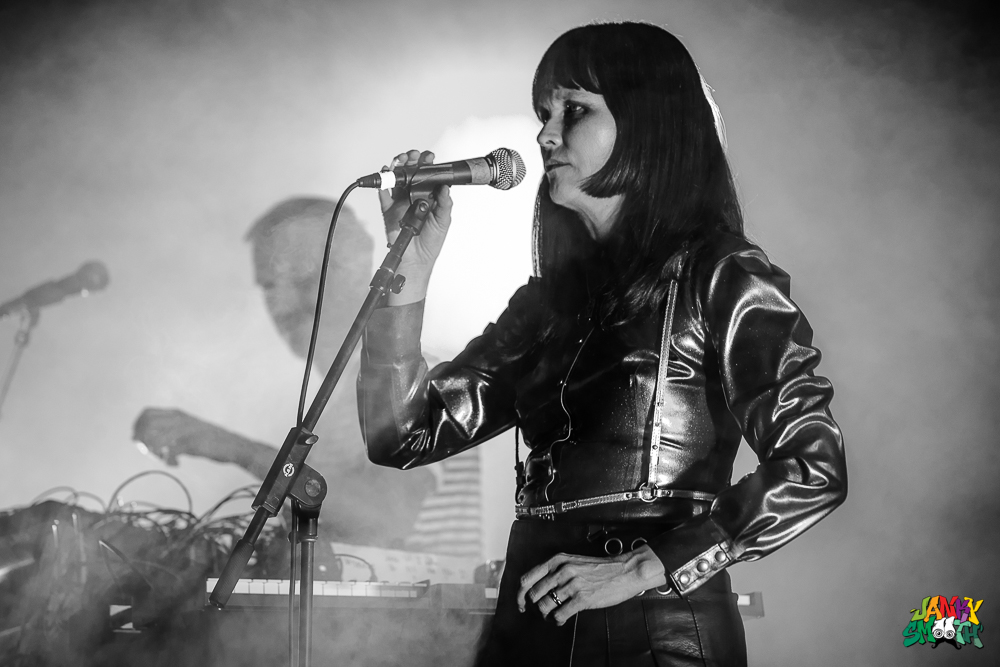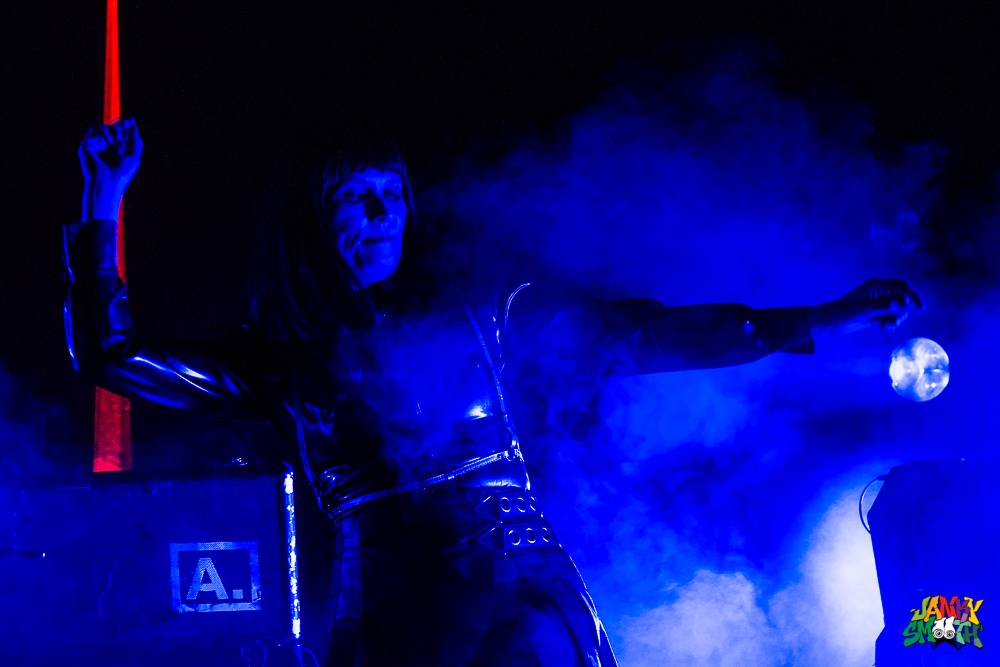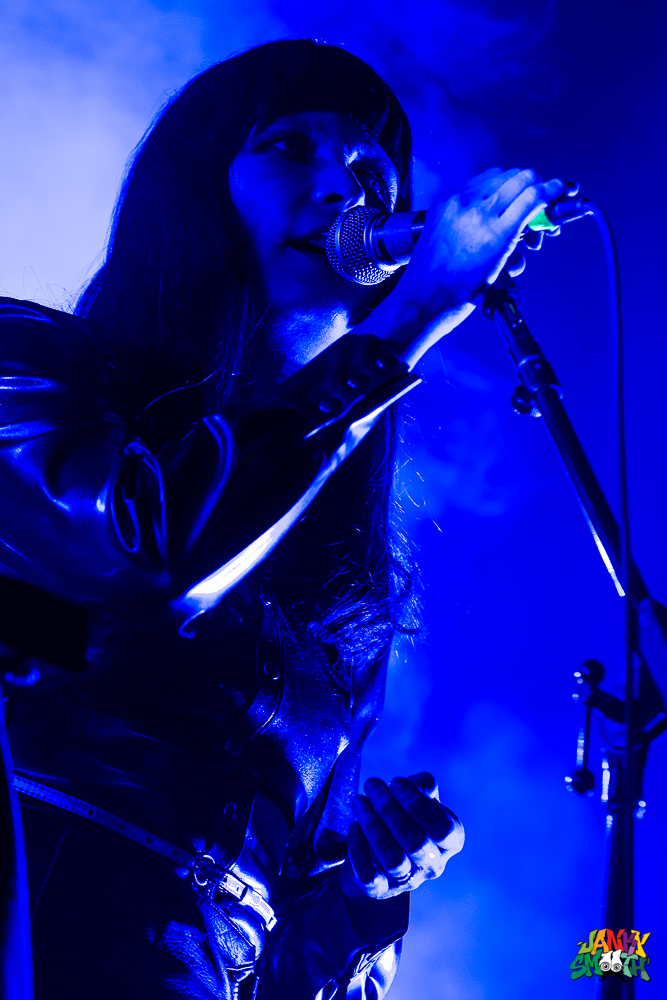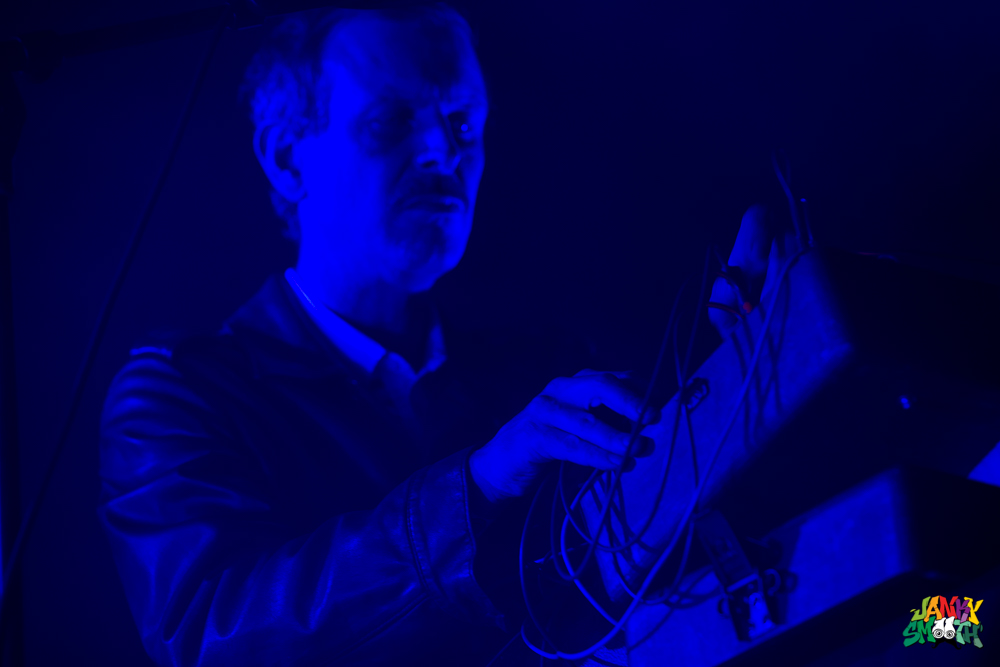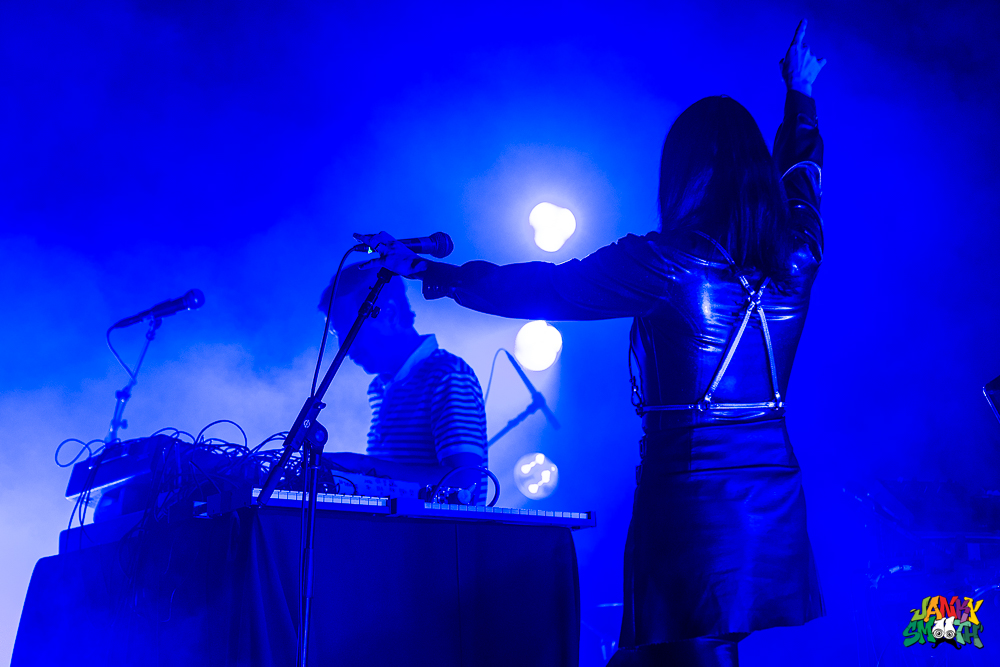 Adult. have spent so much time on the road, spreading their music far and wide, and seemingly without a wink of down-time. It's nice to see the fruits of their labor start to ripen as they were the second headlining act before Gary Numan on this night. Placed so close to a legend, it felt as if they were beginning to break into that legendary category themselves which they so rightfully deserve as innovators of underground dance music for decades now. Their set was as energetic and unhinged as ever, those odd arrangement and beats always find a way to make people dance whether they register how strange the music is or not. The way the band balances light and darkness always makes me think, obviously any kind of goth dwells in the dark but the attitude of the music can be a bit light at times and is overall about having fun with your body.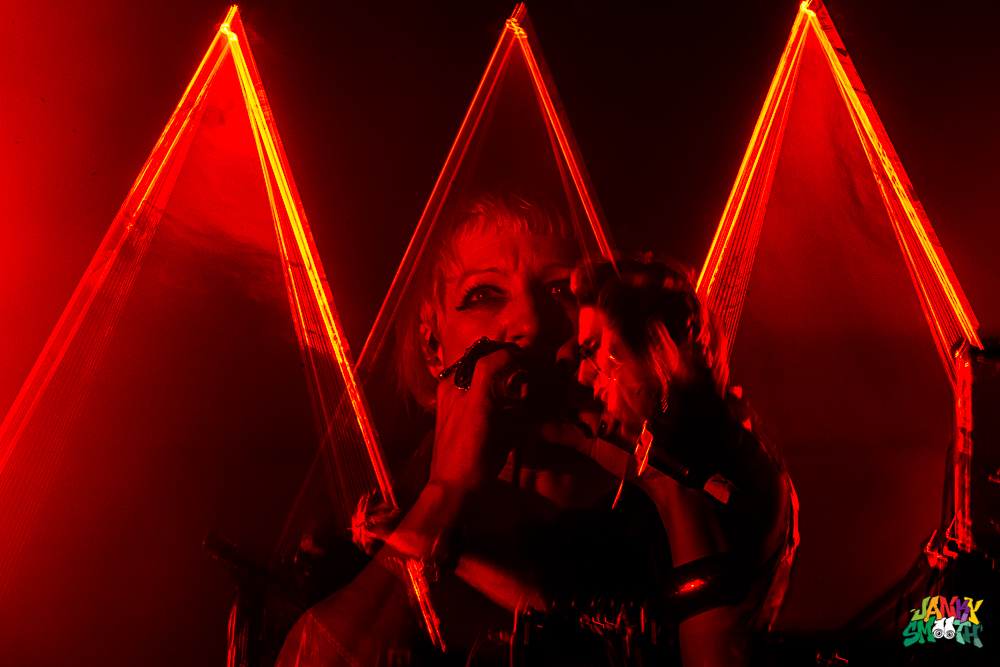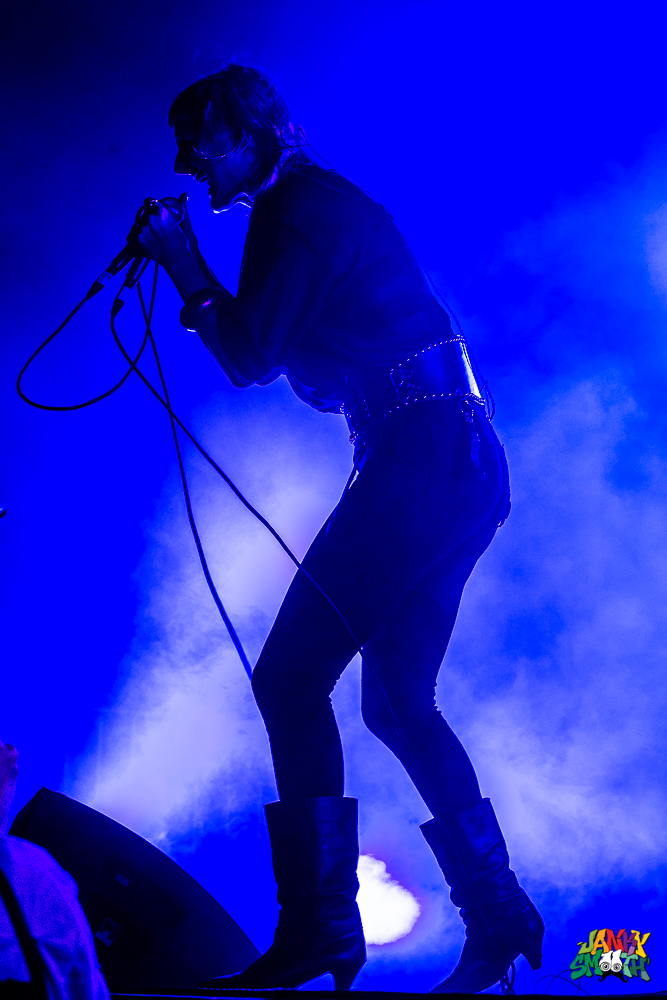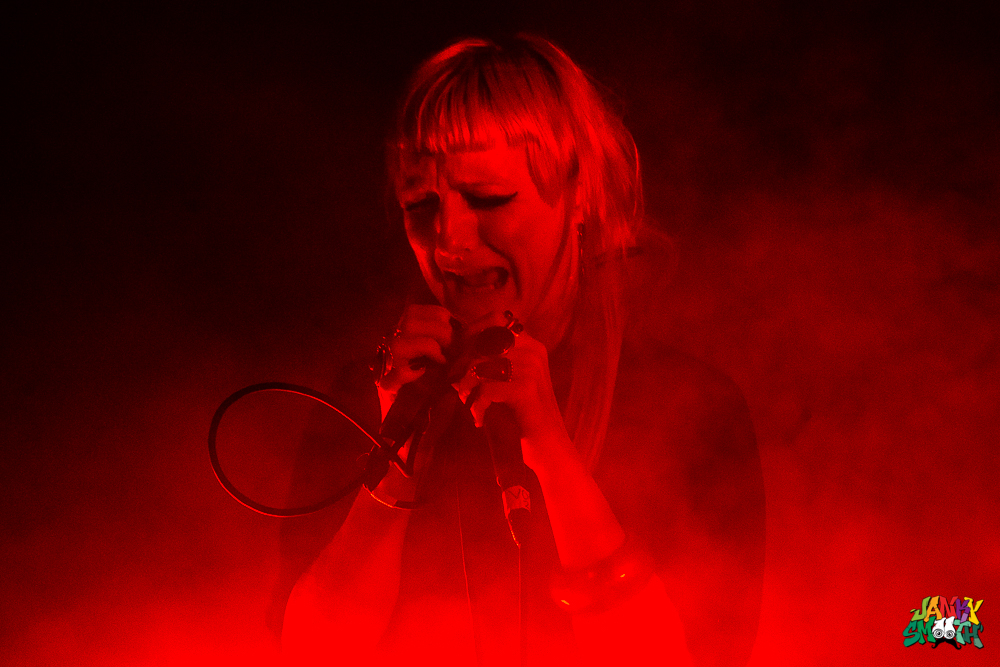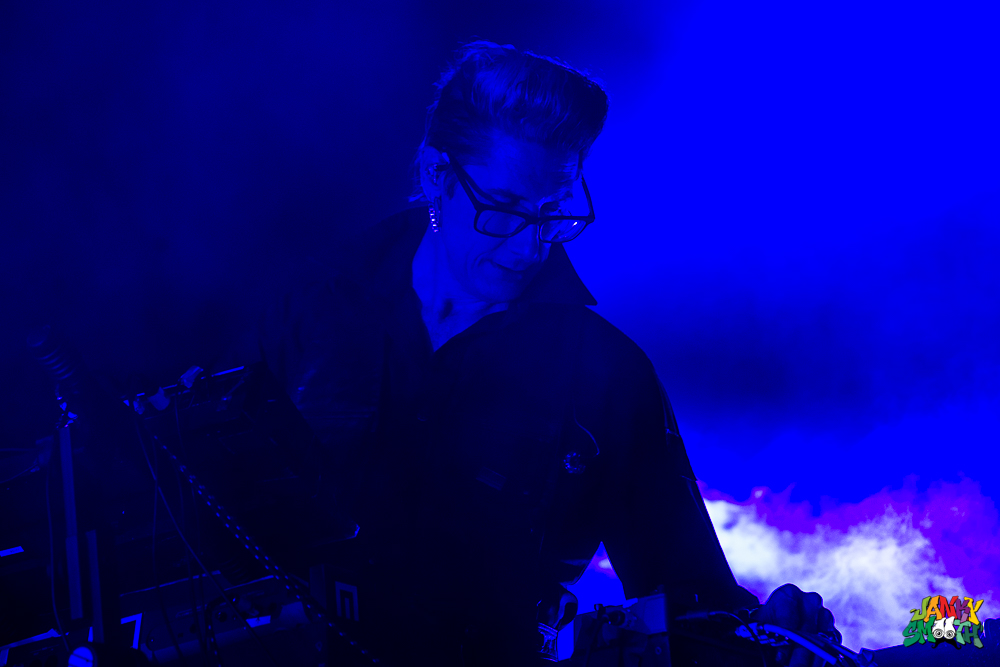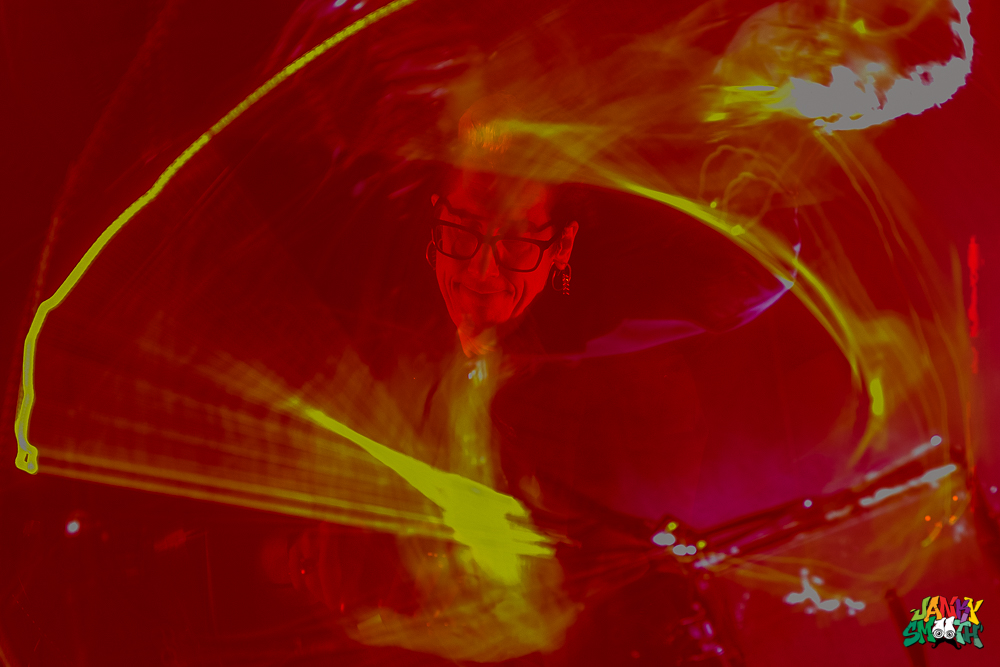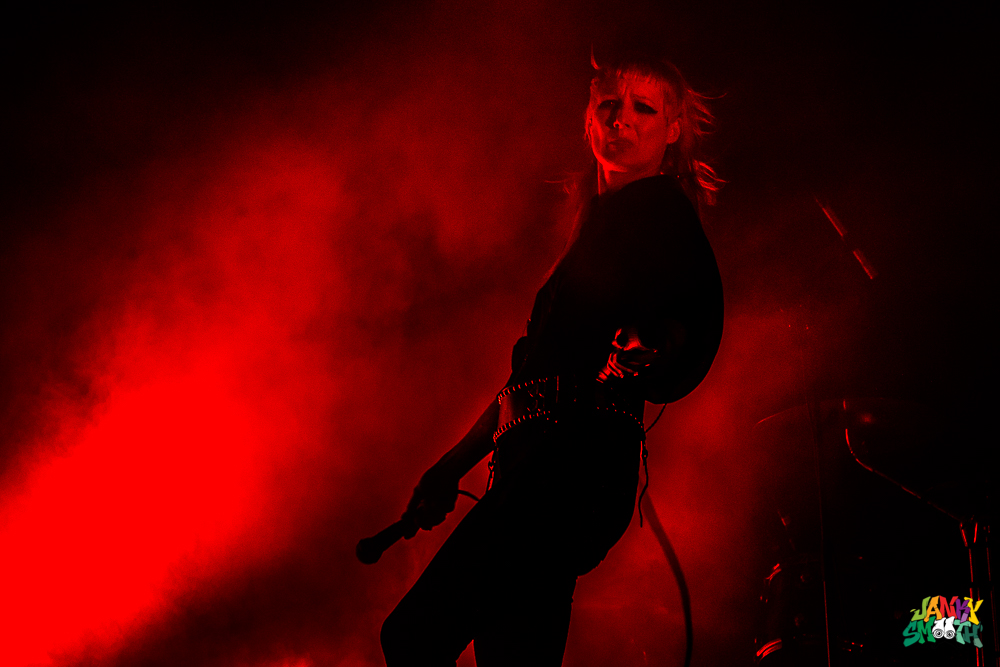 Ever since releasing his last album, Savage in 2018, Gary Numan has successfully reinvented his career as not only an icon of electronic music but as an industrial heavyweight. From the new tracks to the classics, each had a harder edge that when projected out of the incredible Los Angeles Theatre's sound system, was absolutely brutal. The band has incredible chemistry together and as for Numan himself, he prances around with cyber-goth moves that you'd expect from a twenty-something.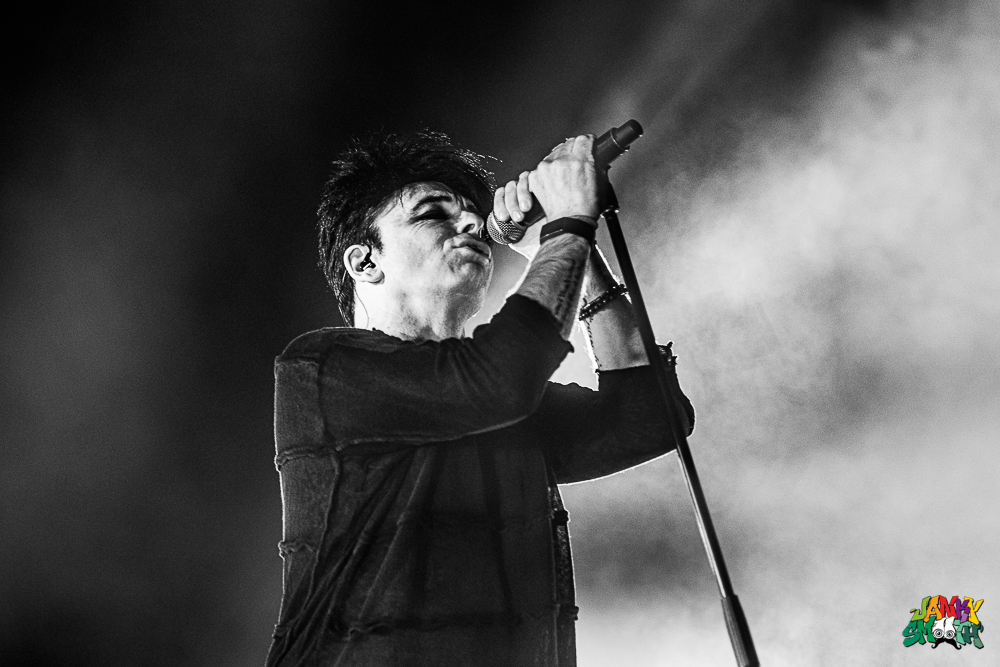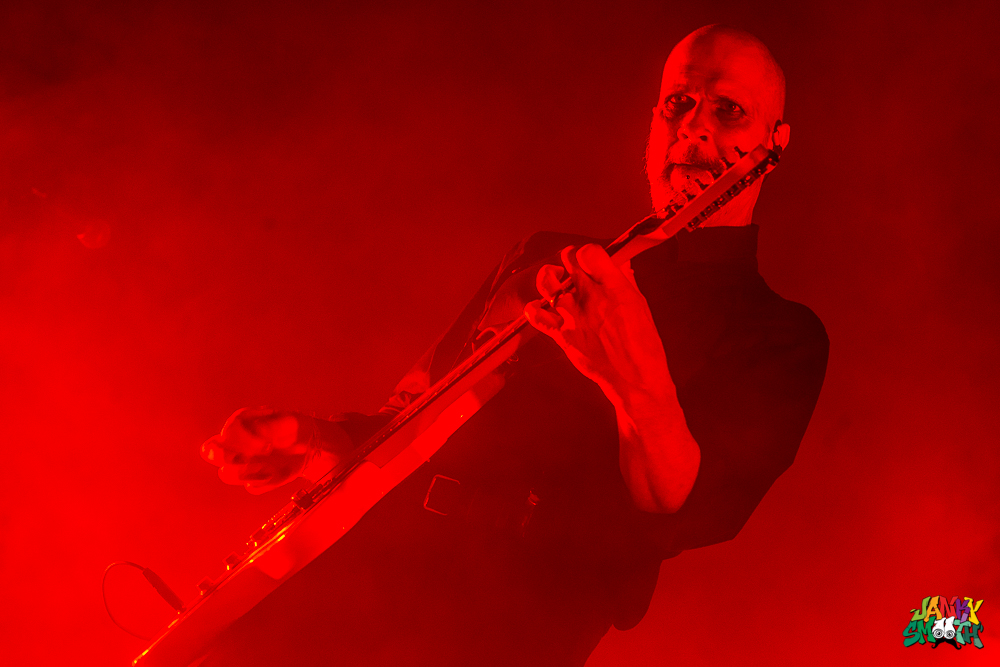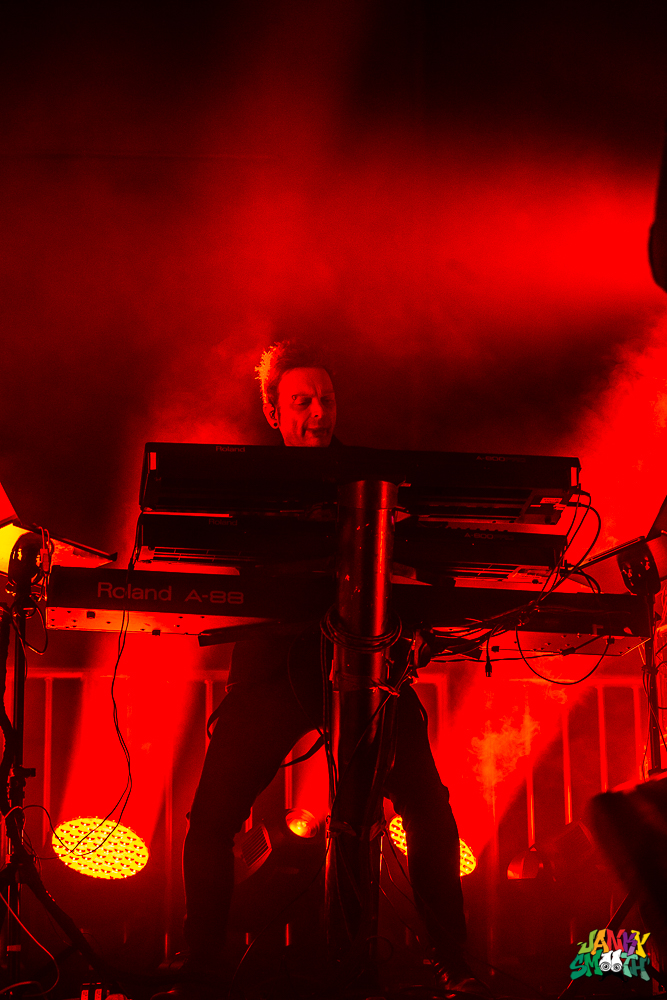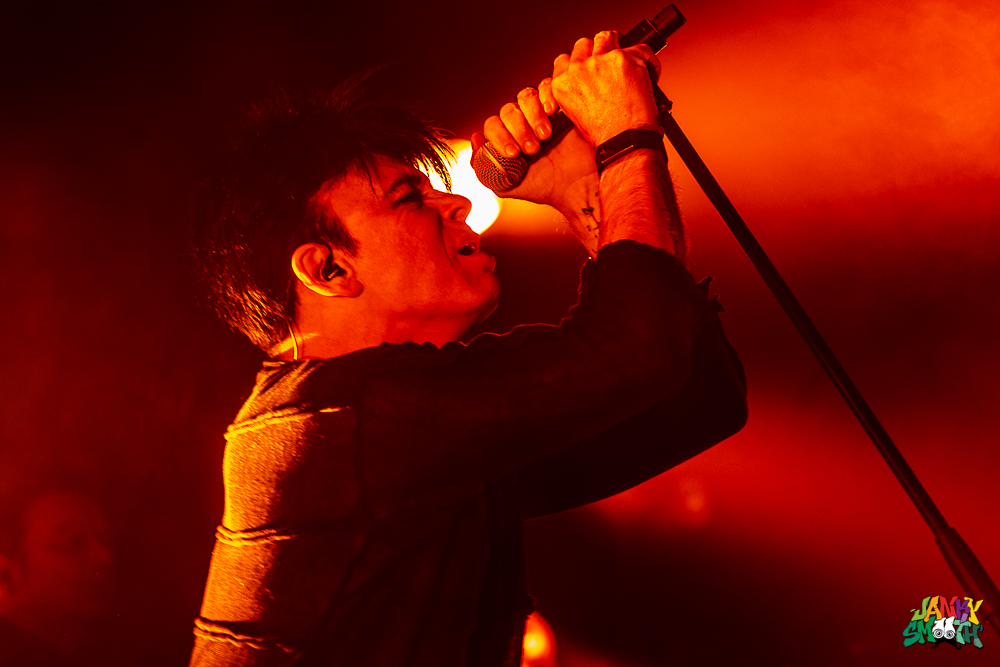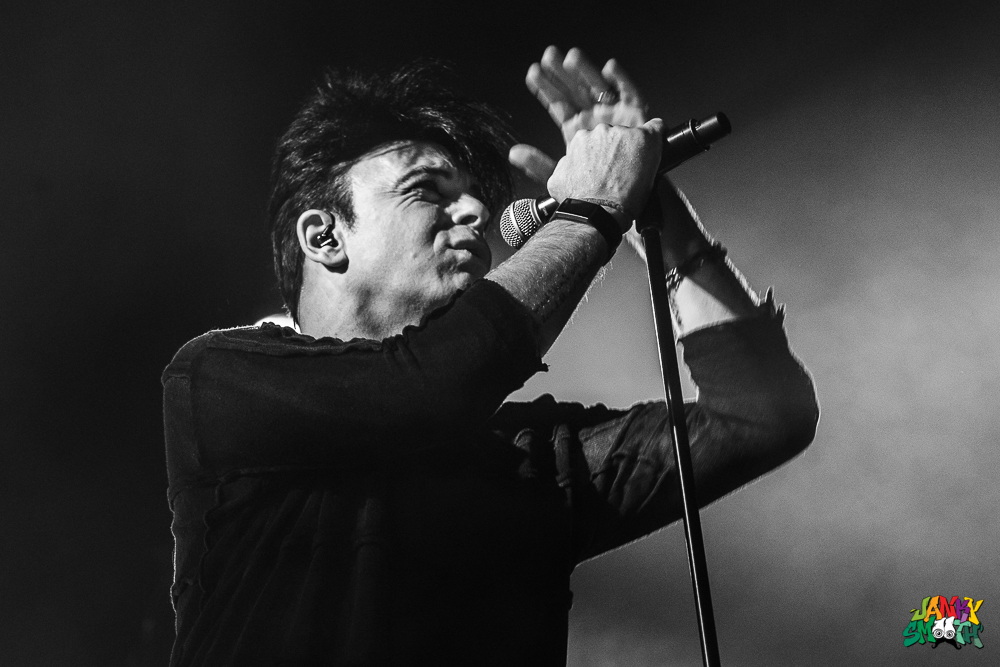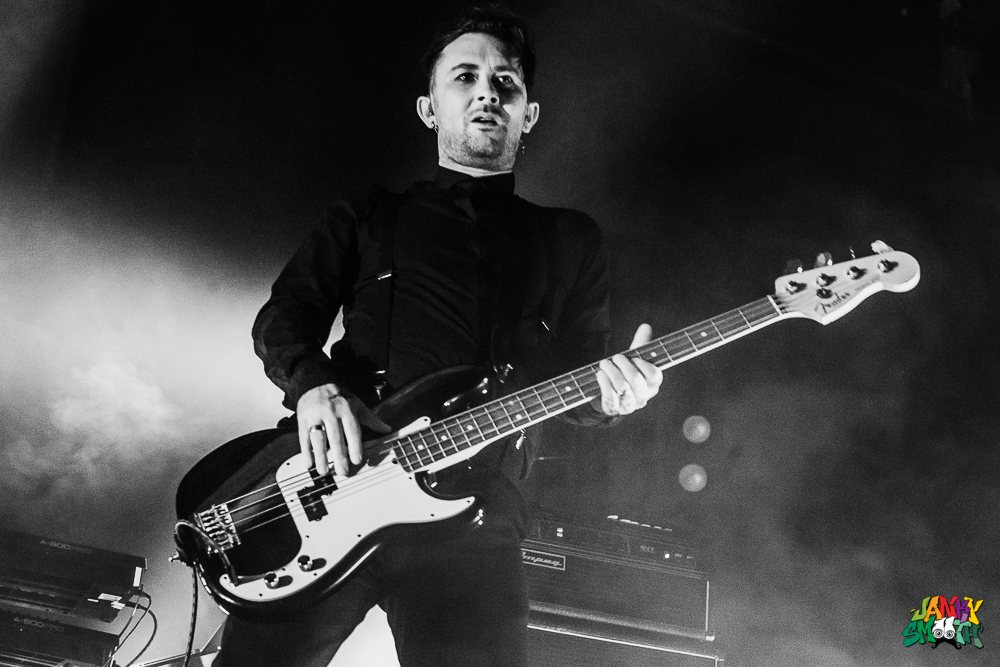 The 2nd day of the festival had a bigger turnout and a second stage downstairs. There were two reasons for this: John Maus and Boy Harsher. John Maus is a Los Angeles favorite, especially among youth. You don't have to be into post punk or goth to love John Maus, so this was the one outlier on the bill with mainstream appeal. Boy Harsher sells out any Los Angeles show at this point and after the set they put on to close the festival, I imagine they are only going to get bigger.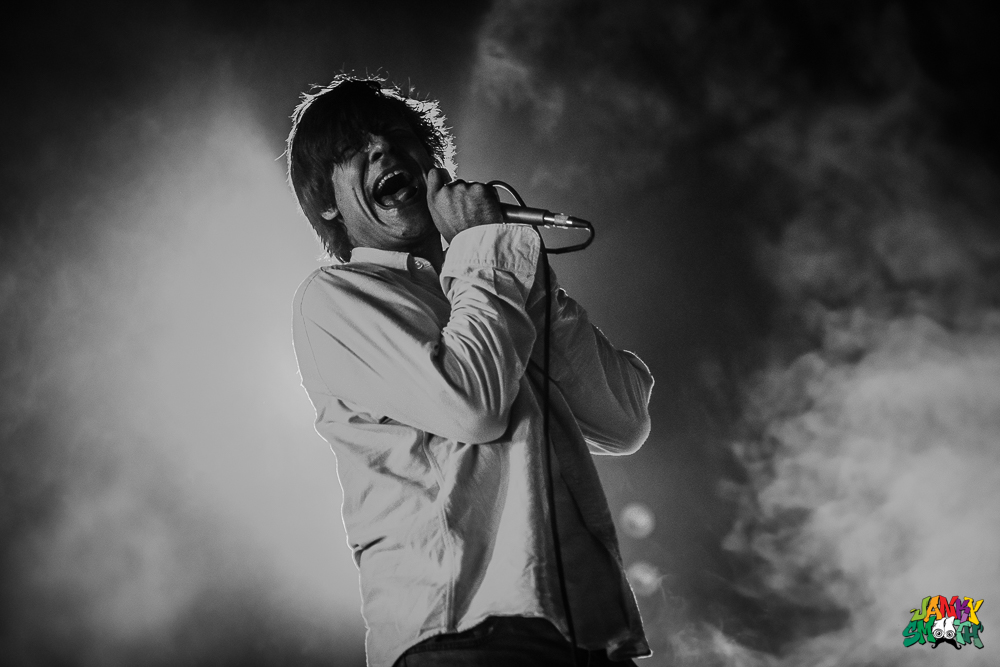 Lust For Youth can get me to come to any festival. I love their sad boy European goth pop. The fact that Tamaryn was going to accompany the band onstage for guest vocals on the track "Armida" made this set alone worth me missing out on Dinosaur Jr. at the Fonda. With older songs off their classic 2014 album "International" and new songs sprinkled throughout the set, Lust For Youth did what they do best: make you feel vulnerable. Tamaryn's moment on stage was absolutely brilliant as she sang and danced with an unchained energy that made me feel like I was experiencing the best part of the 80's.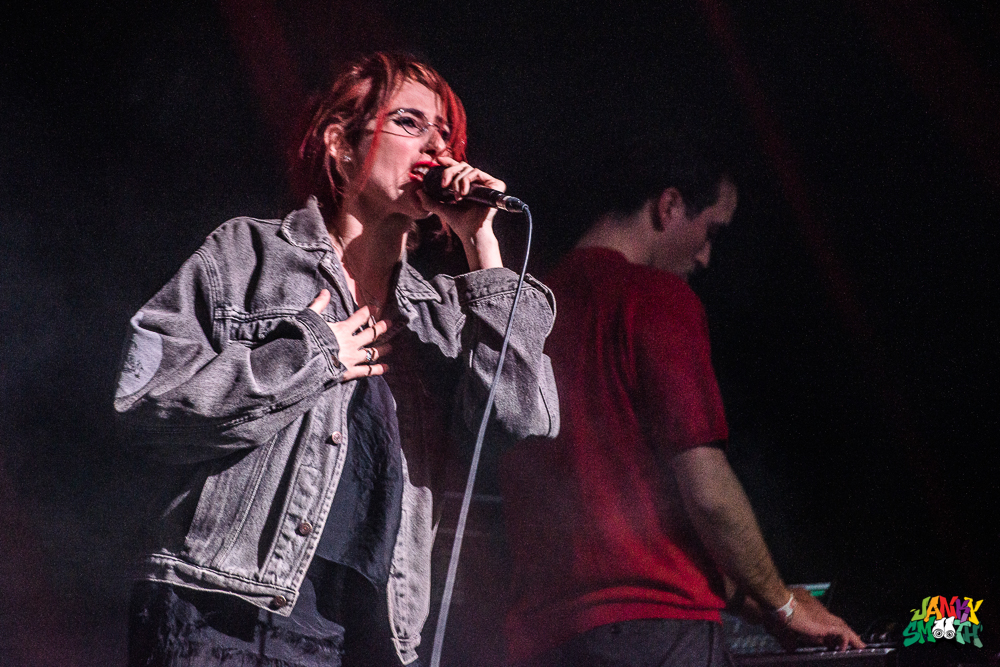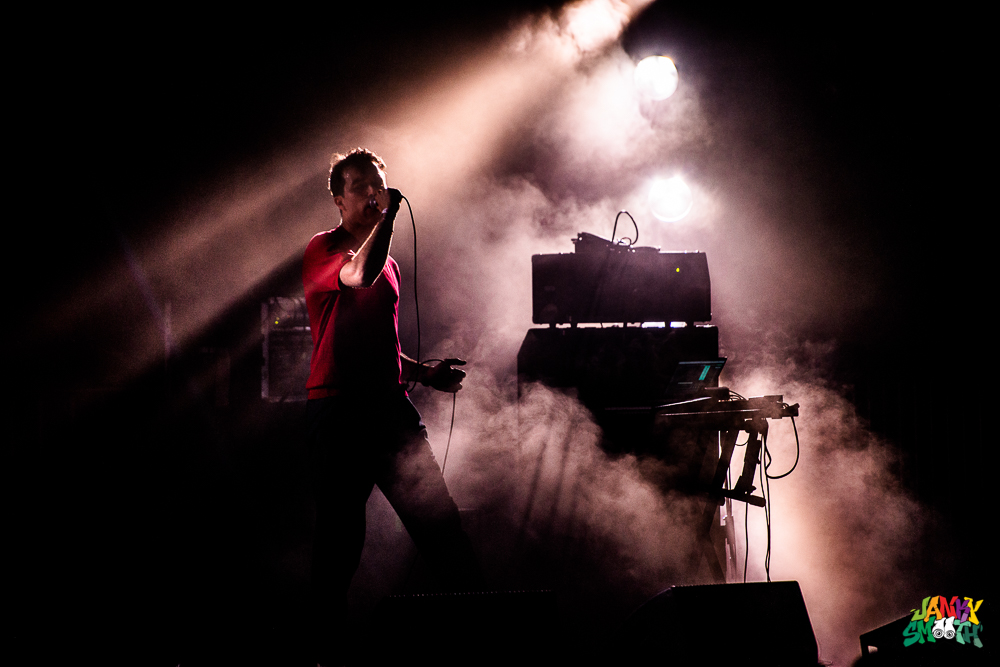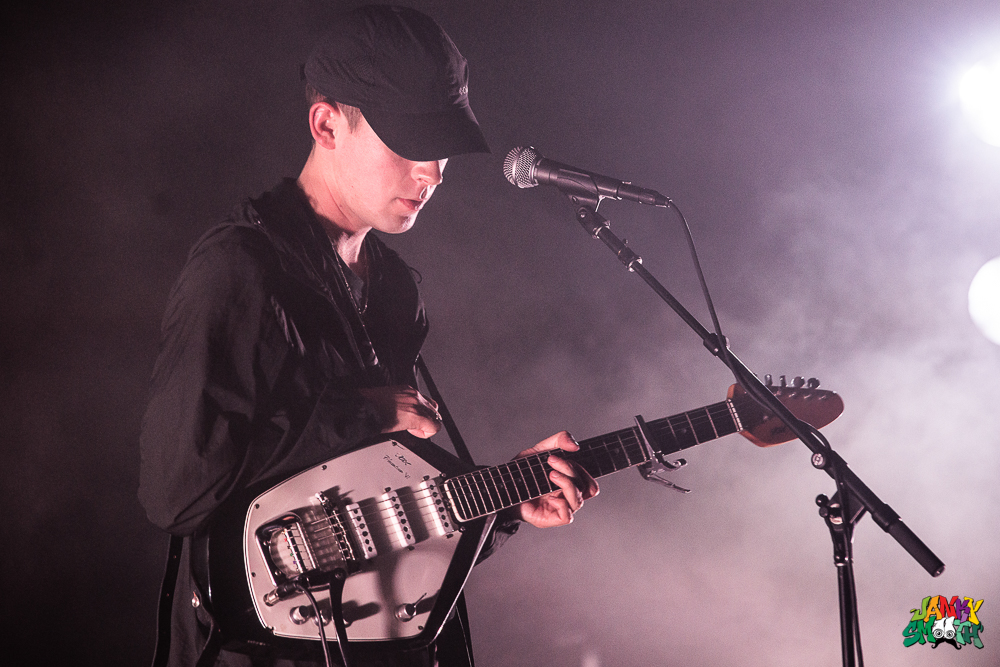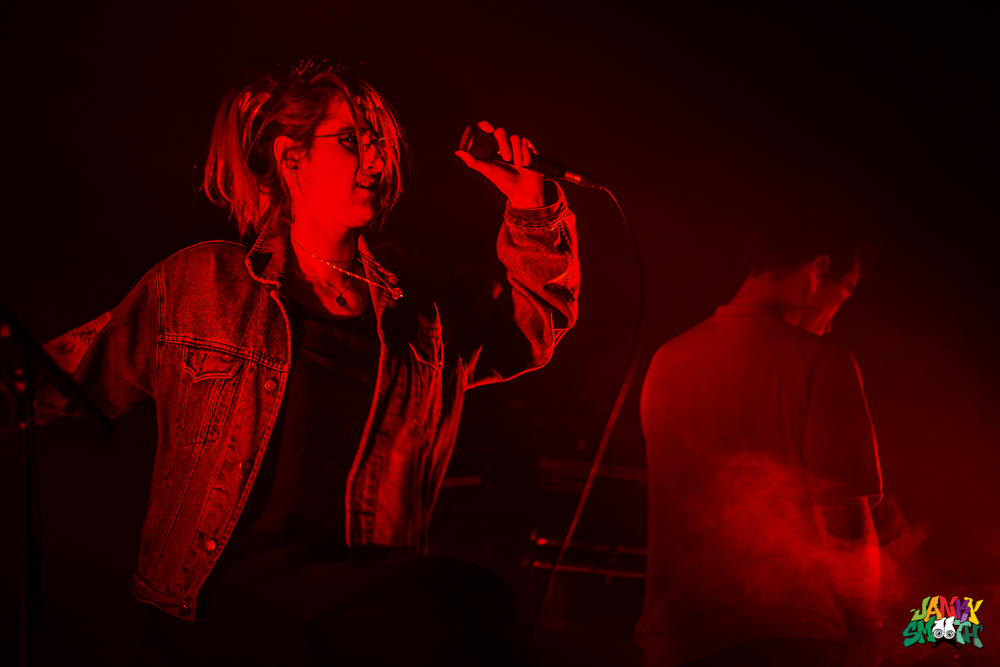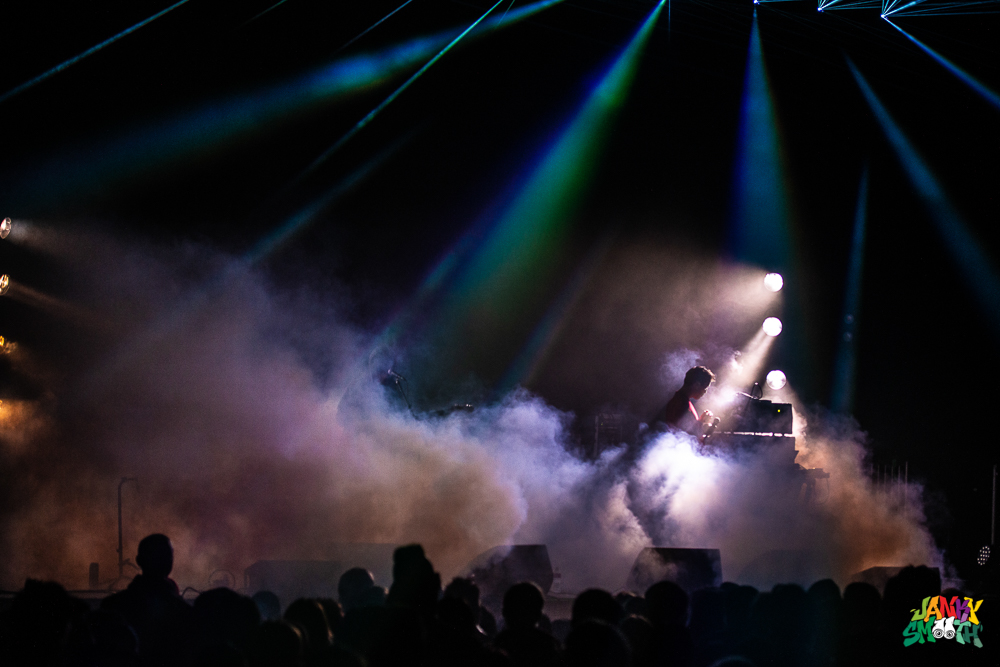 The first true rock band of the festival was A Place to Bury Strangers, who might've been a little out of place but gave Substance something the other artists couldn't: the ripping of a new ear-hole. They were just as crushing, insane, and unpredictable as Sonic Youth but with a shroud of darkness enveloping every bent note.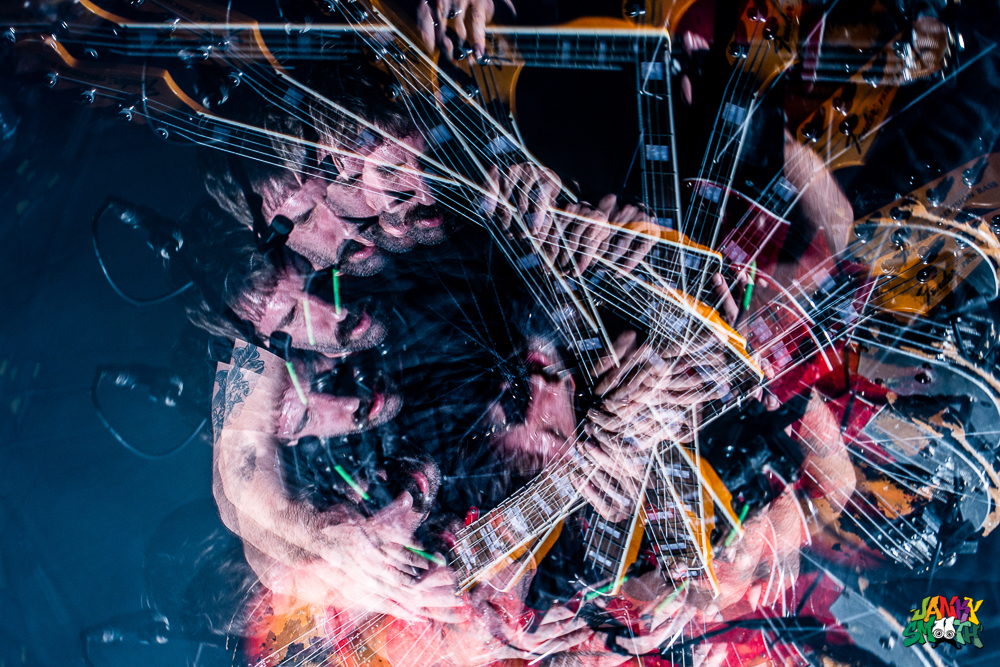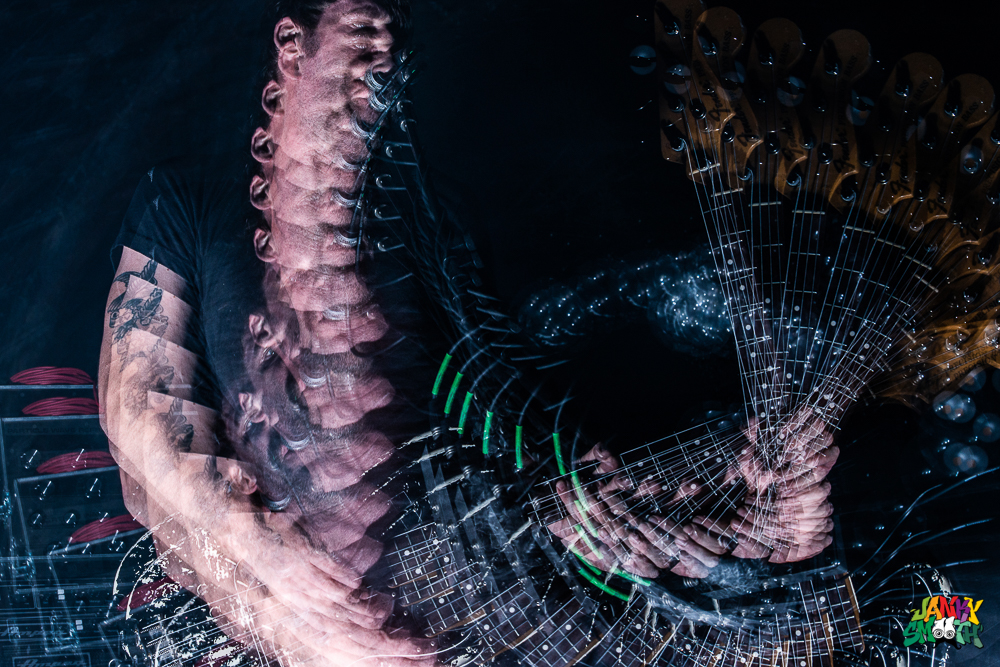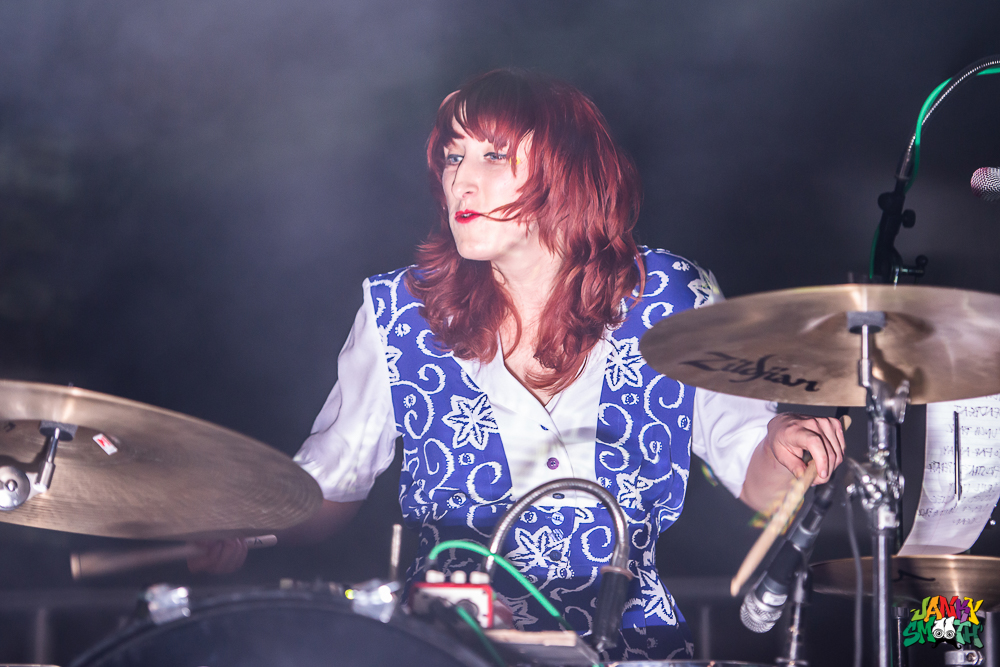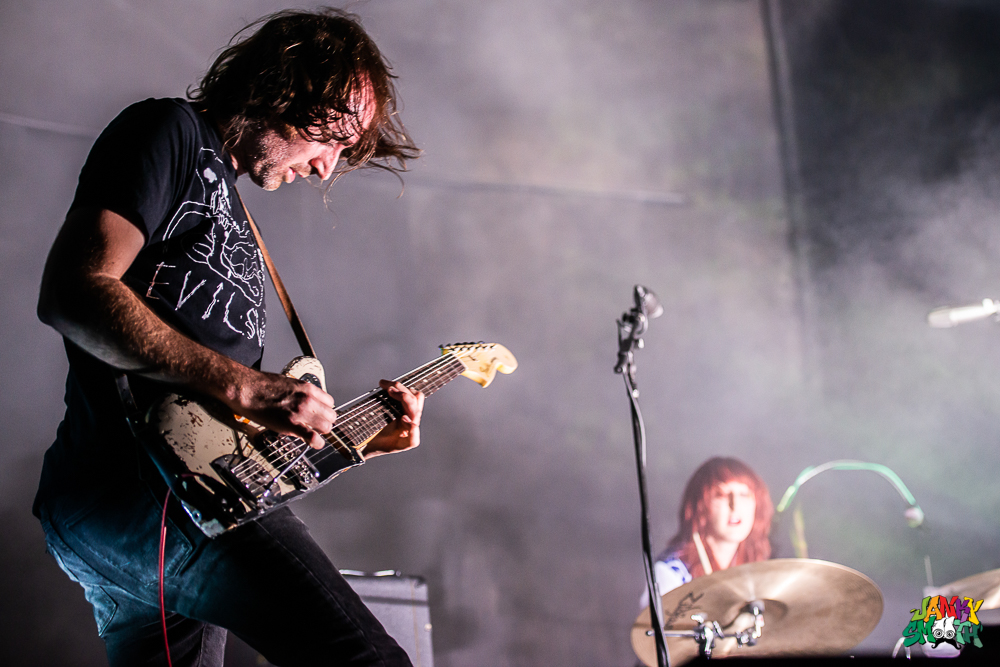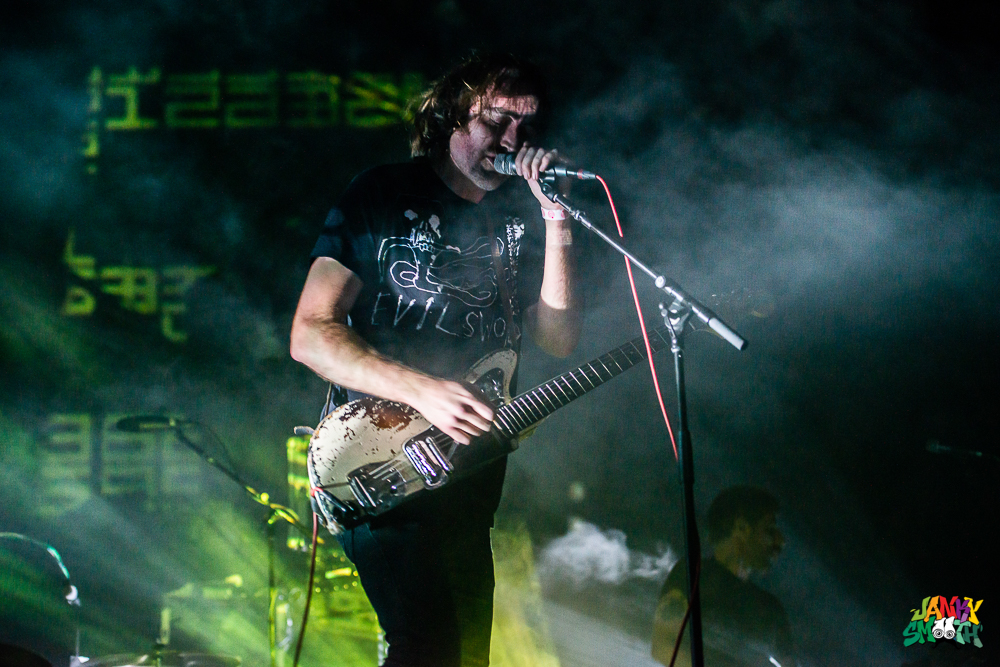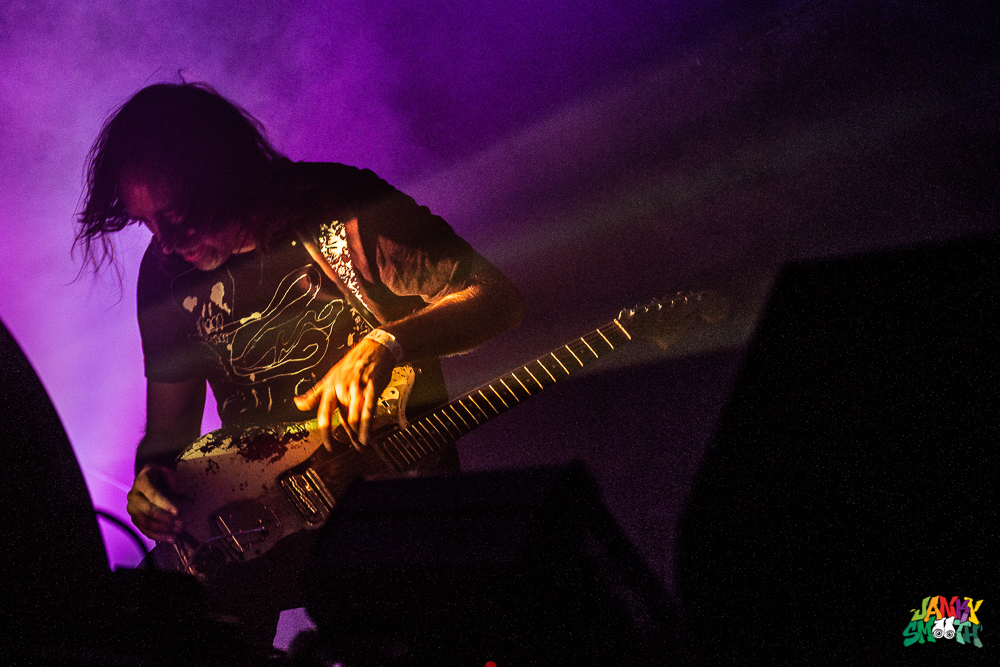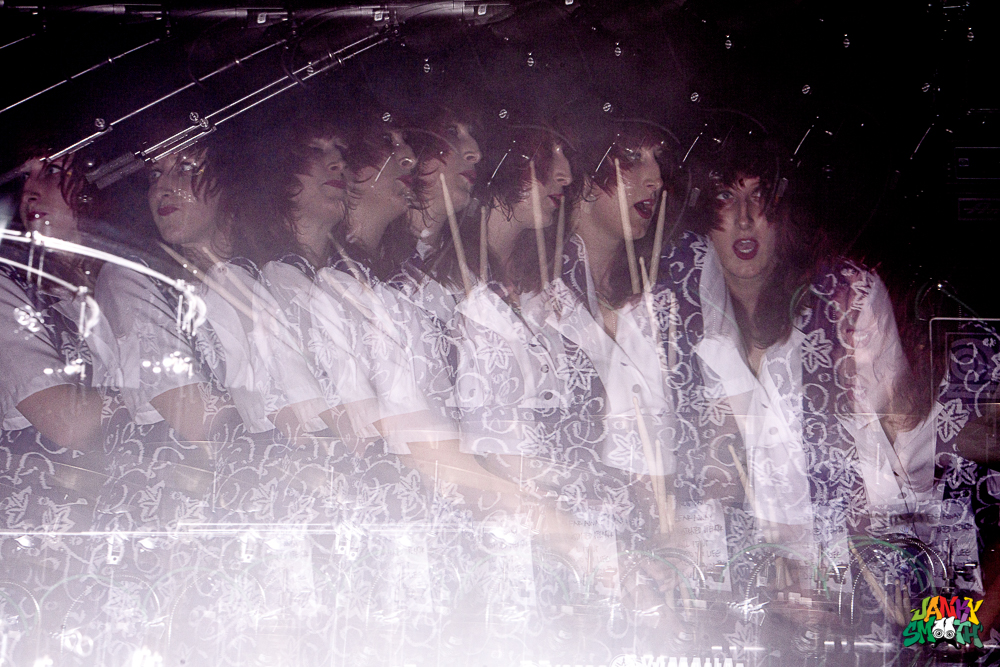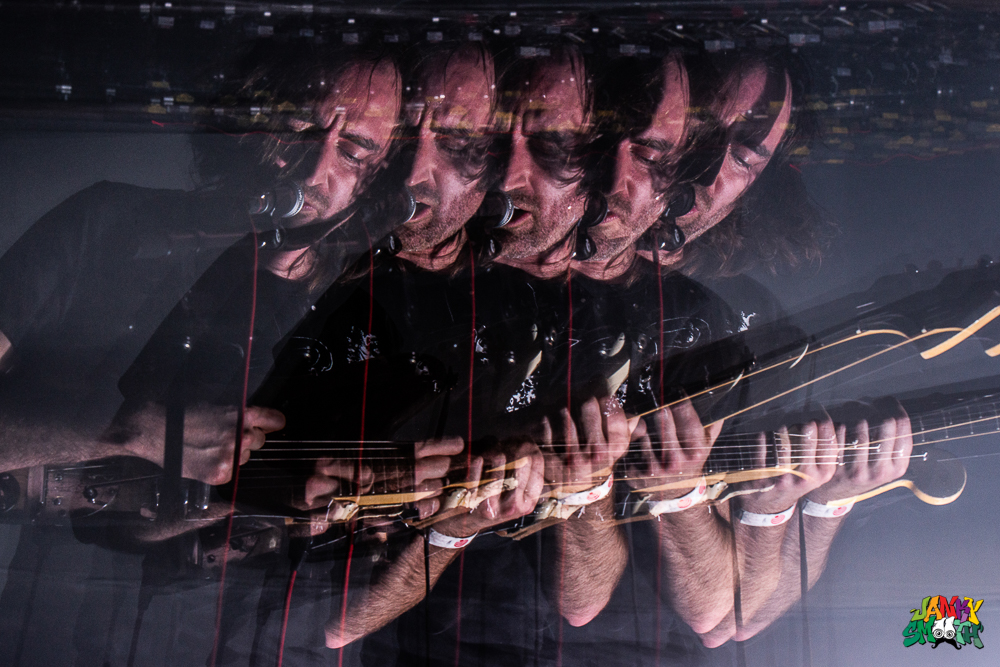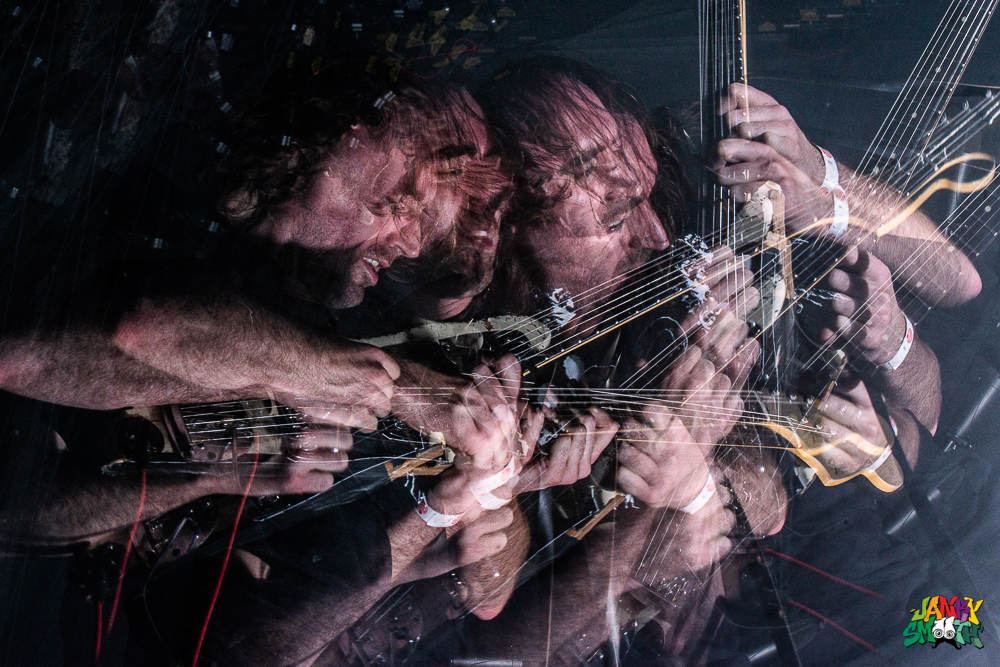 Black Marble make very tender and sweet post punk. It captures the romance people desire out of goth music and brings out the best in two young lovers dressing in black. They're a bit stiff though when they play live, every time I see them I expect more than what I'm delivered and get a performance a hair too timid.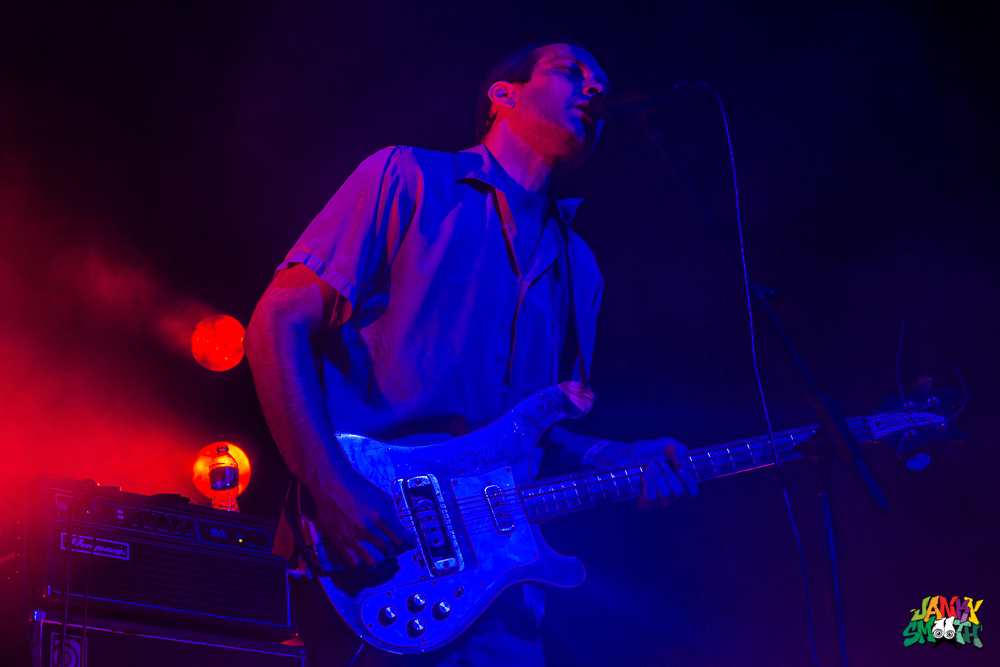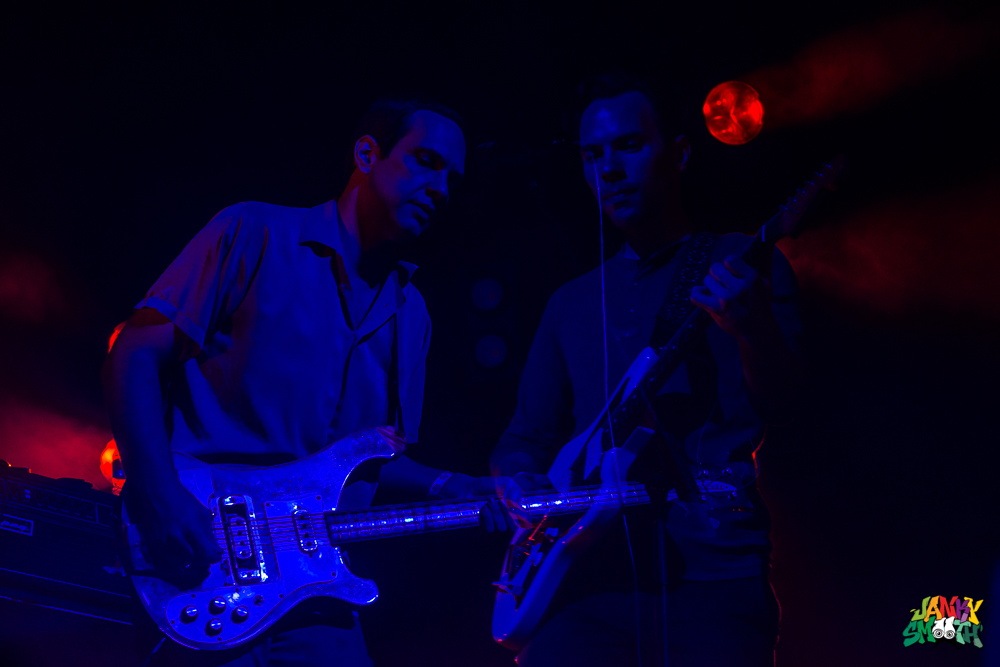 This was my first time seeing John Maus and from what I listened to, I imagined something similar to Ariel Pink, seeing as they often collaborate and work with retro sounds. He quickly trumped those expectations with a performing style that was so over-the-top, dramatic, and full of charisma, I was absolutely sold on this man being a mega-talent. His stage presence is that of a man that at first glance would strike you as someone that doesn't belong on stage but because he is constantly pushing himself to stand and deliver, his endurance and spirit become undeniable. It's rather brilliant. The every man musical genius. With just a laptop aiding him to create his art in front of a massive audience, John Maus didn't need much more than his own fortitude to make this set the evening's highlight. Every bit of popularity this guy has is well earned, in fact I feel like he should have far more. He's post punk's Joe Cocker.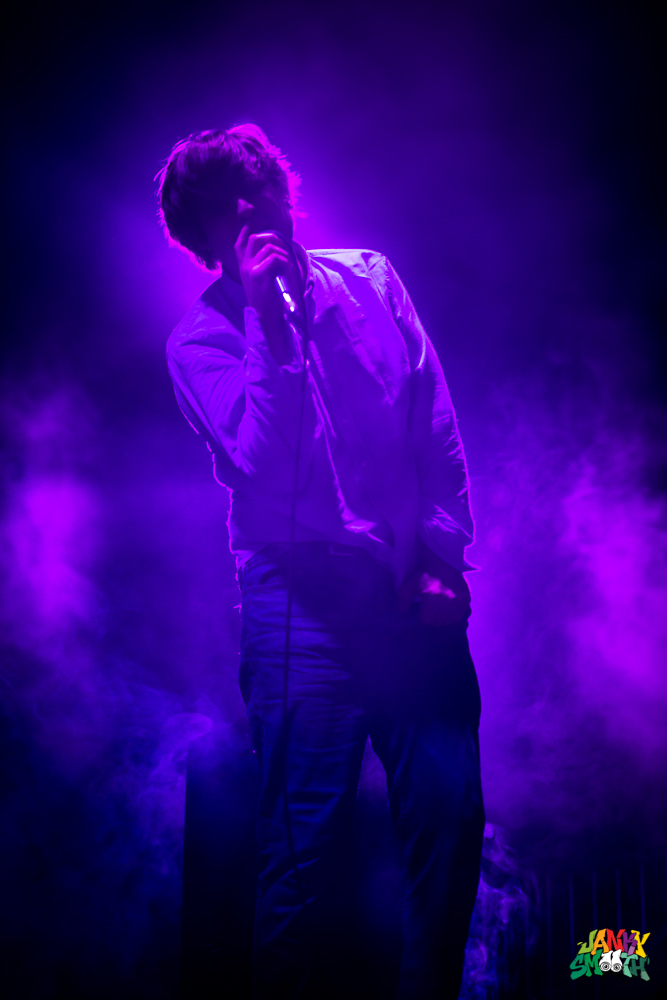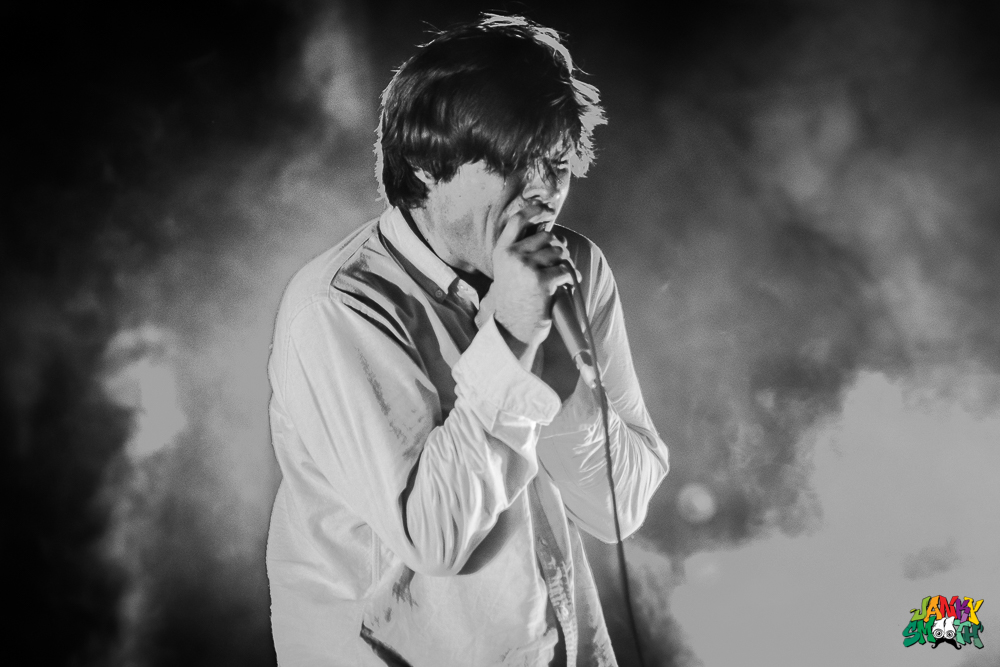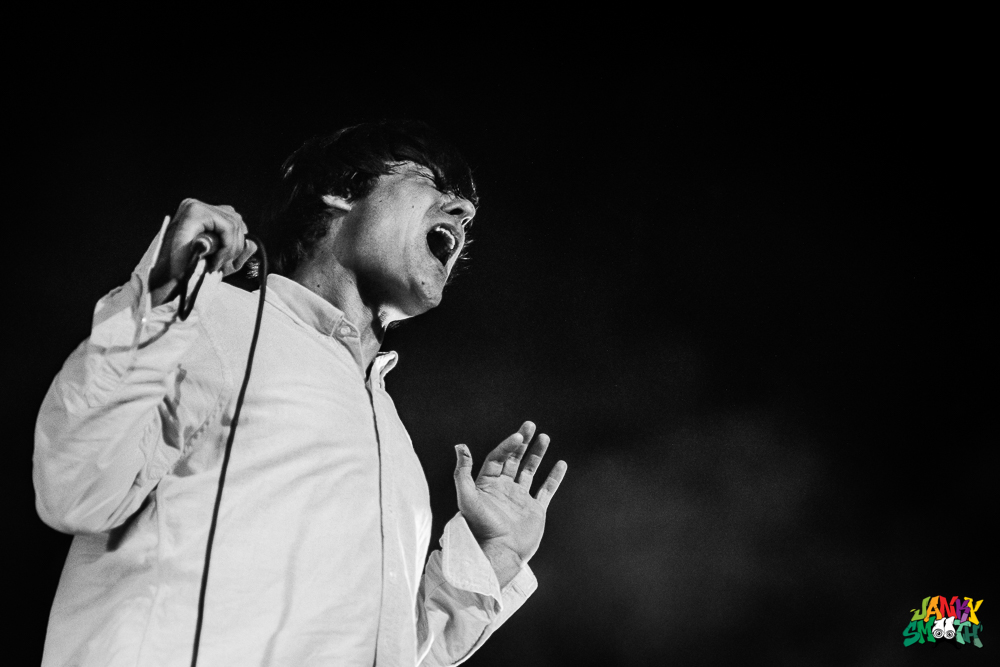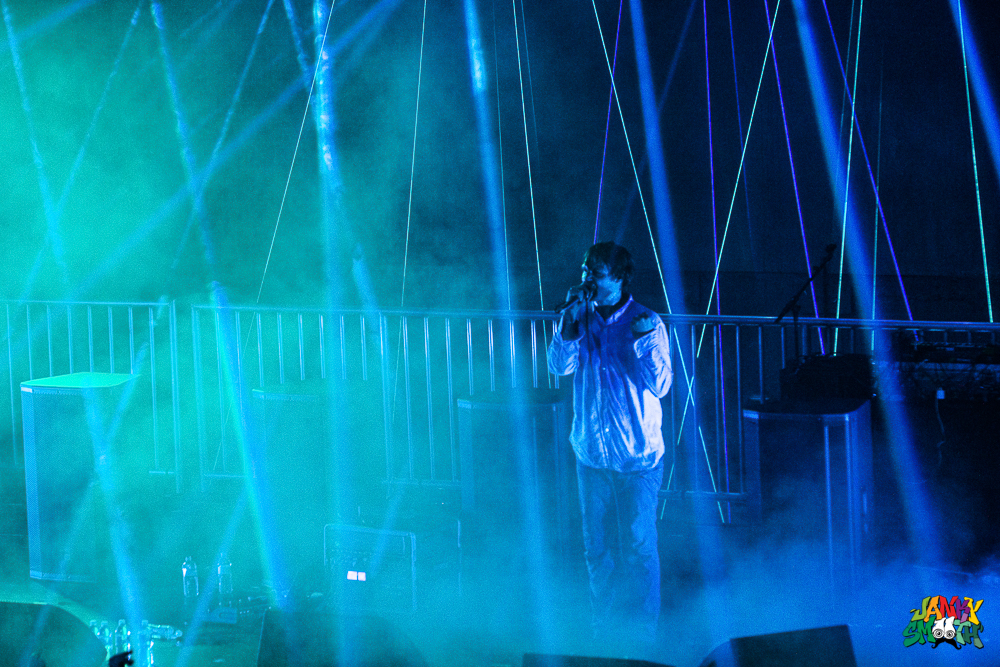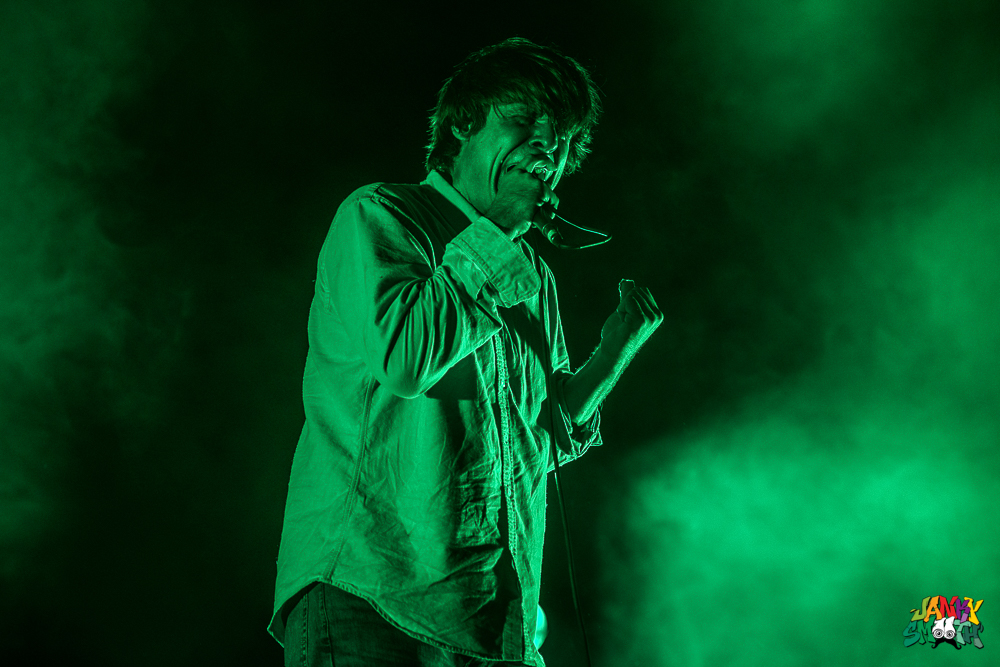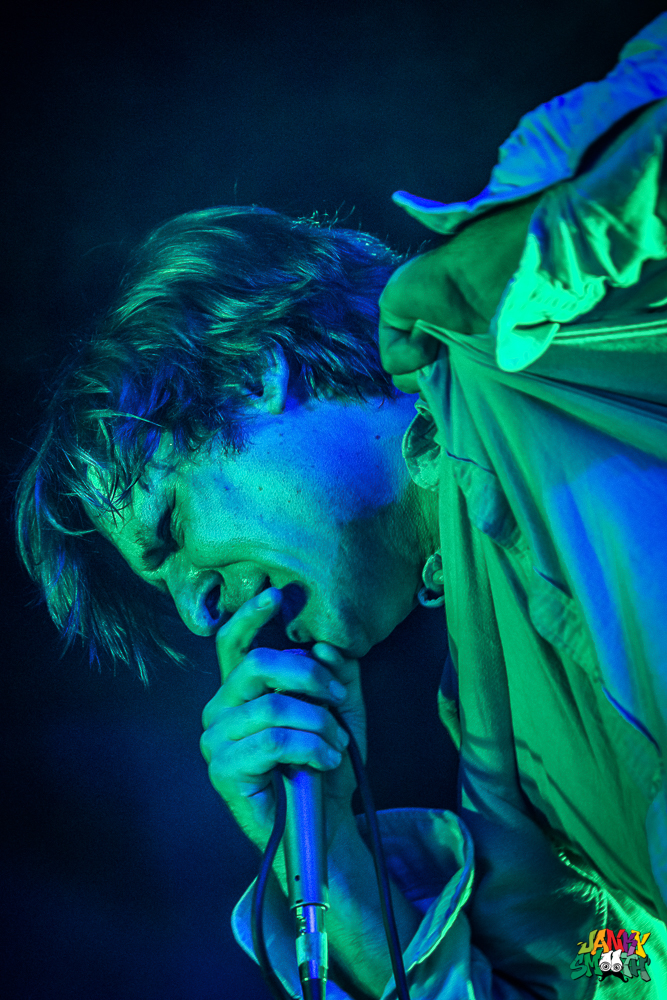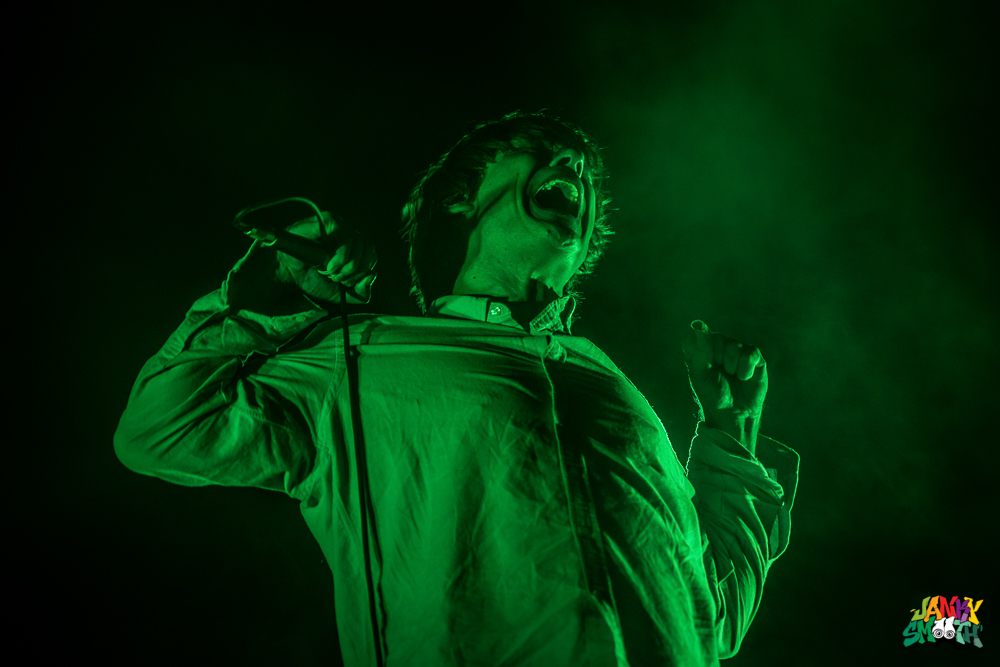 Boy Harsher closed out the night with a set like nothing I had ever seen before. I didn't know what a legitimate goth rave would look like until this. To have a band I've seen at Echoplex play to a sold out Los Angeles Theatre on a big stage with a huge sound system, felt like a landmark in their career and felt like everything was in its right place. The music was absolutely devious, inspiring everyone to dance without a care in the world. People were hooking up everywhere. Songs like "Westerners", "Pain", "Motion", and of course, "L.A.", hit the audience too hard for words, making every beat shock your nerve endings to travel through your whole body and linger within you forever-more, in every step you took during and after the show. I left the venue still hearing this music as the soundtrack to my walk through a busy and dark downtown Los Angeles and every stranger looked like they could hear it too.
Words by: Rob Shepyer
Photos by: Jessica Moncrief