Drab Majesty Return to Los Angeles After Taking Europe By Storm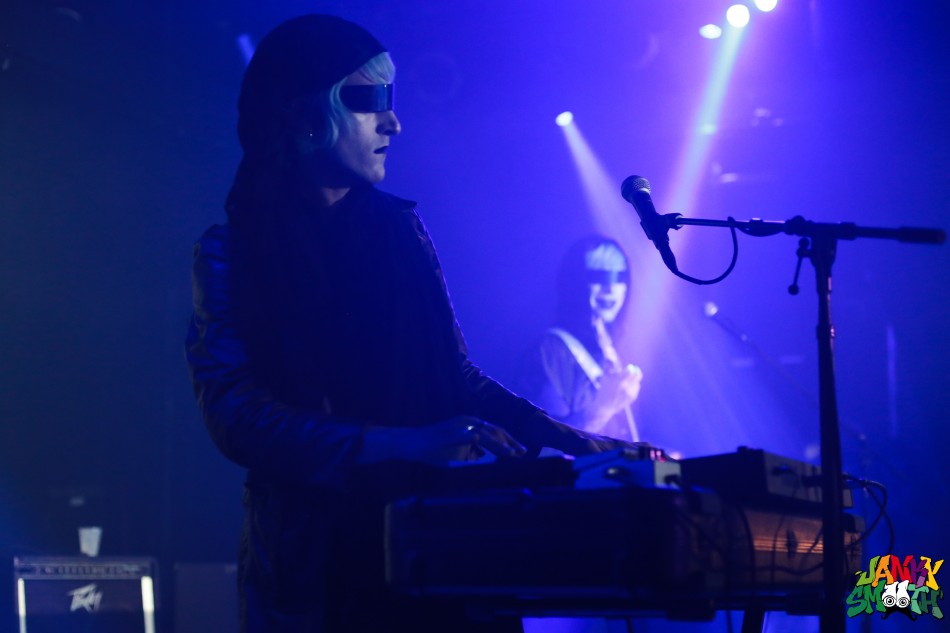 The buzz surrounding LA's own Drab Majesty peaked and cemented the band as more than just an underground attraction- this buzz has evolved into downright success. We here at Janky Smooth listed them as one of the bands to watch in 2017 and boy, it feels smooth as silk to be right. Sometime during their American and European tours opening for Cold Cave, it became apparent that this goth duo was a premier group, destined to surpass Cold Cave musically. I believe the band's homecoming Echoplex show was the beginning of the Drab Majesty era.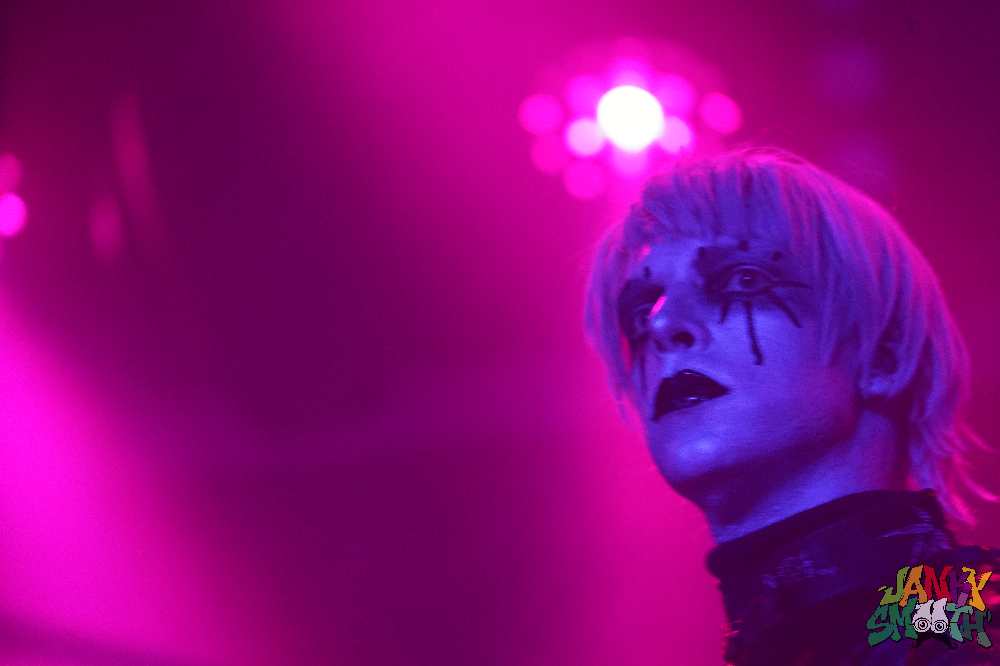 Even by the first band, Chasms, people came flocking into the show with an impressive early turn out. Originally from San Francisco and now based in Los Angeles, Chasms plays ambient-gaze with guitar riffs that make you measure the depth of your soul with each stroke. Their drum machine sounds like a hammer slamming upon steel but their vocals sound like a soothing siren, luring you into the abyss. Chasms has become a go-to opener for any big gaze or goth act because they set the tone very punctually, there's no escaping introspection after a Chasms set.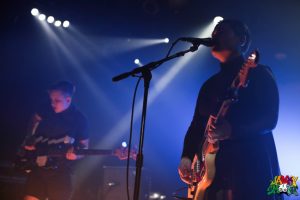 After a cig or two and a glass of wine, the venue started getting crammed. People were pouring in from every orifice because as their main support, Drab Majesty recruited Xeno & Oaklander, one of my favorite electronic groups, a Berserktown act.
Xeno & Oaklander is a made up of Liz Wendelbo, Sean Mcbride, and Egan Frantz. At Berserktown they performed as a three-piece but on this night, Egan would be mixing from the crowd, making sure the sound hit as hard as possible. Combining the best elements of darkwave and dance music, Xeno & Oaklander transport you to a future the Wachowski sisters might dream up. Liz didn't move as much as she did the last time I saw them, opting to stay behind her electronics. Sean Mcbride was given a greater spotlight on this night, with a set featuring songs that let his vocals shine.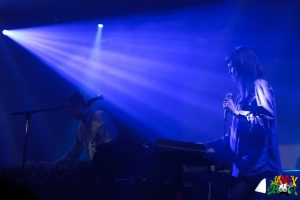 Once their set was done, I went outside again to hide and mingle under the cover of cigarette smoke then returned only to be smothered in the purple haze necessary to foster the dark ritual Drab Majesty had instore for their hometown crowd. Like a frost jester, Deb Demure sashayed on stage wearing a black hooded robe and fanning himself with a Japanese fan, invoking both the spirits of Young Thug's Jeffery album cover and classic Bowie.
After a chilling soundscape, the duo went right into "Cold Souls" off their album The Demonstration. They continued piecing together that album in what became an undeniably great set. As the hierophants in their cult devoted to Los Angeles' broken dreams, the band began our induction to the dark.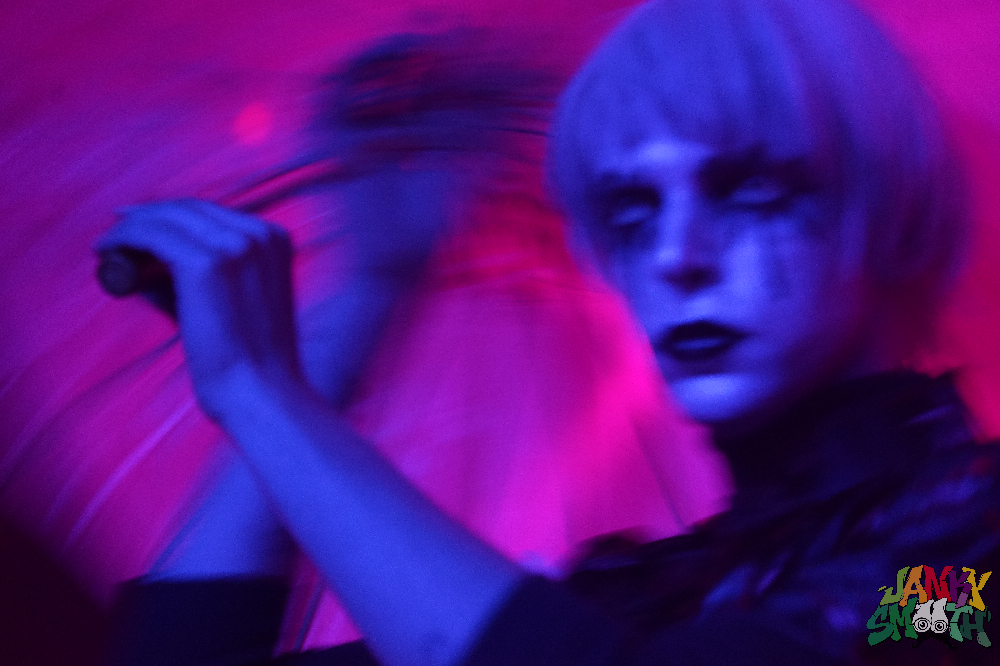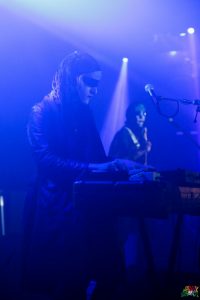 What makes Drab Majesty so good is not just their music or theatrics, to me, it's that the band understands and incorporates mythos and symbolism in their music and stage show. The first time I saw them opening for Clan of Xymox, the band had a bust of Apollo on stage that they ended their set by destroying with a hammer, as if to signify the destruction of reason and logic and the triumph of sensation over thought. Aware of the distinction between Apollonian and Dionysian art, the band's music is thought provoking and stolid in an Apollonian way but with hints of Dionysian subversion that allows them to break from the form.
The band's music was married with projected videos for this show but at other venues, they had a cross lit up by tiny orange lights on stage that gave the illusion of fire.
This Echoplex show was a perfect set, the mood was so powerful that one could reach out and finger through the thick globs of goth vibes in the air. Staring at our reflections in the abyss made us all vulnerable. Slow and churning, the incantations depersonalized Los Angeles and cleansed us of our ego.
Drab Majesty setlist:
Cold Souls
Hallow
The Foyer
Unknown To The I
Kissing The Ground
Too Soon To Tell
Not Just A Name
Encore: 39 By Design
Words: Rob Shepyer
Photos: Christina Badalian