Run The Jewels Take Over and Spit Fire at the Regent Theater in LA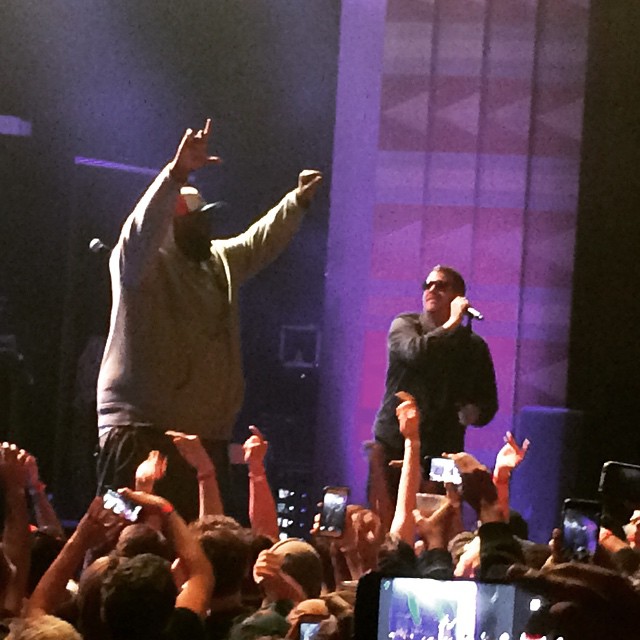 Run the Jewels have had quite the ride since Run the Jewels 2 dropped on Mass Appeal Records in October of last year. In those two and a half months, Run the Jewels have not only become the most hyped act in hip hop but in all of music. RTJ2 was on everyone's list of best albums of 2014, including ours, at the #1 position. It's not JUST because they have the next level beats produced by El-P and the hardest hitting and most technical flows. On the contrary, the masses typically don't appreciate that type of excellence and originality in hip hop. My guess is it's that both El-P and Killer Mike have connected to the plight of the common man in this country. The content of their lyrics span an array of topics such as racism, poverty, police brutality and politics in a way that is not boring and not condescending to anyone except the target of their frustration- The System.
While they might seem like an overnight success story to someone who is just tuning in, the truth is that both men have been languishing in an immense popularity amongst only those with taste; which is a small demographic. El-P has been earning respect since 1992 first, as a part of east coast crew, Company Flow. Killer Mike was featured on a couple Outkast tracks and linked up with El-P to produce Mikes solo album R.A.P. Music, produced entirely by El-P.  But when the two men joined forces in 2013 for their first release as Run The Jewels, shit started to get real nutty, real fast. I saw them at The Echoplex in November as a part of the 30 Days in LA extravaganza organized by Red Bull Sound Select. You can see our coverage and photos of that event here.
When the Regent show was announced and I started working on getting access, I realized how much bigger they had become in just a couple of months. I was turned away everywhere I submitted requests. Janky Smooth launched in November and doesn't exactly carry a lot of juice in this town… yet. Finally, in the 11th hour, "he who will remain nameless" came through with a favor and I had the chance to attend the show more as a fan than a critic. Unfortunately, I didn't have a photographer with me but I was not beholden to anyone for anything either. I arrived at the massively oversold Regent Theater in time to see a great but oddly paired opening act, Until the Ribbon Breaks who I won't go into detail about because I don't have to.
Run the Jewels' DJ and part time Hype Man, DJ Trackstar got behind his decks and the sounds of Queen, We Are The Champions started ringing through the Regent.  El-P and Killer Mike entered the arena with their arms raised in a playful but well earned victory lap around the stage. Genius. The audience lapped it up and started salivating like Pavlov's Dog when the dinner bell rang in the form of a booming 808 that vibrated and wobbled the concrete facade of The Regent. They opened with Run The Jewels, the self titled track off their first, self titled album: A surprising and satisfying choice which led me to believe that I would get to see them mix it up in their song selections. The last show they played in LA they chose almost exclusively off the RTJ2 tracklist so I was hyped to hear them play songs off RTJ this time. In no time at all, the floor of The Regent was swelling with sweaty, bouncing fans who recited every lyric off RTJ2 back at the men on stage and a select but vocal few who were as well versed on songs from the first release. You could feel the fire burning and flames being fanned with every echoed lyric and hook.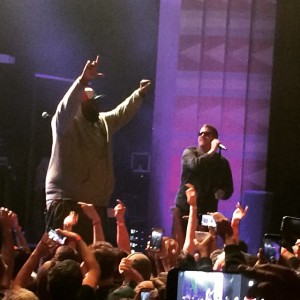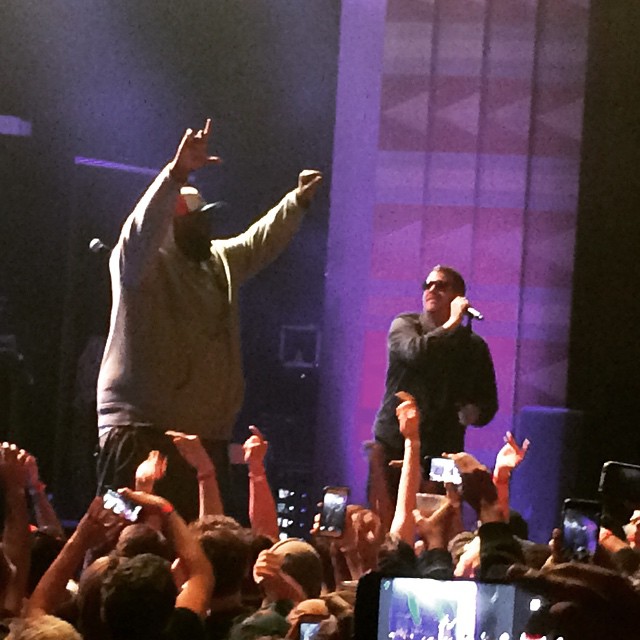 "A little toast for the no ones
With a nod to the masters
To the ones with the riches
From the ones who the rags fit
A little smoke for the gone boys
A little nod to the spirits
We're still here runnin' round screaming
They're still here pointing and laughin'" – Angel Duster
Once again Run the Jewels came into L.A. and got this jaded city to unfold their arms and put em in the air. El-P apologized in advance for a yet unknown transgression. "I'm sorry L.A. I'm sorry to have to do this to you." Then the beat dropped to "Close Your Eyes (And Count to Fuck)" and The Regent exploded as the voice of the Zack De La Rocha hook commanded us to "Run them Jewels Fast". Zack never came out on stage. Neither did Travis Barker. In fact, there were no special guests, unlike their last show at The Echoplex. There was also no encore. The dudes never took the obligatory break off stage to have the crowd stroke their ego to come back out and play a few more. They used all their time and filled it with music. A sign of two men who are truly grateful and appreciative of their fans and the success we have brought them. This show was worth every effort and worry I put in to get in to it.
Words and smartphone photo: Danny Baraz