Savages Ravage the Roxy Theater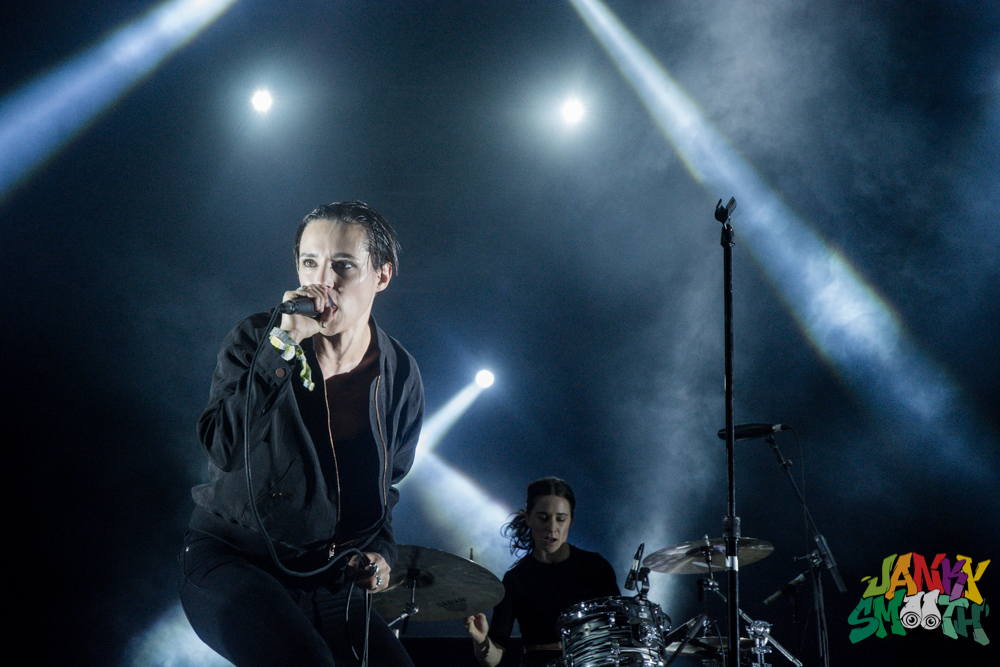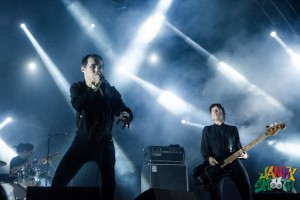 On a muggy L.A. summer night, Savages fans crammed into an even muggier sold-out Roxy Theatre to bear witness to yet another phenomenal west coast performance by the all-female postpunk band from across the pond.
Just last weekend, Savages took over Exposition Park at FYF, and gave Angelenos something to remember them by. Last night's performance at The Roxy sealed the deal, and at the same time, got us excited about the promises of their new album.
It's true, kids. Despite Beverly Hills' attempt at annexing West Hollywood, awesome shows are still going off in WeHo. I entered and the floor, VIP area, and bar were already packed. Crowded and hot—the smell of B.O. and spilt beer growing exponentially by the minute—an army of black shirts and neon drink bracelets waited in hushed elation under the smoky blue lights of the famed venue on the even more famed Sunset Blvd. (Which only seems real after being so uncannily rendered in GTA V). Needless to say, the smell of ganja in the bathroom (and whoever shared it with me) was a godsend.
As we heard the instruments being tested in the pitch dark of the stage, the guest DJ spun some industrial techno with the occasional angelic vocals, and even David Lynch's sleazy-good track "The Pink Room" made an appearance.
This was my first live exposure to Savages. They came out firing on all cylinders, owning the stage in their minimalist, black mod outfits that clashed against a background of burning white lights.
In the first instance of sound (jagged, otherworldly transmissions) the audience was alive and kicking; a sound of harmonized dissonance, sometimes raging, sometimes moving, that reverberated through and through.
Ayse Hassan played a mean bass. It's so easy for the bass to get drowned out by its more explosive counterparts, but Savages is definitely four equal parts. Each with one job. One cannot spark without the other. Hassan's rhythm was there. You could feel it. Her riffs are some of the best I've recently witnessed, to which the openings of anthemic songs like "Husbands" and "Shut Up" can definitely attest.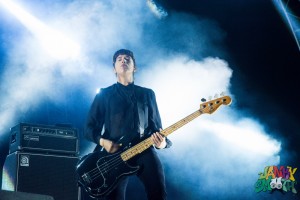 Fay Milton (drums) kept everything going, everything moving, you can tell she stokes the fire under singer Jehnny Beth. As opposed to the more levelheaded focus of her bandmates, you could catch Milton smiling and taking it all in, having the time of her life. Her drumming caught my eye throughout the set (and for those who know Jehnny Beth's theatrics, that's saying something).
The effects-heavy guitar attack of Gemma Thompson was doggedly brutal, and falsely lulling. Cradling her baby blue Mustang, she put out seductive and hypnotic force fields of buzzing, feral drone that perfectly underscored Beth's vocals. I was disappointed only to not hear more of her solo noise.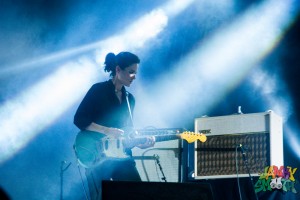 And, of course, there was Jehnny Beth on vox. A true, hands-free frontwoman. Raven hair slicked back, hands constantly running through it, she's all arm motions and eye contact, baby—she sees through your soul. She doesn't merely sing to her audience—she speaks. Sure, she reminds me of an amalgamation of: that scary-awesome terrorist chick in Die Hard With a Vengeance who gets her clothes ripped off by Jeremy Irons (and who also happens to be Grammy-nominated composer Sam Phillips—do your homework, kids); Dolores O'Riordan or Sinead O'Connor if they were backed by sick noise bands; maybe a young Ralph Macchio for some weird reason(?); and of course the already publicized Siouxsie allusions…
But even more, I sense a Freddy Mercurian optimism in Jehnny Beth that extends well beyond the 'fuck you, Mom!' front of the more prevalent riot grrrlish bands. She's got moves like Jagger, Mr. Levine, and she doesn't have to sing a fucking song about it in order to be convincing. Chalk that up to what you will. I was pretty high at the time. (Have I made enough pop culture associations and/or references? Can I go to bed now?)
The foursome make up a refreshingly uncontrived, androgynous machine that steers clear of anything 'sexy'…which is exactly why they practically bleed sex (I've never seen so many grown men swoon so much over a band).
Blazing through songs like "She Will" ("This one's for the ladies…!") and "I'm Here", the Roxy crowd witnessed the group in fierce form, taking further liberties and sending messages of arousal, kinetic energy, and merging polarity. "We're doing this together. All of us. Without you, there is no show. Be louder than us!!"
Beth made the crowd-pleasing announcement of the band's new album, while also letting us know their U.S. tour has been "fucking awesome." They gave us a taste with a few new tracks. One was a very hardcore/not-so-postpunk diddy that started off with the lyrics, "Put me on a leash/Put me on down my knees like a dog." Another was "Adore" that Beth preluded with the sentiment of, "I'm lucky to be here. We're all lucky to be here…" The lyrics "adore life" permeated the venue.
There was a moment when she reached down, taking the hands of a few, and stepped out into the crowd. She didn't crowd surf, she walked Christ-on-water style, playfully deconstructing the performer/audience binary as she stepped off her pedestal (under a disco ball that stayed dark and lifeless the entire show). She eventually fell back-first into the sea of hands of faces, rolling back to the stage.
She loves her crowd, her audience. She loves you, needs you. And you need her—you probably just don't know it yet. With the talk of race wars and murdered journalists on Twitter that day, seeing Savages was, I don't want to say appropriate, but, if I was to say anything, therapeutic.
The set culminated with the new classic "Fuckers". The lyrics "Don't let the fuckers get you down!" rattled a sweaty and floored room of bobbing heads wishing the music wasn't over. Fucking A, right.
On behalf of all of L.A. Thank you, Savages. We look forward to the new sounds. Come back again soon.
Savages set list for The Roxy:
The Answer (new)
City's Full
Sad Person (new)
I Am Here
Shut Up
Adore (new)
Slowing (new)
Insn (new)
Evil (new)
No Face
Husbands
Hit Me
She Will
Fuckers
By Brent Smith