Echo Park Rising 2017: Long Lines Couldn't Slow Fresh Faces In All Places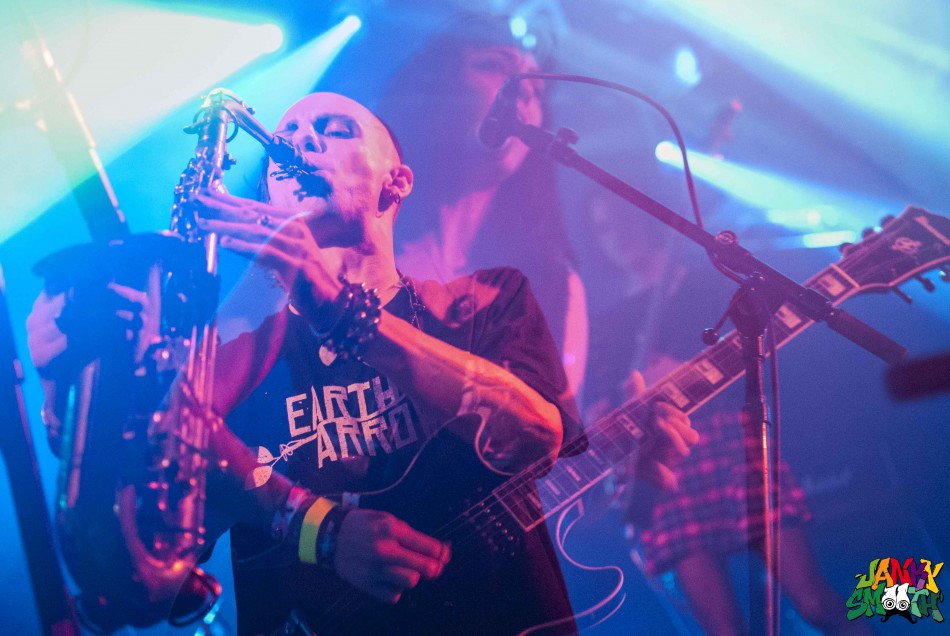 The 2017 Echo Park Rising lineup generated quite a bit of buzz this year, as it was absolutely stacked with old favorites, over a dozen unmissable acts and a number of up-and-coming artists. EPR veterans Gold Star, The Paranoyds, and Meatbodies graced this year's lineup along with a significant number of newcomers.
Coming Soon: Echo Park Rising Five Pointed Stars Twin Temple …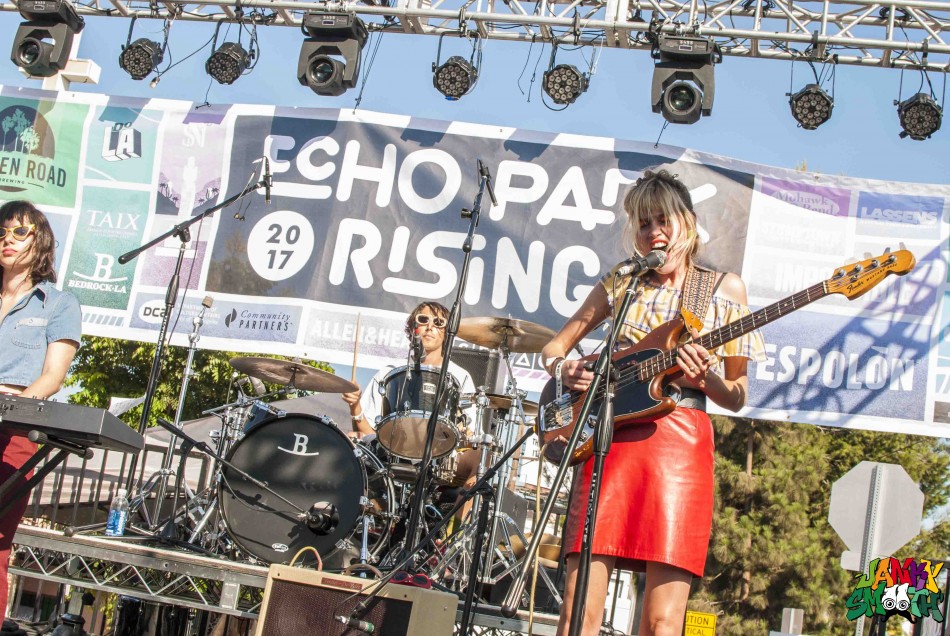 Enjoying immense popularity in the last few years, it's nice to see events like this take off and be embraced by the community. However, lineups like these are a source of frustration for me since I have yet to conquer my overwhelming fear of missing out. Despite my best efforts to be in multiple locations at once, I feel like I've slighted a number of talented and deserving artists on the bill solely based on my inability to run quickly, my fear of jaywalking on Sunset Boulevard and my fractured internal clock. That being said, I purposely blocked the entire third weekend in August off on my calendar in order to enjoy the festival to the fullest possible extent. I hoped to see some old friends perform, familiarize myself with the newer and lesser-known artists and drink a lot of beer in support of all the venues opening their doors to the public for a free, all-ages weekend throwdown. Even as the event was just kicking off on Thursday afternoon, pedestrian traffic was heavy and groups of people roamed the streets. People popped in and out of the venues, cafes and retail spaces along Sunset Boulevard as the weekend kicked into high-gear.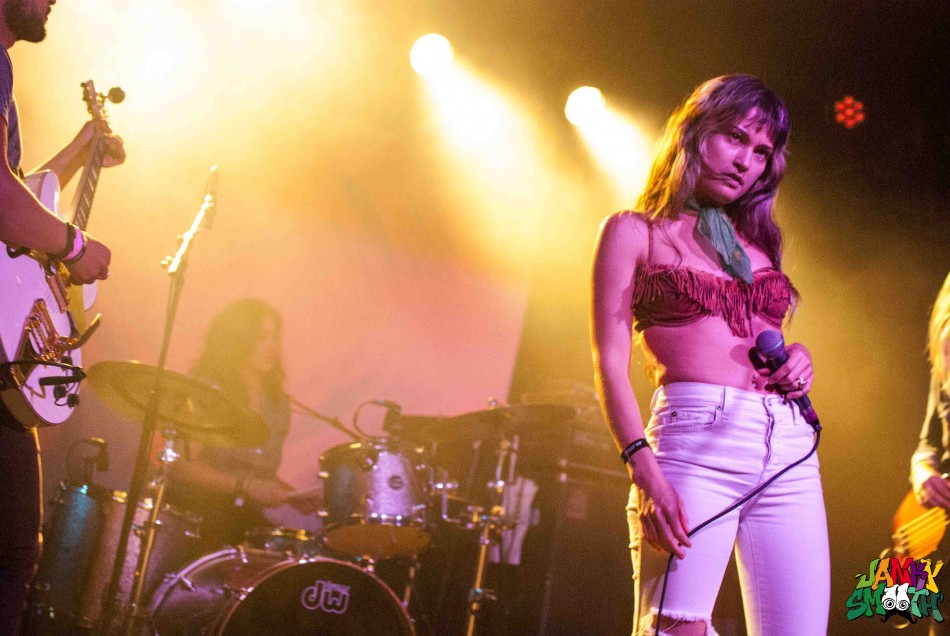 Thursday afternoon was the only time in the entire duration of the festival that I spent more time actually watching bands as opposed to waiting in lines outside the given venue. I pulled up to the entrance of The Echo a little before 8:00 in anticipation of a line for Joel Jerome's set but I was able to walk right in and grab a seat on the patio for a set by co-fronted sadcore garage rockers Fime, showcasing a unique sound punctuated by heartbreaking female-male vocal harmonies. I'm glad I got to spend some time on the patio early while it was still densely populated and easy navigable, as it became something of a mob scene masked by a thick layer of cigarette smoke later in the weekend's festivities. Eventually, I made my way inside for Joel Jerome's set. I had previously been more familiar with Joel Jerome's production work through Psychedelic Thriftstore Recordings than I was with his personal projects so I was curious to hear what his own music sounded like. I can liken the feeling invoked by the performance to one I experience whenever I watch music legends perform. Popularly recognized as the frontman of Babies on Acid, Joel played under his own moniker on this year's lineup. I have a lot of reverence for Joel Jerome as he is credited with numerous developments to the psych-rock genre that has manifested respected popularity in the Los Angeles scene. I was far from disappointed as Joel and his band filled the venue with divine liquid psychedelic jams.
The Knitts played next at Lot 1 Cafe, a narrow building boasting an internal temperature of about 90 degrees despite the cool evening outside. Frontman Justin Volkens is spry in his performance and I found myself marveling at how well the band was able to cram all five musicians onto a raised platform no larger than a shower stall. Although the group is explicitly talented at what they do, I found the vocal inflection confusing. Volkens seems naturally inclined to sing in a higher, adolescent-like tone but will dramatically switch to a low baritone intermittently from verse to verse for which the only comparison that came to mind was something out of The Muppets. Prior to the show I had listened to their recorded material from 2016 on the group's bandcamp page and I hadn't heard the same phenomenon until seeing it live so it caught me a bit off-guard without being a total distraction from the performance. Nevertheless, the set was wholesome, unpredictable and well-attended. For an extended instrumental break, Volkens even joined percussionist Alex Oliver behind the drumset.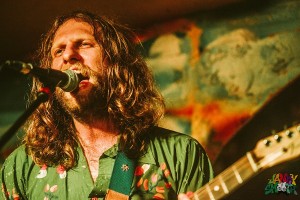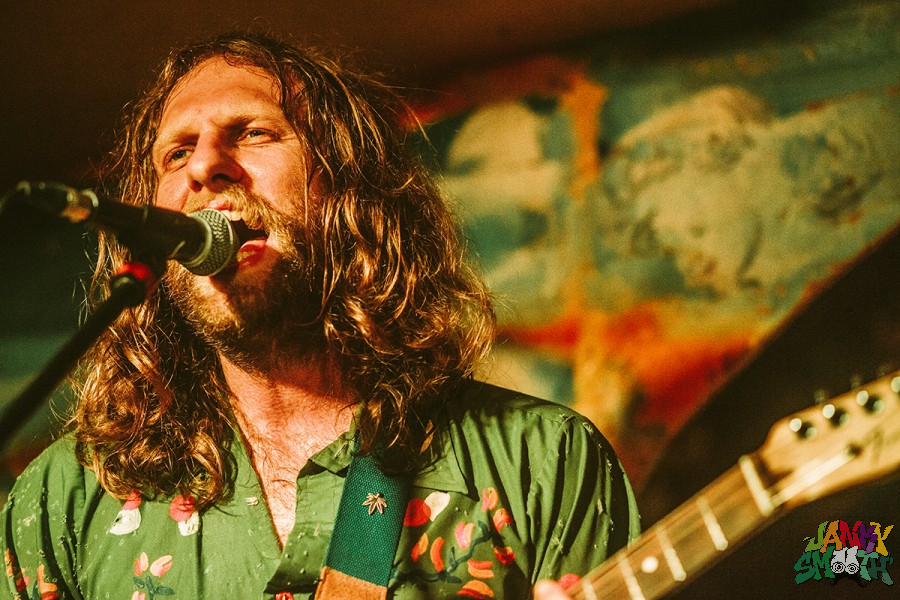 Thursday night's final act was The Blank Tapes in the champagne room at TAIX, an obvious choice and one that exceeded expectations. Fronted by Matt Adams, the hazy 70's inspired tunes roll naturally and genuinely. This carefully cultivated sound makes The Blank Tapes a quintessential Echo Park Rising band. It's impossible to ignore the looks of glassy-eyed endearing admiration the audience lends keyboardist/vocalist Veronica Bianqui partially because she demonstrates such talent as a multi-instrumentalist and partially because she is such an electric presence. The set concluded with the audience singing 'Happy Birthday' to Veronica.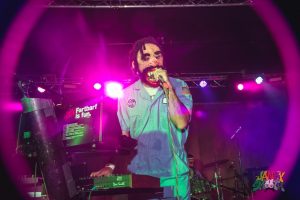 I managed to catch the Friday afternoon set by Fartbarf on the outdoor Liberty Stage. They played the late afternoon set, staring directly into the setting sun on an asphalt surface. The crowd was thinner than expected but it was notably the first time during Echo Park Rising that I saw dancing and movement from the audience. I always feel inclined to give honorable mention to bands like Fartbarf who have been in the scene for a long time ou of respect for the bands I grew to know as staples of the Orange County/Los Angeles scene crossover. Fartbarf certainly has come a long way from playing on the dimly lit stage at The Continental Room in Fullerton, where I first saw them play many years ago. Now they're effortless in their performance and have their own distinct and violently attractive sound that renders them easily recognizable, even without the signature NASA jumpsuits and caveman masks.
I began my Saturday tour of Echo Park Rising at the Liberty Stage for Moon Honey, a band birthed from the swamps of Louisiana in 2013. They played last year's Echo Park Rising and returned this year with a supercharged performance. Vocalist and frontwoman Jess Elaine Ramsey immediately reminded me of young Bjork; not just in the eccentric costuming but in the impressive vibrato-laden vocal style she employs. The band was clad in brightly colored sequin attire and Jess's wild orange hair was adorned with a glittering headdress, asserting a grandiosity that merited a few giggles young girls in attendance who failed to recognize how powerful of a statement Jess was making by owning her appearance and unabashedly sharing her art. Their sound is reminiscent of Portishead, Florence Welch, or The Cranberries which drew an impressive and very mixed crowd.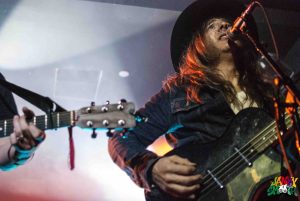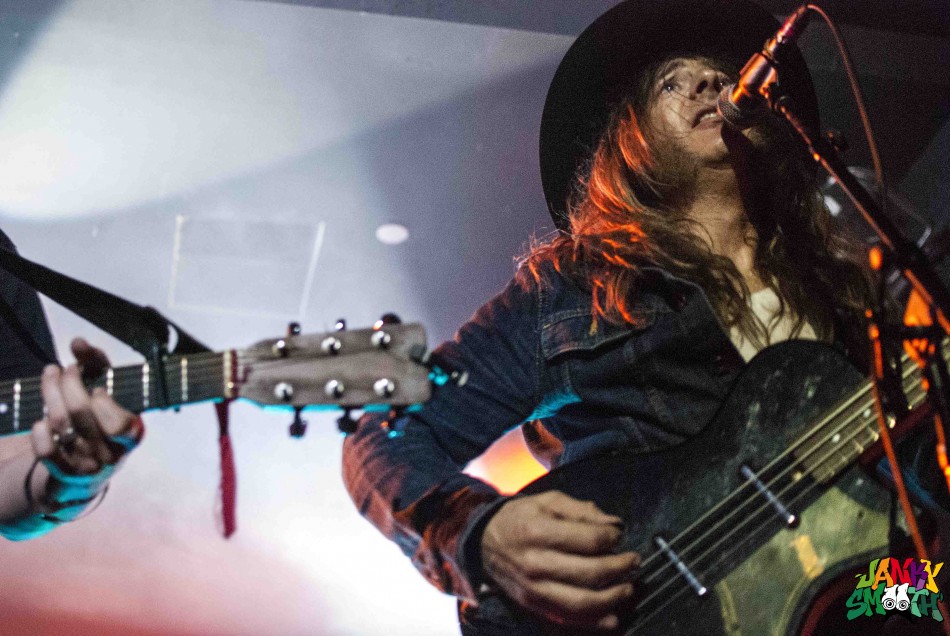 Hoping that gaining early entry would prevent me from the undesirable fate of waiting outside while the band I came to see could be heard faintly in the distance. I was pleasantly surprised by the band's unrefined bluegrass sound, something I hadn't heard in quite a while. It drew a stark contrast against EPR's propensities towards psych-rock and garage bands. Gold Star's music is bittersweet and familiar, like something from a vague memory. The Echo was packed for their set and once Marlon Rabenreither played solo acoustic "Blue Sky To Blue Sky", the pin drop quiet of the room was palpable. Their set list consisted of "Sonny's Blues", "Blue Moon", "Crooked Teeth" (new), "Analisa Knows", "Blue Sky To Blue Sky", "Uppers and Downers" (new), and "Half Of The Time" (new). He featured new music and expressed the upcoming album is on the way. You know when you find a musician conduit of something heavier than your usual variety of melancholy songs of old? Townes Van Zandt, Neil Young, as well as Bob Dylan come to mind. Not to dwell on the darker parts of the unsteady mind, but to give light to the bravery of diving into the depths of introspection on human sensitivity in this century. One of the last notable artists of the past century with such a gripping vocal style that comes to mind is Jeff Buckley. Gold Star has a keen way of dressing up the heaviness in a comforting play through of the album 'Big Blue'. To balance a weighty sound with warbly vocals and stretching that feeling with a pedal steel lap guitar has a piercing soulful sound when played live. It makes you think how far gone you have to be in the depths of despair, but can still make it out alive with a refreshed sense of purpose. That's why Gold Star's music is iconic.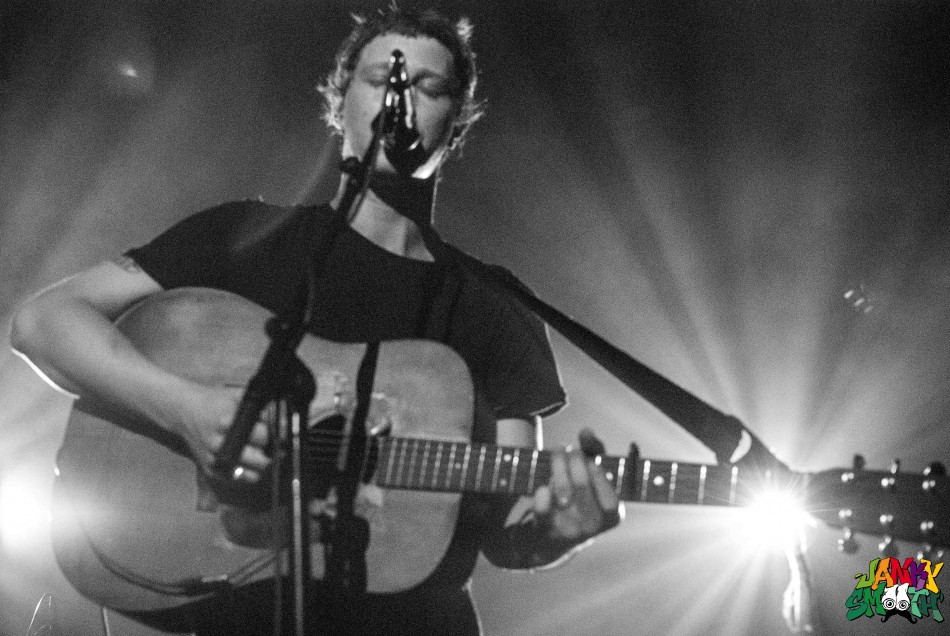 I found my way downstairs to the bottom level of The Echoplex in anticipation for Prettiest Eyes, a band I've taken a special interest in since covering their show at Harvard & Stone. There was the overwhelming smell of burning sage permeating through the air as I made my way against the flow of incoming traffic to the staircase near the entrance. Seeing the Prettiest Eyes trio performing in a much larger venue absolutely exceeded my expectations. They are so much spookier and eerie in a bigger space and the open area further amplified their enormous sound. It got a little raucous in there as people started to most and crowdsurf. I am increasingly impressed by percussionist/vocalist Pachy's ability to deliver such an intense, multi-faceted performance and make it look so easy.
Leaving the packed Echoplex, I made my way down Sunset Boulevard towards Spacedust, which is generally a narrow, rectangular retail space. I had set out to see local L.A. band Mothdrops but when I arrived, it was apparent that the set times were running far behind schedule. This was another band I had taken a particular interest in and having seen them only once before, I was unsure of what to expect. The group is fronted by Andrew Giurgiun who has a flair for dramatic performance but not without an immense, soaring sound to back it up. Andrew interacts so beautifully with his audience throughout the seamless, fast-paced duration of the set. Mothdrops is impossible to ignore and the entire space was packed with sweaty bodies as people passing by stopped to listen, although the performance space was almost completely out of view from the street.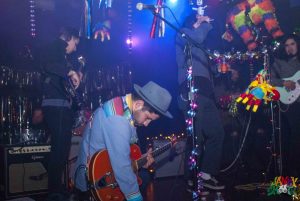 Finally, another favorite band Santoros played the slot at Spacedust immediately after the Mothdrops set. Despite finally forcing my way to the front and acquiring prime real estate at the front of the crowd, I had to excuse myself for fresh air and ended up somewhere in the middle of the melee. Santoros is another band that is the soundtrack to the part of Los Angeles that I know and to see them play live is like coming home. Having just returned from their tour of California and Oregon in July, I can imagine Echo Park Rising being a sort of homecoming for them too. Most of their set list consisted of songs that haven't been recorded yet, so it was refreshing to hear some new material from Santoros along with songs like Wasting Time and Rabbits off their most recent album, El Perdedor and even a rendition of Mr. Pirate off their first album released in 2012. After standing the test of time, Santoros is aptly adored by their fanbase. As expected, they packed the Spacedust sales floor to maximum capacity.
As the years pass and Echo Park Rising grows in popularity, the audience looks younger and the lines get longer. Does that mean the event itself is any less important for the community and the music scene than it was in the years prior? Not necessarily. I guess it could be argued that this is indicative of the success the organizers have been working towards and the recognition the artists have earned. As Echo Park Rising continues to attract more and more spectators, it may very well outgrow the mile-long stretch of Sunset Boulevard from Vin Scully to Waterloo that it has traditionally occupied. Limitations on the capacity of the venues, parking and pedestrian traffic may very well affect the future location of the festival but enthusiasm for the community event aspect of it is high and this year's success made it evident that Echo Park Rising will be something to look forward to for years to come.
Words by: Aria Silva-Espinosa
Photos by: Grace Suzette Dunn