Desert Daze 2021: Music, Magick and Medicine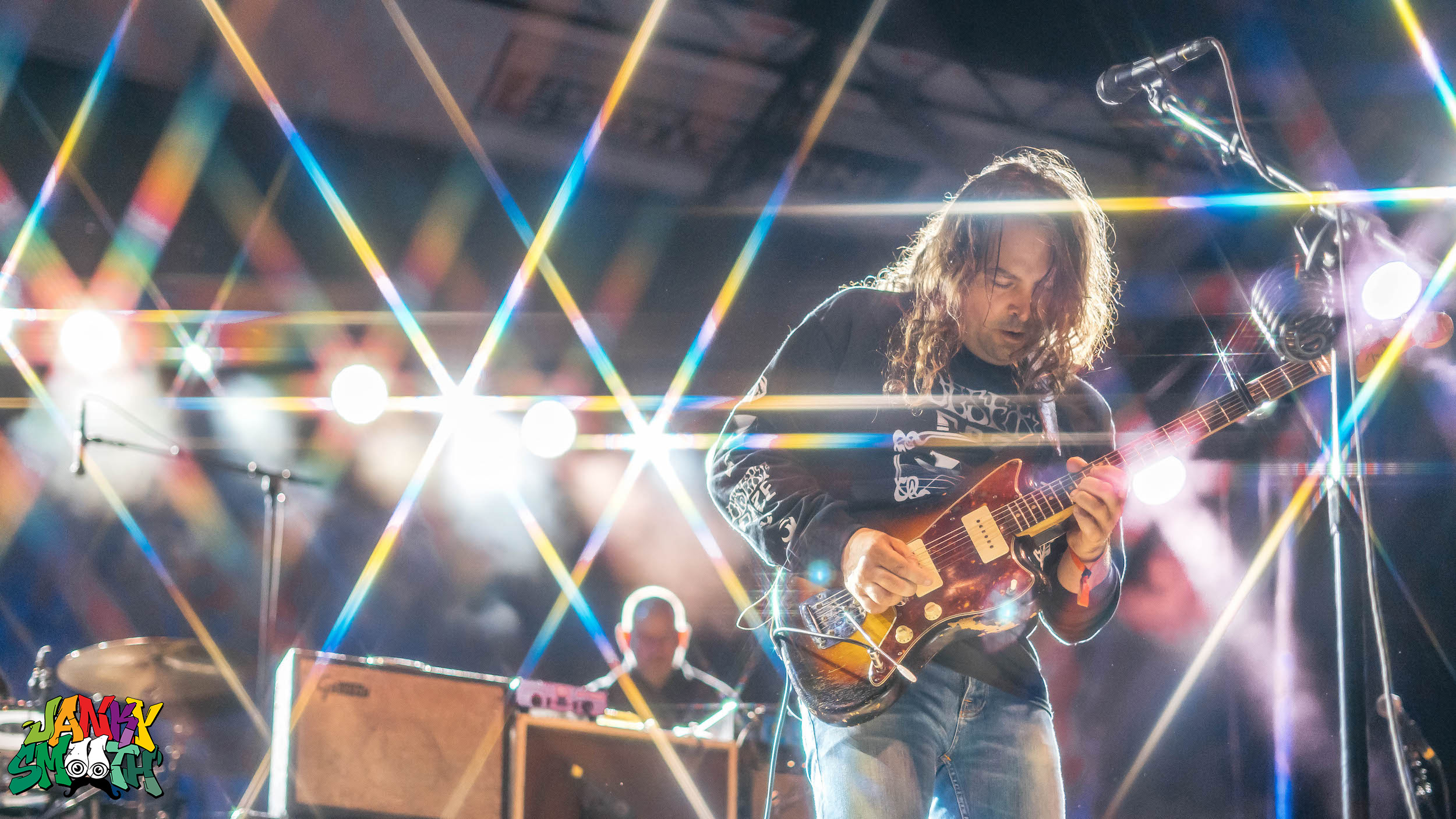 The road to Desert Daze 2021 was a long and winding way that spanned greater than the material distances of the 10, 60 and 215 highways between Lake Perris and Los Angeles. Everyone's road was different, from festival organizers, Moonblock and co. and those in attendance. Not everyone's road was paved with isolation and misery since the last installment of Desert Daze in 2019 but certainly everyone can agree that there has been a paradigm shift in the dynamic of living, or the collective consciousness, or whatever you want to call it, on Planet Earth.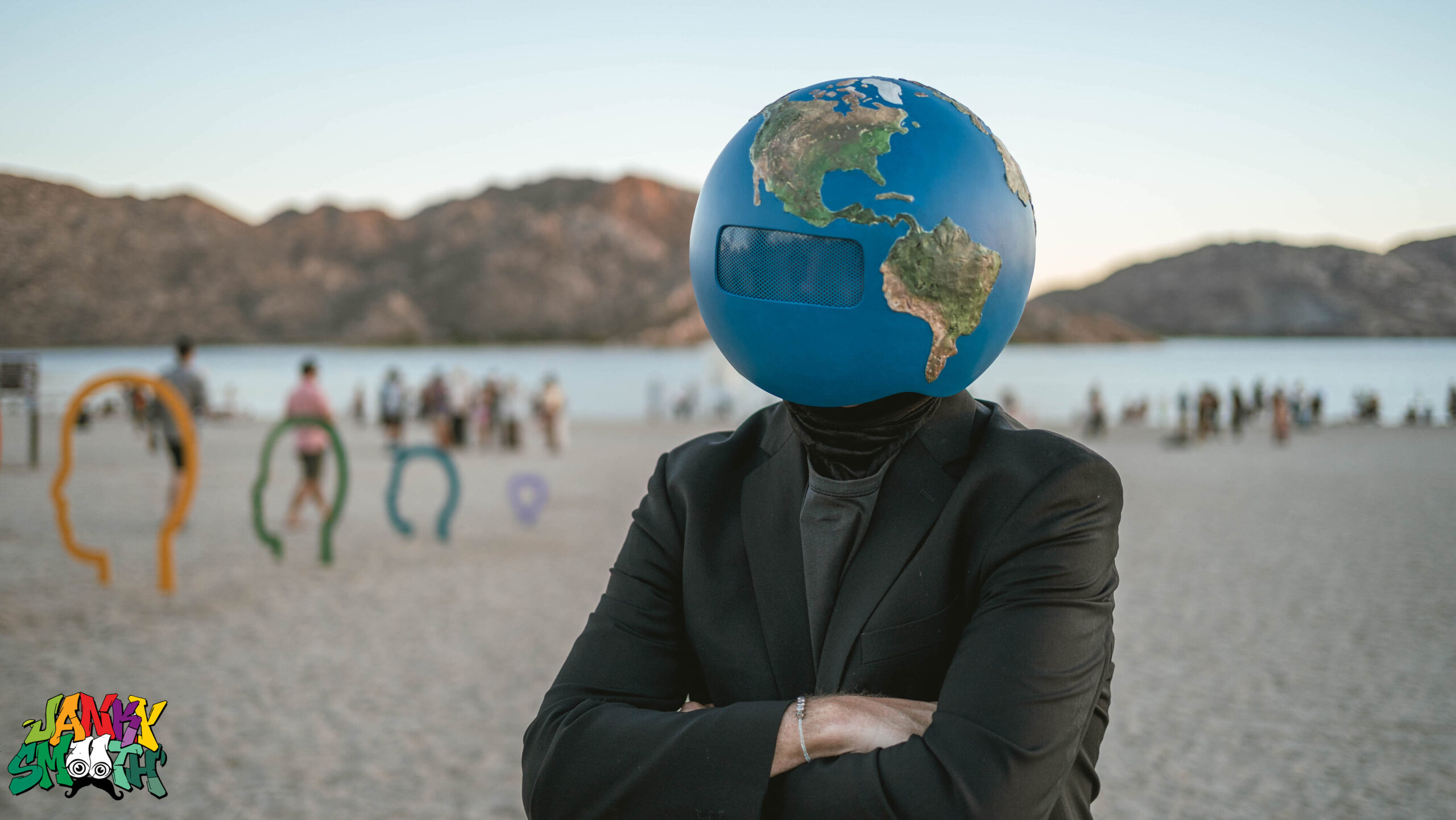 Music, Magick and Medicine beckoned far and wide but intimate attendance (low ticket sales) and a revamped vibe in the typical Desert Daze lineup brought only the most loyal and adventurous of past attendees and in my own conversations in the camp site, many first timers. It shrunk the festival grounds to a one stage operation on the banks of lovely lake Perris, in one of the most beautiful weekends to grace this Fall season in Southern California. Nevertheless, vibrations reverberated like signature sitar tones, like a butterflies wings, causing ripples across space and time… or some shit. But then again, maybe that's the medicine talking. Because this was a trip within a trip. And even though I didn't trip my balls off on any of the days, I did give my brain and body a nice reset on Saturday that peaked with an anime hero come to life, Sudan Archives and settled in nicely for the jazz bangers of Kamasi Washington and his band.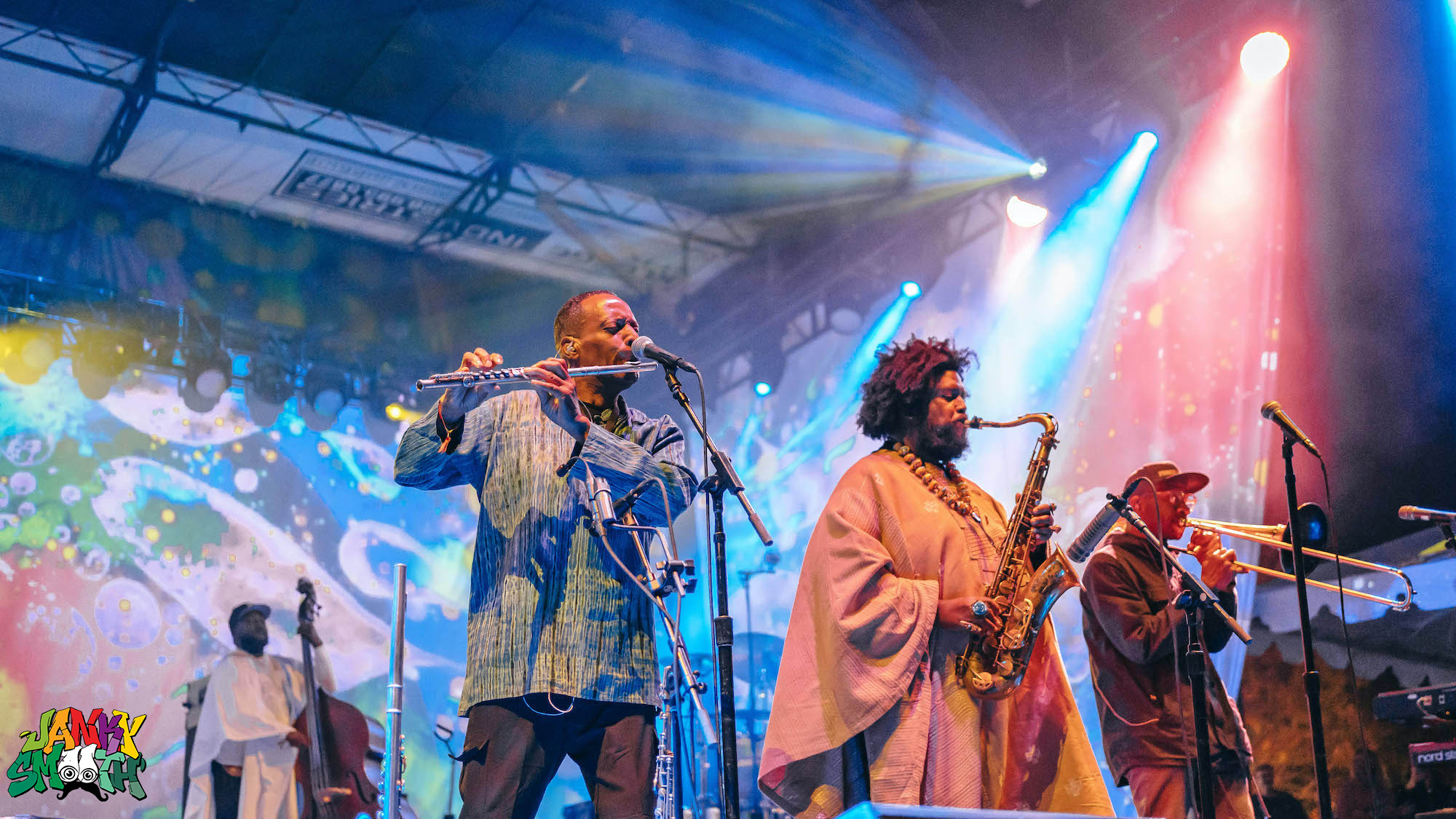 Friday
A late start on Friday found us trapped in traffic for hours, missing La Luz, DIIV, Deap Vally and Tim Heidecker vs Weyes Blood. By the time the trailer was parked and the tents pitched, my phone was dead but had no reception anyway. But fuck all that, it was time for Ty Segall to go on and for me to settle in to this festival for the weekend.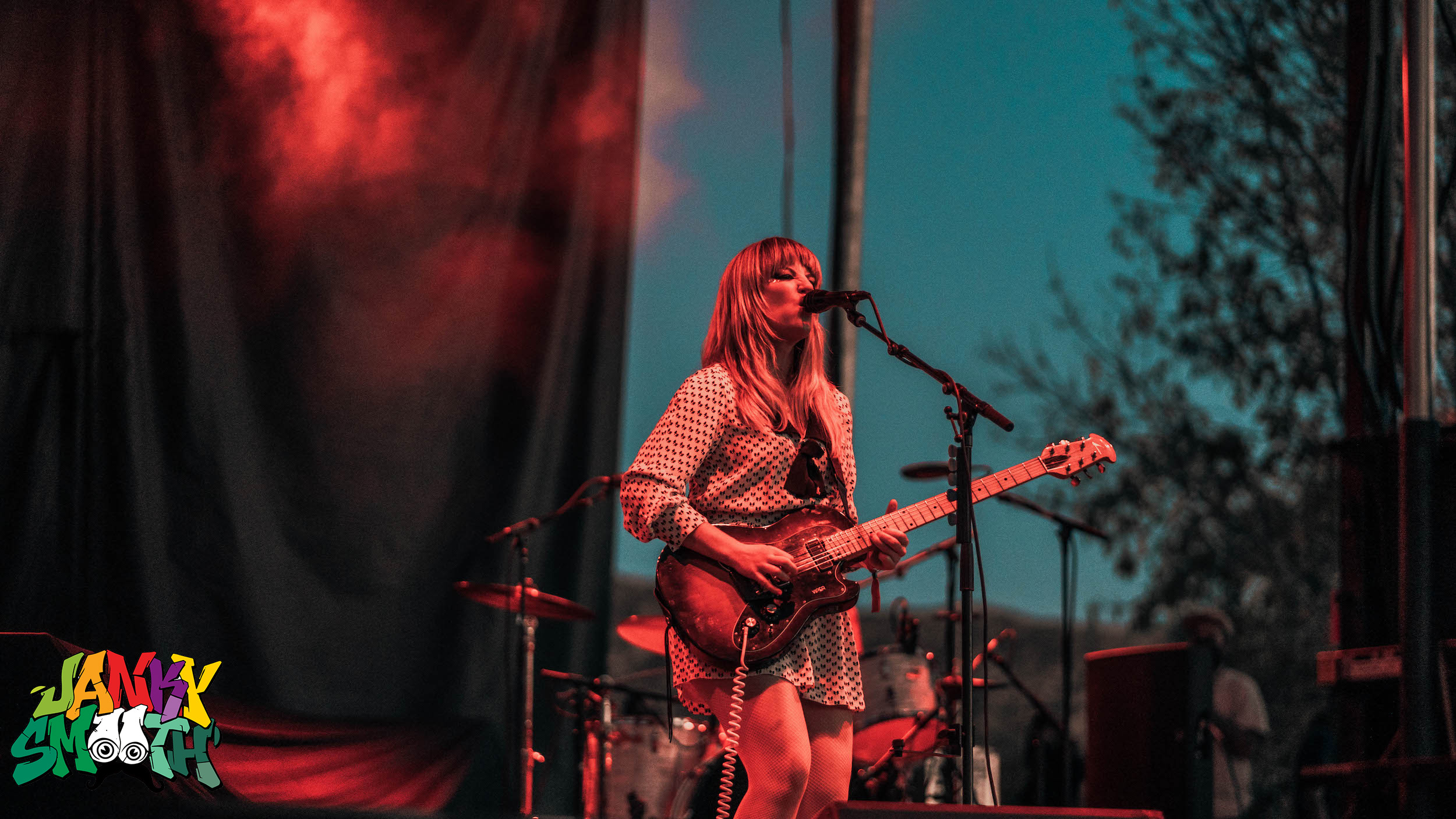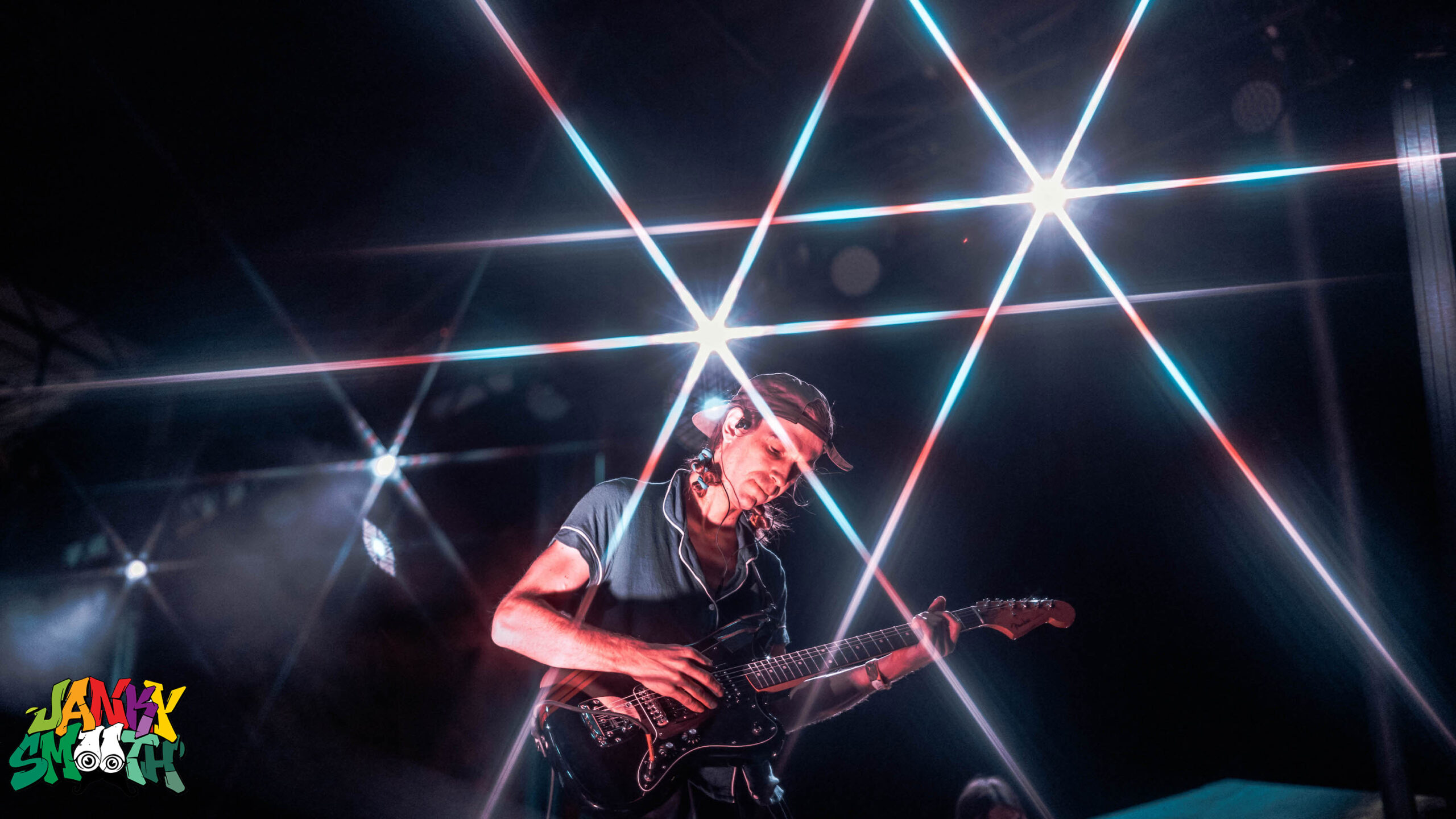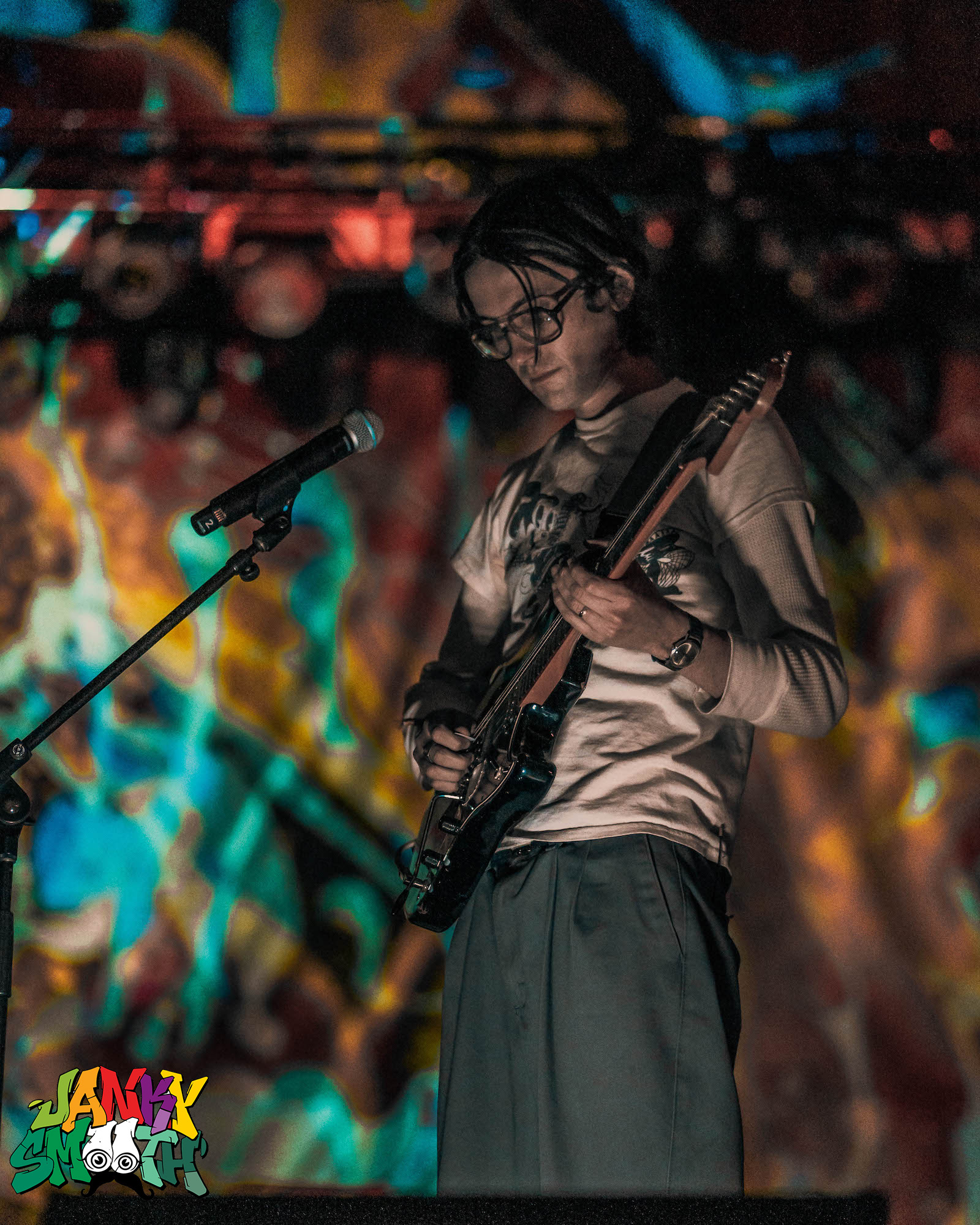 I was setting up camp in the dark, frantic, hearing melodic feedback shrieking in the distance. I ran down from the camp grounds to the festival grounds to be greeted by Ty Segall and the Freedom Band. Everyone seemed surprised when the set was seemingly and unceremoniously cut short and that was when I realized there was only one stage this weekend. I pondered the multi verse about this development and whether it was a good thing or a bad thing and by the end of the weekend I had decided that it was refreshing to not have to choose between any festival set time conflicts for the first time in a long time.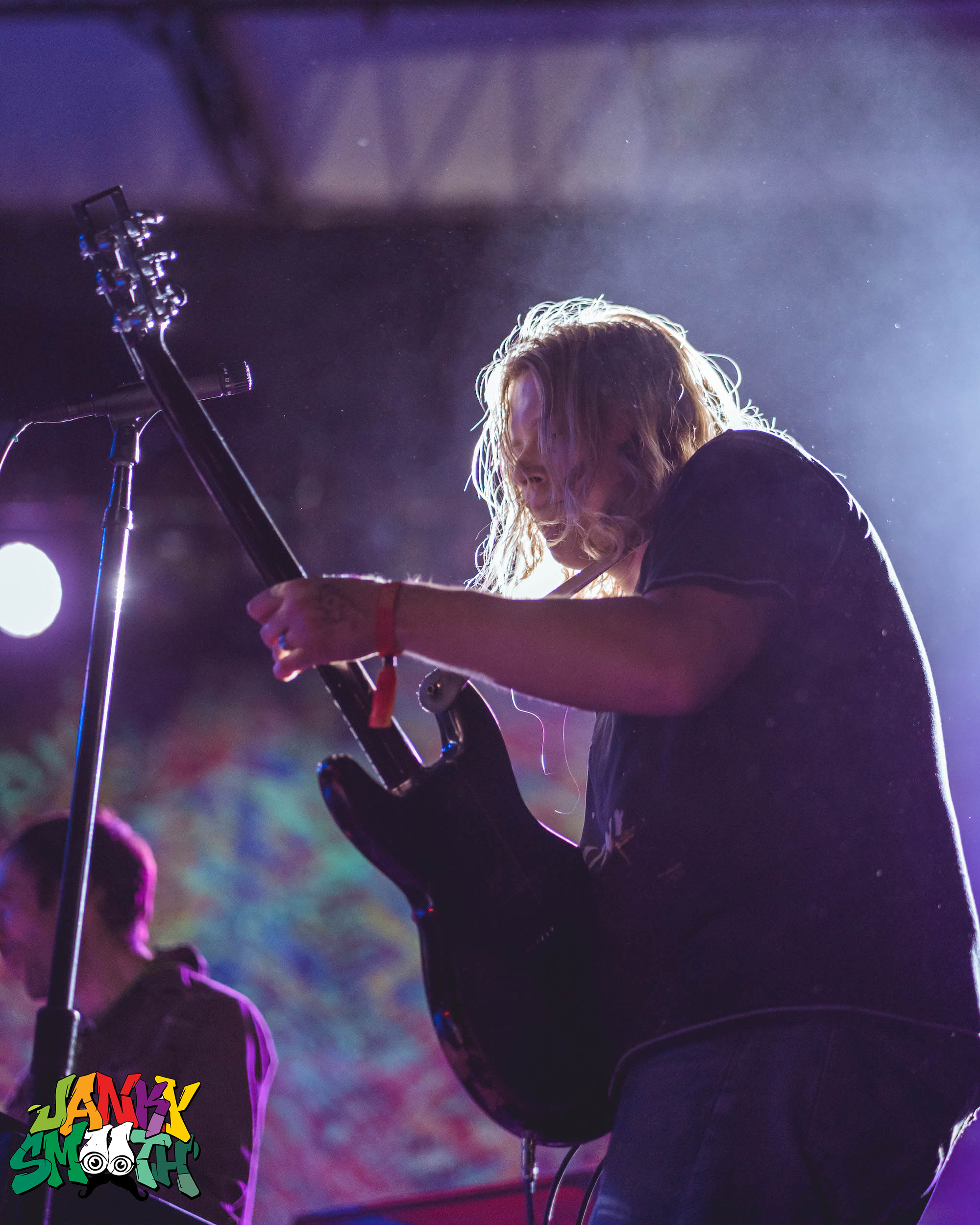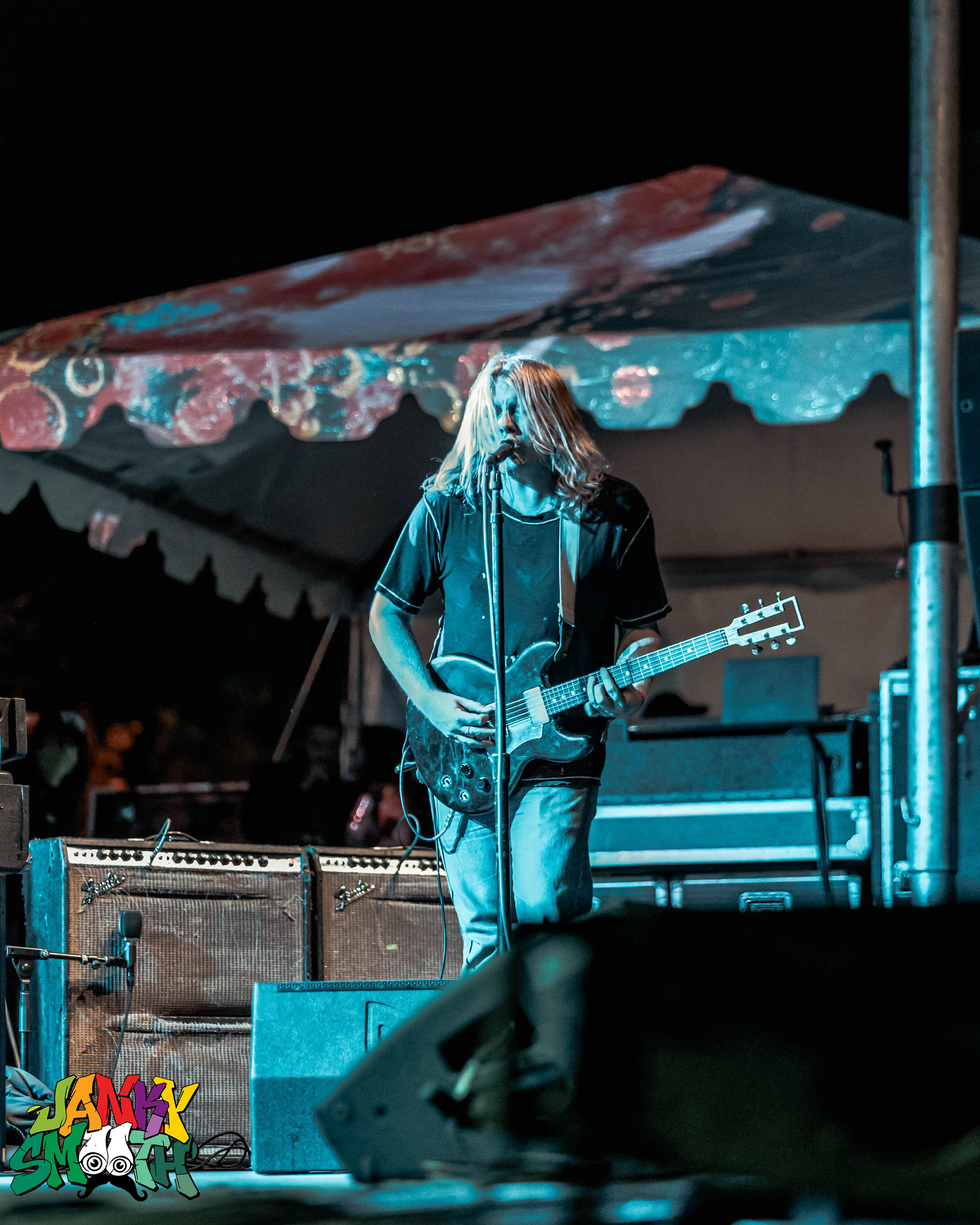 The low key highlight of the festival among all the musical mastery present throughout the weekend was Canadian outfit, Crack Cloud. Their pocket precision was matched only by the clear impairment of their more basic motor functions. Because when Crack Cloud weren't playing the relentless grooves that make up the songs a drummers mother would love, they were shouting belligerent challenges at the crowd, to our delight. They reminded me of a turn of the century, Long Beach based band called Dance Disaster Movement if someone had spilled water on them and fed them after midnight. They were EVERYWHERE, littering the stage with attitude and chops and they took over Desert Daze on Friday night.
Crack Cloud wore my ass out. I ate a tiny stem and sat on a couch, on the beaches of Lake Perris and listened to the shrieking, dissonant beauty of A Place to Bury Strangers resonate off the mountains and disappear into the cosmos… this recharge of electrons gave me the will to go on into the Camping Stage and move my body to George Clanton's sample based groove project, ESPRIT. Highlight: the butchering of classic R&B track, Return of the Mack.
My tent was about 500 cubits away from the camping stage. I zipped myself in, folded myself into a merkaba and slept soundly for 4 hours until the freezing night air transformed to one of the warmest days of fall…
I couldn't help but lament an alarming trend I've seen since live music came back into our lives. It's the way audiences interact with live acts during shows. There seems to be a malaise. Almost like people in the audience have been looking at their screens so long throughout the lockdowns that many are still frozen, watching a screen in the meta verse, rather than out and about with everyone exchanging energies. And I'm not talking about people being safe and social distancing. Everyone is still packing themselves tight into venues and festivals but the jubilation and joy that people typically have seeing live music appears dulled by the isolation they experienced through the year between when quarantine started and the vaccine first became available.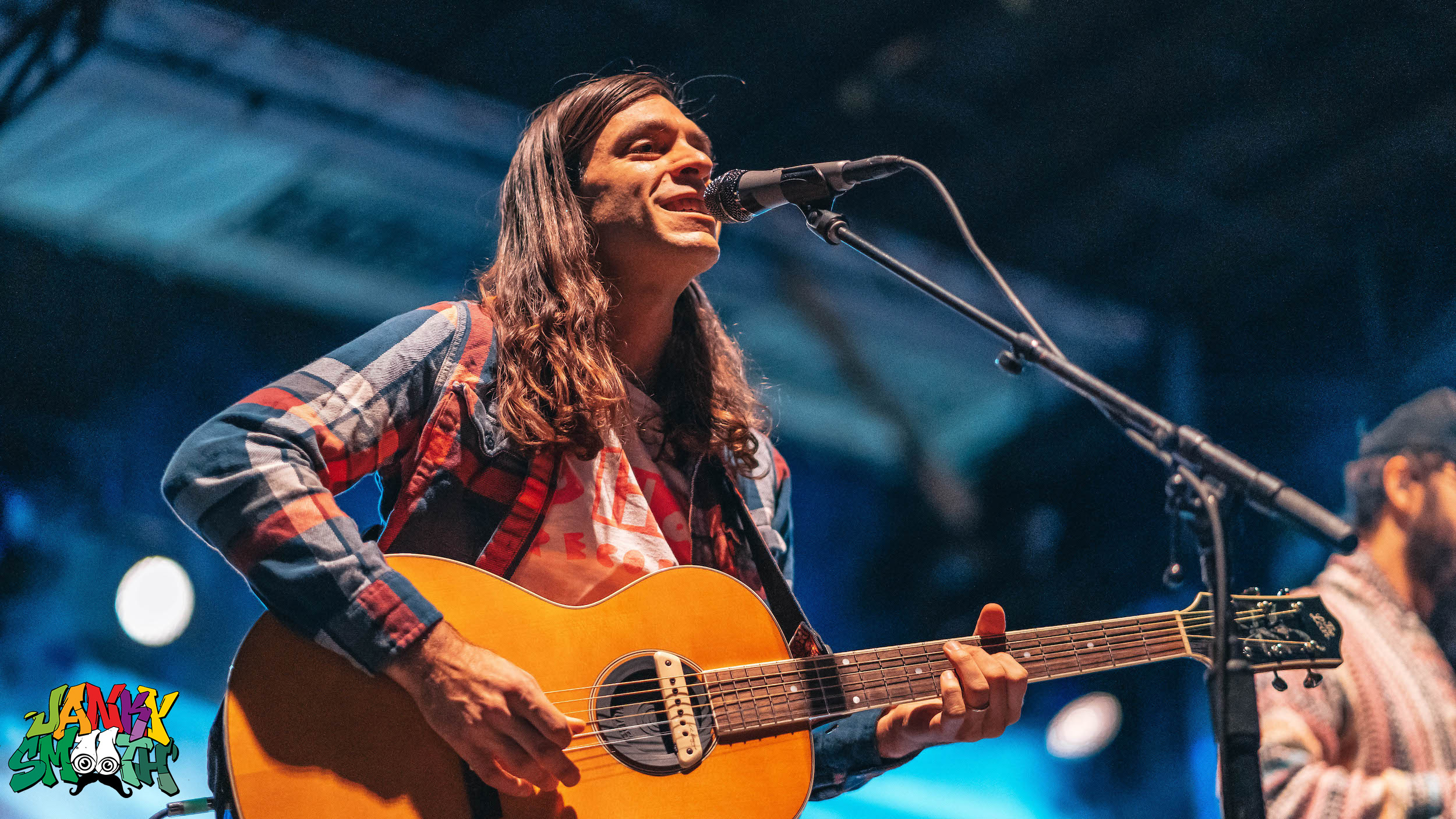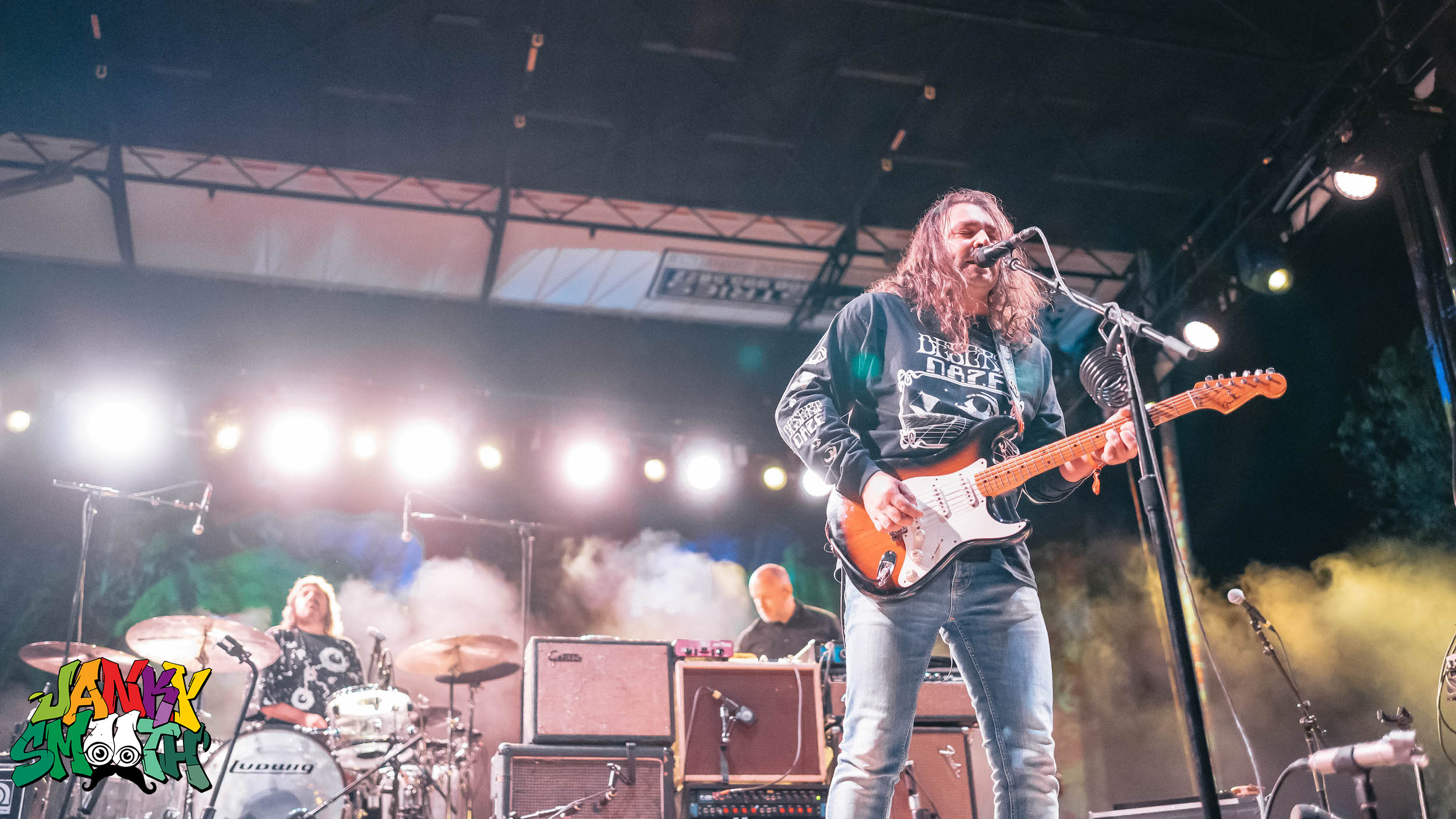 Saturday
At 8am, the camp grounds were littered with people in various states of disrepair but by 10 am the line for coffee stretched far and wide and a few dozen people took part in the restorative yoga session and subsequent sound bath. The 3pm start time for bands allowed for plenty of time to take a dip in Lake Perris and lay out on the sand or get nice and soused before the first note was struck. This year, I chose the former. I exited the lake feeling like, Wim Hof.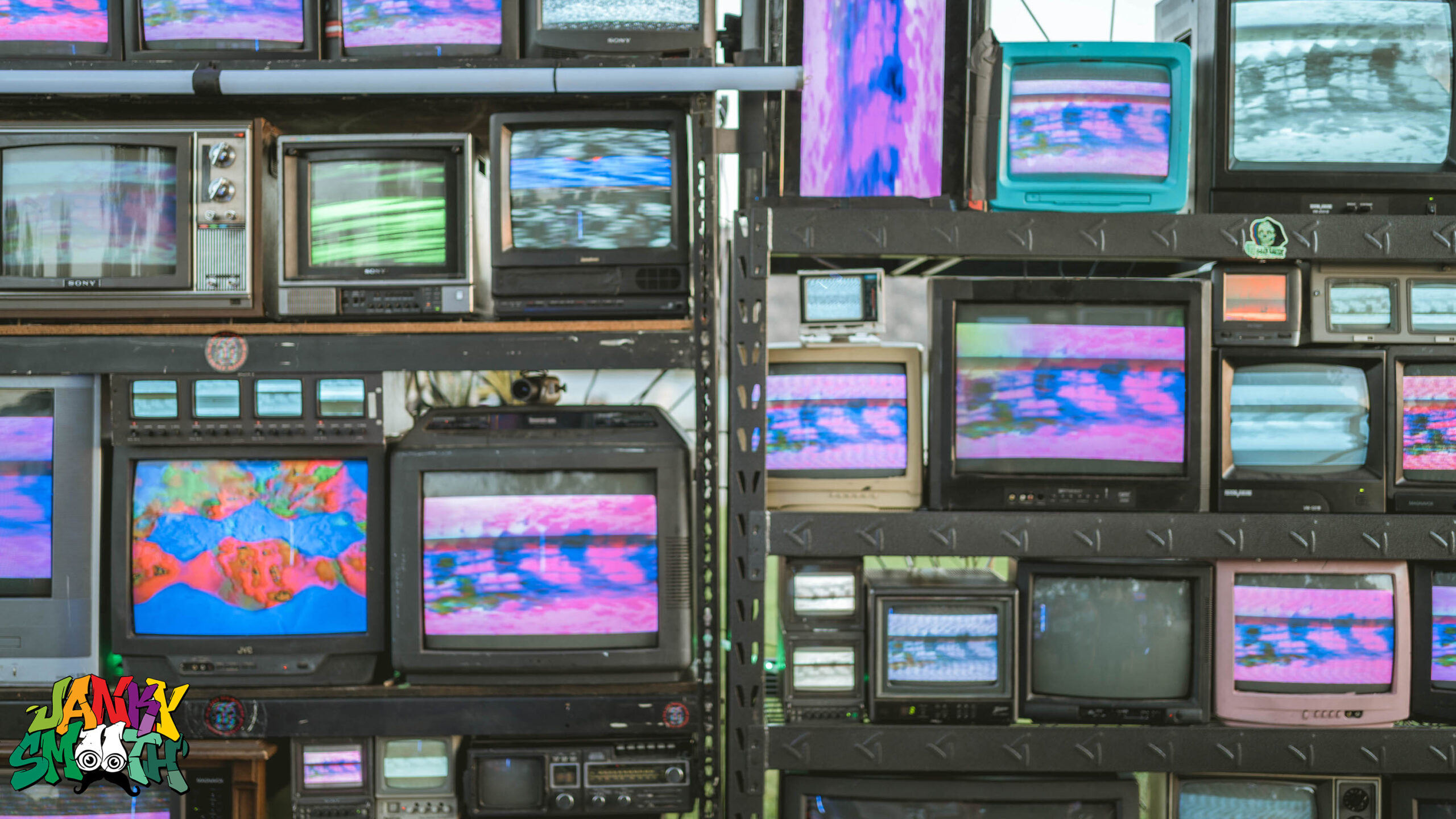 I studied the day's lineup thinking this Saturday lineup looked like it was born for a Sunday and minus Kamasi Washington, Sudan Archives and Budos Band, that suspicion proved a valid one, for my tastes and rhythms. I've TRIED my hardest to like War on Drugs and after seeing them live for the first time I can conclude, definitively, that I don't. They are musical and technical and vast but I feel the same way about them that I do most original, old school yacht rock bands. So maybe I'm not the person to weigh in on this… unless you dislike yacht rock because "I Can't Get With That (No Can Do)". Sorry Hall and Oates- you were a gem amongst polished turds.
Let me make special mention of Sudan Archives. I'm not sure if it's because I was peaking or she was as good as it seemed but perception IS reality. I fought through the influence around me of some muttering criticisms like "from Budos Band to Lip Synching". Brittney Denise Parks most CERTAINLY was NOT lip synching and while some of her songs might not resonate with me, she moved between her violin, laptop, mic and the dance floor, surrounded by a melty Desert Daze visual display dripping all around her like an anime concept being born in front of our eyes.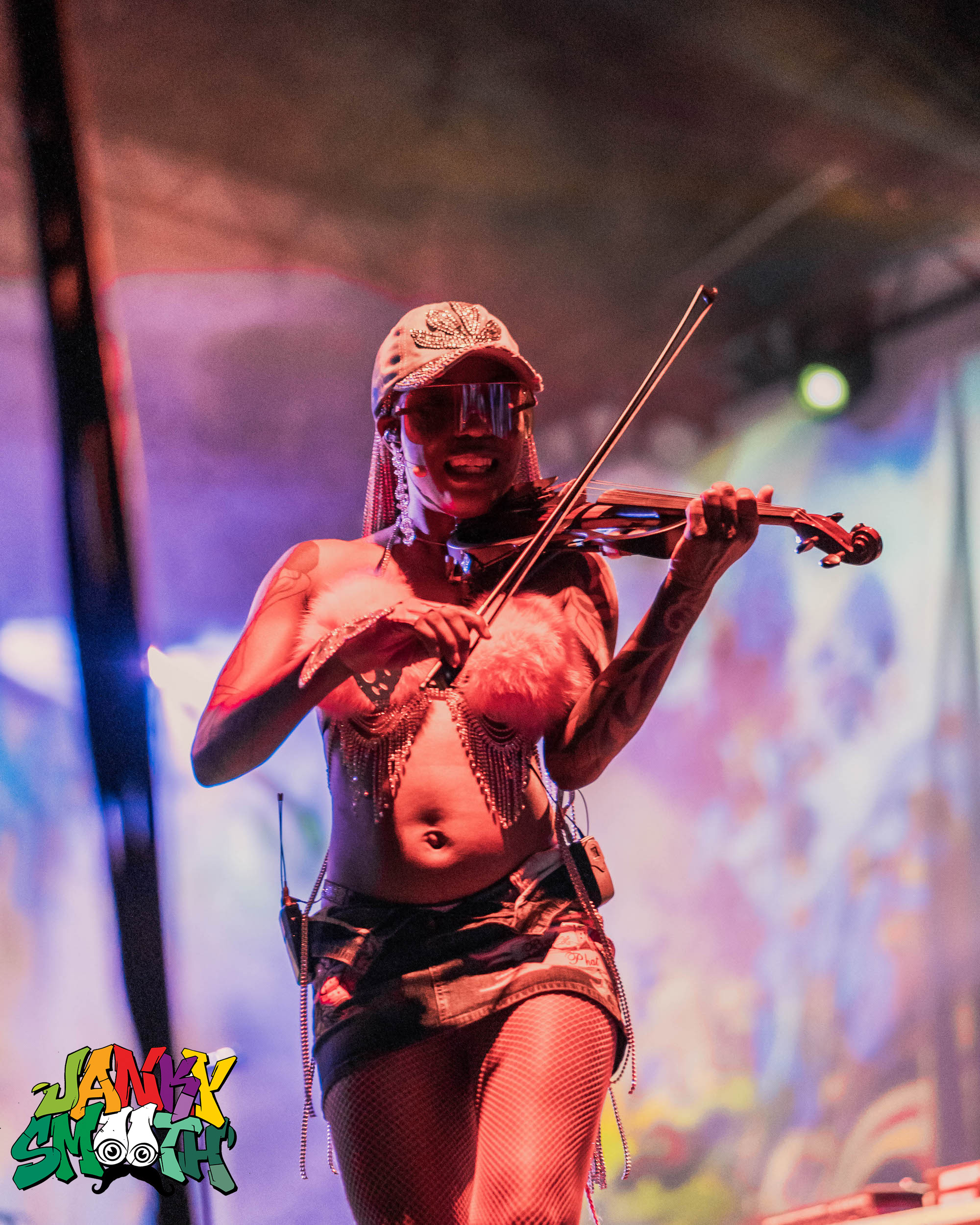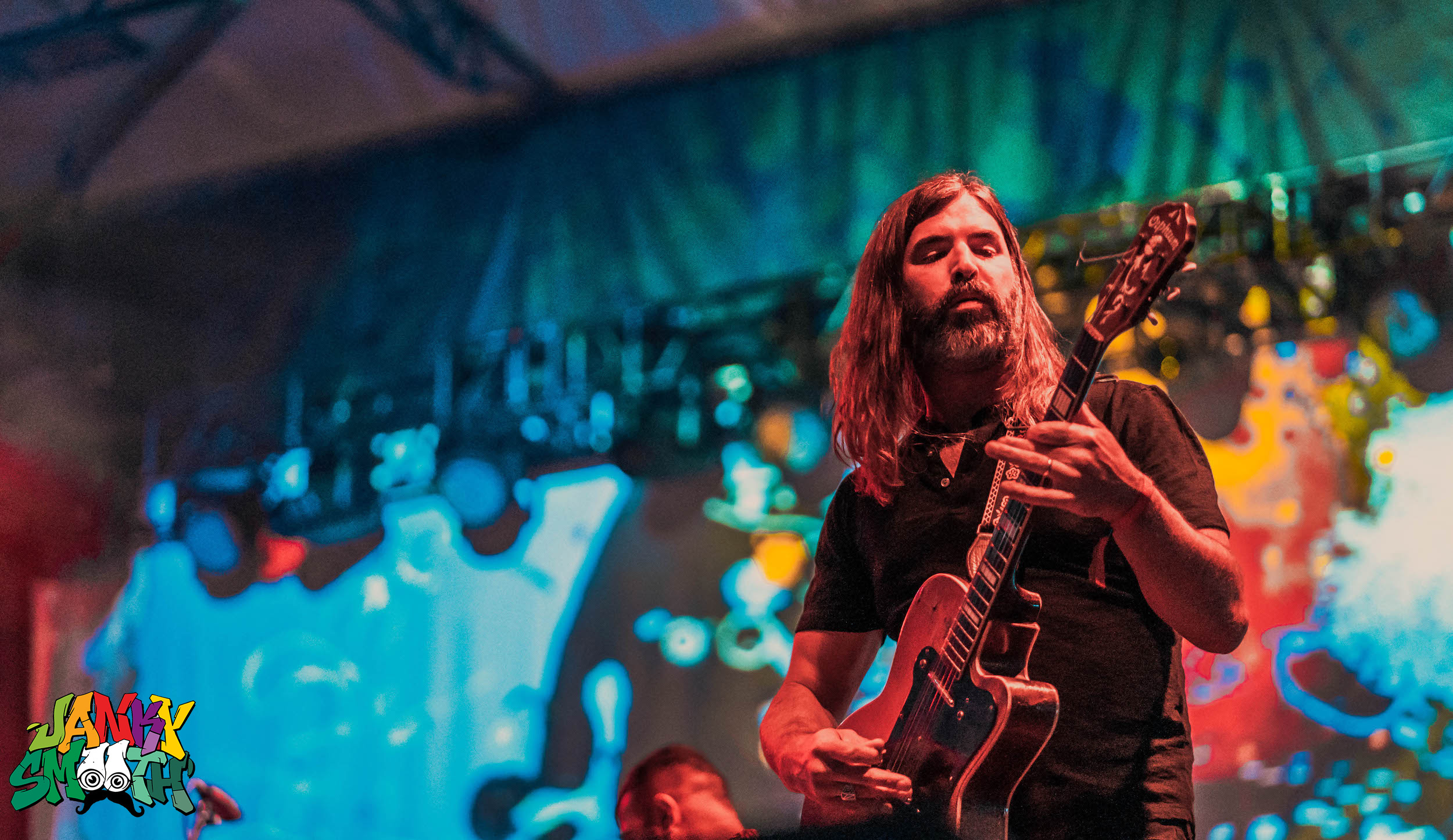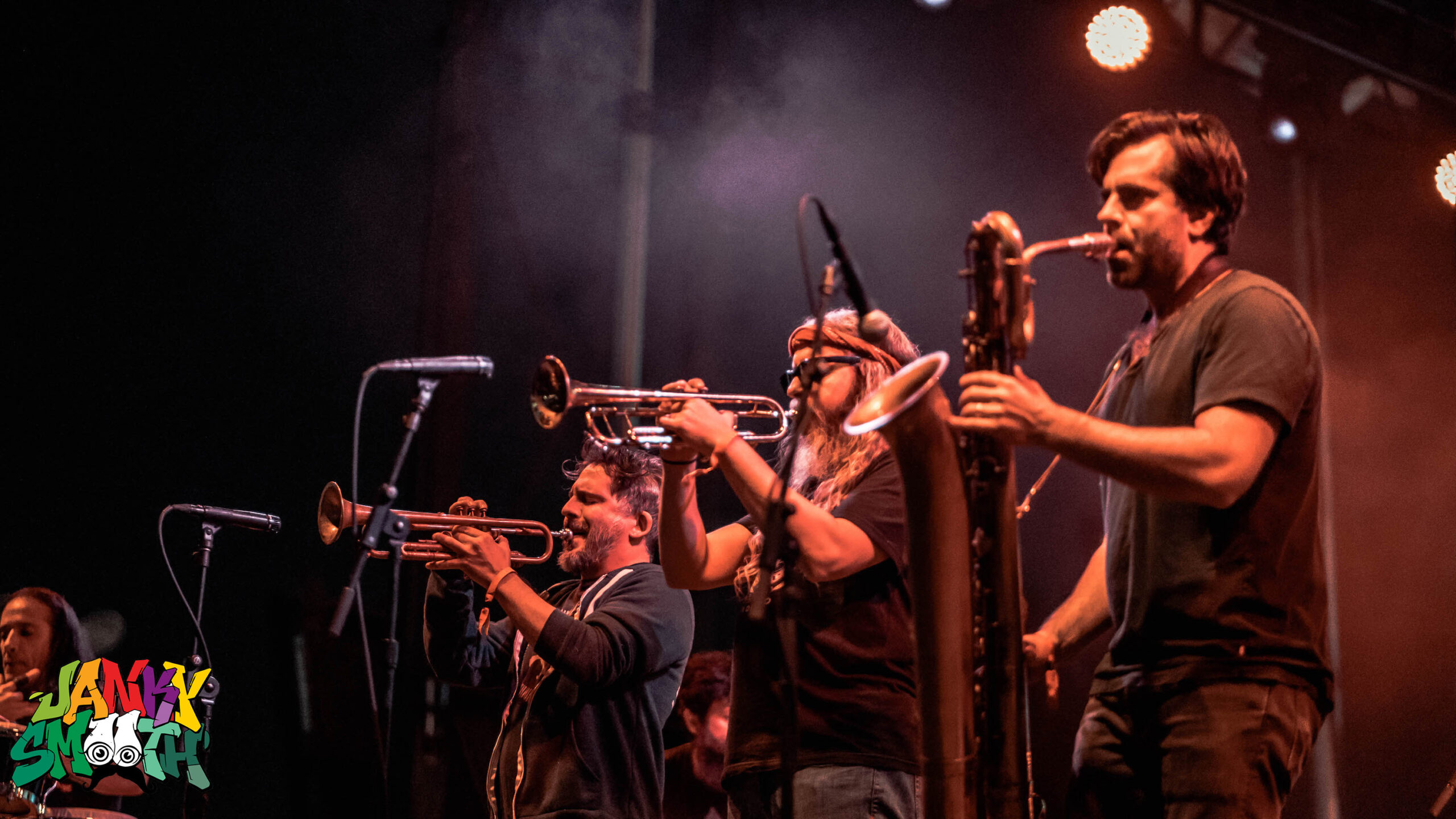 Andy Shauf was amazing. I just wasn't ready to take it down a notch, yet. But it was the first time I had seen him live and he and his incredibly and illogically symphonic band could've floated on Lake Perris, they were so tight.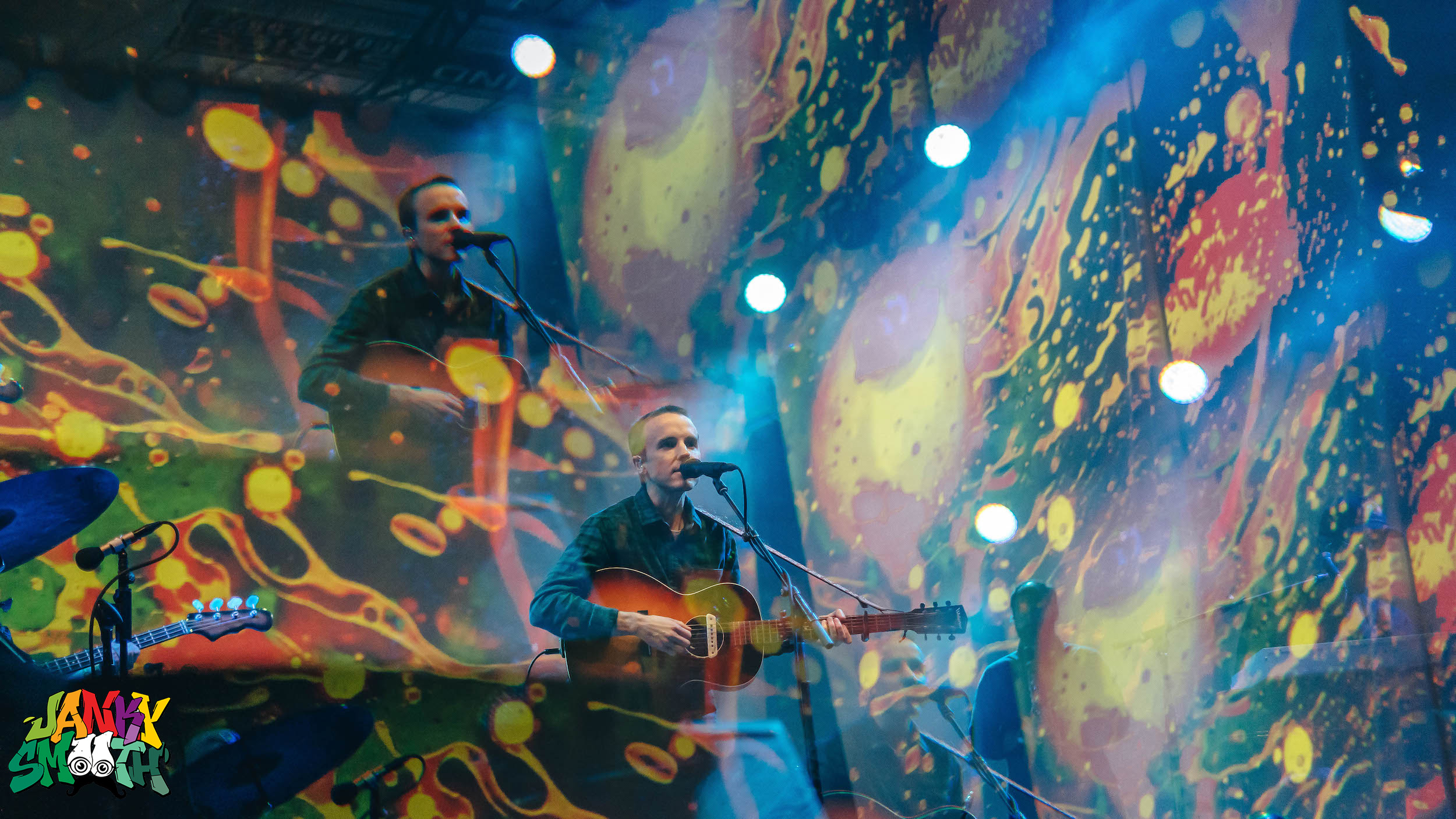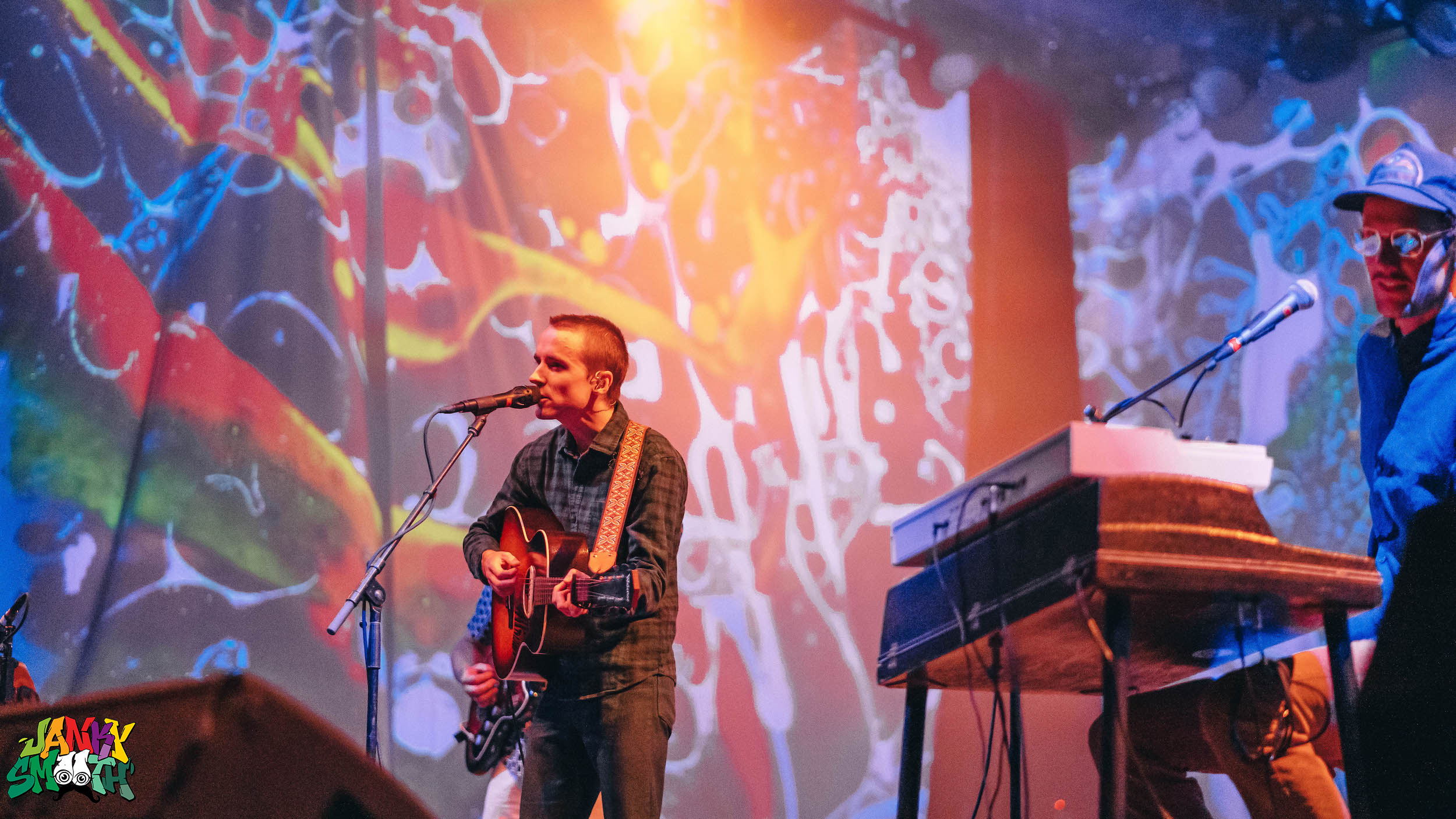 Devendra Banhart — Another composer whose music I like fell flat in such a prominent spot. I found the set laborious and got antsy for Kamasi Washington.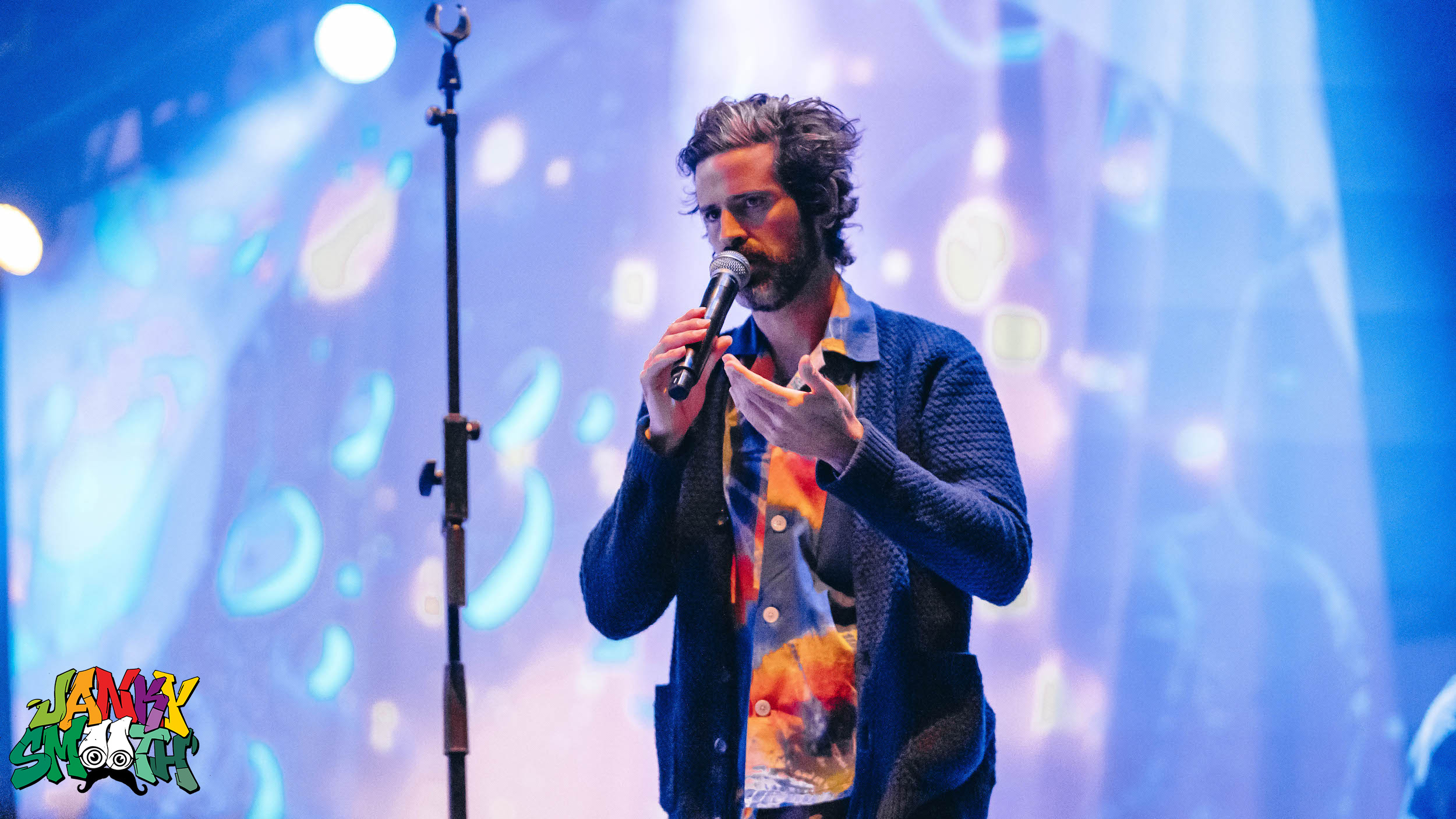 Kamasi Washington and his jazz orchestra of prodigiousness are like a musical hive mind, with Washington conducting the group with a velvet touch that can only come from being militantly well rehearsed. What many people may not know is that Kamasi Washington is as much of a verbal story teller as he is a musical one. His lead up to song "Sun Kissed Child" written about his daughter, was endearing and the song is as sincere as it is different to John Lennon's "Beautiful Boy"- and hits me in the same place as a father.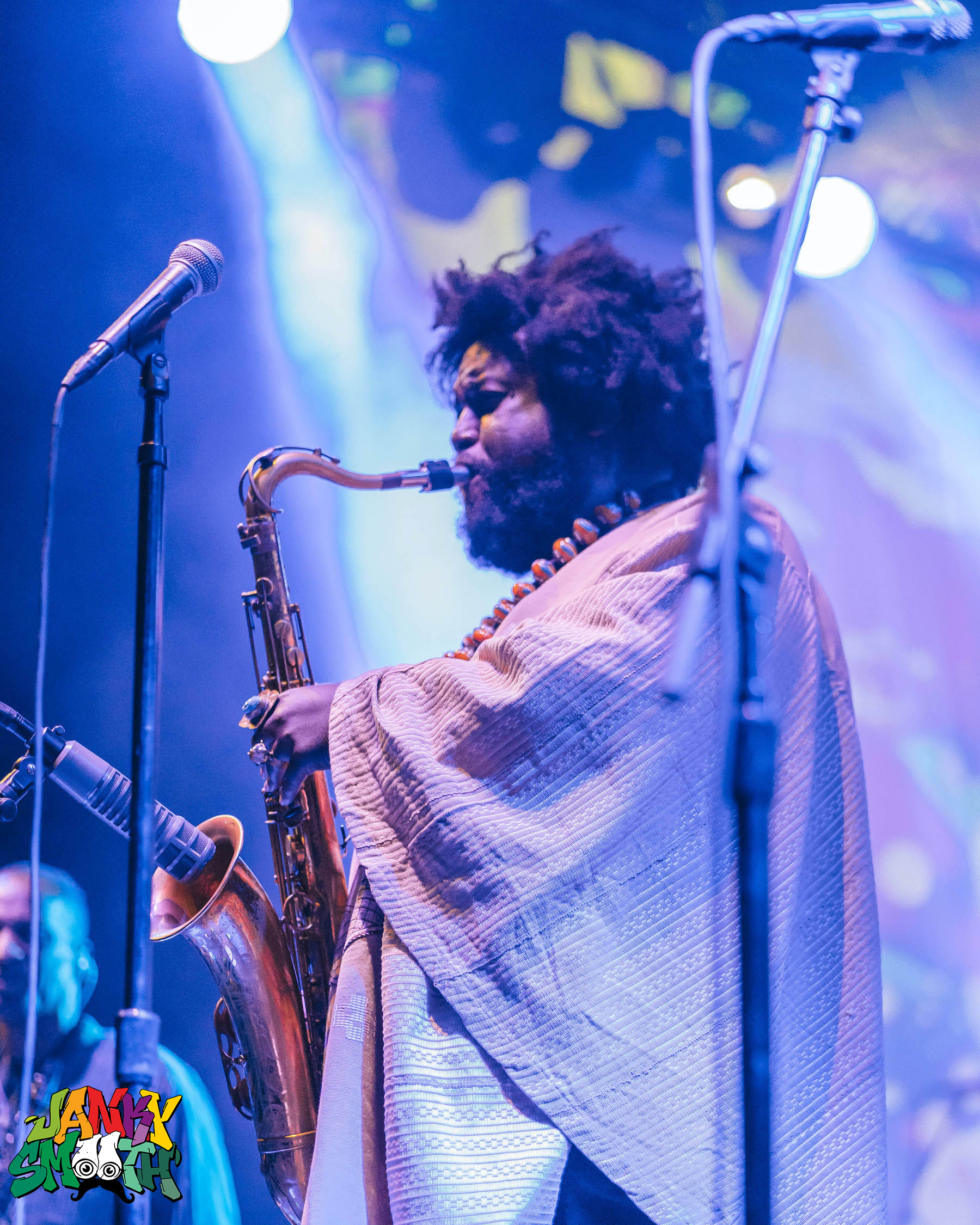 Without Kamasi Washington headlining on Saturday night, I would not have been able to make it to the droning and chaotic beauty of Phil Pirrone's continuing efforts in the band JJUUJJUU to close out Saturday night on the main stage at Desert Daze. I crashed out to the festivities just underway at the Camping Stage.
Sunday
Sunday Nov 14th at Desert Daze was LIT. From front to back. I missed Spelling but arrived in time for ex Cherry Glazerr metal head, Sasami Ashworth who, under the banner of Sasami, with her band came complete with a cover of the System of a Down song, "Toxicity".
And then, just as dusk set in, the entire gallery could feel the presence of dissociating their mind and body from the mundane with the moody vibrations of The Black Angels. OG's of the modern psych rock revival, The Black Angels knew exactly what to do when the sun set in the Moreno Valley.
Crumb showed up to fill the void of bands I'm super into right now. Something so typically available on any Desert Daze stage in almost every year I've attended. The fact that I had just seen Crumb open for Chicano Batman at the Shrine Auditorium in Los Angeles only 3 days prior only made me more excited. I was much fonder of their Los Angeles set list but their Desert Daze set list allowed some new songs like L.A. and BNR to grow on me.
What would Desert Daze be without a signature performance from Japanese psych rock outfit, Kikagaku Moyo? Their bendy notes and sectional compositions and jams gave a sense of awe and comfort, particularly when they played "Dripping Sun".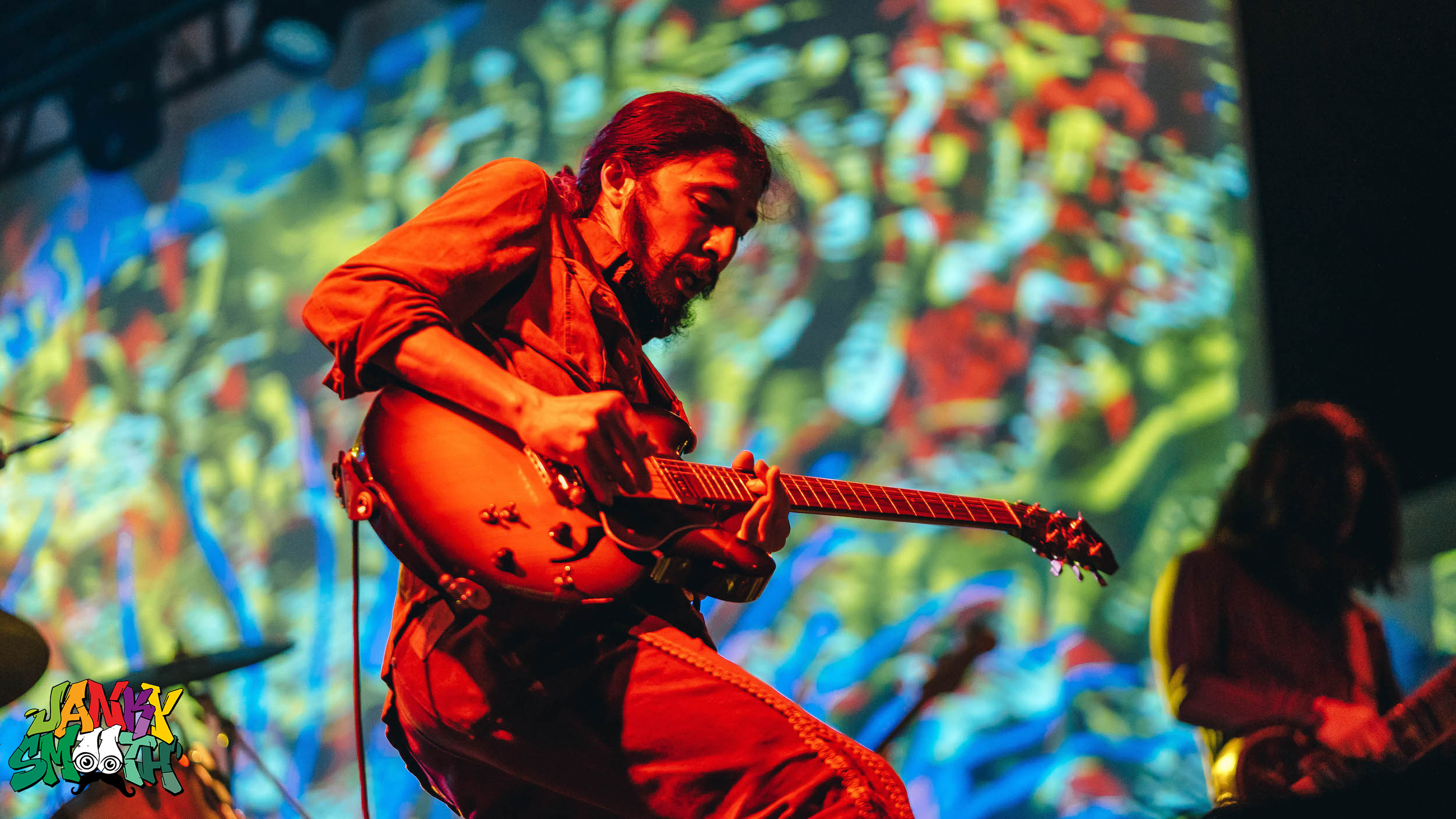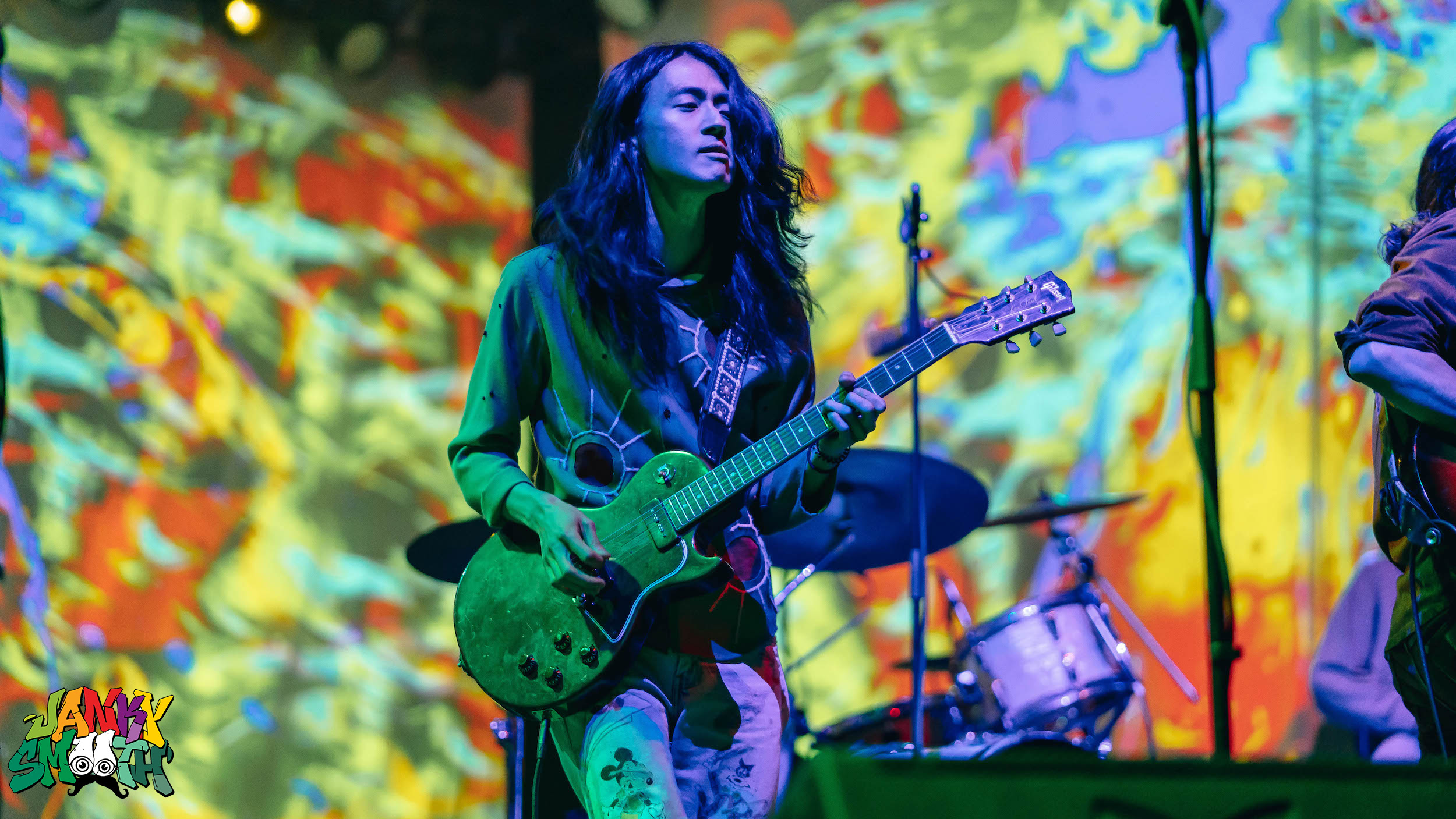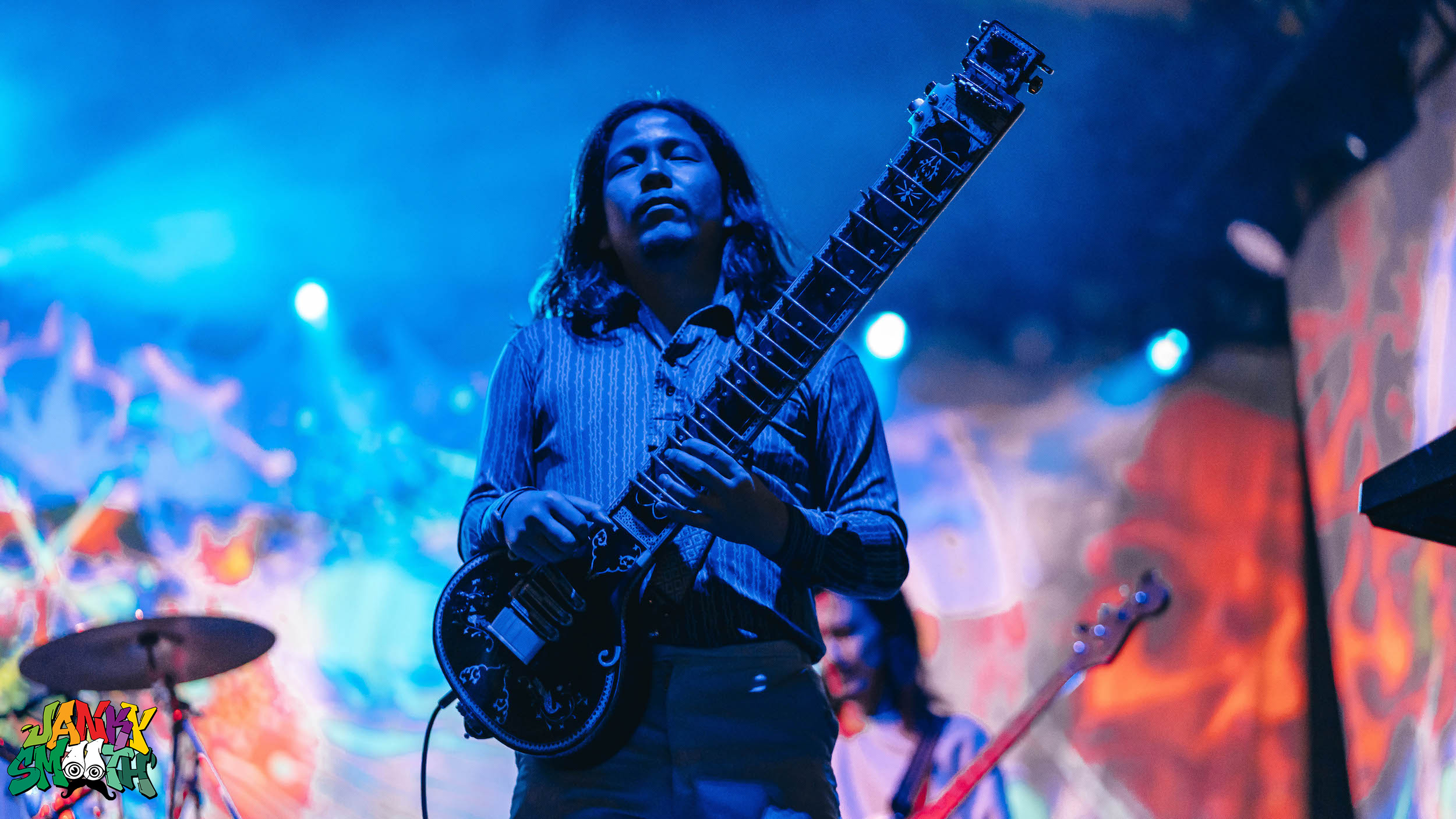 Now it was time for the band everybody's hipster mother and their blog have been raving about, Yves Tumor– and the hype was well deserved. Is it an accident that their given name is Sean Bowie? Because Yves Tumor and their band take the gender bending of Ziggy Stardust and the Spiders from Mars and destroy the concept completely, while simultaneously destroying and creating and distilling the essence of rock and roll. Yves Tumor and their band conducted the crowd into a frenzy, to show some life for one of the handful of times over the weekend. Lead guitarist, Chris Greatti launched himself into the audience, mid guitar solo and barely missed a note. No psychedelics needed for one of the trippiest shows I've seen in awhile.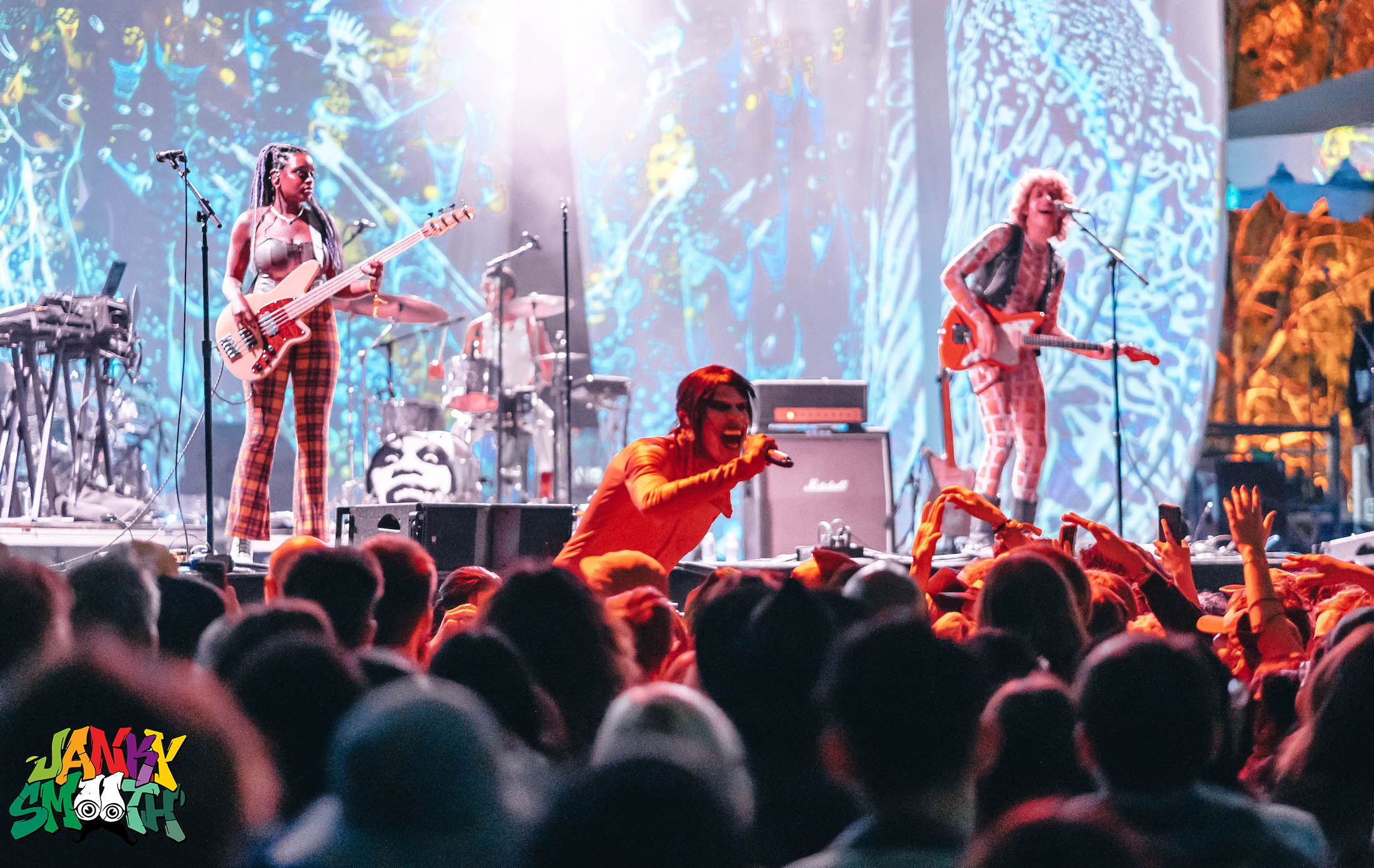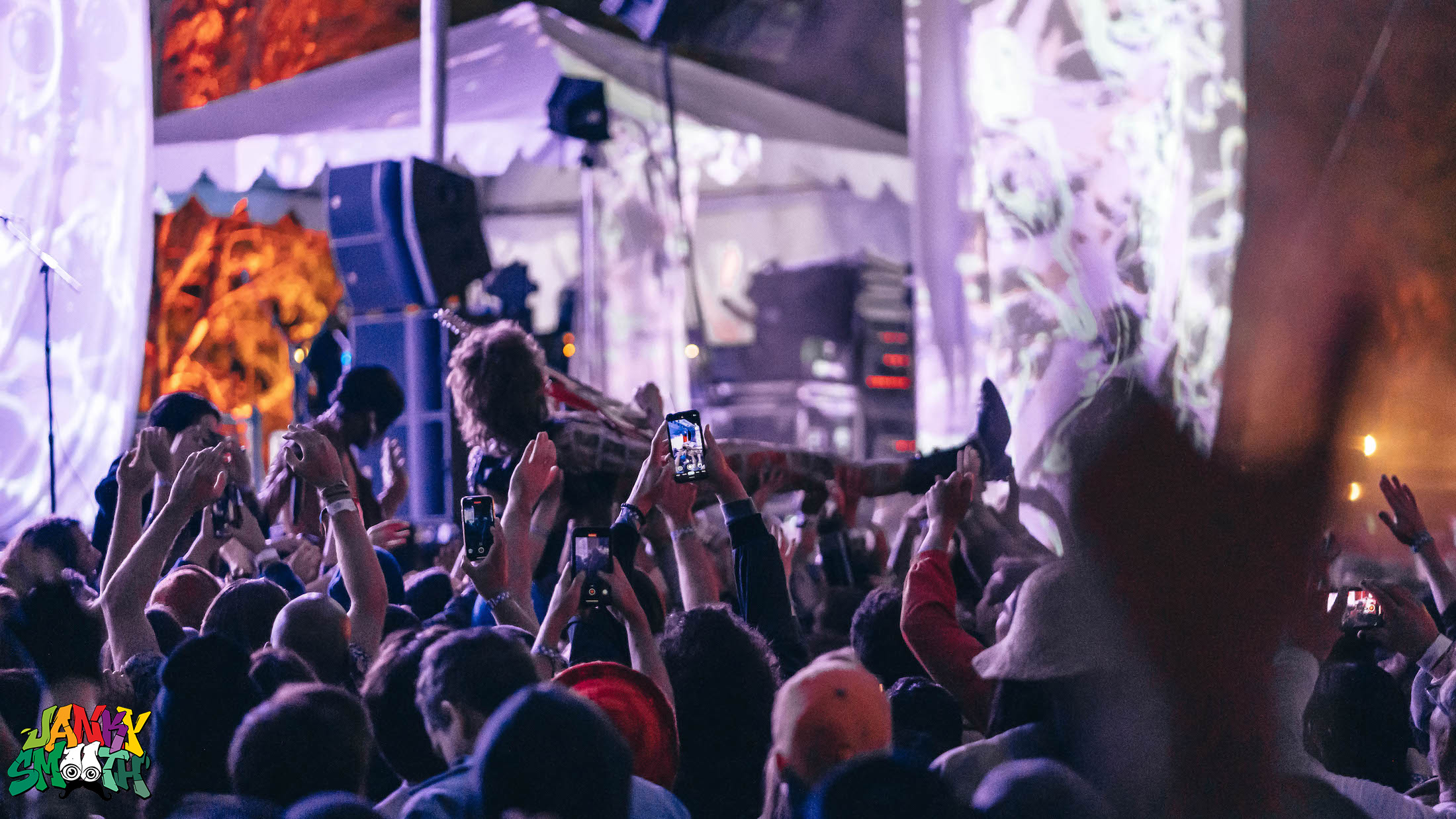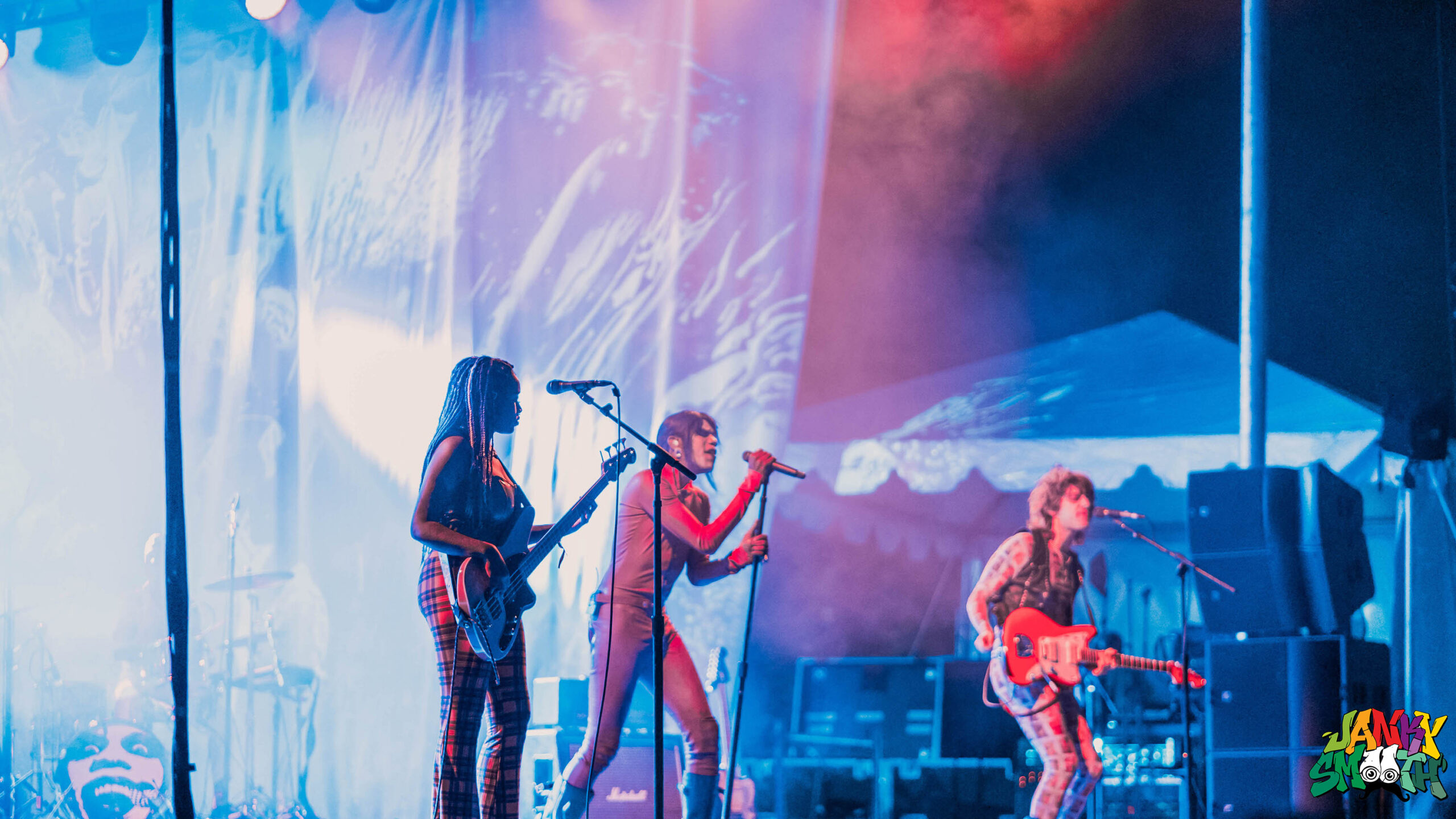 Japanese Breakfast, like War on Drugs, didn't pull me in before I saw them live. But unlike WOD, they converted me completely after their set at Desert Daze 2021.My only regret with Japanese Breakfast is not submitting to the Gospel sooner. I should've known better that a band on the Dead Oceans label couldn't be ignored. I've missed almost all of this band's genesis from Tumblr famous to Grammy Award nominated artists, following an almost identical career path as Odd Future/ Tyler, the creator (minus the retail outlets and festival empire, of course). For a minute there, Tumblr was the new garage of garage bands. But I digress. Michelle Zauner has echoes of Bjork in her music and performance but certainly with her own flare and cadence. "Everybody Wants to Love You" hit me particularly hard and of course, the collective delight when "Be Sweet" popped up 2nd in the set list. I can't lie, when Japanese Breakfast played a cover of the Cranberries classic, "Dreams", I cried a little.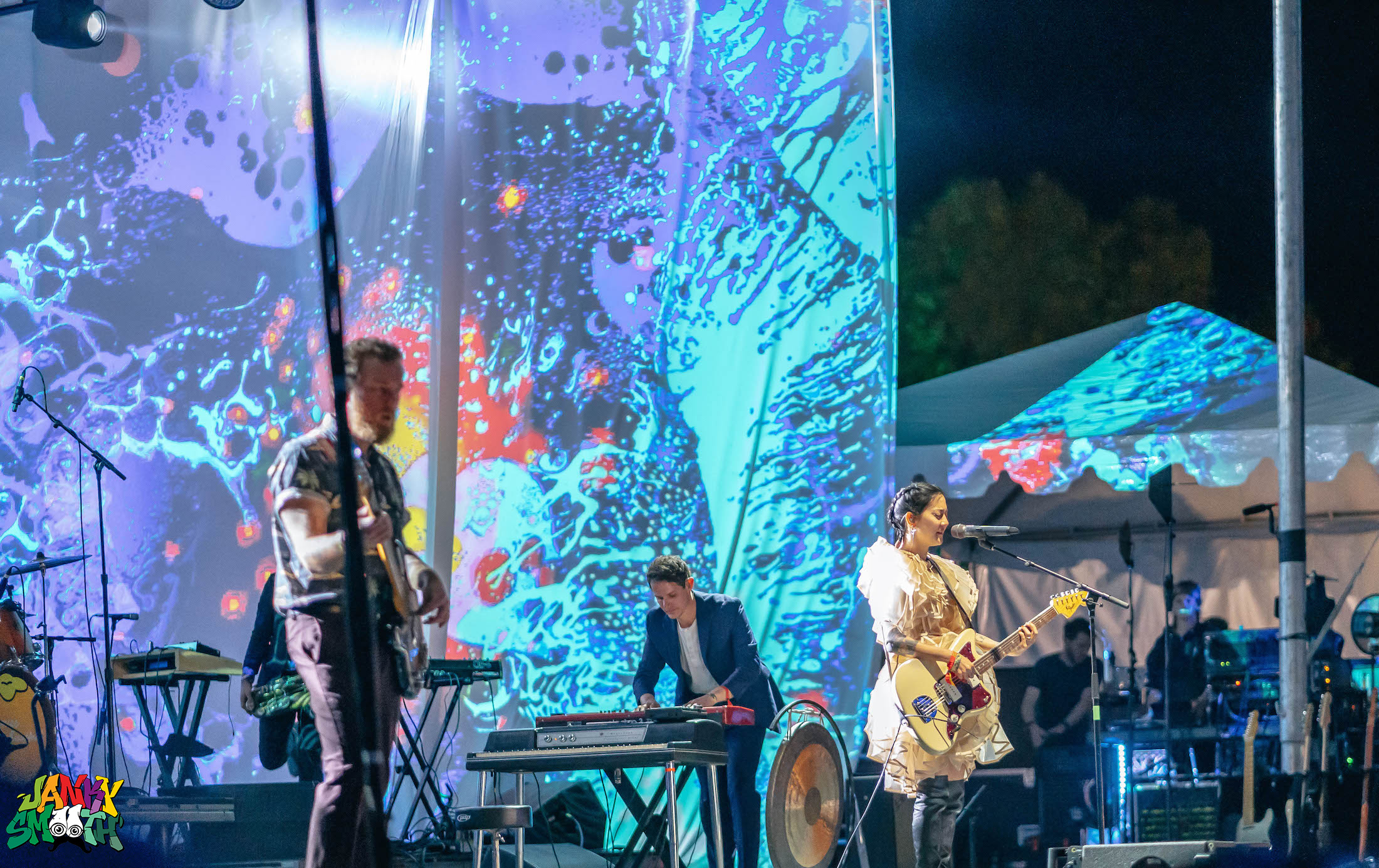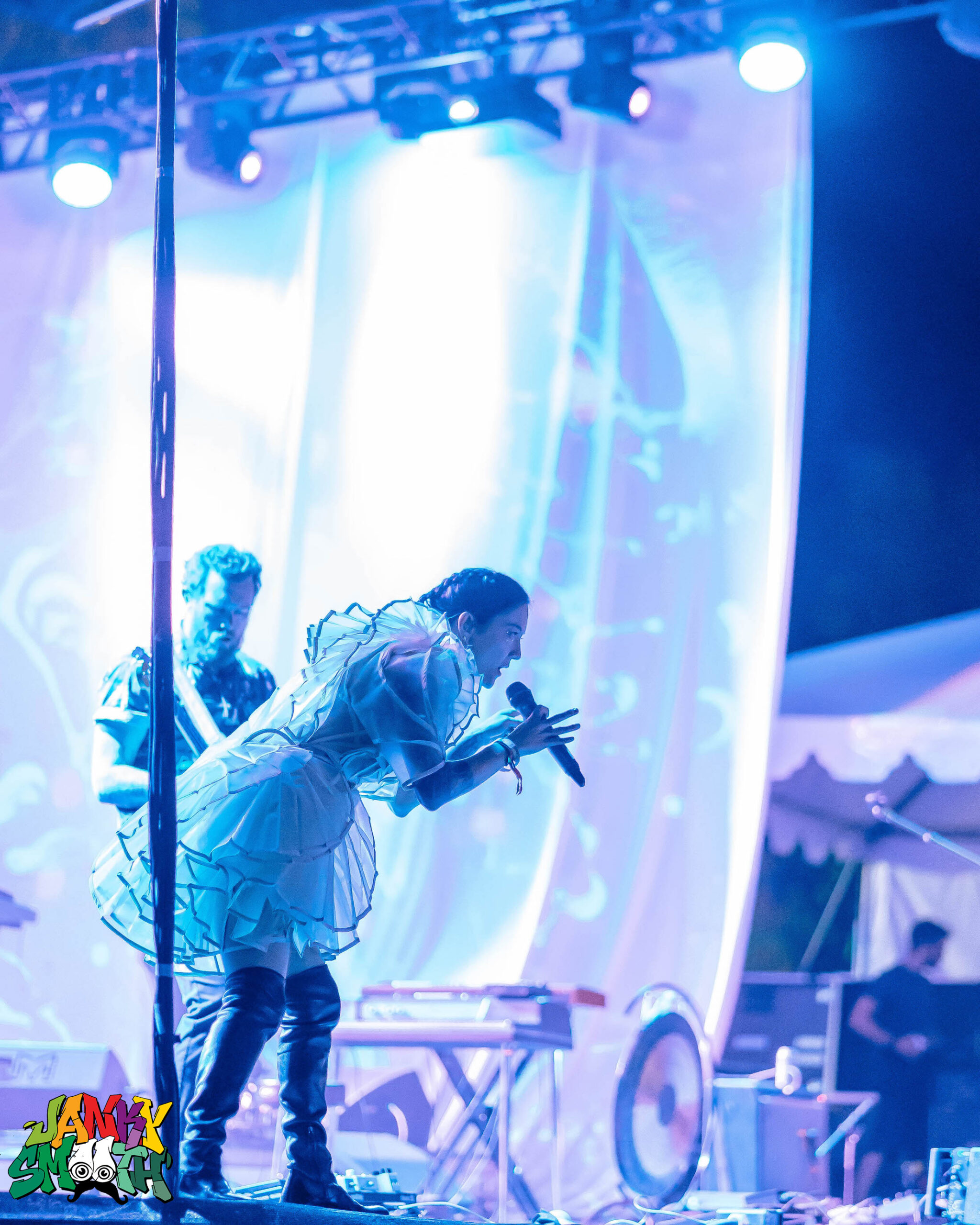 Last but not least to close out the festival stage for the weekend- Toro y Moi. I had seen Toro y Moi before but I have grown to love their studio efforts exponentially since that time. Toro y Moi were my quintessential example of how live Saturday night would've been with them on the bill. Chaz Bear and company opened the set with Harm in Change and the crowd was bouncing. Between that and the 19 songs it took for Toro y Moi to close out the main festival stage for the weekend with eponymous track, "Rose Quartz" my legs were spent and I knew it was time to go home.
And then, just like that, Desert Daze 2021 was over. The songs stuck in my head were good evidence that all this actually happened. It's been harder to be in disbelief of simulation theory since the first days of "flattening the curve" began but even with the moments of detaching my ego from my body, I was able to take my reset into the following Monday and beyond. Navigating the new normal with a weekend dose of a life that might've, up until recently, been taken for granted. I look forward to 2022, the return of multiple stages (as delightful and refreshing as one main stage was this year) and the hope that people remember how to dance and applaud the artist in the next installment. Love you.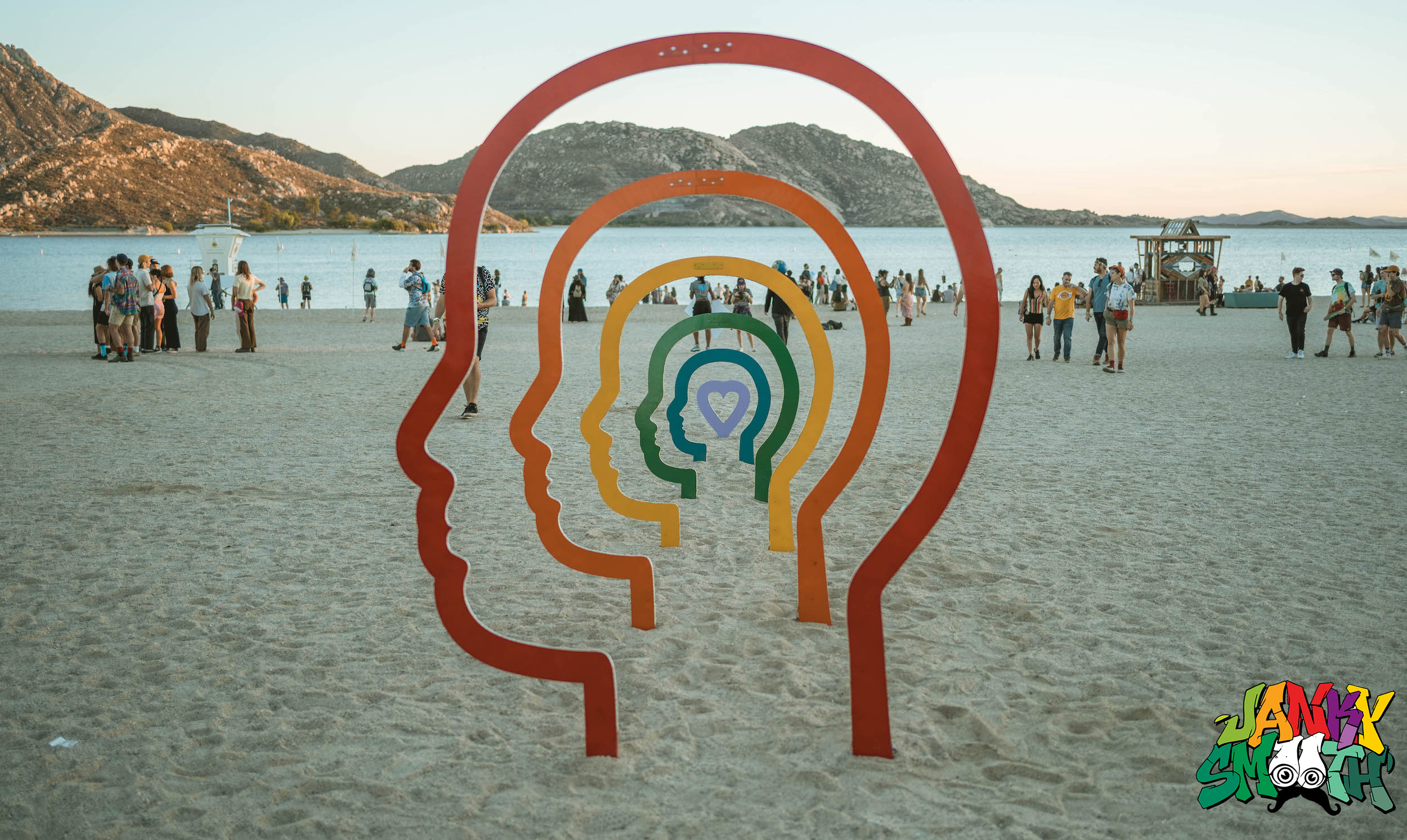 Words by: Danny Baraz
Photos by: Manuel Arredondo