Desert Daze 2022: 10 Years In The Evolution Of A Music Scene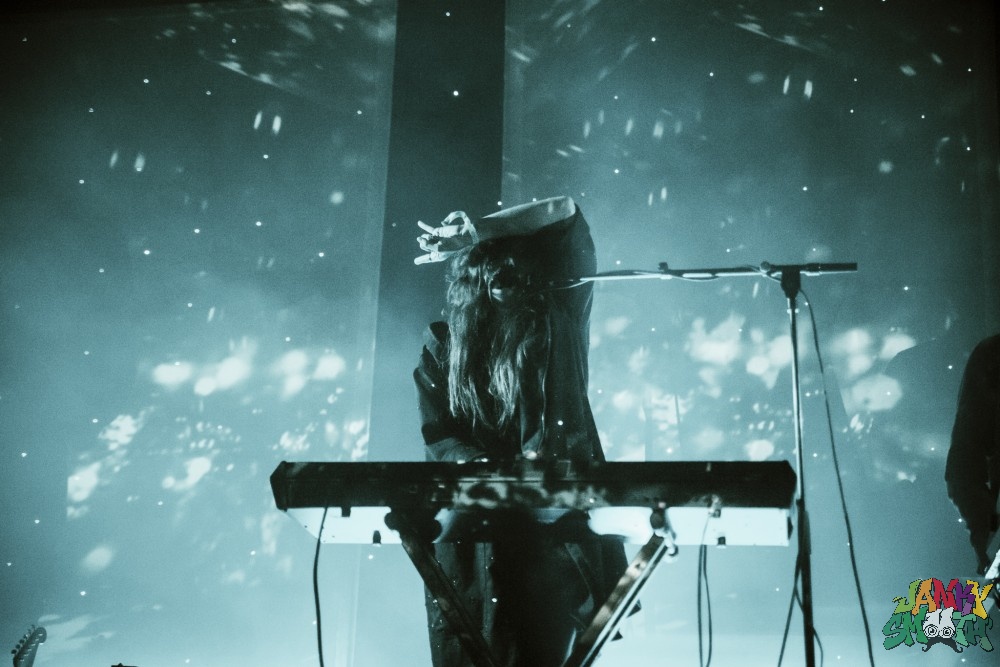 Walking into Lake Perris Recreational Center took on new meanings this year after last year's Desert Daze served to exorcize the ghosts of a global pandemic, to teach us that "Nothing that has happened so far has been anything we could control" and heal our mind, body and souls with drum soul-os. While 2021's pared down Desert Daze was a cautious delight in a sea of dreck on earth, Desert Daze 2022 was a perfectly curated reckless abandon of people having sex in the lake again and breathing all over each other- in through the nose, out through the mouth. The headliners captured 10 years in the evolution of a music scene, the ascent of previously buzzworthy bands into icons celebrating a decade of seminal albums and a new wave of artists that might also one day celebrate the recently released albums they are currently touring on. For some people, Iggy Pop pulling out of the festival before he could impregnate us with music was a deal breaker but luckily, I received so much Iggy sperm the last 6 years that I was ready to bear my Beach House baby.
related: Desert Daze 2021- Music, Magick and Medicine
2022 was the first year I didn't miss and wish the festival was still at the Institute of Metaphysics in Joshua Tree. My experiences at that venue, in that city left the indelible mark a lover might leave in the void of a ruptured relationship attachment. A short term thing that left a long lasting impression. 2022 was the first year I LOVED Lake Perris. Maybe it was the company. Maybe it was the crescent moon. Maybe it was me. But for the Moon Block crew, it's a relationship that will bear fruit and rock legend for years to come. I hope to continue being part of that polycule.
related: Desert Daze 2016- Quantifying the Physics of a Good Time
Through various states of enlightenment and disarray, Speaking for me personally, it reinforced the importance of connecting at a time of great ill for the collective consciousness. Many people on this planet are disconnected from, not only the rest of us but themselves. While so many more are choosing to consume both new and sacred medicines that heal the mind, body and a spirit, elements most don't give tangibility to in the material world, some continue to doom scroll their way through life (thank you if reading this is part of your doom scrolling day)- I've been there. I'm not judging or trying to be one of those spiritual narcissists, just saying, Desert Daze is a safe space to consume medicine. For the 2022 installation of Desert Daze, Moon Block, along with Propeller have introduced PORTAL– Partnership of Responsible Trippers Advocating for Legalization. An idea whose time has come.
Desert Daze was a festival departure for me, this year. I find most festivals headliners to be underwhelming and a good time to beat the crowds to the parking lot, or in this instance, the camp ground but front to back, the headliners for each night came with special meaning. As much as I love new music, I'm a sentimental bastard and 2 out of 3 nights of Desert Daze came with significant tears during the headliners.
Day 1- Friday
One of these years, I'm going to get an early start on Friday, the weekend of Desert Daze. Not being able to do so this year made me miss much, most notably Psychedelic Porn Crumpets, L.A. Witch and Babe Rainbow and all the other acts I might've been turned onto had I arrived for my favorite part of any festival- the small print bands. But circumstances once again had me deciding whether I was going to pitch my tent in the dark, or drive home after the Friday festivities and get an earlier start on Saturday. I chose the latter lest I miss any minutes of L.A. hometown heroes Chicano Batman. Facilitating Will Call and entry to the camp grounds this year was very organized and getting passes, car searches for camping and rallying the troops all occurred off site, before the short ascent to Lake Perris. That allowed us to find parking, get food, drink and eat some medicine in time to come on for the first song in Chicano Batman's set.
Things were wavy af with the crescent moon as the backdrop, as we made our way to the Moon Stage with the band already in progress. The medicine hit us hard and fast as we made it to the rail of the sound board to lean into, while I balanced the world in my mind. The set list was perfect and also felt balanced and career spanning. The entire festival felt like magickal nostalgia from the last decade of the life of I and I, much like the band breaking into "Magma" and "Cycles of Existential Rhyme", early in the set.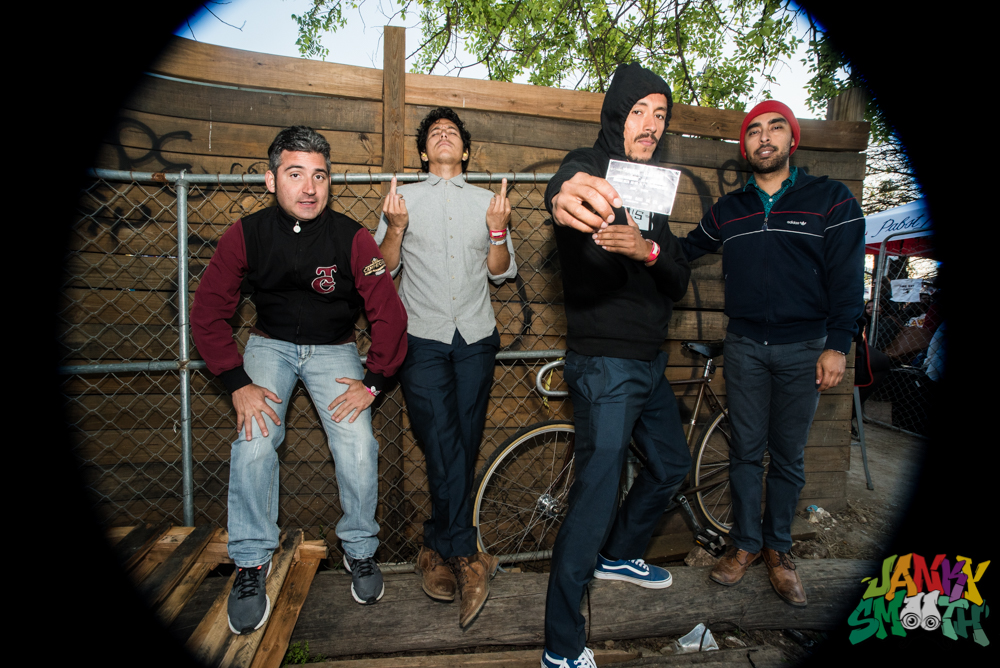 It was at this point we decided to traverse the beach of Lake Perris, looking for friends and enlightenment. We stopped to check on the pulse of a man that was laying lifeless on the sand, confirmed with park staff that he was still breathing and then took wild eyed photos with some of the psychedelic installations placed perfectly on the beach of Lake Perris.
I made my way over to the Block Stage for the first time to comfort my inner child by seeing Men I Trust – finally. The voice and songwriting and arrangements of Emmanuelle Proulx and fellow members Jessy Caron and Dragos Chiriac soothe the savage beast, sad bastard and the Good Time Sally in me- and you can dance to it too. The highlight of the set was "Say Can You Hear" with a live arrangement that was unique to the studio version in the most wonderful way- a feat that's difficult for a band to achieve playing one of their most popular songs. We scurried away from the VIP section and the incessant chatter that took place all during the set without Karen-ing out on anyone.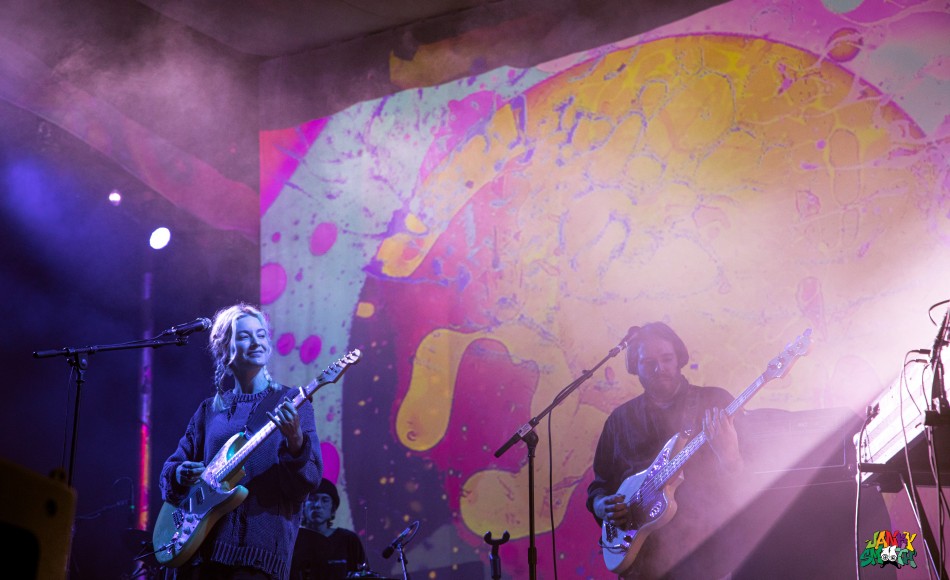 Unfortunately, Clipping was scheduled in conflict with King Gizzard and even though I really wanted to check them out, King Gizzard, the giant inflatable balls and a once in a lifetime type of performance kept us glued to the Moon Stage for the rest of our time at Lake Perris on Friday.
The only reason there were no tears of joy from me during King Gizzard and the Lizard Wizard on Friday is because I was too busy bleeding from every orifice from the shock waves of a legendary rock explosion detonated by King Gizzard- with a massive crescent moon as the backdrop to the highly visual Moon Stage. I had seen King Gizzard a handful of times before this but there was something different about this night. Something transcendental. The way the band moves from the thrashiest of rock to the most heart wrenching soul, delivered in time signatures that vary from your standard 4 to "I hate math" and done with such precision, is staggering. From opening the set with the 2022 thrasher Gaia, through the explosive narrative that takes place in Murder of the Universe and the live debut of Iron Lung, King Gizzard has such a massive catalog that they are a band that is hard to keep up with. It's the breadth of their life's work, to date that made this set so dynamic and impactful.
The timing was perfect, for it was at that point that I stopped riding the snake and drove back to L.A. with a smile on my face and a fluffy bed on my mind.
Day 2- Saturday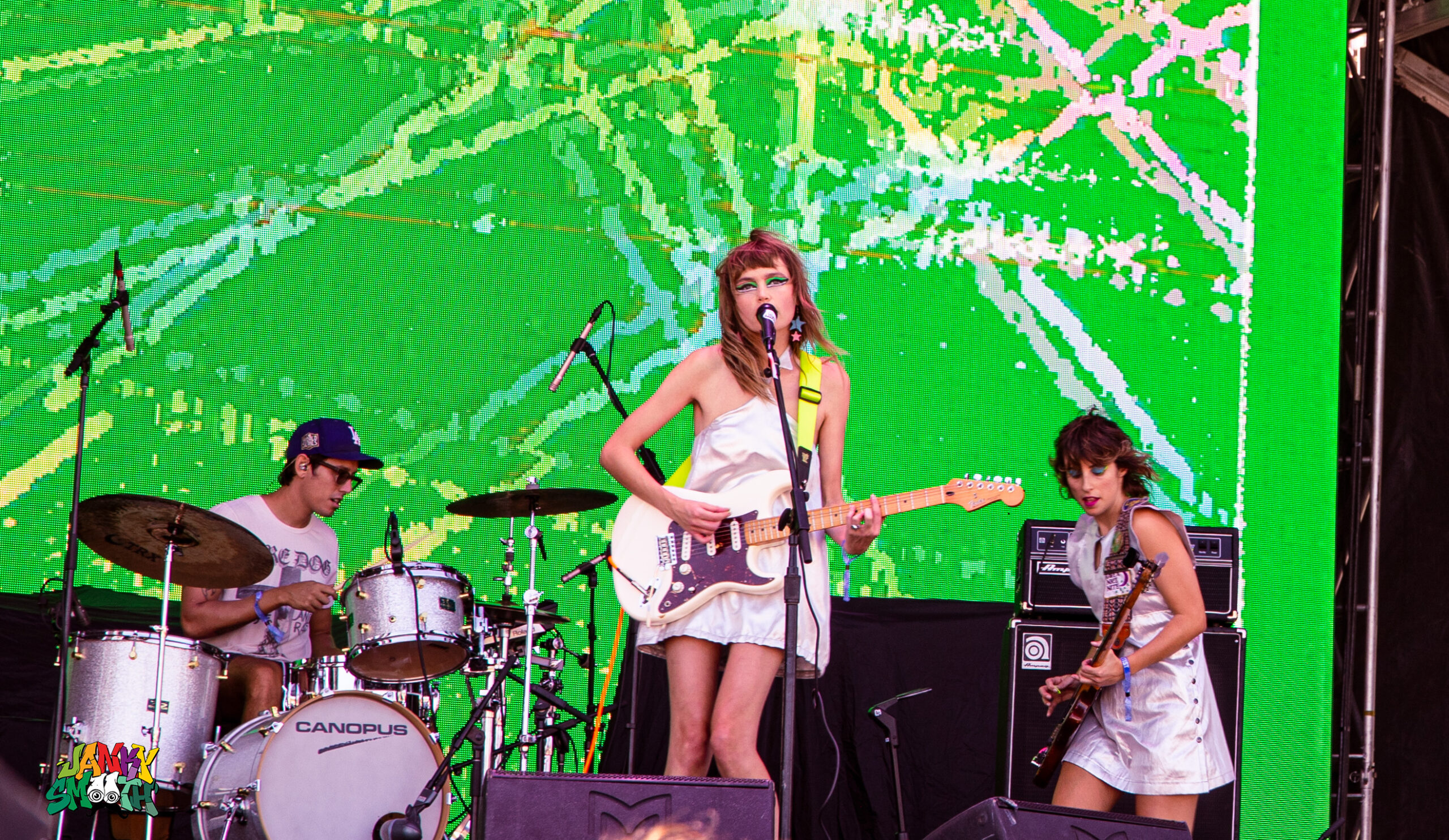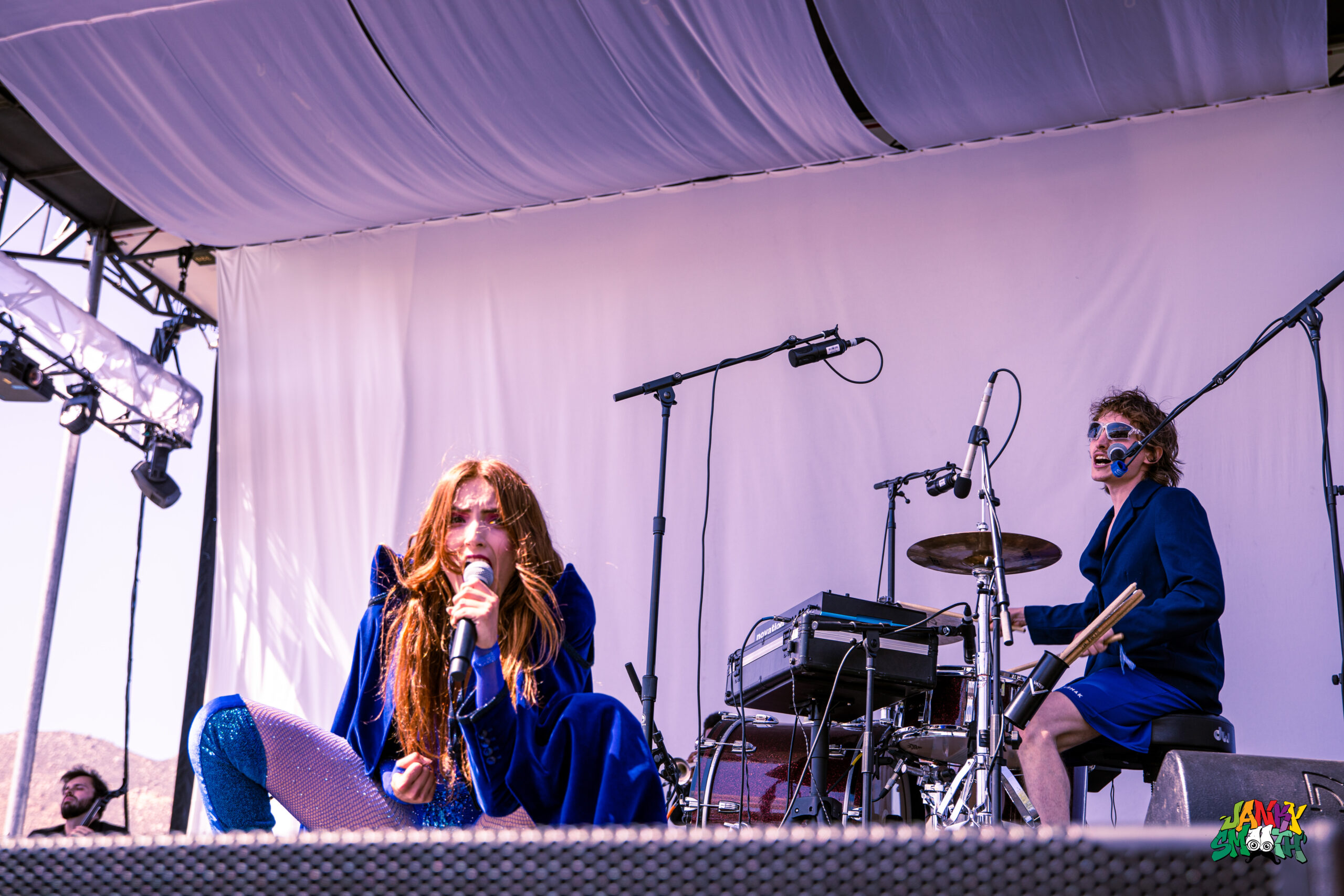 related: Sloppy Jane at The Smell- When Being a Mean Whore Became a Compliment
With an earlier start on Saturday and less of a traffic hellscape to endure, I still missed shit I wanted to see like The Paranoyds and Sloppy Jane but just in time to see Philly hardcore prodigies, Soul Glo cause a sandstorm at the Beach Stage. The buzz surrounding Soul Glo is well deserved and they might single handedly return Epitaph Records back to relevance. This was my third time seeing Soul Glo- each time in a completely different setting from a small gig at Zebulon, an indoor trap/hardcore fest called Day in L.A. to a sweltering hot Saturday in the sand at Desert Daze. Even though the band looked somewhat gassed in the sun, they sounded full of piss and vinegar and those vibrations transferred to the enthusiastic fans that saw them play insta classics like "Coming Correct is Cheaper" and "Jump!! (or get jumped) (by the future)".
At that point, we went and pitched our tent and set up camp in the campgrounds. While we found a formerly unseen in past years, grassy, shady spot to plant a flag, it was QUITE far from the Outer Space stage set up every year at the Desert Daze campground. We never made it over there once this year, unfortunately but the lovely layout of the much farther Outer Space of our campground made it mostly worth it.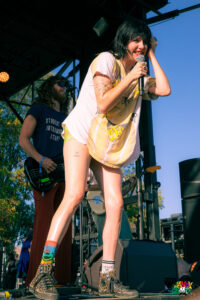 We made it back to the Block Stage in time for the beginning of the Frankie and the Witchfingers set, fully intending to split that set with Surfbort at the Beach Stage but were mesmerized by the always tight Frankie and the Witchfingers. I heard we missed quite a set from Surfbort but out of sight, out of mind when you're having a good time.
related: Trash As A Virtue- Surfbort at Lodge Room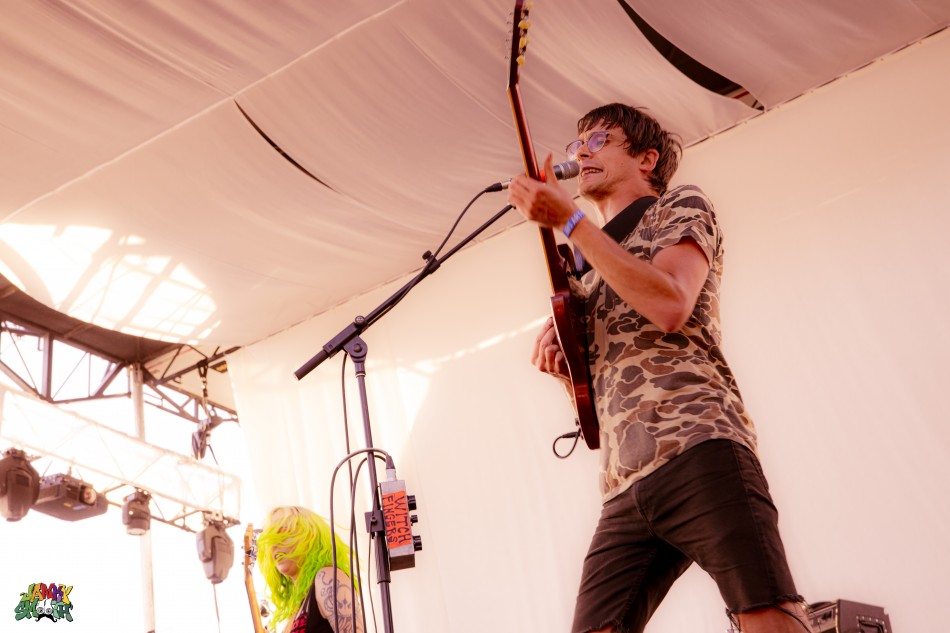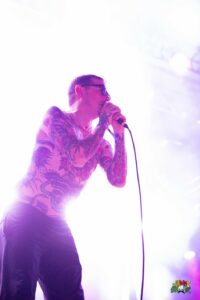 I decided it was time for food and strong drink and to connect with fellow travelers. I took in the amazing vendors and the wares they were touting. There was so much interesting art, clothing and jewelry to buy or even just to observe. We went back to the campsite to meet up with friends and cool off under the shade of the tree my tent was under and didn't return to the festival until…
… the unique, scum fuk stylings of a rising jazz, punk, dance, gutter genius known as Viagra Boys. I had missed Viagra Boys play the handful of times they've been in L.A. since the last time I missed them at Desert Daze. Since then, I have been quietly enjoying their studio work as a needed stench in the overly sanitized air of modern independent music. But along with their shamelessly unapologetic misanthro-misogynistic maelstrom of seemingly low brow music is a low key, high end of arrangements and melodies. Hiding behind singer Sebastian Murphy's gruff and raspy vocal stylings is a quite melodic and controlled vocal that can be dynamic, at times.
Next was time for our annual and much needed dosing of JJUUJJUU. The brainchild of festival founder, Phil Pirrone, JJUUJJUU always deliver the high energy stroll through the wormhole of time and space. Armed with new material, these soldiers sniped us with high potency love darts mixed with a choke kink.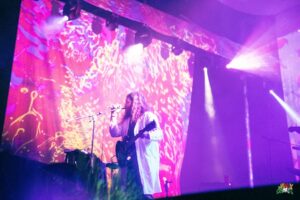 We left JJUUJJUU just a tiny bit early to check out Nation Of Language and their synth pop stylings at the Beach Stage. I had every intention of leaving Nation of Language early for Kikagaku Moyo and their supposed, last tour ever. But I got stuck, mesmerized and swaying with Nation of Language and my synth pop friends. I was able to check out the last 10 minutes of the legendary Japanese psych rock outfit and I lamented not seeing more (don't judge me). I guess I'll see them on the reunion tour.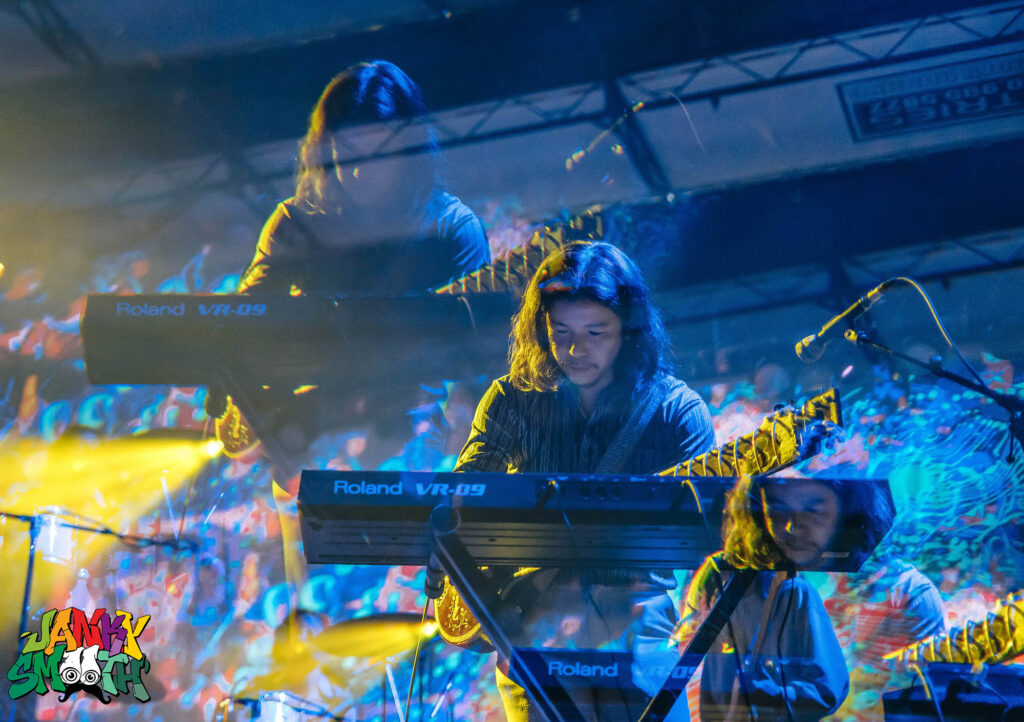 I decided to consume medicine for the first time this evening, in preparation for my festival of tears w/ Tame Impala.
Next on the docket were Shannon and the Clams. Shannon and the Clams always give me a tingle in my taint. I'll never get sick of them or their songs. The only mistake I made was trying to split time with The Armed playing the Beach Stage on recommendation from a friend. The Armed were solid and tight but the vibe was off from where I was at and immediately returned to the Block Stage in time to see Shannon and The Clams play my favorite diddy, "The Cult Song".
There is much to be said about the legacy of the Tame Impala/Kevin Parker catalog. For me it comes down to BC and AC, before and after Currents. As someone who may have written one of the only negative reviews on Currents on the internet, it's mainly because both Lonerism, Inner Speaker and that era's resurgence of psych rock have a special place in my heart. Saturday night at Desert Daze was the hardest I've cried at a show since Radiohead at the Hollywood Bowl in 2001.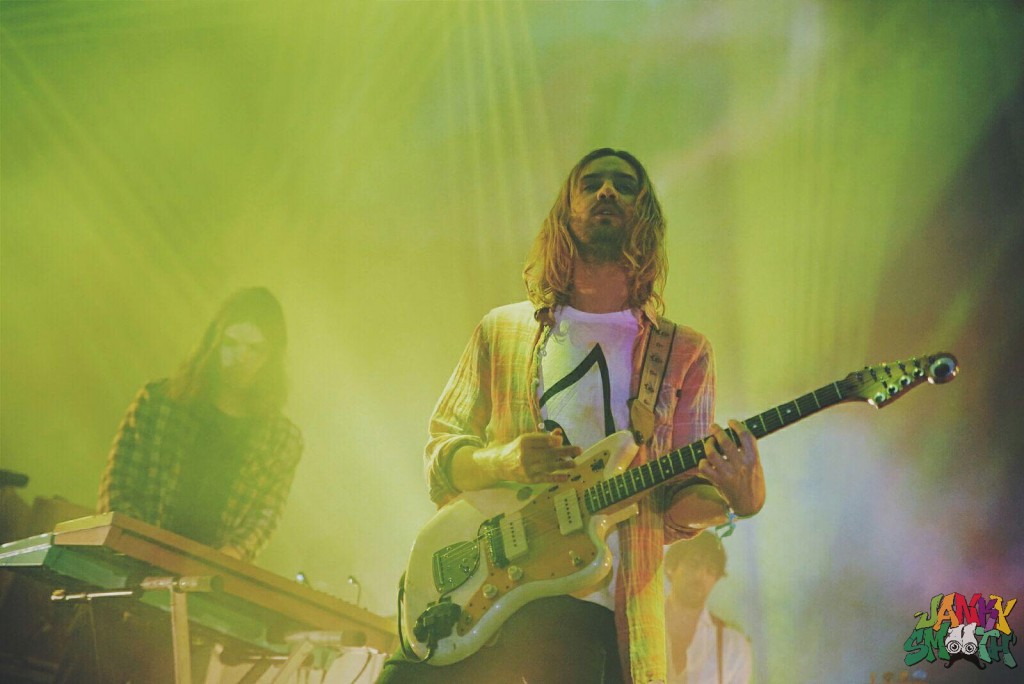 related: Tame Impala- Tie Dye in the Sky at Hollywood Forever Cemetery
The moment the steady, pounding beat of Be Above It came fading in with the rhythmic clamor that gave way to phased out guitars and synths, I felt nostalgia's velvet touch. By the time the syncopated march of Apocalypse Dreams came storming into the set, I was fully in my inner child. Having Jay Watson on drums for this show really gave deep cuts like "Everything that has happened so far…" the heavy, psych rock cred Tame Impala was known for in it's early days and put me over the edge by the end of that song. Tame Impala are a great live band but it's been awhile since I've seen them play an entire set of songs I care about.
I ended the night with Reggie Watts instead of Show Me The Body, which was out of character. I had never seen Reggie Watts, which I've always lamented and for good reason. Reggie Watts, his process, his groove, his flow and his performances are pure, prodigal creation. It was the perfect digestif after the emotions of Tame Impala. The blood thirst of Show Me The Body might've mixed up the downloads of the Akashic files I had been receiving all night.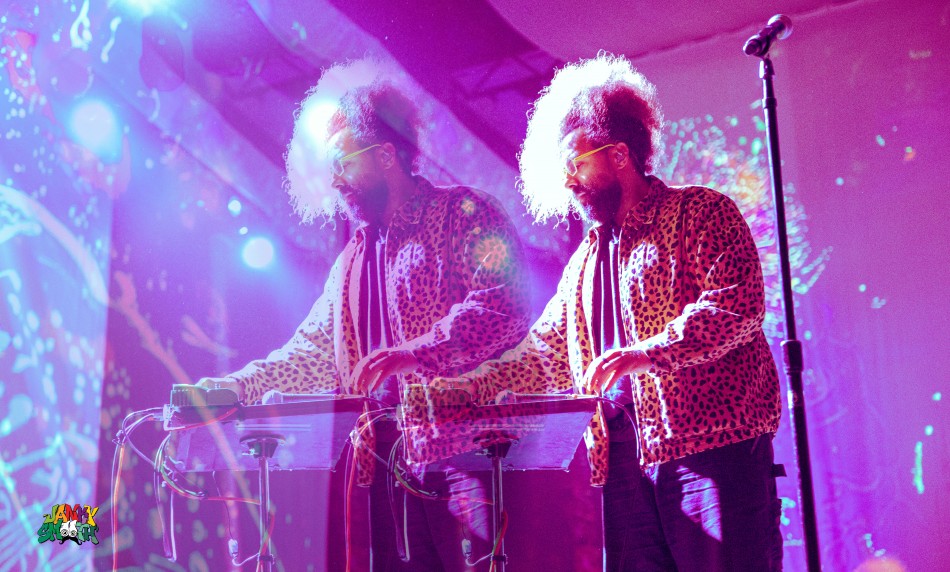 related: Show Me The Body, Twitching Tongues and Vein at The Regent
Sunday-Day 3
Sunday morning I rise and shined gleefully to overcast skies in the campgrounds of Lake Perris. I thought for sure the infinite blessed us with a cooler day for Day 3 of the festival. But by the time we got back from a Diner about 8 miles away, broke down the tent, folded up the bags, threw away our trash, rolled my joints for the day and walked to the festival grounds, the clouds were burning off and JPEGMAFIA was taking the stage.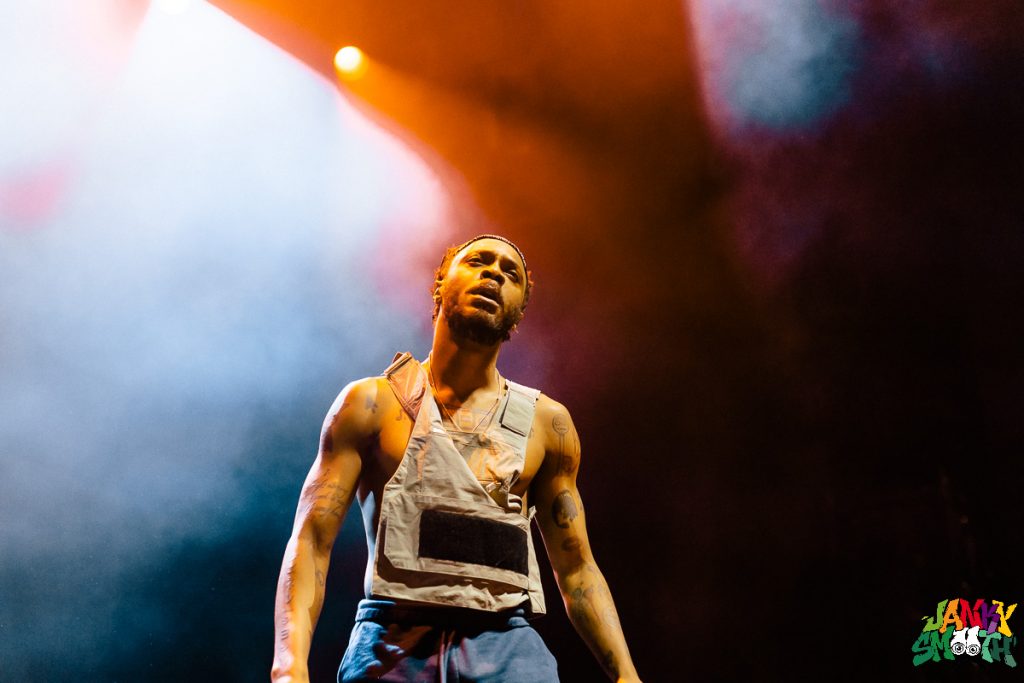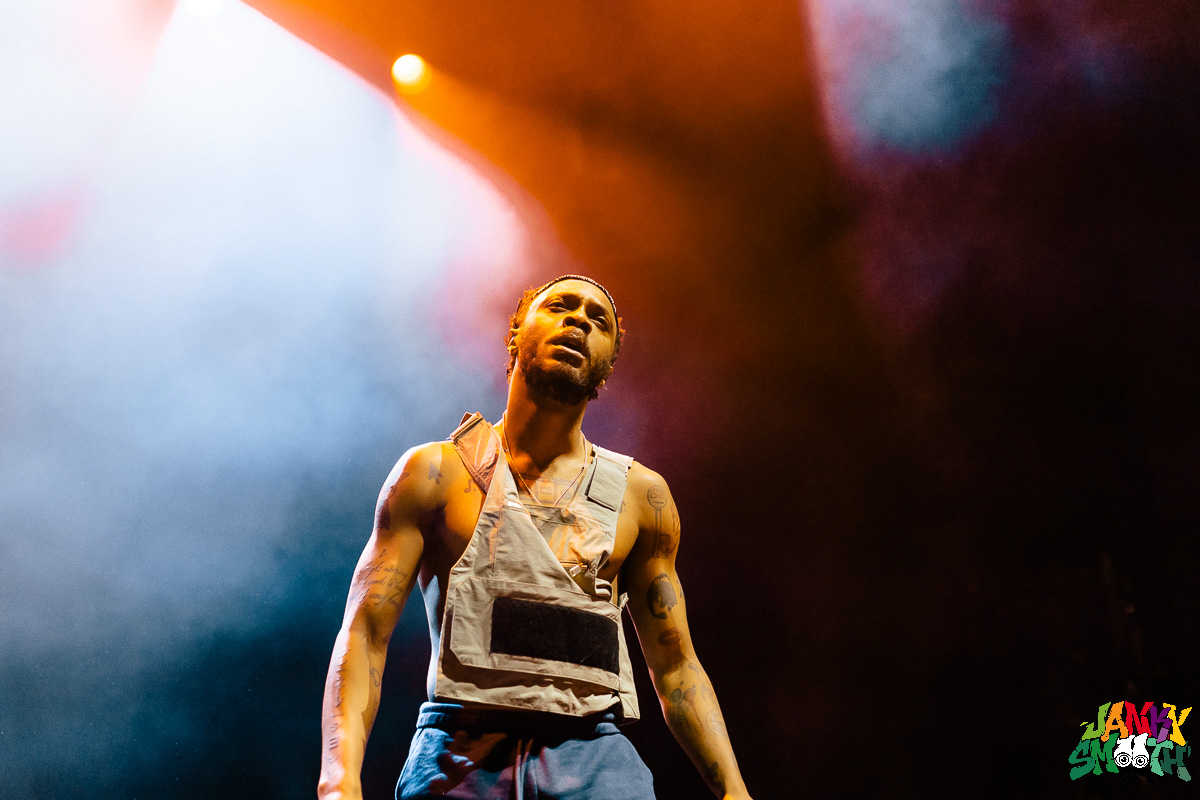 Barrington DeVaughn Hendricks is an enigma of rap. Or, more accurately, hip hop. I've been obsessed with him since the Black Ben Carson album and wrote a tongue in cheek review of him that some took exception to (heh). Watching JPEGMAFIA do his thing live is inspirational. Just one man and the beats he produced triggered from one laptop filling up the main stage at Desert Daze is no easy task. To move the early day crowd with sheer will and talent and an abundance of kinetic energy would be a difficult task in normal circumstances, but to do so in the early hours with the crunchy crowd at Desert Daze is even more impressive.
We moved to the Beach Stage for the next 3 and a half hours for Automatic, Sleaford Mods and Dakhabrakha.
The buzz around Automatic is palpable. It's not enough if the drummer of your band, Lola Dompe is the daughter of the drummer of Bauhaus. You actually have to be good. And Automatic are dancey, post punk goodness incarnate.
I've seen Sleaford Mods in small cap rooms and now, big festivals. Their minimal cockney b-boy-ism was a spark in a fuel refinery that has inspired many copy cats and pushed the genre further since they first exploded on the scene. Since then, Sleaford Mods have lauded such accolades as being nominated as NME's worst band of the year in 2016 (music journalists are clueless). They do what they do well.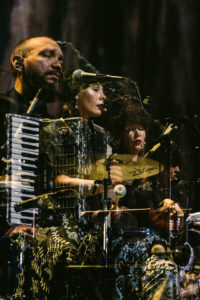 And the last band I saw at the Beach Stage at Desert Daze 2022 was arguably, the best. Dakhabrakha are everything good art as music should be. I saw the Ukrainian folk, punk, rap, whatever's at The Ace Hotel in L.A. some months back and I wasn't ready for the wave of emotion they create in their sacred space. This time, I was ready and I still wasn't ready. My connection to this troup beyond, but tethered to their musical prowess was my Ukrainian father and the roots of my ancestry. Dakhabrakha regularly thanked the audience and the world for their support in their war to defend Ukraine from Russian annexation and aggression.
I caught both a glimpse and some sounds from the Moon Stage while the Marias were performing but I was too excited for Fuzz at the Block stage so I made my way up to the front early for a close spot. Ty Segall is like the Tarantino of music. Both the sounds and musical references are an ode to vintage music of many eras, much like Tarantino's ode to vintage cinema in all his films. I don't think there is a Ty Segall project that surpasses Fuzz and the pure joy one gets when watching the prodigiousness that Segall possesses when he plays his drums and sings his songs. Charles Moothart never stops proving he can be the backbone of any band and at any instrument and Chad Ubovich slayed, as always.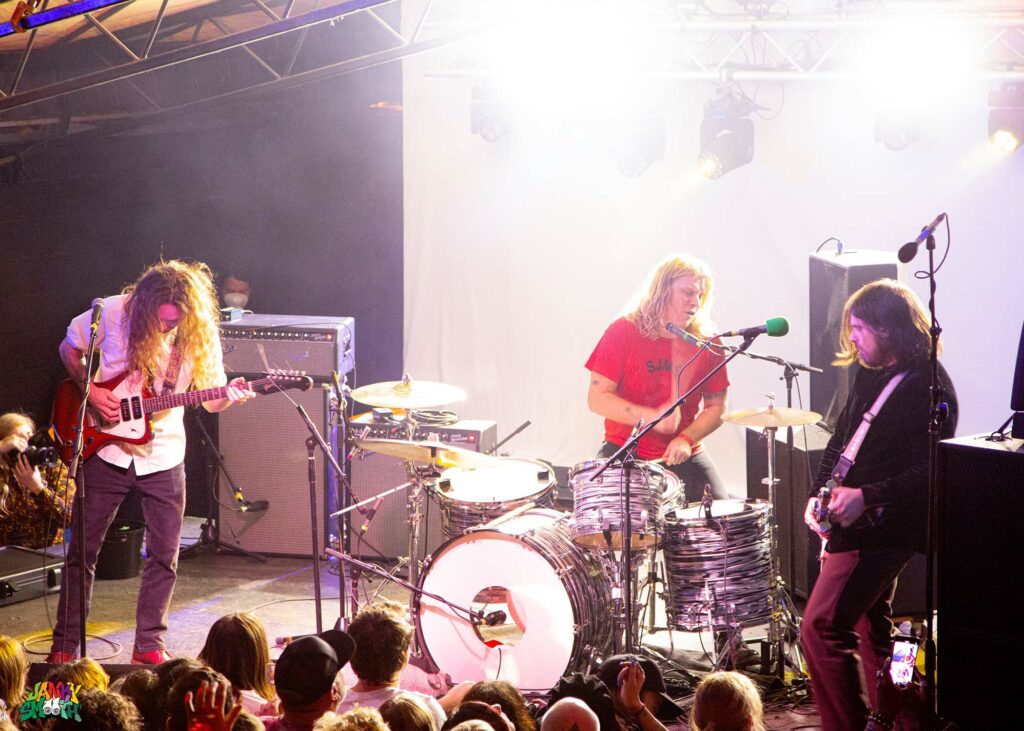 Victoria LeGrande, in a hood, with her face hidden in shadows is the vibe. I don't care if you call Beach House dream pop, shoegaze, indie or whatever. The gothic, brooding, sad bastard romance contained in every release Beach House have crafted stick to my soul and the band never disappoint live. The Bloom album was released the same year as Tame Impala's Lonerism yet this fact floated away in the Sunday night air, unceremoniously. It was not lost upon me because that album is just as important as the one that was celebrated on all the flyers, promo and buzzing all about Desert Daze 2022.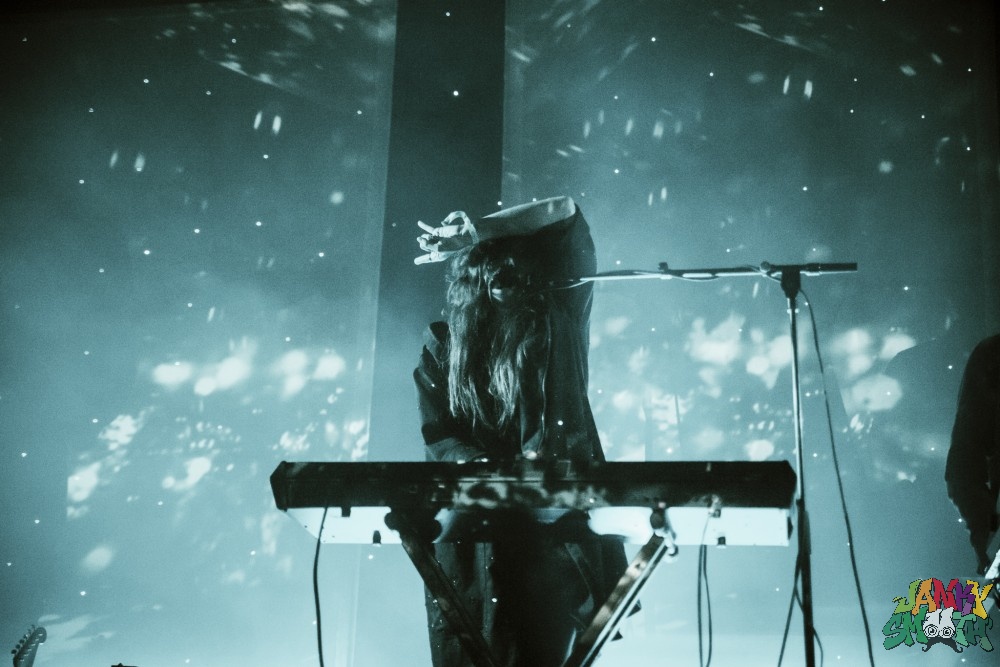 It was time I made my exit from Desert Daze 2022. I didn't cover as much ground and bands as I usually do. Maybe it's because I'm getting older. Maybe it's because I have less FOMO. Maybe the material world was calling me back to make sure I maintain a proper balance between what I want to do and the perceptions of what I have to do. But I digress, (as always). Desert Daze and the Moon Block crew completely outdid themselves this year and did so without needing to add some irrelevant headliner that could damage their brand in the eyes of some purists. The music is the best medicine and I got proper dosing on yet another magickal weekend spent with the people at Desert Daze. Until next year, my friends.
Words: Danny Baraz
Photos: Grace Dunn