Spooky Psych Sounds: Levitation 2021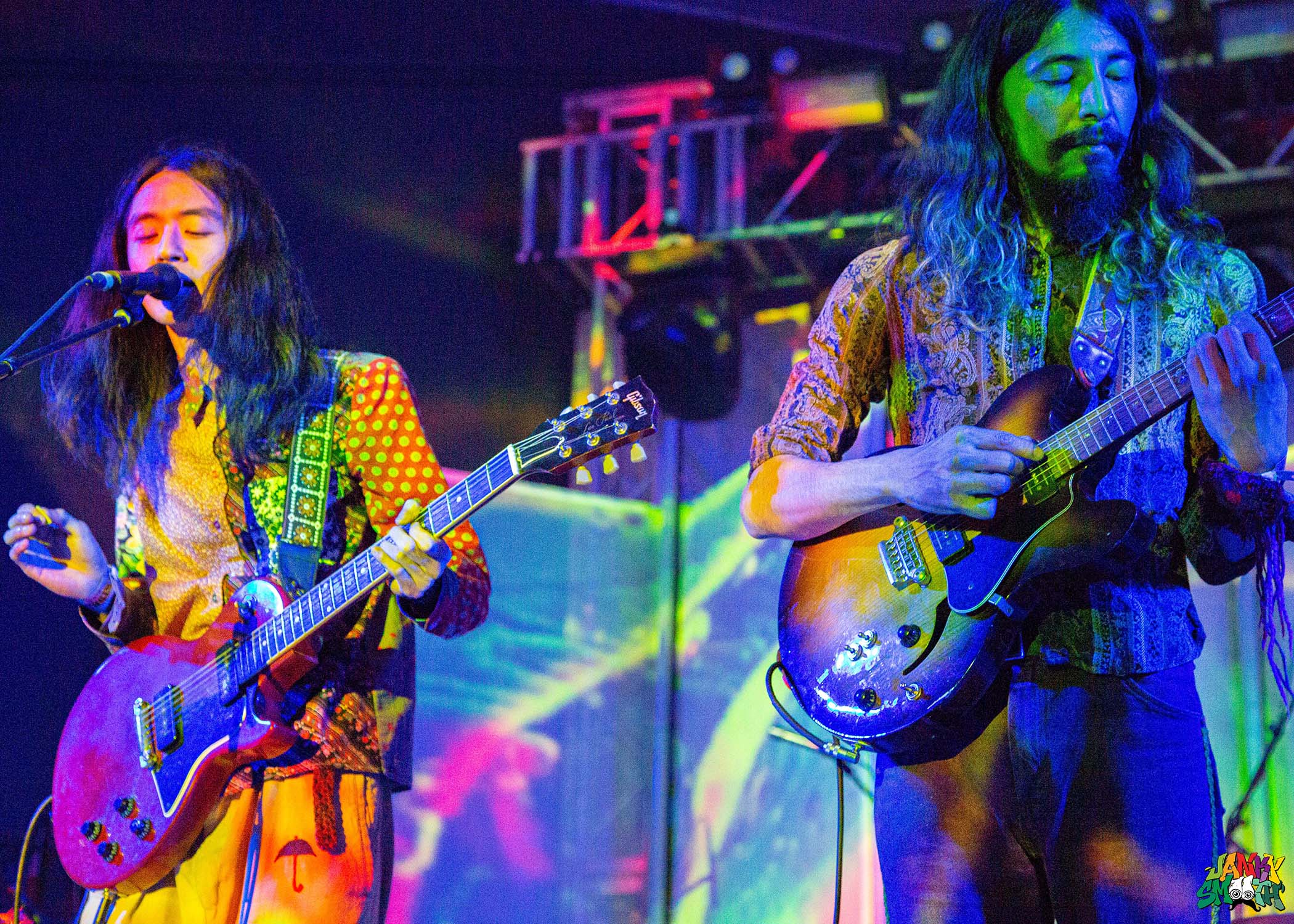 Words by: Scott Urian and Grace Dunn
Photos by: Grace Dunn
I had no idea what to expect on my way to Levitation 2021. It was my first Levitation experience. Damn – it was also the first time I had been on an airplane, travelled out of state, or seen a single show with a crowd of more than a hundred people in the past two years of surprises and confusion. My overall takeaway from this experience was more surprises, more confusion, and absolutely no doubt that I will be back next year.
My navigator of all things bizarre in Austin was none other than Grace Suzette. Photographer of the psychotic, Levitation veteran, and devout member of all things loud. With her confidence and my wide eyes began a four day melee of music at various venues in the Red River District that would have killed me had I not been having so much fun.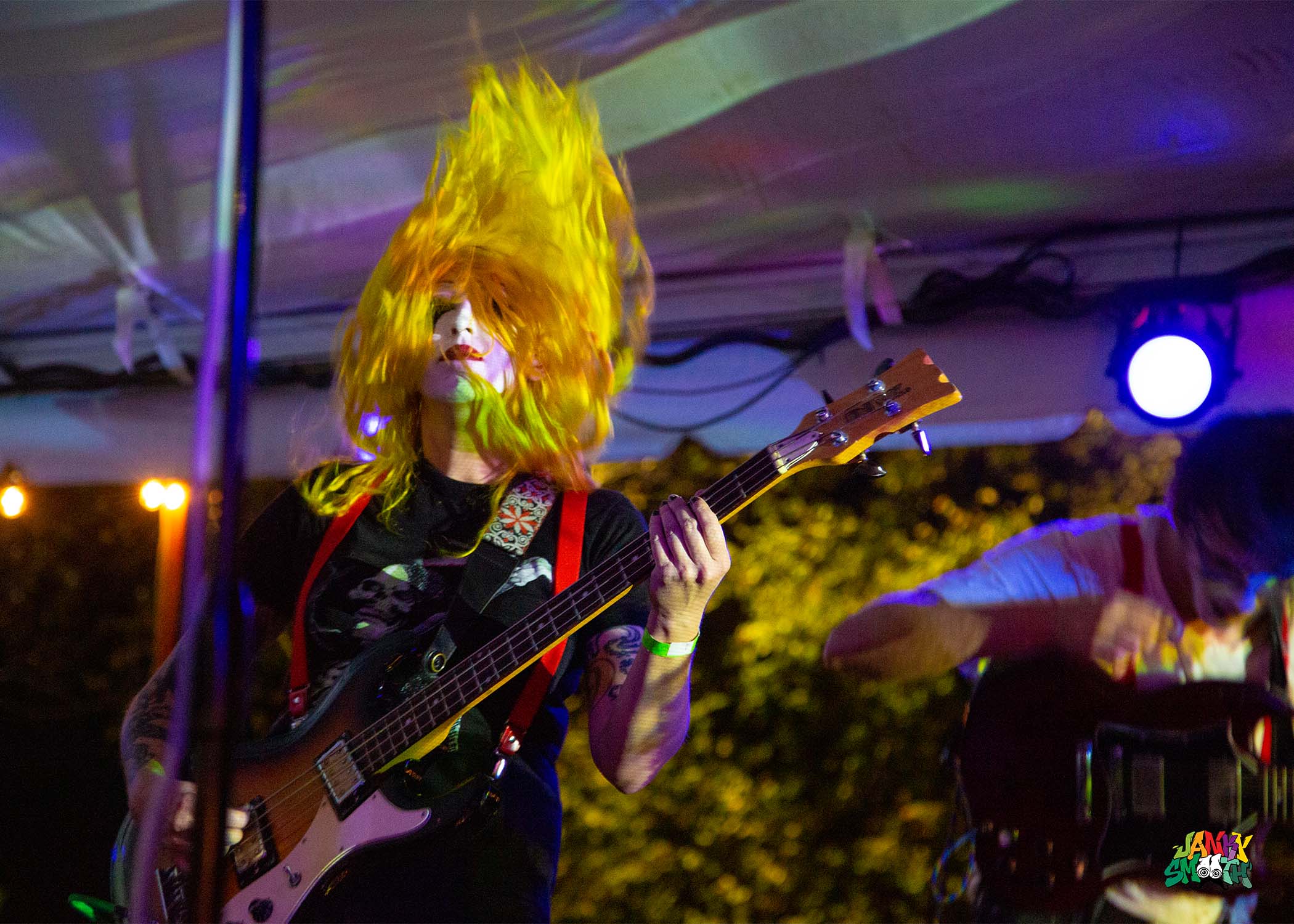 Thursday
Angelica Garcia at Stubb's
Angelica's deserved a much denser crowd. Those who planned their night around Crumb can't be blamed, but missed out on a showcase of pure talent that started the momentum of the whole weekend. Somehow Garcia made the largest stage of the festival seem intimate and at times intimidating. Her vocals cut through the sunlight and proved that honesty can supersede the beautiful lights and glamour of the headliners. As folks stumbled in – still wearing the clothes they worked in or the clothes they slept in – they headed for the stage instead of the bar.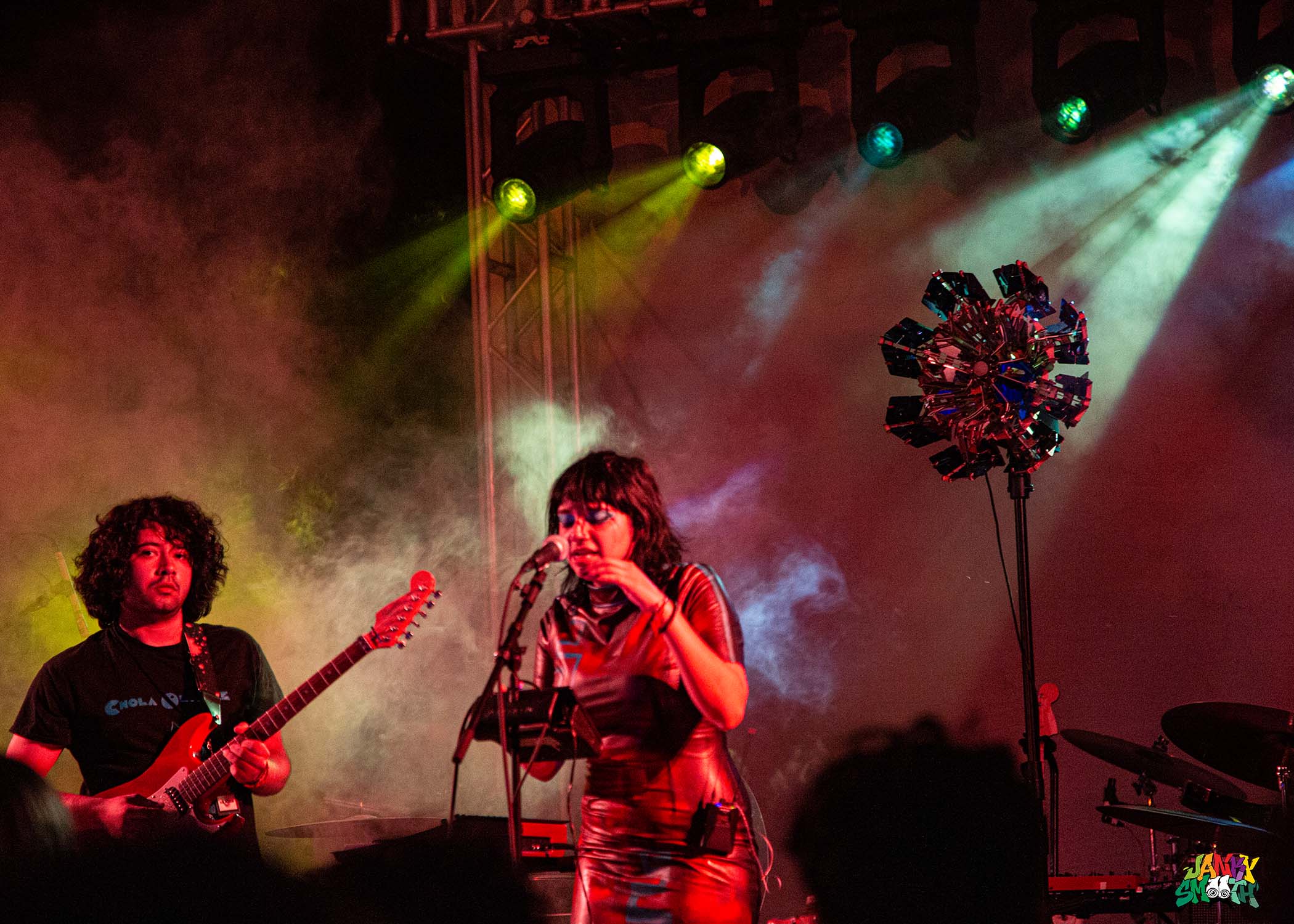 Crumb at Stubb's
The anticipation after Garcia's set in Stubb's was palpable. Thursday night truly set in. A steady stream of giddy fans poured through the gates waiting to welcome the dreamy anthems that Crumb was well prepared to provide. Despite the crowd, the experience felt personal. The twilight glow was dipping behind the stage only to be replaced by surreal and vivid projections onto the massive awning. The music matched the view. A medley of contemplative vocals and at times psychedelic synth tones that took us to another realm. The smooth bass lines playing off the drums set the crowd into an automatic sway. A blanket of comfort and beautiful energy felt spread over the entire place with a whole weekend of fun still ahead.
The horns' sounds blaring out for 'Up&Down' transported the crowd melting into the 'Bitches Brew' or something of a Dali painting. Fog billowing up like heat steaming and hazing the view with the autumn air colored in rainbow hues along the treeline at Stubb's. Ethereal voice and songwriting of Lila Ramani captivated the crowd with new tunes 'BNR', 'Seeds', 'Trophy' (Grace favorites) off of 'Ice Melt' album on their own Crumb Records. The mechanical flowers behind the band would respond by opening and closing during their set adding to the noir mystical 'Alice In Wonderland' air of their set that night.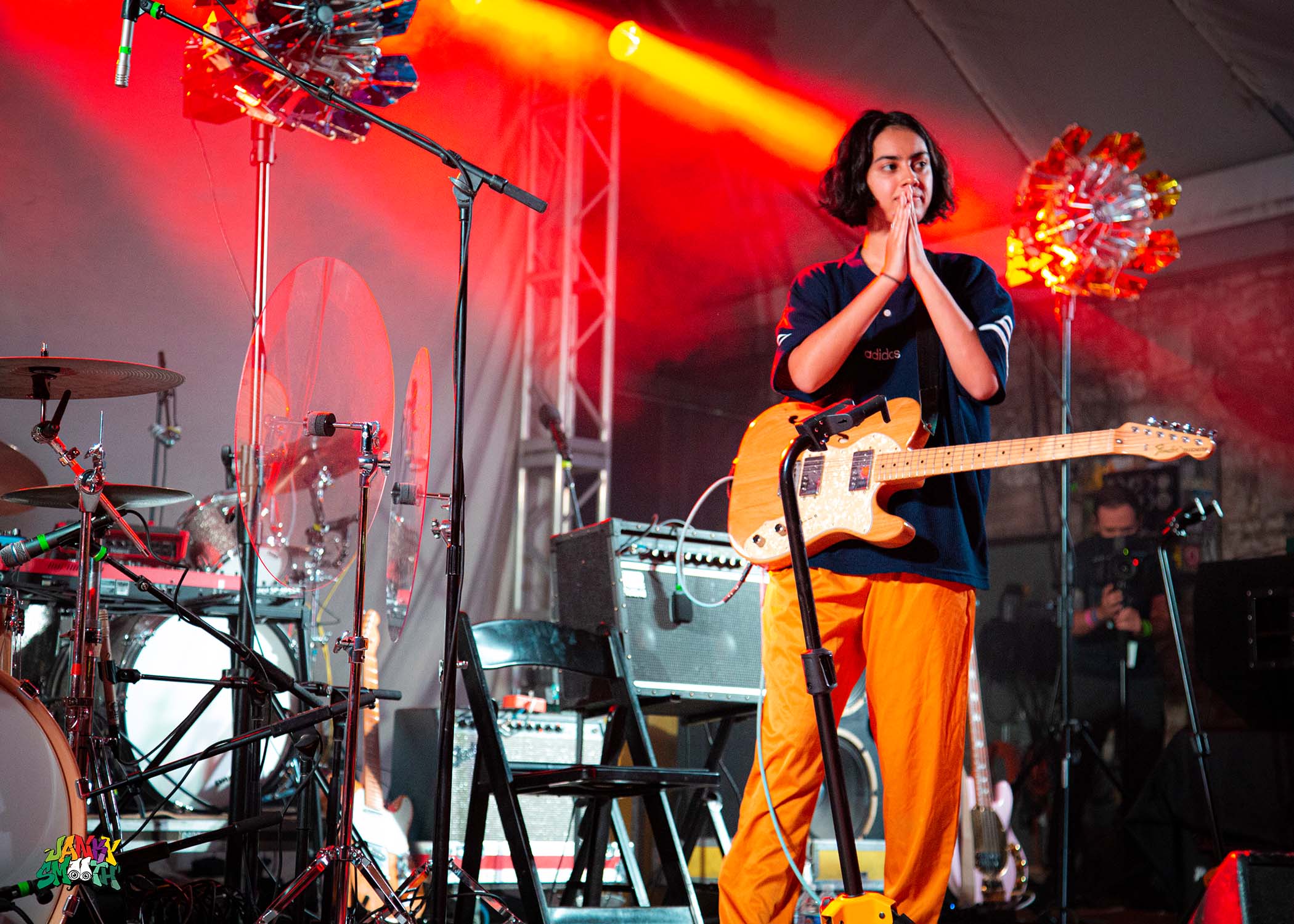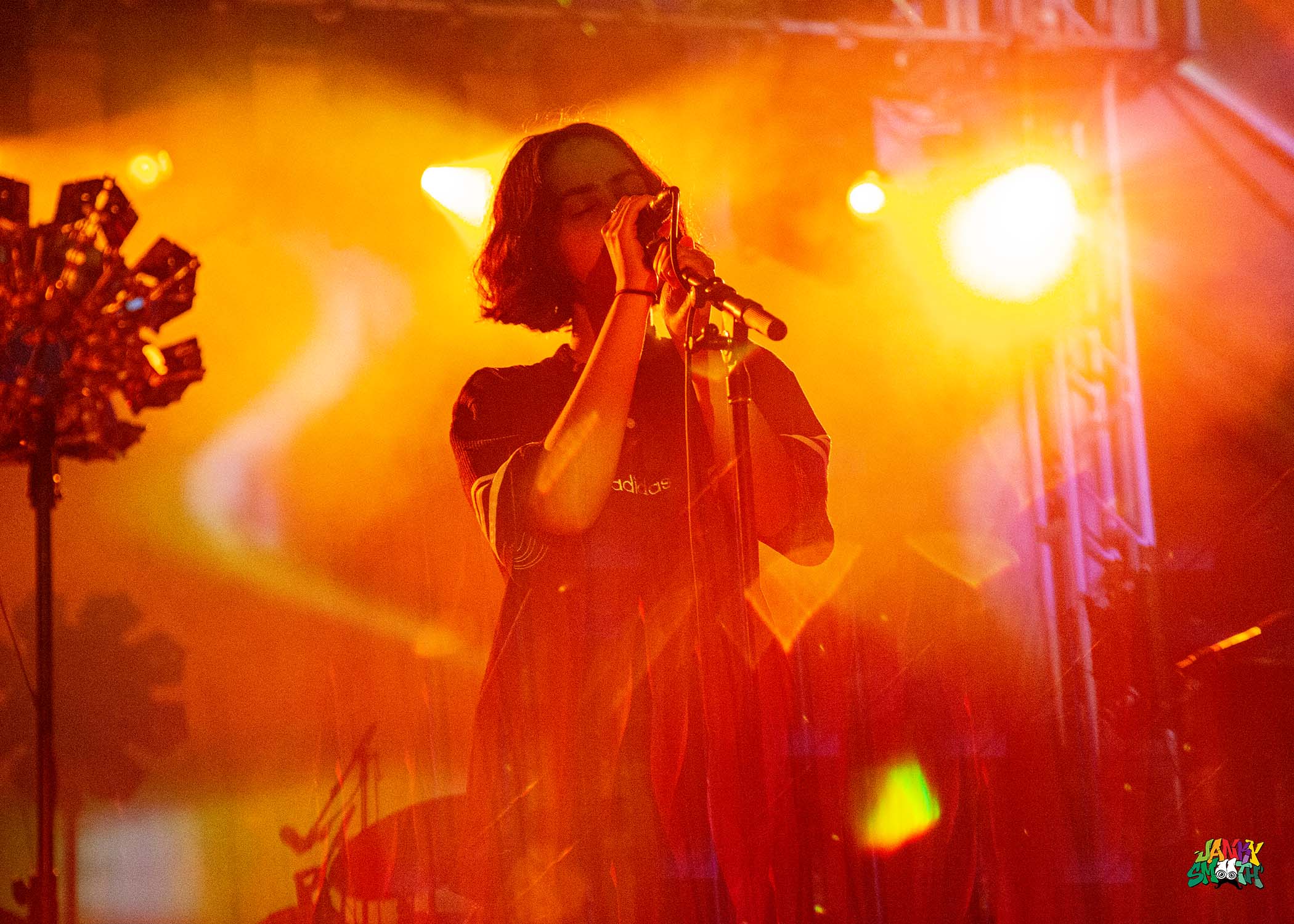 The anticipation at Stubb's was palpable Thursday night as a steady stream of giddy fans poured in waiting to welcome the dreamy anthems that Crumb was well prepared to provide. Despite the crowd the experience felt intimate. The twilight glow was dipping behind the stage only to be replaced by surreal and vivid 'Mad Alchemy' projections onto the massive awning. The music matched the view. A mass of contemplative yearning vocals and at times psychedelic synth tones that took us to a foreign world as soon as we thought we knew what we were in for. The smooth bass lines playing off the drums set the crowd into an automatic sway. A blanket of comfort and beautiful energy felt spread over the entire place with a whole weekend of fun still ahead.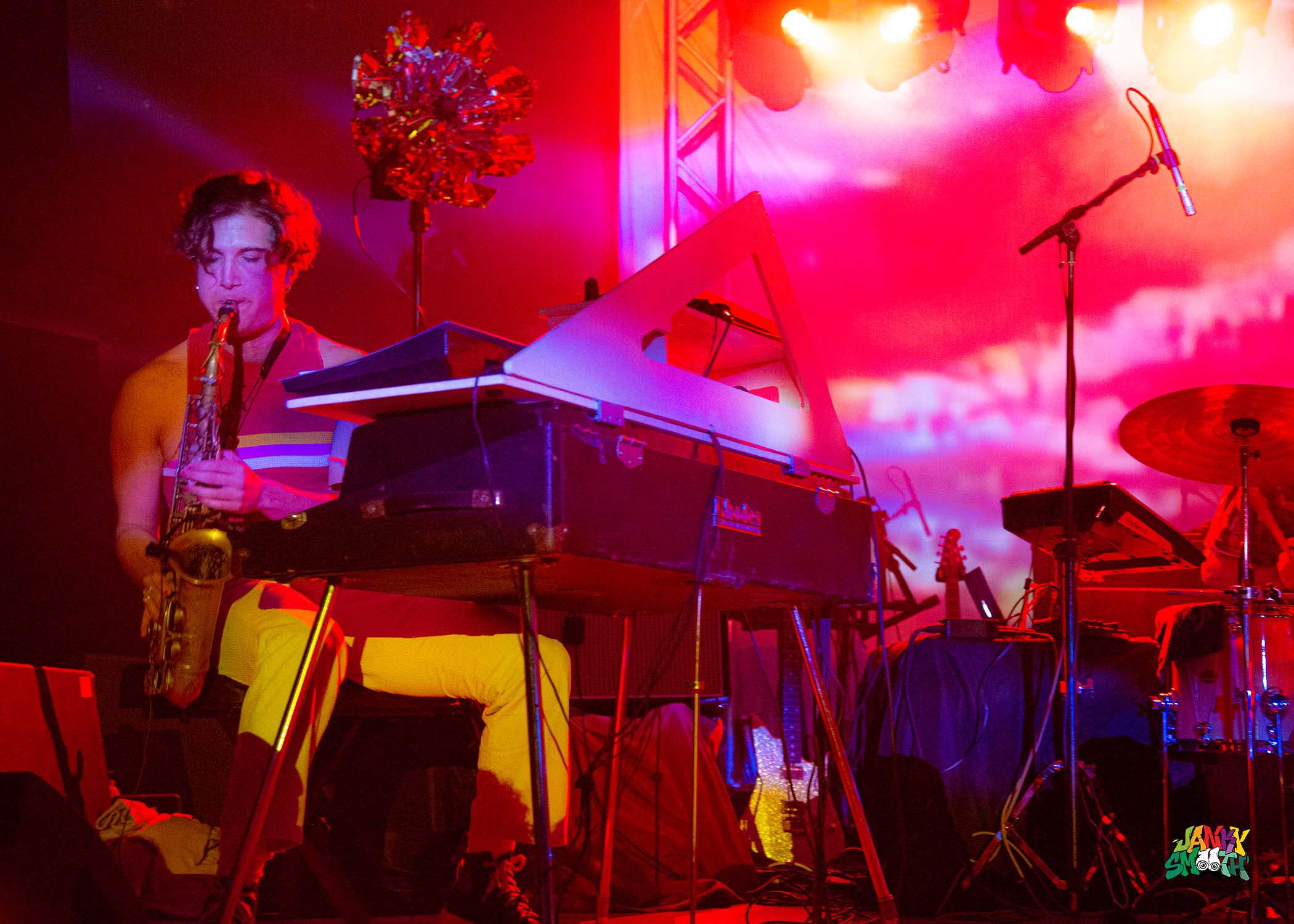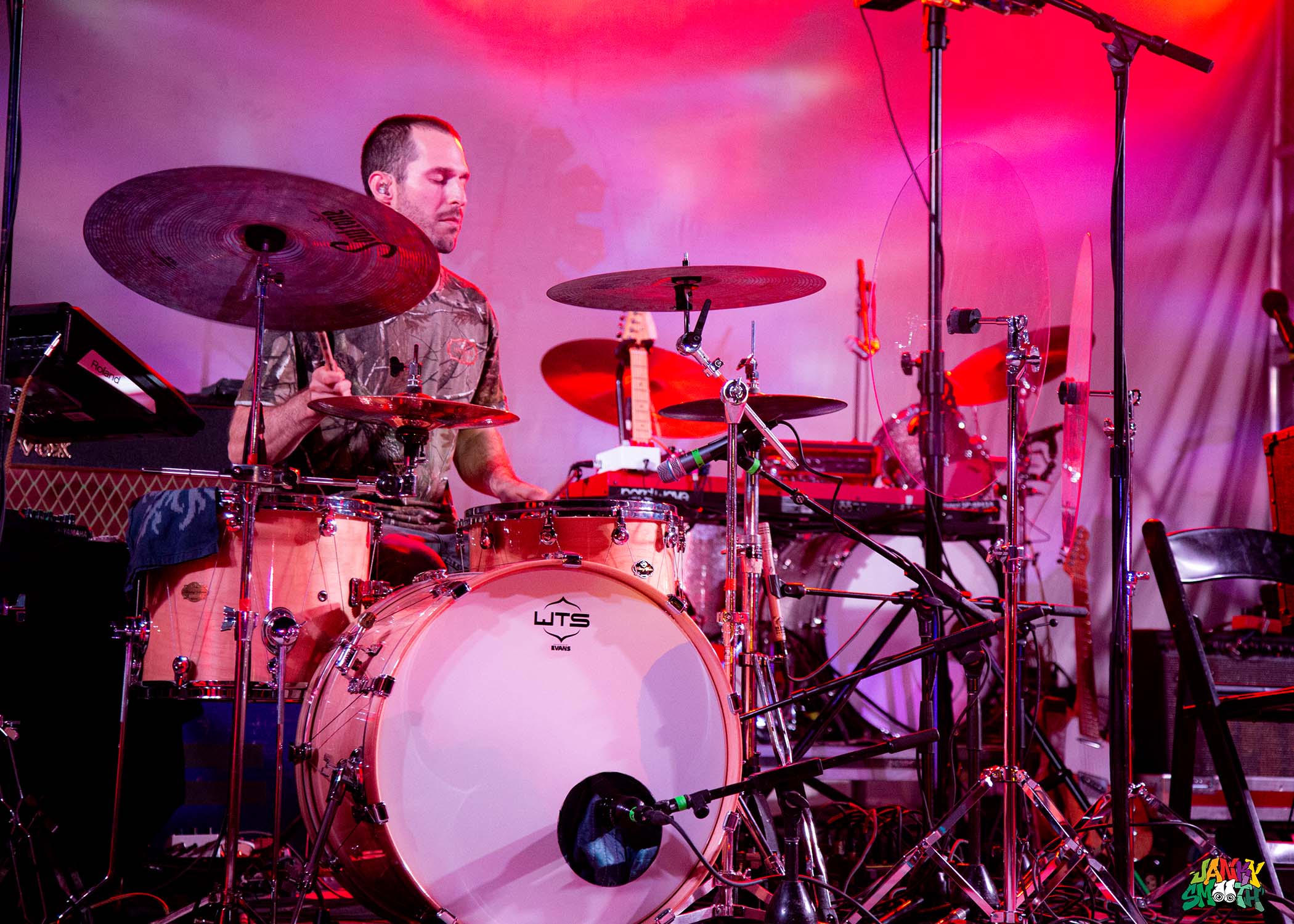 Fuzz at Mohawk
It was mayhem at the Mohawk Thursday night as Fuzz took the stage. A bloodthirsty crowd crammed into every inch of the concrete balconies overlooking the stage as though we were about to witness gladiators fighting to the death under acid drenched projections. The sludgy trio took that cue and delivered their patented mix of heavy riffs, thunderous drums, and fat fuzzy bass that knocks me off my feet every time. It was a hell of a fight for sonic dominance and volume victory – and the crown was appeased. The pit showed approval by sending bodies and beverages both airborne to the doom-soaked and psych-ridden cacophony that always seems on the verge of falling apart just before machine gun tempo fills bridge the void to the next verse. The dynamic between the band is constant entertainment in itself as each pushes the others to emphasize the riff worship that serves as the foundation for this beautiful mess.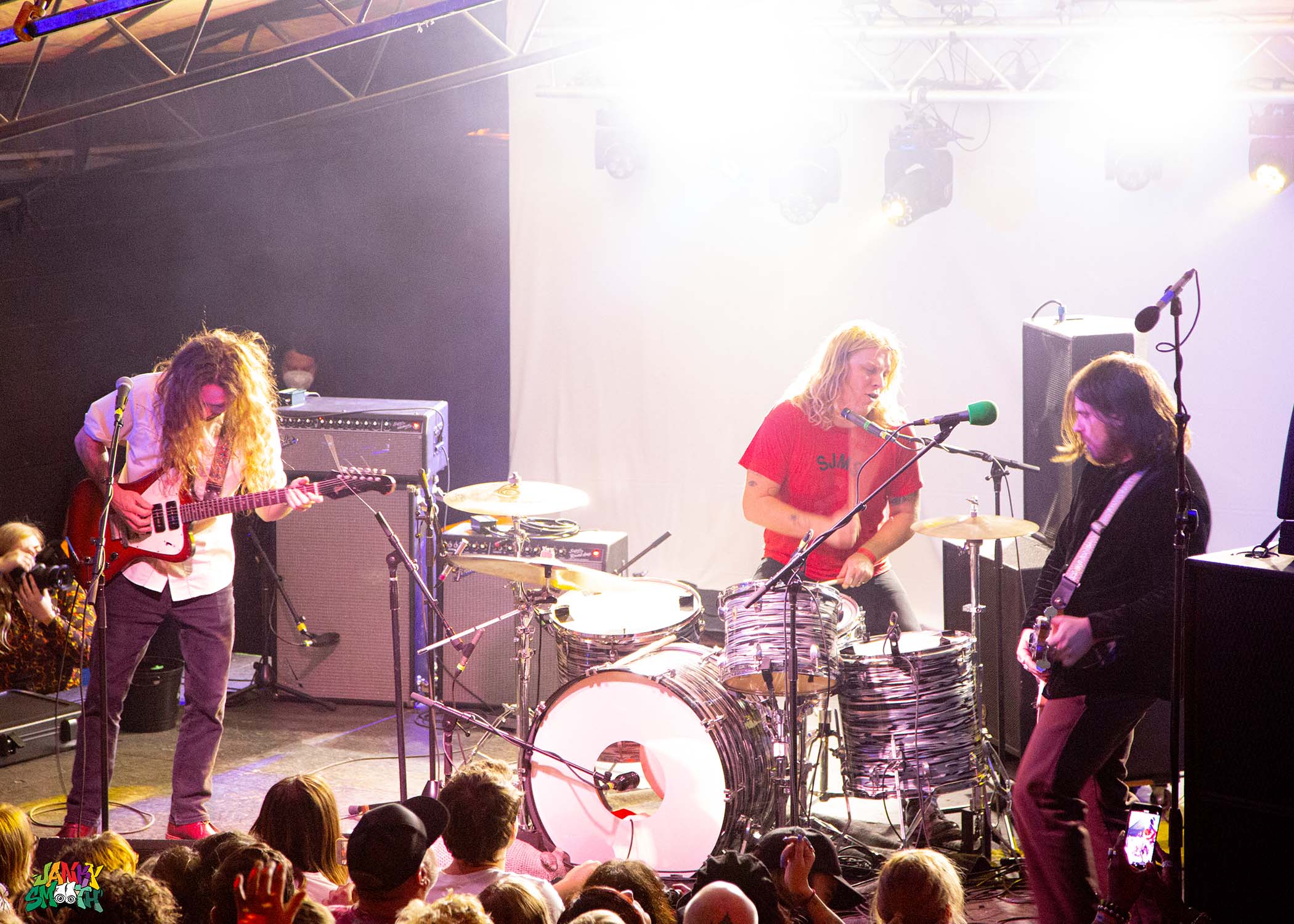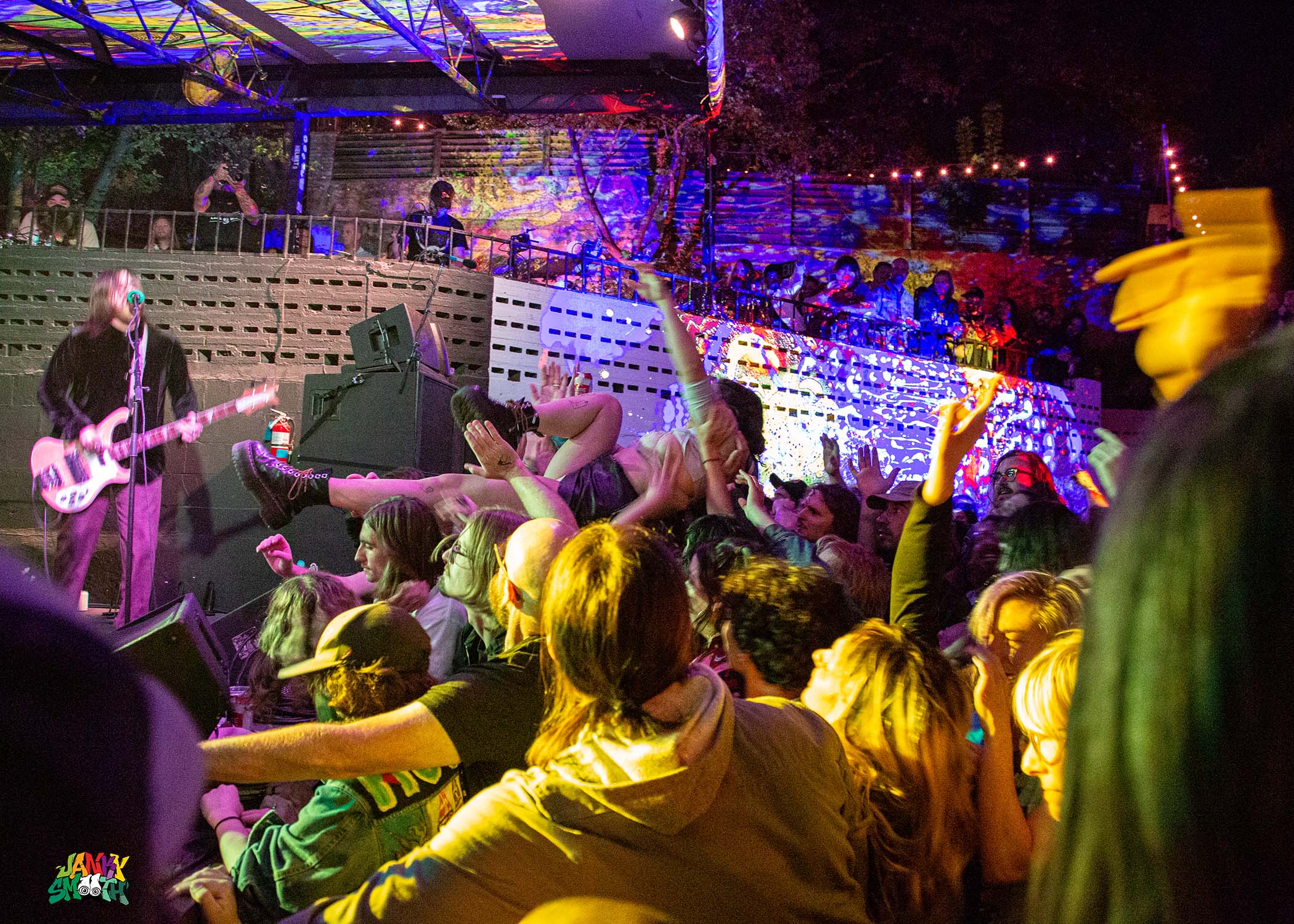 Chicano Batman at Stubb's
I caught the beginning of Chicano Batman closing out Stubb's on the first night of Levitation with the crowd packing in and whistles erupting from behind me. Bardo's hazy wordplay (vocals/keyboard/guitar) and Carlos' (guitar/keyboard) funky guitar riff-age on 'Color My Life' soared high with Mad Alchemy rainbow color projections popping and becoming richer, painting the scene in a glitzy '70s mood. Everything was glittering and the crowd melted to the tune 'Moment of Joy' ready to fade into the night sky with Chicano Batman steering the spaceship.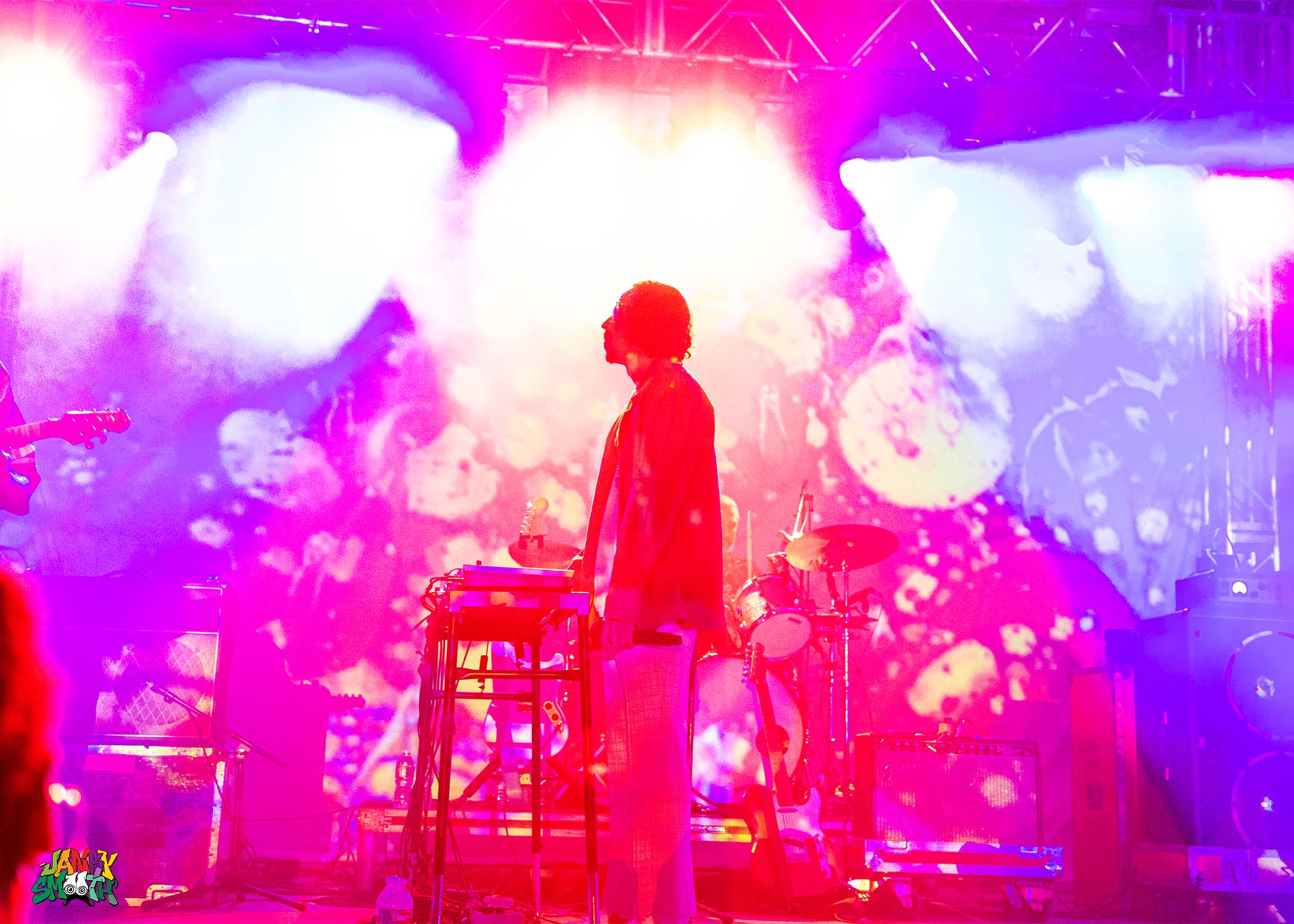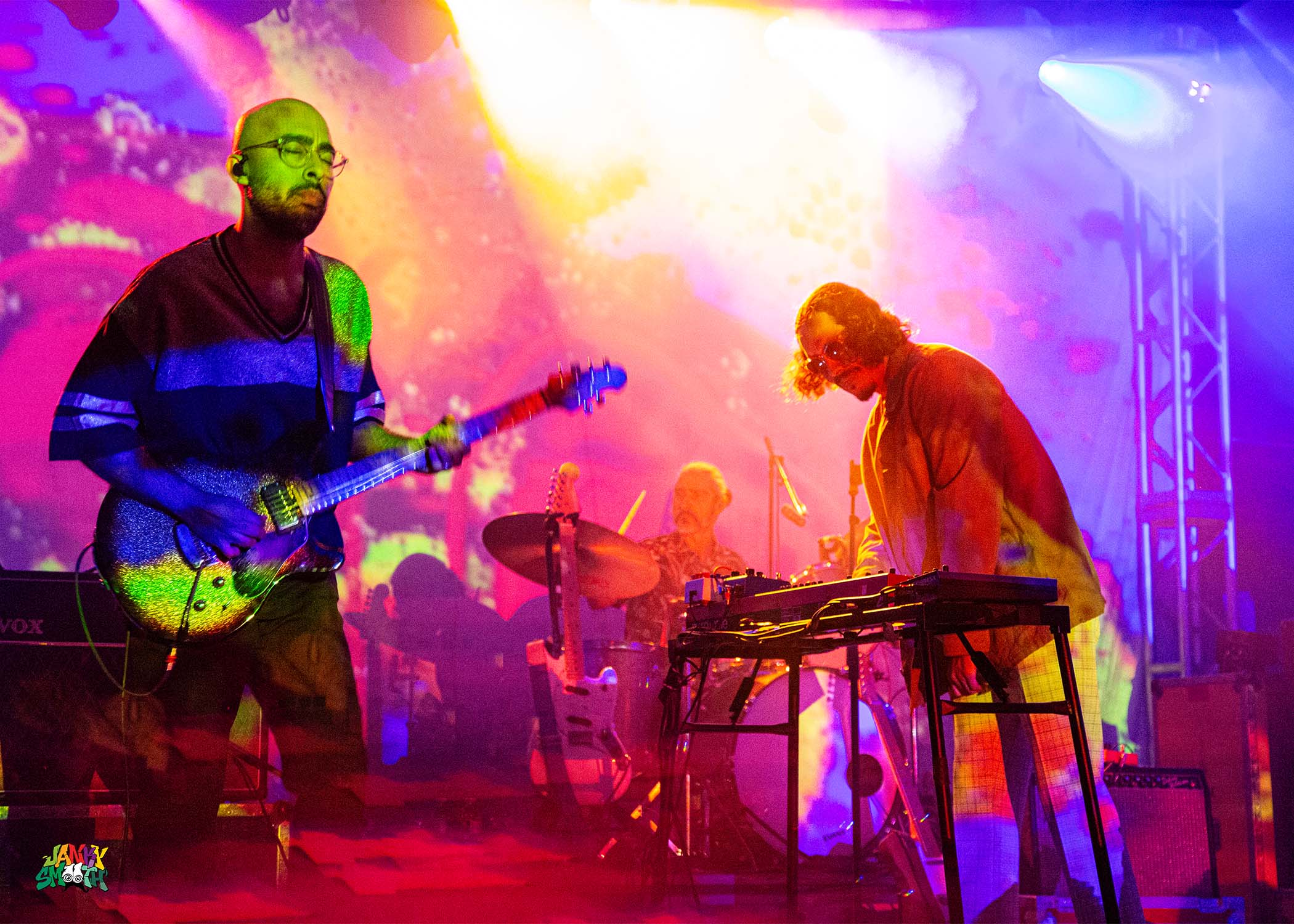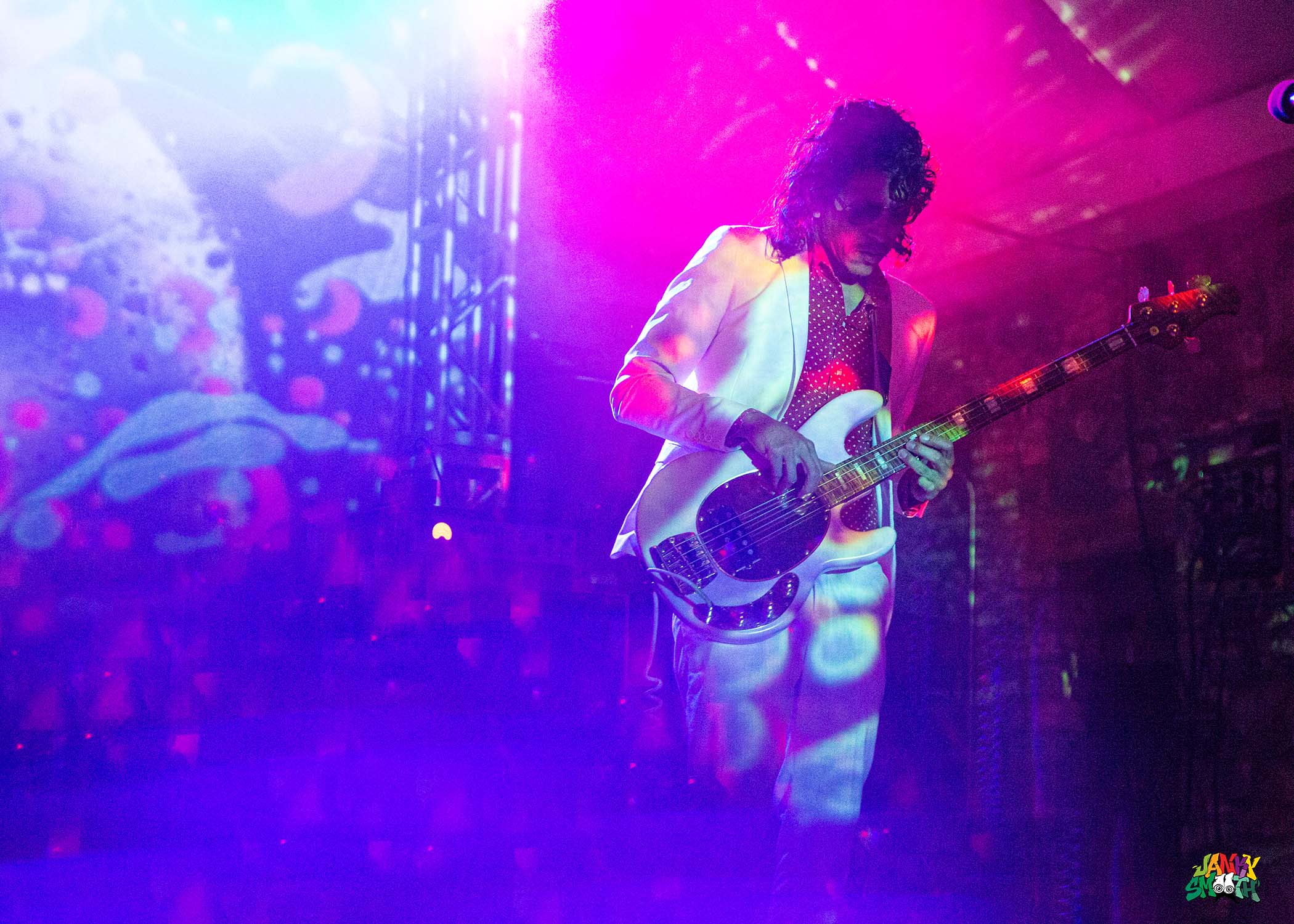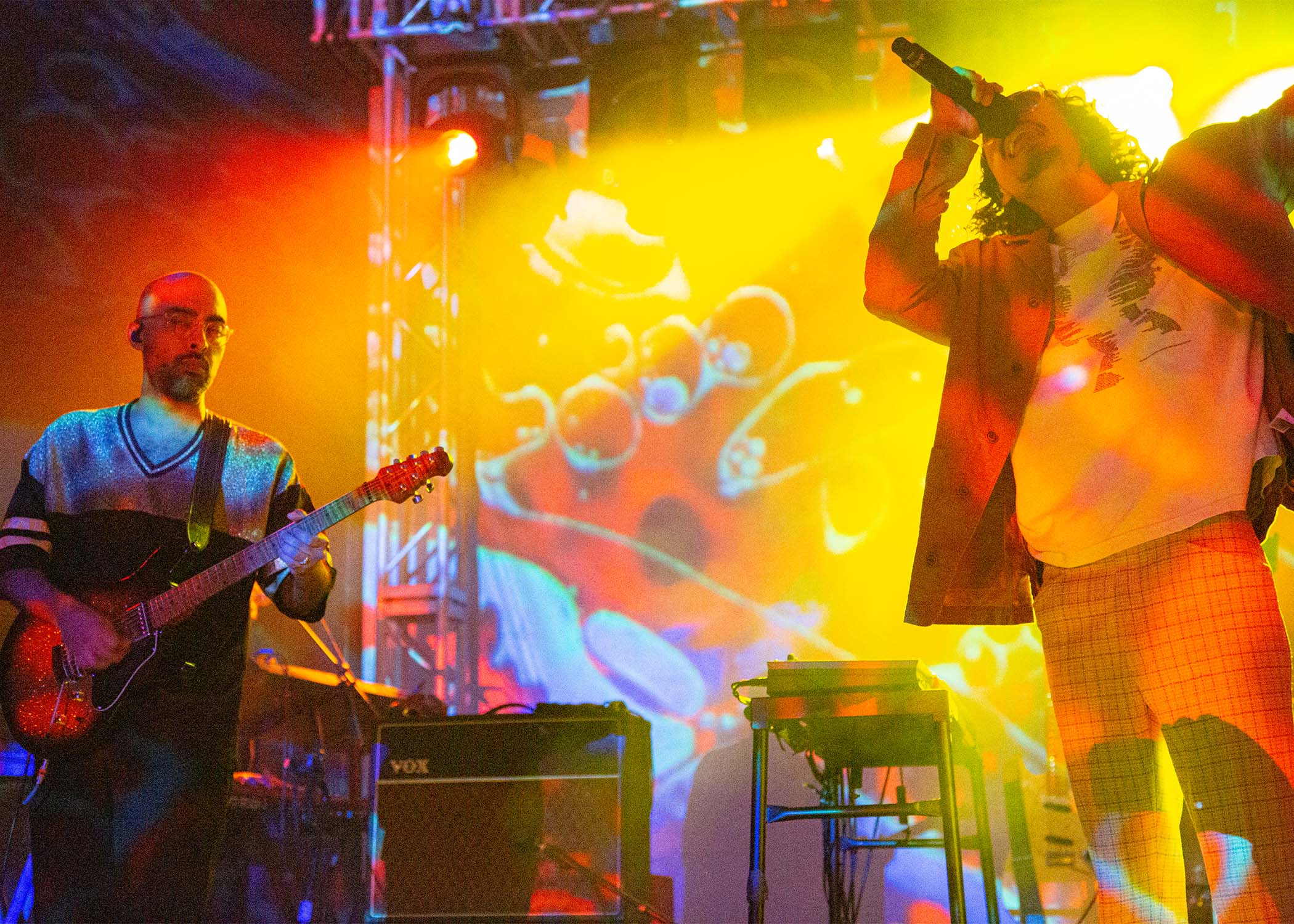 Drab Majesty at Empire
Presented by Night Flight, Drab Majesty performed their glittering wave synth melodies to a sold out crowd embodying the Phantom Of The Opera allure. Dais records' gem, Drab Majesty consists of Andrew (Deb DeMure) alongside Alex Nicolaou (Mona D). The duo uniform is platinum blonde wigs, black wrap around sunglasses, iridescent, silver face paint and suits that add to the mystique of modern Greek mythos style. The scene was dressed up in VHS glitch visuals adding to Deb's synth eighties nostalgia meets Gregorian chant echoing throughout corridors of a gothic stone church. 'Oxytocin' sound lifted the love-lorn crowd mood to enrapture them in a satin blanket melodies of true romantic Drab style. Deb announced his thankfulness for being at Levitation and gave another gentle reminder of the preciousness of being back on the beauty of the stage. Endearing to see Drab Majesty grow from playing gigs at Non Plus Ultra starting out with 'Careless' (The Foyer, Hallow, and The Heiress) to pushing boundaries with 'Modern Mirror'. Catch them next time they tour through your town.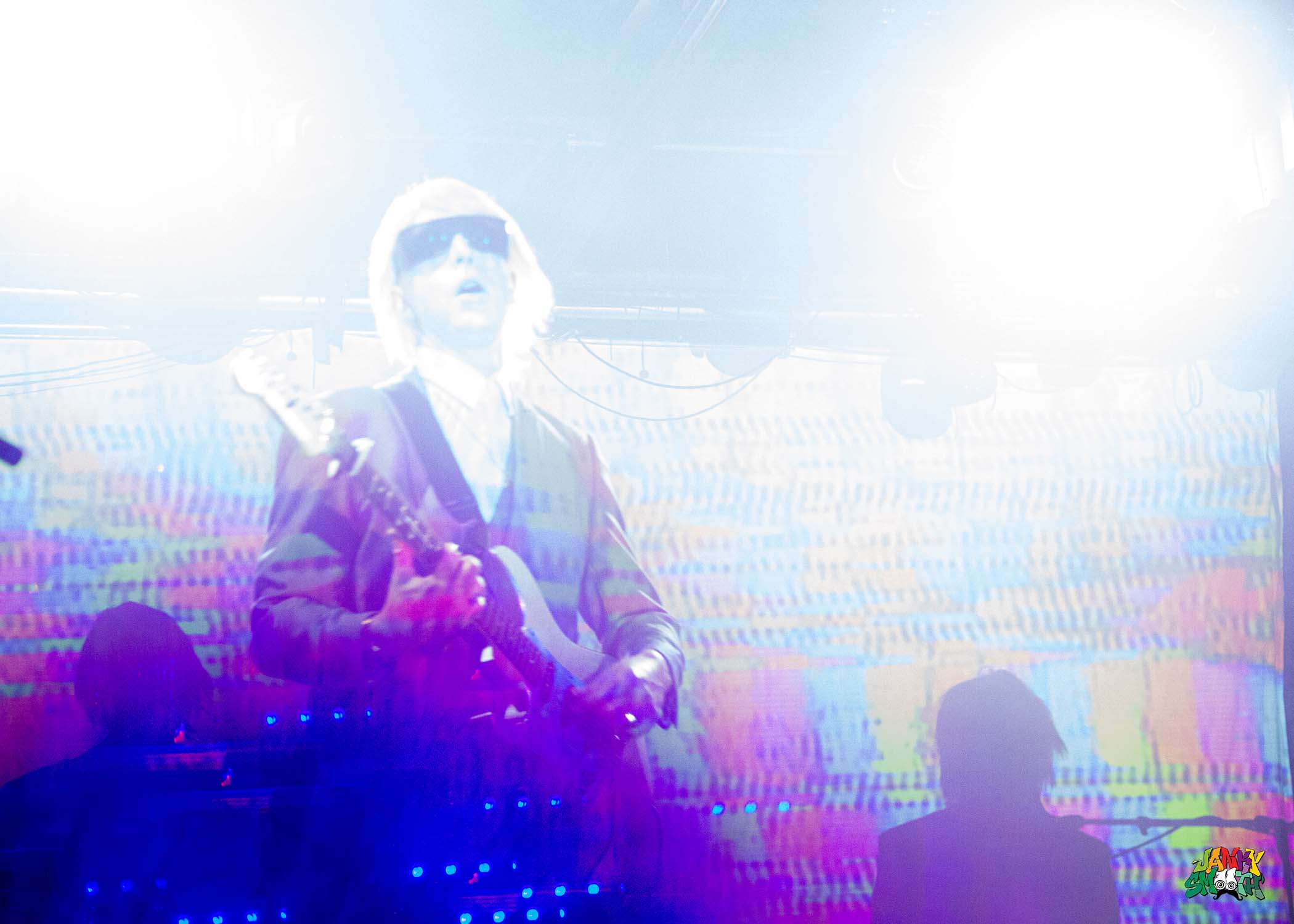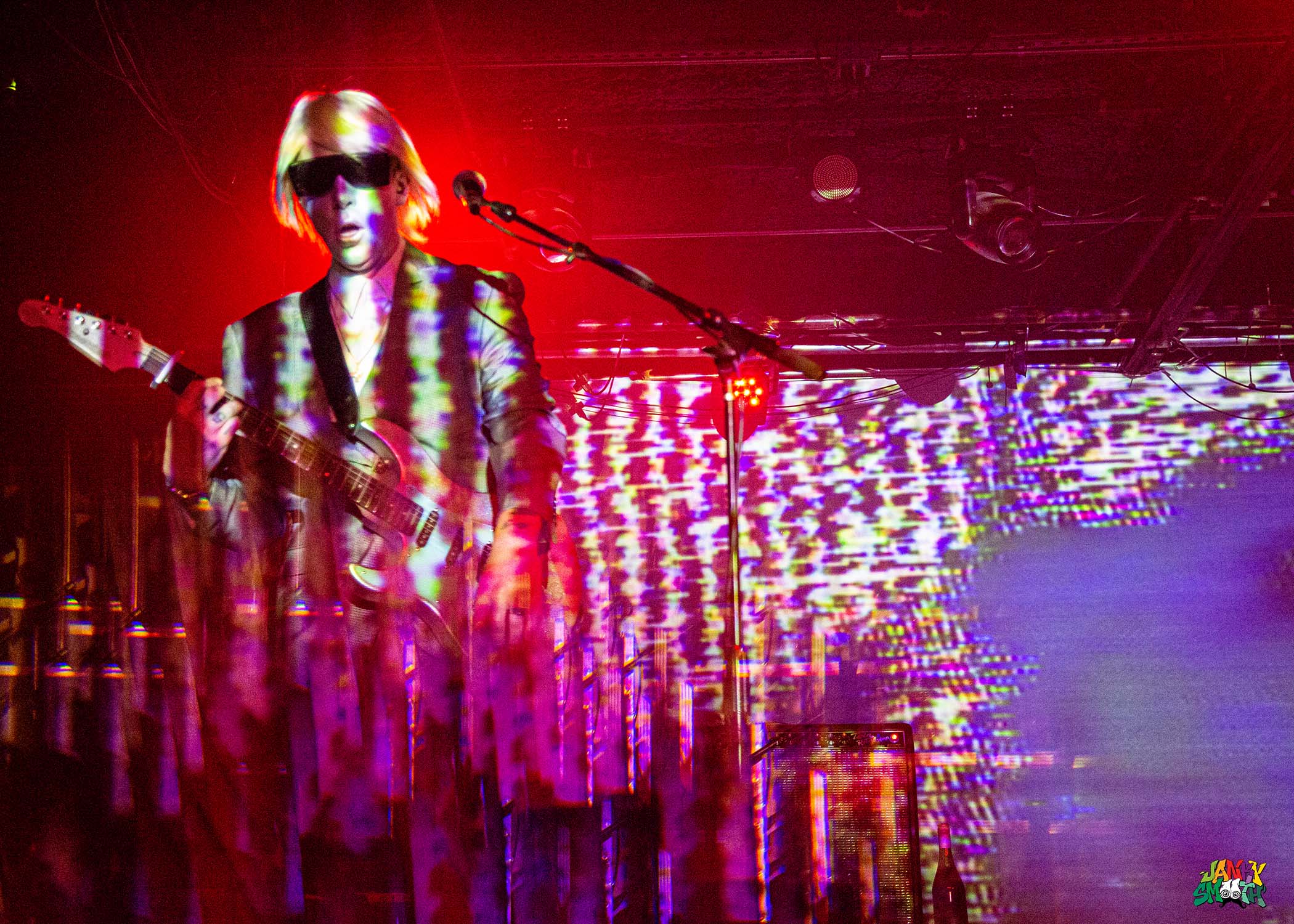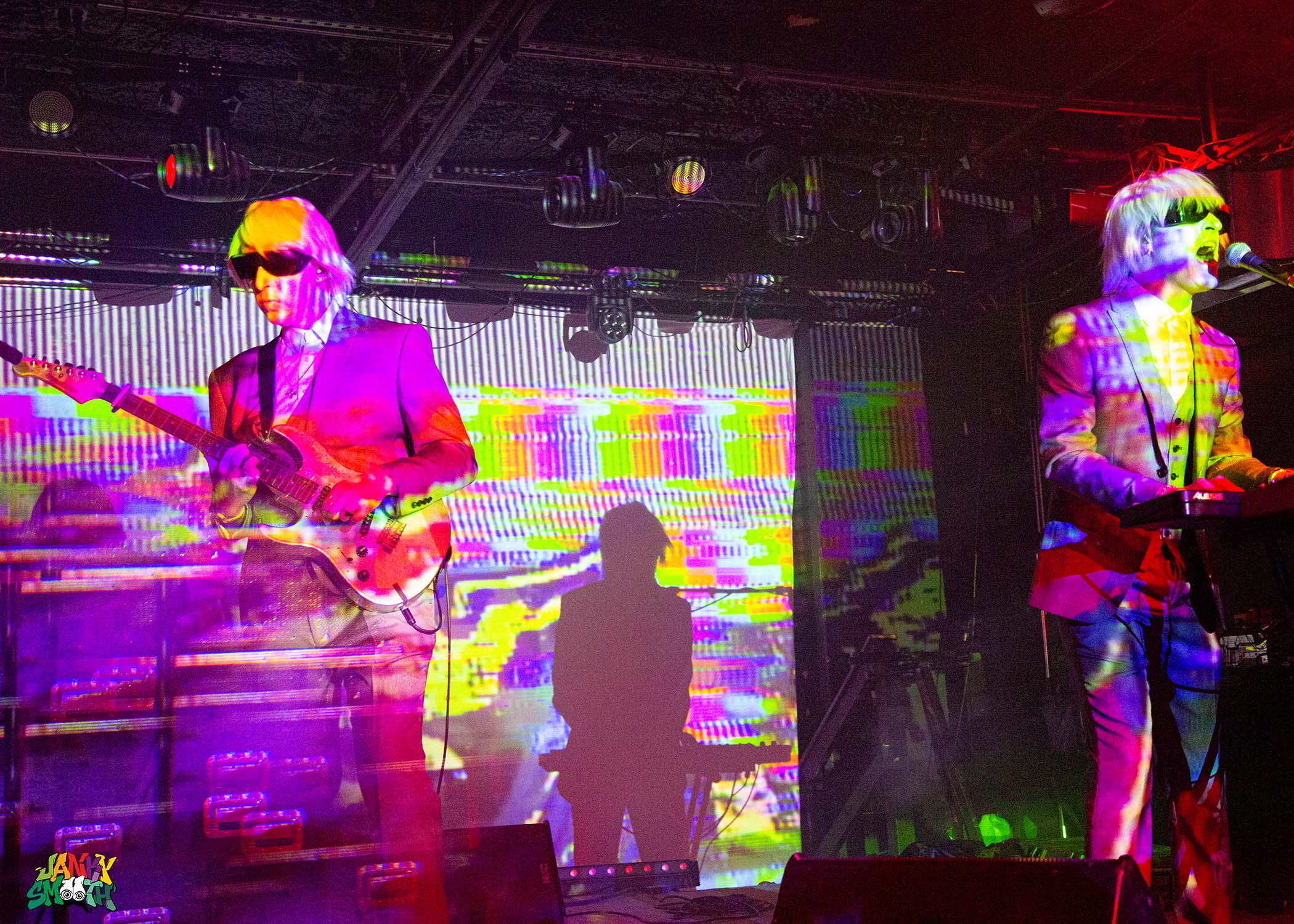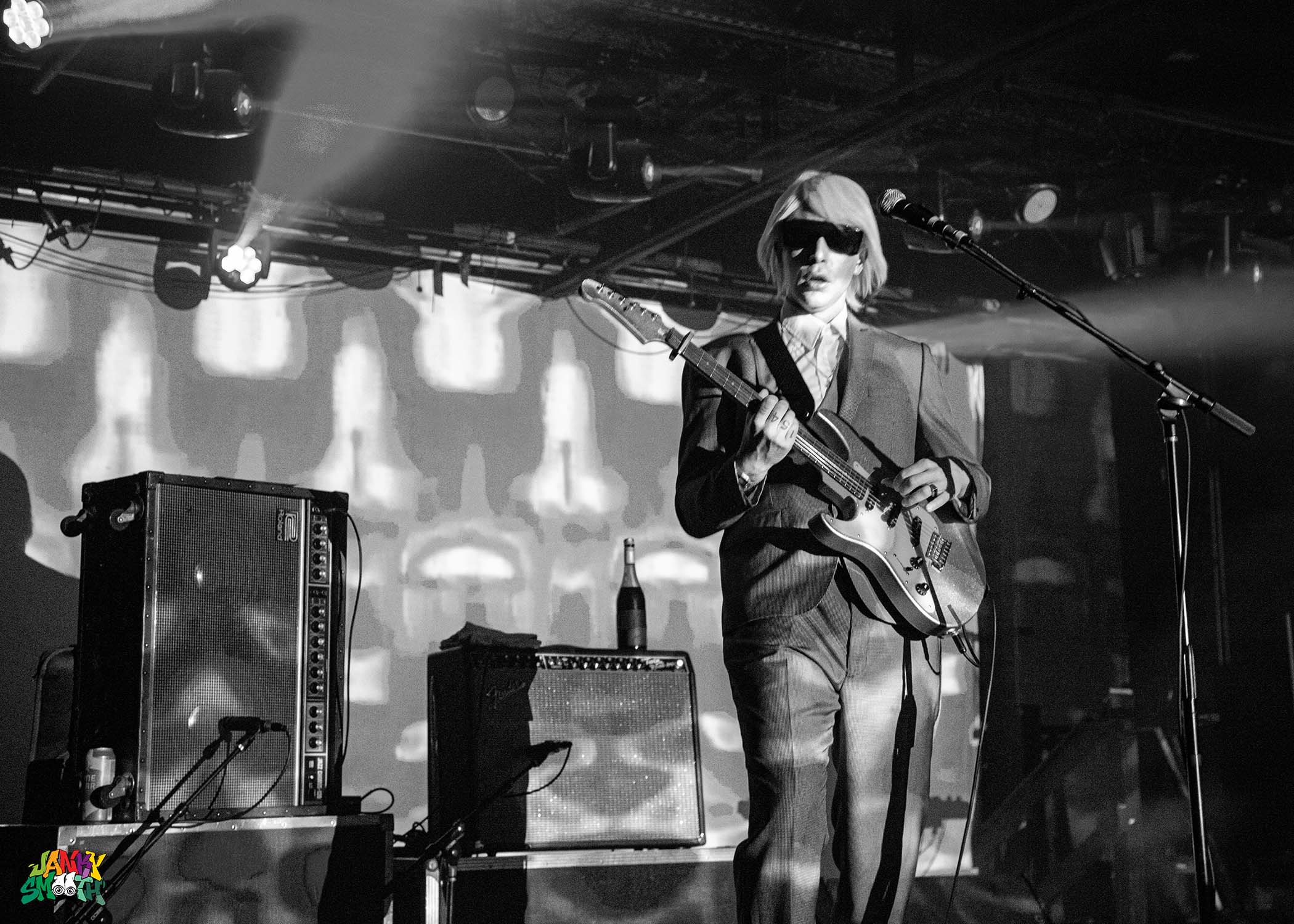 Boy Harsher at Empire
Pounding in your chest ready, set, roar with dark electro pop beaming from Jae Matthews and Augustus Muller of 'Boy Harsher' making you want to thrash about to release any deep seated primal emotions. Matthews sensual and strong way of reaching out and magnetizing the crowd to her is spectacle you need to see live. 'Motion' has this way of igniting the crowd to join her hypnotized. Perfect horror soundtrack to dark corners, lonely street lamps, noir comics, neon lights, blade runner, cyber punk 2077 moods and so much more.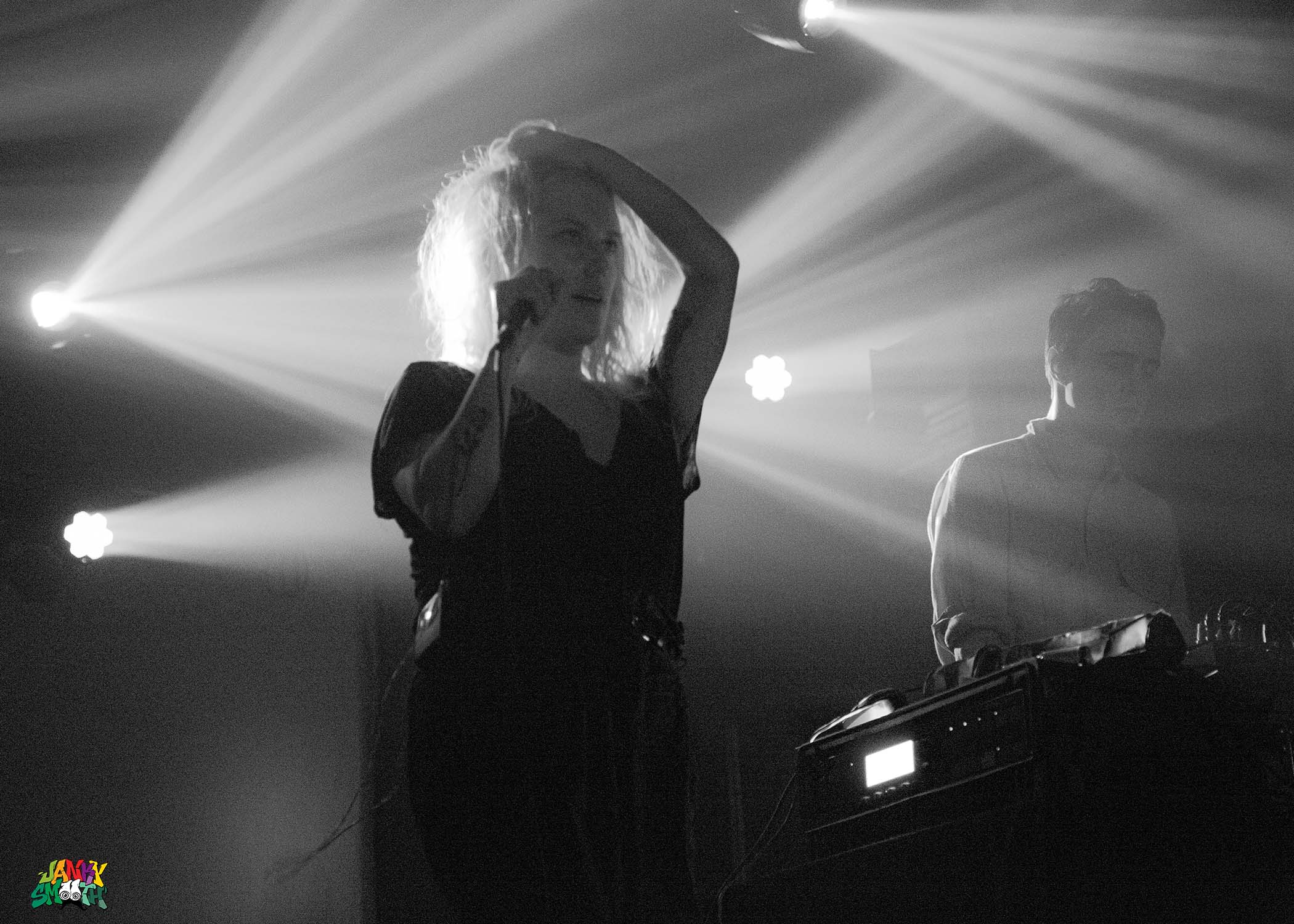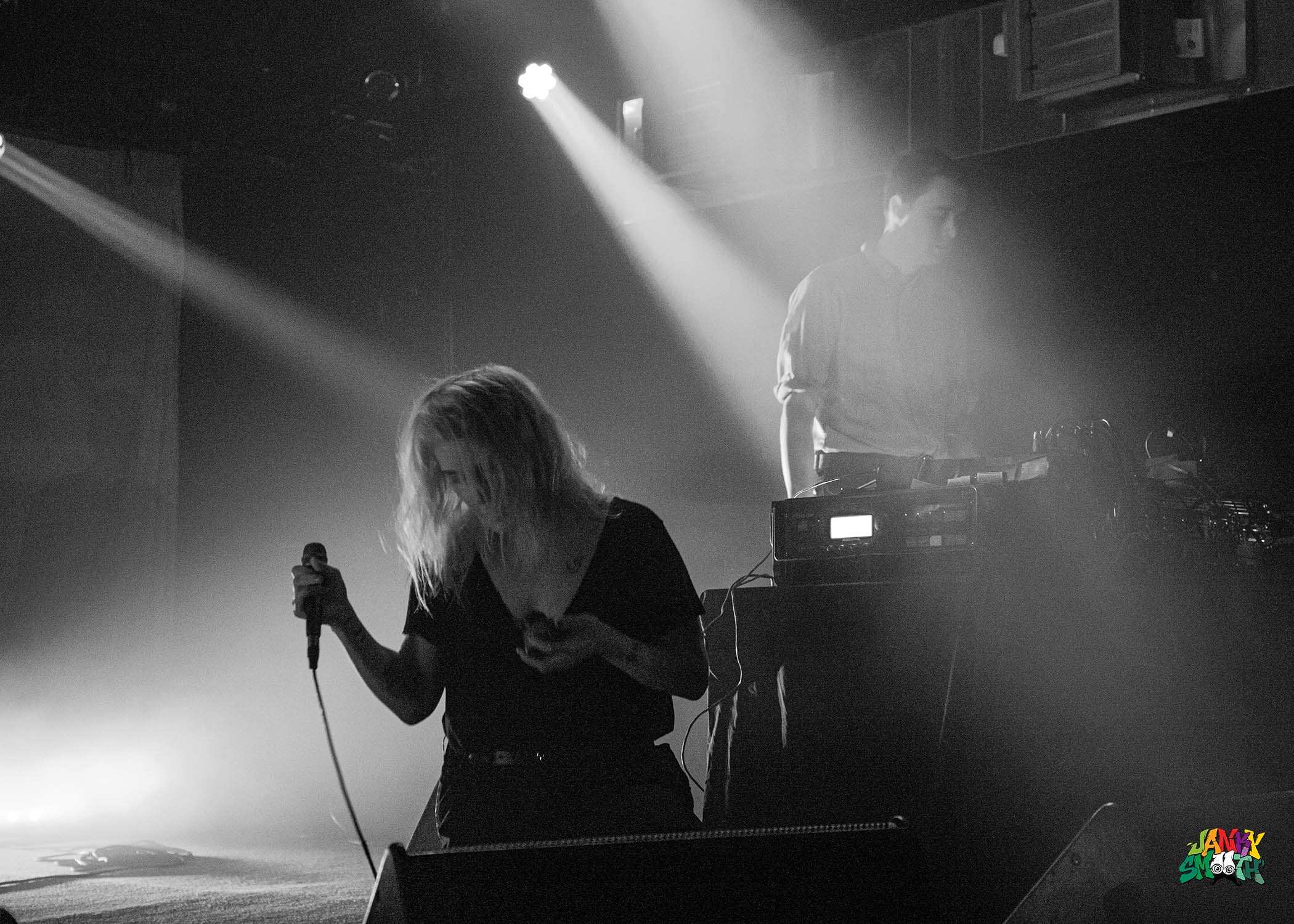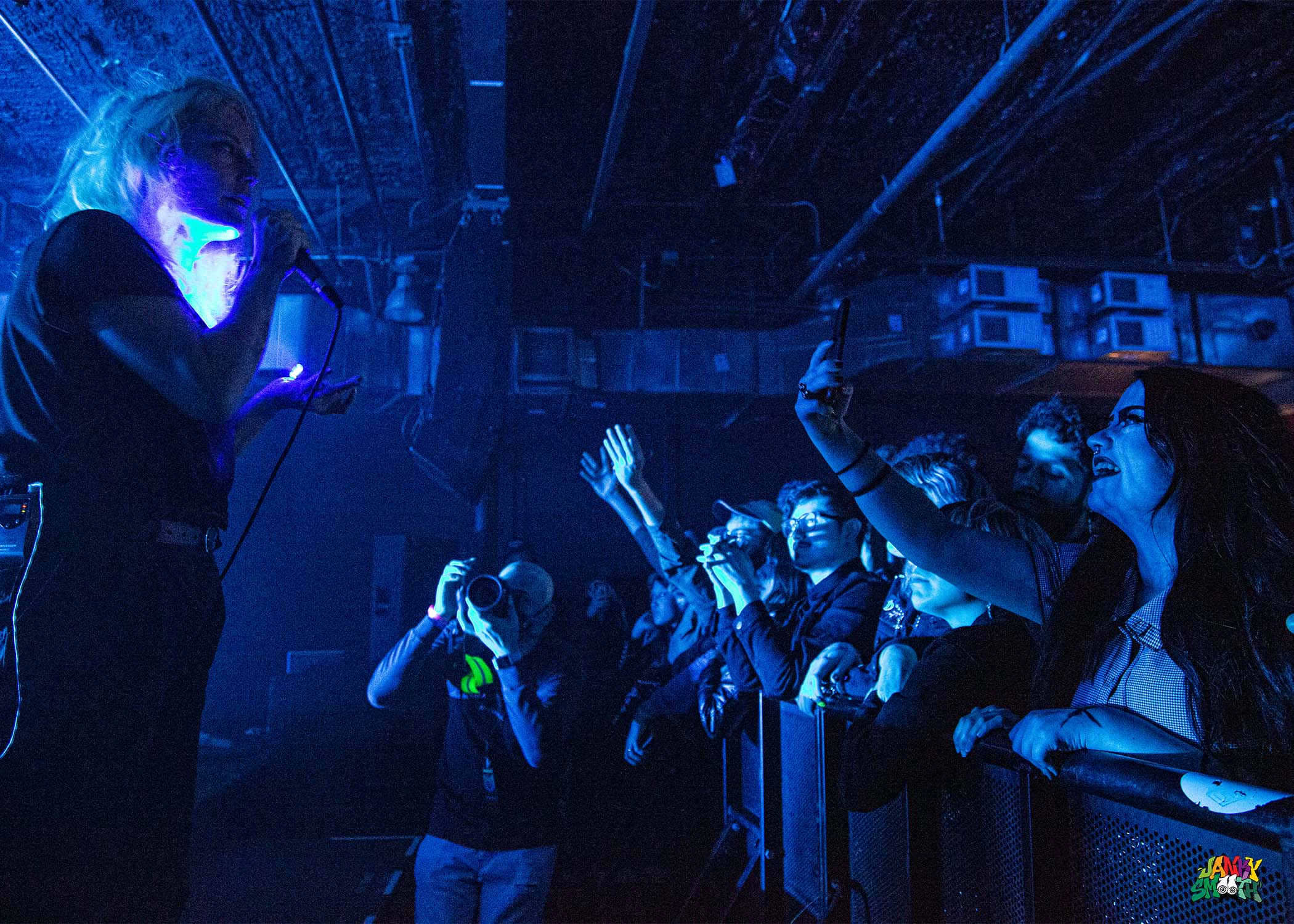 Friday
Ringo Deathstarr at Stubb's
Friday phantoms 'Ringo Deathstarr' lit up Stubb's like light beings descending from the Andromeda galaxy. Blinding, twinkling, growing lights dropping down from space as the sun is setting with Alex's (bass/vocals) elevating breathy dream pop vocals transporting whatever is left of your body to back to their spaceship 'Heavy Metal Suicide'. Elliot (guitar, vocals) announcing the giddy feeling of playing Stubbs' stage for first time out there was a sweet reminder of the preciousness of being back in live crowds and witnessing the grand spectacle of it all. Pulsating drums from 'Gazin' off of their self-titled Reverberation Appreciation record release gave the hook 'em in and sway feeling in your comfy, melancholy fall jacket.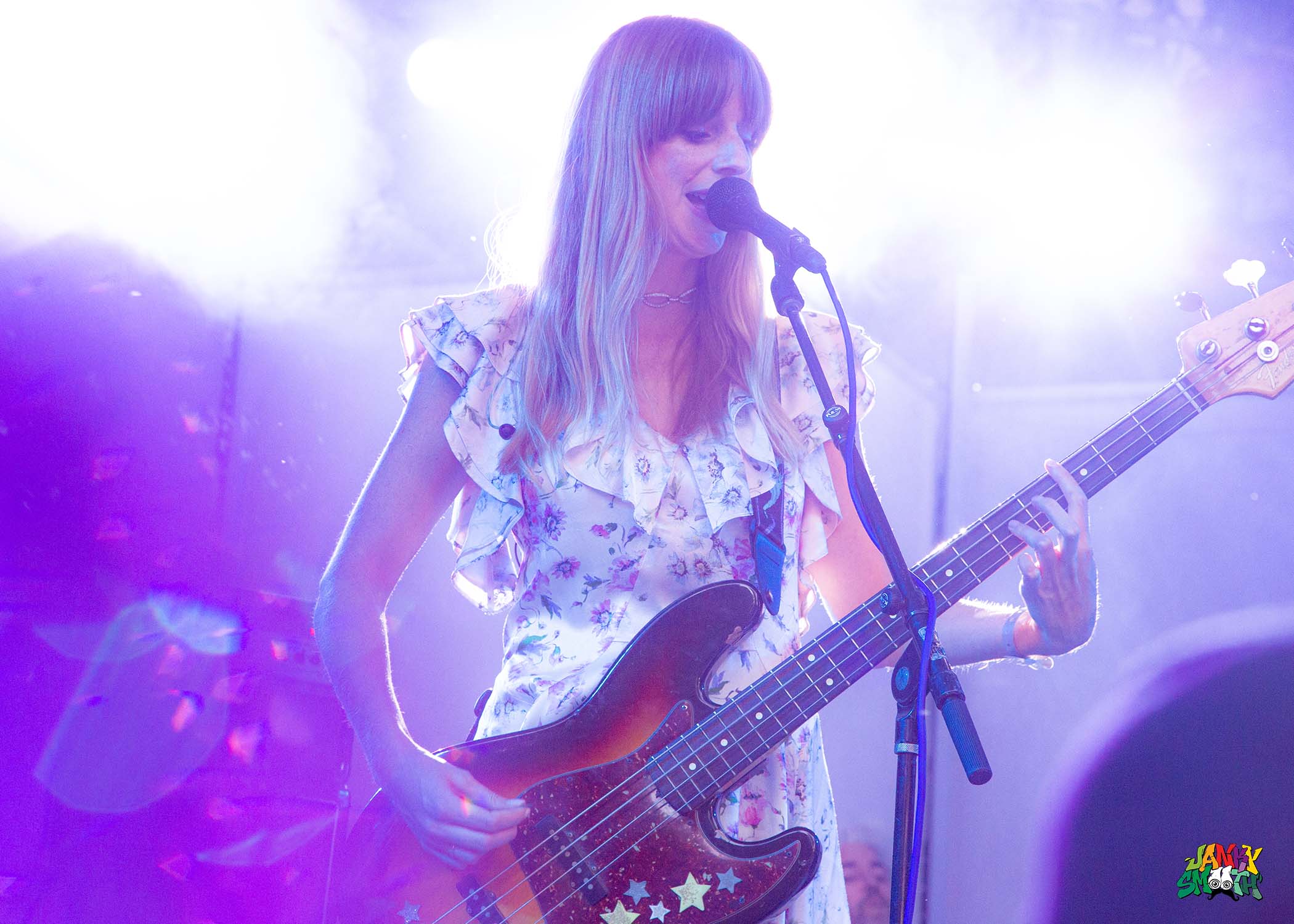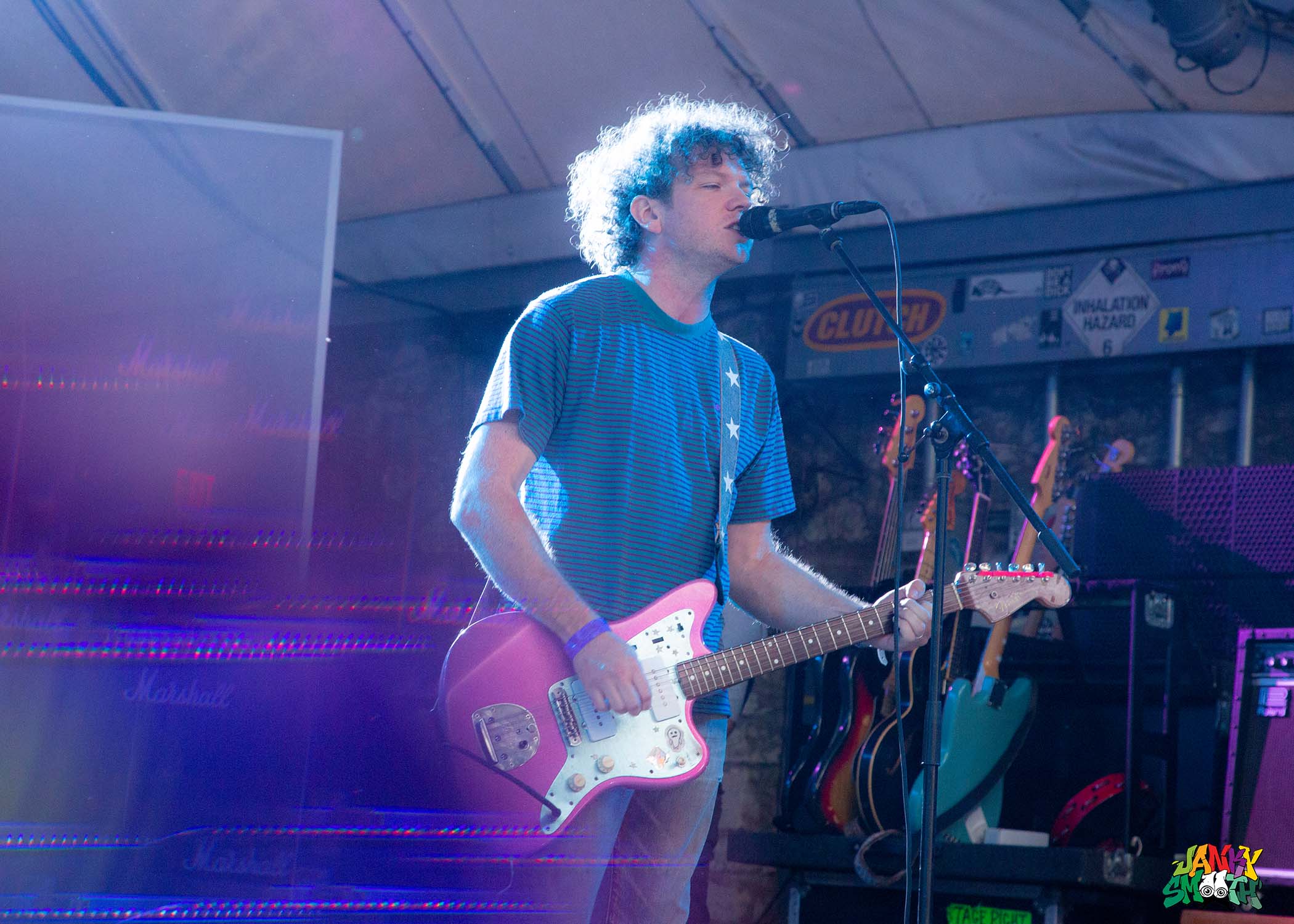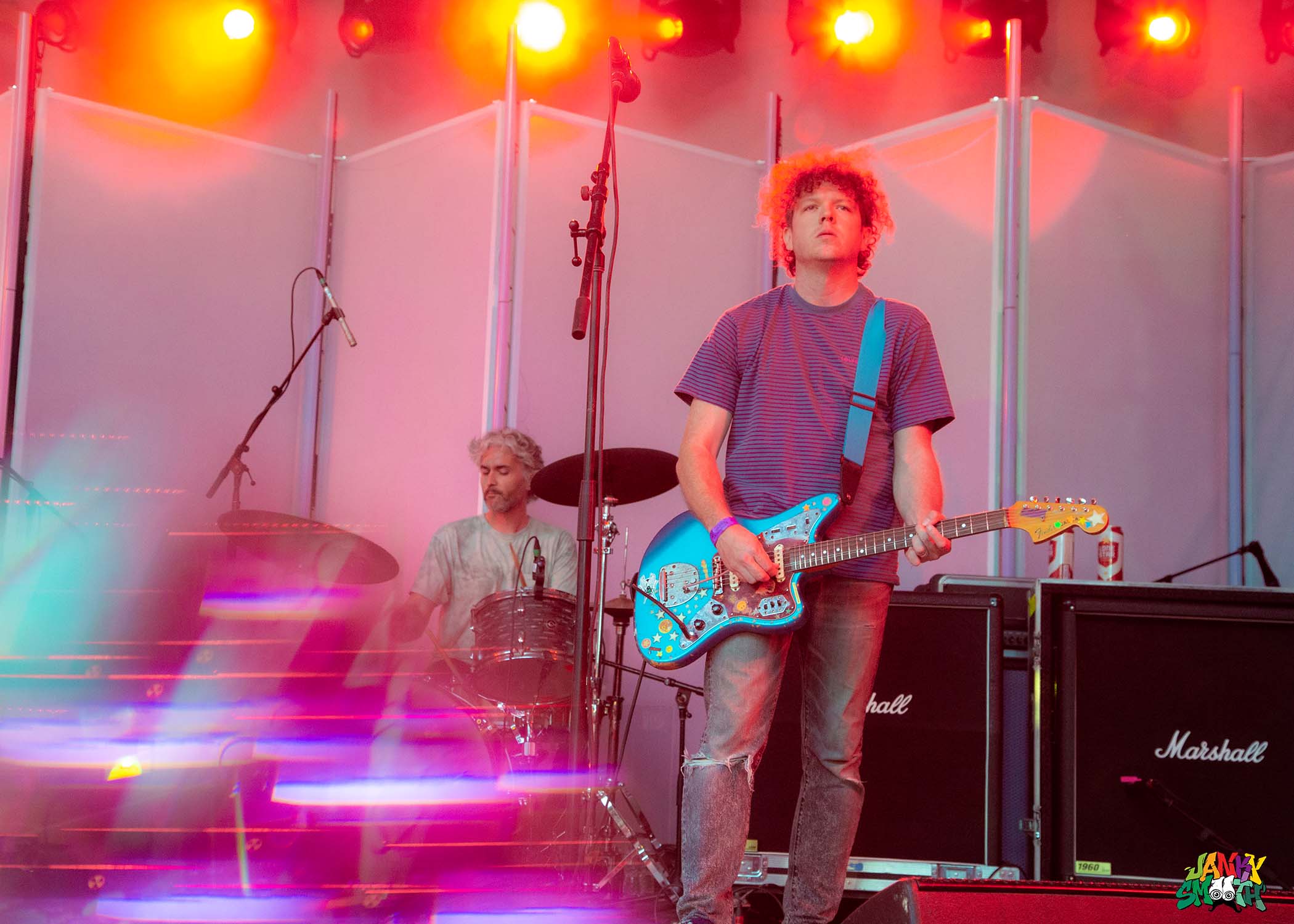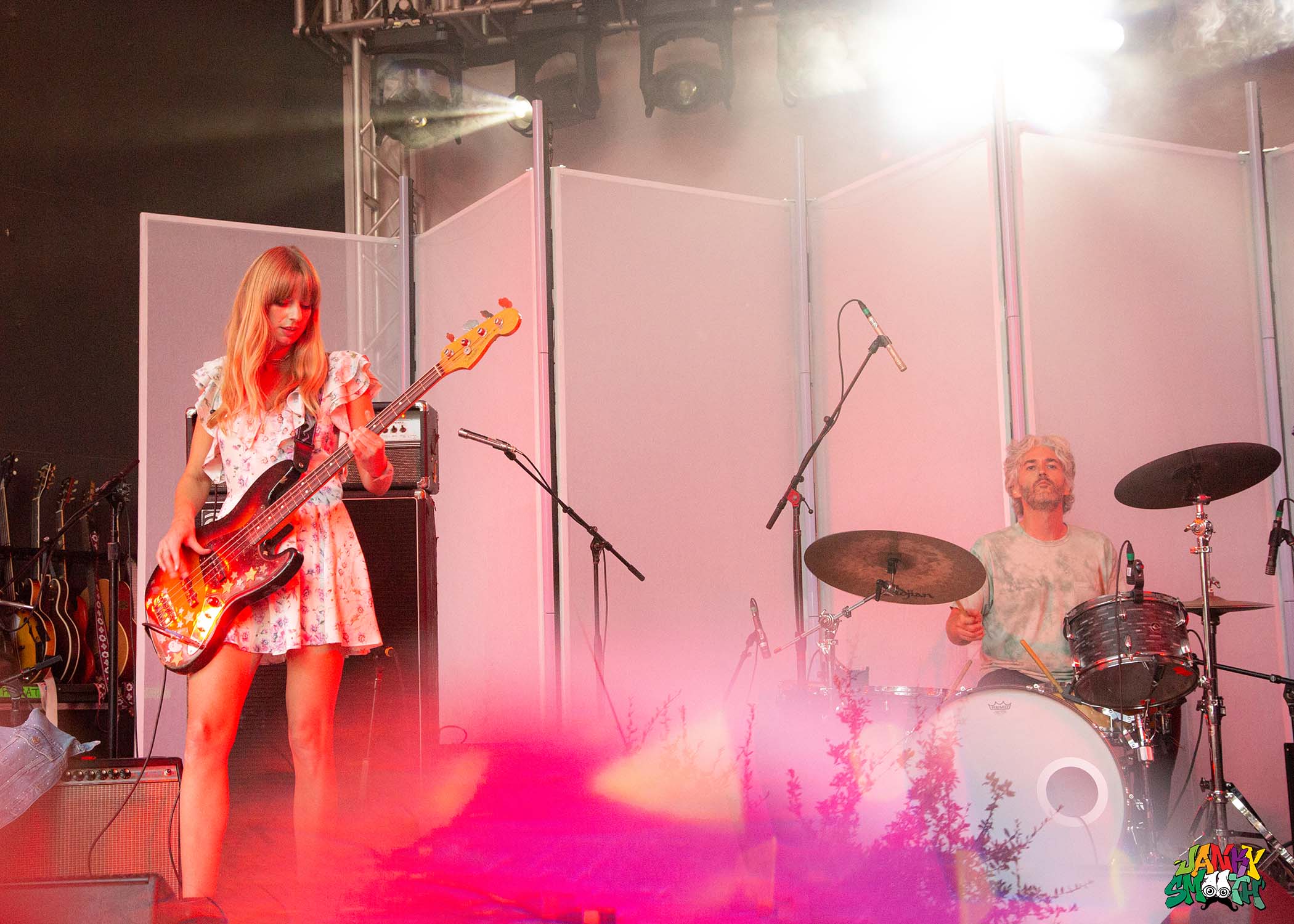 A Place to Bury Strangers at Stubb's
"The loudest band in NY" was more than willing to defend their reputation for chaos in Austin on Friday night. Speaker shrapnel, microphone helicopters, and even higher flying guitars were all on display during an absolutely unforgettable set at Stubb's. The unrelenting wall of noise shook every bone in my body. Towering sounds building up just to come crashing down and the rubble enveloping the crowd in an electrified flurry of sparkling, space dust. Sci-fi vision exploding minds like that in 'Scanners' was the best way to sum up Oliver, Sandra, and John's performance that night. Brain matter splatter all over leaving you wanting more and looking forward to their upcoming album release 'See Through You' on Dedstrange Records (Oliver Ackerman new record label)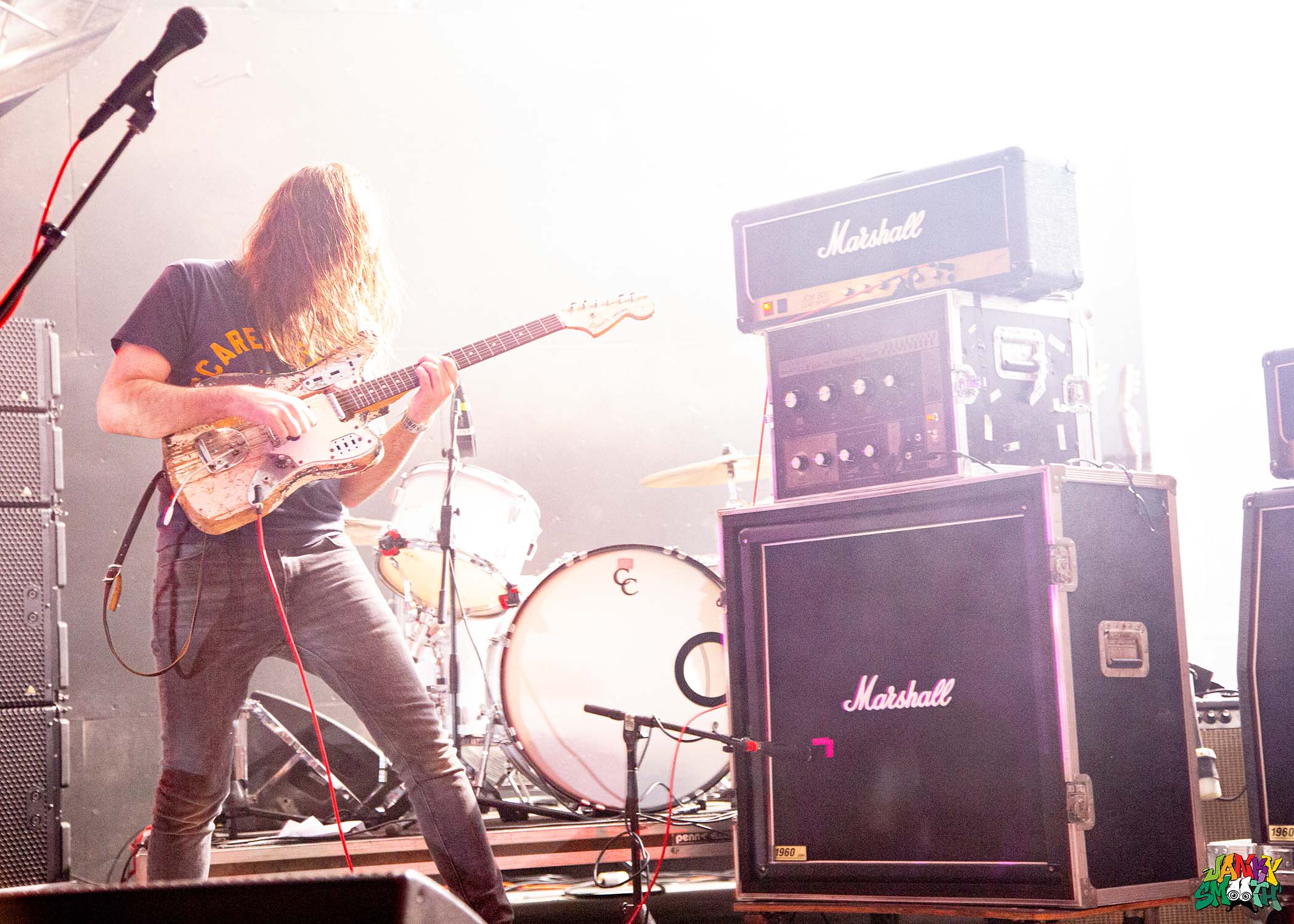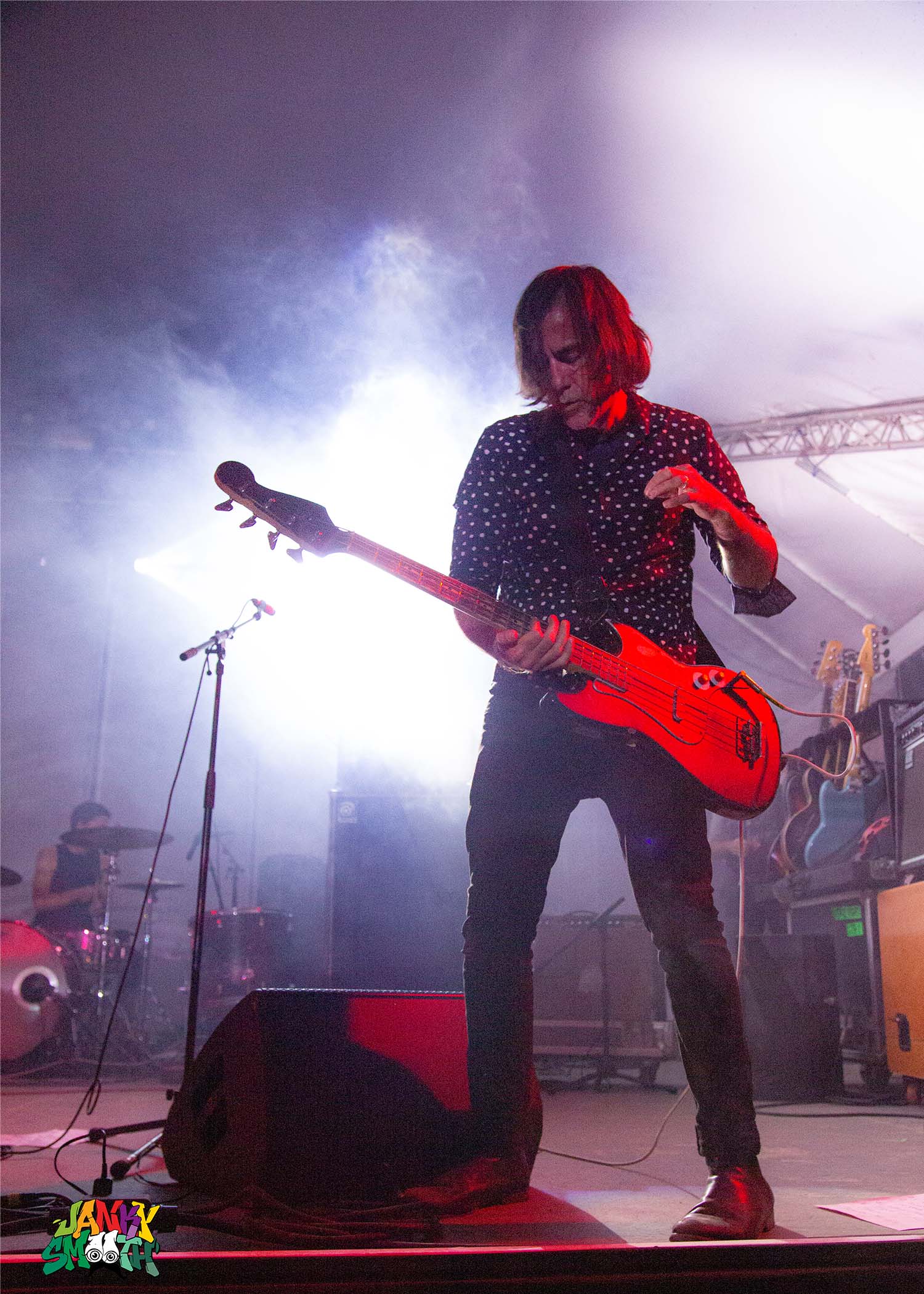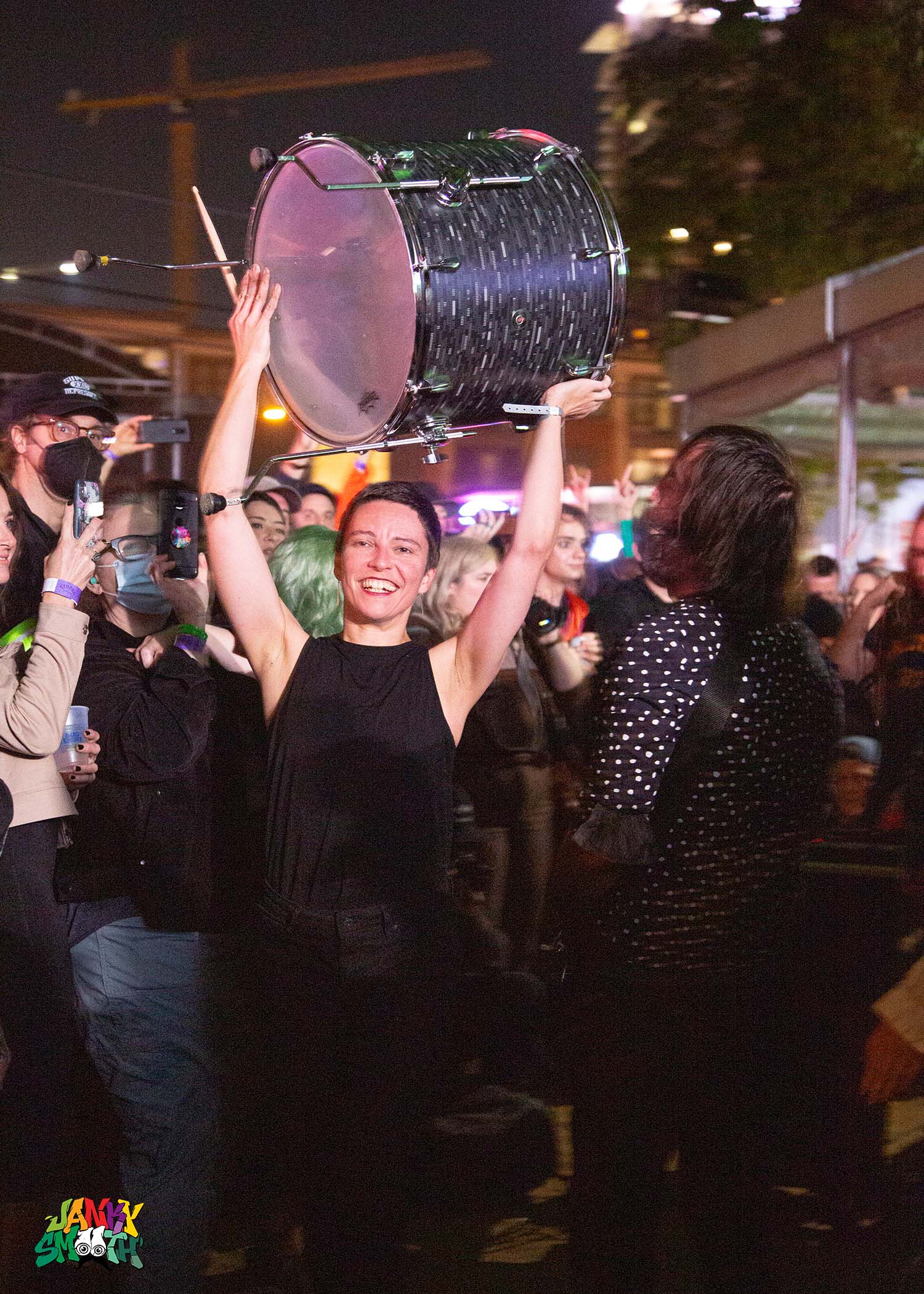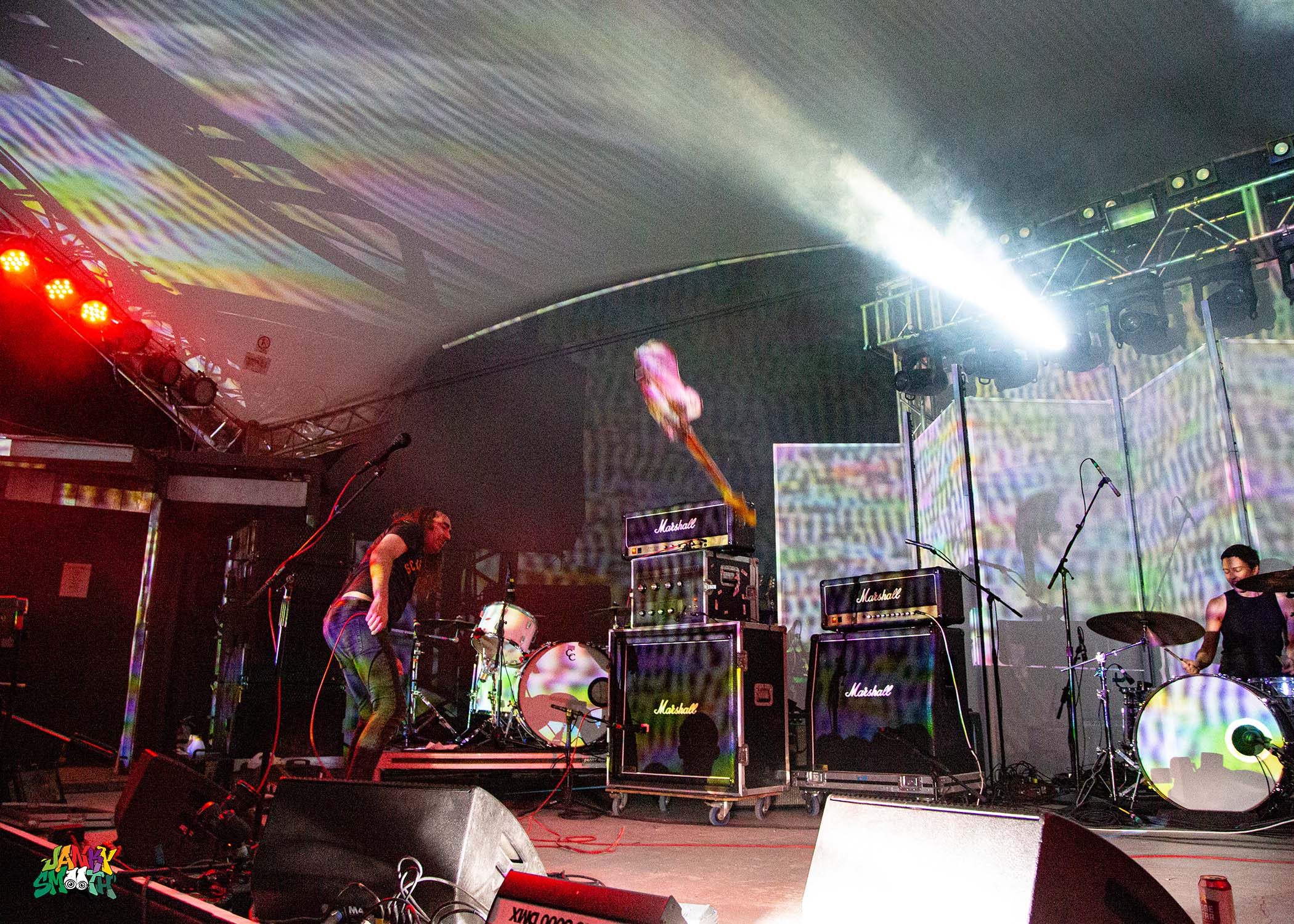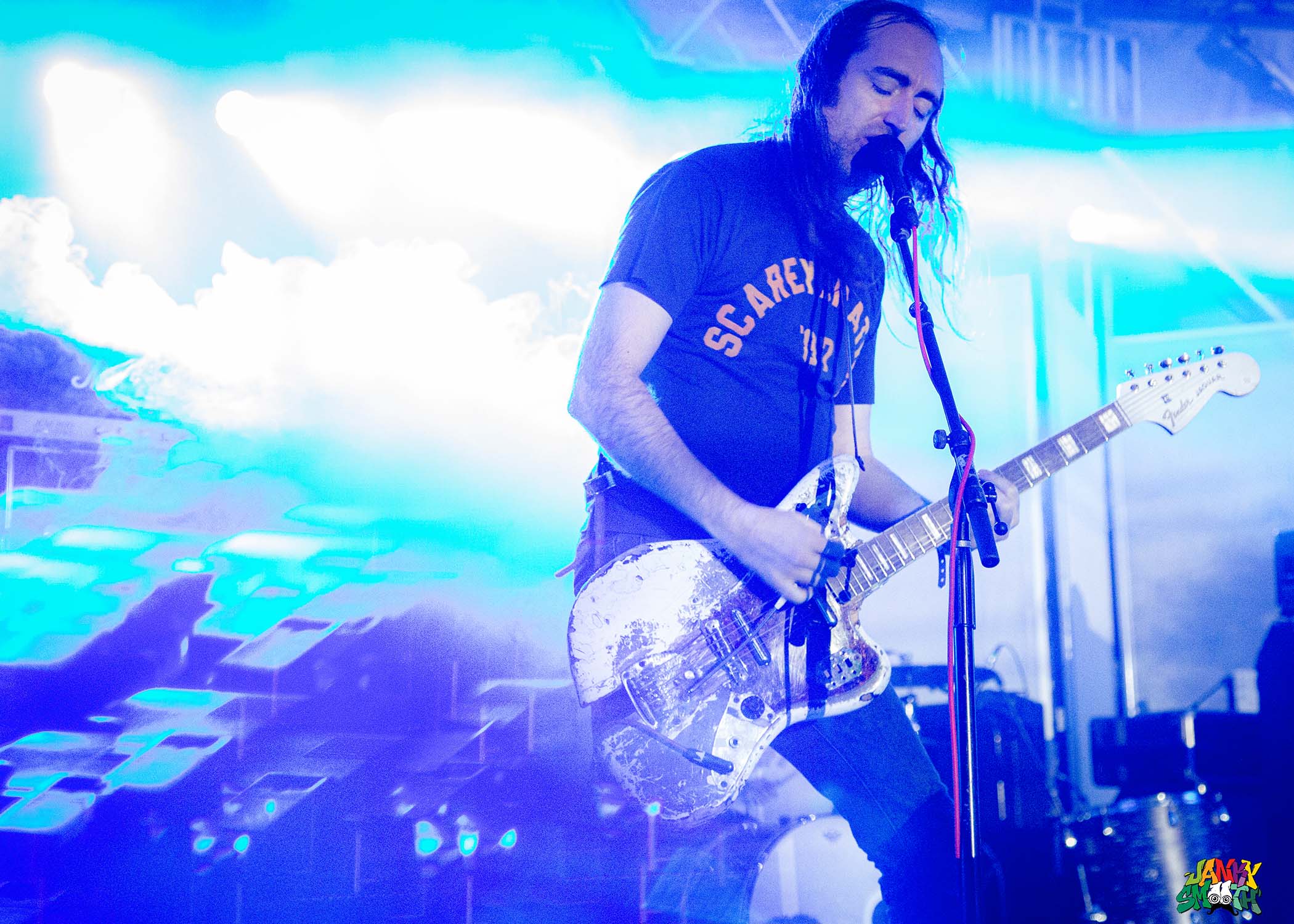 The Paranoyds at Hotel Vegas
Running over in a mad rush after APTBS to get a glimpse of zombie darlings The Paranoyds at Hotel Vegas was just what was needed of our Halloween weekend excursion into "The Beyond". The four piece creeped on the crowd with their death stares, crooked smiles, and cryptic wordplay. Fitting favorite 'Pet Cemetery' got the crowd headbanging with the doomy basslines, haunting organ keyboard, twilight zone surf guitar sounds, and dreading death march drums. Harmonizing girl vocals screaming break the spell seemed ironic, when the opposite seemed to be happening to the crowd falling in deeper in Staz (bass/vox), Laila (keyboard/vox), Lexi (guitar/vox), and David's (drums, vocals) deadly grasp. The warm bodies kept flailing wildly into the night as the 'Noyds played tracks off their recent album 'Carnage Bargain' out on Suicide Squeeze.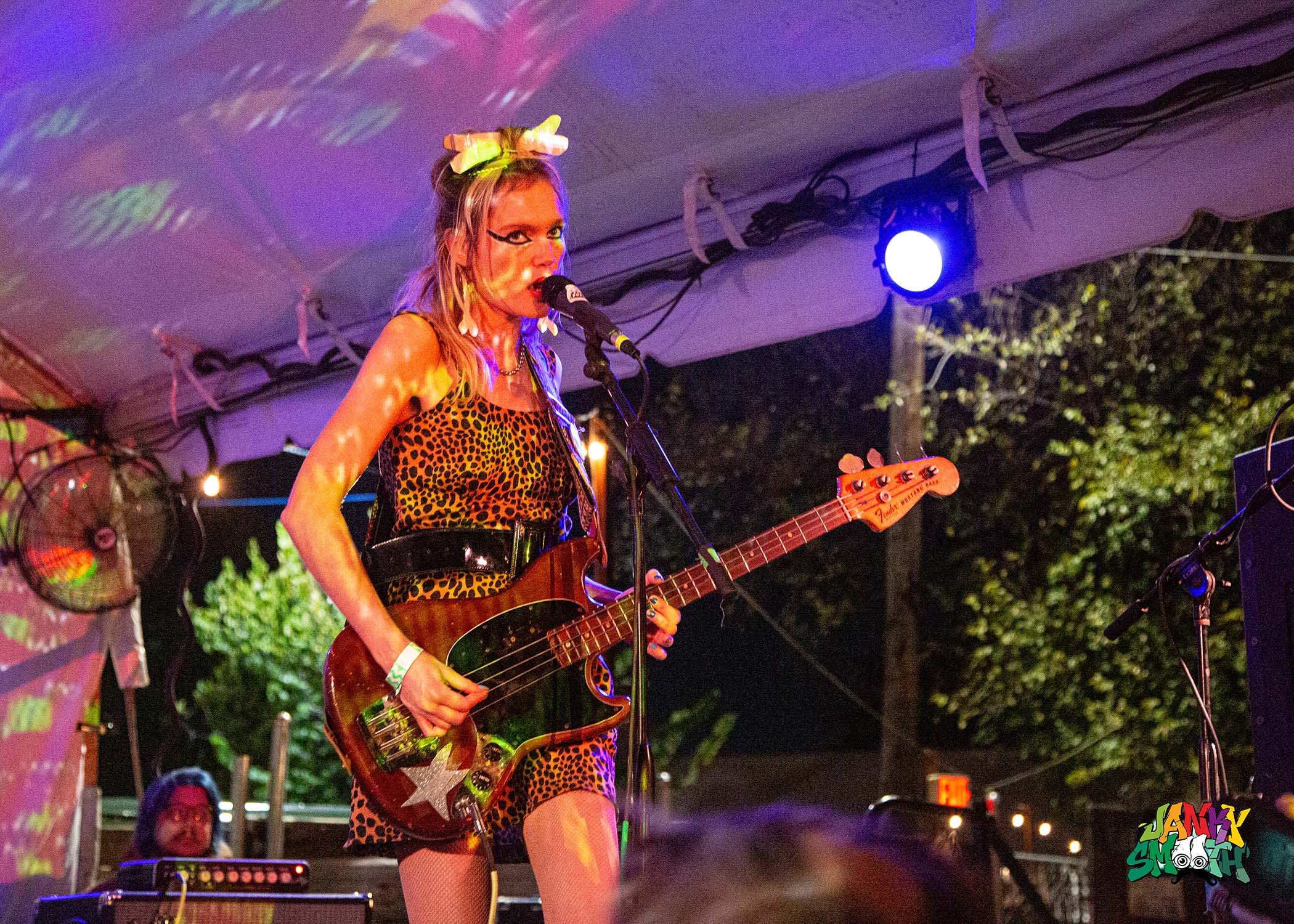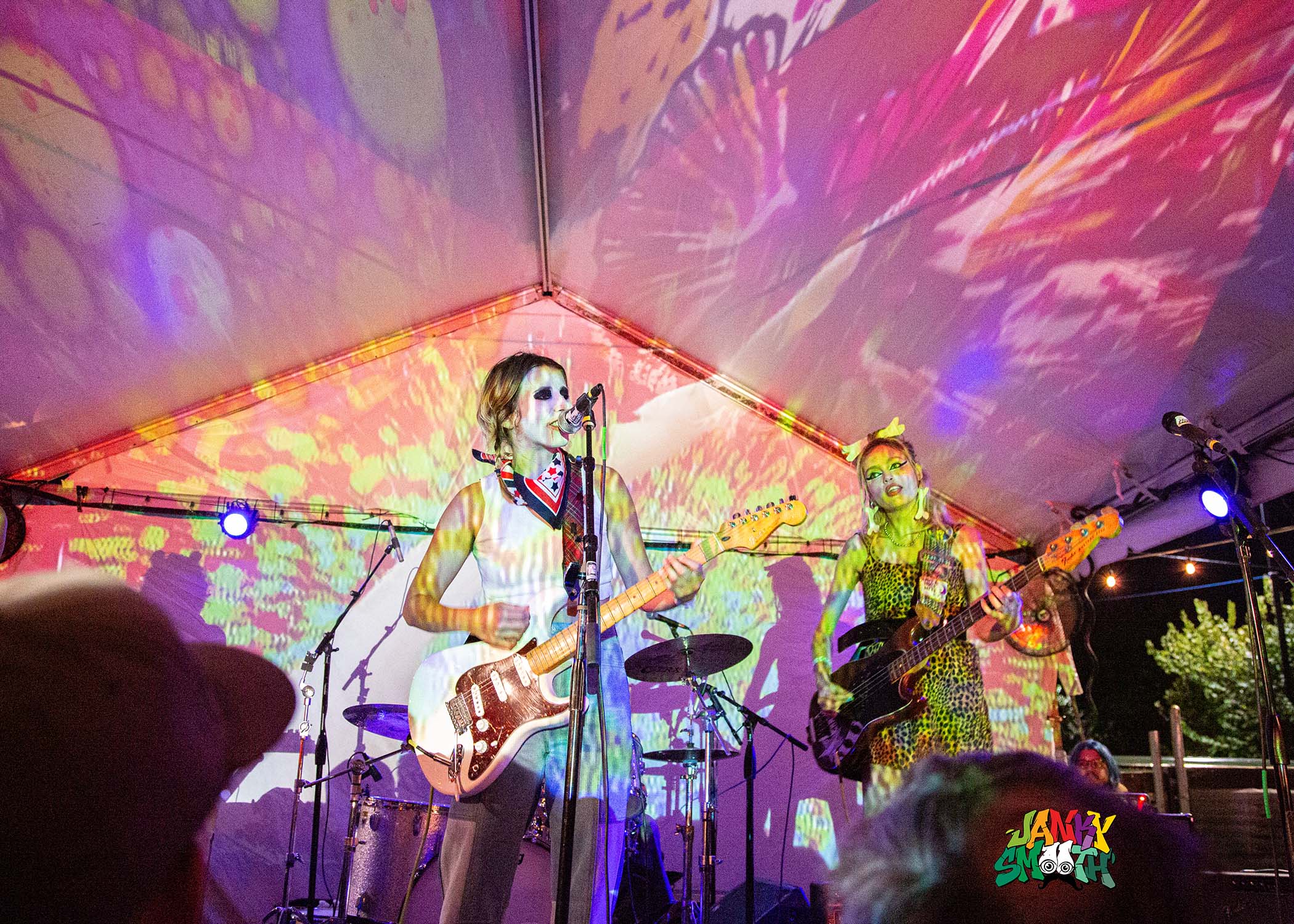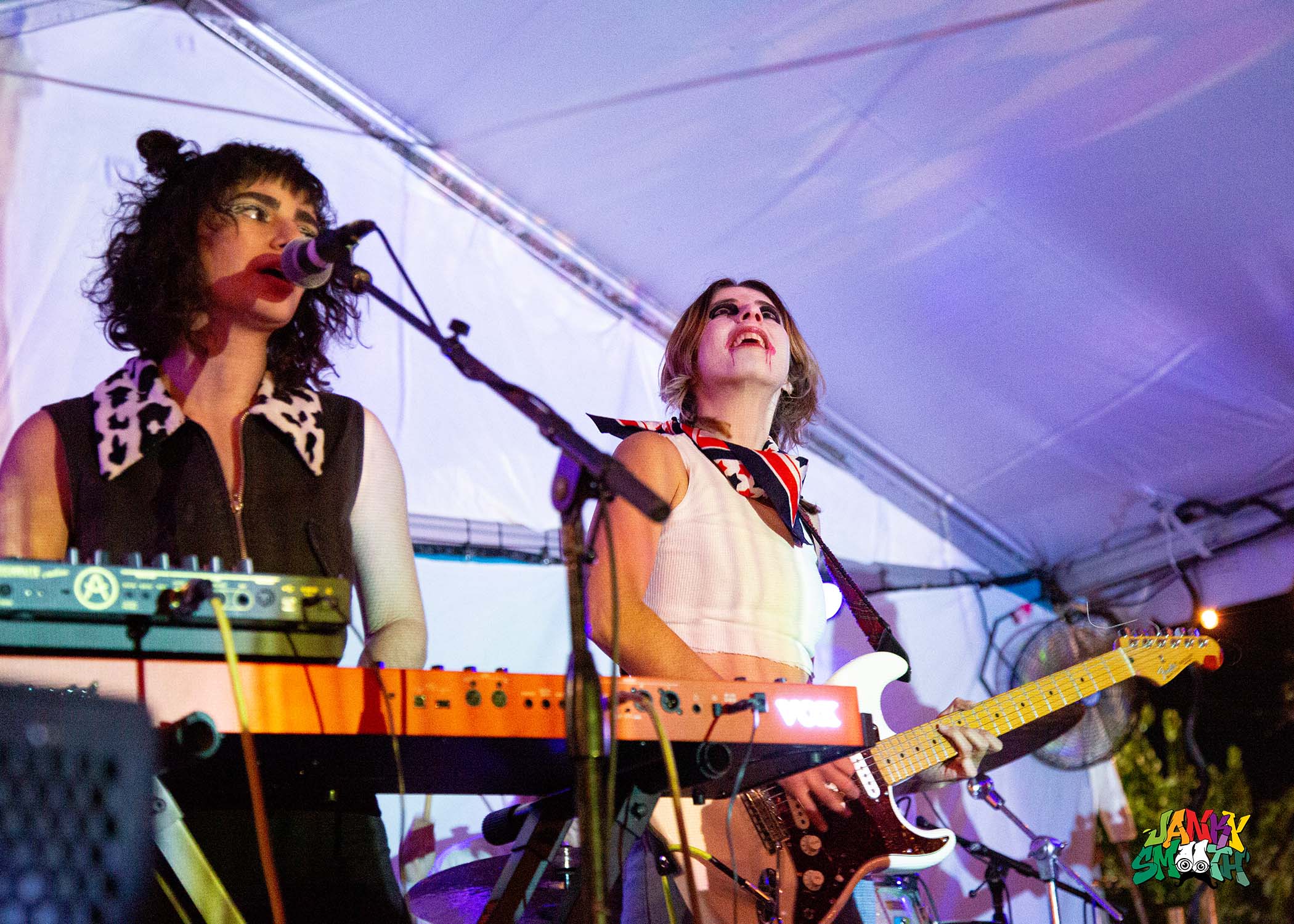 Kikagaku Moyo at Stubb's
We ran for our lives midway through The Paranoyds set like crazed demons, faces painted streaks of red and black determined to see one of our favorites 'Kikagaku Moyo'. We did not want to miss one of the most beloved and celebrated international acts for years around now. Frazzled faces continued to emerge from the crowd for just long enough to digest what they were hearing and maybe some extra fungi before storming back towards the front to witness the otherworldly spectacle in psychedelic experimentation that is Kikagaku Moyo. Spellbound travelers on a rollercoaster to another solar system just trying to comprehend something both beautiful and absurd. Heavy psych grooves woven into gorgeous folk foundations that just don't stop modulating into further and further realms. It is no wonder that this humble band from Japan have become such a sought-after show to attend. Nor was it surprising that they played back to back nights at Stubbs and the Empire to packed venues that still wanted more. It felt like a weird dream that would not quit evolving as the band switched focus from different tones and inspirations in an awe-inspiring cohesive way.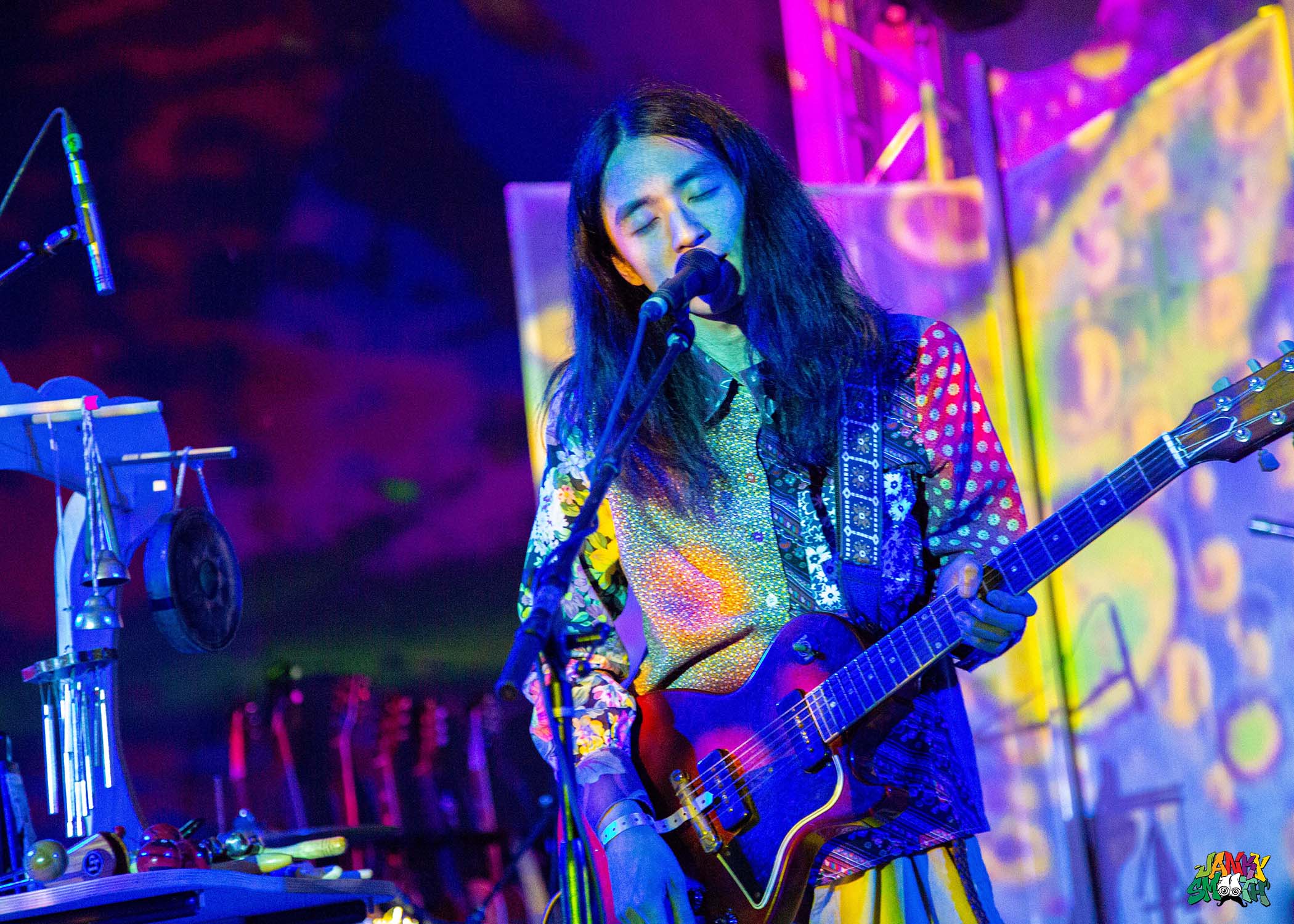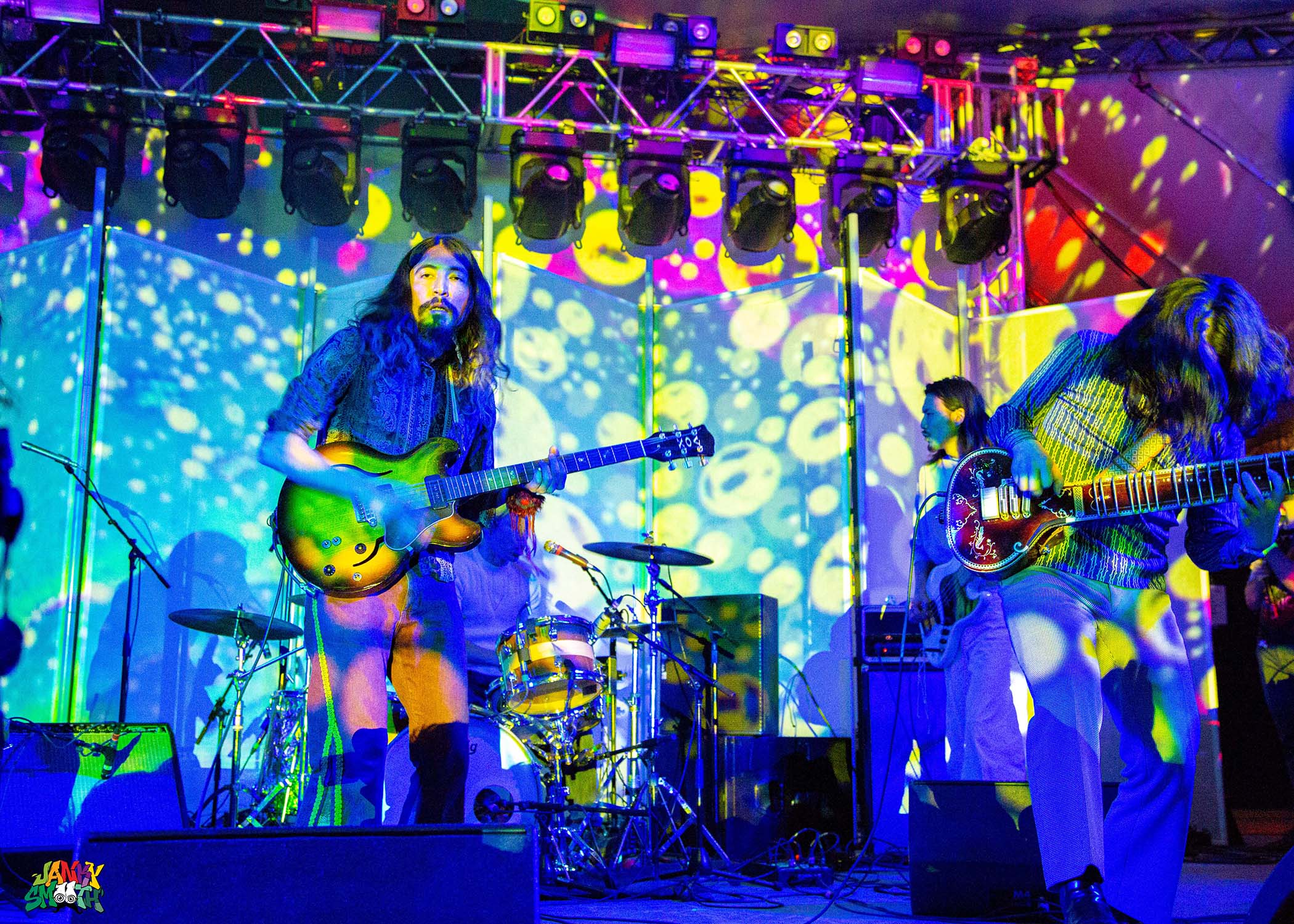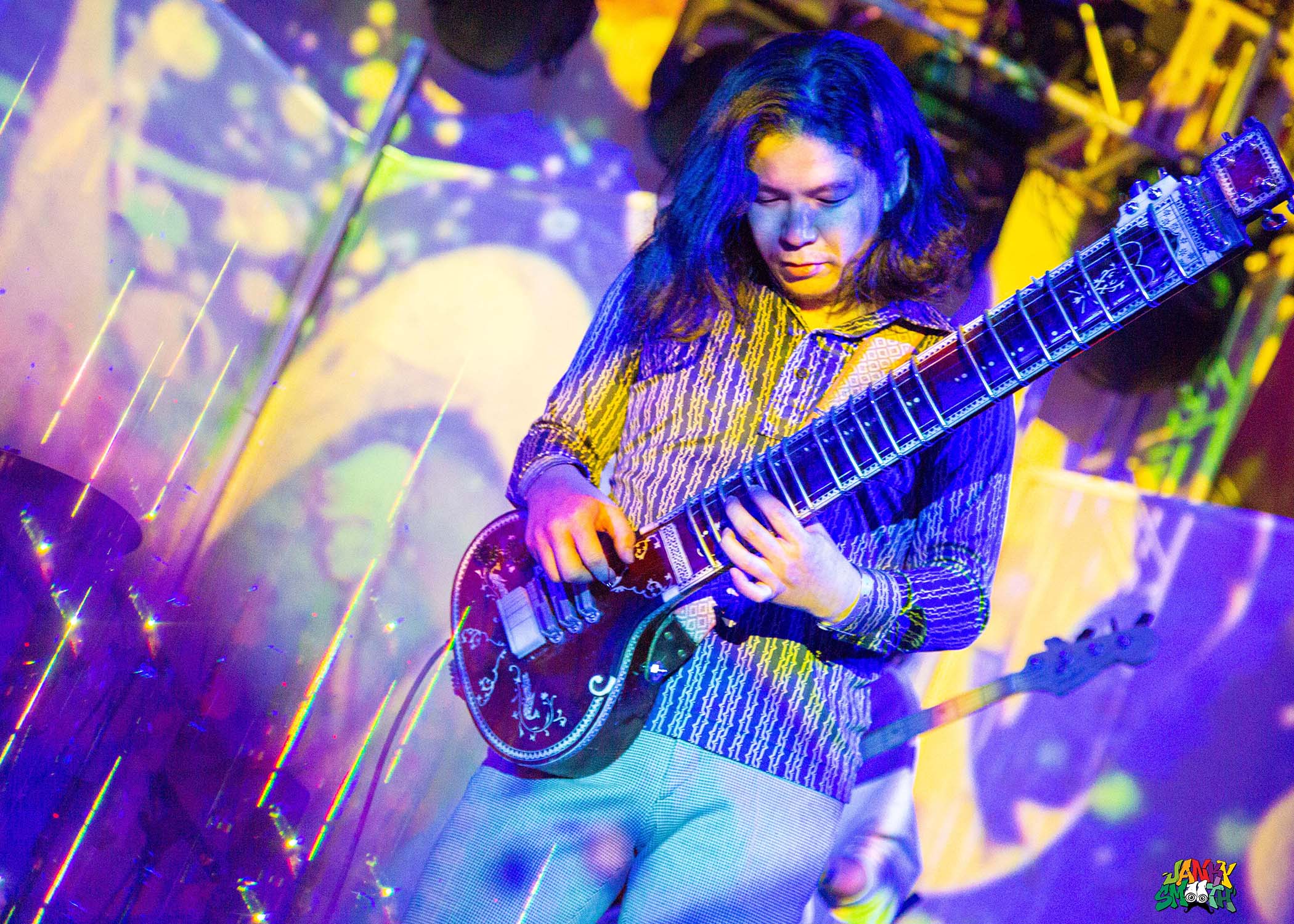 The Black Angels at Stubb's
Dark overlord warlocks of Levitation, The Black Angels take the stage getting ready to close out Stubb's with flash, bang, and Alex Maas signature haunting howls. Their stage set up having white panels that lit up red and blue behind them was a palate cleanser from their usual projections. Their setlist switch up of what would usually be played at their end of set from past tours 'Young Men Dead' called out to the wicked spirits to come play and set the scene. They debuted a sinister sounding 'Revolver' which gave us a gritty glimpse into the new record direction. The anticipation for the new album is rising like blood thirsty Nosferatu.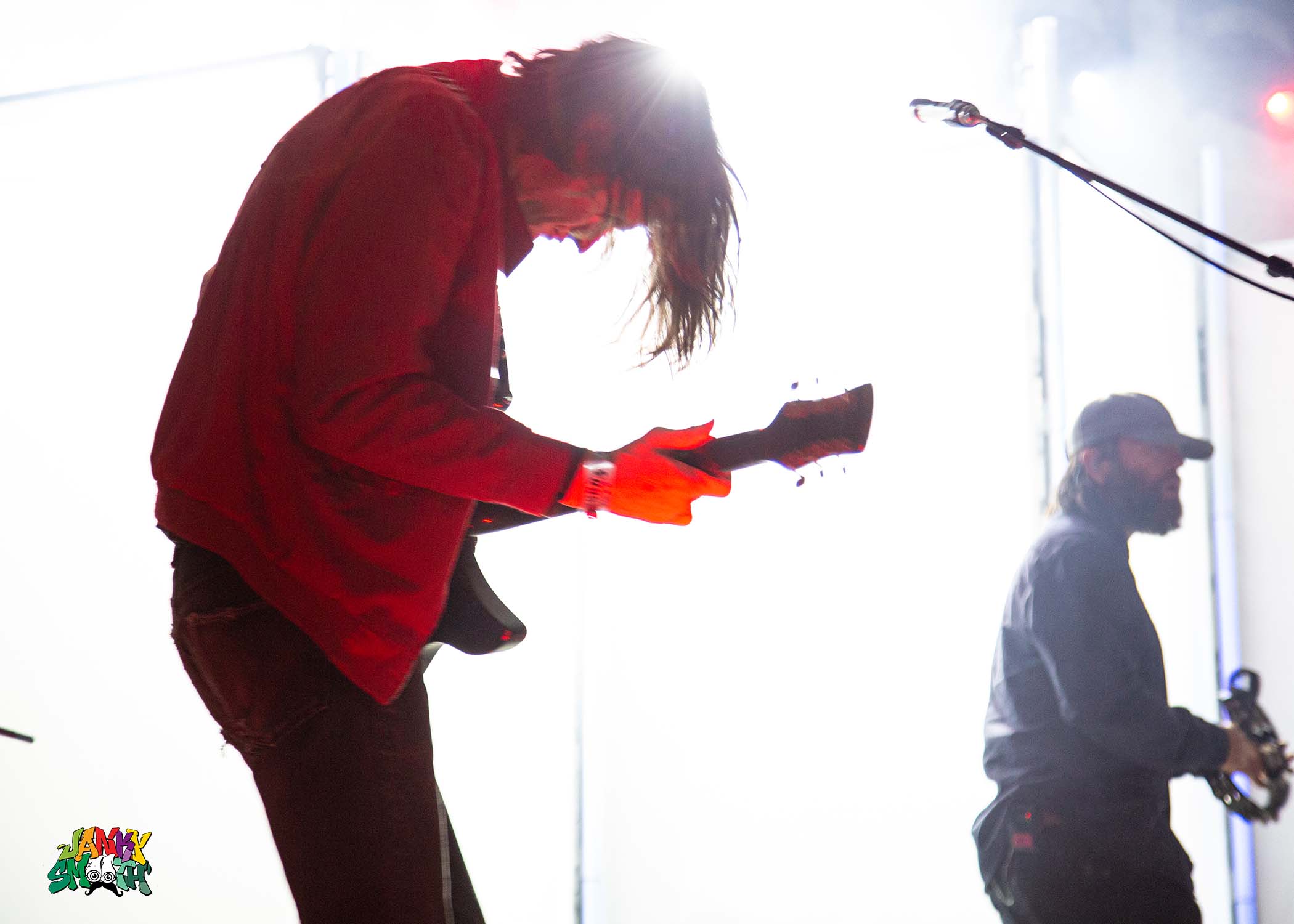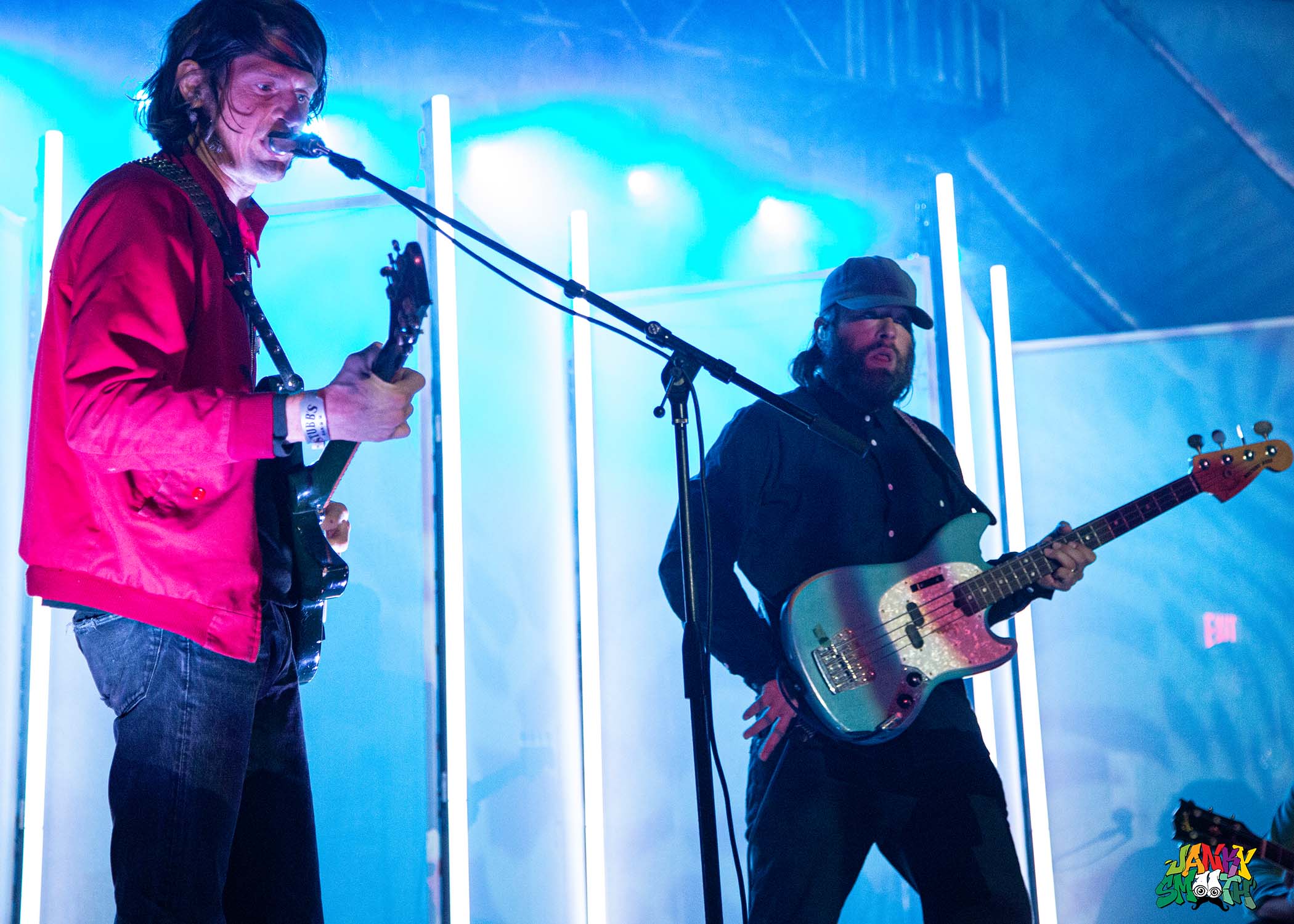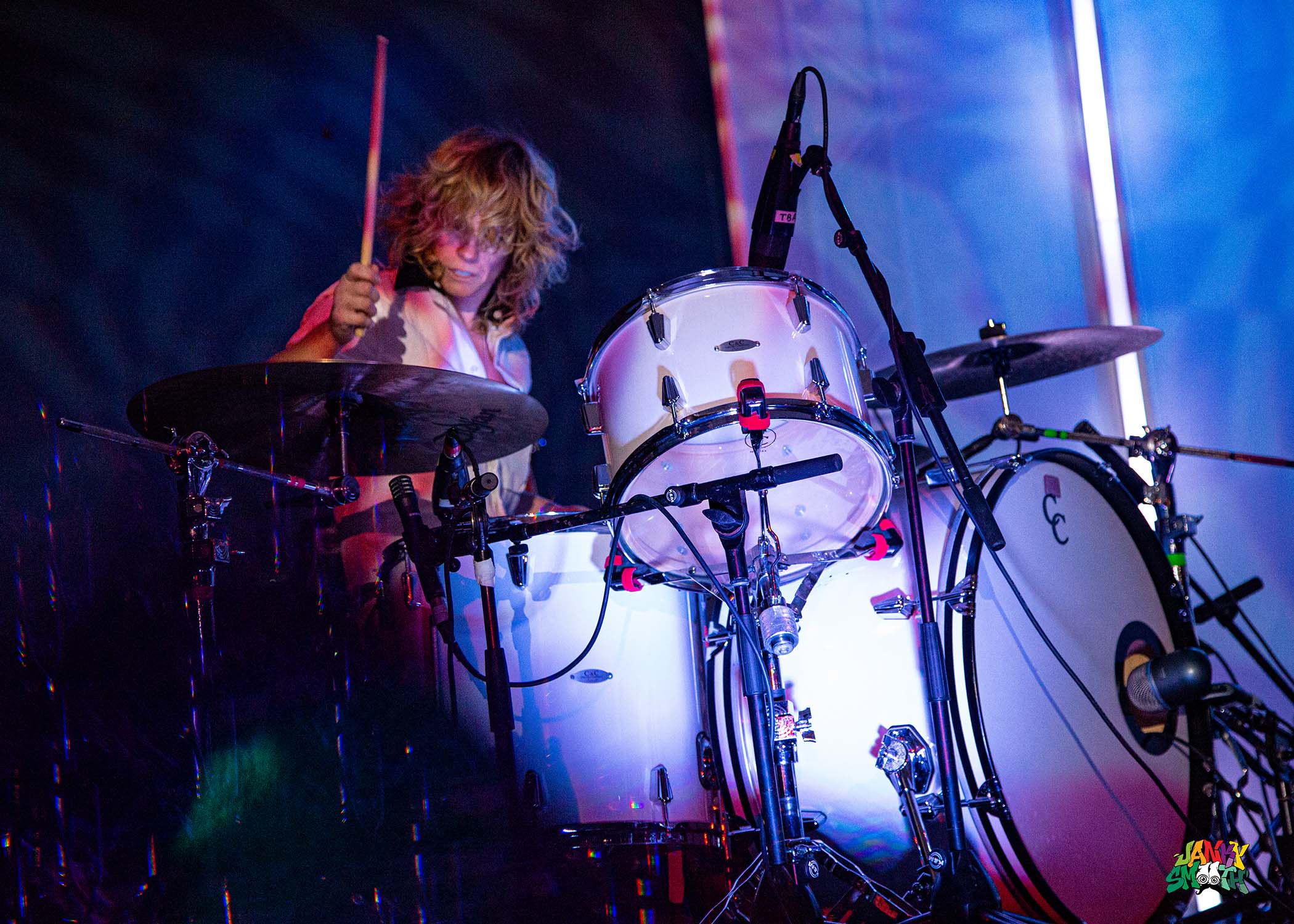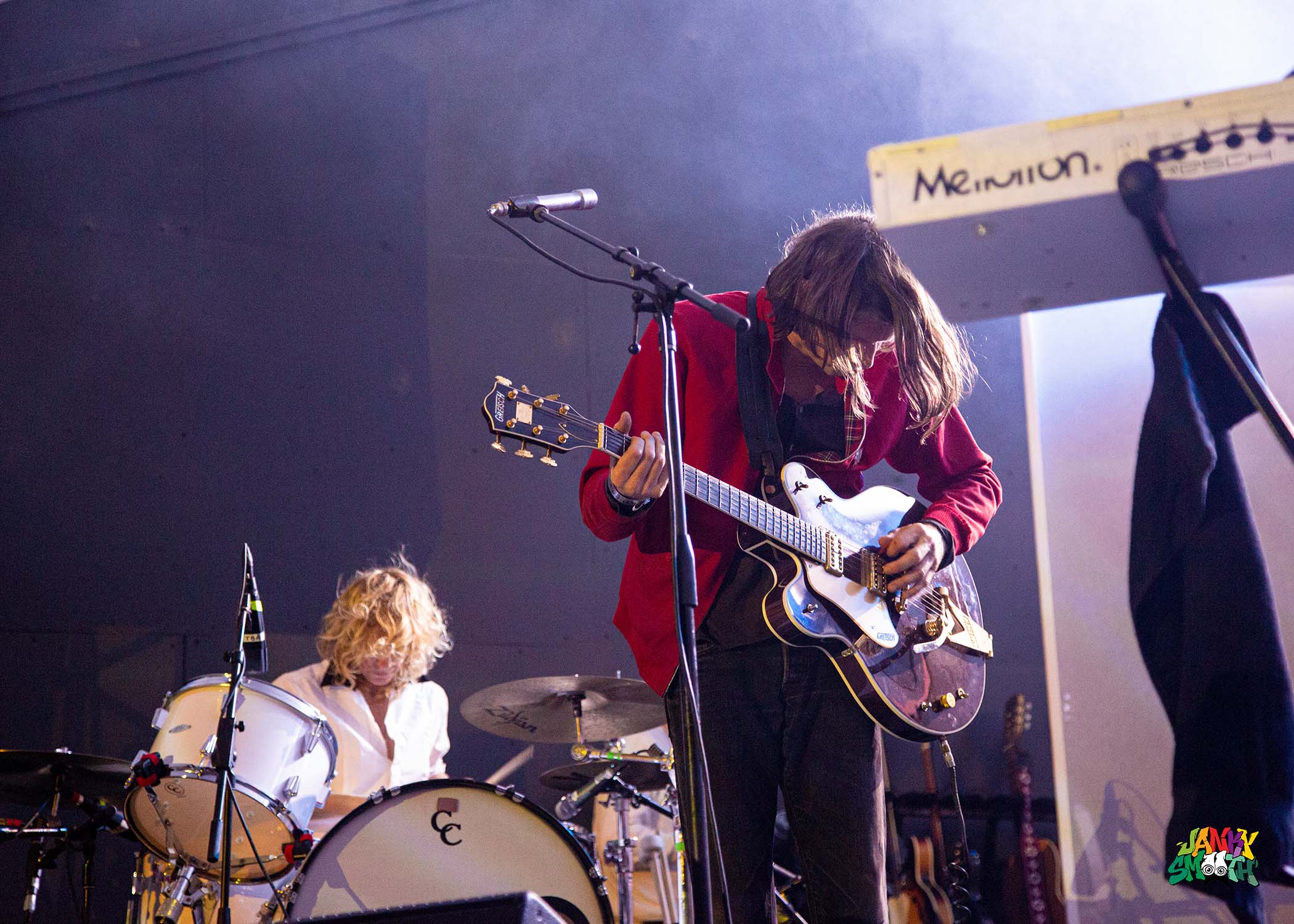 La Luz at Hotel Vegas
We barely caught the last bit of La Luz's set running over from Stubb's, but that last dew drop of La Luz set was worth the mad dash to Hotel Vegas. To add to that Halloween flavor of 60s Italian horror soundtrack meets Tarantino flick attitude, we needed a taste of La Luz at the end of the tunnel to cross the astral plane safely that night. Shana (Crawdad) Cleveland (guitar, vocals), Alice (keys), Lena (bass) tight musicianship gave the crowd the hypnotizing feeling to sway and dance in their costumes. Lightning bug costume caught my eye and truly added to the mystical and DIY fun of the weekend seeing the creativity mash together under Scorpio night sky.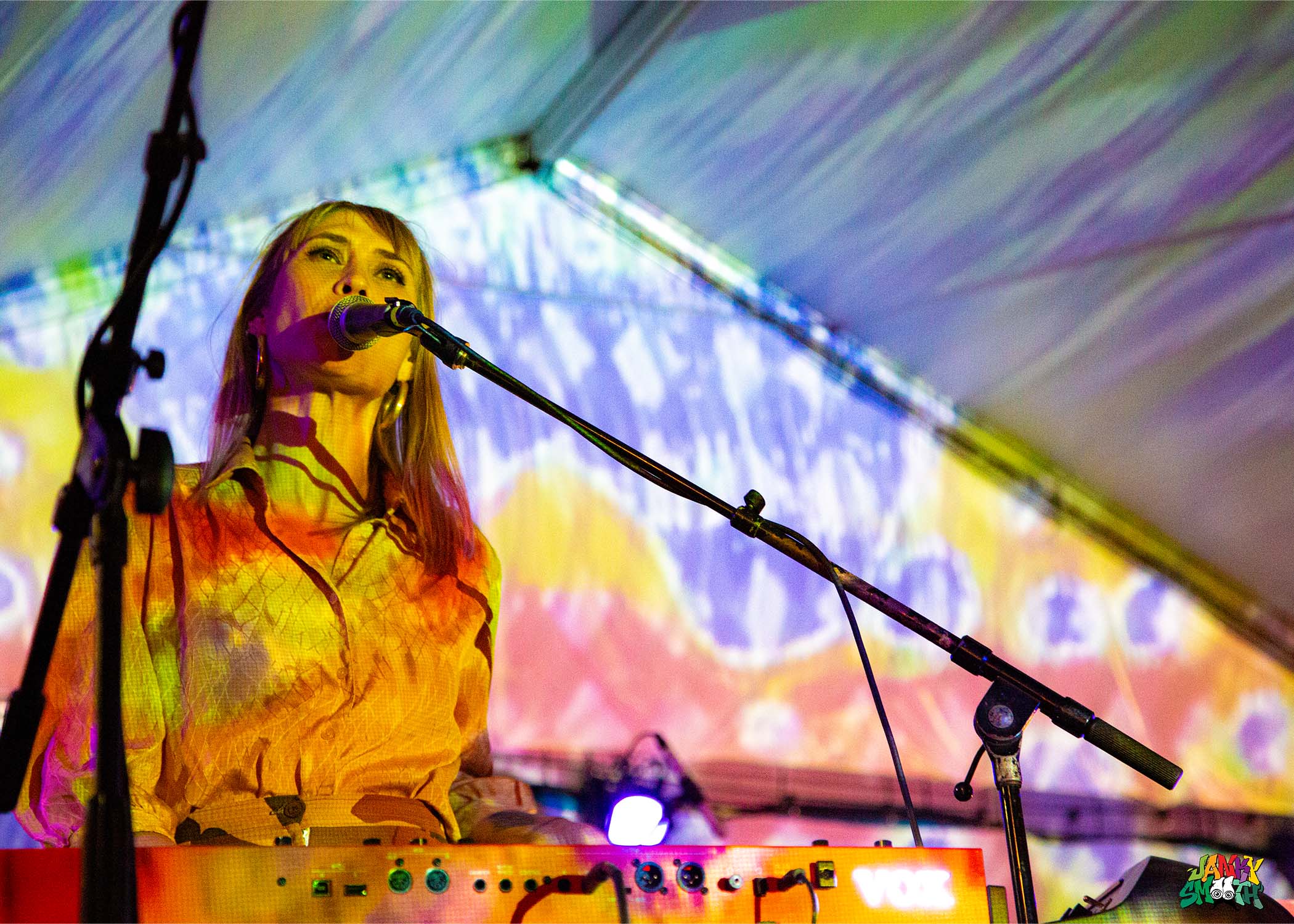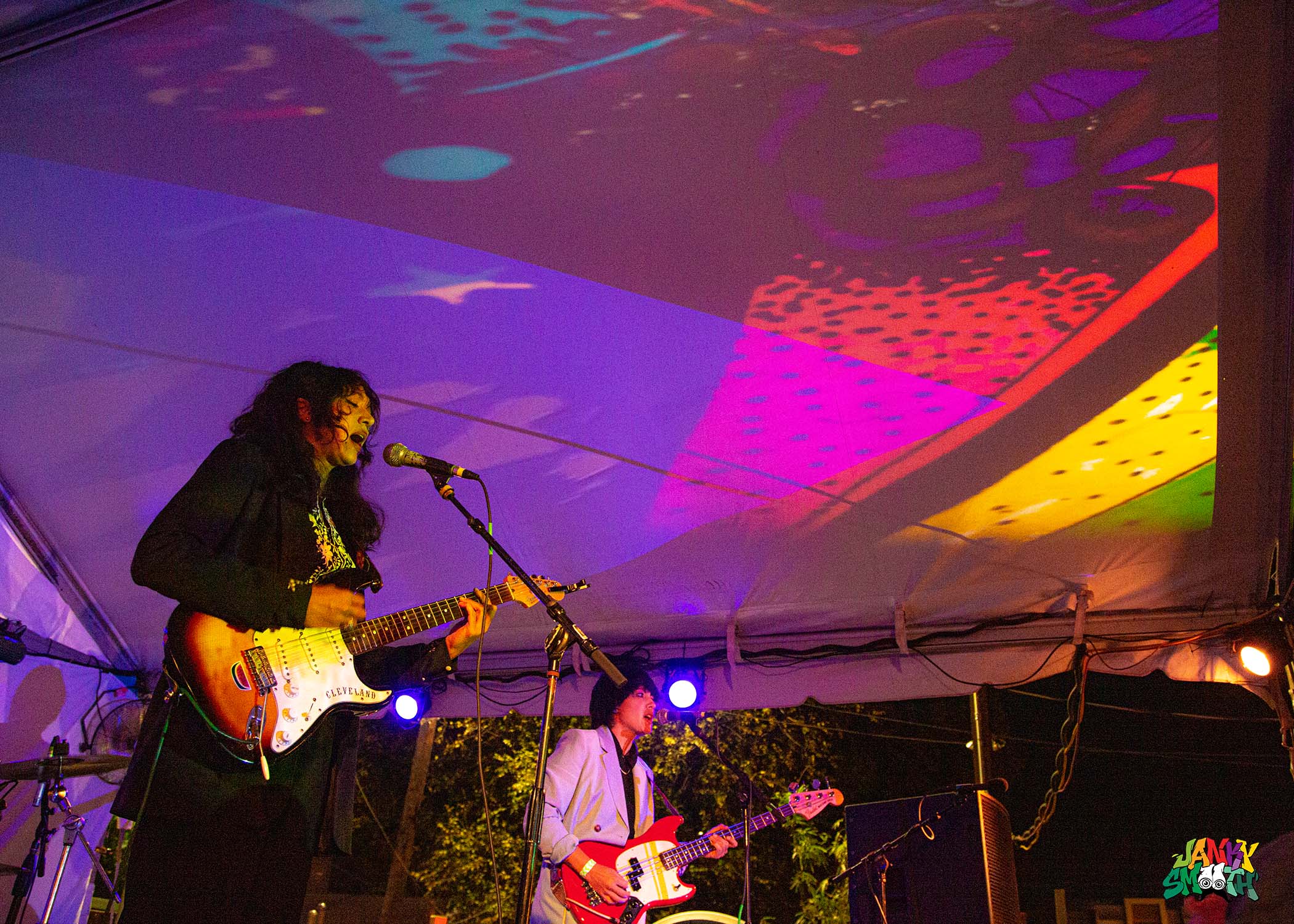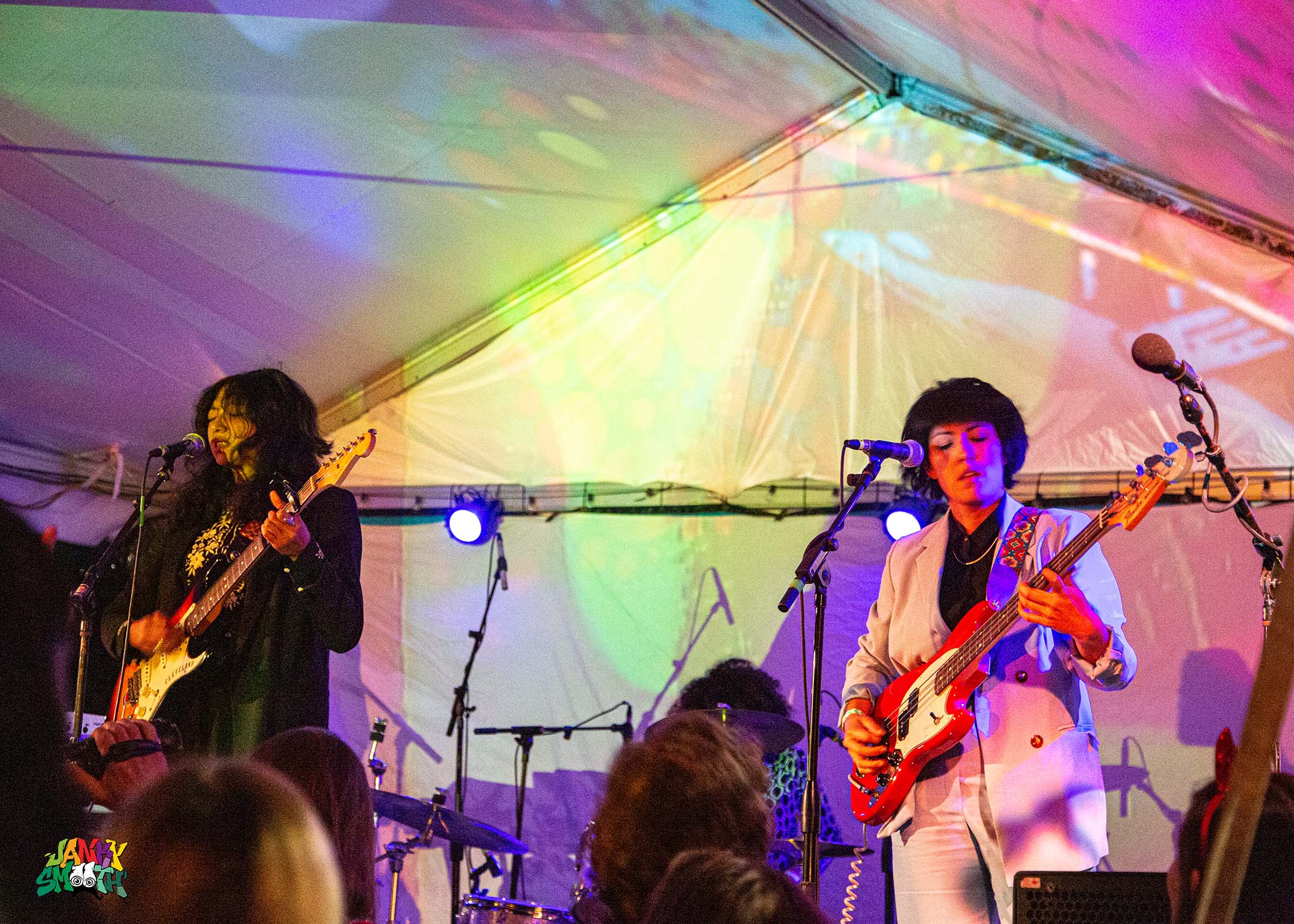 Saturday
Shannon and the Clams at Empire
Started off the night with the legendary Shannon and The Clams causing a ruckus at The Empire with their soulful 'Ozma' grooves hitting straight to the heart of those gathered in the crowd. Cody Blanchard (guitarist, vocals) wearing a witch costume adding to the wicked fun of the weekend atmosphere of bumping into ghouls and goblins alike at The Empire. Although their packed set was claustrophobic at times, Shannon Shaw's vocals for 'Do I Wanna Stay' cut right through the crowd to help you forget your body mattered, but the euphoria of your soul experience is what mattered.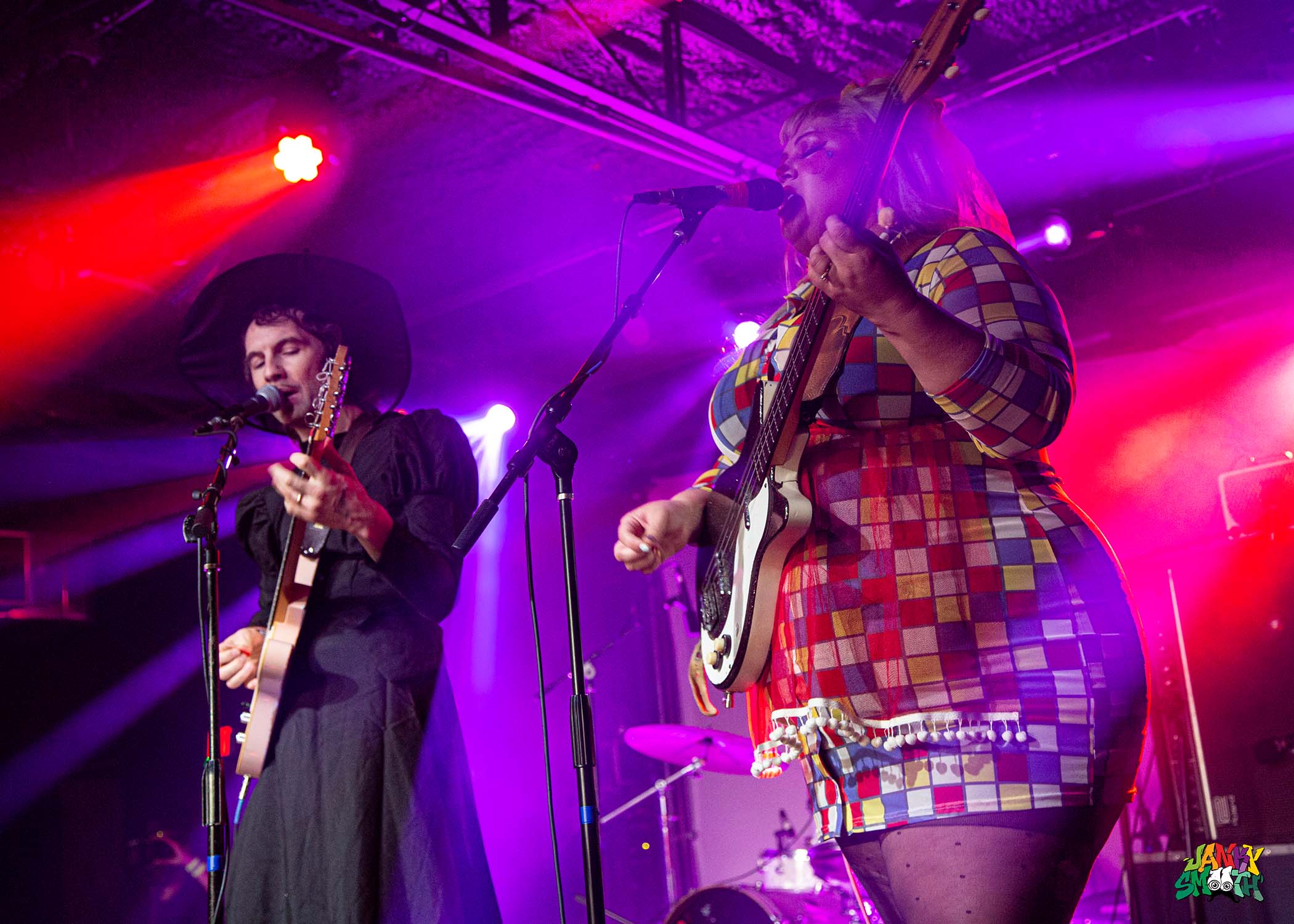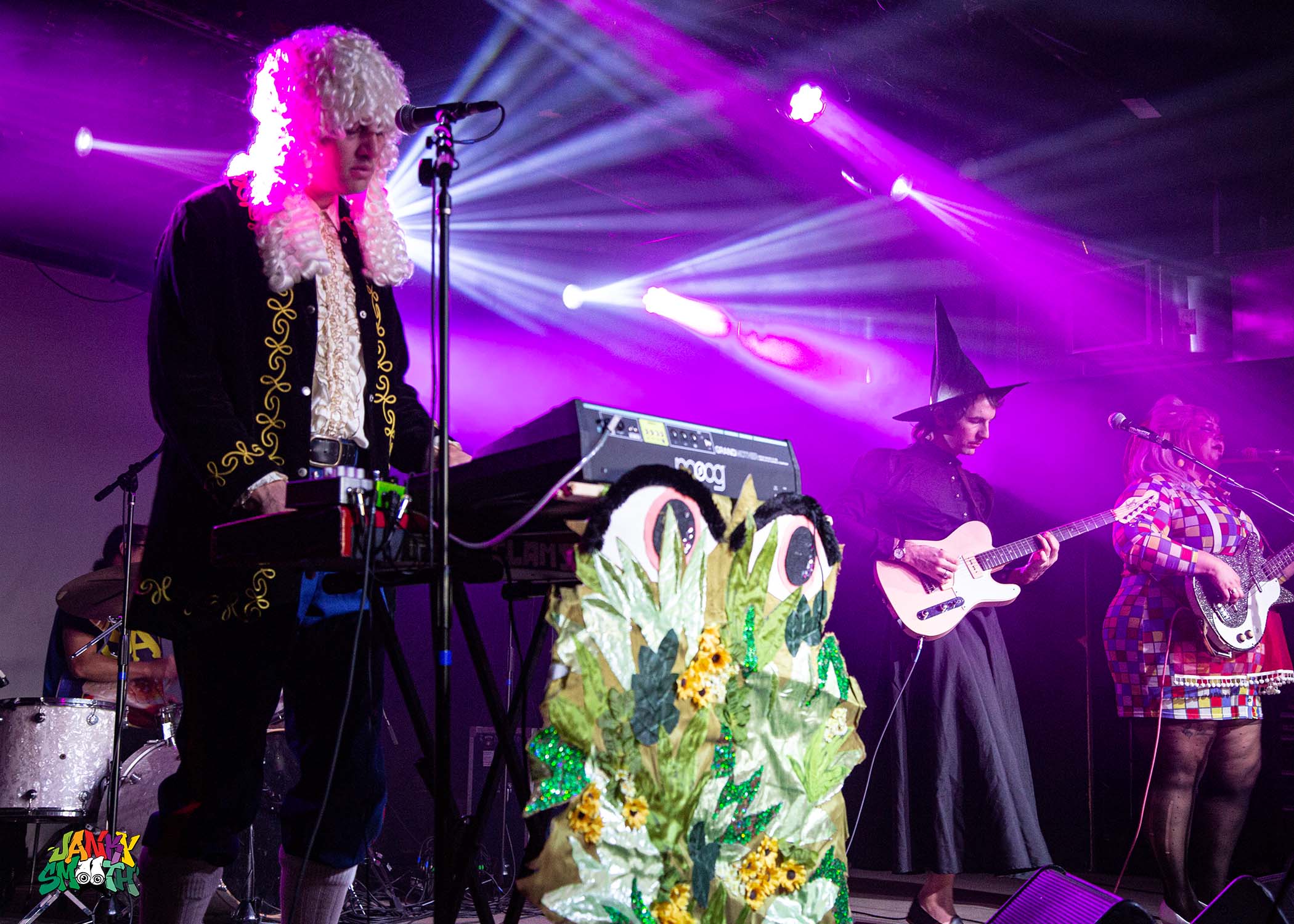 Andy Shauf at Mohawk
Folk, andpsych blending on the canvas with Andy Shauf at The Mohawk gave a tender and intimate escape from the hustle and bustle of Red River Street. Andy's voice was low, but so powerful that the crowd hushed to capture every dew drop of the moment while the band played on. You could almost hear a pin drop and that's the level of respect that crowd had for their set. The cheering that would erupt afterwards shook the walls of The Mohawk. 'Living Room' off of 'The Neon Skyline' was a stand out for me, but there were many that hit my tender heart from his collection of concept albums. 'Spanish On The Beach', 'You Slipped Away', 'Clove Cigarette', 'Quite Like You', 'Twisted Ankle' to name a few. Add Andy Shauf to your autumn playlist or if you could get your hands on vinyl, highly recommend to enjoy by candlelight!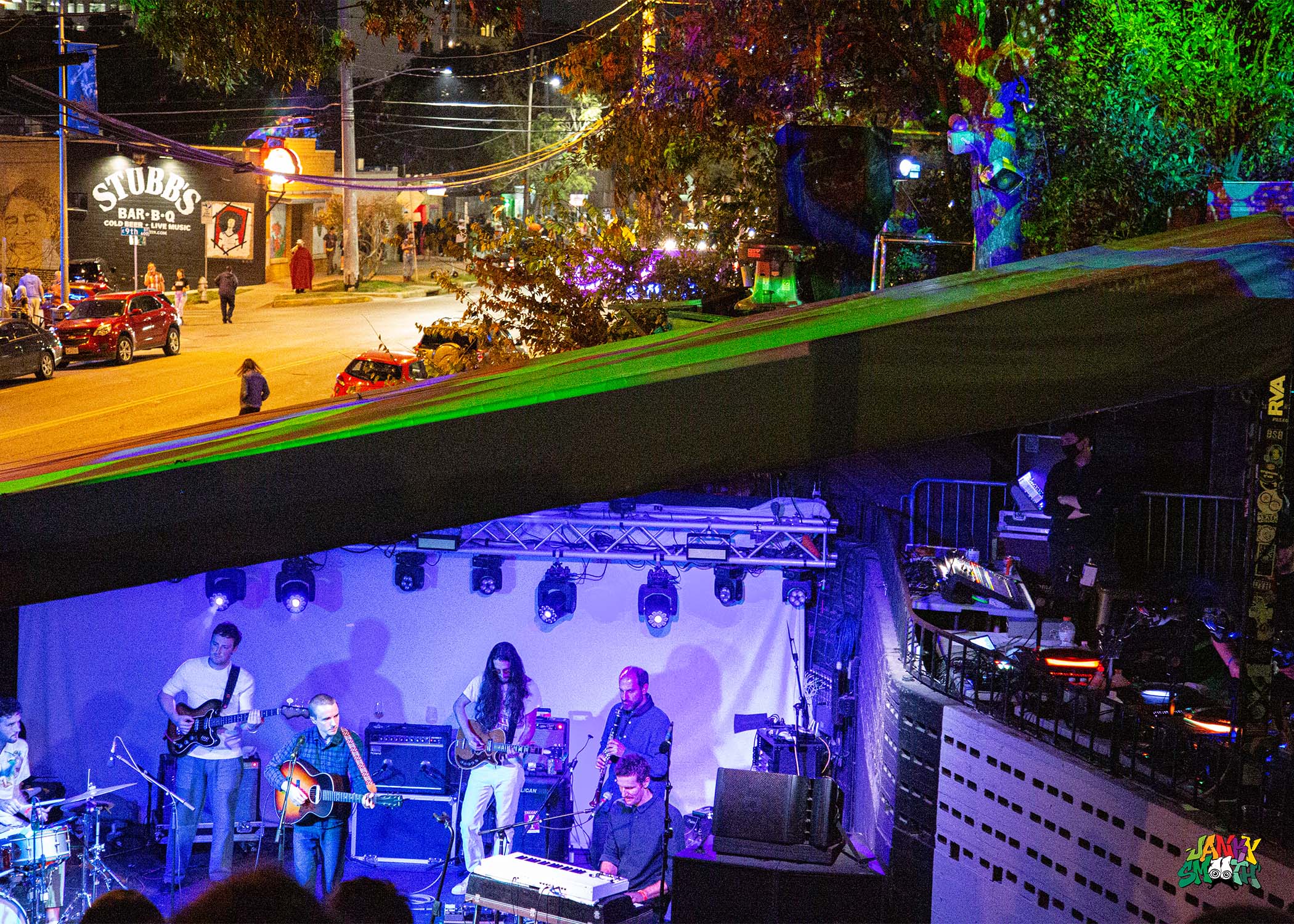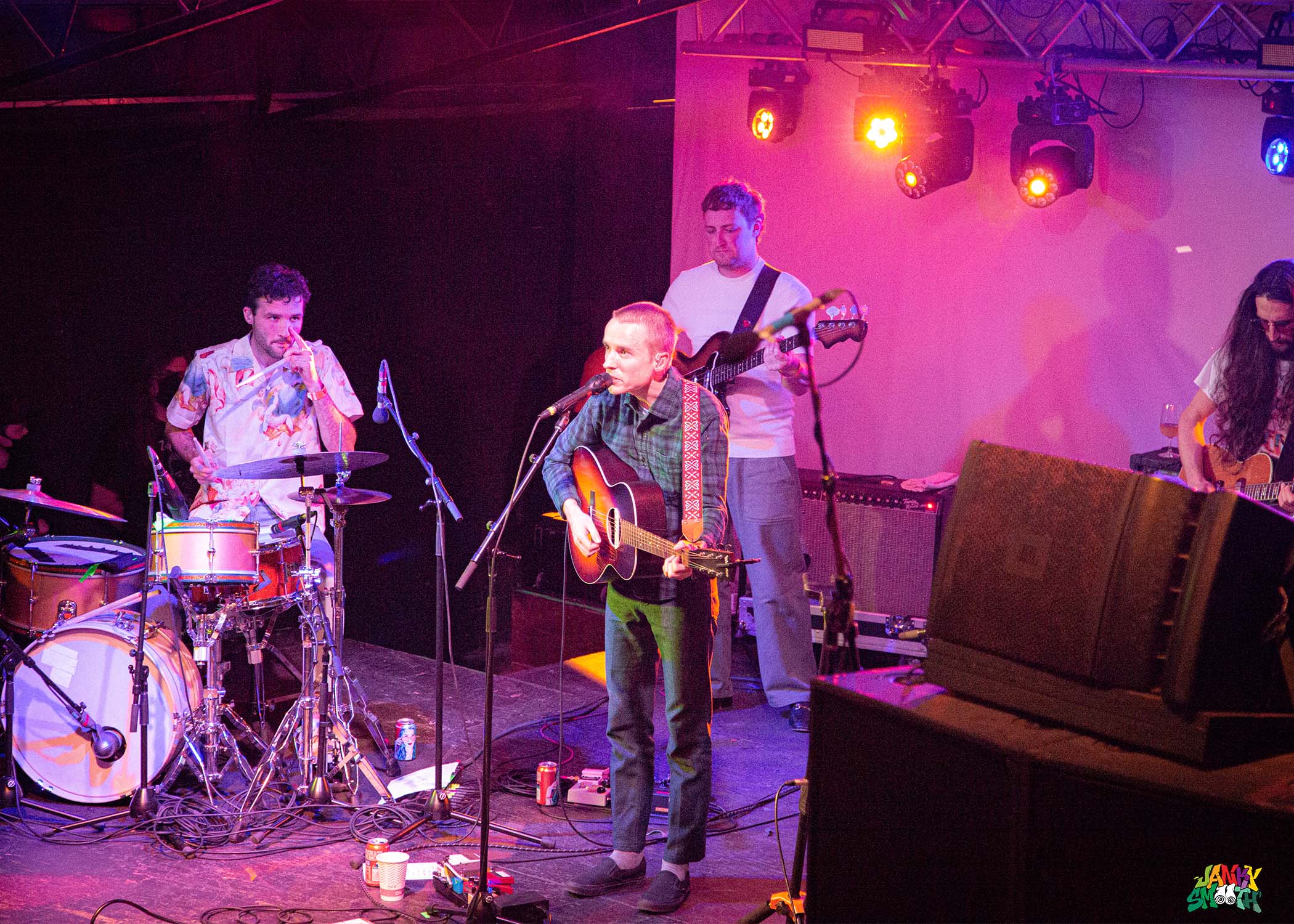 Shabazz Palaces at Stubb's
Bringing the hip hop and honoring afro-futurism flavor to Stubb's was none other than Shabazz Palaces flowing and growing in power with the crowd's reception. Giving the electrified sci-fi feel playing new songs off 'The Don of Diamond Dreams' like 'Fast Learner' and 'Bad Bitch Walking' released on Sub Pop. Juicy bass lines you needed a straw to slurp up. Calls for the crowd to move and groove were happily answered. Dig further cybernaughts and you'll see their set was meant to lift up and empower to connect to your third eye universal consciousness. Got us astral plane crossing like we were in Ishmael's version of Dune.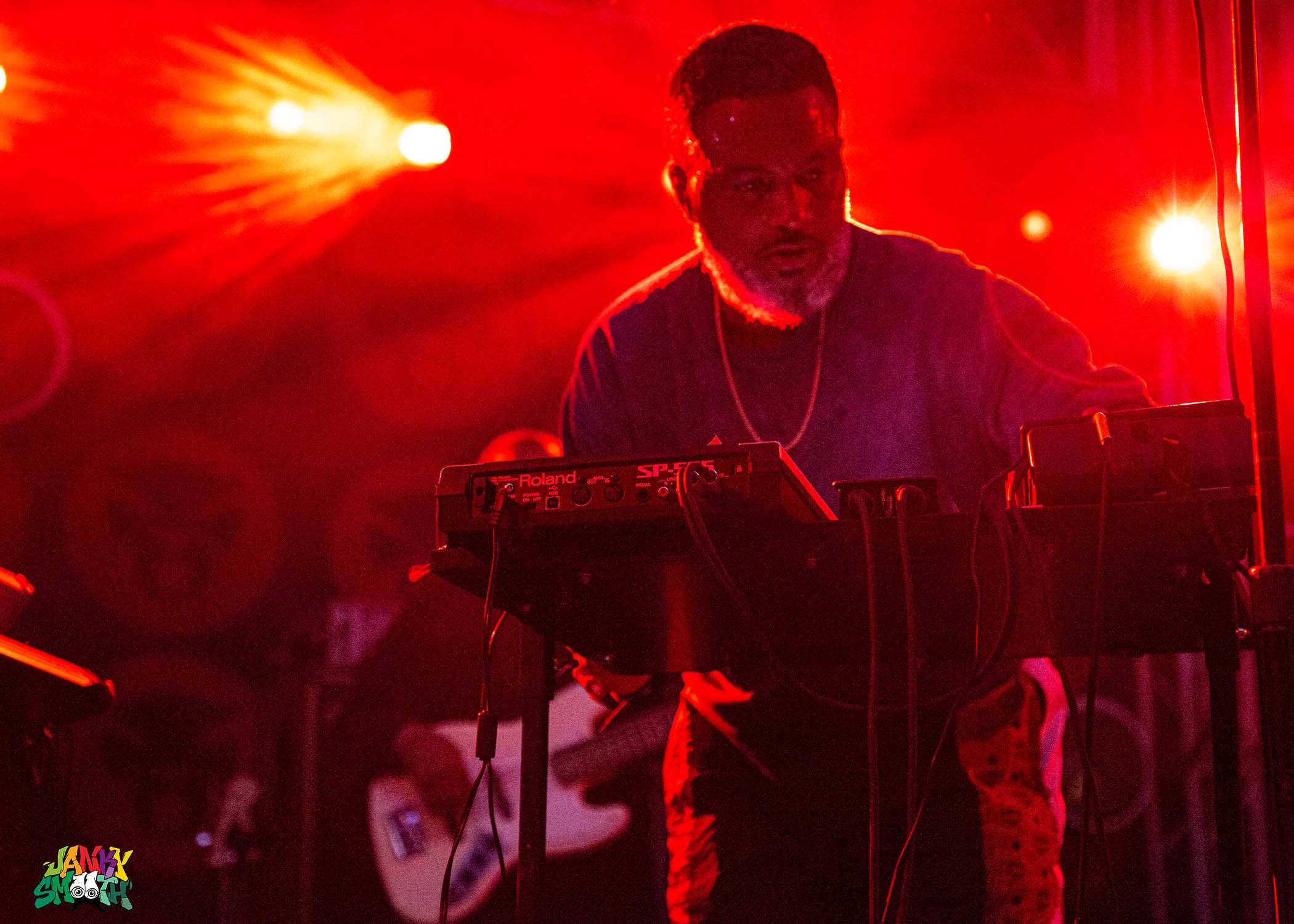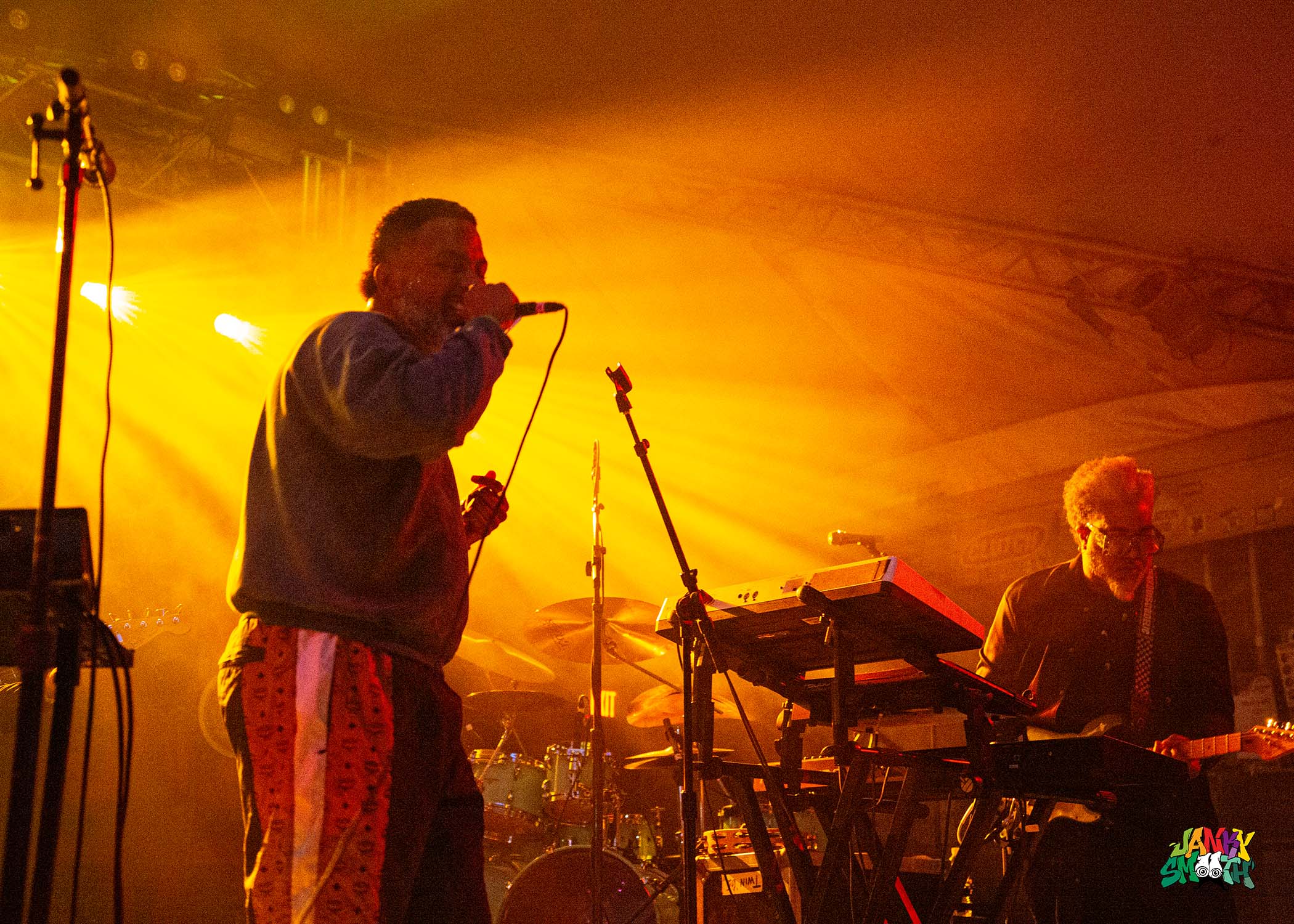 Thundercat at Stubb's
Thundercat blastoff into jazz bliss with 'Lost in Space' and 'Interstellar Love' off the new album It Is What It Is to close out Stubb's crowd real gently. It was potent mind altering instrumentation with touches of Sun Ra appeal. He dressed up in a Squirtle costume, having the most freak-out fun with his six string bass working his way up and down the neck like his fingers had fingers. Eclectic visuals paired with bewitching vocals for 'I Love Louis Cole' ignited the crowd.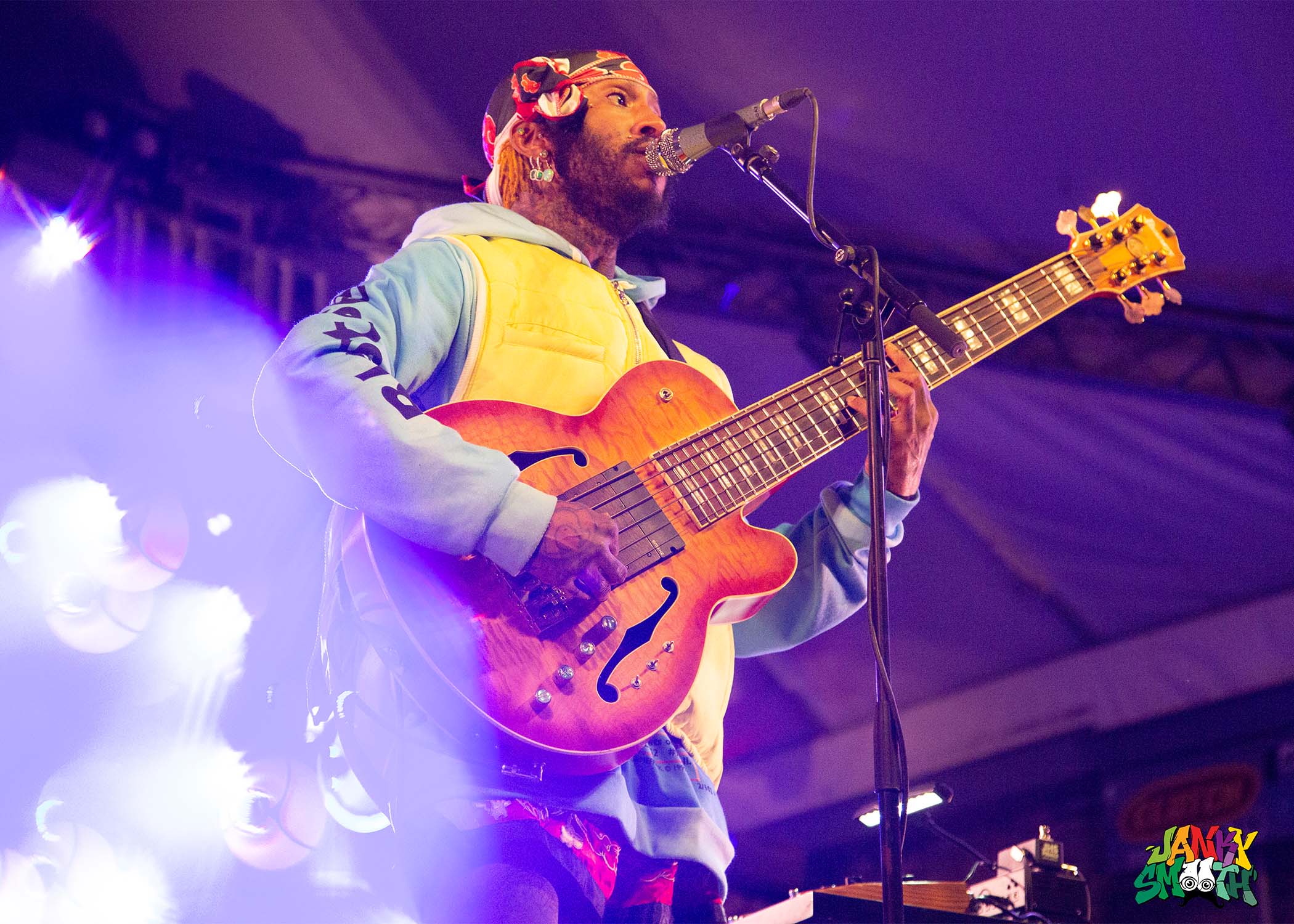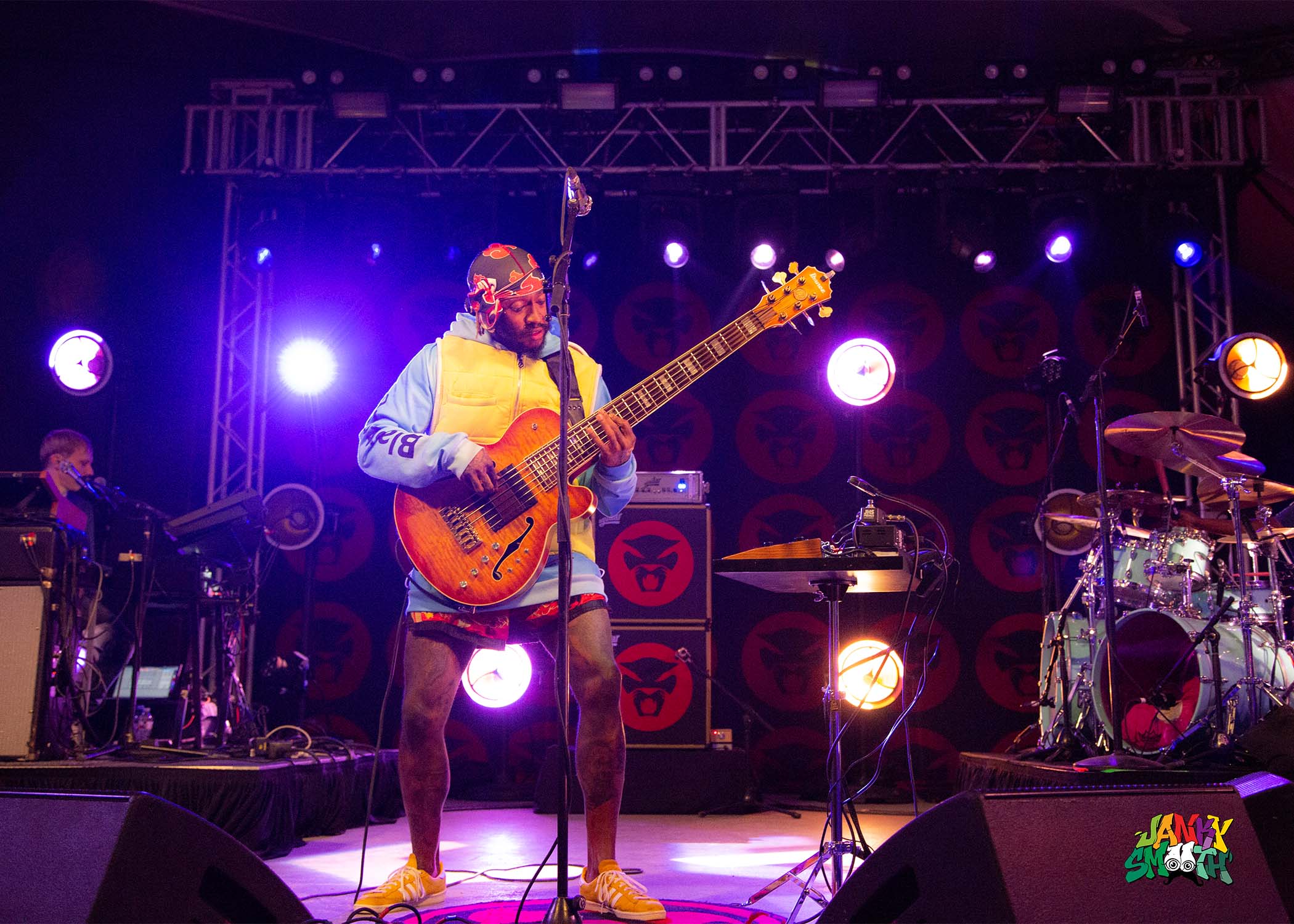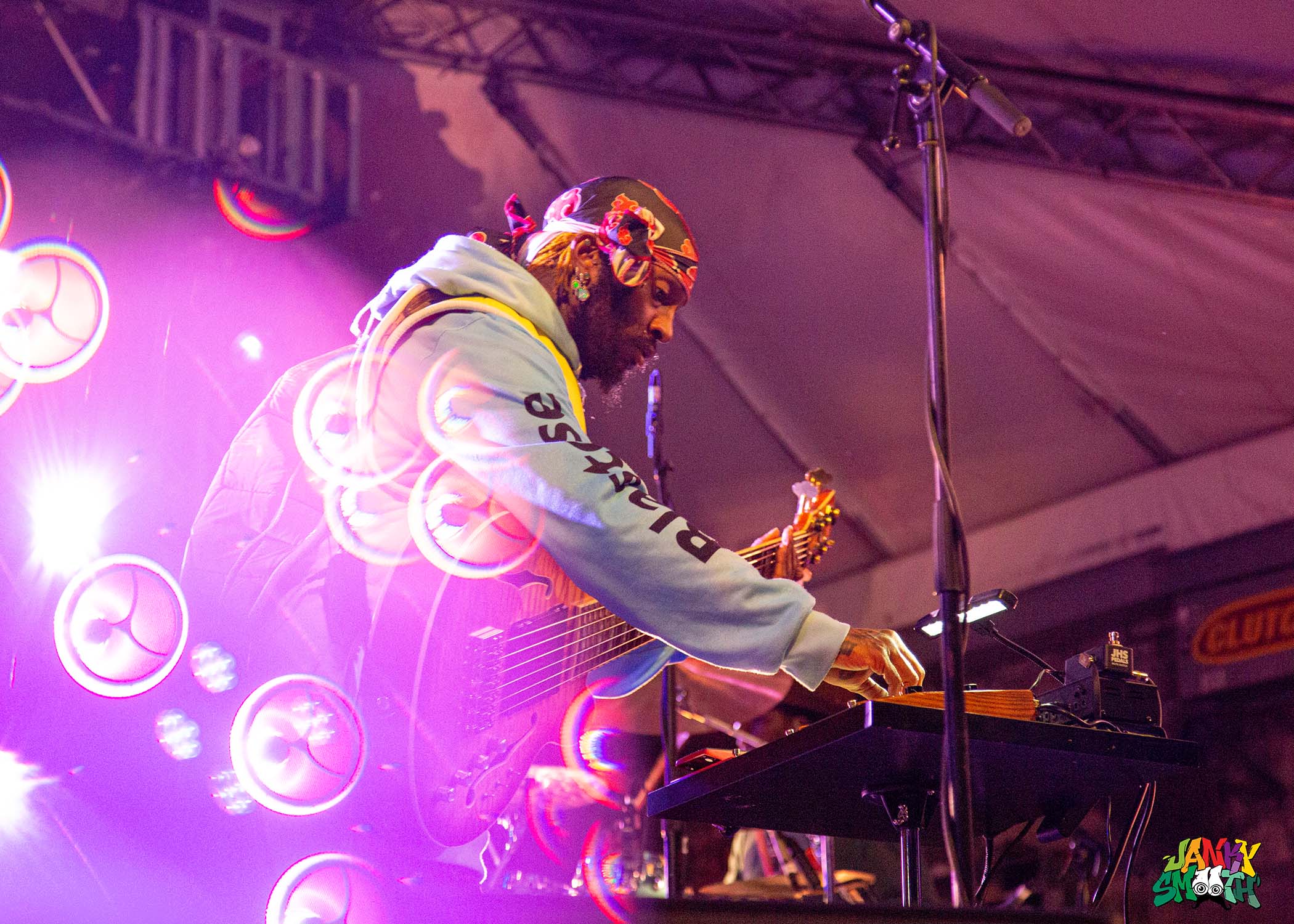 The long line wrapping on both sides of the venue checking our covid proof stats had us late to catch the last bit of Hooveriii. Gabe (sax) rang out a thunderous ending for the band with their final track 'Gone' off their Reverberation Appreciation Society release 'Water for Frogs'. Do not miss their set next chance you get when in your town!
Frankie and The Witch Fingers at Empire
We just met up for a portrait session hours before Frankie and The Witch Fingers were to take stage and pulverize the crowd into tiny bits of space matter. We spotted a group of fae fairy woodland folk group costume shimmying and shaking to 'Pleasure'. You could spot their pointy red amanita muscaria mushroom hats at all odd hours of the night and couldn't help smiling. Everyone was guzzling down 'Dracula Drug' while the punchy basslines (Nikki Pickle bass), fuzzing/howling guitar (Josh) and speedy word conjuring (Dylan, guitar/vocals) were roaring out into the crowd. Overall, I believe the spectacle could've raised the dead with all the excitement buzzing from the band that night.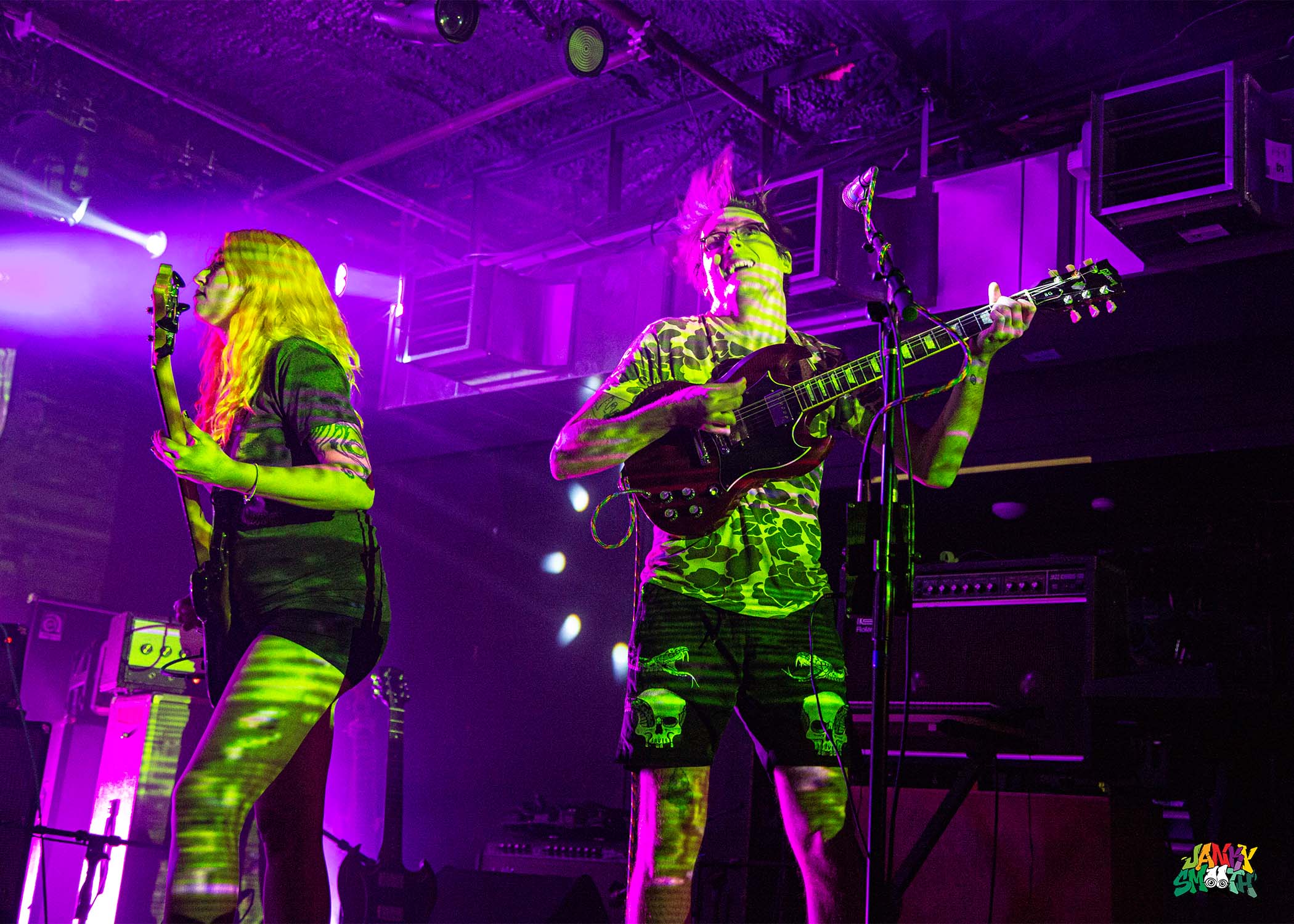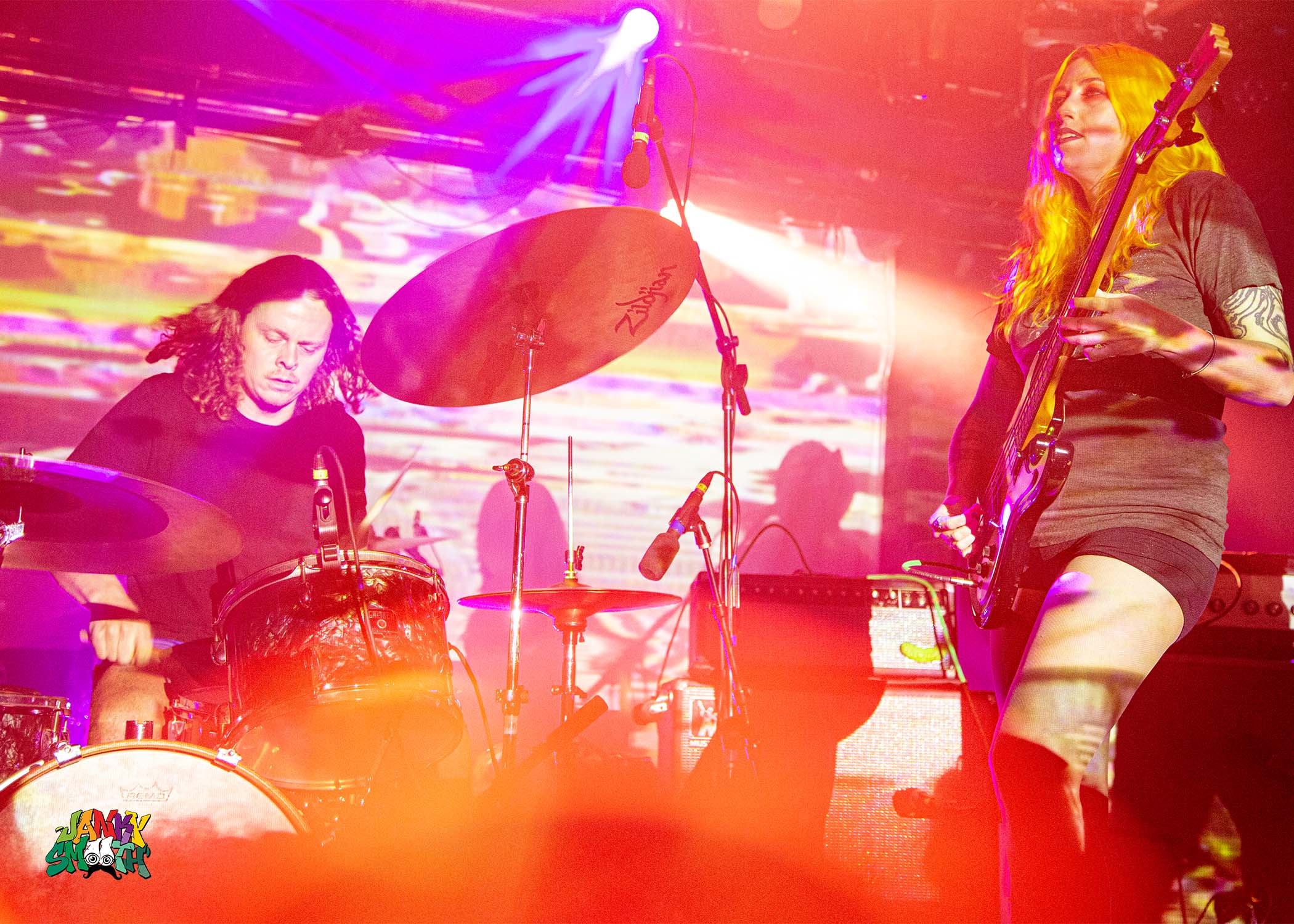 Holy Wave at Empire
Levitation vets, Holy Wave, were playing their set indoors at The Empire giving the melting late night crowd the ability to transcend in good spirits. A concert attendee in a Spaceman costume in the crowd bobbing his head to the chest rattling bass lines in 'Schmetterling' was a synchronistic moment as the projections lit up behind him reminding me to fly off into space. Mellow, droning keys and tympanic jazz melodies were a beautiful reminder to take it all in the moment is precious and fleeting.
Kikagaku Moyo at Empire
Levitation favorites ' Kikagaku Moyo' gave their second performance of the festival at Empire and commanded the presence of that stage like no other. 'Smoke and Mirrors' built up so vividly with Go rumbling drums, Tomo gentle folk vocals, Ryu Kurosawa majestic wavy sitar, and soul quenching Daod (guitar) shredding lightning fast on his guitar cutting through it all and fading into wah bliss.
Acid Dad at Empire
Closing out the night with Reverberation Appreciation society highlight 'Acid Dad' gave the crowd a riotous spirit, yet mellowed out feel. Cheeky songs like 'BBQ' and 'Searching' off their album Take It From The Dead had the crowd dancing foolishly and winding down nicely after a stacked SOLD OUT bill at The Empire. The swirling color saturated projections/VFX from Webb Hunt melted the band further to fade out.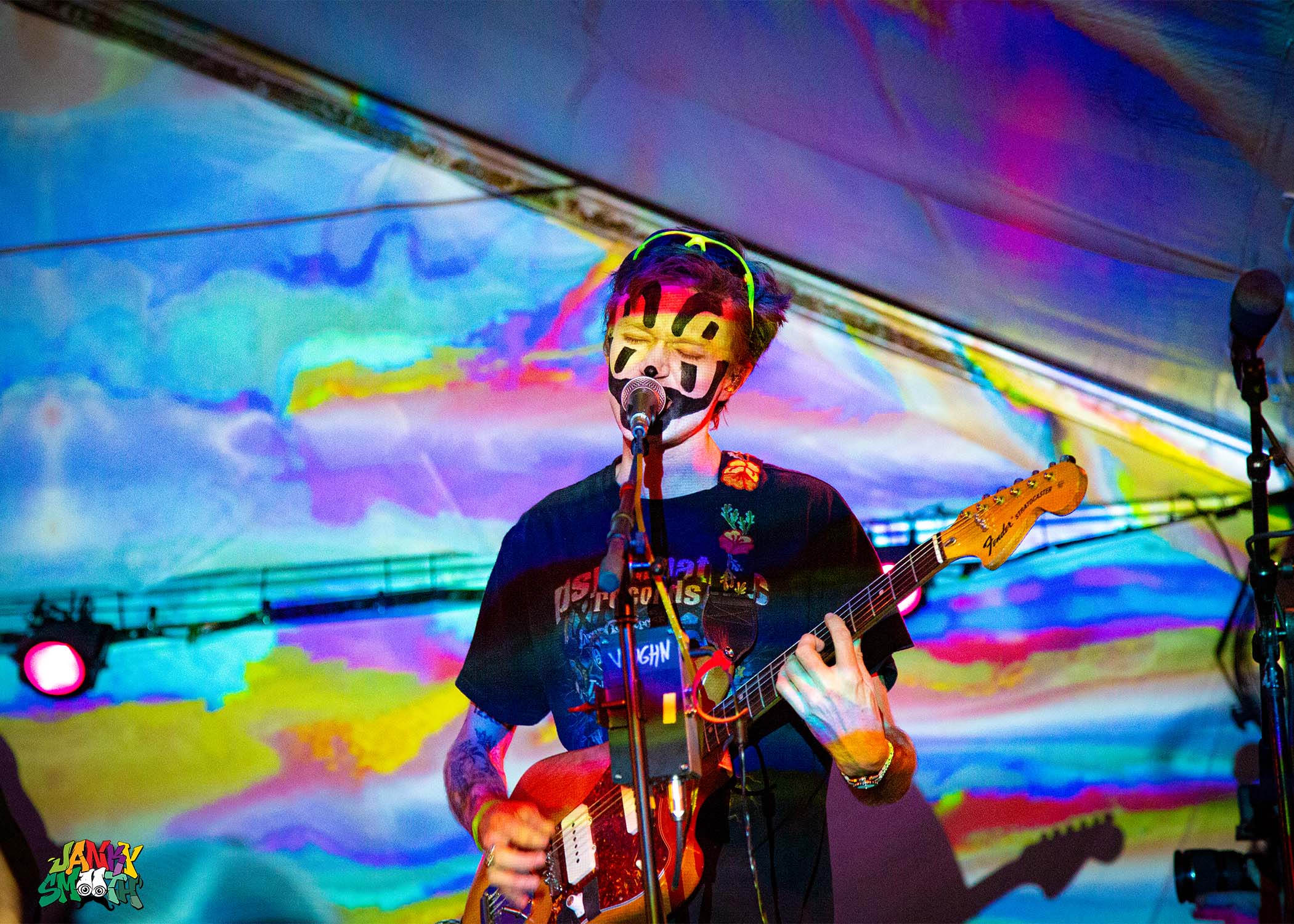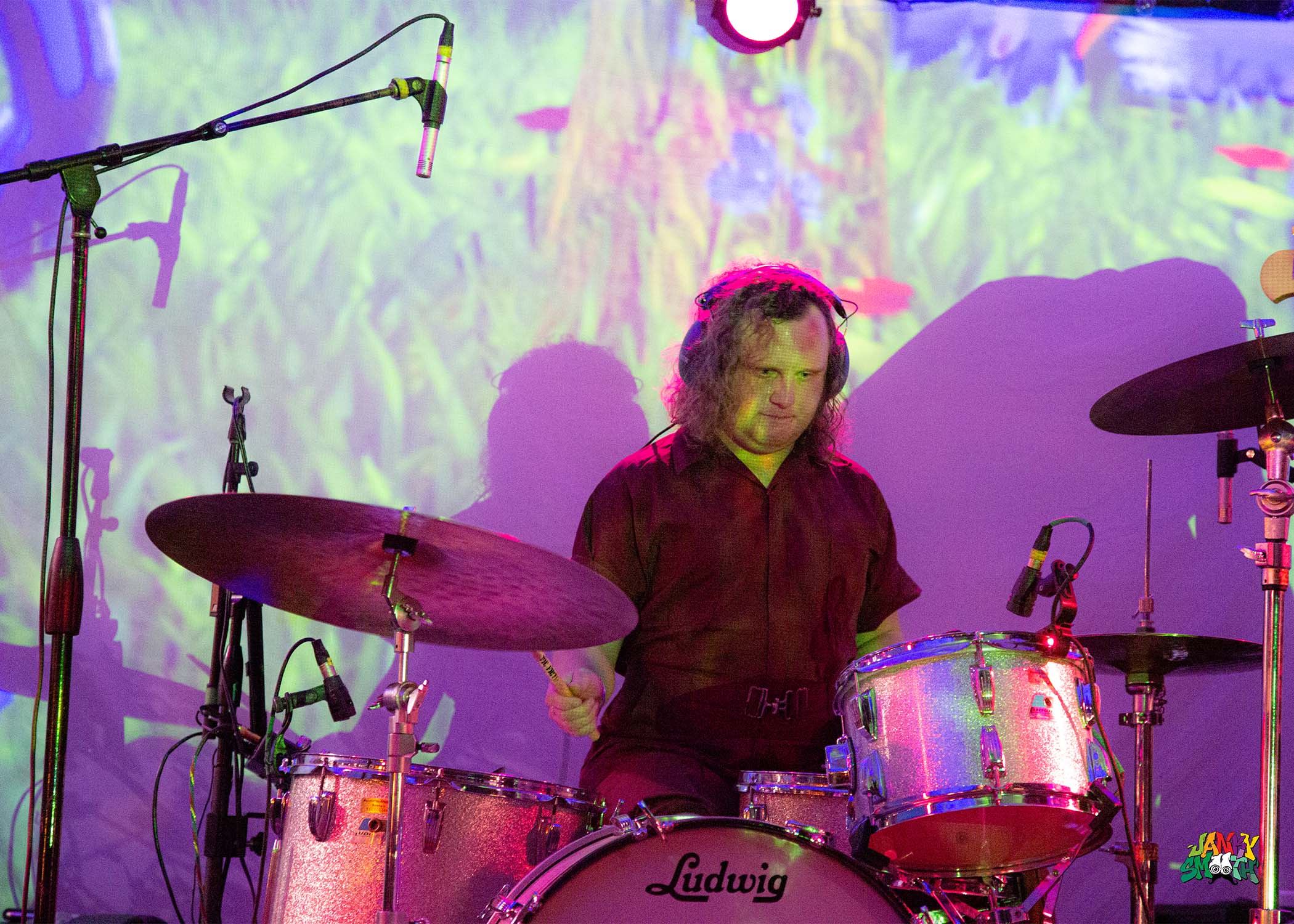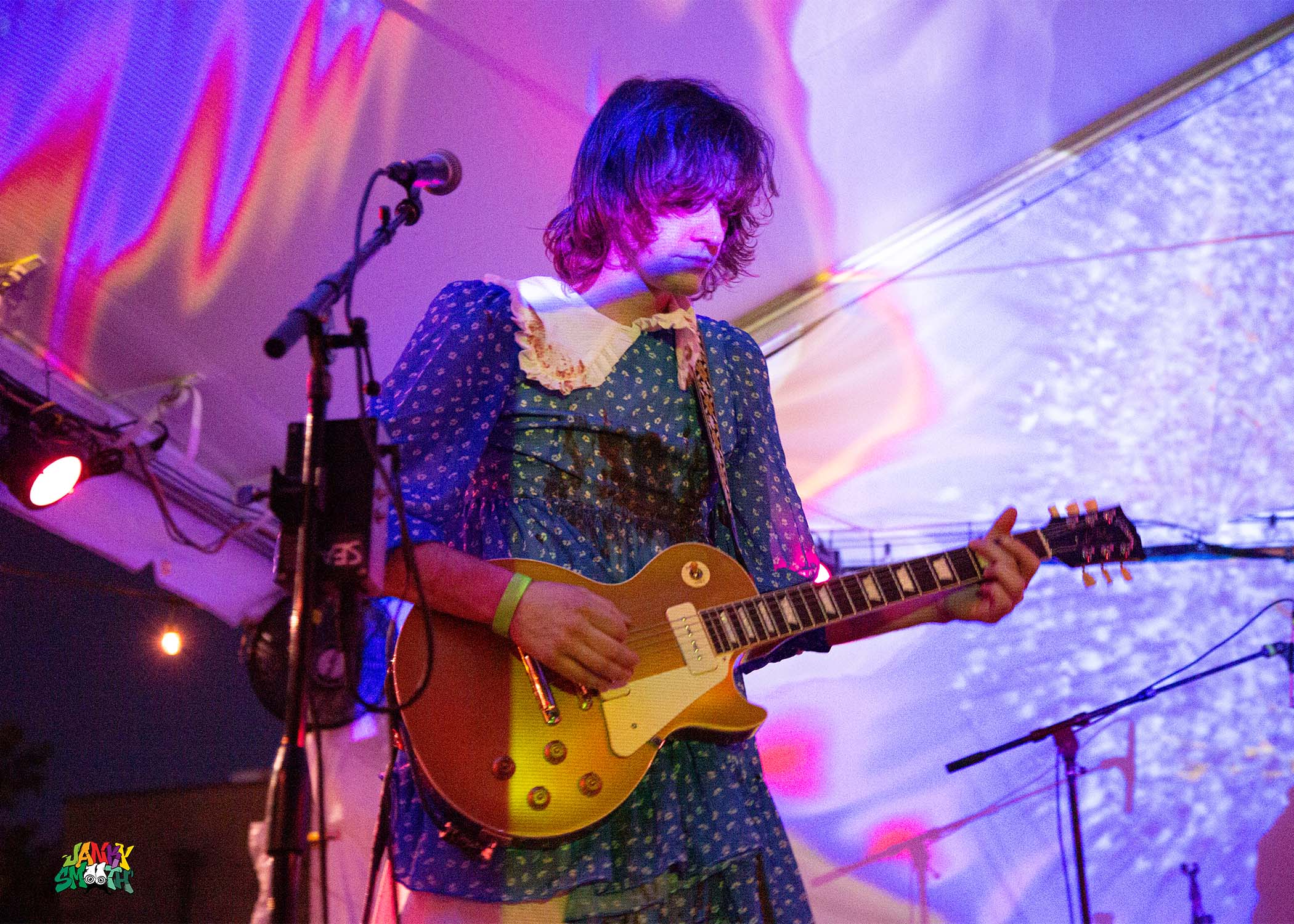 Halloween Night – Sunday
We just missed Hooveriii covering Hawkwind that I looked forward to since all those times in the past seeing Hooveriii in Los Angeles play I was reminded of that signature sound. ACID DAD covering Jesus & The Mary Chain 'Sometimes Always' was an endearing nod to the band with 90s melancholia dripping from their amps.
Christian Bland & The Revelators covering Spacemen 3 'Losing Touch With My Mind' and The Thirteenth Floor Elevators tunes was a somber tribute to the late-GREAT Roky Erikson which felt full circle being back in Austin honoring those that passed. Knowing the cemetery was just up the street behind the venue was the burning soul moment that reminded us of our fragility in flesh. Looking back up and seeing Christian Bland poke fun at The Beatles with a 'ALL YOU NEED IS BLOOD' t-shirt brought me back in the moment to realize the absurdity of it all. Just be here, now.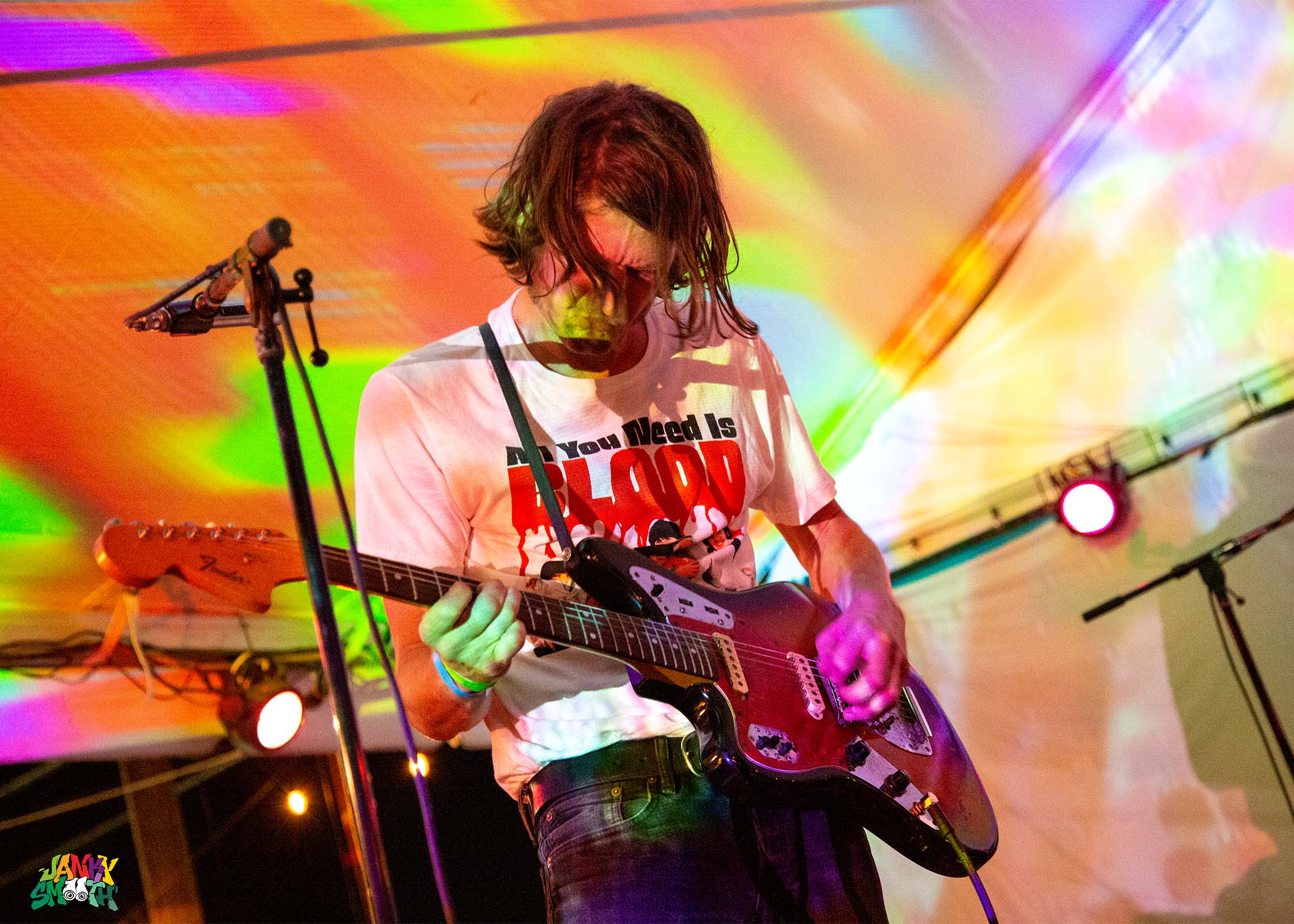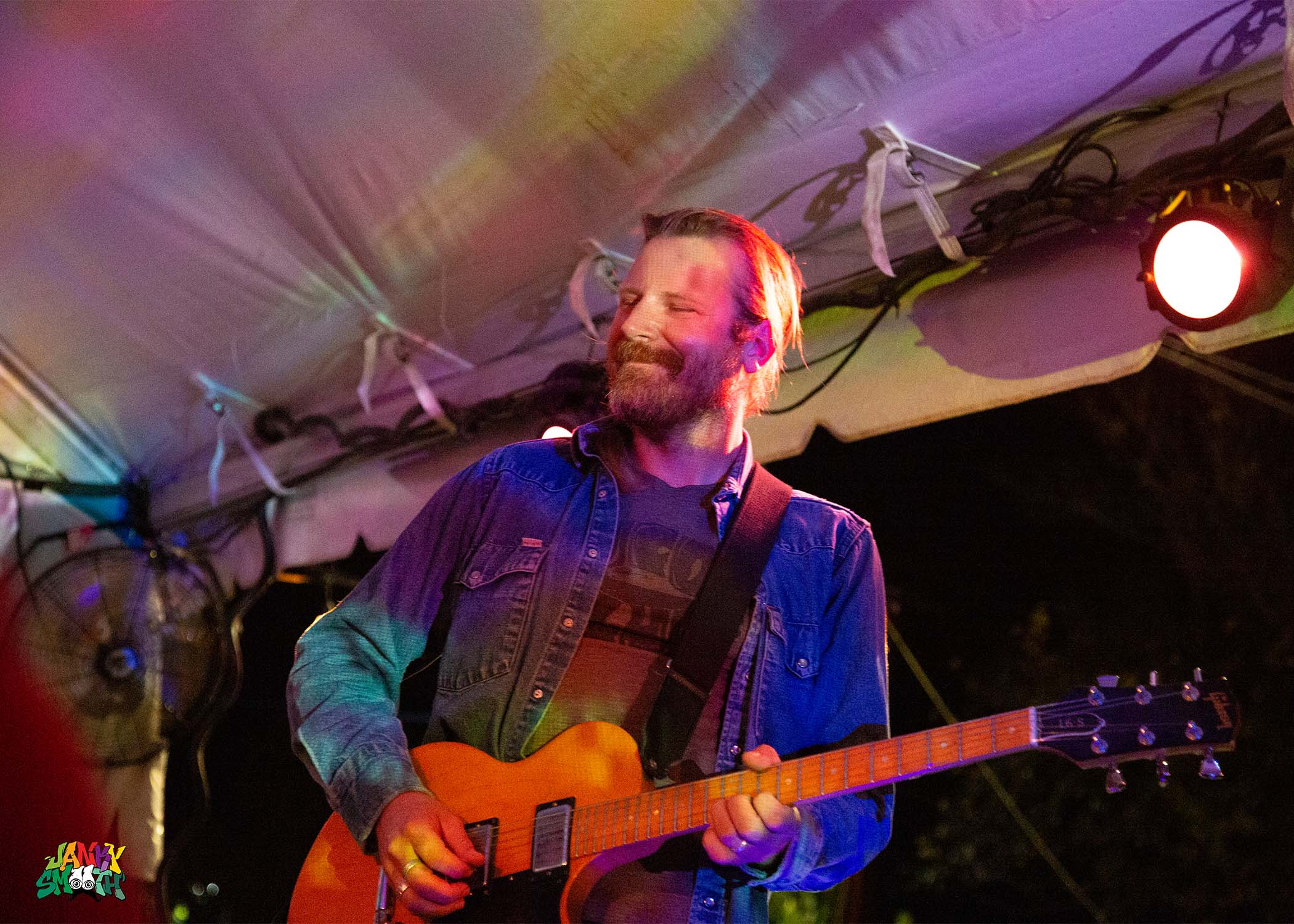 Japanese Breakfast at Stubb's
Floating back again from Hotel Vegas to Stubb's on what seemed like a quiet Halloween night, made some parts of the East Side feel like a ghost town on Sunday. It was eerie, yet a welcome somber moment away from the jam packed crowds of the past couple of days at Levitation. Just made it in time to catch snippets of J Brekkie jumping up and spreading that upbeat 'Jubilee' spirit of 'Be Sweet'. I spot specks of blood on Michelle Zauner's (J Brekkie) face as she stomped around happily while wearing the famous killer robot girl outfit from the Korean hit show 'Squid Games'. Her sinister look contrasted her bubblegum pop vocals to confuse the crowd to fall under her spell. Roaming around the crowd while 'In Heaven' twinkling notes played on we spotted two aliens abducting attendees and decided to stop to capture that 'I want to believe' moment fueling our curiosity for the magical unknown that night.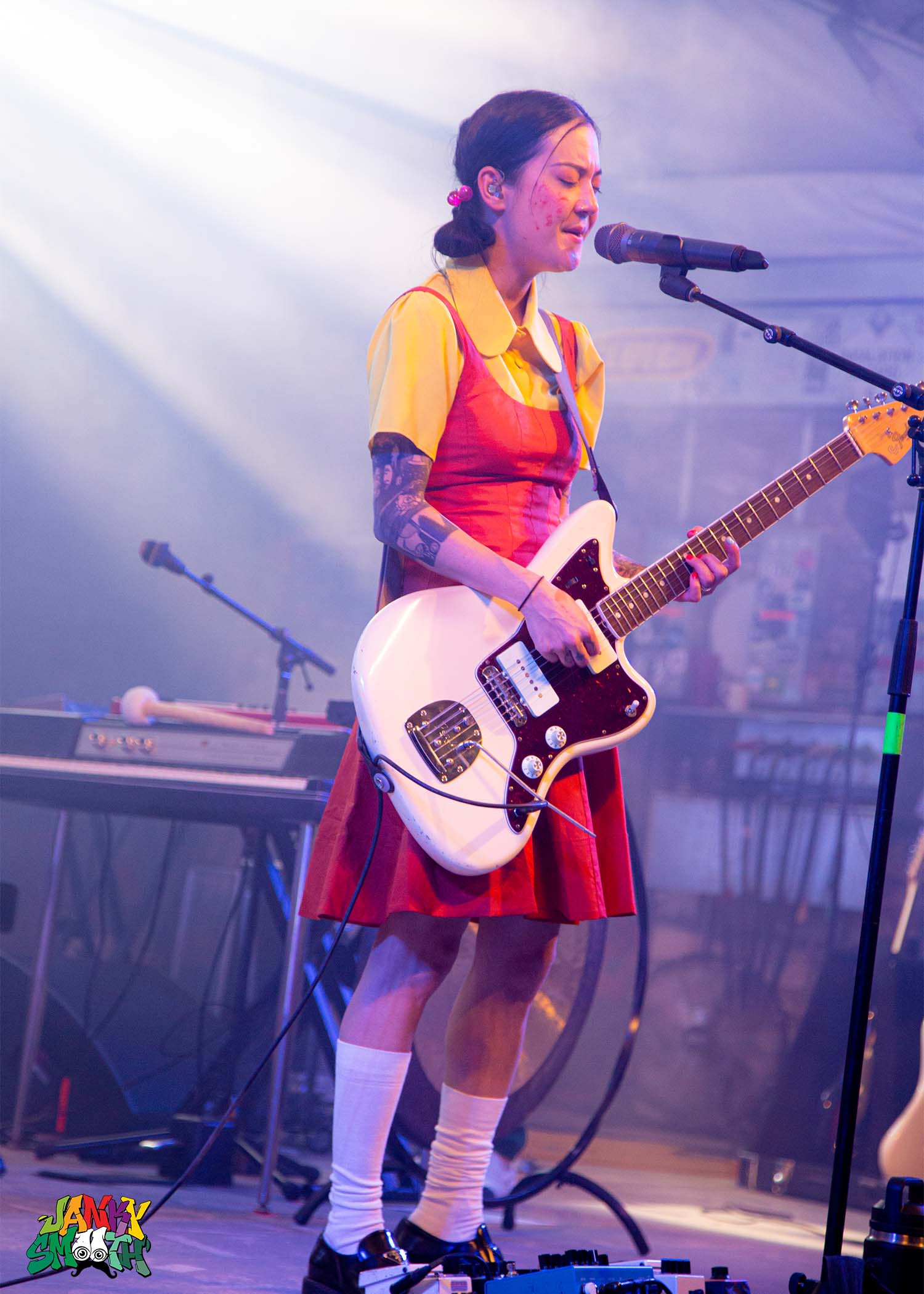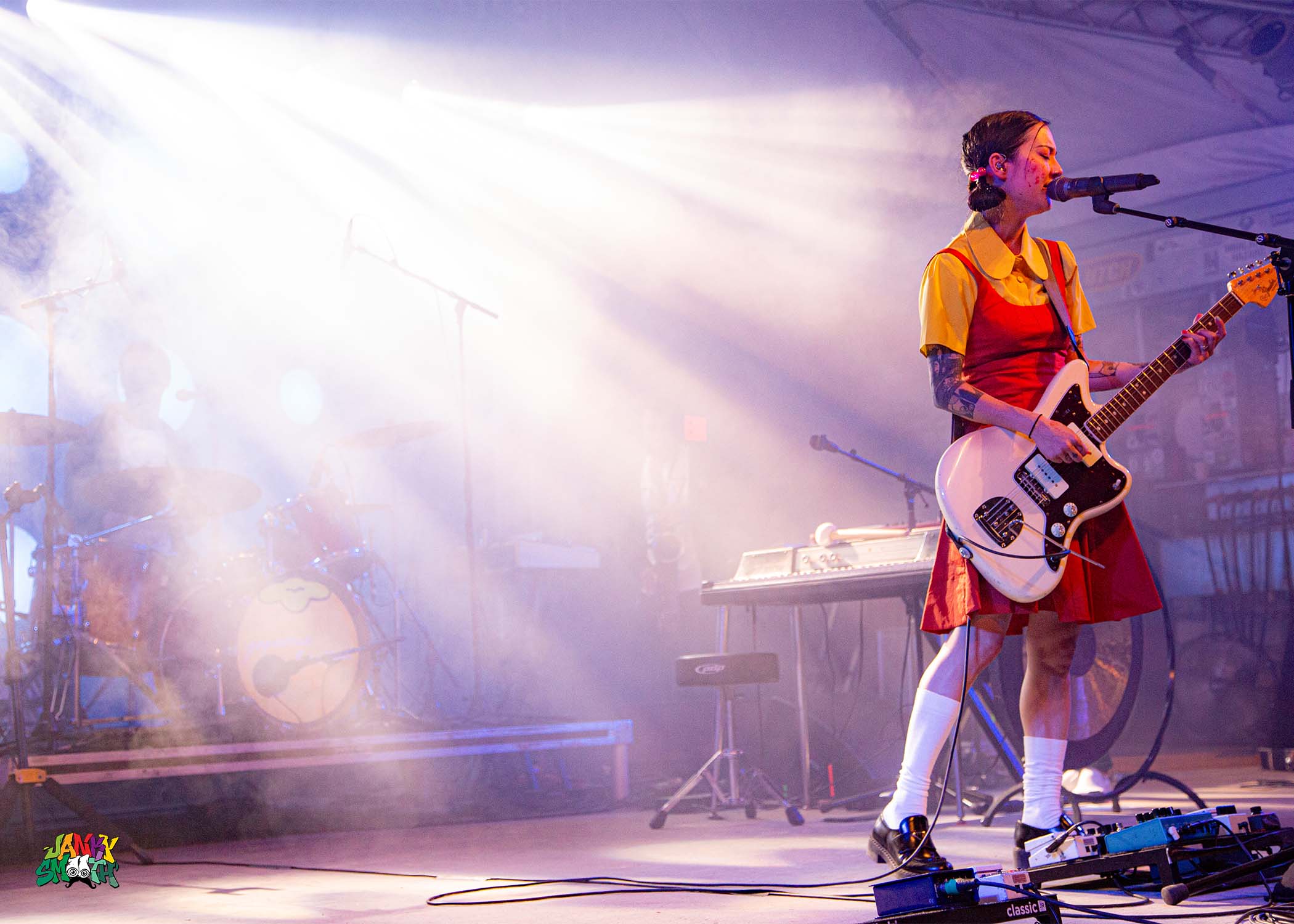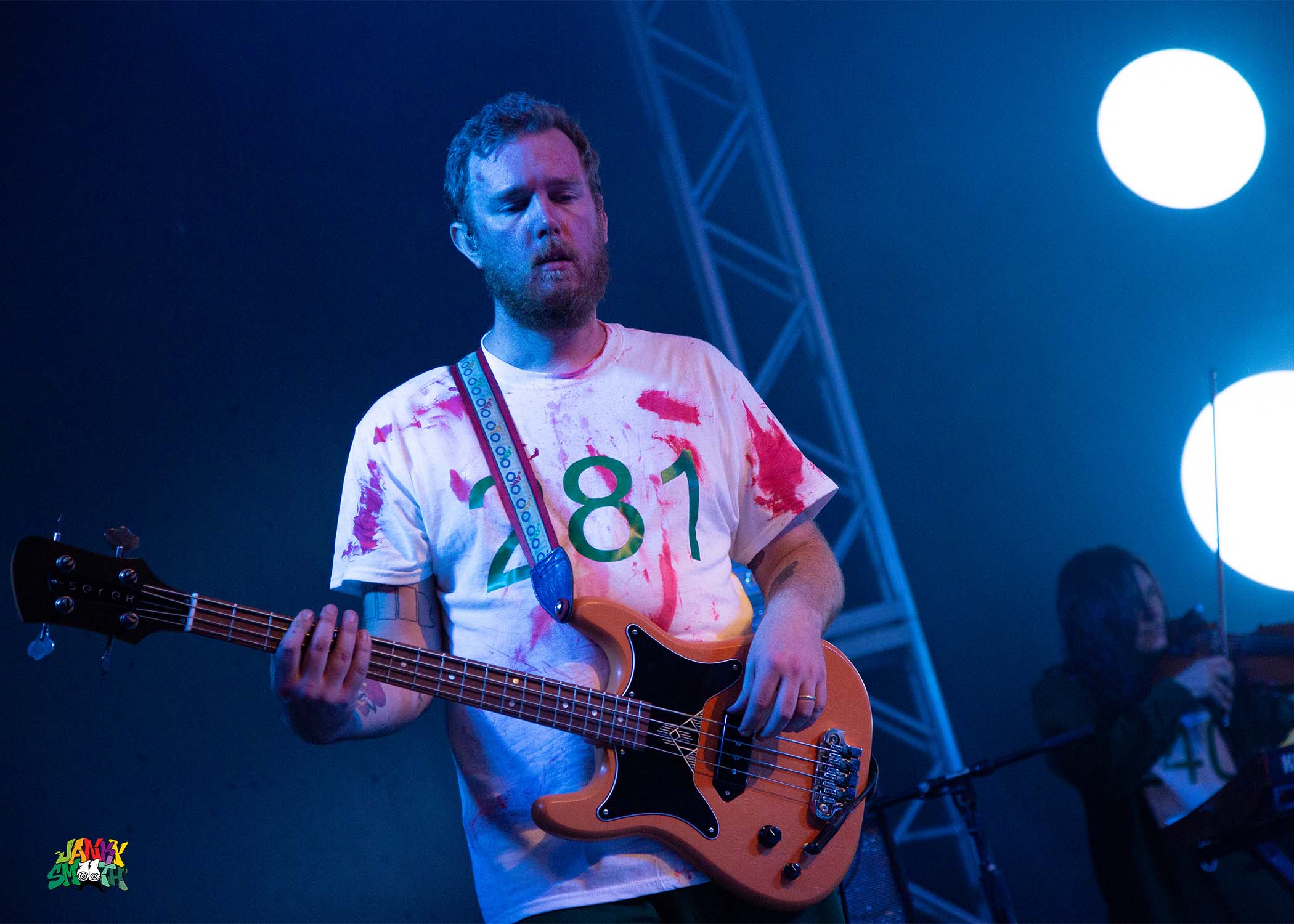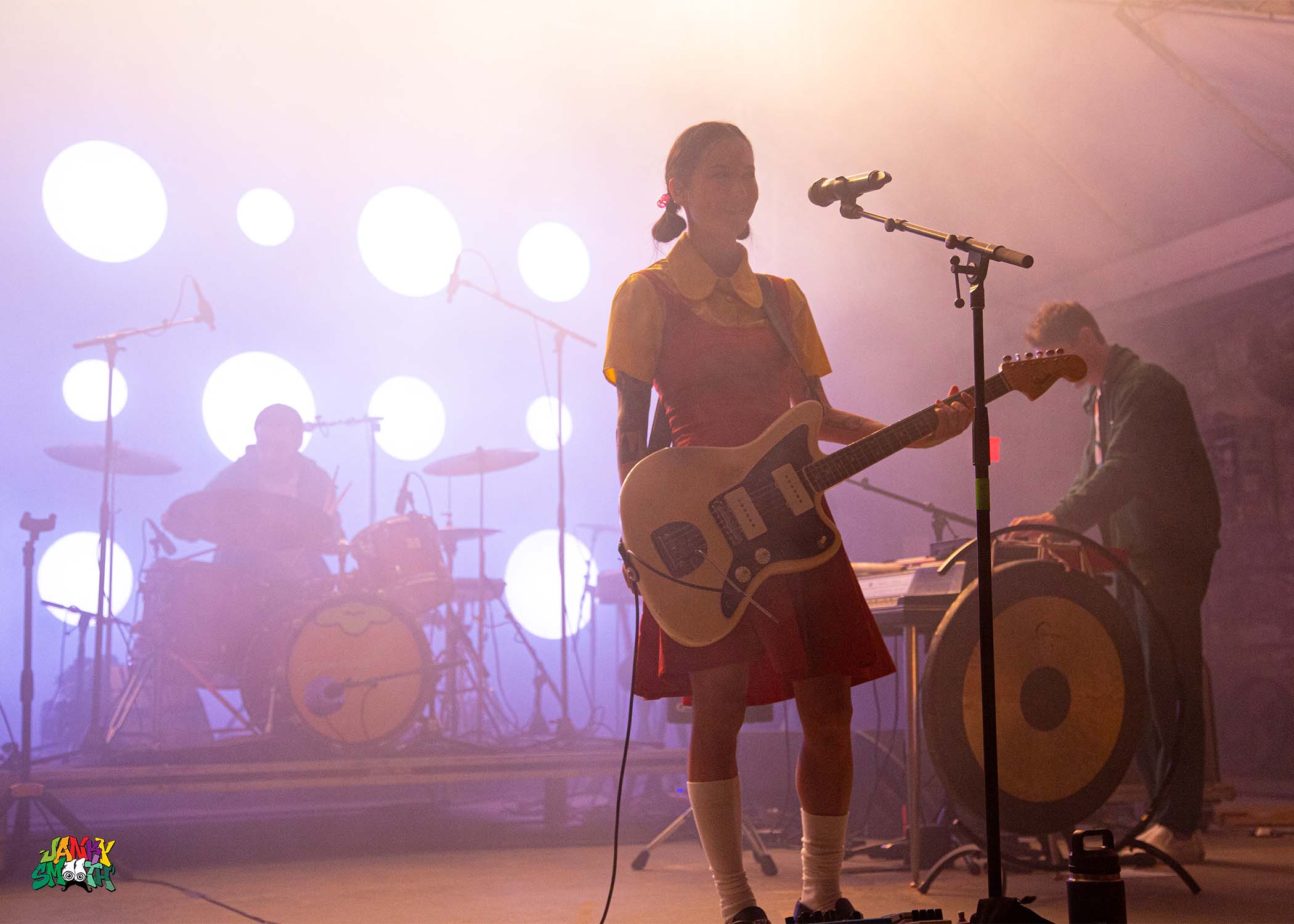 Frankie and the Witch Fingers at Hotel Vegas
It is always an experience to see the frenzied tripped out energy that Frankie and the Witch Fingers brings to the stage. Every time I get the opportunity they manage to outdo the last storm of flanged fury – not an easy task. They scrambled my brain once again this year at Levitation. Despite rolling into Austin on the last stretch of an extensive tour they fed the hungry crowd at the Empire with intensity that was overwhelming. I got a heavy dose of fuzz conceived in a garage, grown in an echo chamber, and mutated in a space lab. The very next night became a Halloween like no other at Hotel Vegas. The same high voltage erupted from under the face paint – this time in the form of a spooky tribute to the Stooges that would make Iggy blush. A sea of costumes exploded in response. The party raged on and off the stage in the most fitting way to celebrate what had been an outrageous, absurd, and beautiful experience that no one wanted to end.