Trash Talk, Ratking and Pangea: Slam Dance 101 at The Echoplex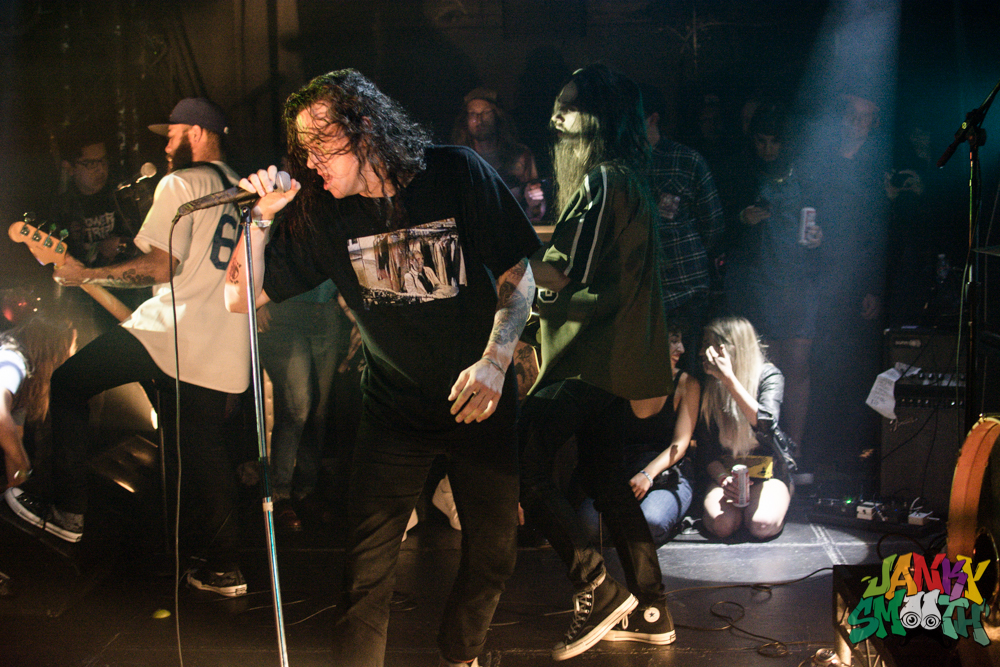 "Everyone say Fuck You to my friends on the side of the stage here". The Echoplex crowd was eager to oblige the demands made by Lee Spielman of Trash Talk on Friday night. "You ain't special just because we drink beers together, and shit. Get your ass out there."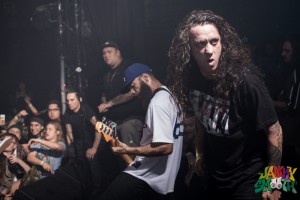 Friday night at the Echoplex brought us another installment of Check Yo Ponytail and the conclusion of a month on the road for Trash Talk, Ratking and junglist, Lee Bannon. Spielman and Wiki from Ratking seemed exhausted as they both mentioned separately during their sets how long the last 30 days of their life seemed. In between songs, Wiki seemed tilted like a half chopped down tree. I was ready to hear someone shout "Timber!" at any moment but every time a new song started, Wiki was in full control, crushing all verses without so much as a slur.
Lee Spielman has become a master at putting together non-obvious, genre bending shows. He connects the best bands, MC's and DJ's and let's the chips fall where they may. Even though Trash Talk is one of the only REAL thrash bands around right now, I've hardly ever seen them play with any other thrash bands.
The answer I got when I asked Lee about the thrash/hip hop mix that I see at almost every Trash Talk show was, "I just like playing shows with bands who's music I like".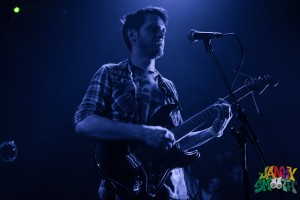 together Pangea was added to the bill 5 days before the show. Pretty impressive since Pangea could EASILY be a headliner for a show like this but they were the first band to take the stage once Skywalker was finishing his thrash metal DJ set. Oddly enough, the Pangea crowd and the Trash Talk crowd are a completely different vibe. I made a joke to William Keegan after his Pangea set that the parents of their crowd told them they loved them more than the parents of the Trash Talk crowd who seem a lot more willing to cause great bodily injury to each other.
Pangea walked on the stage, picked up their instruments and without warning, started their set right on top of Skywalker's last record.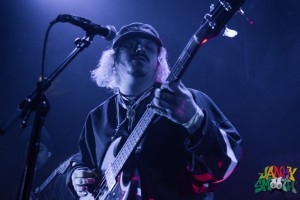 "This is our first L.A. show in awhile", said Keegan as he addressed the crowd for the first time. I think they were expecting a bigger reception but this was most definitely a Trash Talk crowd. 5 days of promotion was enough to get some of their fans out but once they started playing, the entire place exploded. Pangea were difficult to resist no matter who you came to see Friday night. They ripped through their set and played a majority of songs off Badillac but peppered songs from Living Dummy and Jelly Jam as well. It was a good Pre- Burgerama warm up show for them. They absolutely ruled the day at last year's Burger Records festival and I fully expect the same effect at Burgerama 4 next week.
When the Pangea smoke cleared, junglist, Lee Bannon took the stage and broke off classic Drum and Bass vibes. The crowd was packed up against the stage but there was very little movement. I knew Bannon produced beats for the likes of Ab-Soul, Souls of Mischief and Joey Bada$$ but I had no clue that Lee Bannon was a junglist. That's the magic of going to a show that Trash Talk helped book- you might just see something amazing that you didn't know about. Bannon, not surprisingly is on the Ninja Tune label and after Friday night, I'm on the search for his drum and bass tracks and mix tapes. Like Trash Talk, Bannon originated from Sacramento, which is a surprising hot bed of musical talent these days.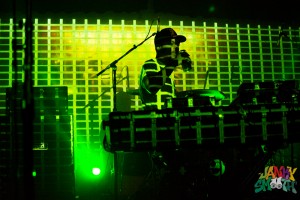 I was stoked to get a chance to see Ratking from New York. I have their album, "So It Goes" in rotation at the moment and it's one of the handful of real hip hop crews out right now. The biggest test for any hip hop crew is whether or not they can break it off live and Ratking most definitely have full command over their live show. MC's Wiki and Hak have a great stage presence and are very skilled at delivering their flows without swallowing the mic or stepping all over each other.  I would even go so far as to say that they are better live than on their album.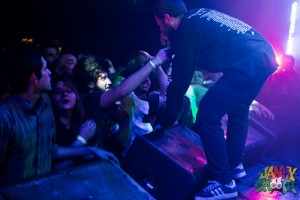 By the time Trash Talk took the stage, the crowd was primed and ready to have their pride challenged by Lee Spielman and company at every turn. Spielman doesn't seem satisfied until the entire venue is shrouded in a cloud of weed smoke and there is total chaos on stage. No matter how many people are diving off the stage, it is never enough for Lee. He has taken it upon himself to tutor his younger audiences in the nuance of slam dancing. On several occasions, he had to remind the crowd that slam pits flow in a circle. Slam dancing isn't running directly into someone from across the pit. Slam dancing is a swirling cauldron of arms, elbows and knees. When the band broke out into The Great Escape, people needed very little tutoring on how to lose their shit.
By the end of the night, The Echoplex stage was overrun by fans and style points were awarded to those executing flips into the remaining crowd. Lee Spielman was hanging off the rafters and the pandemonium that Trash Talk insists on was in full swing. I can't wait until the next Trash Talk show to see what cast of characters is recruited to create yet another unique and diverse lineup of musicians.
Words: Danny Baraz
Photos: Taylor Wong
Previous Coverage:
A free show with Lil B, Trash Talk and ho99o9 at The Regent:  What could go wrong?
Burgerama 4 Announcement Party with together Pangea, No Parents and Others.