Animal Collective Drip Sound and Color On The Fonda Theater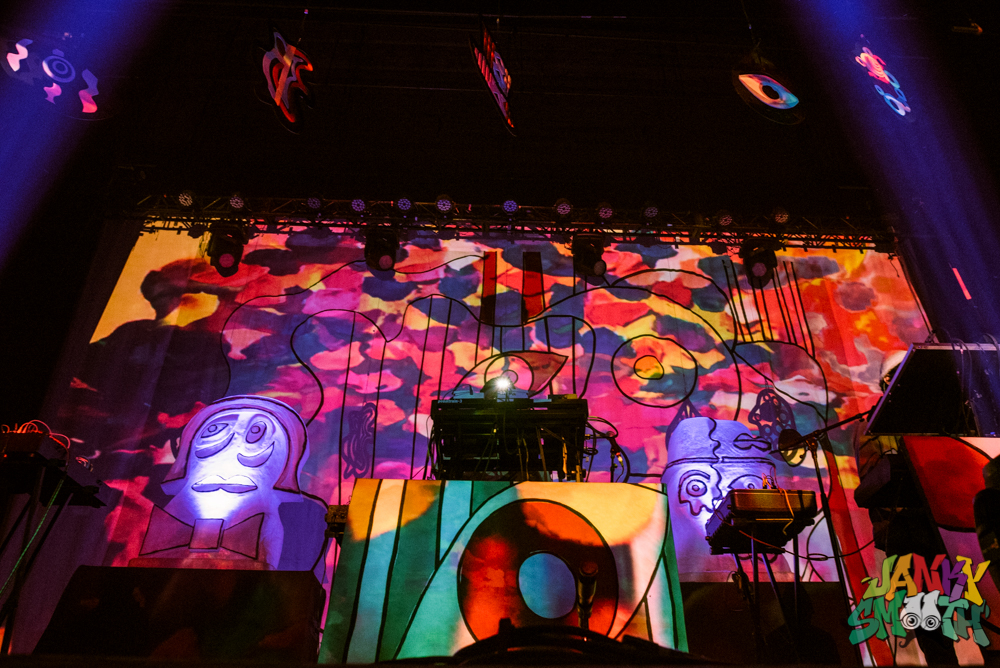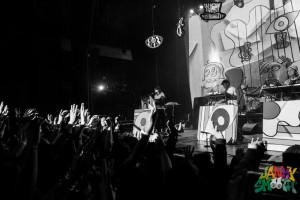 Night 1 of the Animal Collective 2 night stand at The Fonda Theater in Hollywood revealed one thing; Animal Collective are the most talented sound designers to ever write, arrange and perform an electronic song live. There is no one out there right now that can emit such auditory bliss from the push of a key and the twist of a knob. If you strip the dripping colors and backdrops away from the spectacle of their live performance, what you have left is a group of cutting edge song writers that use cold hardware and technology to express the warmth in their souls.
I arrived at The Fonda just as Ratking was taking the stage. Ratking's MC, Wiki was already wildly swinging his arms in an attempt to conjure some enthusiasm from the opening band audience. In a less jaded city, Ratking would've had the crowd moving with their next level beats and downplayed but impressive stage presence. While I understand the huge difference between a hardcore Animal Collective fan and a hardcore Ratking fan, there is a musical energy that transcends genre and style and it still amazes me that people can stand still during a performance that is as impressive as what I saw from Ratking. Last time I saw them they were in a funny lineup, as well. They played with Trash Talk and together Pangea at The Echoplex.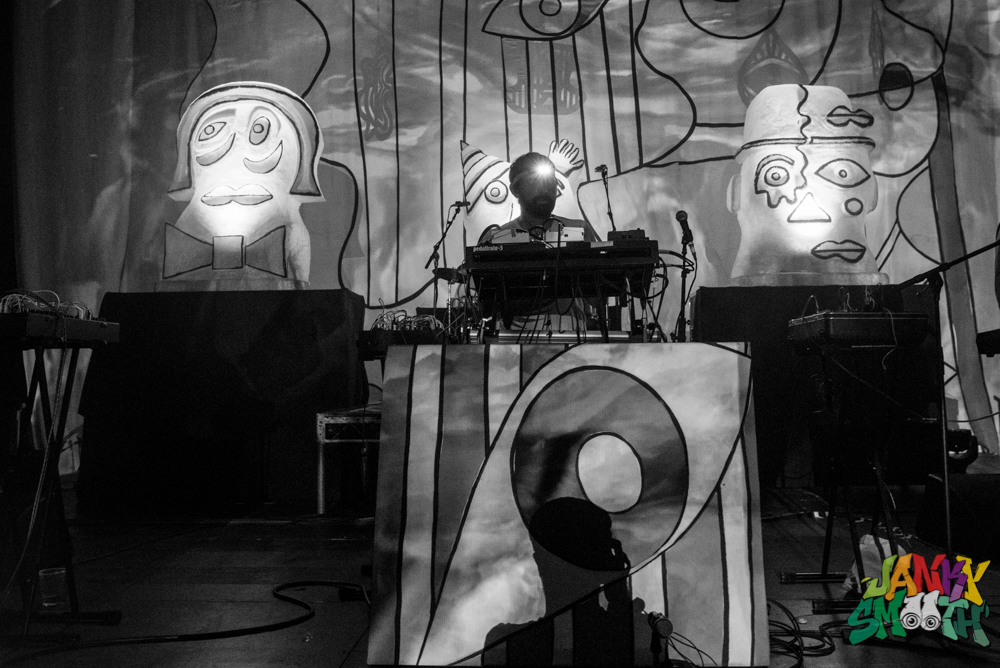 Just before Animal Collective took the stage, I looked to my right and noticed a rather worried looking woman that was wearing white from head to toe and sporting a furry, bushy white jacket. "I can't find my friends". We reassured her that she was safe with us and she reassured us that she just ate a bag of mushrooms. "Rachel" ended up hanging out with us for the rest of the show and was the perfect psychedelic barometer to see the window of parallel dimensions in the reflection of her smiling eyes. If it weren't for the incredible visuals dripping off the stage and into my cerebral cortex, I could've watched Rachel's eyes the entire show. That is if it wouldn't have come off as totally creepy.
Animal Collective played an overwhelming majority of songs from their new album, "Painting With" and by the time the show was over, I didn't mind that in the least. While it would've been preferable to hear a few more songs off Merriweather or Strawberry Jam, the 8 songs Animal Collective performed off the new album served to get me even more excited about it than I already was so, mission accomplished for the band.
In the tradition of Kraftwerk and Chemical Brothers, Animal Collective take digital and analog electronics to design some of the most exciting sounds since the first time someone twisted a knob to control an oscillator and envelope. They manage to push that envelope by layering complex vocal harmonies and chanting to take electronic music to new heights of artistic expression.
Animal Collective Setlist at Fonda Theater March 8th 2016
Hocus Pocus
Vertical
House of Bairro
Summing the Wretch
The Burglars
Daily Routine
Jimmy Mack (cover)
Lying in the Grass
Loch Raven
Alvin Row
Golden Gal
Encore
Bees
Recycling
FloriDada
Photos by Taylor Wong