Punk Rock Karaoke: Play Music with Punk Legends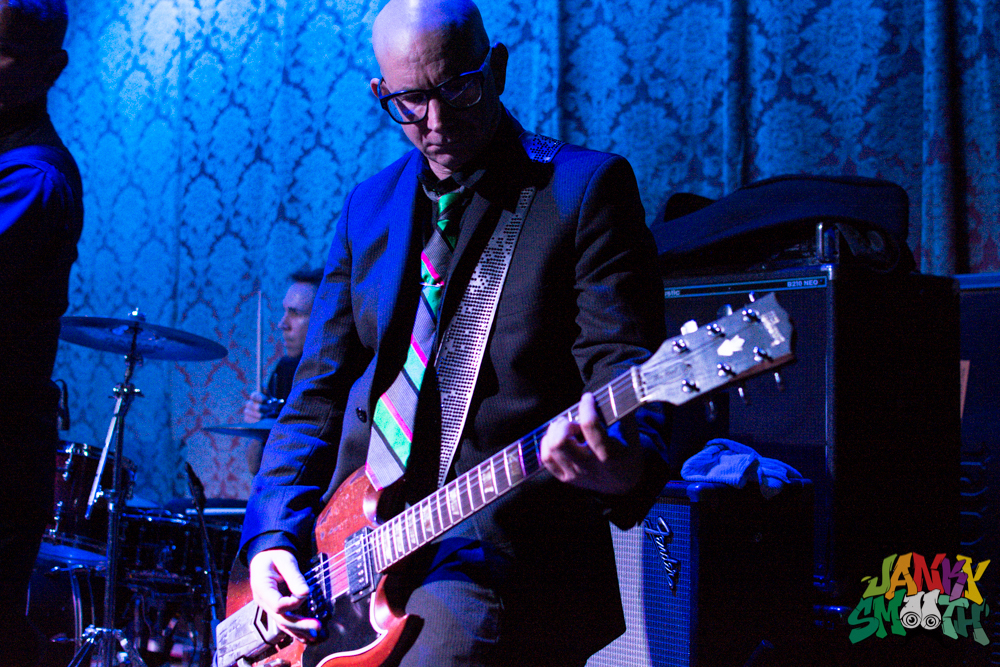 If you've ever had a fantasy of being a punk rock frontman or woman, you can make your fantasy a reality with Punk Rock Karaoke.  Not only can you sing your favorite punk anthems over world class sound systems at world famous clubs around the country but you can do it with punk legends like Greg Hetson (Circle Jerks, Bad Religion) and Stan Lee (The Dickies).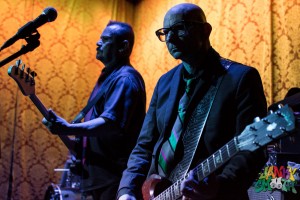 Last night Punk Rock Karaoke invaded Saint Rocke in Hermosa Beach which has always been a stronghold for hardcore punk in America. The band was incredibly tight last night and most of the aspiring punks that took the mic to play with their heroes sounded pretty fucking good.  Even the very small percentage of people who butchered the songs were so fucking bad that it was amazingly entertaining.  Just like any Karaoke night, singers signed up on a list before the set started and some signed up after a few servings of liquid courage, mid set.  Songs on the list included, Nervous Breakdown, Bloodstains, Fuck Armageddon, Gigantor, Astro Zombies, Bikeage, and California Uber Alles, just to name a few.
Punk Rock Karaoke has been around for almost 20 years now but most shows the all star lineup of punkers have played in that time have been in L.A.  Lately, the band has taken this great idea on the road by touring the U.S. and Canada.  The dudes just got back from playing The Flogging Molly, Salty Dog cruise which took place on an ocean liner that travelled from Miami to The Bahamas and featured shows by Flogging Molly, Gogol Bordello, Frank Turner, Mariachi El Bronx and a ton of other punk and ska bands.
PRK will make a stop at Punk Rock Bowling on May 25th as one of the many after festival club shows taking place at just one of the amazing downtown vegas club venues.  In this case, Country Saloon and playing with Tartar Control.
Punk Rock has a tendency to take itself to seriously.  Punk Rock Karaoke destroys that and replaces it with nothing more than a beer swilling, lyric screaming, rockstar dreaming good time.  All scheduled dates are below.  See if your city is one of them.
Words: Danny Baraz
Photos: Taylor Wong
Fri, Mar 20 @ 9:00 PM
Punk Rock Karaoke @ Strummer's Strummer's, Fresno, CA
Sat, Mar 21 Punk Rock Karaoke @ Brick By Brick Brick By Brick, San Diego, CA
Fri, Mar 27 @ 8:00 PM
Punk Rock Karaoke @ Summit Music Hall Summit Music Hall , Denver, CO
Sat, Mar 28 @ 8:00 PM
Punk Rock Karaoke @ Gas Monkey Live! Gas Monkey Live!, Dallas, TX
Fri, May 8 @ 9:00 PM
Punk Rock Karaoke @ Denizen Hall Denizen Hall, Edmonton, Alberta CANADA
Sat, May 9 @ 9:00 PM
Punk Rock Karaoke @ The Night Owl The Night Owl, Calgary, Alberta
Sun, May 10 @ 8:00 PM
Punk Rock Karaoke @ Cobra Lounge Cobra Lounge, Chicago, IL
Tue, May 12 @ 9:00 PM
Punk Rock Karaoke @ Saint Vitus Bar Saint Vitus Bar, Brooklyn, NY
Wed, May 13 @ 8:00 PM
Punk Rock Karaoke @ Boot & Saddle Boot & Saddle, Philadelphia, PA
Thu, May 14 @ 8:00 PM
Punk Rock Karaoke @ Black Cat Black Cat, Washington, DC
Fri, May 15 @ 9:00 PM
Punk Rock Karaoke @ Church Of Boston Church Of Boston, Boston, MA
Sat, May 16 @ 2:00 PM
Punk Rock Karaoke @ Skate & Surf Festival Bradley Park at Ocean AVE, Asbury Park, NJ
Sun, May 17 @ 7:00 PM
Punk Rock Karaoke @ Pouzzafest Montreal, Quebec Canada
Fri, May 22 @ 8:00 PM
Punk Rock Karaoke @ Yucca Room Yucca Room, Tempe, AZ
Mon, May 25 @ 8:00 PM
Punk Rock Karaoke @ Punk Rock Bowling Country Saloon , Las Vegas, NV
Thu, Jun 4 @ 8:00 PM
Punk Rock Karaoke @ This Aint Hollywood This Aint Hollywood, Hamilton, Ontario CANADA
Fri, Jun 5 @ 8:00 PM
Punk Rock Karaoke @ Bovine Sex Club Bovine Sex Club, Toronto, Ontario CANADA
Sat, Jun 6 @ 9:00 PM
Punk Rock Karaoke @ Call The Office Call The Office, London, Ontario CANADA