Burgerama 4 Announcement Party with together Pangea, No Parents and Others.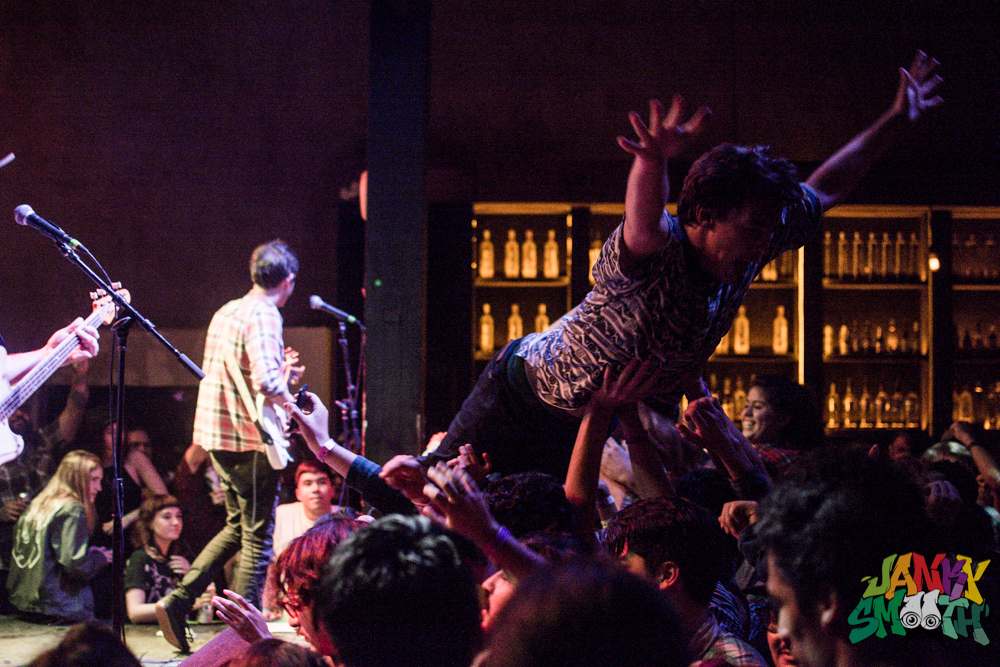 Five dollars made all the kids holler last night in the Constellation Room at The Observatory. Burger Records threw a show last night with bands White Night, Unkle Funkle & Free Weed, No Parents, and Together Pangea. This show was a Burgerama 4 line up release party even though the Burgerama line up had actually leaked to the internet before any one at the show actually knew who was playing. They actually never told us what the line up was.  You had to be paying attention to the music the DJ was playing to get the list of bands. Pretty fuckin clever if you ask me. Here is the amazing lineup for Burgerama 4 taking place March 28th and 29th at, of course, The Observatory in Santa Ana.  Tickets go on sale this Friday, 12/12/14 at 10am and you can purchase them here. Oh boy oh boy oh boy.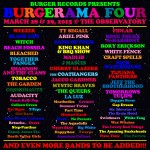 The opening band White Night played mid speed thrashers. The first couple songs hand the crowd second guessing White Night. I decided to stand in the empty pit and grab a few photos.  That was my first mistake of the night. The children of the corn, as I like to call them, saw me as their first victim and rushed the pit. I immediately got an elbow to the face and a boot to my toes. I'm not mad though.  That's what punk rock is all about. Unfortunately, I only caught half of White Night since I had to go mend my damaged toes. Ok, that's bullshit.  I really left to go claim one of those free burgers they were handing out to ticket holders but my foot really did get fucked up!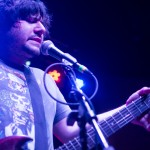 The next band up was Unkle Funkle & Free Weed. I don't even know what to say when it comes to these guys. The group is made up of, as you can guess, Free Weed of White Fang and Unkle Funkle from some other obscure project. Both dudes are Portland natives which may explain their weird music project. They started out with a few original tracks about free weed and then shit got weird. They started doing covers of The Backstreet Boys, Shaggy, Chris Izaak, and even Toto's song Africa.  It was pretty much 3oh!3 doing shitty karaoke. That sounds negative but it was actually pretty fun.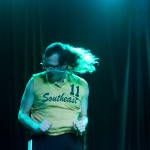 Following this eccentric performance was No Parents, my favorite opening act of the night. These guys came out and the crowd started fucking shit up. The entire room was packed from front to back. Vocalist Zoe Rain danced around the stage singing thrashers such as Hey Illuminati, You Got Snaked, and I Got a Lizard. Half way through his set Zoe took off his pants.  Maybe his legs were really hot?  Then two songs later the rest of his clothes came off.  Now this was a Burger Records show because we had a short, beer gutted singer dancing around the stage in his boxers and mean while, people are breaking their faces in the pit. They went along with the theme of cover songs and Played Lenny Kravitz song "Fly Away". These guys may be my new favorite Burger band.
Together Pangea took the stage shortly after claiming they were Action Bronson, who happened to be playing the main room. Pangea are a bunch of drunken jokesters and it's fucking amazing. They took the stage with arms full of beers, a bottle of Jameson and Danny Bengston even brought up a bottle of wine. They announced that if you had been paying attention you knew who was playing Burgerama. They proceeded to list off bands such as Nirvana, Sublime, Daniel Johnston, anything and everything really. I was laughing my ass off over to the side of the stage. Before they started playing they said they were going to play songs that they never play, meaning songs they actually play all the time. They started with a little Smashing Pumpkins tease but quickly put the kabosh on that. They did however play my favorite songs from the new album "Badillac" as well as "Alive" and "Sick Shit". This show was like most of their other shows.  The entire room was one giant pit and kids were stage diving, non stop. I did see a first at this show- kids taking selfies with William Keegan as he sang and he was going along with it. Also, at one point a kid got on stage, got on his knees and pulled a Wayne's World, "we're not worthy". They ended their set and were immediately called back for an encore. This time they did play a cover- a mother fucking FIDLAR cover. They played "Wait For The Man", which they didn't exactly know all the words to but who cares, they killed it anyway.
Words and Photos: Taylor Wong