Ministry Make Bid To Be Official ANTIFA House Band At San Diego Show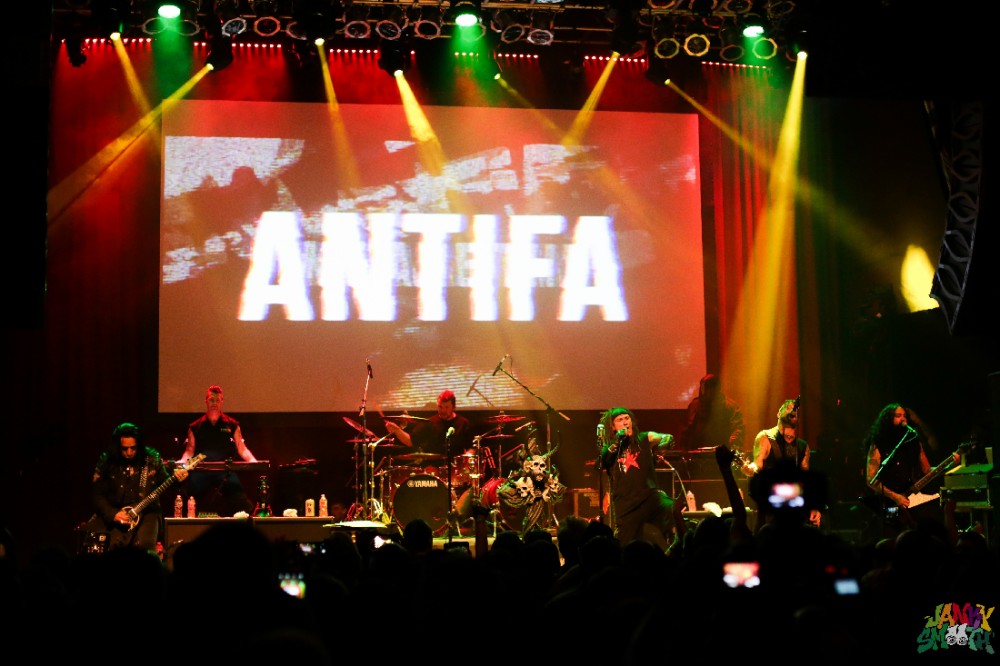 It was FYF weekend in Los Angeles- a weekend in the summer in which Los Angeles is the center of the summer music festival world. Not to mention the swarming packs of virgins in San Diego for Comicon. So why then am I at the San Diego House of Blues, of all places, on the Friday of the first night of the festival in which one of my favorite musicians on the small list of all time greats that I have yet to see is performing? Well, Bjork IS a genius but seeing the Ho99o9 boys open for Ministry in one of my most cherished cities was just too good and intimate to pass up. So I hit up Eaddy, aka YetiBones a couple of weeks beforehand to see what was up and found out that it would also be his birthday on Friday, July 21st. It was so on.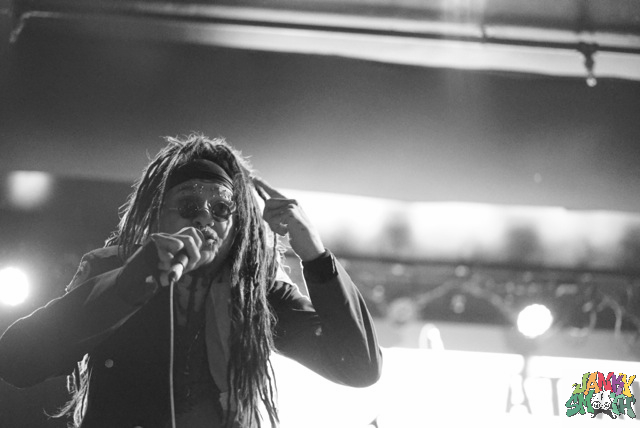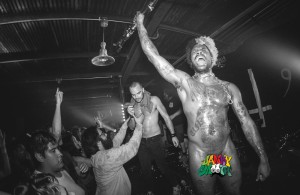 There were multiple story lines at play this evening. Aside from one of my well documented, favorite new bands playing with one of my favorite all time bands in the world, my old friend Jason was now playing bass for Ministry and my friend Josh just moved to Ocean Beach- a part of San Diego that holds an incredibly powerful set of memories for me. It's where I had my first beer, my first toke, my first trip to psilocybin city, my first tweak and it was also the first place that a janky, young 14 year old was given consent to use his penis as nature had biologically commanded. All these "firsts" happened within a 48 hour period.
I've been chasing that weekend my whole life- much like how I chased the 20 year old friend of my sister's that deflowered me and a bit like I've been chasing Ho99o9 on the path of infamy and rap core stardom since the first time I saw them play with Trash Talk and Lil B almost 2 and a half years ago.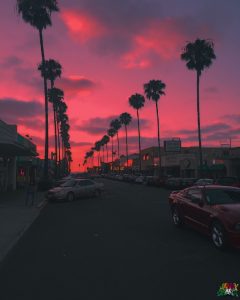 So photographer Christina Badalian and I set out for Downtown San Diego around 2pm to give us plenty of time to fight the wild beast of Friday rush hour traffic, as well as some time to explore my old haunts and get a glance of the O.B. Pier where we could maybe even stop by The Black- a head shop that I used to buy all my weed paraphernalia and thrash metal t-shirts at, located on the main drag of Ocean Beach- Newport Ave.
Well, it turned out that 2pm wasn't an early enough time to leave to be able to do all that we wanted before the show. We arrived in Ocean Beach to pick up Josh at around 7pm- Summertime sunset in San Diego. We ended up taking our time with a beer and some tacos on Newport Ave, which was bustling with activity during one of the most beautiful sunsets I've seen in a long time.
We checked traffic and weren't too worried since Waze showed us that it would only take 10 minutes to get there. So we pounded our beers and mashed some tacos to tame the rumbling in our bellies and set off for Downtown San Diego.
We didn't anticipate the far distance we had to park, taking up a chunk of time that cut into Ho99o9's set and then, of course, the issues at will call that happen about 15% of the time media credentials are involved. Typically, credential and will call issues are easily resolved- like the fact that my name was on the list but it didn't have a photo pass attached to it, which wouldn't normally be a problem but given the corporate vibe of the House of Blues national chain of venues, it would take the team of 3 at will call that rotated in and out to repeatedly say "no" to the photo pass Eaddy forgivably forgot to mention with birthday on the brain, 20 minutes to buckle under the polite but forceful pressure that is both Janky AND Smooth. This show was always supposed to be less business and more pleasure but the car was too far to just have one of us run it back. Plus, even though we have a DOZEN photo galleries of Ho99o9 over the last 2 and a half years, coverage of Ministry shows were few and far between.
We walked into the venue with the camera after the House of Blues ticket window staff succumbed to the unrelenting pressure when they realized I would not go away without that photo pass.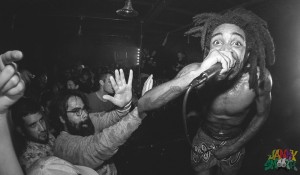 Unfortunately, by the time Ho99o9 was in our line of sight, it was literally the last bar of the last song in the set, "New Jersey Devil", my favorite track off their recently released first full length album- The United States of Horror. I was bummed I missed them but didn't feel too guilty about it as me and the crew stopped at the bar for a shot and a beer before Uncle Al and Ministry would take the stage only about 10 minutes from that point.
The crowd was an interesting mix of both middle aged Industrial heads and goths- some who looked like they dug up their old duds that hadn't been worn in years and others who were still about that life after all this time. There were pockets of dreaded and studded fans that were the elders of BDSM, experienced and steady hands at doling out punishment to those that consented to receiving it. There were pockets of others too- bleach haired, beach chaired OG punks that most likely made the drive from North San Diego or even places in South Orange County like San Clemente- people who were SURE that Jesus himself built their hot rod and there was certainly a contingent of a new wave of fans- young audiophiles reveling in the Al Jourgensen, Ministry catalog for the first time and deciding which era they liked best- the Twitch darkwave era, the Mind Is A Terrible Thing to Taste/ In Case you Didn't Feel Like Showing Up Live, iconic industrial era or the massive movement over to metal that characterized Ministry's most popular music, launched from the Psalm 69 album and has persisted and continued with that sound to this very day.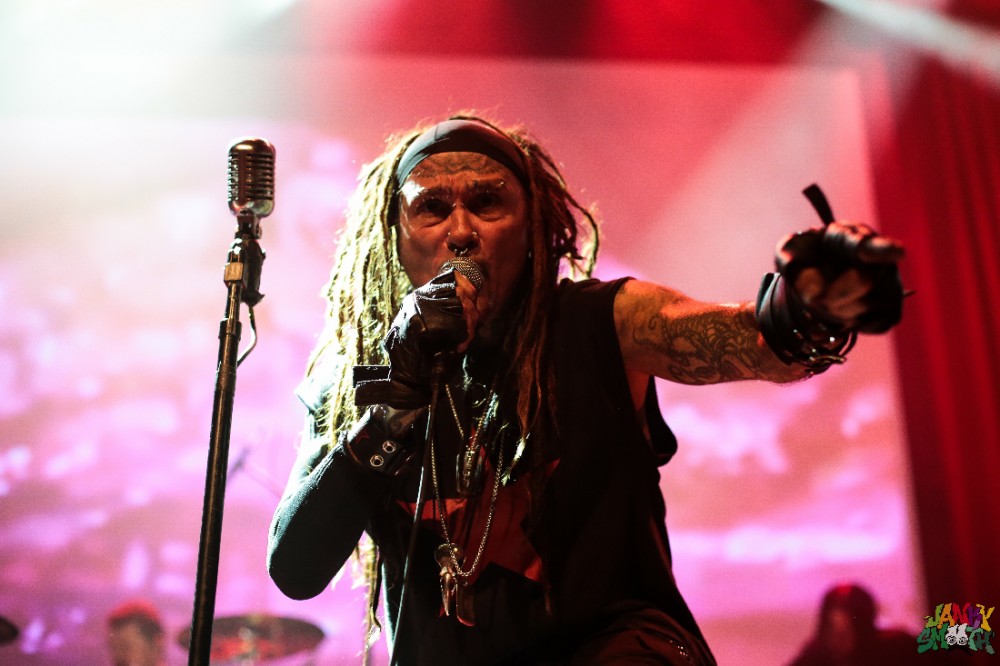 The set was front loaded with songs from the latter most era- a paradigm which would normally make me impatient, antsy and even disenchanted with the performance. But being mid tour with a comfortable chemistry among collaborators and the fact that the unfamiliar tracks are still heavy as fuck, I didn't feel bored or disappointed at the 30 minutes it took to play a song I actually knew. That was my experience as well when Ministry kicked off Punk Rock Bowling 2016 at the Fremont Country Club show in Las Vegas in their role as the Thursday night club show headliner- which was the first time I had seen them in maybe almost a decade. The setlist for that Vegas show was definitely better than tonight's but even with all the challenges, this San Diego show was still pretty damn satisfying.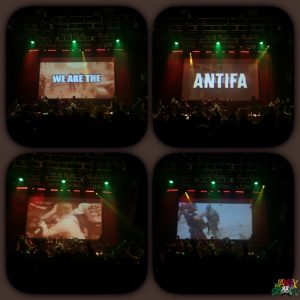 Well, on this night, just as on that night, there was a lot of banter and horrific imagery of Donald Trump flashing on the backdrop behind the band. In 2016 it was of candidate Trump and tonight it was of President Trump. Through the first EIGHT songs that I was largely unfamiliar with, Uncle Al and Ministry threw their hat in the ring with both the ineffectual and corporate co-opted "Resistance" and the more hardcore and fringe movement known as Antifa or Anti-Fascists by playing their most recent song named, yeah, you guessed it "Antifa". I liked the idea of the new track as well as Al's lobbying to create an official theme song for the anti-alt-right or, as the purveyors of identity politics like to call it now, the "alt-left" but just like the counter-productive movement of Americans angry and oppositional toward other Americans being publicly split up into ethnic, gender, religious and political demographics that have been made to believe that our interests are not aligned with the interests of other Americans. Unfortunately, it was conservatives that were made to believe that the supply side boon of the Citizens United ruling by the SCOTUS is actually just good, old-fashioned Free Market Capitalism. Just like the dogma and in the box thinking of political parties, Ministry's new song, Antifa is a little too on the nose and feeding into narratives created in political think tanks when it proclaims, "We're Not Snowflakes, We are the ANTIFA", creating an almost satirical atmosphere for the song. Then again, I might be the wrong demo to target since I've sworn off of Identity Politics, as of late and SWORN to never feed into the divide by calling those who consume right wing, Fox News and Breitbart propaganda racists on Facebook, ever again.
related content: Identity Politics in America part 1- Mind Control for Dummies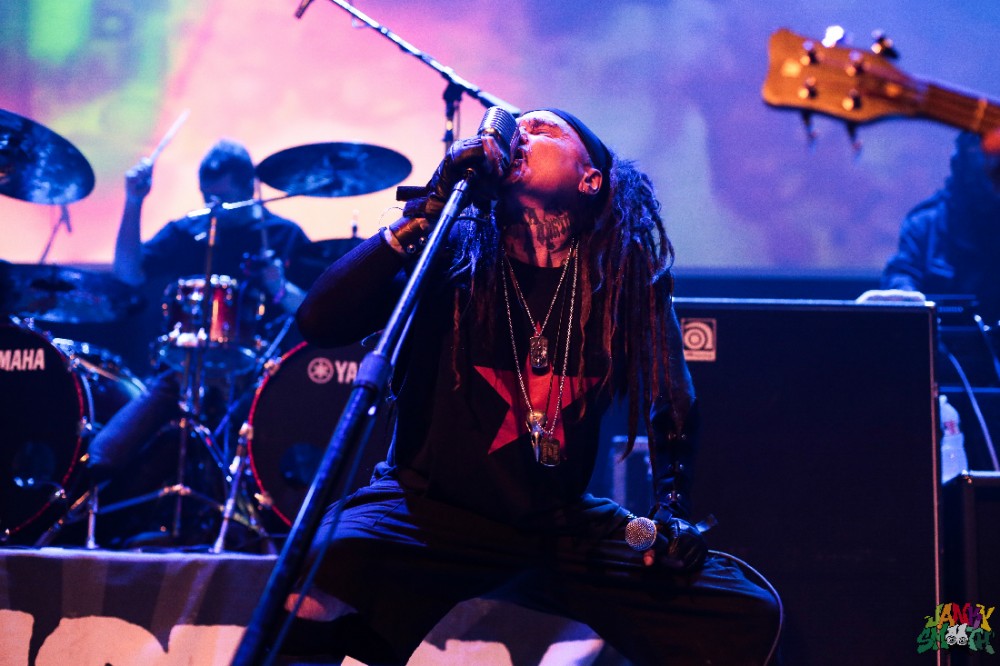 It seems lost on most folks, however, that the powers that be have leveraged the media, owned almost in total by just 6 corporations and the newest of oligarchs Jeff Bezos (Amazon.com) who owns the Washington Post, to drive divisive wedges into what was the 99% just 9 years ago after the financial meltdown.
related content: Pussy Riot, Partisan Politics and the Police State in America
But still, Al Jourgensen has always been WELL ahead of the politically active musician curve, so my revulsion at chanting "We're Not Snowflakes" out loud was soon soothed a couple songs into the set later with a classic and at the time of release, newly crossed over heavy metal Ministry with a song called N.W.O. – New World Order.
Inspired at the time by several President George H.W. Bush speech's, the New World Order was a political ideology created by a think tank called "Project for the New American Century" PNAC, made up largely of ex- Reagan and future Dubya cabinet appointees and conservative "thinkers" such as William Kristol.
Since that time partisanship has EXPLODED and partisan media moguls such as Alex Jones and his InfoWars have successfully attributed the doctrine of the New World Order and the tenets of globalization to being masterminded by Obama and Hillary Clinton- who weren't the original globalists but are certainly members of that club- no matter how much you " <3 the Obama's" the evidence is clear. It's only unfortunate that such a huge majority of Americans have become so susceptible to the hypocrisy of the political parties when they excuse their race horse for the same type of policy that had them calling for the head of other partisan political puppets and the steeds they bet on to win the race (baiting).
So anyway, 9 songs into the set and House of Blues exploded in activity to the chunky and striding palm muted open E string that, at the time the N.W.O. music video was playing on MTV, assured the original Ministry faithful that this metal thing that they were doing was still dance music.

The rest of the 6 songs in the 14 song setlist were all Psalm 69 or earlier songs such as "Just One Fix", "Thieves", "Psalm 69", an abridged version of the 9 minute classic "So What" and rounding out the set with the final song, "Filth Pig".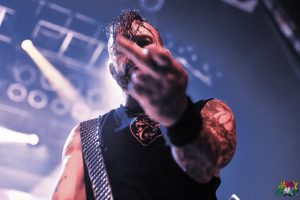 This was the first time I've seen bass player, Jason Christopher in his long standing role as a hired gun for some classic metal bands such as Prong and now, Ministry. He wasn't with Ministry when I saw them at Punk Rock Bowling in '16 but throughout the House of Blues set, Jason put forth the energy of a dude who wasn't just collecting a paycheck like most hired guns in bands well into a long tour. His stage presence, back up vocals and famous and endearing, trademark asshole-ish demeanor gave the band an energy that might be a bit abnormal if it were all original members on that stage- the energy of a man that was happy to be there and a stoke that usually doesn't come from jaded rock stars like it did when they first came to prominence. If there were a "hired gun of the year" award, Jason might just win in 2017. Congrats dude. I'm glad I could make mention of this rather than try to avoid the subject in the case you sucked balls.
Missing Ho99o9, a not so optimal setlist, a 5 hour drive to get to the spot and a mysterious compulsion to skip an FYF Fest that might actually have been the best since the fest moved to Exposition Park could've made this night anti-climactic and disappointing. But honestly, Ministry's live show is still just so good and Al Jourgensen still performs and banters with such a fresh and dynamic energy, that it made a trip that was filled with miscues and missed opportunities well worth the hassle it took to be there.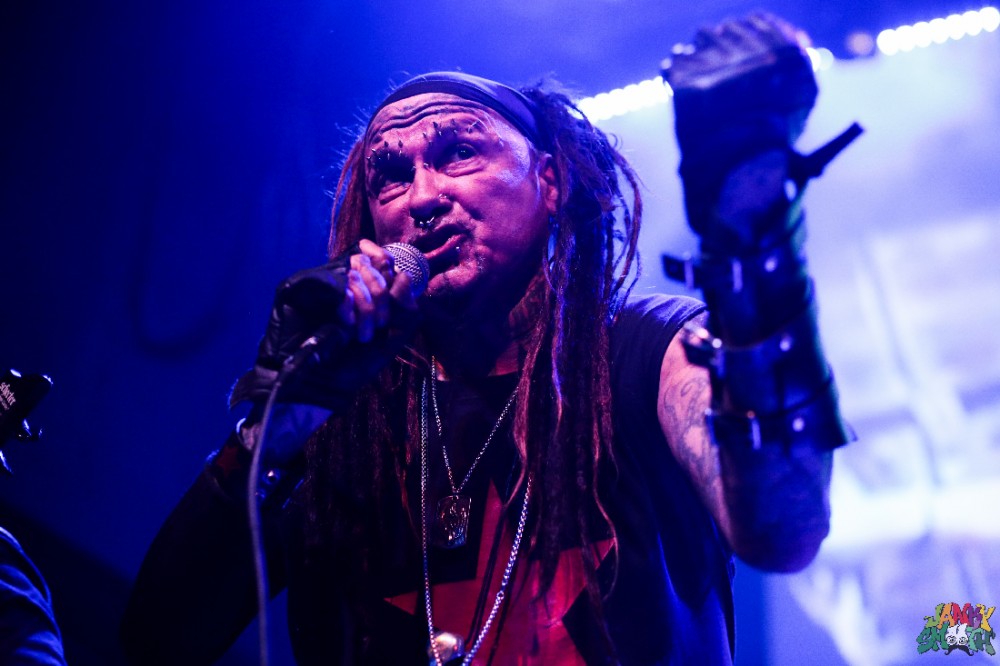 Words: Danny Baraz
Photos: Christina Badalian