Ministry Make Ears Bleed at Punk Rock Bowling Club Show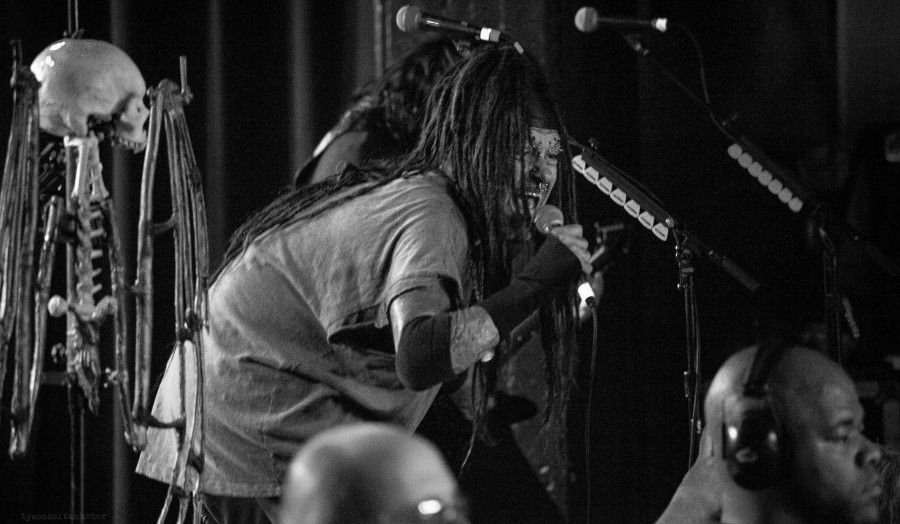 I was on the fence about attending Punk Rock Bowling this year. It's been 4 years in a row and when you have a wife and kids, it's an exercise of manipulation and selfishness to leave your family every Memorial Day weekend. "Honey, but it's work!" So as I was leaning towards a "no", Punk Rock Bowling 2016 unveiled it's club shows and there it was; Thursday, May 26th Ministry/Excel at the Fremont Country Club. Fuck my kids. Fuck my wife. Fuck my business and everyday life. What twisted individual thought of this lineup for a punk rock festival? A couple weeks later I found out that our friends from Death Hymn Number 9 were ALSO on the bill. "See you in a few days, kids! Daddy loves you!"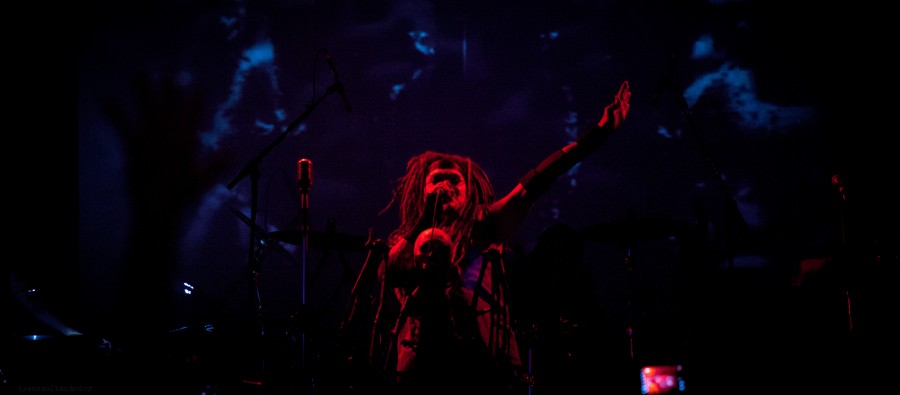 In 1990, Ministry released a live album called, "In Case You Didn't Feel Like Showing Up". I discovered it 2 years after it was released. I was 16. To this day I consider it my favorite Ministry album and THE BEST LIVE ALBUM OF ALL TIME. On my drive out to Vegas I listened to it 2 times, all the way through. I had visions of Ministry playing this album from front to back, even though most of their more mainstream popularity came from the album released directly after that seminal live album, "Psalm 69…", but it's the songs off the live album that distinguished Ministry and Al Jourgenson as one of the most innovative bands of that time.
And then there's Excel. Excel was my "neighborhood" band when I was going through middle school and the band released their second LP, "The Joke's on You". It completed my adolescent immersion into the skateboard and thrash culture that not only was happening in Venice and Santa Monica but is widely accepted as it's very birth place. Loud music, graffiti, getting chased out of every place we tried to skate, causing havoc, vandalism, playing guitar and general, juvenile delinquency. Excel, along with Suicidal Tendencies, Beowulf and Evol created a new sound by mixing the tempo of punk rock and the more technical aspects of heavy metal. Skate Thrash.
I got to the Fremont Country Club, by far, the best venue on Fremont street at around 8:15 at the assurance from Death Hymn Number 9 guitarist, Troy Bootow that 8:15 was the start of their set time. I was on a roll at the Black Jack tables at the Golden Nugget and I've been to enough shows to know that when a band tells you their set time is 8:15, it REALLY means 8:30 or 8:45. I even asked him, "are you sure you don't really go on at 9pm?" and of course, they went on at 9:15. I considered missing the first song out of protest but when Death Hymn started their set, it was clear that this would quickly become the best sounding Death Hymn show I've ever seen. It was the cleanest mix of a band that mangles their guitar tone with heavy reverb, distortion, delay and god knows what else. It was the first time I had heard the heavy influence of East Bay Ray in the playing of Bootow so clearly. I love their mix of horror punk and doom and apparently, so did everyone else. The venue was buzzing about them after they left the stage. Kudos dudes.
45 Grave never really "took" for a dude like me who has no real allegiance to genre and that tries to consume as much music history as possible. I just missed em, honestly but after their set, I plan on checking in on them and their catalog. I would say that 45 Grave fit the lineup but this lineup didn't quite fit the festival and for me, not fitting in is perfect.
Finally, Excel took the stage and the place exploded. The crowd was surprisingly well versed and the band fed off that energy throughout the entire set. Lead singer, Dan Clements has aged extremely well and the other old school but not original member, bass guitarist Shaun Ross has as well. The band opened with "Insecurity" off their first LP, "Split Image". I lost it. I sang it. I mixed it up in the pit MUCH more than I have in about a year. Song after song, the soundtrack to my tween and teen years unfolded in front of me. "Split Image", "Seeing Insane", "My Thoughts", "Fired (You're)", "I Never Denied" and much more. Excel ripped through the set with Venice pride and you could look throughout the crowd and identify different generations of Venice locals flashing their "V's" in the air anytime the moment became so big that they could no longer holster those fingers.
Ministry took the stage and instantly went into big, fat and heavy riffs, projecting images of Donald Trump and edits of his violent rallies. Jourgenson appeared and lined up with his mates, banging their heads like it was 1992. I didn't recognize a lot of the first few songs they played, many of them coming from albums that were released after Psalm 69. It didn't matter. It was overwhelming. It was the loudest show I've heard in 10 years. By far.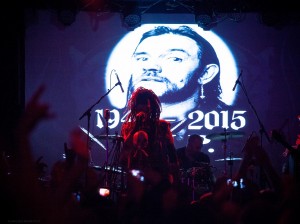 Al frequently took the opportunity to scorn "Racist and Xenophobic Republicans". Yes. You know that's my jam. Images flashed across the screen being assaulted with imagery of corruption and junkies and a tribute to Lemmy. When Ministry started playing the striding riff in N.W.O., the place erupted. There was the look of bad intentions in peoples eyes that was only curbed by all the beer spilled on the floor of the Fremont Country Club. It was quite a sight. Mutants, punks and even girls in those little black hoochie dresses you see all over the strip in high end clubs were slipping right and left on the beer soaked floor. It was disturbing and HILARIOUS. Right after that, Ministry played their most widely known song, "Just One Fix".
About half way through the set, it happened. Back to back, the band played "The Missing" and "Deity", the first two tracks off In Case You Didn't Feel Like Showing Up. That's when I lost my mind. The next track off that album was the 12 minute epic, "So What" which they didn't play but rolled right into Thieves instead and it sounded perfect
It was a perfect night that made it clear that I made the right decision in shunning my family in absenteeism so that I could attend yet another Punk Rock Bowling and start Memorial Day Weekend with a constant ringing in the ears.
Photos: Tyson Heder