Ho99o9 recruit your children to their Death Kult at The Church of Fun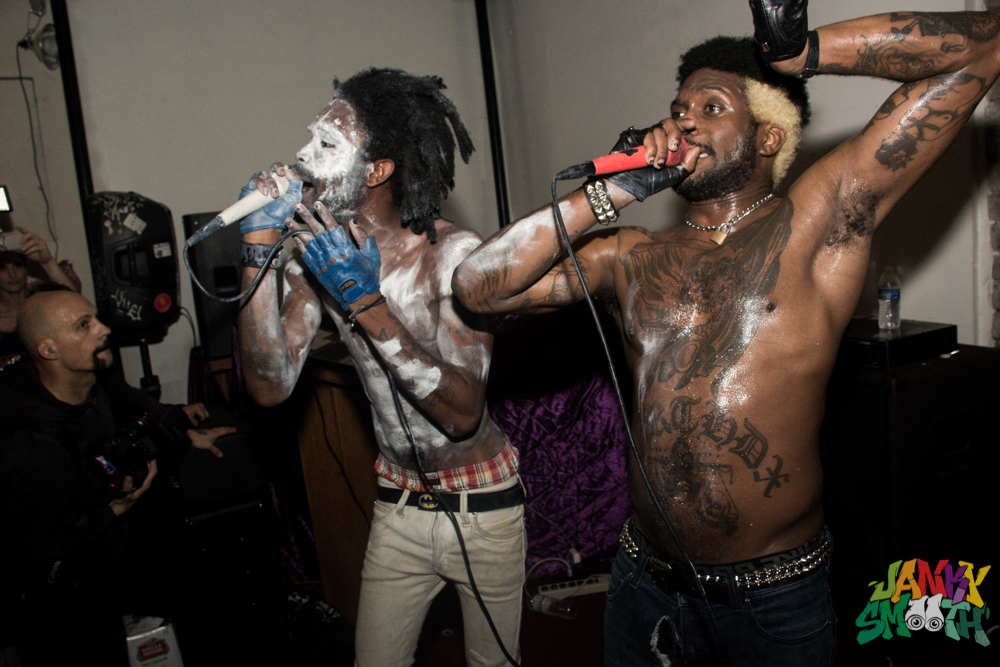 Ho99o9 are the worst nightmare of white, middle America. The genre twisting duo piss on your patriotism, your politics, your god and your daughter as she explores her desires for fetish and black cock. Not only do they influence punk kids but they also have the hip hop heads. Every demographic of YOUR children are in grave danger. All the rules and protocols for basic human interaction are thrown out the window at a Ho99o9 show. Everything you think you know about punk rock, hip hop and humanity are challenged by this emerging talent that was spawned in hell by way of New Jersey.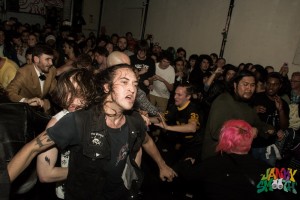 Last night, Saturday January 31st Ho99o9 played a show at an amazing DIY, artist venue called The Church of Fun and in the process, changed the game… even though most people don't know it yet. In a packed little room filled with the type of people who make conservatives question the future of this country, the sounds of the hardcore/punk/ hip hop deviants pumped through the suspect sound system and I have rarely heard anything more magikal or evil. The writhing and swirling of violence bruised bones and stimulated the genitals of a room full of youth who get turned on by this type of aggression.
I haven't been this excited for a new band in quite some time. I thought I was blown away by them the first time I saw them open a show for Trash Talk and Lil B but that was nothing compared to the rawness of last night. The OGM was on stage, sound checking his digital war drum, covered in chalky tribal war paint that decorated his face and body as he prepared for battle. Eaddy was hanging out amongst his fellow deviants in the house, dressed in full battle fatigues from top to bottom and a surgical mask just before taking the stage. The fatigues didn't last long because by the end of the show, Eaddy was completely naked, pistol whipping anyone in close proximity to his cock ala GG Allin.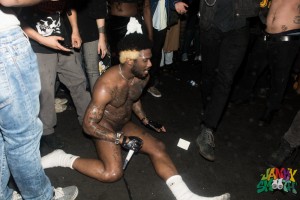 Bad sound can kill a bands set. Dithy, the sound engineer did the best with what he had to work with but I could hardly hear the beats pumping through the PA. It actually didn't matter one bit. Ho99o9's drummer is a hard hitting mother fucker and the vocals, from primal screams to smooth flows hit my cerebral cortex hard enough to fill in the blanks and I was swept away. Eaddy was diving and backflipping into the crowd off every protruding edge in the room. TheOGM convulsed and contorted to every downbeat. Must be tiring when it's four on the floor. When performers are that energetic in their shows, it's hard not to get swept up the river with them. Last time I saw them they did a cover of Minor Threat's, Seeing Red. This time, Eaddy and the OGM broke off some PMA with a cover of the Bad Brains, "Attitude". Ironic since PMA stands for Positive Mental Attitude and the vibe I get from Ho99o9 is completely dark and negative in the most realistic way of interpreting this twisted fucking society we live in.
Aside from their live show, ho99o9 dropped their Mutant Freax EP on Halloween of last year. You can download that here. You can also check out their twisted videos here.
Words: Danny Baraz
Photos: Taylor Wong