Børn in the U.S.H.-United States of Horror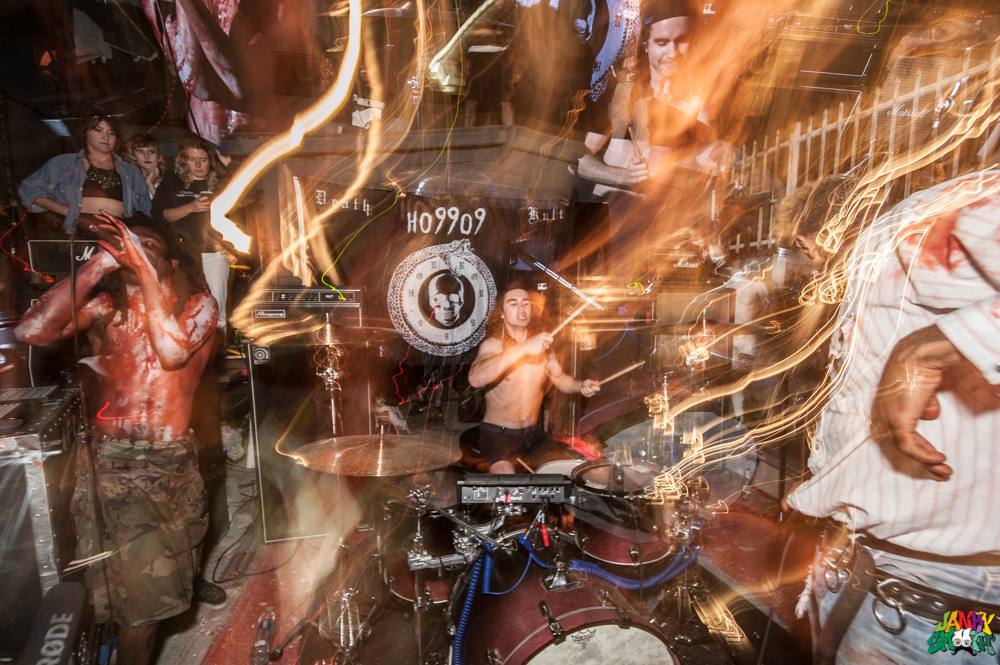 Last night in a back yard on Echo Park Ave, there was a call to arms. Last night, Jean Lebrun and Eaddy Lawrz aka HO99O9 launched a movement and moved forward in spreading the spores of the United States of Horror. Oh, you thought it was just music?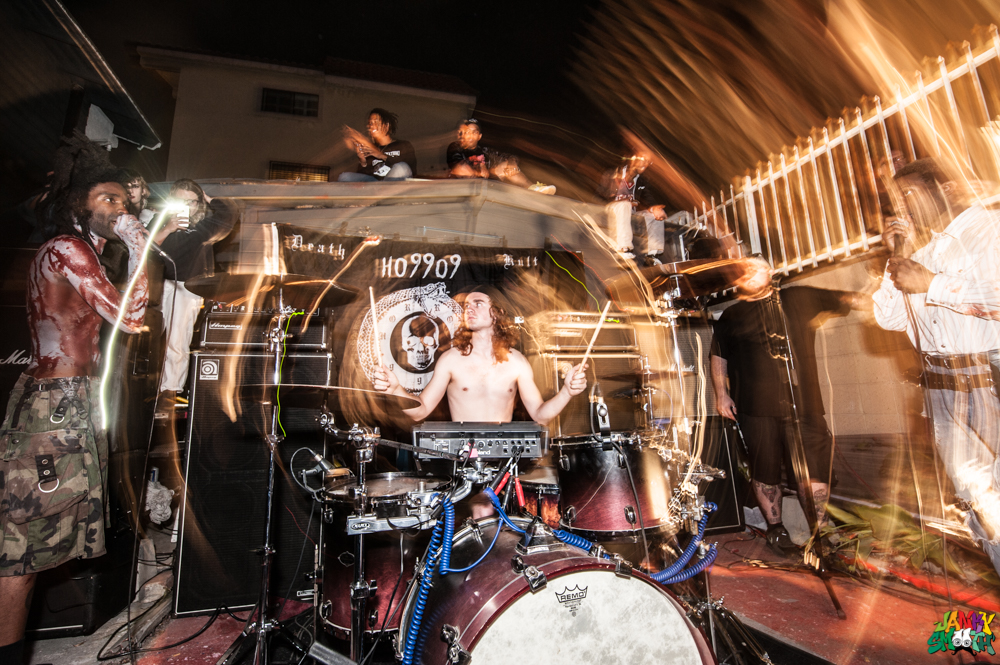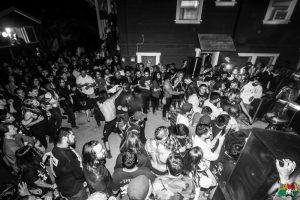 The new album from HO99O9 is the single biggest step forward I've seen from a band in over a decade. After their tactical assault of EP's over the past 2 years, the first full length album from the deacons of the death kult shows an incredible amount of maturation in musicality. I was nervous about how much more polished the production sounded on USoH, intially. But the clean production delivers a clear message and makes it easier to discern the mission being delivered in subject matter, a message that should make the programming directors and editors of Fox News and Breitbart beat the drums of white fragility- which, despite what the scumbag media ratings analysts attempt to depict, is growing more and more out of rhythm with the direction this country is headed.
Reminder: Kill your TV and anyone that tries to divide us- Kill 'em all.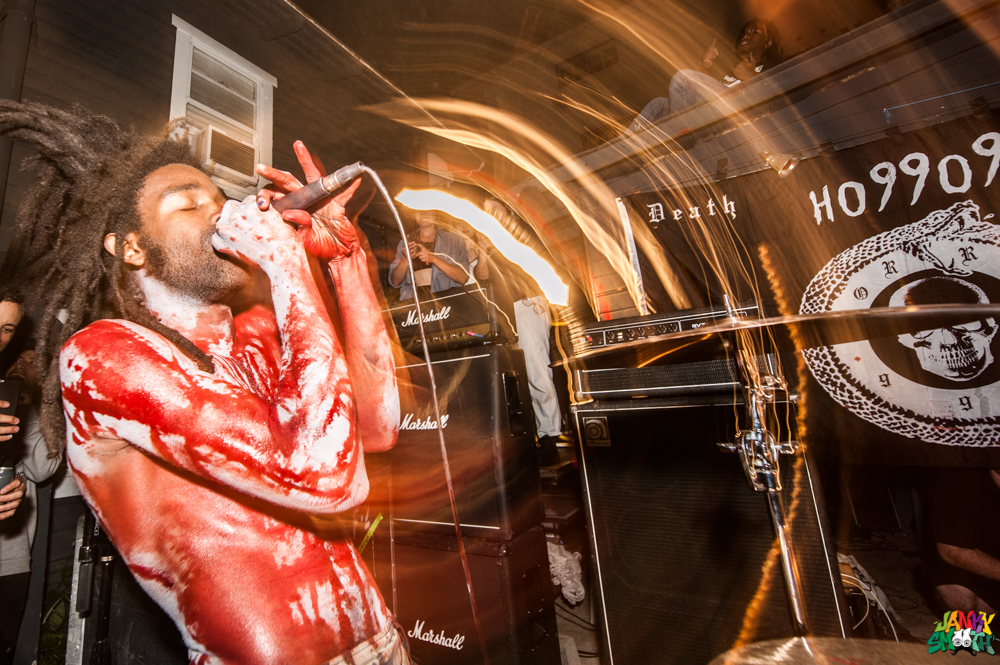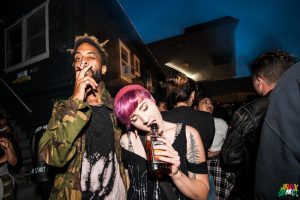 White America should be nervous- not white people at large, mind you. Because the militancy of United States of Horror is INclusive and only seeks to divide the woke from the joke. There is no shaming of the "straight white male" in the themes of United States of Horror- only shaming the shackles of spectators speckled throughout this country that support the white supremacy.
We are an army of mixed race mongrels that shit on your pedigree- but only if you stand in our way. You don't have to agree with every philosophical nuance of the United States of Horror to receive your citizenship. No adoption of dogma is required to register for this party. The only pre-requisite for membership is to accept the individual; no matter what race, class, sex, gender, religion or philosophy. The only requirement is that when it's time to party we party and when it's time- be ready to riot if there is an attack on any one of us.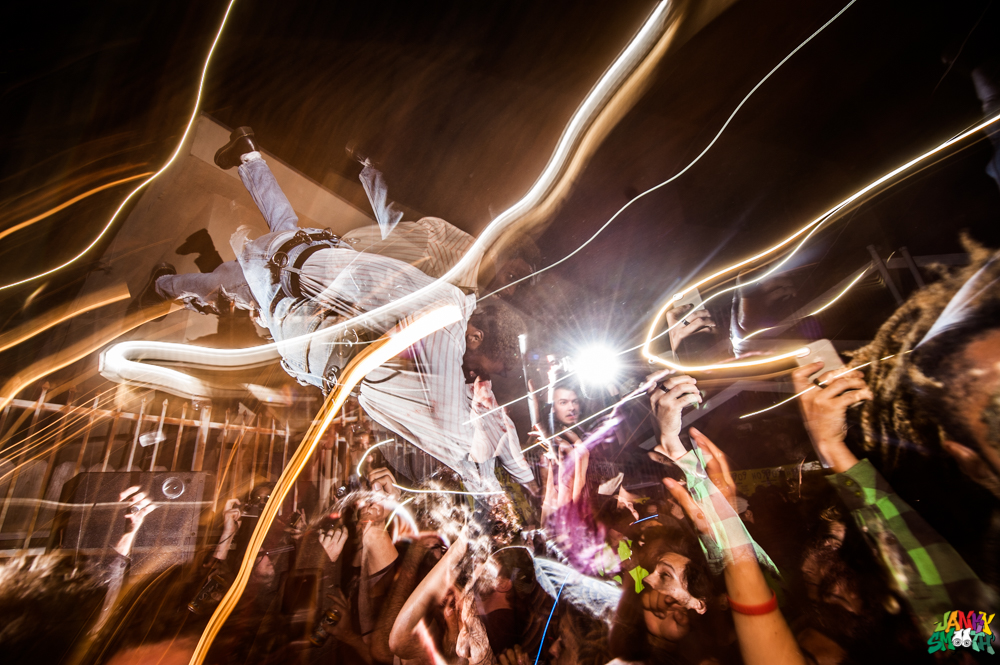 It has been particularly excruciating to read the different ways music critics and fans have attempted to use traditional classifications of genre to describe the HO99O9 sound (I was guilty of it myself with our first review of them.) Rap Punks, Rap/Metal, Industrial Rap, Hip Hop Punkers blah blah blah. Are there elements of those influences all throughout all 3 of their EP's and in United States of Horror? Absofuckinglutely. But rather than recognize that this is something no one has ever quite heard before, people insist on creating a label that can most easily package a product that can be sold to consumers. It's not that I'm above that… it's that I think United States of Horror is above that.
That being said, from the heavy punk influence in the BPM and cadence in half the tracks off their first EP, Mutant Freax, the evolution that occurred on the Horrors of 1999 EP, the Dead Bodies in the Lake mixtape and into United States of Horror has taken on a distinctly heavier, industrial and metal vibe- even though those two words are insufficient together, or even on their own. There is a common thread and cohesive nature to every release- from the crunchy and crackling drum hits and samples, to the round and saw like synthesizers in every track to date. It's those elements that give Ho99o9 songs a common thread that is uncommon in today's current landscape of music.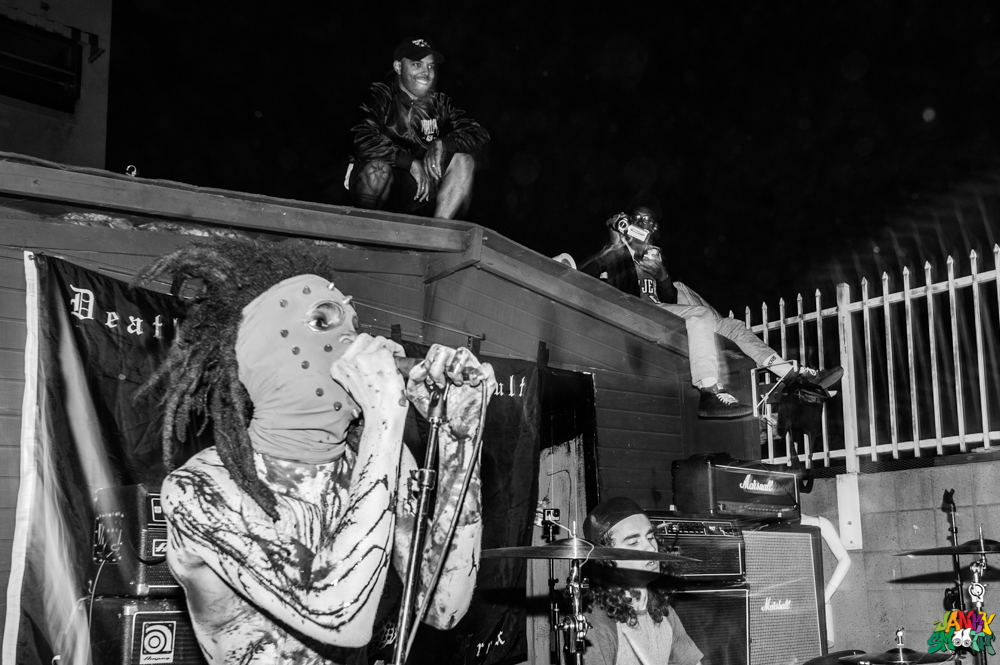 The tracks that stand out on USoH vary in their feel from one track to the other. From the surprising, melodic and Mr Bungle-esque vocals by TheOGM in "New Jersey Devil", the straight hip hop flow and 1/16th note ride of the hi hats in the banger "Splash", to the mania inducing insanity caused when Ho99o9 play "Knuckle Up" live and of course, the call to arms of the anthemic title track of "United States of Horror", I expect the 999 to have a MASSIVE break out on this album- whatever that will look like in the nebulous void left in place of the once shiny empire of the record industry in anyone's guess.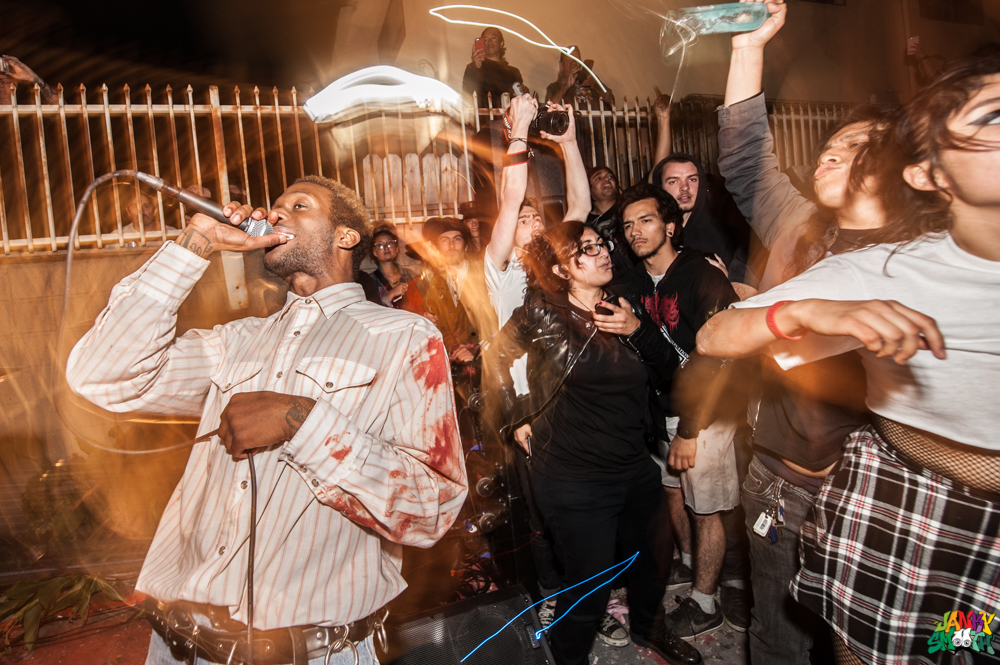 I do need to make the disclaimer that I am EXTREMELY biased when it comes to HO99O9 and their music. I saw the future the very first time I saw them play a free X-mas show at The Regent with the likes of Trash Talk and the Based God himself, Lil B. I knew immediately that I was looking at and listening to something special. In all their raw talent, it was their energy, rage and the way they connected to their audience that drew me in. Then when I saw them open for one of my heroes in music, Mike Patton and Faith No More, it was obvious that they had quite a bit of work to do on their live sound.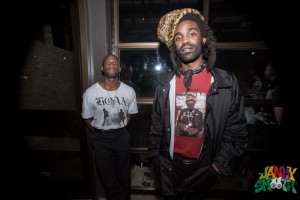 It was SXSW 2016 that I heard Ho99o9 play a set of music that could stand on it's own. Without being able to touch the crowd or induce bodies to fly across the room and through the air, HO99O9 could, for the first time, let their music speak for itself without the need to accessorize the stage and their performance with plastic fuck dolls and Eaddy backflips, (not that I'm opposed to either of those things.)
With all that being said, I never thought I'd see them reach the sonic heights I heard last night playing in front of a shed in an Echo Park backyard. Even the sound cutting in and out all night due to a shortcoming of power hardly dampened the evening at all, at least from a fanboy perspective.
Having a shredder like Brandon Pertzborn (Black Flag/Doyle) on the drums is a distinct advantage, not just to Ho99o9 but for any band. He does those fills. You know the ones I mean. The fills that just make every other drummer in the world scratch their head and bow in respect.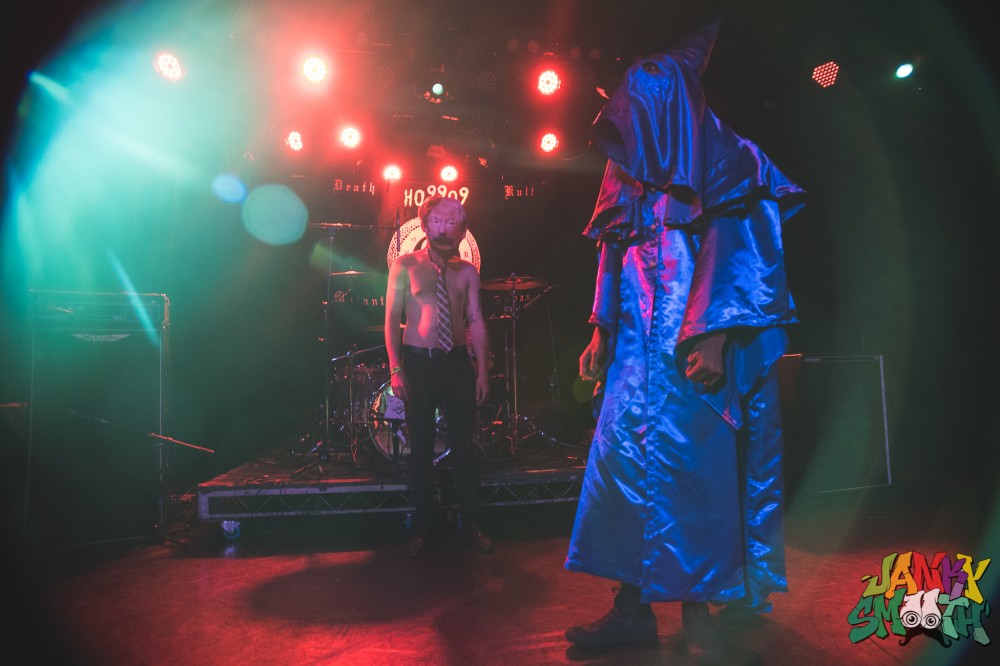 I've been waiting for a band like HO99O9 for a long fucking time. A band that can mobilize a generation to either fight, fuck or dance; and maybe even change the world in the process. A band that doesn't take cues on what they can and can't say in the studio or on the stage from their publicist. A band that doesn't sanitize their message in fear of losing large swaths of potential fans due to the hyper partisan atmosphere in the United State of America, right now.
The time for half measures and platitudes is over. The time for raw expressions of frustration at this system of legal corruption in which the youth of Amerikkka are sold into the slavery of a private prison system are long past due. The expressions of violence and revolt toward our oppressors and corporate overlords has just begun in The United States of Horror.
Put away your charms and cast no magick spells. The time for sorcery has past. The only thing that can save us now is ourselves, together. There is no other way forward. No politician or party is the least bit interested in our plight because corporations are people, money is speech and they are doing all the talking. If you haven't done so yet then pick up a copy of the new Ho99o9 album right now.
Words: Danny Baraz
Photos: Jessica Moncrief