Liberation vs Romance: Le Butcherettes and "It's My Party" Last Thursday in LA
By Danny Baraz
The impact of women in music is not only starting to reveal itself but the term "the gentler sex" is going to have to be retired.   This past Thursday night out on the town in Los Angeles proved two things- Artistic women like Teri Gender Bender of Le Butcherettes can decimate the stereotypical image of the role of women in society and that we can still celebrate the art and the emotions that originated from one of the most classic eras of American Sexism.   That dreamy, swept off your feet part of the classic patriarchy.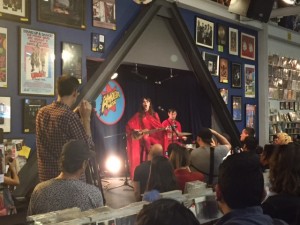 At 6pm on September 17, 2015 at Amoeba Records on Sunset Blvd, a lead singer of a band that originated in Guadalajara Mexico in 2007 left an indelible mark on passengers traveling east on the number 2 metro line bus during rush hour and in my psyche. Well, at least my psyche. The passengers of the bus didn't seem too thrilled. I found out, last minute, that Le Butcherettes were playing an in store performance at Amoeba and I rushed down there immediately. When I arrived I saw lead singer Teri Gender Bender, her guitar sized ukulele and drummer Chris Common in flowy red garb upon the stage at Amoeba. Like all in store performances at Amoeba, spectators were peppered all throughout the aisles and rows of compact discs of this huge, cavernous temple of music. There was a once in a lifetime intensity emanating from that stage that was bigger than the out of tune string of Gender Bender's pawn shop axe. The more out of tune that string became, the softer she played and the louder she sang. That singing was more like pleading. That pleading was like an appeal for someone, EVERYONE to understand her. To join her. To be her. With all the personality and expression she could summon, Teri Gender Bender didn't need words and their meaning to explain anything. As one of the most charismatic vocalists of our time, of anytime, it became clear why legendary artists such as Iggy Pop and John Frusciante agreed to collaborate with Le Butcherettes on A Raw Youth– the Omar Rodríguez-López produced album that was set to be released a day after this performance. The definition of her lyrics emote from her voice and the expressions on her face and if you ever have the experience of seeing them live and have Teri lock eyes with you, you'll finally understand the definition of the words, "intimate performance".
Le Butcherettes played stripped down selections off the new album, as well as classics from previous releases. The highlight of the show came on the last song- "Shame, You're All I've Got" off of 2014's Cry Is For Flies. Teri dismounted off her stool and the stage and began wandering the aisles of Amoeba, stopping frequently to individually serenade patrons and Amoeba employees. It was interesting to see her lock eyes with people and witness who could handle the intensity and who couldn't. Eye contact would produce nervous smiling and many cases, individuals would have to avert their eyes because that type of personal connection just seemed too overwhelming for many. She stopped at the security desk at the front of the store and began serenading Amoeba's grizzled veteran of shoplifting detection. Just outside the doors on Sunset Blvd, a Metro bus had stopped to pick up new passengers and Gender Bender impulsively hopped on the number 2 bus which was headed East on Sunset. A trail of music journalists and photographers followed her onto the autobus as the driver threatened departure by pumping his brakes. Dozens of weary commuters rolled their eyes and looked at their phones as Teri Gender Bender stood in the aisle, strumming her uke, wet and sweaty from the pure will of her performance. She brought "their" set to a close as she exited the bus to a smattering of applause of the few members of the audience that followed her out of the store. Not enough, in my opinion. I was half hoping that bus would take off with us on it, only to deposit us somewhere in Downtown L.A. to continue the Gender Bender busk. I got the next best option when Teri started exiting the bus and pressed up against me- singing and strumming, for the few remaining bars of the song. Swoon.

It was honestly one of the most unexpectedly powerful moments I've had in music. Brave performers are rare these days and it was one of the bravest performances I had ever seen.
I have always been a sucker for strong women commanding a stage or a recording studio. The more this country moves in it's post-Christ direction, the more empowered women are to express themselves and equality or not, women have the edge on us dudes when it comes to expressing emotion.  Nature or Nurture, Bro?
I was off to my next destination. Human Resources in Chinatown is a non profit collective of Los Angeles art boosters, committed to "broaden engagement with contemporary and conceptual art, with an emphasis on performative and underexposed modes of expression." The concept of the evening was fun and the execution of the event was impeccable. With little time to book and organize the event, Daiana Feuer, head honcho of Fever, respected music journalist and founder of the band, Bloody Death Skull set out to book an event she dubbed: "It's My Party: Tribute to Girl Bands of the 50's and 60's". The name is pretty self explanatory. The event featured local female fronted and backed bands like L.A. Witch, Katy Goodman (La Sera/Vivian Girls), Tashaki Miyaki, Nedelle Torrisi, Vicky & The Vengents, Bloody Death Skull, White Dove, Irene Diaz, Alex Lilly, Veronica Bianqui, The Rosalyns, Damselles and the TC4.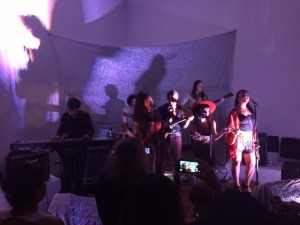 Ladies attending this show got into the spirit of the event and there were bee hive hairdo's and poodle skirts as far as the eye could see. Typically, I hate it when bands are stacked too closely together and they are forced to play short, 10 minute sets. In this case, every single band chose a couple covers songs from the era's girl and do-wop groups and the flow between bands was smooth. The highlight of the night for me was not the upper echelon of buzz worthy acts that towered on this lineup like L.A. Witch, Tashaki Miyaki, Katy Goodman or super duper up and comer, Veronica Bianqui. It was Damselles and the TC4 with their hard edged, almost punk do wop sound that belongs in a John Waters movie. While everyone brought their A Game, The Damselles got me pretty hyped and got the room, which was still filling up, completely engaged in their energetic performance.
There was some irony in the theme of the event and the irony of using this era as it relates to the empowerment of women. The pre women's lib subject matter of songs that originated from this era are heavy with taboo topics such as "going steady" but when I think about the line, "I'll Cry if I Want To", it sort of clicks that during that era, crying during a celebratory event was probably pretty punk rock and made it ok for girls to be imperfect in a public setting. Is that a stretch? Either way, we were transported to a time when things were much simpler, prior to the end of innocence. A time when men hardly needed to be accountable for the way they treated women. A time during rule of thumb. A time period which has been an inspiration for the heroine from earlier in the evening, Teri Gender Bender who has been known to sport a 50's house-wife aesthetic covered in blood and accessorized by severed pig heads. There was something comforting about the acceptance of the status quo of that era. When everyone knew and were comfortable with their "roles". When pinning a girl meant complete devotion not un-consensual sex. But it also insinuated ownership. When you were Bobby's girl. It's this part of feminism vs Romance that feminism is trying to define now. Before the herculean task of fighting for women's equality while still learning how the sexes could celebrate and love each others differences, both which are mandatory to our survival and emancipating the female of the species from the shackles of conservative, biblical expectations while confusing the fuck out of men and thus, forcing us to redefine our roles, as well.
I asked Daiana Feuer how we reconcile Liberation vs Romance and she had this to say- "I cringe at the suggestion that romance is not feminist. I read something recently arguing that a man putting his arm around a woman was anti-feminist, and that is just silly. Those girl group songs were written in a different time, and yes they are sappy and don't necessarily empower women by today's standards, but that dreaminess towards love and romance is something that I think we risk squashing and squandering away. And then we are left with a void. Love is not a business transaction. We're lucky to live in a progressive time where we're not limited to pining away by the telephone, washing our hair, waiting for Jimmy to call. We can call up Jimmy and tell him what we want."
Once again, art teaches and advances society and is more impactful than any of the latest advances in smart phone technology. Art might very well be society's version of "Inception"- That catchy song from an era whose mantra became a motto for an entire generation. From Stand by Your Man in 1968 to You're No Good in 1975 to Aint no Holla Back girl in 2005, songs get stuck in our head and become affirmations in our society. So now, with a generation of women coming of age in a time that the gender roles are more nebulous than ever, the cherry on top of the feminism is what will romance look like, moving forward? What can we keep and what can we throw away?
While the backwards hypocrites serving on the Right in the legislative branches of the U.S. Congress attempt to posture to their base by defunding the symbol and bastion of the progress of women in this country, Planned Parenthood, generation after generation of young Americans are throwing off the yolk of sexism, racism and xenophobia to usher in a new era of humanity. The art and media produced in the United States of America is a beacon of culture that is spread across the world. As I hang my head in shame and embarrassment while the noblest symbols of public service and law making in America make a public and prideful mockery of the progress made in the past 50 years, my heart swells with pride as this new generation of American artists is exploding with empowered women.  Yes, popular art and culture is still filled with sexist images and content but the progress I'm seeing in the underground is encouraging.  After all, that is where the mainstream looks determine what's "next".  There is nothing but stoke when I think about what I experienced this past Thursday night in Los Angeles, the capital of the new music industry and the spearhead which is gutting the entrails of the cadaver of American sexism.
Burger-a-go-go 2015: Feminism in Rock Reviewed by "Some Guy"