Janky Smooth at Riot Fest Chicago 2015: A Drunk History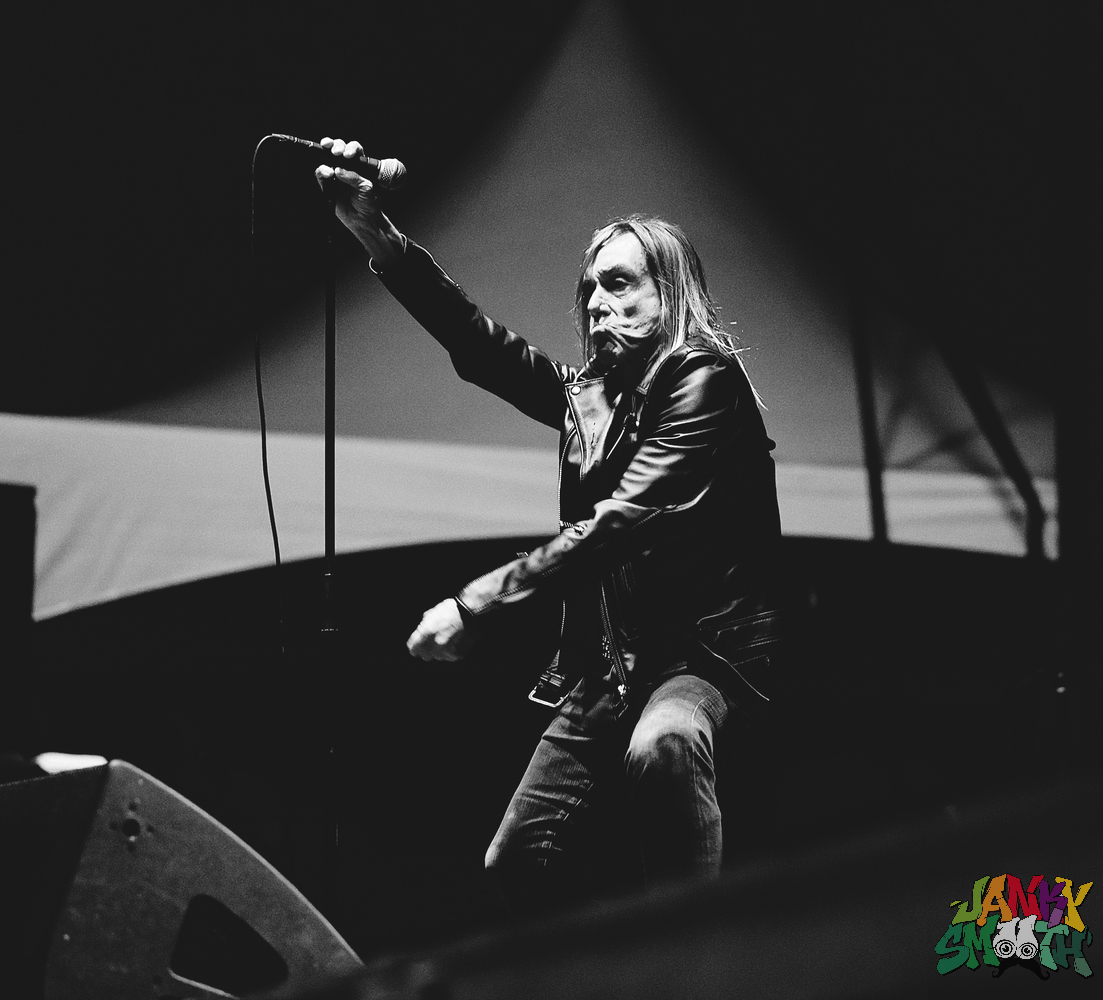 By Vanessa Burgundy
This was my Riot Fest hat trick and they do always say that "third time's a charm". Let it be known, Riot Fest, you have always been positively charming, however; this year, you were downright enchanted.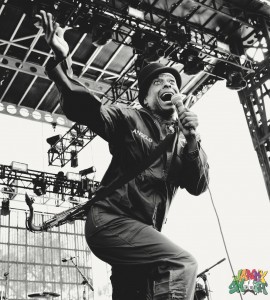 Day One: I had a bit of a late start, missing favorites like Mariachi el Bronx, Fishbone, and garage-girl-group The Coathangers. Danny caught up with them in our Riot Fest Video Recap but got there just in time to catch classic New York, rock band Living Colour. This years Riot Fest was already off to a better start than the previous year, with a smooth, no-wait, check-in and entry but also a gorgeous day. I actually didn't even know that the entirety of field at Douglas Park resembled a bowl of pudding until I got kicked off the stage later that night during No Doubt's set. Thanks Gwen.

I got to my perch on the side of stage during Living Colour's set. Once the god awful sound issues were worked out, Living Colour were amazing and I couldn't find any difference between now and 88 except a few scattered greys in the dreads and fro's. Impressive.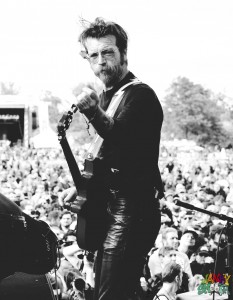 Conveniently, our buddies, Eagles of Death Metal were playing next on the same stage so I sat tight. One of the few bands I watched from start to finish over the weekend. EODM delivered a righteous show of rock n roll, especially considering front-man Jesse Hughes' fingers going numb throughout the set. It might've been one of the nicest days of the year in Chicago but us L.A. folk don't fare well with the elements. "I am prepared to die, delivering rock n roll to you!", – Jesse Hughes.
Following that up with, "I am prepared for Davey (Catching) to die as well.", remarked Hughes of his lead axe man. We're glad no one died, boys. It was still up for debate when we saw them departing on the tour bus, later that evening.
It began to get a little chilly and we headed to the press tent to charge our media and listen to Lee Scratch Perry. Word on the street was there were breakdancers galore at the foot of the stage and from our comfy perch, he sounded great once he took the stage, 20 minutes into the set. We could hear the percussion and dubbed out drums clearly next to the bar that had the free beer. Heh.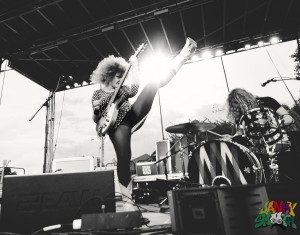 Sad to miss the show, but happy to run into long-time friend and Fishbone bass player Norwood Fisher as we were finishing up some interviews. (We blame him and his 50th birthday bash that night for our Saturday hangover. Happy 50th Birthday Norwood!) Also while back there, we heard Flogging Molly deliver an upbeat set, as usual and saw Riot Fest alumn and checked out Chicago natives, White Mystery. With bright red torches on top of their head, they played a blistering set in their home town. I sadly missed "cholo-goth" newcomers, Prayers, but Danny caught up with them in our video recap. Luckily, Danny was there.  Actually, thank god we have video and full photo galleries to remind me that I was there.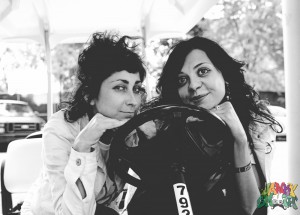 After warming up in EODMs tour bus (thanks guys!), I walked out to catch Faith No More. If you haven't seen them on this reunion tour yet, get the fuck out there. Every show I've seen them play has been incredible and their set at Riot Fest might've been the best one yet. As their stage set-up would suggest, it is truly a religious experience. The thousands of dollars of flower arrangement and the stage wrapped in taut white sheets, it looks like a most tranquil purgatory.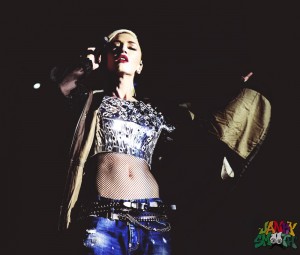 As the night air settled in, I retired back to the bus as No Doubt played on the neighboring stage. I listened to a bit of the set as it seemed they were seamlessly playing the hits but the stage was on complete lockdown. Either Gwen had a stalker in town, or someone required a bit too much security for such a chill festival. Really, the amount of black cars and police would've had you thought the President had come to see them. Hmph.
Last stop of the night, we checked on Lemmy and were glad to see he was looking good and Motorhead delivered another fine set of thrashing rock n roll. There were concerns since he hasn't been able to play back to back shows but aside from a little hoarseness at the end of the set, the switch to Vodka has kept Lemmy at an acceptable level of drunkenness to finish out the show. THE show.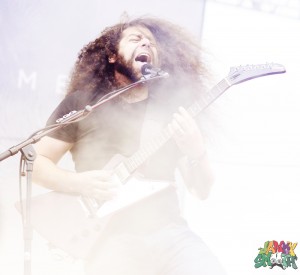 Off to Norwood's birthday party and the end of Day One. We jumped in an Uber and drove exceptionally far to a spot called the Tap Room where most of Fishbone, Eric McFadden, Living Colour and other guests jammed until the sun came up. Quite possibly the best musicians at Riot Fest. Boo ya.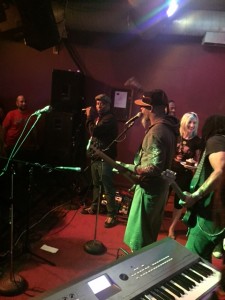 Day 2: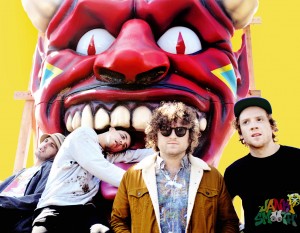 Good Morning, Chicago.  Day 2 boasted some of our favorites, possibly the most solid lineup of the weekend…Steve Ignorant (founding member of Crass) was on at 12:40pm on the Rise stage, along with L.A. hometown favorites FIDLAR on the Riot Stage. Honestly, I couldn't wake up my rock n roll that early but I think Danny was there.  Not sure.  You'll have to check the video evidence.  Also on early was New Jersey hardcore band Lifetime, English alt-rock Swervedriver, and our favorite horror-metal comedians GWAR. I tried to pull it together for The Damned at 2:40pm followed by the Dead Milkmen and Babes in Toyland but I felt disrespectful gawking at vampires in the daytime and well, we were seeing Babes in Toyland later that night for the after-show party.  As I picked out my lipstick color for the day, I purposefully stood in solidarity (or was it just laziness from last night's party?) with Kim Gordon and missed the Thurston Moore Band at 3:45pm and being from L.A., I really couldn't think of anything worse than coming all the way to Chicago and sitting through another surf/bro set from Pennywise. Sorry guys, you're good at what you do but it's just not for me.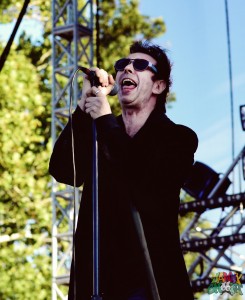 Enter: Echo and the Bunnymen. Aaaaaaah, sweet sweet Riot Fest. We walked in as they opened with "Lips Like Sugar" and the rest of their short set floated through the crisp Chicago air like a dream, finishing up with "Bring on the Dancing Horses", "The Killing Moon", and "The Cutter". Perfection.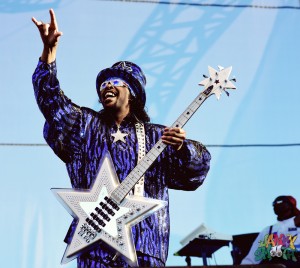 Bootsy Collins funked out the Rock Stage for the next hour and then we headed to the media tent for a beer to check on our hangover. All good for now. We settled in to our seats in lieu of trekking through some mud (how un-country of us) and had the perfect listening station for Merle Haggard. We took our cue from that little sweetheart, though as he broke into his second song "I Think I'll Just Stay Here and Drink". He played a solid 10-song set and as we headed over to the Rise stage for Rancid, where the beauty of Riot Fest was really apparent. No other festival combines genres like Riot Fest yet they're not trying to add electronic "DJs" to get teenage/mainstream money. There's no holograms or Motorola sponsored oxygen tents. There's rock n roll and sideshow grit. If you're in, you're in and if you're out, then you're where you should be. I'm IN.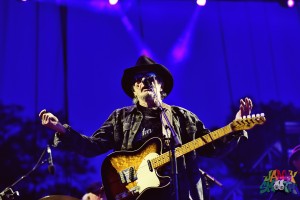 7:37pm and I hopped up on stage for Rancid about to play …And Out Come the Wolves in it's entirety (has it really been 20 years?). I saw my friend of almost that long and frontman Tim Armstrong right before he went on, "I need you to wake me up with your rock n roll music", I said.
"That's what I'm here for. That's what I'm good at.", he replied. "Did you know we're playing the whole (…And Out Come The Wolves) record?
".
"Hell yes." I said. "Do you ever get sick of playing it?"
"NO WAY! I love it, man."
Fuck yes, you do Tim. Me too.
They went on to deliver one of the best Rancid show's we've ever seen. Doesn't hurt that the album is pretty flawfless and fun straight through til the end. Spotted next to us, No Doubt's Tony Kanal rocking out and supporting his fellow punk rock pals.
They encored with "Honor is All We Know", "Fall Back Down", and "Radio".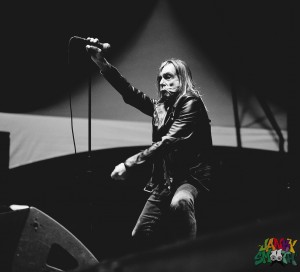 I teetered down the stairs a wee bit light-headed from the energy of the show (and maybe the free beer in the press tent), coupled with the fact that I hadn't eaten a damn thing all day. No time now, Iggy Pop just took the stage. He opened up with Stooges classic "No Fun" and hammered through an outstanding setlist including "Five Foot One" where he stopped mid way through and demanded "pick me up and fuck me!". We love you Iggy.
I needed to get some nourishment before Babes in Toyland at the Cobra Lounge. Shout out to Michael at La Lucé for feeding us and also scaring the shit out of me. After 27 years, we stumbled into this neighborhood gem and Michael, the proprietor was drunk and weepy and at times, angry and incoherent. He informed us La Luce was changing into a gay bar and giggled then cried and said something about his "crazy Puerto Rican wife". I walked outside because I got uncomfortable, Ian hit the head and Danny chatted with him for another 5 minutes as Michael ate the uneaten plate of sausage leftover from Danny and Ian's meal. I'm a Vegan (Danny made me write that)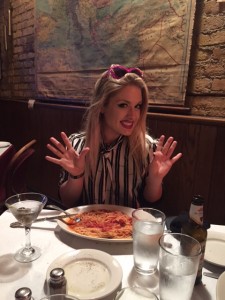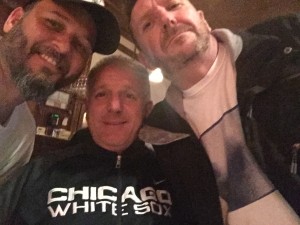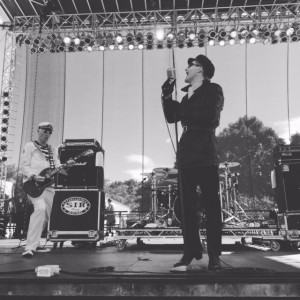 Cobra Lounge was super relaxed with Babes members casually hanging out just minutes before hitting the stage. Not something you'd usually find in L.A. The room was full, not cramped or packed in but how a show should be. They played a super fun set, as if they were playing for a room full of friends. Lori was all smiles ear to ear as she pounded the living shit out those drums. I did miss the stoicness of Maureen Herman up there playing bass but new bassist Clara Salyer did the job. She seemed more "fangirl" than band member but I guess that's good energy to have if you need to replace someone. Frontwoman Kat Bjelland, who earlier in the day became hypnotized at how my lipstick perfectly matched my sunglasses (thank you very much), destroyed the room with those eyes and that damn voice. It was a short and sweet set but one of my favorite of the entire weekend and that's all I needed. Off to bed for Day 3 prep.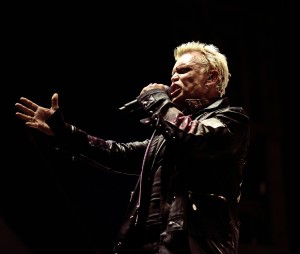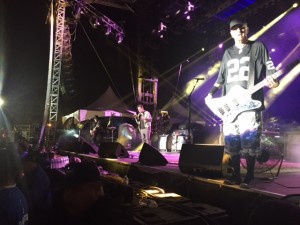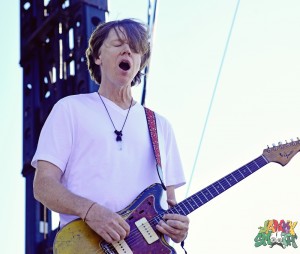 Day 3: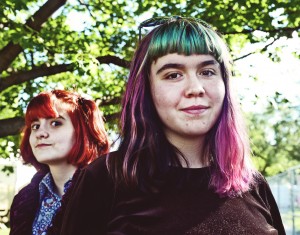 I'm not gonna lie. Day 3 hurt. I'm telling you, Chicago is too much fun. I played hide and go seek in my bed pretty much all day. Hiding under the covers and seeking some sleep, that is. Did I mention I bought a 12 pack of Alka-Seltzer before I got there? Not to worry, I've been prepared.
As much as I love getting rowdy with the Dwarves, who were playing at 2:10pm, and listening to Hip/Hop veterans De la Soul, who were on at 3pm, it just wasn't gonna happen. I'll tell you right now, the only ones getting me outta bed were gonna be L7 and they weren't on until 6pm. That's another Riot Fest plus, there's so much good music, you don't feel bad about missing out on a few. There's plenty to make up for it.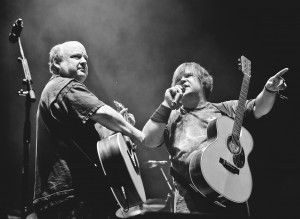 I got up around 5pm, put on the sparkliest dress I could find to combat how I was feeling, and hopped in the Uber to celebrate the last day of music, excitedly ending with a small club show with The Damned. So…well…hangover be damned…let's go.
We walked in as Cypress Hill was playing and could tell the crowd had been worked into a frenzy. The energy woke me right up. That and a cocktail from the Artists lounge. We headed over to L7 and watched them slay another set before heading over to support Replacements (and Guns N Roses) bass guitarist and solo artist Tommy Stinson. Although we're prone to loving Tommy through years of friendship and shenanigans, his solo stuff is just as strong as the bands he's been in through the years and his backing band gave a solid performance. We were sorry we had to miss Jimmy Cliff and Snoop Dogg but Tommy was worth it.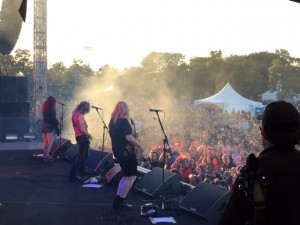 Now I've got to be honest again…I fucked off the rest of the festival to drink in the Artists tent. I'm not a huge fan of the Prodigy and definitely not Modest Mouse but heard from JankySmooth correspondent, Ian Price, that the Prodigy was the best act he saw all weekend. I really just wanted to get to the Damned after-show party at the Double Door.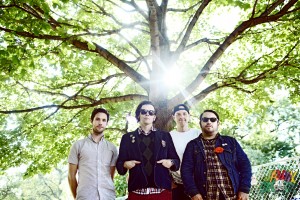 And party we did.
Any semblance of a hangover was gone at this point, a homeless man gave me a crystal necklace, and Sean (owner of the Double Door) graciously ushered us in to what was going to be a real treat.
The Damned came out and opened with "Love Song" and I'm pretty sure my feet never touched the ground as I became wedged in between screaming, sweating fans. YES. The rest of the set was a blur until I came to during "New Rose". It was insane. Captain Sensible gave us a sensible lecture at some point and Dave Vanian never took off his leather trench coat, caring fuck all that even the ceiling was dripping sweat. They closed with "Neat Neat Neat" and I don't think there was a single person that wasn't roaring the lyrics right back to them. Super intense, we headed downstairs to watch the encore from the downstairs lounge. They closed it out with "Disco Man", "Nasty", and "Smash it Up Parts 1&2". I barely came down from the energy high when Vanian and the band came down the stairs to the empty lounge. Obviously needing a selfie, I took my phone out and started walking over to catch him before he disappeared. As I began stammering out some fangirl blabber, I ever so gracefully chin-checked him with my phone.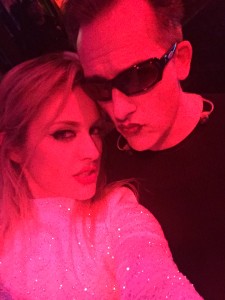 "Wasn't expecting that…", he said, as I tried to apologize but more so tried to pose for our picture.
I couldn't tell under his sunglasses if he was rolling his eyes at me but our picture proves he was more into the pose as well. Thank you, vain vampire…til we meet again.
The rest of the night got lost in a bevvy of Chicago bars, a proper send off and end to an amazing weekend and the start of a brutal week ahead.
Riot Fest. You are perfect. See you next year.
Words: Vanessa Burgundy
Photos: Jesse Fox