Le Butcherettes Leave A Pint of Blood On Stage at Alex's Bar in Long Beach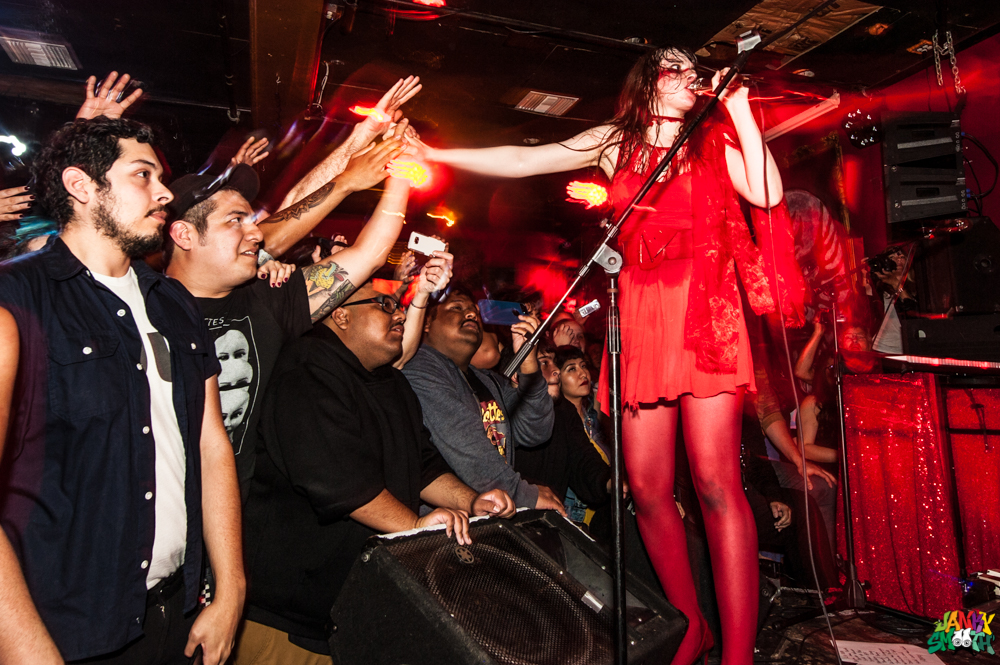 Mex-American punk trio Le Butcherettes are sheer intensity personified onstage. On a Wednesday night at Alex's Bar in Long Beach, the crowd sizzled anxiously under the ominous glow of the shadow-casting red lights.The entire venue has been arranged to allow for maximum capacity, standing room only. Photographers clamored on top of the scattered bar furniture, desperate for a clear shot at the stage which is only elevated slightly from the floor at the very front of the venue space.
The enlivened crowd is thick, anxiously buzzing and seemingly impenetrable. Everyone wants to get in on the action and Le Butcherettes come with a satisfaction guarantee for punk music lovers.
Alex's Bar is tactfully decorated with skeletons, Lucha Libre masks and religious iconography. It is a perfect setting for the evening's headliners to tear it up- Mexican garage punk-style.
Draped in red, Teri Gender Bender took her position onstage and delivered a rallying cry of a performance. Teri is accompanied onstage by her bandmates Riko Rodríguez-López and Alejandra Robles Luna. Le Butcherettes opened their set with a song called 'La Uva', which was recorded with help from Iggy Pop and is featured on the newest album A RAW YOUTH.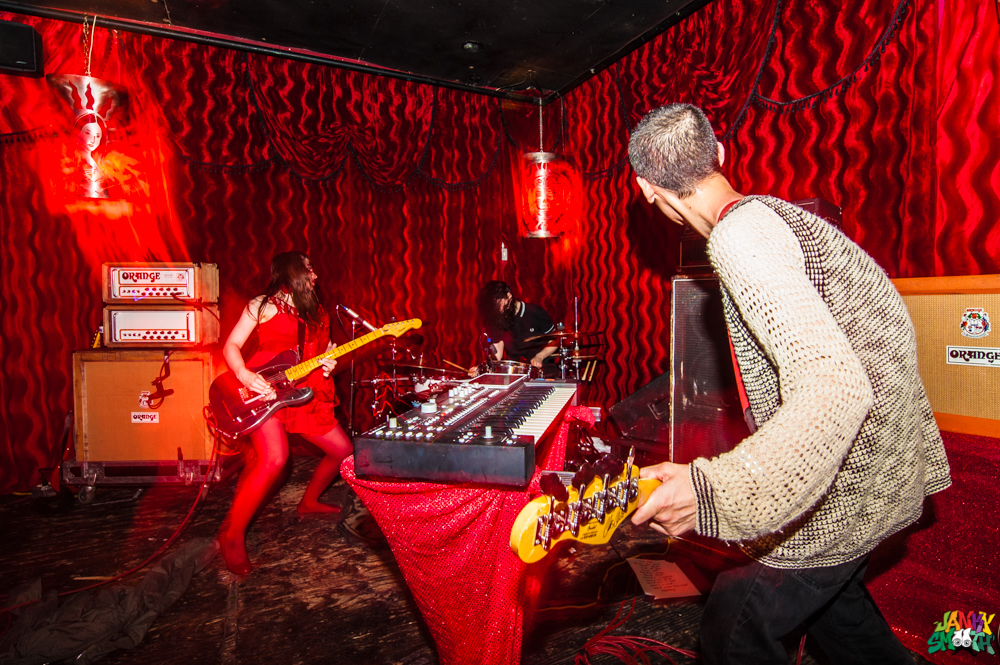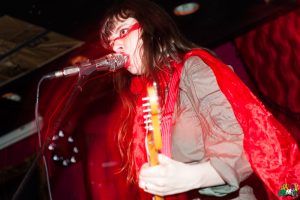 Teri displays raw aggression when she plays and it is apparent that she didn't come to play games; She commands respect through her performance, punctuating it with bursts of anguished screaming. She protests loudly, both vocally and in her body language, against the violence in her homeland of Guadalajara, Mexico. Teri takes full advantage of her powerful voice and impressive range, even using falsetto vocals frequently and tastefully. The middle of the set was punctuated by a synth-heavy performance of "Witchless C Spot", a haunting goth number also off A RAW YOUTH.
"Draggin' your skin/I'm pulling it from within/It's got a hold/Turning me into mass/Losin' my hair/This ride has given me hell/Me as your mold/I'm only here as your ghost"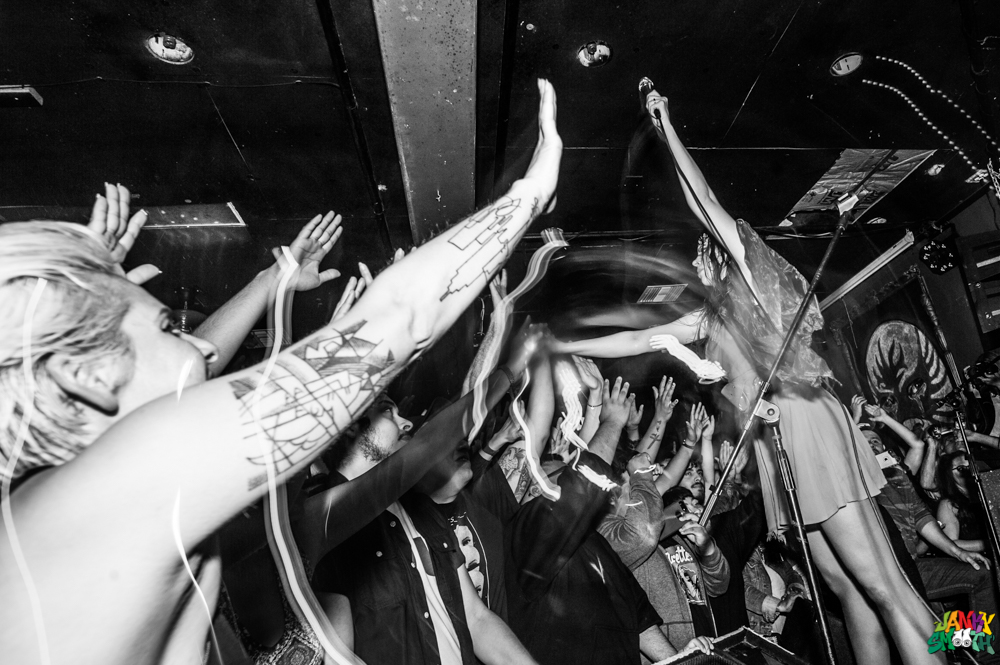 The lyrics are scathing and Teri sounds like an early Karen O in her delivery. Her music resonates like storm clouds rolling in and bursting with power, raining all over the exhilarated crowd.
Her music and presence is very much a political statement and she exudes the political punk vibe from every ounce of her being. In her billowing red garments and red face paint, Teri performs both on the stage and in the pit with the audience surrounding her and carrying her when she stage dives successfully into the audience's eager arms. They engulf her entirely, feeding off of every line that comes out of her mouth.
Throughout the performance, she gestures wildly and even hits herself in the heat of her angsty repertoire. "I failed you mother, I was bad" the lyrics taunt in a sing-song manner, never lacking in it's saccharine sarcasm.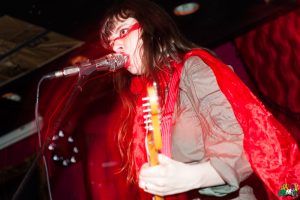 The energy Teri Gender Bender brings to the space she inhabits drives the audience wild and the enthusiasm and vivacity never wanes for even a second of Le Butcherettes. The band closed with a high-power rendition of 'Henry Don't Got Love', one of their most recognizable songs for which the video was released in 2011, a testament to the longevity of Le Butcherettes in our ADD media culture.
"You're afraid to love me, you're afraid to even know me/You walk on the street at night, tell your friends that I'm a fright/I'm green when you kick me/Your man thinks he's bigger than my mom, you're ashamed of me"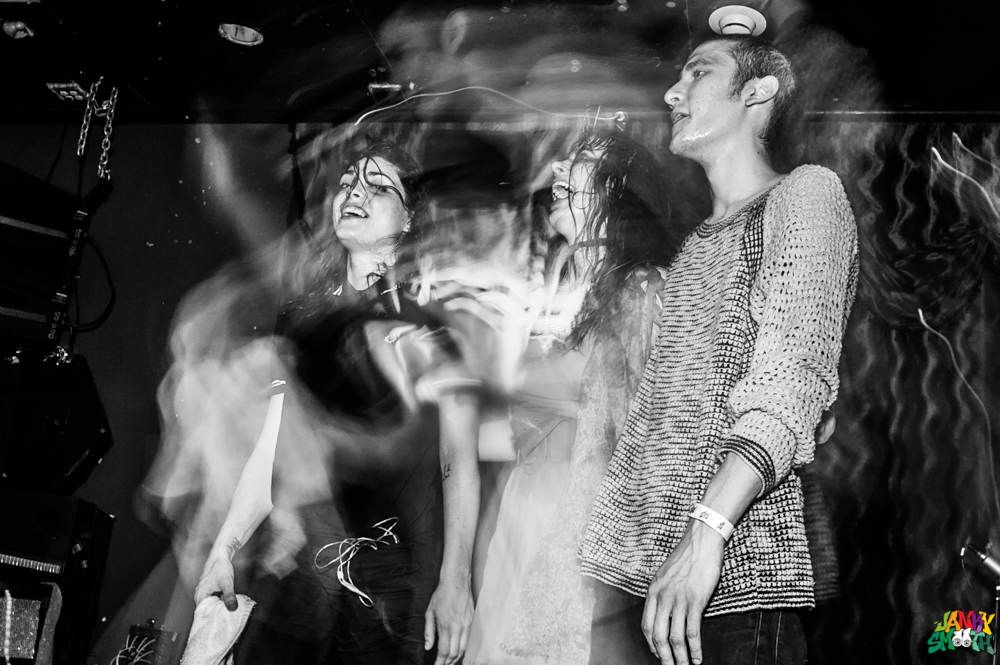 Teri delivers every word with intensity and purpose. As the last encore song comes to an end, screaming guitars provide the perfect outro as the band leaves the stage. The audience is left gasping for air and desperate for more.
Words- Aria Silva-Espinosa
Photos: Jessica Moncrief