Burger-a-go-go 2015: Feminism in Rock reviewed by "Some Guy"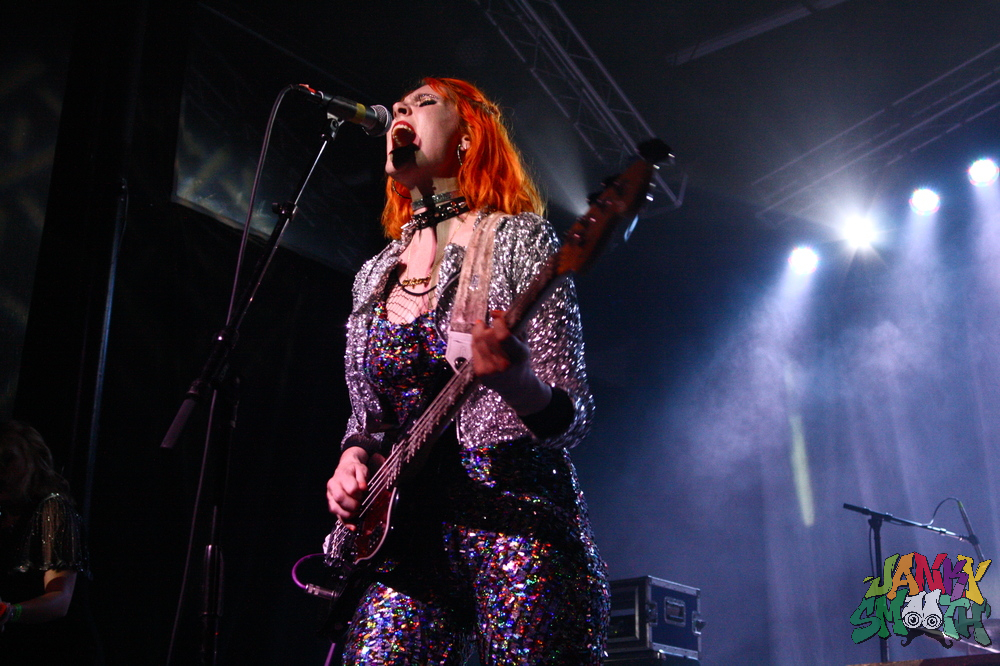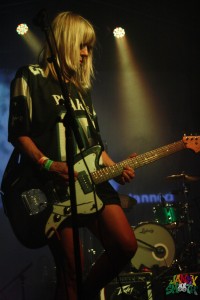 Rock music has been a catalyst for social and political change since it's inception. It's not just three chords and a back beat. It's poetry. It's a manifesto and it not only serves as an individual expression but has also served as commentary for entire generations, as only great art can. The revered blues and country origins of rock music broke race barriers in popular music but it was largely a boys club until Janis Joplin completely upended not only the gender roles in rock but rock and roll itself. In the decades that followed, women have been responsible for some of the biggest leaps in rock and roll and it's continuing evolution. Joplin, Grace Slick, Heart, Patti Smith, Suzi Quatro, Joan Jett, Chrissie Hynde and Debbie Harry. Those women traveled a road which at the time was bumpy, rocky, sexist and fueled by testosterone. I was careful not to wear my G.G. Allin shirt to this event and I am going to attempt to stay away from too much "Commentary on Feminism, written by 'some dumb guy'" in this review.  Let's just say that, for all intents and purposes, this tumultuous road for women in rock has led us Burger Records 2nd annual, all female rocker fest, Burger-a-go-go 2015 at the Observatory in Santa Ana. The feminist "street cred" that Burger Records has built over the years is massive and booking headliners The Julie Ruin, Cat Power and Kim Gordon's new project with Alex Knost, Glitterbust was the perfect way to showcase their roster of badass bitches (hopefully that is the proper and complimentary usage of that word).
Over the past couple years there seems to be much made of the fact that big festivals don't book enough bands that have women in their line ups. It's certainly can't be because there aren't as many women acts. If you go to the Burger webstore you will see that MORE than 50% of the artists on their label feature either all female line ups or bands that are fronted by women. All progress comes with inevitable regressions and obstacles along the way because there nothing scarier to the Neanderthal than a beautiful woman with a strong opinion that can rock the fuck out.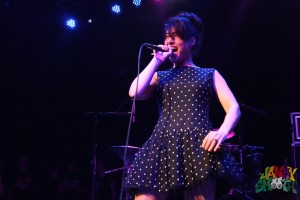 Fast forward: By the time Bikini Kill and Kathleen Hanna came along in 1990, the punk sub genre of rock had evolved into hardcore and between the violence and the sexualized role of women in media, women needed a more militant voice to continue the progress that started with the women's lib movement. But while that was going on, there can be no mistaking that the 90's were an amazing decade for women rockers.  Few were more influential than Sonic Youth's, Kim Gordon. Her autobiographical book, 'Girl in a Band' gave an insightful look into the challenges of being a rock icon and a woman.
Burger-a-go-go 2015 headliners Kathleen Hanna and Kim Gordon with their respective bands, along with Chan Marshall aka Cat Power are in that group of generational artists and they were the perfect musical matriarchs to usher in a new generation of women rockers. And I can't think of any other record label that has more female fronted and backed bands than Burger Records.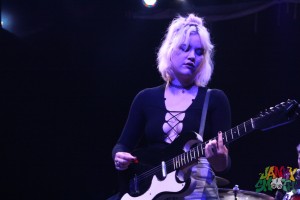 I walked into the Observatory around 3pm on Saturday and instantly became enamored with the beautiful vibes that washed over me. There was just so much excitement and beautiful, smiling faces everywhere you looked. Janky Smooth didn't need Burger-a-go-go to make us aware of some of the amazing young bands being showcased on this day. We have previously expressed our obsession with the Burger up and comers and established bands such as Feels, Cherry Glazerr, Bleached, Death Valley Girls, Kate Nash, Summer Twins, Peach Kelli Pop and Jessie Jones, just to name a few. Unfortunately, some of the best Burger Records bands had scheduling conflicts with the headliners like Feels playing the same slot as The Julie Ruin and the overlap between Death Valley Girls and Cat Power. I decided to go for the living legends that day since both of those younger bands play L.A. on a VERY regular basis.
Ty Segall and Feels Unplugged at The Smell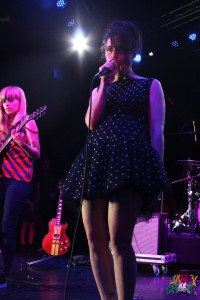 Kathleen Hanna is one of the most charismatic lead vocalists I've ever seen. Everytime I've seen the Julie Ruin and what I remember of the Bikini Kill shows I've had the pleasure of attending, is her ability to connect both collectively with the entire audience and individually with certain members of the crowd. If bands were rated on customer service, Kathleen Hanna would be the director of that department. There was a bit of an over reaction to a very butch young lady whose excitement during the song, "Oh Come On" led to a very light expression of slam dancing that made a small number of attendees a bit uncomfortable. Hanna walked over to one of the security guards by the barrier, whispered something in his ear and that fan was removed, shortly thereafter. It kinda sucked because the young lady was doing what she was supposed to be doing at a show like this and it must've crushed her dream of seeing Kathleen Hanna live for the first time. Just because a few other patrons were uncomfortable with making contact with other patrons is not grounds for removal from the premises, in my opinion. That notwithstanding, The Julie Ruin delivered a perfectly tight set and the banter between Hanna and keyboardist, Kenny Mellman was delightful and hilarious.
The Julie Ruin at The Troubadour: Vaginas and Surprises
The collaboration between Kim Gordon and Alex Knost called "Glitterbust" is the type of music you would wish for a legend like Gordon to be involved in during her post Sonic Youth career. It is experimental, improvisational and exciting. I would guess that it is tough to make a consistently good live show with a band like this. I could really see some hit or miss moments in the set, particularly in the beginning. I'm not all too familiar with the material from Glitterbust but it took a good 10 minutes for Knost and Gordon to get in the pocket with each other but once it clicked, it was glorious. The best moments for me were when Kim grabbed a harmonica and fed it through her filters and effects.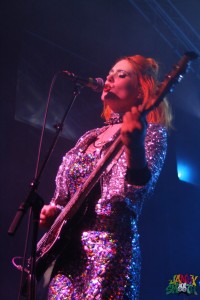 My favorite set of the night came from British rocker, Kate Nash. It was my first time seeing her live and it was fun, powerful and playful. Highlights of the set included her UK megahit "Foundations", a rare but timely cover of the Meredith Brooks girl power anthem, "Bitch" and Kimya Dawson joining nash on stage to perform "Anyone Else but You", Dawsons unforgettably cute, teenage-esque love song that was featured in the movie Juno. Smiles and sing alongs from everyone in the crowd.
Burger-a-go-go 2015 was also the first time I had seen legend Chan Marshall do her Cat Power thing. She opened the set with a haunting, downtempo cover of the Rollins Stones, Satisfaction and a good portion of the set and in fact, her career featured covers that also included Burt Bacharach's "What the World Needs Now" and Marvin Gaye's "Can I Get a Witness".  One of the most powerful moments of the set was Marshall's classic, Kurt Cobain tribute song, "I Don't Blame You". I got the chills during that song. Marshall had a very interesting microphone set up that included one clean mic and one that sounded like it was fed through an auto tune effect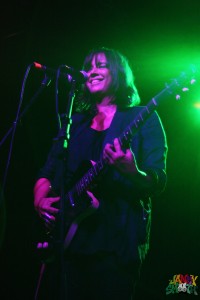 My two favorite discoveries of the evening took place in the Constellation Room with the soulful sounds of Pearl Charles and a band from Venture County called Massenger, whose lead singer Sasha Green gave me Exene Cervenka flashbacks. The latter is not a new band, just new for me.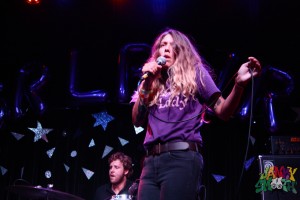 Last, but not least, Cherry Glazerr have really come into their own. Watching Clementine, Hannah and Sean mature as artists, performers and people has been remarkable. Making the transition from jail bait to confident and capable artist, Clementine Creevy writes with depth and performs with ferocity, having complete control of the stage and their fans. It has been a real treat to watch the maturation process with this trio. I think they have only begun to turn heads.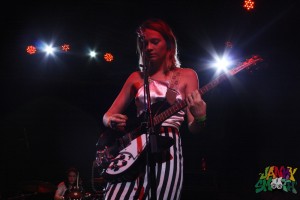 A Night at The Museum with Cherry Glazerr and White Fence
Almost every society since the beginning of time has tried to suppress the power, passion and seeming mysteriousness of women (mysterious to big dumb animals such as men). From "rule of thumb" to the burka, the physically dominant member of the human species has emotionally, physically and psychologically beat women into submission and servitude since the beginning of time- both figuratively and literally. The patriarchy has blamed women for it's own weaknesses rather than understanding both the nature of our own impulses and nurture of our un-evolved upbringings. Slowly, mankind HAS evolved. Well, not that slowly. Scientists estimate that the first man walked the earth some 209k years ago and considering that the first bra was burned less than 50 years ago, we've come quite a long way in that relatively short amount of time. The work is far from over but women's issues have a wide variety of groups and people championing them politically in Washington D. C. and a small but meaningful fight left in music with forward thinking company's like Burger Records getting their backs.
Words: Danny Baraz
Photos: Angelica Monroy