PEARS New 7″: Letters to Memaw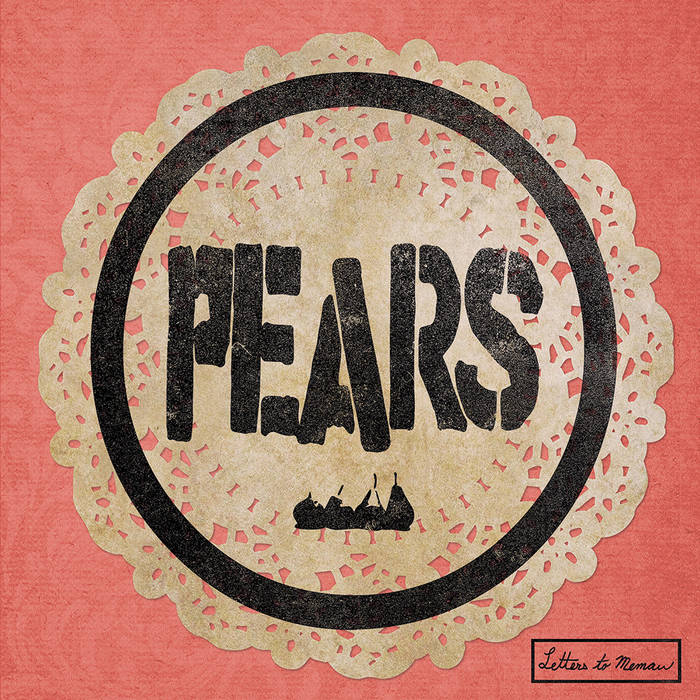 Heads up, hardcore fans! If you dug the PEARS debut album Go To Prison, re-released by Fat Wreck Chords, you needn't wait until 2016 for a taste of their follow-up. The 7" Letters To Memaw has your name written all over it, and is being released tomorrow, Sept. 18!
Wrought from the old, macabre streets of New Orleans, the newbie thrashers made a big enough splash to catch the still-bloodshot eyes of the Fat Wreck 90s punk syndicate, which championed the likes of Propaghandi, Anti-Flag, Face To Face, and others. The 7" features songs "Snowflake" and "Anhedonia" that oscillate playfully from rabid screaming to headbanging riffs to pop-punk sentimentality, and then back around again, proving PEARS is carrying on the greasy Fat torch just fine. Singer Zach Quinn had this to say about it:
"These are two songs from a quick session in April that subsequently got re recorded for the next full length. They were the first two written for our follow up, Snowflake is loosely about struggling to identify one's own power, and Anhedonia is loosely about a joyless life versus oblivion."
They're currently on the road with partners-in-crime Teenage Bottlerocket, and then Lagwagon later on in the fall. Snag the quick fix at Fat Wreck, and be sure catch a cranked up, infectiously awesome punk show near you!
PEARS tour dates:
08/13/15 New Orleans, LA at Bank St. Bar
08/14/15 Baton Rouge, LA at Spanish Moon
08/15/15 Austin, TX at Gypsy Lounge
08/16/15 El Paso, TX at Mesa Music Hall
08/17/15 Yuma, AZ at The LZ
08/18/15 San Diego, CA at Tower Bar
08/19/15 Tijuana, Mexico at Moustache Bar
08/20/15 Ventura, CA at The Garage
08/21/15 Sacramento, CA at Cafe Colonial
08/23/15 San Francisco, CA at Thee Parkside Outdoors Fat Wrecked for 25 Years tour
08/24/15 Los Angeles, CA at Hollywood Palladium Fat Wrecked for 25 Years tour
08/25/15 Las Vegas, NV at Beauty Bar
08/26/15 Salt Lake City, UT at Kilby Court
08/27/15 Laramie, WY at Hero Depot
08/28/15 Denver, CO at Natioanl Western Complex Riot Fest Denver
08/31/15 Kansas City, MO at The Riot Room
09/01/15 St. Louis, MO at The Demo
09/02/15 Fayetteville, AR at Cannibal and Craft
09/03/15 Tulsa, OK at Boulevard Trash
09/04/15 Oklahoma City, OK at Blue Note
09/05/15 Dallas, TX at Three Links
09/11/15 Chicago, IL at Douglas Park Riot Fest Chicago
09/14/15 Newport, KY at The Southgate House w/ Teenage Bottlerocket
09/15/15 Pittsburgh, PA at 31st Street Pub w/ Teenage Bottlerocket
09/16/15 Richmond, VA at Wonderland RVA w/ Teenage Bottlerocket
09/17/15 Baltimore, MD at Otto Bar w/ Teenage Bottlerocket
09/18/15 Philadelphia, PA at Boot & Saddle w/ Teenage Bottlerocket
09/19/15 New York, NY at Santo's Party House w/ Teenage Bottlerocket
09/20/15 Asbury Park, NJ at Asbury Lanes w/ Teenage Bottlerocket
09/21/15 Cambridge, MA at Middle East Upstairs w/ Teenage Bottlerocket
09/23/15 Quebec, QC Canada at Le Cercle w/ Teenage Bottlerocket
09/24/15 Ottawa, ON Canada at Ritual w/ Teenage Bottlerocket
09/25/15 Montreal, QC Canada at Les Foufounes Electriques w/ TBR
09/26/15 Kitchner, ON Canada at TBA w/ Teenage Bottlerocket
09/27/15 Toronto, ON Canada at HorseShoe Tavern w/ TBR and Menzingers
09/29/15 Detroit, MI at Small's w/ Teenage Bottlerocket
09/30/15 Grand Rapids, MI at The Pyramid Scheme w/ Teenage Bottlerocket
10/01/15 Indianapolis, IN at Melody Inn w/ Teenage Bottlerocket
10/02/15 Lombard, IL at Brauerhouse w/ Teenage Bottlerocket
10/03/15 Lombard, IL at Brauerhouse w/ Teenage Bottlerocket
10/04/15 Omaha, NE at Lookout Lounge w/ Teenage Bottlerocket
10/28/15 Ybor, FL at Big Pre-Fest 10/31/15 Gainesville, FL at FES