Deap Vally & Le Butcherettes' Double Assault on the Regent Theater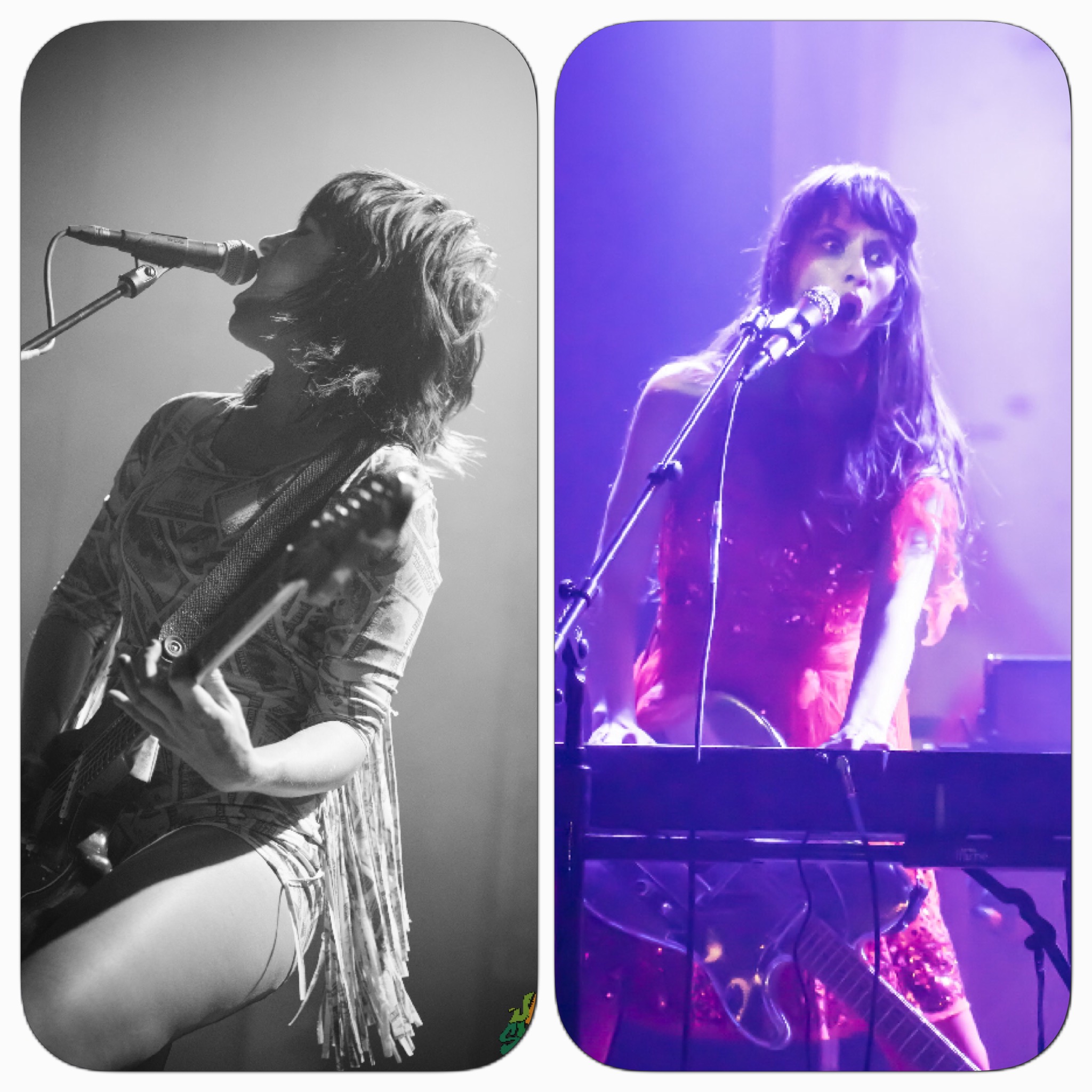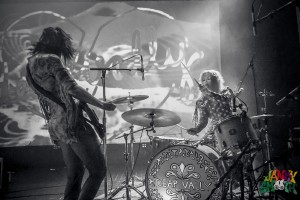 Rock N' Roll Dance Party at the Regent this past Saturday, presented by Dance in a Panic and featuring Deap Vally and Le Butcherettes, served as a perfect microcosm for a new reality in rock.
The recent Tidal wave (see what I did there?) of Beyoncé's Lemonade is only the tip of the iceberg when it comes to women's dominance in rock. Yes, rock. Even Queen Bey is wising up and digging into her rock and roll roots (note "Don't Hurt Yourself" featuring Jack White), some of which no doubt, lie with unsung female blues singers like Big Mama Thornton and Sister Rosetta Tharpe. Alabama Shakes' "Don't Wanna Fight" winning for Best Rock Song at the Grammys was a victory for more than just Brittany Howard (the first black woman to win in the rock genre since Tracy Chapman in '97). Pay attention and the beacons for the recent shift away from a predominantly male-dominated arena are there. The good news is that it only gets better—much better—the deeper down into that iceberg you go.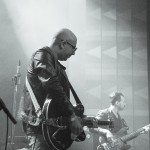 I've never seen KAV live before—the event's resident band, but they sounded a bit flat. I wasn't sure if that was a regular thing, or if it was a sound issue during their set. Though they nonetheless properly lubricated the walls of the massive space, even their six-man troop couldn't bring half of what would come once Le Butcherettes took the stage.
Teri Gender Bender came out in pinching punk rock howls, the three-piece donned in their blood red uniforms. Teri was heavy on the organ, laying into it spastic and possessed. Before long, she switched to the guitar, then back to the organ again in organized punk chaos; somehow at once discordant and harmonious.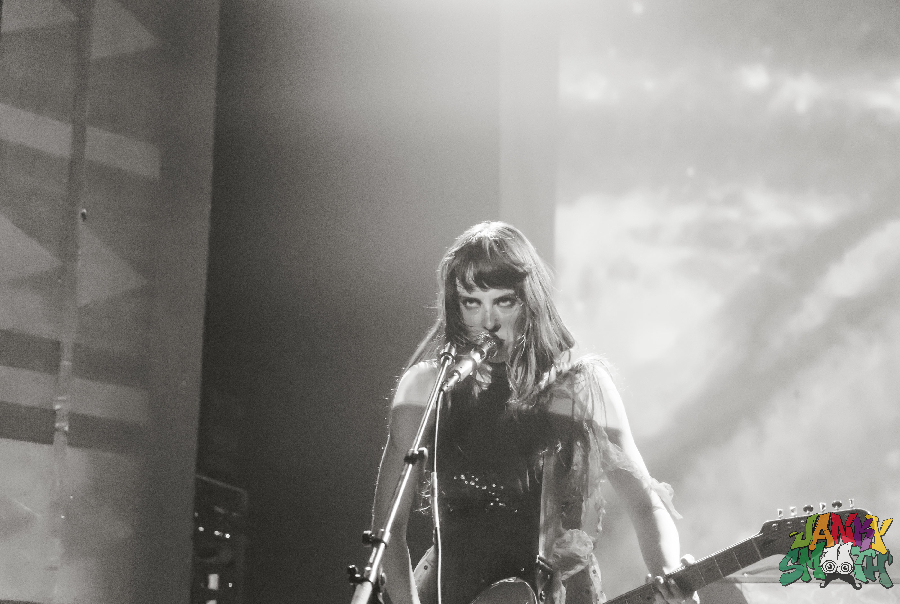 Le Butcherettes is one of the few, if not sole rock acts today possessed by a searing, primal genius. I caught Teri do an impromptu performance at Amoeba last year (which ended with her serenading commuters on an eastbound Metro bus), and I'm still reeling from the band's recent album, A Raw Youth. Though nothing holds a candle to seeing Teri in her element, on a big stage, firing on all cylinders. There are those artists whose physical tenacity is just unstoppable. She's a true showman, continuing her musical carousel from organ back to guitar and onto hands-free vocals. Even her vocals are anything but static. Oscillating between English and Spanish, she brings an ecstatic utterance to noise rock. As the set neared the end, she scream-cooed "Take my head and bury it deep,"—collapsing onstage at one point—before smashing her keyboard and throwing it into the pit. 'Nuff said.

Not every performer would be too chill with following up such a mind-blowing set. Fresh off the Gypsy Caravan Tour (opening for Wolfmother), Deap Vally was the only act that night who could've rode the momentum of Teri's complete assault on the ancient venue.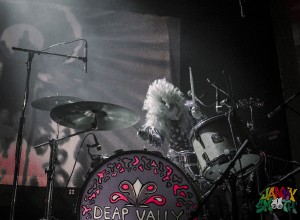 Their sparkly, tasseled jumpers are signature at this point. Singer/guitarist Lindsay Troy in Benjamin greenbacks, Julie Edwards in stars and stripes: emblems of all things sacred in the Land of the Free. Not long into the first song and Troy was already ordering engineers to pump up the juice in the amps. Ever since I watched her open for Kim & The Created at the Echo last October, she's quickly become one of my favorite L.A. guitarists. She has the riffs to back up her performative swagger, as she constantly taunted and egged us on with the neck of her ax. They played songs mostly from the impending new record, including "Bubble Baby," perhaps a shout out to the recent arrival of Edward's child, which made her take a short-lived hiatus late last year, that has seemingly led to harder hitting and even tastier fills.  They weren't above playing their more mainstream tracks either, like "Lies," taking a break from the guitar to slap the tambourine while crowd surfing.
Teri Gender Bender was summoned back onstage for what has become my favorite Prince tribute so far, as they played "Kiss" in sweet, raw solidarity. Troy finished off the set with "Walk of Shame" as if it was the first, with all the physicality of Juliette Lewis, and the biting soul of Lydia Lunch. Her shredding, though, is something all her own. At least as far as I can find. Her tuned-downed riffs mow like a chainsaw, cutting with a frisky intensity. It makes a strong case for the West Coast doom rock sound you get from the likes of Fuzz or Death Valley Girls. If the End is nigh, Deap Vally will definitely be playing live at the Lake of Fire, and you'll be damned if you don't have front row seats.

It was a triumphant night not just for feminist rock, but for rock itself: pure, uncut, unadulterated, albeit raunchy rock n' roll, and Deap Vally the only duo around that can do it better than the White Stripes. I'm not saying that with any kind of hyperbole either. Like I said, the Regent is a big fucking stage, and they packed it to the seams; physically, sonically, spiritually.
I put Deap Vally on Janky Smooth's "Who to Watch in 2016" list and I meant it. I've been impatiently waiting for their new album, wrought from their own vision and creative control. They had this to say about it in a Facebook post:

2016 may be one brutal bitch/harbinger of death thus far, but there's no denying that rock is cunningly pumping everything full of life, and women are at the forefront.
Photos: Josh Allen