Thee Oh Sees Slay Teragram Ballroom Night Before Album Drops/Tour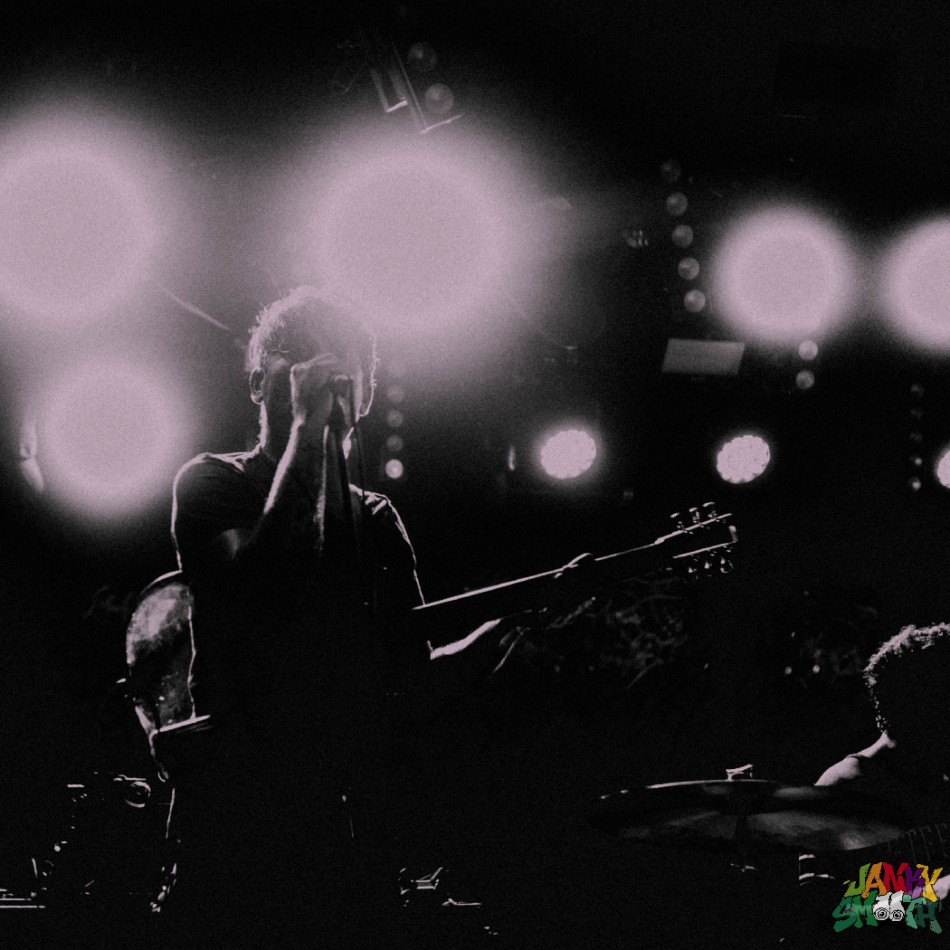 Is there anyone in independent music that has more going for them than John Dwyer and his band, Thee Oh Sees? In an industry that has been turned upside down, Dwyer and others such as Ty Segall have been successfully proving out the new business model for musical acts that aren't corporate concoctions of sterile art, ripened just right for commercial licensing. Indy bands have proven that there is a demand for raw and innovative rock and roll, even as it disappears almost completely from the mainstream. Indy bands have proven that there is still a dream to be chased that can sustain their lives and compulsion to create with hard work and an untiring proliferation and output.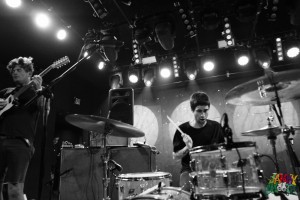 On Thursday night, Thee Oh Sees threw a party at The Teragram Ballroom the night before their new album, A Weird Exits dropped and the night before they left on an extended tour of Europe that includes a backend leg in the US. While many bands might be content in taking the night off before a three month tour, whether John Dwyer wanted to brush up on some of the new tracks or he just wanted another stack of chips to add to his war chest, there were many happy and sweaty fans glad for another opportunity to see their favorite band. And while it would be easy to just chalk up the success of Thee Oh Sees to them being the best at what they do, work ethic, output and an untiring schedule are no less key to their popularity.
As always, Dwyer and Thee Oh Sees welcomed other live show heavyweights on the undercard. The last time I went to an Oh Sees show at the Teragram was during the annual holiday homeless food drive in December when Fuzz was the opening act and surprisingly, Fuzz kinda stole the show. This past week another favorite of Janky Smooth, Ho99o9, who have recently returned from their own European tour, warmed up the Teragram with a new bag of tricks, along with the hardcore amalgamation of Blood Brothers, Retox and Nick Zinner that make up surprise special guest, Head Wound City.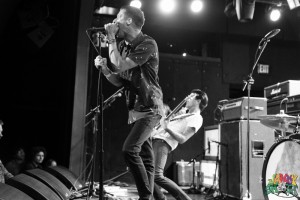 Neither of the opening acts really fit into the hard and happy psychedelic psychosis of Thee Oh Sees and their fan base but contemporary independent music has no allegiance to genre. Just the fact that Yeah Yeah Yeahs, Nick Zinner is even a member of Head Wound City is a testament to that. Head Wound City grinded and screeched their way through their set to a curious but still audience that filled up the Teragram Ballroom pretty well for all the opening acts playing the show. Head Wound City played a blistering mix of tracks from both their self titled debut EP released in 2005 and their latest full length, A New Wave of Violence.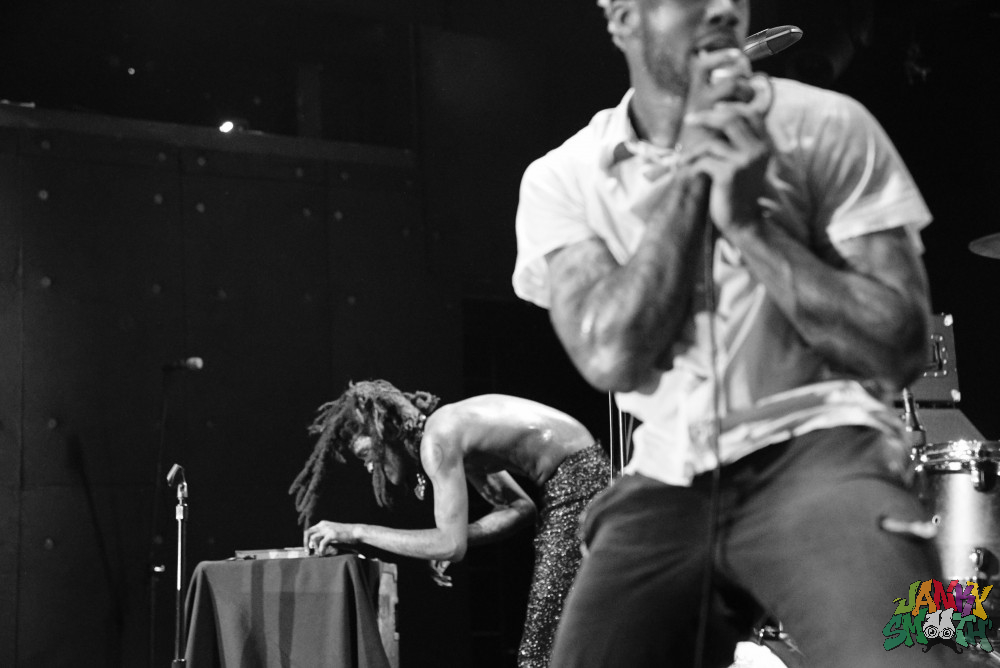 Janky Smooth has been following the development of avante garde punk rock, hip hop innovators, Ho99o9 since November of 2014. Through that time, I've seen them play incredible shows, bad shows and everything in between. The last time I saw them play was at a showcase for their PR company at SXSW. It was the first show I had seen them play in which every aspect of the music spoke even louder on it's own merit than any of the artistic oddities and musical mutations that they regularly incorporate into their live act. In other words; it was the tightest show yet. My babies were all grown up. That was also the first show I had seen them play with their new drummer, Brandon Pertz and I'm quite confident that those events are closely related. Since then, I've watched them play to thousands of people across multiple European festivals through the lens of social media. So when I saw that they were on this bill with Oh Sees, I knew it was one I couldn't miss. Plus, the sound at Teragram Ballroom is hands down the best in LA for a venue it's size so there was no way I was going to miss Ho99o9's first show back since going on tour.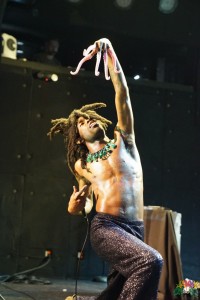 I was chatting with a couple of the people who were there shooting and covering the show as Ho99o9 was moments away from taking the stage. They had mentioned that they didn't really "get it" when it came to Ho99o9. Both of them mentioned seeing them open for Faith No More at The Wiltern and I understood immediately that they were really about to see Ho99o9 for the first time, since that was one of the lower end performances I had seen them play. That show at the Wiltern was the first time I saw Ho99o9 play a gig in which they couldn't touch their audience and people's impression would solely rely on the strength of the music emitting from the speakers. And it wasn't until March of this year that I really saw them tighten the screws on the most important aspect of their hybrid of performance art.
The screen at the back of the stage lit up with the Ho99o9 logo. Glitchy, distorted images flashed across it as The OGM and drummer Brandon Pertz took the stage and opened the show with the song "P.O.W. (prisoners of war)" off their Horrors of 1999 EP, a down tempo soul crusher of dissonant tone and growling pleas of angry submission and flow. The audience, heavy with Oh Sees fans didn't quite know or understand what they were seeing, at first. Shortly through the first track, Eaddy joined the band on stage and they hammered the audience with newer tracks I had never seen them play live off of the Dead Bodies in the Lake mixtape and others. The audience slowly began swinging their arms and stomping their feet as they carved an area on the floor in which to dance.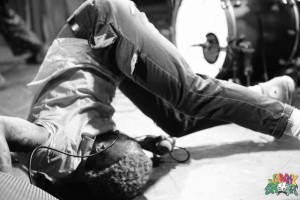 "Shout out to Danny. Danny is the realest motherfucker in here".
Eaddy knows how to get me going and off I went into the fray until the floor of the Teragram Ballroom became too wet to dance, as slam dancing came to mean bodies slamming into the slippery floor. Even though there were a couple issues with the click track at the beginning of the show, once those were smoothed out it became a top tier Ho99o9 performance and both of the skeptics that were covering it became believers by the end of their set.
And then Thee Oh Sees took the stage. The Teragram Ballroom was packed from wall to wall. Dwyer greeted the crowd and said simply, "We're from here" as his migration from the bay area has now seemingly been completed, years after the fact. There was no apprehension or confusion from the legion of Oh Sees fans about what they were supposed to do next as Thee Oh Sees slashed through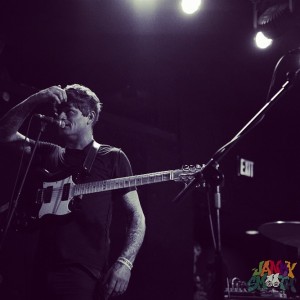 tracks from Floating Coffin, Carrion Crawler, Mutlilated Defeated At Last and a few off their newest release, A Weird Exits. The set list was surprisingly light of songs from the latter but did instantly recognize one of my favorites off that albums so far, "Ticklish Warrior". A much larger percentage of the much larger crowd were dancing and moshing, even though the vibe of the dance was much different than the dance moves of the fans of the previous bands. There wasn't the menacing malice of stomping feet and elbows everywhere that there was during Ho99o9's set. No, the mosh pit for Thee Oh Sees is much more loving and affectionate. The Teragram Ballroom bounced and swirled with joy and jubilation. The perfect acoustics and mix of sound of the Teragram captured every effect of delayed pick raking against guitar strings, as the auditory hallucinations of Thee Oh Sees was captured perfectly by the sound system of the Teragram Ballroom.
Photos: Todd Anderson Words: Danny Baraz
The Oh Sees – 2016 Tour Dates
08-11 Los Angeles, CA – Teragram Ballroom
08-14 Helsinki, Finland – Flow Festival
08-16 Stockholm, Sweden – Debaser
08-18 Paredes, Portugal – Paredes de Coura Festival
08-19 Hasselt, Belgium – Pukkelpop
08-20 Berlin, Germany – Columbia Theatre
08-21 Biddinghuizen, Netherlands – Low Land Festival
08-23 Praha, Czech Republic – Futurum Music Bar
08-24 Zurich, Czech Republic – Mascotte*
08-25 Geneva, Switzerland – Palp Festival *
08-26 Asolo, Italy – Amo Festival
08-27 Ravenna, Italy – Hana-Bi
08-31 Tel Aviv, Israel – Arena
09-02 London, United Kingdom – Coronet !*
09-3 Leeds, United Kingdom – University Stylus !*
09-04 Dorset, United Kingdom – End of the Road Festival
09-06 Biarritz, France – Atabal *
09-08 Valada, Portugal – Reverence Festival
09-09 Granada, Spain – Planta Benja
09-10 Benidorm, Spain – Fuzzville
09-12 Barcelona, Spain – Apolo *
09-13 Toulouse, France – Bikini *
09-14 Paris, France – La Cigale *
09-15 Lille, France – Aeronef *
9-27 Mexico City, Mexico- Foro Indie Rocks
10-08 Miami, FL – III Points Festival
10-14 Joshua Tree, CA – Desert Daze 2016
10-15 Joshua Tree, CA – Desert Daze 2016
10-16 Joshua Tree, CA – Desert Daze 2016
11-01 Tucson, AZ – Rialto Theatre
11-02 El Paso, TX – Lowbrow Palace
11-04 Sherwood Forest Faire, TX – Sound on Sound Festival
11-05 New Orleans, LA – One Eyed Jack's #
11-06 Memphis, TN – The Hi Tone Cafe #
11-07 Nashville, TN – Mercy Lounge #
11-09 Asheville, NC – Grey Eagle Tavern & Music Hall #
11-10 Philadelphia, PA – Underground Arts ^
11-11 New York, NY- Bowery Ballroom
11-13 Brooklyn, NY – Warsaw ^
11-15 Providence, RI – Aurora ^
11-16 Montreal, Quebec – La Tulipe
11-17 Toronto, Ontario – Danforth Theater
11-18 Cleveland, OH – Beachland Ballroom
11-19 Chicago, IL – Thalia Hall
11-23 Missoula, MT – Stage 112
11-25 Seattle, WA – Neumos %
11-26 Vancouver, BC – Rickshaw Theatre %
11-29 San Francisco, CA- The Chapel %
11-30 San Francisco, CA- The Chapel %
# Amplified Heat
^ Straight Arrows
% Alex Cameron
* Magnetix
! Blind Shake