House of Ho99o9 Halloween at The Roxy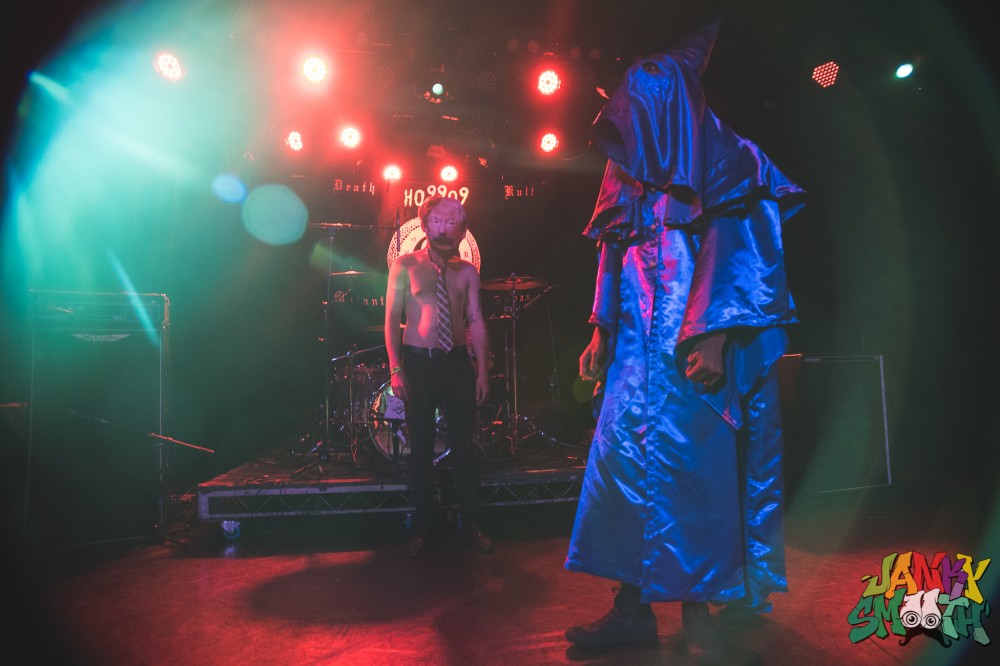 Angelinos spent the Sunday before Halloween under an overcast sky, bracing against the trashing rain. 9.9.9: The dead could feel the day's coming haunt, seeping in through the soil. Oh the Ho99o9…
Not your typical Sunday, the city's thirst to party had not be quenched by Friday or Saturday's pre-Halloween escapades and so creepers poured onto the Sunset Strip looking for a fix. The chic elite WeHo-llowieners past The Roxy and just kept on walking while the punks checked right in, dressed in costumes that depicted such characters as: low life's, whores, pimps, derelicts, 22nd century anal nuns, cross-dressing goo gobblers, and a hesher or two.
Like a horde of roaches skittering into a crack, we all gathered to see Ho99o9 and The Shrine, two buzz bands and the cream of today's crop. It was Ho99o9's first Los Angeles show since dropping two new songs: The Dope Dealerz and Double Barrel. One track is heavy rap, the other is heavy punk.

Yin and Yang… or actually, Yin and Yin.
I had seen half of Ho99o9's set opening for Faith No More last year at the Wiltern and wasn't able to get sucked into it. So I wasn't sure if they'd live up to the hype that I was hearing. This particular night at the Roxy had different vibration though. I had been here twice this month to see Discharge and Brujeria and neither of those shows felt like this, the club was buzzing before anyone hit the stage. Anticipation begging for emancipation. You could reach your hand out an inch from anyone and feel static.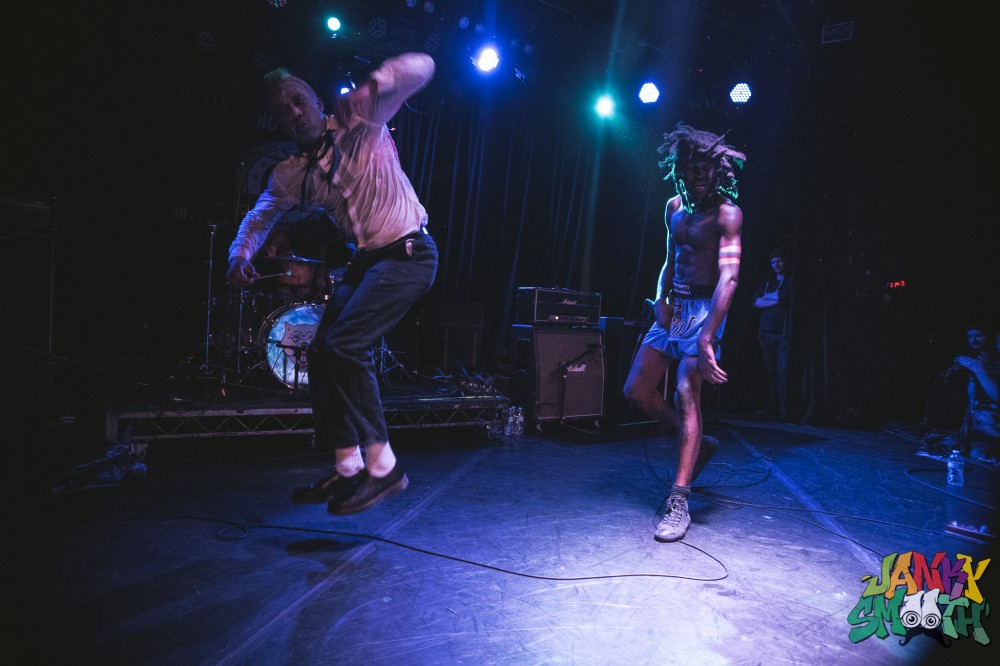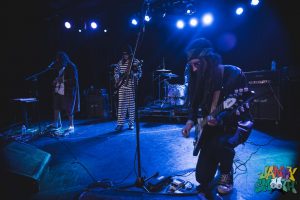 Petyr (pronounced Peter) opened the night, dressed in various costumes with Riley Hawk as an escaped prisoner and the guitarist as the Big Lebowski. Their musicianship was on point but I could sense an empty space on stage and in the songs where a singer ought to shine. The drummer kicked ass though.
Decking their gear out in camo-mesh and playing what sounded like a lost broadcast from Vietnam with helicopters chopping through jungle canopies, blazing trails of napalm in their wake, The Shrine took the stage ready for all out war. If this band actually existed in the time their music alludes to, during the Vietnam war, our soldiers would've smoked bowls out the barrel of their rifles to their songs.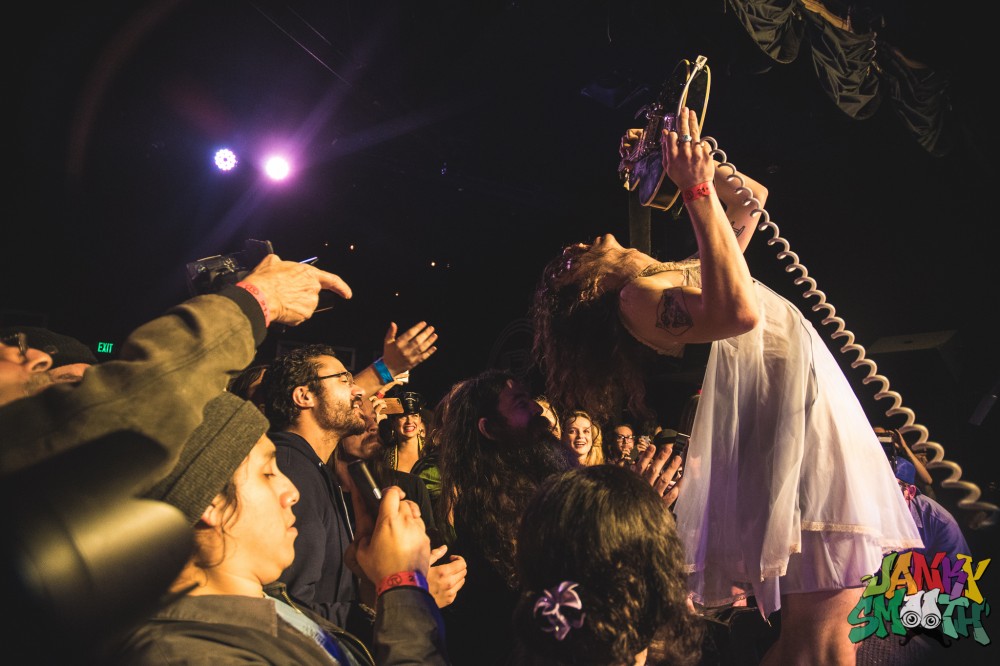 The band wasted no time rocking our socks off when singer/guitarist Josh Landau jumped down into the crowd and started soloing to all his friends and companjera. We were moshing, jumping and jiving in what I can best describe as pure fun. Wearing a trench-coat, everyone assumed Landau was rocking in the buff until he took it off to reveal his white dress. In a trench coat or in a dress, in camo fatigues or blue jeans, if any one thing can be said of The Shrine it's that they're a band that lets their nuts hang. Combining elements of stoner, doom, psych, blues, and hard rock in perfectly harmonizing doses, I think The Shrine are the L.A. band of this generation. Someone can live in butt-fuck middle America, turn on a Shrine tune and know a little bit more about how it feels to live in LA. Their songs are simultaneously true to life and larger than life, throwback but looking forward, with lyrics about hot girls blowing their brains out on high concentrate blotter acid or old hermetic Parisians trimming rose buds. They capture the music you feel walking around with shades that have rose colored lenses. Having read rave reviews of their Ozzfest set, it seems the atmosphere they create is not only suited for small clubs. They could conquer arenas or be the best house band at your local dive. They have the attitude, the vision, and the chops for a stratospheric rise into fame, without compromise.
All hail The Shrine!
Warring against blandness and boredom, fighting the good fight on behalf of an old city in dire need for a new definitive sound.
Support our troops!
In keeping with the theme of war, Nam in particular, let's pretend we're going round and round the river bend, till our ship reaches the jungle's end, the heart of darkness, where the brains of two kids out of Newark, New Jersey soaked up all the world's pain and once those brains were strewn of all that rap and punk, what came out the other end was to quote Apocalypse Now:
"The horror… The Ho99o9."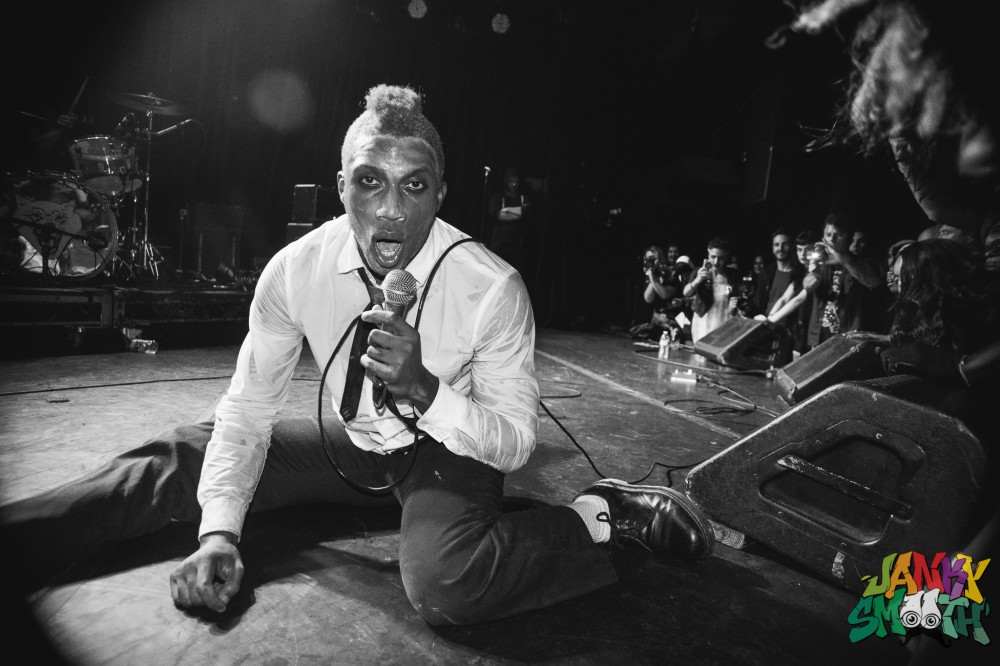 The show began with the ol' carny voodoo lullaby "I Put a Spell on You" by Screaming Jay Hawkins. The curtain lifted and on stage was a shirtless man wearing a Donald Trump cardboard mask who looked like he had had cigarettes put out on his chest. Beside him was a Klansman in glossy blue robes, the kind of Klu Klux that wears his badge on the outside. Once the ghost of Screaming Jay hushed, Edie rushed out like a wolverine in a full suit and white face paint. He looked like Mommy's favorite anti-christ, the preparatory school misfit that brings a live grenade to school that the faculty finds in the fuck-head's locker, only for it to blow up in their faces and reduce the school to burning heaps of rubble.
Eaddy and the OGM reduced the fucking Roxy to burning heaps of rubble as the vocalist/Klansman threw off his robes to reveal a head of dreads that would make HR proud. Together, like a wrestling tag team, Eaddy and the OGM made that stage their bitch, not leaving a square inch of it untouched. As soon as the first song started I knew I was going to see something different, special, shocking, and extreme. I gravitated to the front row.
The band bounces back and forth between rap, punk, noise, and their twisted take on industrial. It combines the kinetic aggression of Bad Brains with the stage theatrics of Skinny Puppy. Eaddy drenched his suit with sweat, dove into the audience, and romped around with nihilistic swagger, Edie is a human weapon.
"My mind is a machine gun, my body is the bullets, the audience is the target."- GG Allin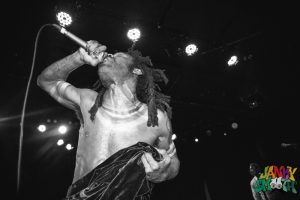 The OGM's presence is one that gets possessed by different demons and spirits for each song. Channeling from beyond has never been so visible in a performance. One moment he's a murderous homeless man then the next he's an Egyptian God or H.P. Lovecraft's Cthulu.
One thing that really impressed was during a tease of the intro of Black Flag's Rise Above that they turned into a cover of Bad Brains' Attitude. What impressed me, beyond the quality of the cover and the insanity of the crowd's reaction, was that Edie did a flip in homage to HR. I knew in that moment that these guys have done their research. They're great in part because they studied the greats.
Evil and PMA are not mutually exclusive.
Usually in LA, a show goes on till 11:30. On a Sunday perhaps earlier. House of Ho99o9 went on long after midnight had bled into Halloween, the show ended at around 12:30am with half the crowd missing because the pussies had to go to work the next morning. I was up front, so I couldn't tell that people had left until I turned around but up until that point, the band made me feel like it was an over-packed house. It was an amazing and unforgettable show and with all concerts I've been to this year it has to rank in the top 5 most insane with these others.
Ho99o9 didn't just live up to the hype, they killed it. Follow this band and join the Kult.
Words: Rob Shepyer
Photos: Taylor Wong