Alex's Bar: 15 years of punk gratitude w/Rocket from the Crypt
Last night, Alex's Bar in Long Beach celebrated the first of two nights dedicated to the amazing punk rock bar's 15 year anniversary. It's not just the extreme care and thoughtfulness that is taken when booking bands or the red light, burlesque vibe and the fact that they don't murder your wallet at the bar that make Alex's Bar special. It's the people that run it and the regulars that insist that it's their second home. Owner Alex Hernandez and his wife Paige treat everyone who works for them like family and everyone who walks in the bar like long lost friends and really are just amongst the nicest people I've met in Rock and Roll.
In the end, it's about the music. The owners of music venues who have long been established and enjoyed some success typically hire someone to do the booking after a period of time. But Alex loves music as much as his patrons and still hand picks the bands that play the venue. When I asked him why he picked Rocket from the Crypt to play the two consecutive nights marking the bar's milestone, he simply said, "Rocket from the Crypt got me through the 90's".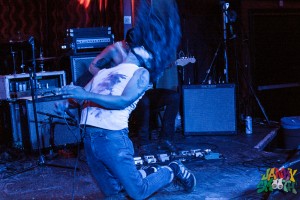 But before the headliners took the stage, some pretty fucking incredible and highly original bands got the crowd warmed up. Death Hymn Number 9 is one of my favorite local bands. Their sound is a brutal onslaught of raw aggression but with enough dynamics that make hardest parts of their songs even harder. I realized last night that the dudes in this band must be a part of some sort of hive mind. Bands that can start into high tempo songs without counting in are always impressive to me. Drummer Sleazy P is one of the hardest hitting drummers I've seen in a long time and fewer people in this god forsaken world look like they are having more fun than him. To say this band is locked in would be an understatement and even though power chords are the order of the day, they are not your typical punk band. Their sound is super unique.
Next up was Snakearm, formerly known as Restavrant. I had never heard them before but they made a fan out of me. First of all, drummer, Tyler Whiteside has built the most fucked up drum kit I've ever seen in my life. He uses a thrashed license plate for his hi hat, a bucket for his tom, some thrashed cymbals, a traditional snare, a korg electronic drum module that is wired to his kick drum and some other pad off to the side of his hi hat and a rim for a car tire. The fills he executes on this tweaker kit are insane and the kit really gives their rockabilly sound a dance, electro vibe. Frontman Troy Murrah channels Carl Perkins as imagined in a bio pic by David Lynch. He also had some interesting modifications to the multiple guitars on stage. The most notable of which is a hollow body that has it's F-holes covered by duct tape. Check these guys out as soon as you can.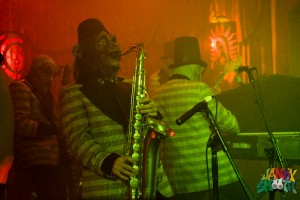 Then it was time for Creepy Creeps from San Diego and they are a bunch of freaky freaks. Another band that dresses up in masks. This seems to be getting too common these days but they are a fun band with a fun sound that sounds like punk rock, gospel, surf music. Their live show is completely chaotic and excessive in the best possible way. The only thing I could find about the members of the band are their stage names Dr Creepenstein, Creepture, Dia de los Creep, Creepula, Sir Gravis, Mikey Ratt and go-go dancers, Zombina and She Creep and they are ex members of bands like The Locust, Tarantula Hawk, & Struggle.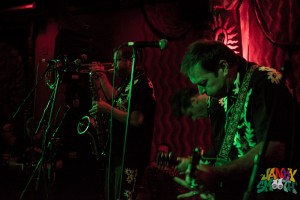 Now it was time for the main course. There are few bands that were better live than Rocket from the Crypt but I haven't seen them play in about 15 years. I find it rare that bands who start to get salt and pepper in the hair can have even the moderate amount of energy on stage that they did when they were "happening". John Reis who is the creative force of not only Rocket from the Crypt but also, Hot Snakes joined that rare list for me last night. They were incredible and after a two hour set it really felt that the band could've played all night because they seemed tireless. With so many great, high energy bands playing on this night, RFTC was the only band that had any kind of real movement going on the dance floor. The crowd particularly lost their shit when the band broke into Young Livers and On a Rope. I wouldn't say I was a RFTC superfan in their hey day but I have ALWAYS been a huge fan of their live shows.
It was fun to watch Alex celebrate the 15 year milestone with so many of his friends coming to honor it as well.
"I found my tribe when I was 18 and it is very special that so many of them are still with me and here tonight. Please let everyone know that Steve Reader came all the way from Austria just to celebrate this day with us". Details like this are what illustrate the type of impact, not just some bar/club has had on people but it's really Alex himself, the type of person he is and the passion and love he puts into this bar that make it what it is. It's rare to find such genuine and humble people in Rock and roll and I only wish I lived close enough to Alex's Bar to make it out there more often. It's my type of joint.
Words: Danny Baraz
Photos: Taylor Wong