The Headliners Rule at Outside Lands 2016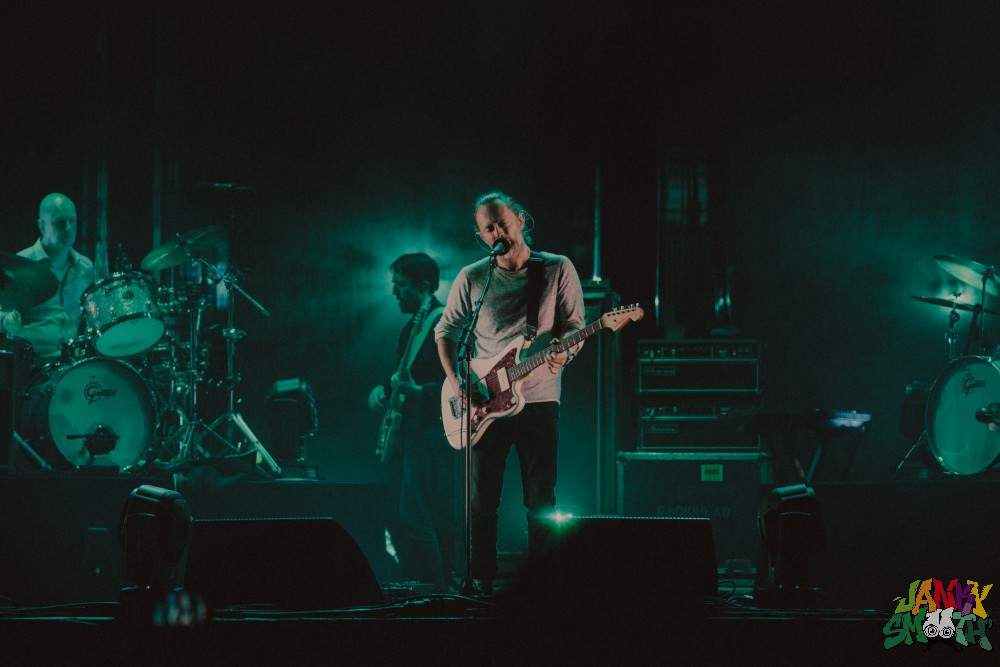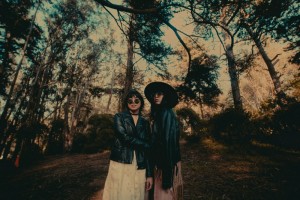 In the year of our lord, 2016, I attended my first Outside Lands inside the crunchy granola confines of Golden Gate Park. I have been experiencing much Bay Area festival envy in the preceding years so I rectified it by attending this year's Burger Boogaloo in Oakland and I attended my very first Outside Lands last week . Even though this year's Outside Lands lineup didn't blow me away, I decided that I needed a change of scenery, a change from the jaded, L.A. crowds and… of course… RADIOHEAD! No Live Nation or Goldenvoice. No 100 degree weather. No rubber necking, celebrity duck sicking or friends plus 1 on the guest listing. No Native American Head Dressing anywhere to be seen. Don't get me wrong; I have nothing but love for my birthplace in the mecca of entertainment but sometimes familiarity brings comfort and sometimes, it breeds contempt. Aside from the persistence of seeing San Francisco Giants apparel everywhere I looked, I've always loved the folks I've met and become fast friends with in San Fran and Oakland. Just wondering if it's coincidence that the only real jerk offs I've met up there happen to be rocking VaGiants gear.  Someone should commission a study. They can use the douche bag that puffed his chest out at me when I stepped over his blanket.  A blanket which happened to be only about 100 yards from the stage and surrounded by 25k people. Yes, you guessed it.  Giants hat.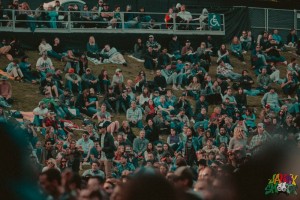 I walked into Golden Gate Park and instantly became a fan of this festival. It felt like a mix between Coachella and being in M. Night Shyamalan's The Village; a massive production in a sleepy setting that felt nowhere near civilization, even though Haight-Ashbury was just on the other side of the park. 10's of thousands of people protected by a wall of trees and foliage gather together to dance and party. Once the sun went down, the wise and massive, century long gathering giants of proud Eucalyptus, Pine and Cyprus trees were illuminated by beams of gold and purple lights. Inside their leafy walls lay an expansive carpet of grass that hosted blankets, beer and probably massive amounts of vomit.  They are called the Polo Fields but not sure when the last time a game of polo has been played there.  With the snapshot of the festival panorama, what about the music? Well, the Friday and Saturday night headliners put on such incredible performances that it was impossible to be disappointed by anything else that did or didn't happen. Typically, I don't judge or make my decision about whether or not I like or dislike a festival based on the headliners. I usually look to the little print to determine if festival promoters and bookers have their fingers on the beating pulse of emerging music. Booking headliners seems like the easy part. It's the build up throughout the day for the fans that actually show up before the sun goes down that sets the stage, so to speak, for the anticipation and hype of the big name acts. A lot of times, festivals like Coachella and FYF Fest have selected such uninspired headliners that it has allowed me the luxury and justification to leave the festival early and beat the swarming exit of drunken patrons who's cross eyed molly march makes Uber prices soar and surge beyond a reasonable threshold. No Diplo set is worth that. But this year's headliners at Outside Lands were everything and the little print seemed smaller than usual.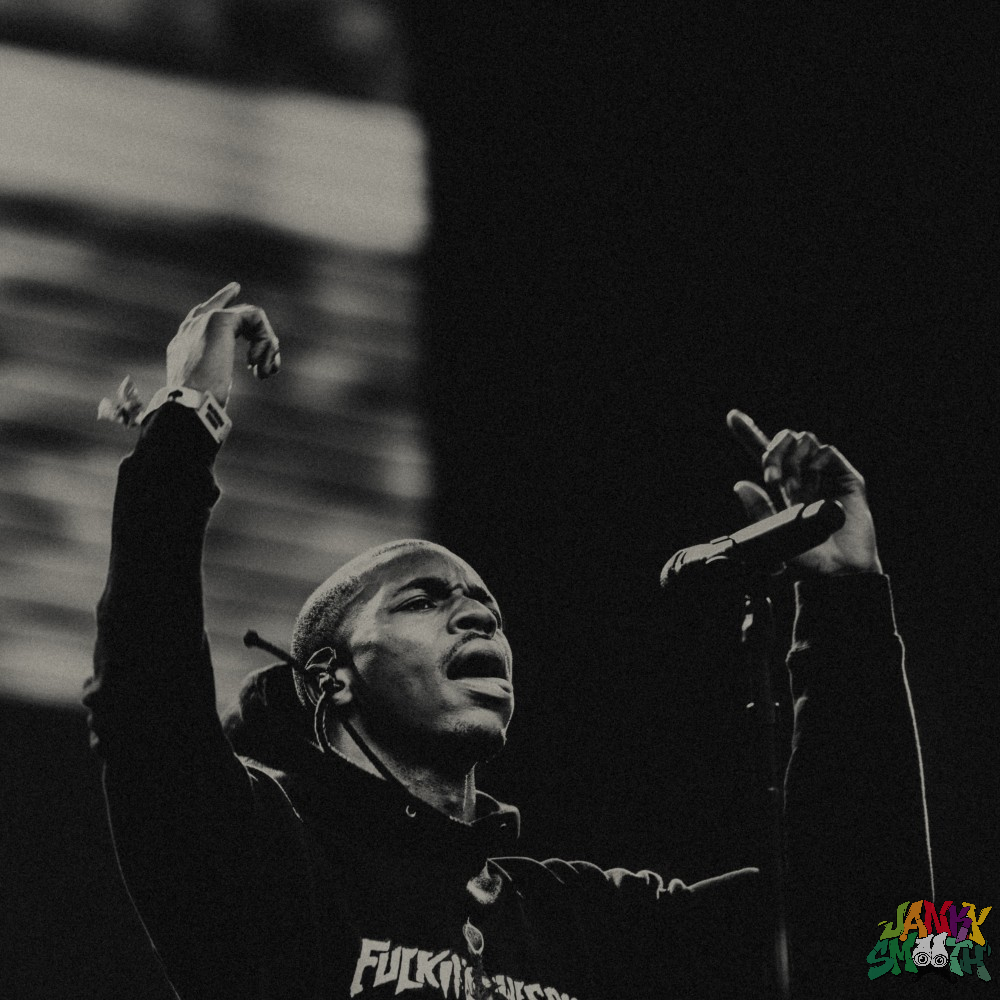 There were, of course, a good handful of buzz worthy bands of note such as Methyl Ethel, Kevin Morby, Fantastic Negrito, Kamasi Washington, Haelos, DIIV, Rufus Du Sol and the almighty Vince Staples. I re-discovered a band I didn't realize I dug; I was blown away by the live aggression that is not captured by the studio sound of Foals. And of course, there were acts in little print slots with big name recognition such as The Claypool/Lennon Delirium. But the daytime buildup of buzz was a bit underwhelming. Once we got into the medium print of Grimes, Peaches, Sufjan Stevens, Big Grams, Nathaniel Rateliff and the Night Sweats, Chance the Rapper, Ryan Adams and motherfuckin Duran Duran– the vibe definitely began to build. Beach House put on one of my favorite of many performances I've witnessed from them and the excitement of seeing a recently reunited Air for the first time almost outweighed the execution and perfection of their performance. Almost.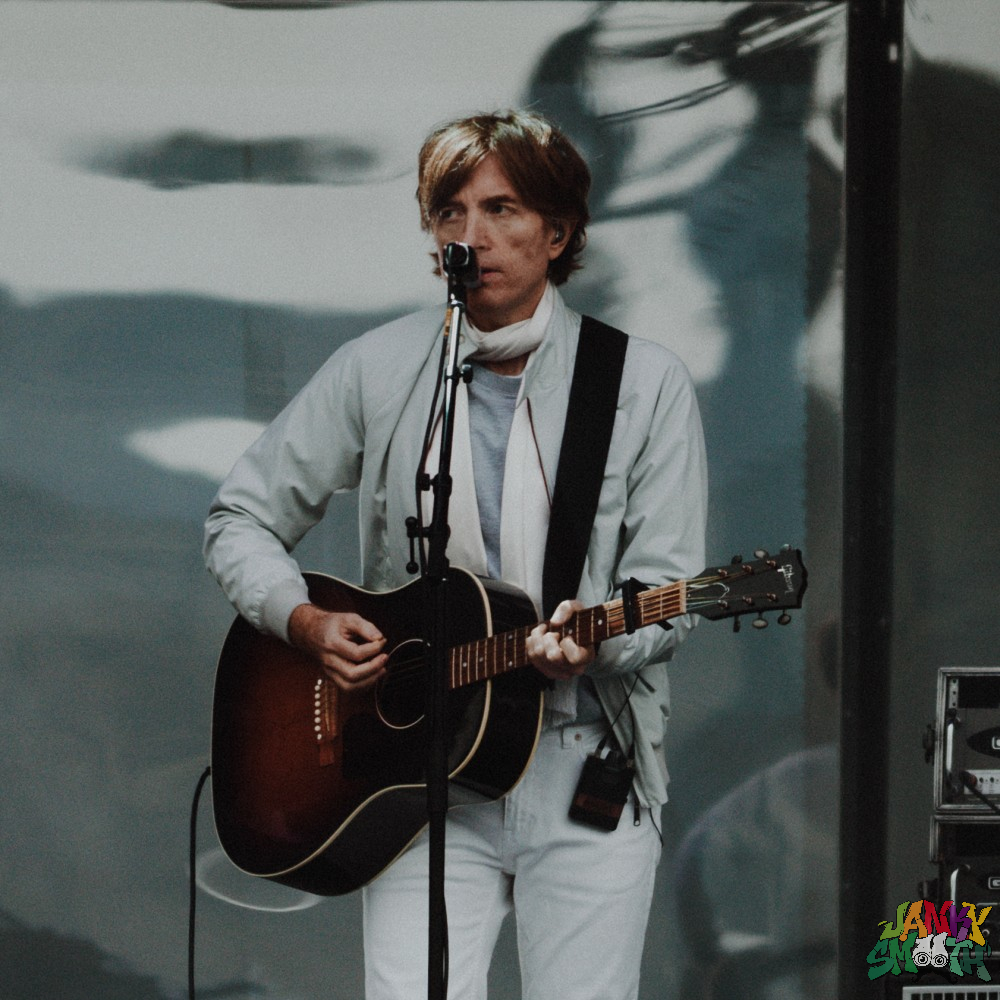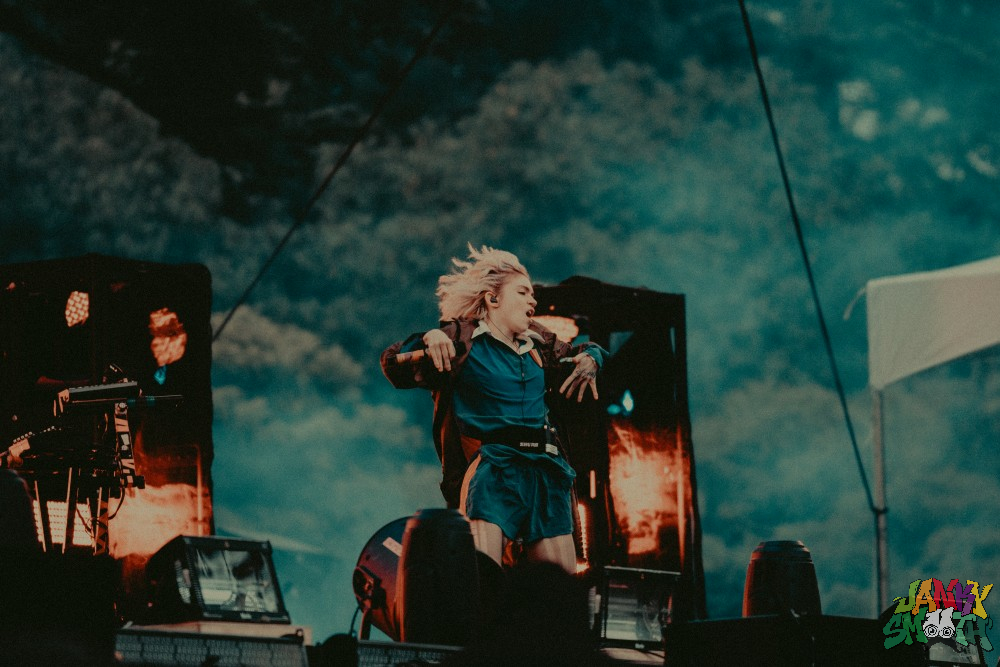 There weren't too many conflicts on the schedule which is a type of testament to my initial thoughts on the lineup but the conflicts that did occur tugged at my soul enough to feel a mild emptiness of Anderson Paak's set starting at the exact same time as Radiohead as well as Polica playing a conflicting set with Foals. Neither of those issues were cataclysmic and both bands I missed will be playing at least 213 other festivals and maybe a few scattered medium venue dates between the end of this year and the start of next year's festival season, so I didn't leave haunted by FOMO.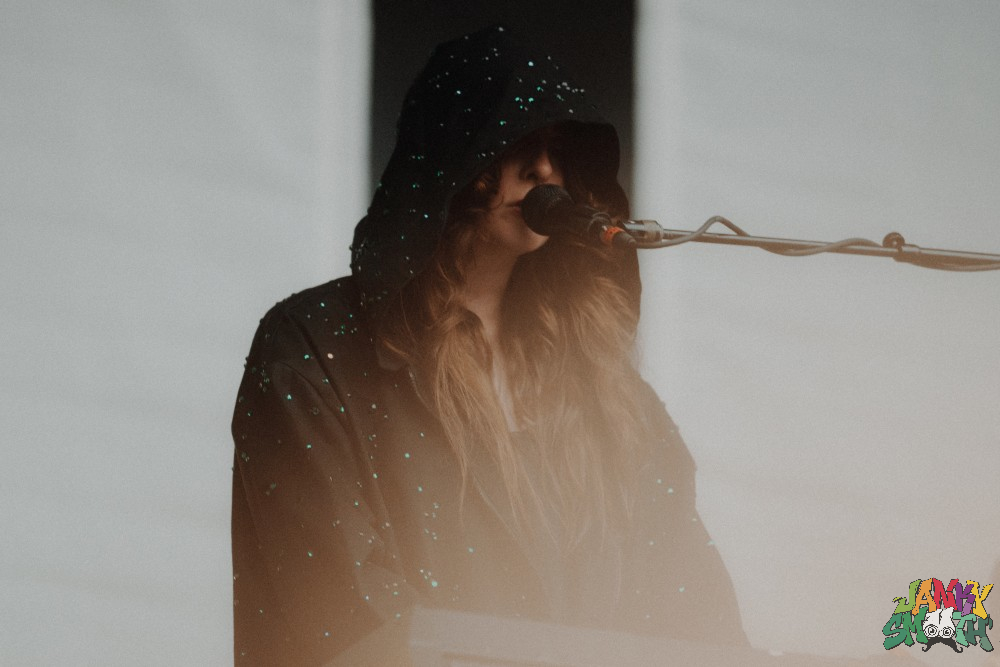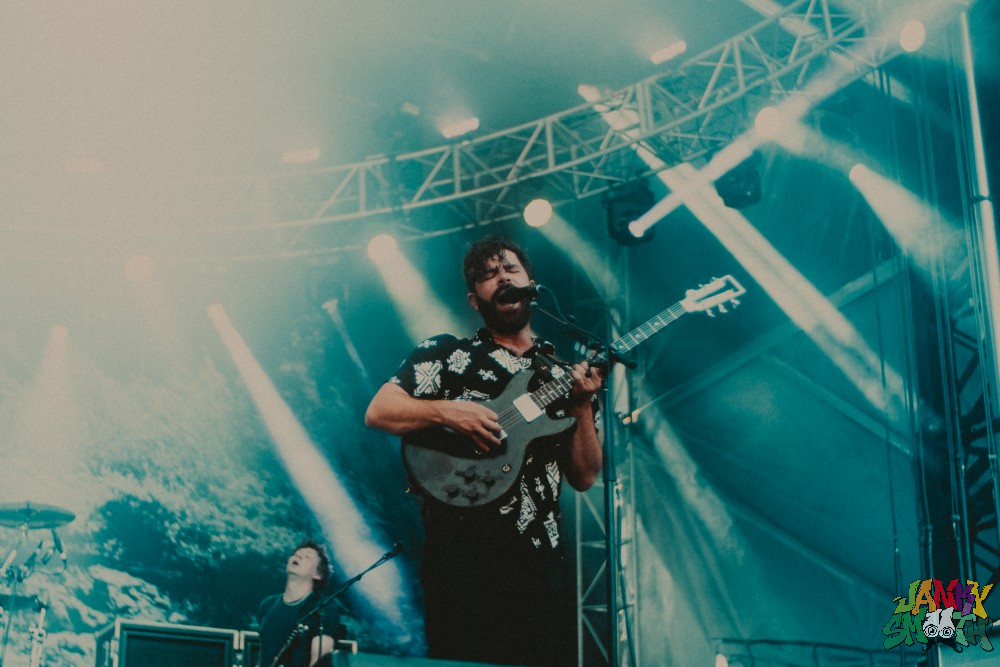 But I did leave haunted by an irrevocable mark left by the likes of LCD Soundsystem and Radiohead; the latter of which I'm suddenly coming to the conclusion that their gradual but steady release of a body of work that is as diverse and yet, cohesive as the likes of a Pink Floyd or the Beatles, could quite possibly be the best band of all time. I try to stay away from making such globalized proclamations but Radiohead possess the purity of purpose, the twists and turns of uninhibited inspiration and the ability to eclipse the genius of their studio work by consistently delivering overwhelming live performances that are even more powerful than any of those recorded works.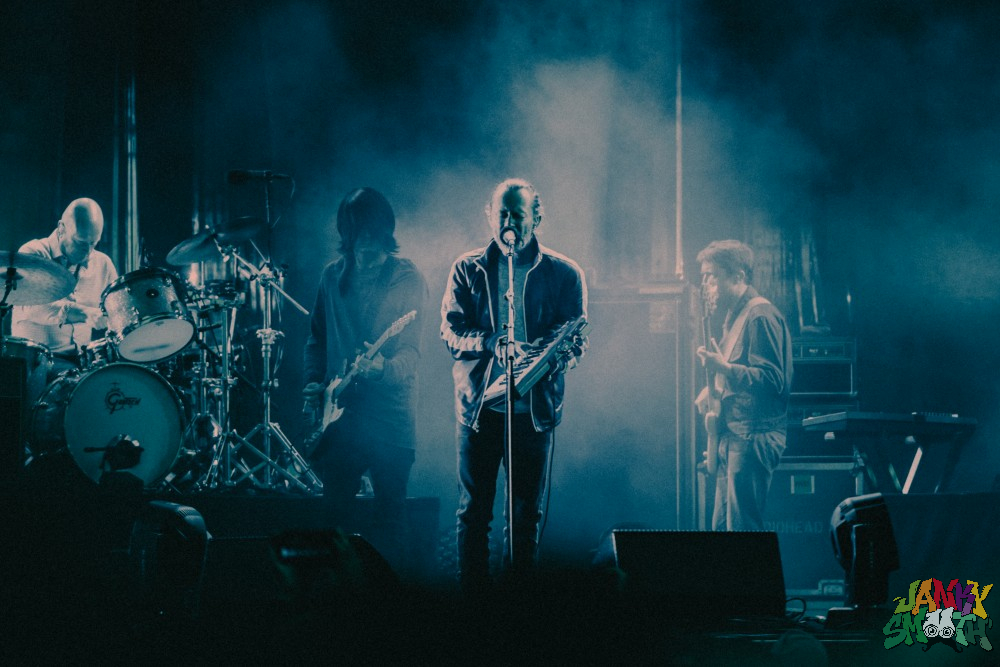 As I scanned the audience moments before Radiohead took the stage, it struck me how many different generations of music fans were emotionally invested in this moment. I found myself wondering once again about what the fuck could've possibly happened between the recording of Ok Computer and Kid A that led to such a seismic shift in sound? Not the calculated type of shift that has led to the demise of so many good bands on the precipice of greatness that listened to some label exec urging them to make their music more accessible to the masses.  Tame Impala's latest release, Currents comes to mind.  Yes, most critics and people loved that album but aside from one or maybe two songs, Currents was no Kid A, good sir.  So many of those good bands traveling new sonic paths ended up coming across as inauthentic and manufactured in their quest for crossover success. The kiss of death. I would even bet that those same execs experienced a fear of loss when they first heard Kid A, thinking to themselves that Thom York could've been one of the greats and it was good while it lasted. I found myself back at the Hollywood Bowl in 2001 as I stood watching Radiohead play for the second consecutive album release in a year as they kicked off the Amnesiac tour. Has it really been 15 years? It was a night that I will never forget because it was the first time a live performance moved me to tears. Not a single, lonely teardrop kind of tears but a steady flow of emotion. Crying at life events has always been an issue for me and music and art is how I connect to those emotions. From the very first song played in Radiohead's set on Saturday night, I was teetering in the tone and tightness of the greatest band in history. But it wasn't until the 10th song of the set, "Pyramid Song" that I was overcome with love, gratitude and emotion for this and every other perfect moment I've spent watching this once in a lifetime band do their thang. That a good song like "Everything In It's Right Place" could be so much greater and so much more powerful live than even the high play count in my iTunes would suggest. Even when the band started in on the tortured anthem of sad bastard-dom "Climbing Up The Walls", their performance wasn't diminished by the shaky falsetto that Thom Yorke struggled with throughout the entirety of that song. The understated flavor, perfection and meter of drummer Philip Selway is unmatched and was particularly apparent on songs like "Lotus Flower". It was all too perfect- As usual. And no matter how good or how bad any festival may be, it all disappears completely when Radiohead are playing.  For me, the jury may still be out on their latest release, A Moon Shaped Pool but I'm leaning towards what my friend Jeremy said about it that weekend, "It feels a bit like writers block".
While it is rare for any band to put out such consistent greatness as Radiohead without any real extended pause or breakup, it is even more rare for a band to take such extended hiatus and come back to peak form in their live show like LCD Soundsystem has. Now, I'm not one of those guys that claims to have always loved a band when they return to an over abundance of buzz and acclaim in the finicky blogosphere as LCD Soundsystem has. The truth is, while I've always had a casual liking of LCD, I kinda missed the level of genius of James Murphy and crew in the moment they were happening. I had never seen them live prior to their return in April of this year when they made a stop in Pomona. And I never would've known what I was missing if they hadn't put on such an incredible performance the first time I saw them after years of being disbanded. I was able to catch them again shortly after that gig at this year's Coachella as well but in the following months, they have been a non stop part of my listening rotation ever since. So last Friday night was the first time seeing LCD Soundsystem live that I have had an intimate relationship with their entire catalog. Their live set is perfection. There are few bands that can incorporate the digital blips, percussive loops and organic instruments as well as LCD Soundsystem does. The polo fields inside Golden Gate Park exploded into a dance party and my lack of proximity to the stage only served to enhance my experience with their live sound as I closed my eyes and moved my feet.

Some previous engagements prevented me from attending the last day of Outside Lands but Janky photographer Johann Ramos was able to capture more in imagery than I ever could in worlds. My initial internal criticisms of the festival lineup are a distant memory. My sore feet and festival after glow has carried me through every day since then. The one thing that stood out to me about this festival outside of the events I've recalled throughout this recap is that Outside Lands is not a carbon copy of any of the 634 other festivals one can attend across the globe. There is no obvious formulaic recipe for the genre soup that is consumed by music fans at other festivals. Even though I was bred as an old school hardcore punk rock kid, the lack of harder edged bands and ZERO presence of slam dance and mosh pits did not leave any sort of void to be filled. The cool climate and foggy atmosphere of San Francisco created a setting amongst the grass and greenery of Golden Gate Park that is a departure from the arid desert climate in MOST of Southern California that stretches between downtown LA and the Mojave Desert and much more pleasant than the thunderstorms of the Midwest and my experience last year with Riot Fest. That is not to compare the lineup with that festival and Outside Lands, just the comfortable confines and layered clothing that created the cozy setting that let me snuggle with San Francisco.
Photos: Johann Ramos Words: Danny Baraz