Vince Staples Talks Trash and Spits Fire at El Rey for 30 Days in LA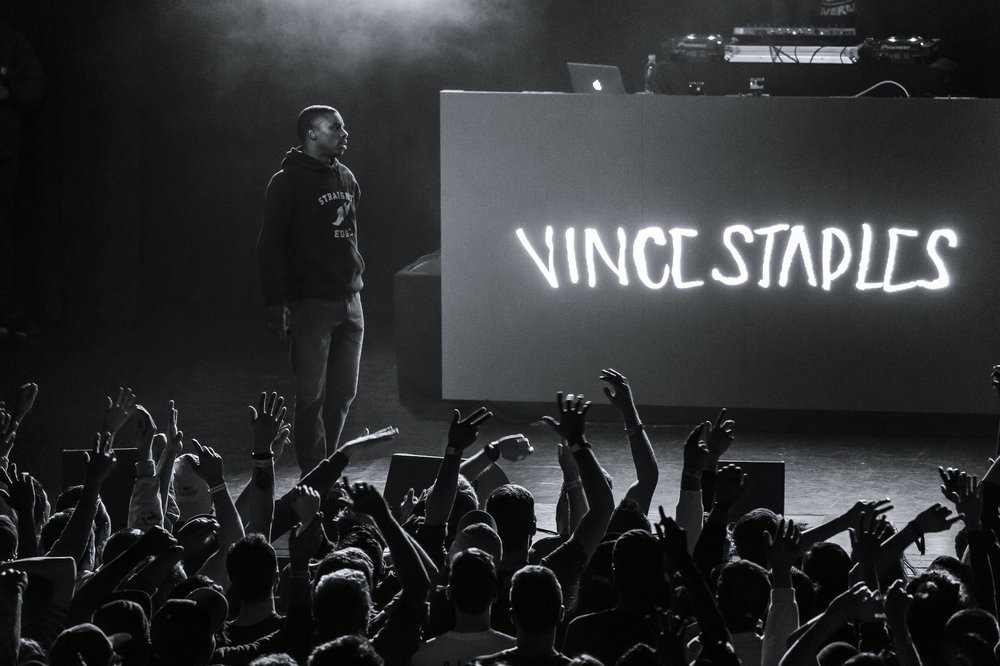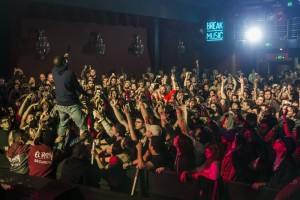 I had a thought Tuesday night as I was watching Vince Staples do his thang at The El Rey Theater for day 24 of Red Bull's, 30 Days in L.A.– right now might be the most exciting time in hip hop since the 90's. The underground is exploding with talent and style. MC's are pushing the lyrical envelope and producers are bangin out beats that are generating kinetic enthusiasm from the West coast to the East. The old beefs have been replaced with a collaborative spirit and respect and the result is fucking epic.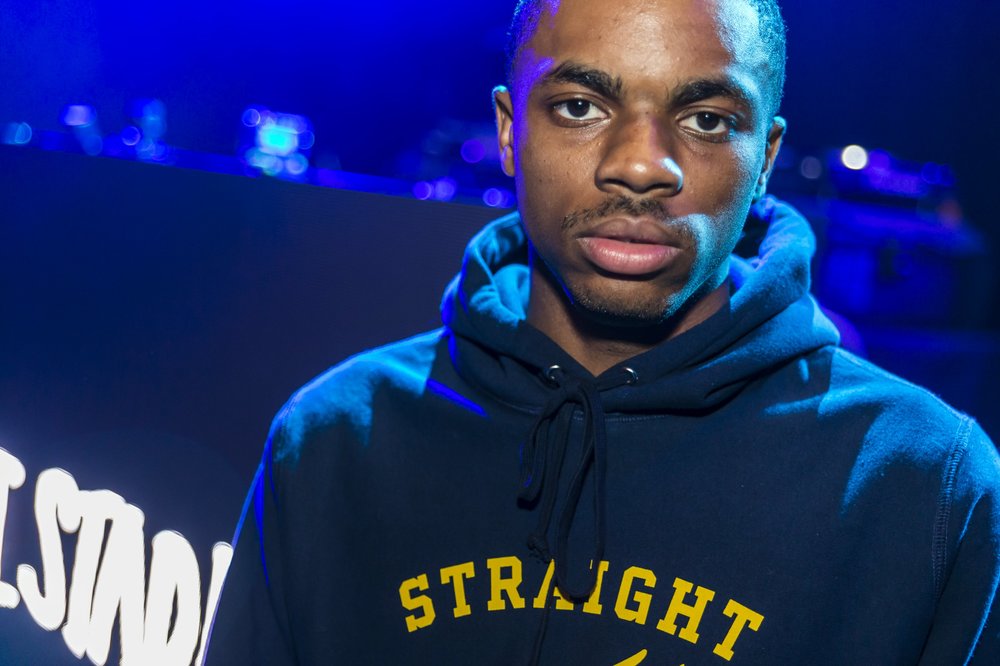 Long Beach's Vince Staples is a perfect example of what I'm talking about. Staples had no long term plans to ascend hip hop mountain but folks like Earl Sweatshirt and Mac Miller believed in his skills and encouraged him enough to get in the studio. 2 mix tapes, 1 EP and his first LP, Summertime '06 later, he is one of the most talked about up and coming rappers in the country. And for good reason. If you've seen Vince Staples live you know that it's common for his DJ, Westside Ty to cut the beat, sometimes for an entire verse, as Vince Staples kicks it A capella. His meter is spot on. When the beat drops again, he is right on with the track, without missing a beat. His crowd interaction has more depth than a simple request to "let me hear you, L.A.".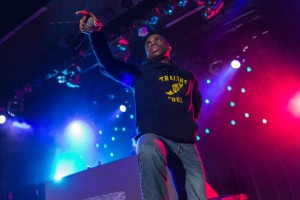 Vince opened with the track "Lift Me Up" off Summertime 06 and the crowd packed in tighter together than I've ever seen a crowd at El Rey. The back section of El Rey had people sparsely peppered in but up front, people were squeezing close to the stage. It made the venue look half empty and Staples made mention.
"They said this show sold out in a day but this shit don't look sold out to me. Lot of niggas wanted to be here but couldn't."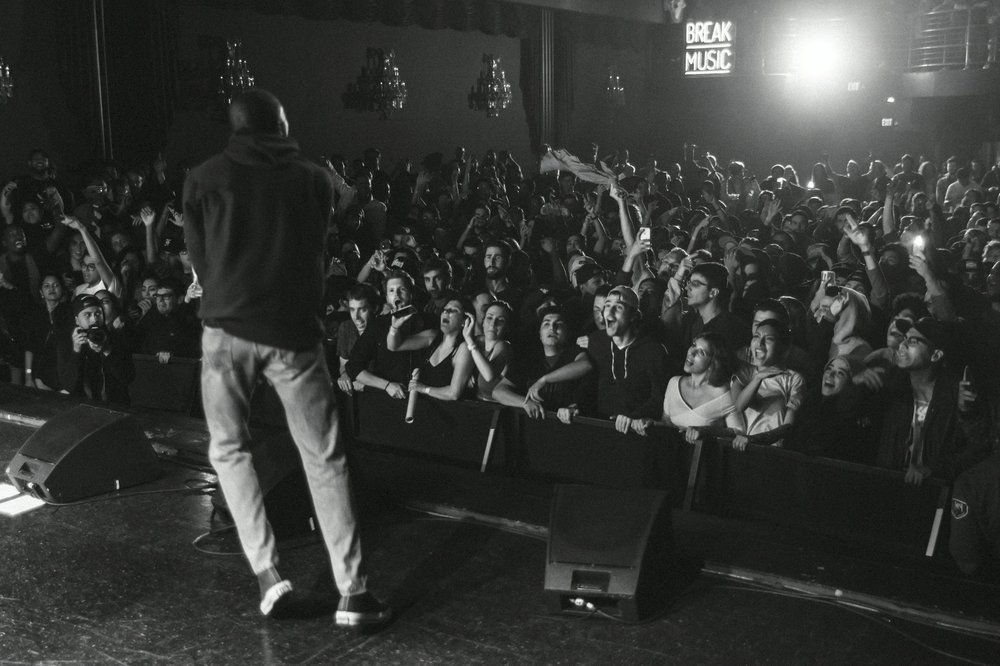 It's something I've also noticed with Red Bull shows in the past. I'm not sure if they undersell the shows on purpose or if people just don't show up, un-phased by letting the $3 tickets go to waste. Afterall, Red Bull Sound Select markets these shows to their own database, which must be massive at this point. It always yields a crowd that seems a little off. I actually have a lot of respect for what Red Bull Sound Select is trying to achieve in music and have very little negative to say about them but sometimes, I think the audience at Red Bull shows are actually Red Bull employees.
"This crowd looks like the type of people that carry briefcases to work", Staples continued.
But then, Vince broke out into "65 Hunnid" off of Hell Can Wait and everyone in the front part of the house started bouncing.
The digital screen that was in front of the decks had images of fire and flames, flickering in slow motion and I thought to myself, what an amazing time we live in for live music. How easy and somewhat inexpensive it has become to put on a visually epic live show.
But Vince Staples could rock the mic in any setting. His general vibe of misanthrope shines through at almost every opportunity. It's hard to tell if he truly doesn't give a fuck about any of it or if it's just a part of a public persona. Either way, he's got the world in the palm of his hand and it's for all the right reasons.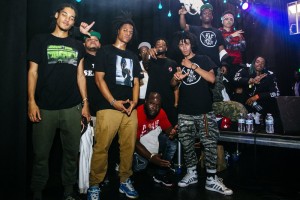 I made it to El Rey in time to see one of the openers, Loaf Muzik, a hip hop collective from New York. Hip hop groups have always been where the real magic happens in hip hop. To me, rappers like Del, GZA, Acey Alone and even Tyler have done their best work in a group of other highly skilled artists. Where the friendly but competitive spirit is a motivation for all involved to bring their A game- to push each other to greater heights. Loaf Muzik had a ton of energy and their beats had more of a 90's, deconstructed, sample based feel to them. There aren't that many Red Bull Sound Select artists that really stand out to me. Most of the ones that do are in the Rap genre and Loaf Muzik definitely got my attention. Their live show is tight and even though most of their audience prodding yielded little energy from the jaded audience, it didn't seem to affect their output on stage.
Words: Danny Baraz
Photos: Marv Watson for the Red Bull Content Pool