Front 242 And Severed Heads Bring Classic Industrial To The Regent Theater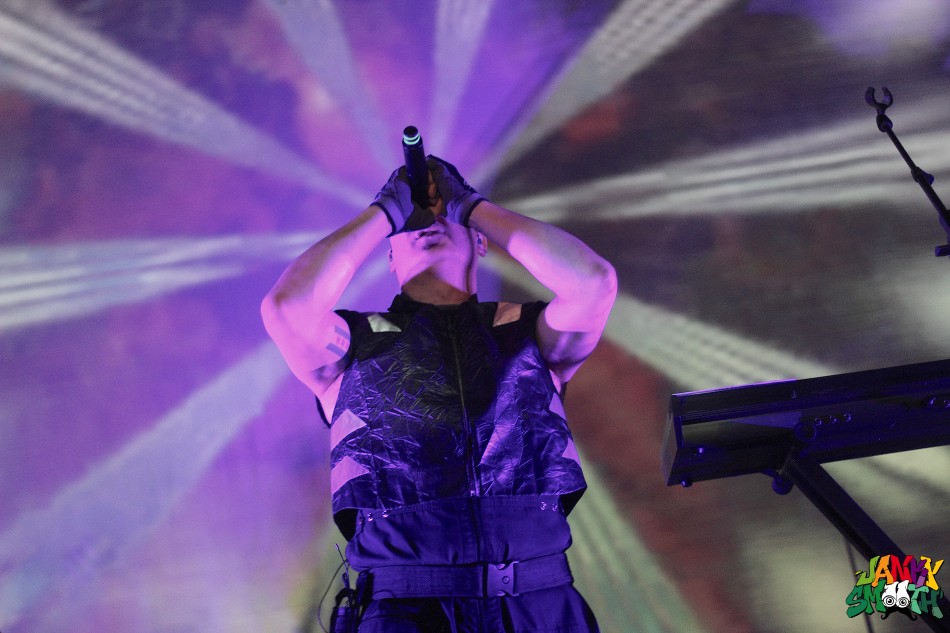 Cold Waves and Das Bunker joined forces to create one hell of a concert bill for a Wednesday night. Belgian innovators of EBM, Front 242 and Australian industrial icons, Severed Heads shared a stage for this incredible evening of dark, electronic music. Both groups are legends in the world of industrial but their performing styles couldn't be any more different.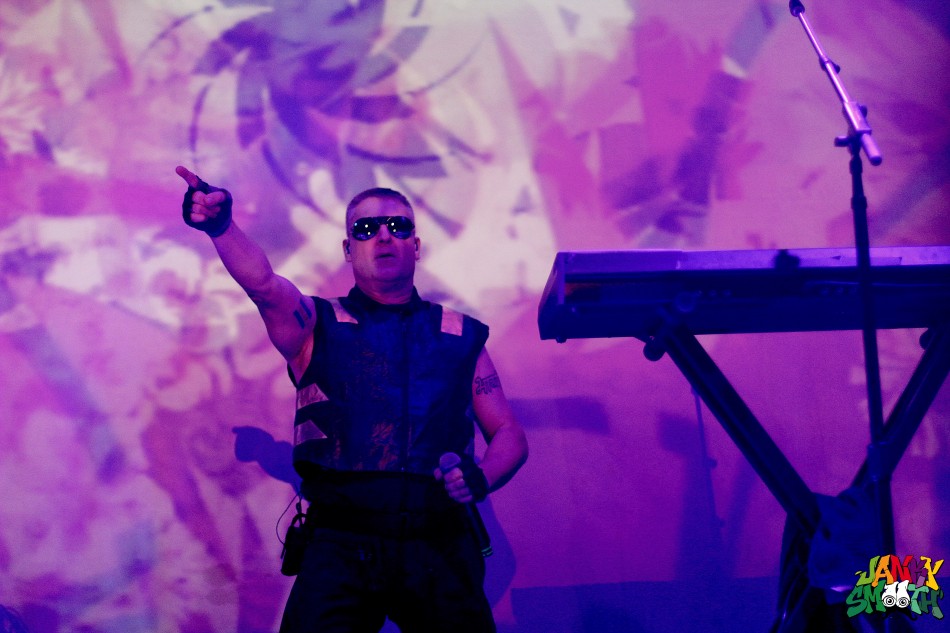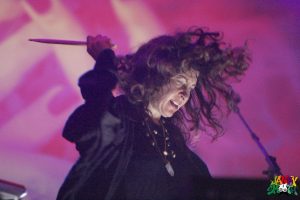 The Regent was filled with goth kids, Skinny Puppy shirts abound. I eavesdropped on a few conversations and they were all talking about careers in game development. Das Bunker DJs were spinning some tracks as we waited for the opening act which I parked right in front of the stage for. The first thing I noticed about the stage set-up was the red roses strewn all over the electronic decks. I imagined with a name like Romy, they'd be an act with some kind of romance or romeo reference but came to learn she was no male heartthrob or heartbreaker. She was in fact an extraordinarily talented artist and might just be a female Trent Reznor in utero.
Utilizing synths and drum machines, Romy makes incredibly catchy, hard-hitting and dark, danceable tunes. With smoke machines that shot directly upward, crazy visuals being projected behind her, and well timed drum splashes on her machine, it was a powerful display of pop and shadows. Consider Romy as a more industrial version of Grimes, though I think I'd prefer Romy. One extremely beautiful moment of the set was when Romy danced around with a rose singing "Not gonna get on my knees and bow down to you!" before throwing the rose into the audience.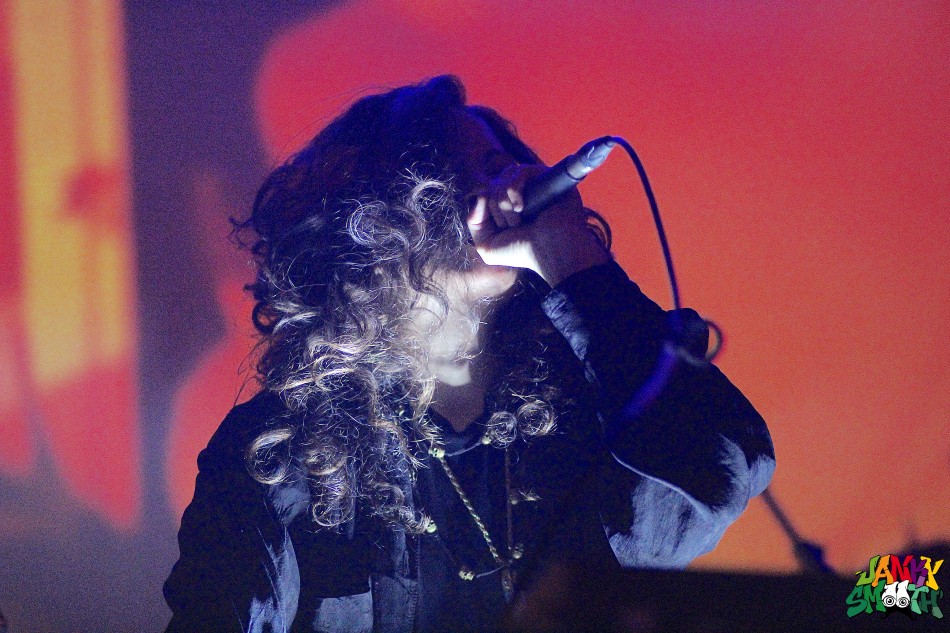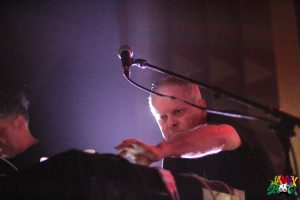 Australian industrial icons Severed Heads were next. The duo, made up of original member Tom Ellard and fan turned bandmate, Stewart Lawler, stood in darkness behind a podium with two laptops and a few synths. The group played songs from every period of their 4 decade catalogue, including songs off their recently reissued album, Come Visit The Big Bigot. The played a variety of styles from glitchy club bangers to tranquil industrial maladies and brooding dark soundscapes. Severed Heads knows how to concentrate irreverent noises into melodic, head bobbing, body moving, dance music. Their visuals had to be the craziest of the night, montages of grotesque mutant people, commercials edited together at seizure speed, and Playstation 1 Need For Speed driving footage. It was awesome.
Ellard had some pretty funny and sarcastic stage banter as well, introducing the band as The Wiggles then telling every woman in the Regent to kiss the guy next to them. There was a moment during the set where I was engaged so totally that all it would take to pump me up was an irreverent hype-phrase like: "Let's do this!" or "The time is now!" or "Come on, get down!" Commands like these felt just as profound as any Oscar winning monologue might when spoken over musical such great hooks.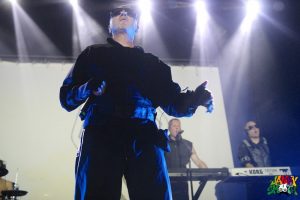 Front 242's drums and synths had been set up the whole evening, waiting in the back of the stage for their players to assume their positions behind them. Once the stage fell into darkness, the drummer, Tim Crocker and synth player, Jean Luc De Meyer, walked on stage wearing macabre black masks. As they started playing, Richard 23 exploded onto the stage and took the audience from 6 to 11. One third hype man, one third electronic musician, and one third singer, Richard 23 was dancing and howling with more intensity than people in Los Angeles can handle. Once the first song had finished, Patrick Codenys, got on stage and with Richard, the two of them put on a dual industrial assault. Their dancing seemed almost choreographed and in their black, SWAT-like uniforms, I knew a band with this sort of presentation could only come out of the Germanic regions of Europe.
There wasn't a moment that the band slowed down or let the audience breathe, it was pure madness and fun the entire time, not a second wasted. One of the most explosive moments of the set was when the band played "Headhunter", when you play that song your reality suddenly transforms into a video game in the midst of a high-speed chase with your life on the line. I crept to the back of the venue to see the Regent in all its dancing glory and from there I saw someone holding a sign that read "You Deserve TO Go To Hell!" and I couldn't tell if it belonged to a fan or some evangelical that bought a ticket just to make a statement. After a four song encore, I left the Regent and saw plenty of dark rock all-stars, Cevin Key (my hero), Youth Code, and Danny Havok were all there, dancing among us. It was one hell of a night, getting to hear all the machinery we're surrounded by in Los Angeles, coming to life with synthesizers in a proper nocturnal downtown soundtrack.
Words by: Rob Shepyer