Dais Records' 10 Year Anniversary Party: The Dark Fruits Of Persistence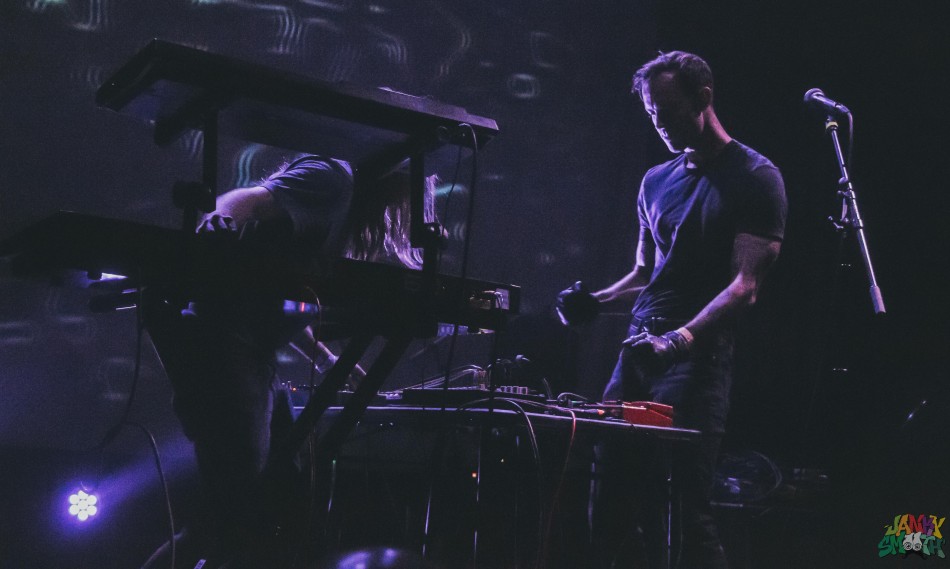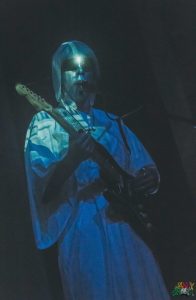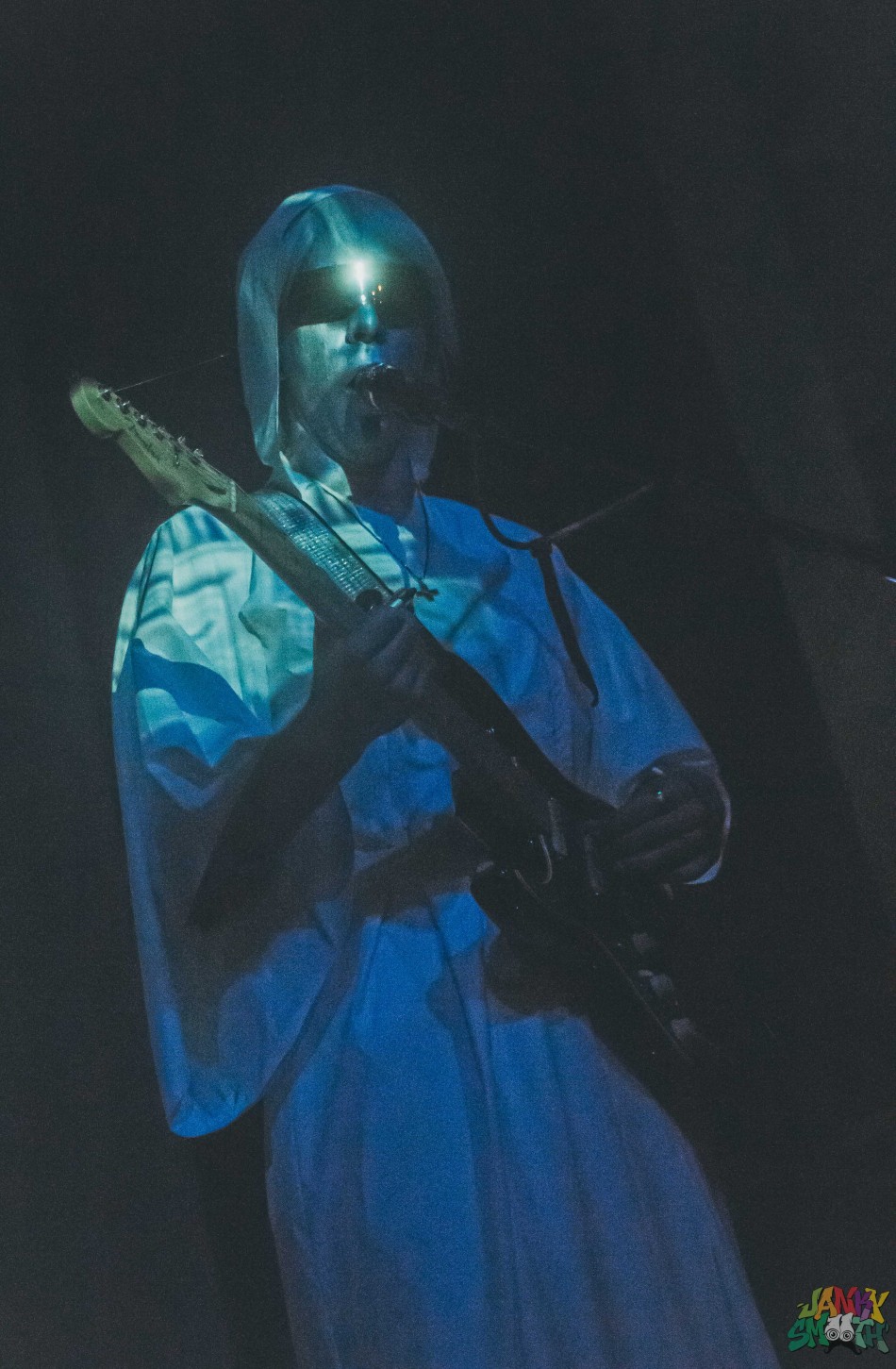 Persistence is All. Those were the words projected over Drew Mcdowall, former member of Coil, as he wrapped up Dais Records' 10 year anniversary at the Regent. Prior to this, the night had been filled with dancing, disaffected swaying, and sweating buckets from the sub-tropic-humidity-zone hovering over Downtown Los Angeles like a specter. Ten years in the making, this night celebrated a fever dream that came into fruition. It was only until 2017 that the local success of Drab Majesty and High-Functioning Flesh and the global success of Youth Code made Dais Records' sound and name instantly recognizable in L.A. With Drew McDowall, Drab Majesty, High-Functioning Flesh, Body of Light, and Cold Showers performing, Dais planned on celebrating this milestone of a decade by bringing in the next one with a bang.
Hot weather is best remedied with cold music and no music sounds colder than goth and industrial. When I stepped into the Regent, Youth Code were standing behind the turntables DJ'ing all sorts of glitchy, dark, German sounding industrial music, shit like Laibach.
The first band to offer their musical relief was Highland Park's Cold Showers, a crisp sounding goth band, thick with 80's and Depeche Mode feels. Their sound is bombastic yet contemplative, mixing shoegaze and post punk with haunting, levity filled guitars that don't stretch so long that you get bored and drums that sound nothing short of perfect. Jonathan Weinberg's lush and mournful vocals blended into the music well to conduct a gloomy goth opening ceremony for the evening.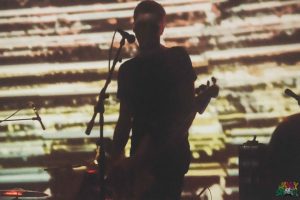 Visuals by the artist collective known as Cloaking were projected in the background for each band. These visuals set the tone and turned the evening into a concept, not just a show. For Cold Showers, Cloaking projected minimalist grain and static.
Youth Code's DJ'ing between sets made setup time feel like a real happening as we all danced and roamed around the Regent with deviant intentions. I took my time, strolling around the venue to take in all the gender-bending, extremely tall and short men and women with unimaginably odd hairstyles that you might see in Liquid Sky mingling with the musicians and scenesters every local should know by now. After soaking in my surroundings, I made the mental note: "Post-punk is the only subgenre of rock where tucking in your T-shirt is cool."
Arizona's Body of Light was next, an industrial duo made up of the Jarson brothers, Alex and Andrew, that have been gaining a lot of well deserved hype. They're Dais' next breakout band. You can almost see their success bubbling right before the band explodes.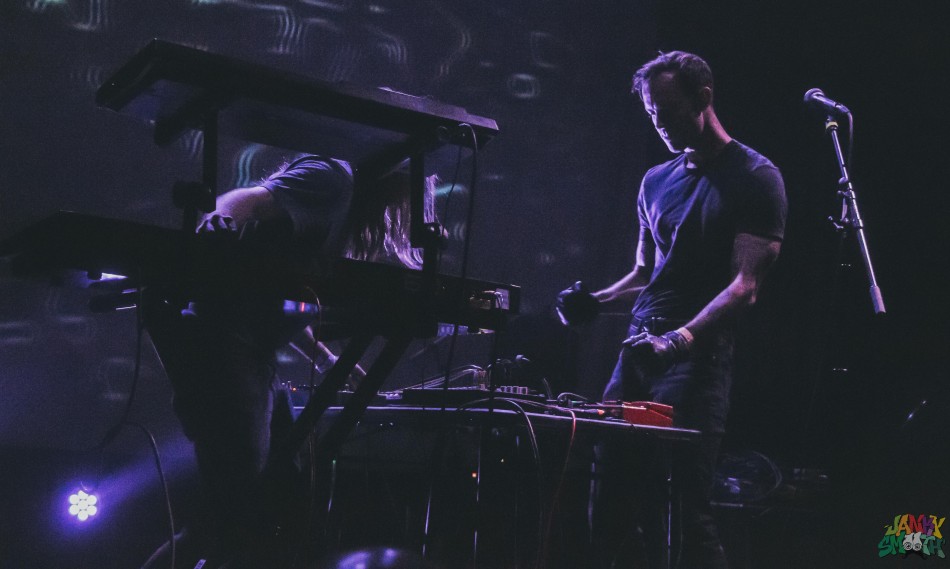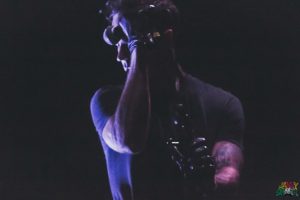 I like any singer that wears leather gloves as he performs and that's exactly what Alexander Jarson does on stage, delivering a sexual-club friendly style of infectious industrial dance music. Alexander's brother, Andrew Jarson, stood behind his synths, balancing melody and a healthy amount distortion. Distortion that makes you wonder if it's coming from the band or if it's just the sound of going deaf. Body of Light makes auditory geometry, you can feel every edge, line, and point of their musical arrangements. Cloaking's visuals married the sound well with hypnotic images of ripples and orbs with long, spindly tendrils.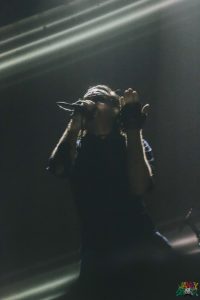 After having closely followed High-Functioning Flesh's concert filled 2017 and having missed their performance opening for Prayers last month, I was stocked to finally see them perform to a crowd as big as they deserve. Susan Subtract was wearing a navy blue jumpsuit, shades, and fingerless leather gloves while Greg Vont kept his quiet, stolid style behind the keys, letting his music do the talking. They played numerous old songs off their first two albums then multiple new ones off their recent album Culture Cut like "Talk About" and "Stationed". My favorite song, "Human Remains", hits the audience with a polarizing and kickass intro then spirals out into a banger of an industrial tune with plenty of punch. Of all the times I'v seen HFF, I found myself dancing hardest this time, just as the rest of the audience was.  The electro-punk, industrial duo closed their set with perhaps their most emotional song, "The Deal", a dance ballad about a love gone haywire. Cloaking's visuals featured infinite quadrilaterals appearing smaller and smaller inside each other until disappearing into oblivion.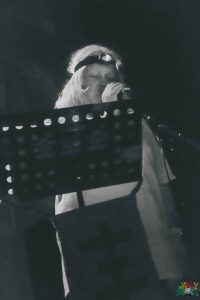 In the weeks leading up to the show, Dais Records had teased a secret act to play the night  and had been keeping their identity under wraps until only days before the show when it was announced that Rebellion is Over, consisting of Psychic TV's Genesis P-Orridge and Edley O'Dowd, combining forces with Wesley Eisold of Cold Cave, were set to play. I've been a big fan of Psychic TV ever since they headlined Berserktown 3 last year, playing Force The Hand Of Chance in full. What made that band so important culturally were two things, their prolific nature which led to them going into the Guinness book of records for most albums put out by an artist in one year and the fact that a cult was created alongside the band called The Temple of Psychik Youth. Utilizing bits and pieces from numerous ideologies, everything from Native American to Cyber punk, Psychic TV made an original style of music that can only be described as experimental folk that found a home in industrial and goth circles. If burning man was a band, they'd be Psychic TV because it's every culture's symbolism wrapped into one thing.
Psychic TV's message is best communicated through the song "Message From The Temple".
Thee Temple strives to end personal laziness and to
engender discipline. To focus thee
Will on one's true desires. In thee belief, gathered
from experience, that this maximizes
and makes happen all those things that one wants in
every area of L-if-E.
Explore daily your deepest desires, fantasies and
motives, gradually focusing on what you would LIKE
to have happen in a "perfect world", a "perfect situation",
taking away ALL restrictions and "practical"
considerations. What you would REALLY want.
Then decide totry and do it.
Thee mere visualization of that true goal, your true
Will, begins thee PROCESS that makes it happen.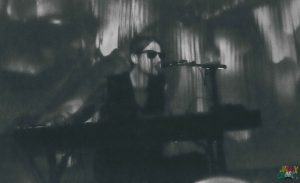 I'm a fan of Wesley Eisold too, for his work in Cold Cave and American Nightmare, so I expected to enjoy Rebellion Is Over and was excited for their set to begin. A long, Lydia Lunch-esque monologue by Genesis in the beginning of the set was unable to penetrate my thick membrane of Los Angeles cynicism. She sounded like fucking Smeagol from Lord of the Rings. Fuckk. The set felt like a watered down, meandering version of Psychic TV, without all the cathartic moments and beautiful, sincere melody. For a moment, I was transported back into my childhood, where I would be forced to sit in synagogue with my friends and instead of listen to a single thing being preached to me, I was goofing around. After having been dancing for hours and hoping to dance more, I truly felt like fucking around with my friends was a better use of my time than staying to hear this racket.
Thankfully, Rebellion Is Over was over by the time I returned from the smoking patio and Drab Majesty was about to grace the stage. Their usual frost jester, blue makeup had been replaced for this special evening with solid silver faces and white robes. Right before the show, the band released a new song and lyric video for "Oak Wood" which is dedicated to the lives lost in the Oakland fire and their friend, Cash Askew. The band also released an instrumental track along with the single called "Egress".
Behind the heavy fog, for a moment, it felt like I was watching the inverse of Sunn O))) from bizarro world. Cloaking's visuals provided the perfect backdrop to their sound, in which Roman columns met geometric grids in an abstract space, only for those columns to crumble to pieces. Communicated through symbolism, a major idea in Drab Majesty's sound and image is the destruction of logic and perfection.
The band played various songs off their breakout album The Demonstration which at this point has totally reinvigorated goth rock. The set started rather slow and euphoric, making people sway in what felt like a musical mellow coke high. As if, you could close your eyes and just drift through space past various framed oil paintings. Then with a bit of digitized improvising on the synths by Mona D, the band launched into "39 By Design" and the pace of the set suddenly became more volatile and charged. I looked around the room and noticed that people don't just watch Drab Majesty, they study the band, knowing they have much to learn from Deb Demure. Then, just as everyone thought they were about to play their last song, they were joined on stage by their label mates, Youth Code. The combination of both bands was a bizarre and wonderful thing to behold.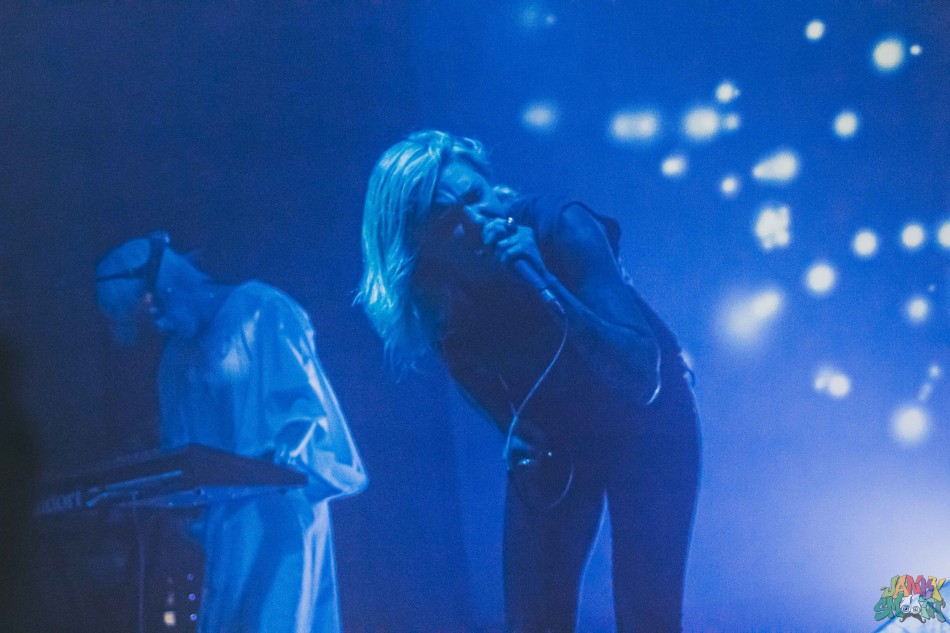 Drab Majesty left the stage and immediately Youth Code barraged us with three more songs that were so impassioned by Sara Taylor's power and command on the microphone and Ryan George's vicious producing, that it could've amounted to the night's best set just with those four songs.
At this point, it was 1:00am and most of the nocturnal nyctophiles had left the Regent to go beddy-bye. Those that left, missed out on former Coil member, Drew McDowall  performing Coil's full experimental noise album Time Machines, an album Dais plans to remaster and reissue next month. I love seeing shows like this but only for short periods of time, like Russell Haswell at Berserktown. It's all about being up close to the artist and closely watching them making all sorts of insane noises while working with a cluster-fuck jungle of wires that can make profound musical changes with every casual plug and unplug. The music sounded transcendent, euphoric, visceral, and dizzying all at once. After the noise started feeling monotonous, I decided I had gathered all the spoils for this evening that I needed. It was 1:30AM when I stepped out of the Regent and into Dais Records' second decade of music in L.A.
What I had just seen all night long were the rewards they were gifted for a decade-worth of perseverance by a record label. Do you think Drab Majesty owned LA ten years ago when Dais first started? Do you think Youth Code was the hottest young industrial band around back then? Was High-Functioning Flesh the electro-punk darlings of the hour? No, 10 years ago, Dais Records' wide-spread success was all a dream but now, it's a downright phenomenon in the making and I just feel lucky I got to be a witness the celebration of that dream's realization.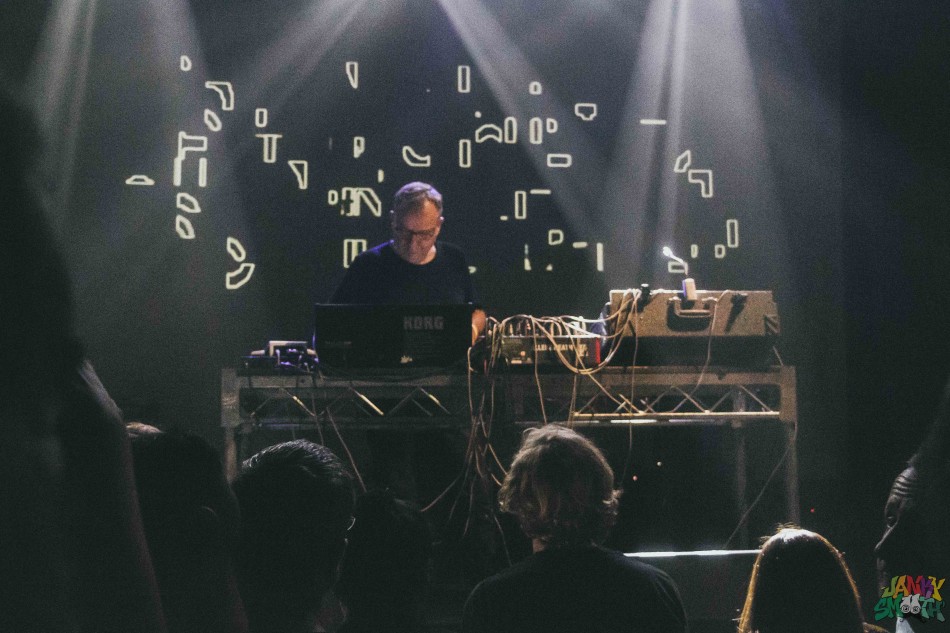 Words by: Rob Shepyer