Psychic TV Experiment With Auditory Alchemy At The Echoplex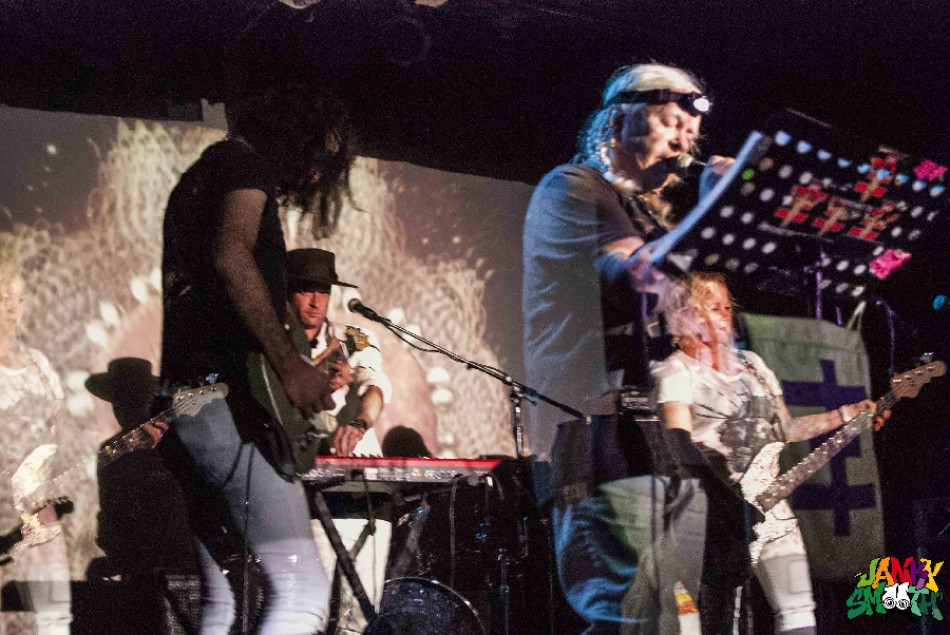 After Rebellion is Over's atrocious Regent performance for the Dais Records 10 year anniversary show, I felt that Genesis P-Orridge needed to redeem herself in my eyes. Up until that show, I had regarded her as a soothsayer, a psychic siren of sorts, a mystic… but that show, was fatally pretentious. So many classic artists still touring in their golden years seem like a shadow of their former selves. They don't move as much on stage. The singer can't hit the same notes. And fans never remember the band at their best, they remember the band how they left the building, either riding into the sunset or falling flat on their face. That said, I'd wait to see Psychic TV before making my verdict.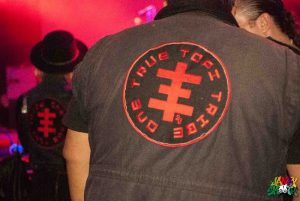 I became a fan of Psychic TV after I saw them headline night 1 of Berserktown 2016 by playing their debut album "Force The Hand Of Chance" in its entirety. They were marvelous. It's hard not to stun an audience when you get to perform songs as beautiful as those. Songs like "Just Drifting" and "Stolen Kisses". Psychic TV is not just a band though, Psychic TV is a concept. Their musical styles range from psych rock to folk and their song meanings range from the controversial death of Brian Jones, to the mysteries of death, love, and space.
Genesis, as an artist, always came off as a maverick, a totally original soul. She not only created industrial music with her first band Throbbing Gristle but later in life, she created the Pandrogeny Project to transform her body to be more like her 2nd wife Lady Jaye in the hopes that they became one being, completing their union both spiritually and physically.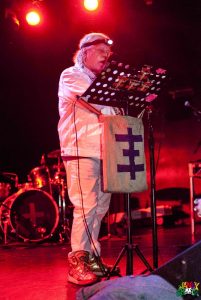 For those who read my review of Rebellion Is Over and are anticipating more malice, more hate, more betrayal out of me… sorry! Psychic TV reformed me. Rebellion Is Over's memory has been totally wiped from my mind. Deleted. VANISHED. GONE. I was rebaptized into the cult, tempered by a spiritual fire that could've only been rekindled by Psychic TV's musical message delivered under the third eye guidance of Genesis P-Orridge.
After a lengthy DJ set of darkwave, post punk, and EBM by Danny Fuentes of Lethal Amounts, L.A. Drones took the stage behind a table chalk full of electronics. "La Drones" in Spanish means "The Thieves", an appropriate Ministry reference as they wear thieves masks over their faces making them look like a hybrid between The Mentors and Eyes Wide Shut. The identities of L.A. Drones' two members are unknown, so I'll refer to each as Thief 1, the black latex wearing femme fatale and Thief 2, the older, shaggy, sex fiend on the saxophone. That saxophone was utilized in the first song, creating a sweeping acid jazz sound over darkwave beats. Thief 2 later put the brass down and joined Thief 1 behind the synths and modulators. Thief 1 sang over the bizarre electronic dance frenzy and by the end of their set, they were covered in sweat while the audience was filled with jive and anticipation.
Rather than check out the merch or go chill on the smoking patio, I parked my ass right in front of the stage and waited for Psychic TV. Just seeing Edley O'Dowd's full drum kit instead of some gonzo percussion setup like I've seen him use before got me excited.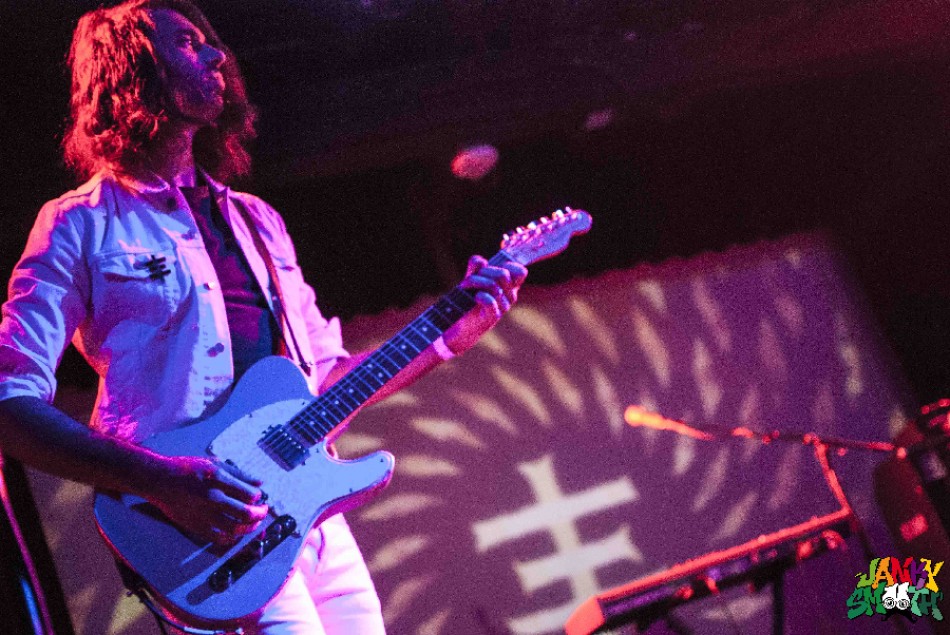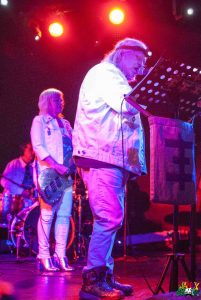 Once the lights dimmed, the set started with Jeff Berner on guitar, strumming his white fender until Genesis strolled on stage wearing a pair of gold Ewings. Genesis sang quietly until the rest of the Psychic temple joined the two on stage and right out the gate, their music launched us into psych rock city. They sounded more garage than most current garage acts and more psych than most current psych act. Songs like The Creation's cover "How Does It Feel to Feel" really tickled everyone's psych rock senses with fuzzy guitars and insane videos projected behind them. It soon became very clear that Psychic TV could not be pigeon-holed into a genre. Like Jonny Lydon once called Public Image Ltd, Psychic TV is more of a communications company than a band.
Psych rock city was only the first stop on our trip, PTV changed the pace a few times, switching the sound up to astral lullabies. Slowing down, drawing out the guitars, letting the pauses in the music tranquilize our pulses, the Echoplex shrunk into the palm of Genesis' hand. The trip took a drastic turn toward the dramatic and back in time with tunes that sounded as if the Doors or Velvet Underground could've been playing. Genesis summoned the souls of both Jim Morrison and Niko into her transgender body and the audience bobbed their heads to the brooding stomp pace of desert mescaline rock. Edley O'Dowd's drumming was especially on point and thrilling to watch, especially on songs like "Burning The Old Home". Once the band finished their set and left the stage, Edley took the microphone to tell everyone about his current exhibit "Discipline: The Art of Psychic TV" at Lethal Amounts and tell us that if we wanted Genesis to come back on stage we'd have to be as loud as possible. After one tired attempt, Edley informed us that San Francisco did better and on our second go, we tore the house down with screams. Psychic TV got back on stage and performed "Suspicious" as their encore and once finished, I left the Echoplex thinking PTV not only redeemed themselves but that they were truly one of the best, most legendary, and underrated underground bands of all time.
Words by: Rob Shepyer