Chelsea Wolfe: She-God of Luciferian Witches And Other Soul Harvesters At The Regent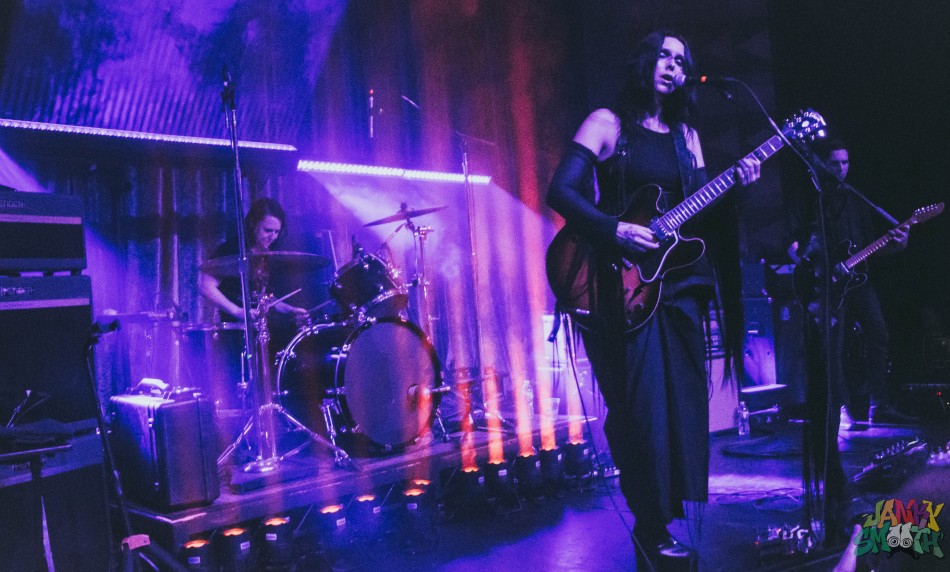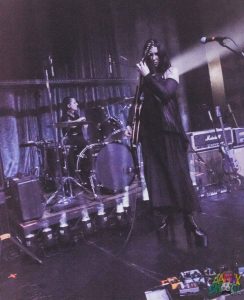 Chelsea Wolfe dresses in black. The color simply knows how to fall correctly upon her body. She feels comfortable in black and black feels comfortable on her. With her pale skin and thousand mile cold-detached stare, I don't ever think I've seen a closer resemblance to a mythical siren grace a stage. And I certainly never figured sirens could play a mean doom guitar.
Chelsea's latest album, Hiss Spun is a beautifully grueling venture into the darkness of down tuned metal guitar and noisy wall of sound electronics to make what is best described as doom blues, as opposed to doom metal. I've never heard doom sound as rhythmical or groovy as I did beholding Chelsea and her band at the Regent. Her drums and guitars can thrash at intense speeds and make you dance while never departing out of the doom realm. It requires some kind of forbidden alchemy and golden arithmetic to achieve that balance.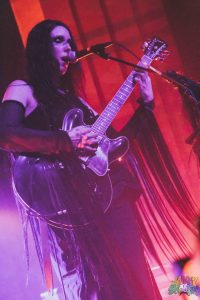 I see a lot of artists trying to create a similar image to hers, trying to introduce a certain level of "evil" into a mainstream bluesy sound. I don't think anyone pulls it off quite as well though, the others seem like caricatures, making witches and satanism feel cartoonish and showbizy, while Chelsea's take on the dark and macabre is more ambiguous and ambiguity is key. In 2017, we don't know up from down anymore so ideologies like satanism or magick and characters like Crowley or Levay all seem passé to me. There are undiscovered virtues floating around inside certain people and those people will think of new symbols and ideologies to communicate darkness for this era, so perhaps Chelsea Wolfe is one of those people.
The Regent was sold out long ago for this show. It was written somewhere in some forgotten tome that this would happen, that the line would wrap around the Regent with Angelinos dressed in black. It was also written that I would breeze past the line with my trusty press credentials and squeeze inside the Regent. Once inside, I made sure to buy a red wine for this show, as opposed to the Jameson ripoff I had drunken the night prior for Andrew WK. (No one at the Regent will tell me why they don't carry Jameson…)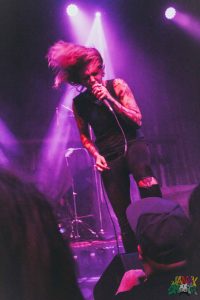 Youth Code opened up the show and played a vulgar display of industrial for their hometown. Sara Taylor jumped and thrashed around the stage like it would never be used again after her. And her voice thundered down over the deviantly danceable yet heavy music manifested by Ryan George. Hardcore meets Industrial… we should've seen this coming, industrial dancing is only a few degrees off from just swinging a punch anyway.
One awesome moment of their set was when they played "Tiger's Remorse", one of the first songs they ever recorded in which they sampled music from Paris is Burning, a documentary about drag queens. The song expresses the band's anger and frustration over the murder of one of the performers featured in the documentary. With blazing intensity, they dedicated this jam to the LGBTQ community.
As a hometown girl, Sara Taylor refused to let the Regent stand still and not dance to her music. She called us out on our bull shit, saying this ain't "Sleepy Hollow" and just like that, like a girlfriend snapping at her lazy boyfriend, a mosh pit started straight away. And they had every right to do call us out because Youth Code is as L.A. as the fucking Dodgers, they are integral to the scene just as personalities/fans. Seeing Sara and Ryan hanging out in the Echoplex smoking patio during a show is one of the many things that makes it feel like L.A.
Sara foreshadowed the emotional vibration that would be running through the audience by saying she might cry when Chelsea goes on and with that, Youth Code finished a perfect set to open for Chelsea Wolfe's new material.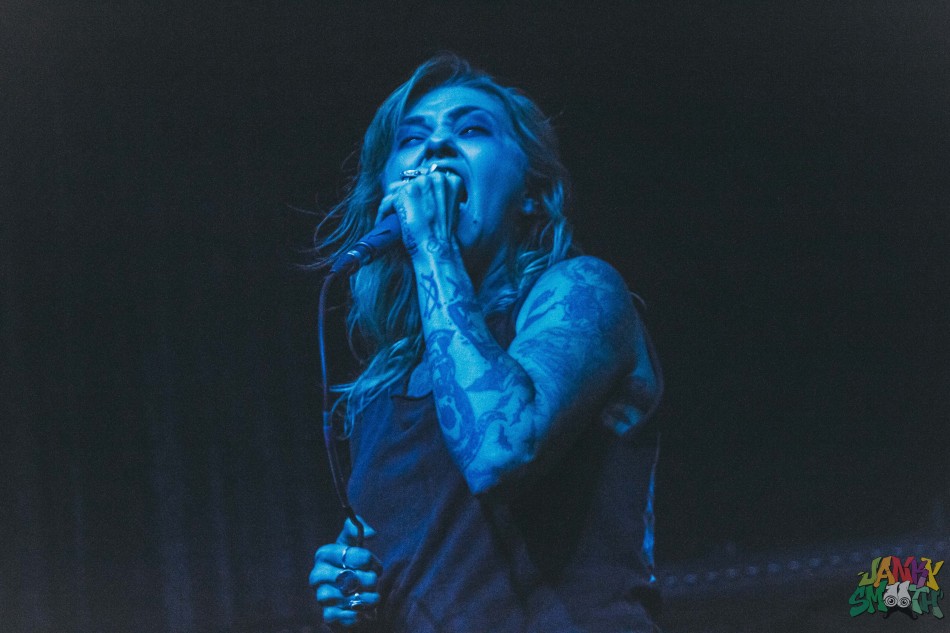 Every member of the band was tight and exuding synergy. Ben Chisholm bellowed doom with every note on his bass, Bryan Tulao grilled us with burning slow riffs and rabid fast assaults. Jess Gowrie brought the whole concept together with her versatile drumming. And Chelsea's voice elevated her to true siren status. Even though you sense its danger, her voice lures you in. Her vocal tone is simultaneously full and empty, giving you heaps of emotion but letting you interpret anything you want out of it. It's a sound that personifies the invisible world around us at all times: the super natural, the mystical, and the mysterious. Usually, music helps us come closer to solving that mystery but hers seems only to deepen it.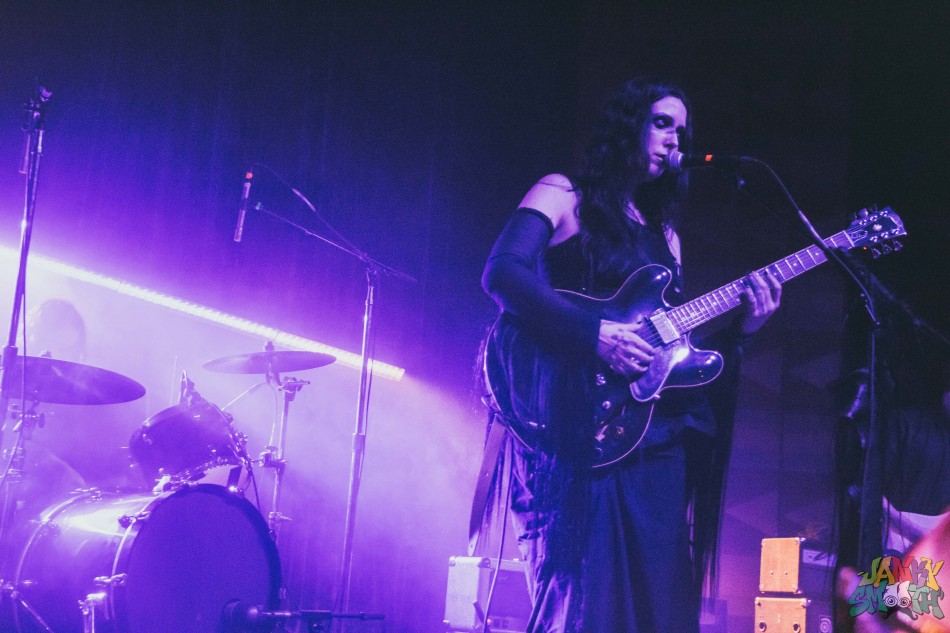 Chelsea's set was riddled with brilliant performances of new songs, some highlights were "16 Psyche", "Particle Flux", "Twin Fawn", and "Scrape". The set's pace was that of a serpent. The music would slither and coil and constrict around your neck until eventually swallowing you whole, like a bird's egg and shitting you out, bones and all. When the song builds to its climax and speeds up, the band unleashes on their instruments and takes on similarities to greats like Smashing Pumpkins or Sonic Youth.
Usually after seeing an artist in concert I can pin them down to exactly what the band's "idea" is but Chelsea Wolfe still remains an enigma after this Regent experience. I can't tell if her music comes from pain or enlightenment, if she loves or hates this world, if she sees her music as a sword or olive branch, if her music is Apollonian or Dionysian, or if she sings for the Earth or the heavens. All I know for sure is that I fucking loved it.
Setlist:
Spun
16 Psyche
Vex
Particle Flux
Carrion Flowers
After The Fall
Tracks
Feral Love
The Warden
The Culling
Static Hum
Twin Fawn
Halfsleeper
Scrape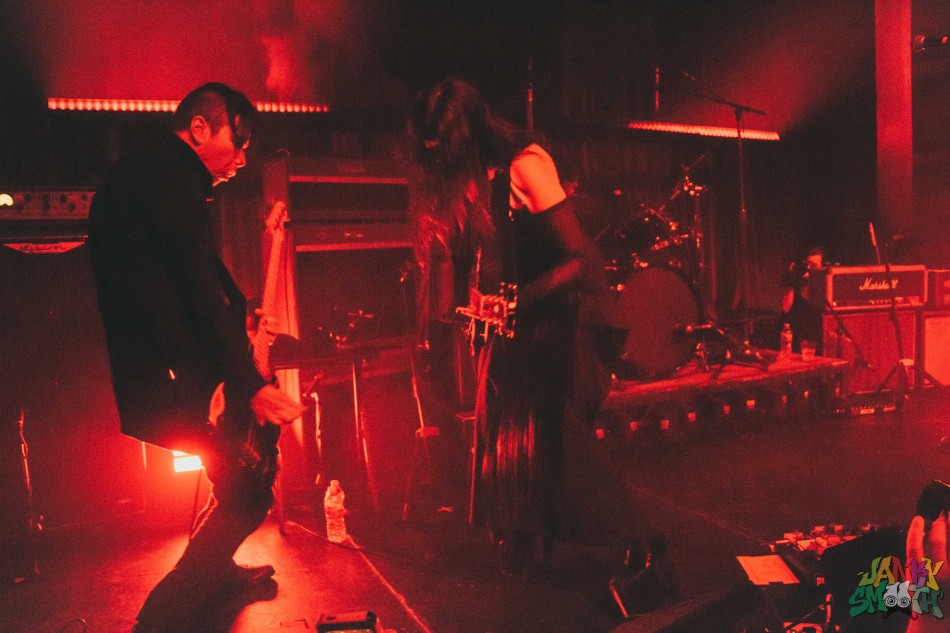 Words by: Rob Shepyer
Photos by: Dillon Vaughn