In the Red Records' 25th Anniversary Party: Weekend at Larry's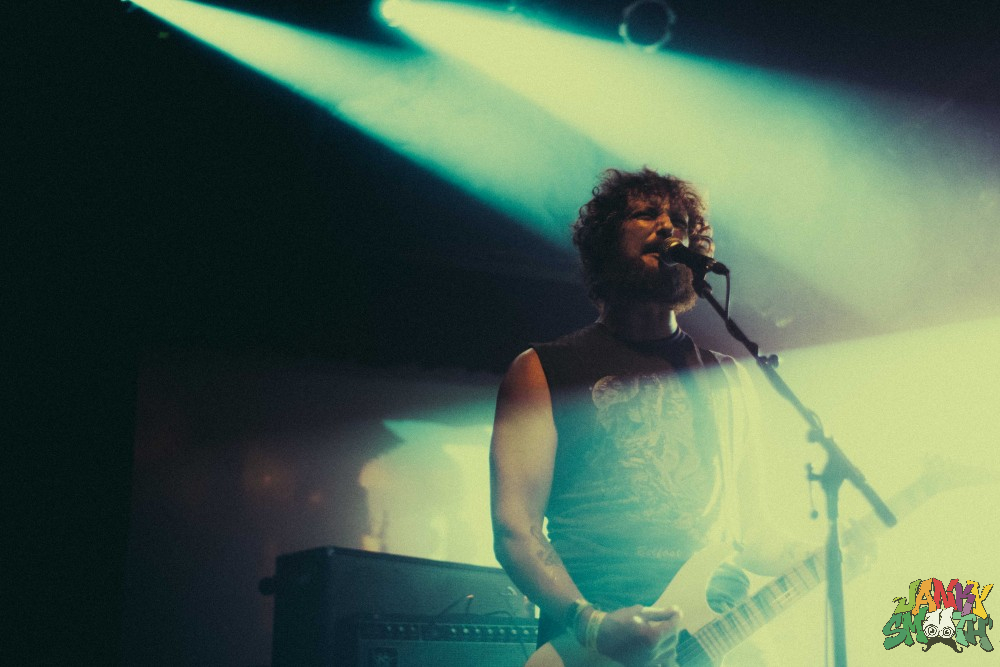 A quarter century ago, Larry Hardy formed In the Red Records in Los Angeles, California to release garage and punk records for an underground that is thriving now more than ever. Some call this scene the garage rock revival, in which case In the Red Records was the scene's Lazarus. So with 25 years of releasing music ranging from down tuned stoner rock to twangy blues garage, from bands in Los Angeles to Detroit, Portland and NYC, how does Larry Hardy decide to celebrate? A three night festival taking The Echo and Echoplex hostage to host a slew of bands spanning In the Red's sonic history.
As soon as I crept down those pissed stained stairs from Sunset to Glendale blvd and checked in, it was nonstop rock. Wounded Lion's party rock launched the festivities and loosened me up for the debauchery to come. Dancing and prancing around the stage, cramming the jams down our throats, I picked up a sweat bouncing and bobbing and dashed out the Echo down to its bottom-bitch Siamese sister venue.
A man eyeballed me suspiciously and asked for my papers, so I showed him my Zig Zags.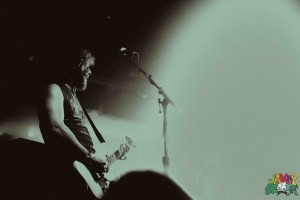 Zig Zags were the first of many trios I'd see this next couple days, however these three scraggly gentlemen might've been my early favorites. With vocals that reminded me of early Metallica, sludgy riffs that screamed Black Sabbath and a speed and recklessness that harkened back Motorhead, I immediately saw the diversity this once tiny independent label had to offer. With songs about movies like The Fog and Total Recall, I see Zig Zags as the perfect band to listen to while smoking weed, eating pizza, and playing Nintendo in my sweat stained underwear.
Almost every band had glowing praise for Larry Hardy between songs. "A lot of mid to late thirty year olds are very thankful to you" Jed of Zig-Zags said of Larry. With twenty five years of music, this anniversary show drew lost boys and girls in their 40s and a new generation of kids to pass the torch down to so they can shove it farther up the ass of the mainstream music industry.
Upstairs, Charles Mootheart's band, CFM, took the stage in front of a bunch of gnarly long hairs and took us on a fast and pumping inter-dimensional trip. With guitars and drumming in perfect sync with the room's vibration, heavy and fast at times then slowing down to bluesy reverie, we all opened up to their sonic psychedelic message. I would see Charles perform with various acts and on different instruments throughout the festival. He's In the Red's jack of all trades.
Taking in both venues this early on in the night, I remembered how great of a gem the Echo is. Smaller in size and bills than its downstairs counterpart, one quickly forgets the feel of the room. Something about the Echo's stage and lighting feels more iconic, like I'm in a 90's MTV live concert taping.
From a pack of wild young men in the Echo, to a trio of adults in their forties, Cheater Slicks were playing in the Echoplex. I could see how rock transcends time before my very eyes. They had a more alt rock edge on garage as the drummer howled and shouted through their thumping set. They reminisced in between songs about being the first LP In the Red released.
100 Flowers, previously known as The Urinals, were playing upstairs so I ran up to get a decent spot in the crowd. With graying hair, these dashing punks stuck to their guns all these years. "Punk haiku" is how their songs were described and in their minimalist approach, I found a deep enjoyment for thier simplicity. You could very easily close your eyes and escape in this sound but taking a gander around me, I saw everyone having the time of their lives. One man's team and vision and the artists he gathered were responsible for bringing together young and old to share in one common philosophy of a rock and roll indivisible by greed, that was as straight forward, unfiltered, raw, real, and uncompromising as the kind of people that listened to it. I couldn't stay in that moment long though, I had to run, because downstairs Ty was about to take the stage.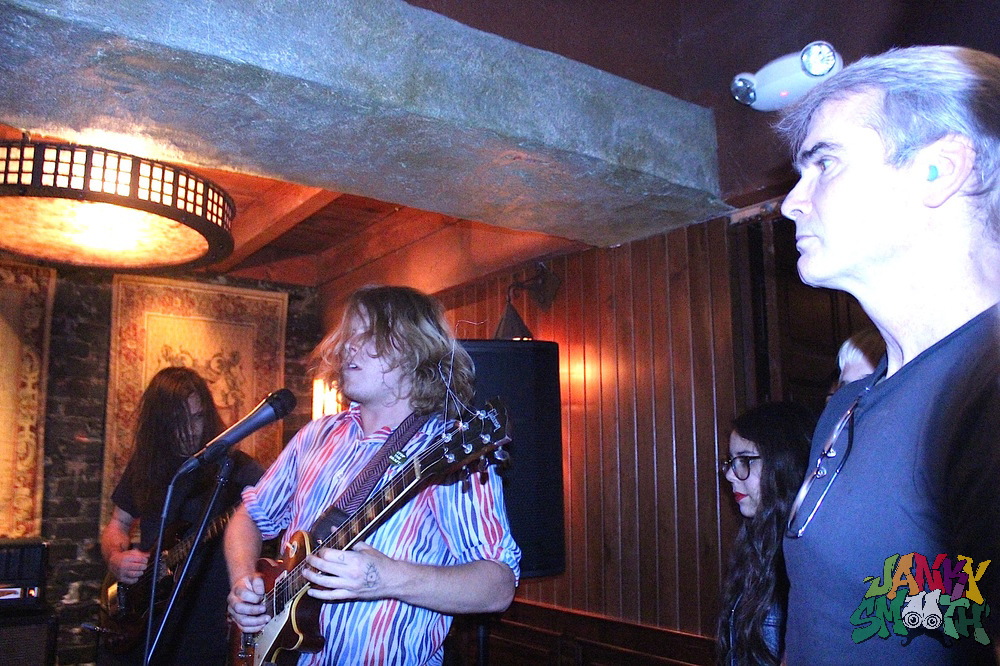 The Echoplex was packed tighter than an American Spirit yellow for Ty Segall and Mikal Cronin's performance. Both splitting guitar and vocal duties with Charles Moothart on drums, they played Reverse Shark Attack in its entirety. In their sound check they teased us with War Pigs and Sublime's Pawn Shop, pumping the crowd up to a fever. Their set took us everywhere from psych rock to surf rock to spaghetti western, to Arabian Nights, to deepest purple then blackest sabbath. Kids were bouncing, crowd surfing, moshing, lighting up joints and throwing back beers, the works. The future legend Ty Segall played below while an established legend was about to take the stage above. I worked my way through the sea of people then passed the clouds of cigarette smoke into swamp jungle sound of Kid Congo & the Pink Monkey Birds.
Kid Congo Powers is a legend for all the acts he was able to grace with his signature psychedelic guitar style. He's played with Nick Cave and the Bad Seeds, The Gun Club, and The Cramps. And after all these years his punk rock will not let you keep still.
Lastly, to close night 1, The Gories took the stage at the Echoplex to bring us back to basics with their simple, blues garage rock. Catchy tunes and good times all around, The Gories were the first band to release a 45 on In the Red. This was the perfect bon voyage for me to creep back home and pass the fuck out for another night of wild fun tomorrow.
On my way home, abstract things crossed my mind like how Black Sabbath didn't just create heavy metal but really popped a few screws loose in the whole concept of rock and roll.
I thought about how I'd describe kind of people I saw. Older punks who probably appreciated everything from metal to anarcho but now look kinda grunge on their night off. Then there are those garage purists who look like they can fix your motorcycle and spend a lot of time in the high desert.
I also thought about how Ty Segall is like the underground rock messiah, who has God knows how many different bands, playing different instruments in all of them and how even though he doesn't look like some smelly rocker, he plays with more attitude than the smelliest of them. But as the story goes, the mainstream always rejects the real good shit. Why the fuck isn't this the rock on the radio?
Day 2, let's do this.
The Side Eyes were up first, offering sludgy, grunge rock with a hint of pop vocals to act as the soundtrack to me downing my tecate, the best cheap beer to drink at the Echo. Cool girl singer that moves around with sultry dominance with a band of fun loving long haired degenerates. I cruised back down to the Echoplex for Lamps, another three piece with riffs that sounded like they were sheering through steel.
To my surprise this next band was the best of the fest in my opinion, The Red Aunts. I walked into the Echo for a moment and got scared, thinking I had stepped into a den of cougars. But no, it was just the Red Aunts, four hot older chicks about to tear it up. This was their first show in twenty years, the last time they played there was no internet. They had spent the last seven weeks relearning their songs and when they got on stage, they absolutely KILLED IT. They were amazing! And I could see on their faces that they almost forgot how hard they rocked. They played good music to dance to, great music to rumble to.
Once The Red Aunts finished up and gave all us dudes punker boners, I rolled to Meatbodies who were in the midst of their sludge session, wailing on their guitars and drowning us all in musical quicksand then pulling us out with sweet garage licks. Dance, trip, bounce, head bang, loose it, in that order.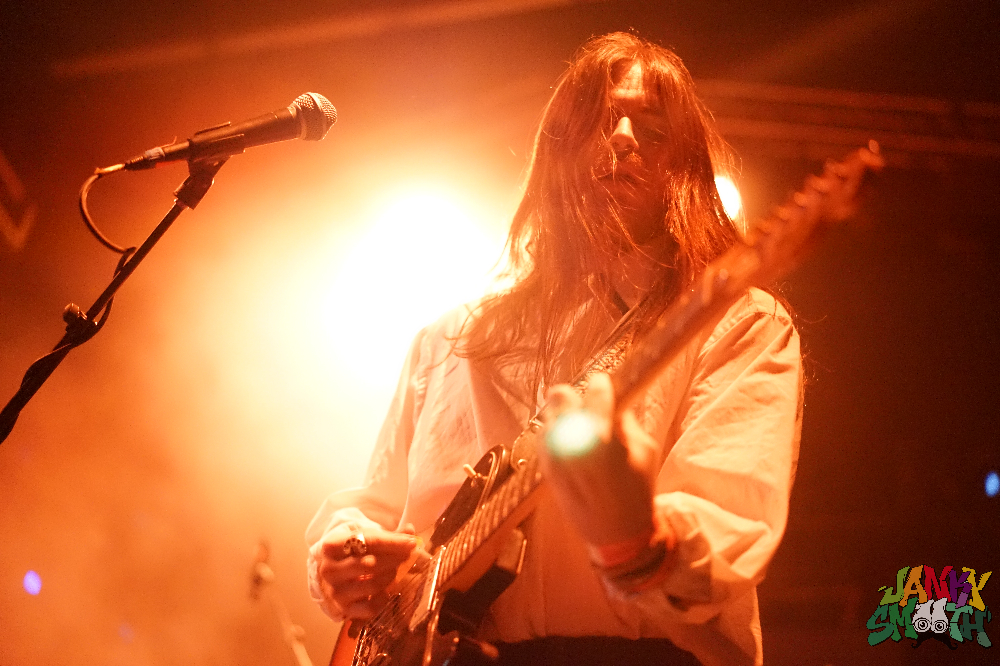 New York's Boss Hog was next. They're a great live band, their singer's vocals were clean, passionate, and grabbed you by the collar and wouldn't let you go with hooks that got stuck in your head well into other acts. "On the Wichita, on the Wichita Grey, ON THE WICHITA GREY."
Portland's The Hunchies were delivering their edgy garage jam sound down in the Echoplex. Noisey and rough around the edges, the band somehow was able to make poetry within the tornado of their sound. The band's singer Hart Geldhill would seem shy and fixed in position one moment then would explode with violent energy in the very next, throwing his mic and stand at the audience.
I left their set to find a good place to stand for Goggs, Ty Segall's new punk band with Charles Moothart and former Ex-Cult singer Chris Shaw. Anticipation rode high for the band's first ever performance as we all crammed in tight, knowing things would get messy. I remember Big Black's "Kerosene" coming on before the band took the stage and I was thrust into my happy unsafe space.
"SET ME ON FIRE!"
Goggs opened up with a long and ear drum splitting wall of sound coming through the speakers until Ty and Charles played Chris on stage and he let loose. We gave him what he put out, as he savagely ripped up his vocal chords. Shaw has veteran punk stage presence with power poses that reminded me of Henry Rollins. Meanwhile, Charles and Ty would switch between drums and guitar, playing with each other and us, showing off just how badass they are. Goggs leveled the Echo into a sweaty mass of bodies and with ears ringing we all hobbled out to the last band of the night, The Oblivions who closed out with equal parts twang and chug in their guitars.
These last few nights were chalk full of rock and roll attitude, I was surrounded by so much music that the sound seeped into my pores and hasn't stopped rattling my bones since. Larry Hardy did this, he brought us these bands and let this scene thrive until this so called garage "revival" would reveal itself as more of a garage golden age with its own golden boy.